Happy Labor Day weekend, friends! And, happy first weekend of September (aka to many of us, "fall"). I am thinking that THIS is going to be the fall transition weekend – don't hold me to it, though 😉 It's also the first Saturday for college football (go dawgs!); I may even have to make a symbolic pot of chili ;). Thank you to all of you who joined me over on Instagram Live Thursday night. I loved chatting with you all- I honestly thought I was going to jump on for 10 minutes but when we finally wrapped things up, I realized we'd been hanging out for an hour haha. Next time (I think I know now how to save live sessions), I will try to save and add it to the site for those of you who aren't on Instagram.
So, enough rambling – let's jump right in to this week's Snack Around the Plate.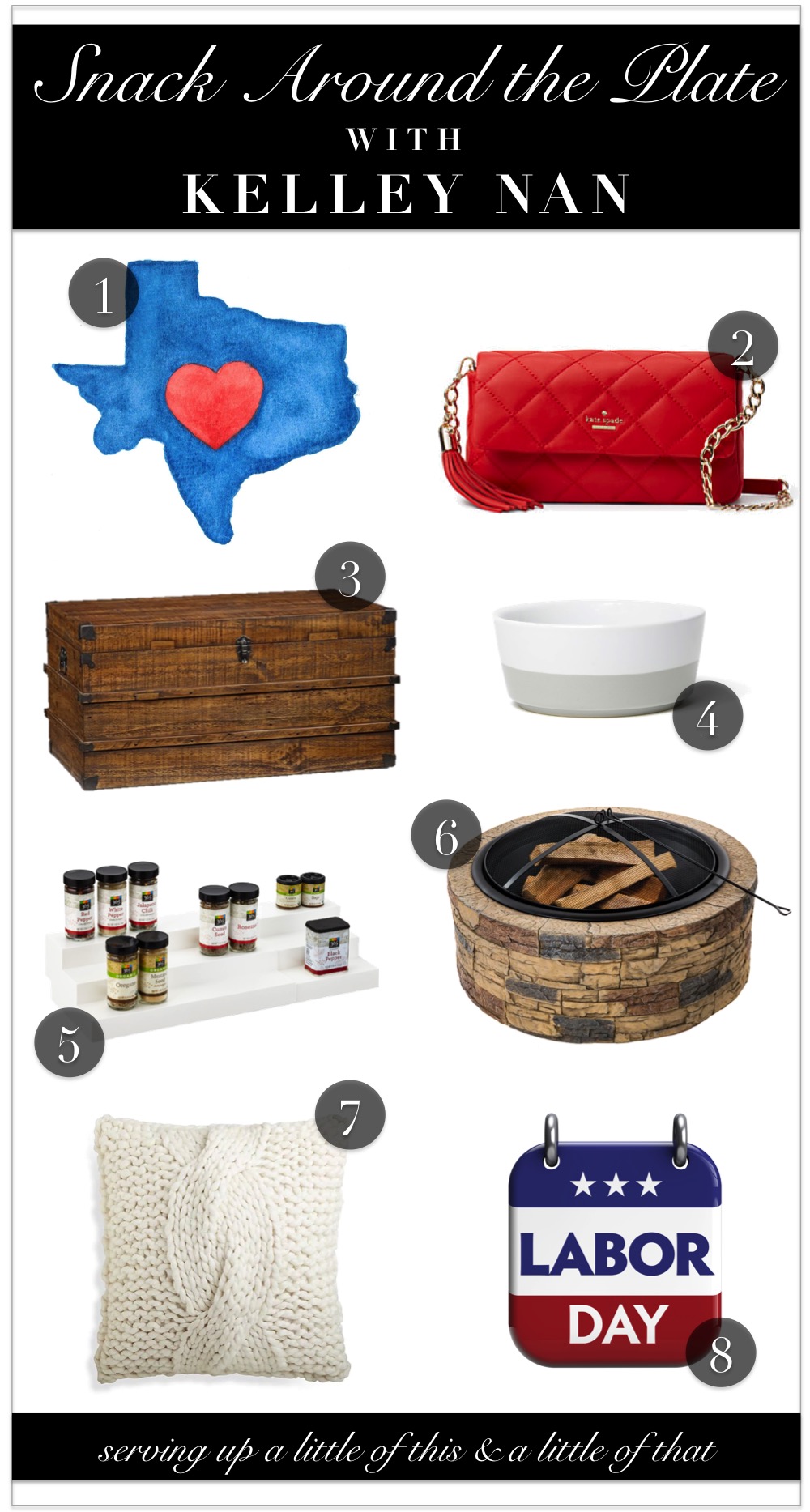 1. Hurricane Harvey: This past week has rocked the people of our nation and especially to those who have been directly affected on the Gulf, my heart goes out to you all. As Texas and nearby areas prepare to evaluate the aftermath, more needs are arising to aid those who have been displaced. I will say though, seeing neighbors helping neighbors, strangers helping strangers, and the outpouring of love across the country in general has been absolutely beautiful. Having previously worked with a firm involved with nonprofits, I would encourage you to yes, give where you can, but also to take just a little time to research organizations who are good stewards of their donations. You can find reputable national and local organizations HERE.
2. Extra 30% Off (Plus Free Shipping) Kate Spade Sale: Friends, if you have some special ladies in your life (or, if you yourself are looking for that perfect fall bag), Kate Spade launched an additional 30% off their sale items (plus free shipping) this week with promo code GOLDEN. There is a "pretty" to be had across all budgets – card holders for $25, wristlets for $40, and crossbodies for under $100. You can see some of my favs with the original price and what you can snatch them up for this weekend HERE.
3. Reclaimed Wooden Trunk: Growing up, my mom always had a hope chest at the foot of her bed. I am loving this idea (possibly for my bedroom makeover??) and this reclaimed trunk from Pottery Barn is perfect. Right now, they are running their Buy More, Save More event (up to 30% off) with code SAVEMORE.
4. Chic Gray & White Pet Bowls: I will admit, these are a little more on the expensive side for pet bowls but I have been searching FOREVER to replace our current bowls. I am ordering the gray and white dipped today (they come in 3 sizes and several colors); there is no reason why your dog/cat bowls can't be pretty when they are visible 24/7. You probably wouldn't have a black plastic trash bin sitting in the middle of your kitchen; if you're willing to spend more for a pretty looking waste receptacle, take a look at  your pet bowls, too 😉
5. Expandable 3-Tier Spice Shelf: Did you catch my spice and baking cabinet organization makeover project this past week (HERE)? I've had my expandable spice shelf for several years (as well as the canned goods version) and I truly believe it is an absolute staple now. Plus, right now it's on sale for under $7.50!
6. Fire Pit: Gearing up to transition your outdoor space for fall? We are! This cast stone fire pit is on sale right now for under $150. It has a fancier, elevated look than most out there and the price can't be beat. I don't have this guy (yet) but the reviews are awesome.
7. Sweater Pillow: Because I am loving any and everything cable knit and sweater-y 😉 These styles can be more difficult to find but it will take you all the way through fall and winter. This one from Crate & Barrel can be snatched up for 15% off right now with code SAVE15. Plus, you get to choose which insert you want it to come with.
8. Labor Day Sales: One of the biggest sale weekends of the year is here! It's also likely the last major sale event before Black Friday madness so if you are looking to have your Christmas shopping wrapped up early, this is your weekend. Here are a few great opportunities for yourself as well as those on your list:
Wishing you all a beautiful weekend, doing something you love. Stay tuned for next week; I'll be sharing my favorite refrigerator organizing solutions with the drastic BEFORE and AFTER 😉