Where we live in North Georgia, school is starting back in two and a half weeks (!!!) We aren't directly affected by the school calendar just yet since Eliza goes to "school" year-round but we'll definitely feel it once the morning and afternoon roads double in traffic. So, whether you're relishing the last days of summer or you're eagerly counting down, it's time to consider if there's anything you wanted to do this summer that you haven't just yet. Anything you want to try to squeeze in? Anything that needs completion? And that could mean more activity and more busy-ness or just being still and being intentional in the "quiet". Today, I'm sharing three things on our "to do before the end of summer" list — each totally different from the other.
*Posts on KelleyNan.com may contain affiliate links. While this post is created in partnership Walmart, all opinions, concept, and creative are my own. Click HERE for full disclosure.*
1. Family Service Project — Sponsor backpacks for back to school
One of my favorite childhood memories at the end of summer was shopping for new school supplies before the new school year began. There was just something about new, sharp crayons and crisp white-ruled paper that added to the anticipation of returning to school, rejoining my friends and making new memories. I can't wait until Eliza gets to have the same experience, and while she hasn't quite reached that age, she is an age where she can officially take part in an annual tradition we've taken part in for most of the past decade.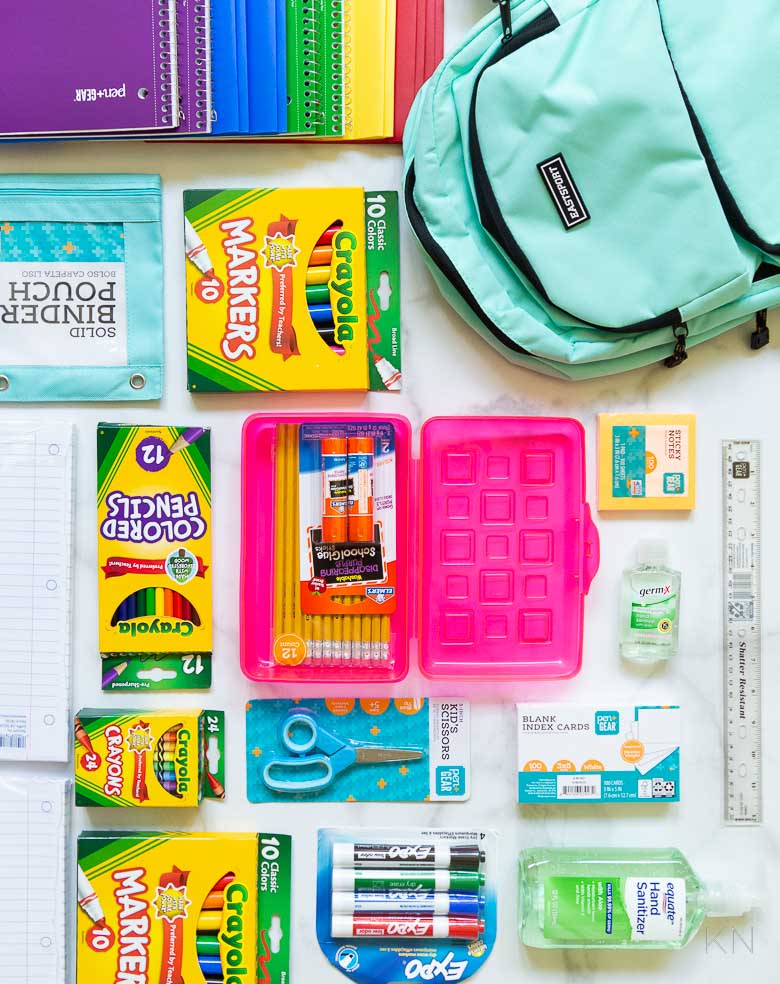 A fun and rewarding service-oriented project that we take part in annually — even before Dave and I knew if we would be parents — is filling backpacks with school supplies for children in need within our community, prior to the beginning of the school year. We have a personal affinity to children's causes and try to incorporate contributing in some way, especially during the "big" times of year — like Christmas and back to school. If we can help provide for any child so not only are their needs met, but they are made to feel more included and can also can be as equipped as their peers (to some degree), well, that's important to our family and something I want to pass on to Eliza.
There's several ways to contribute to providing for children headed back to school; here are a few…
Backpack drive: Chances are, your church or local nonprofits are spearheading an effort and are in need of resources for school-aged children. You can speak with them directly to find out their greatest need, ages and supplies most needed, and the specifics of their initiatives. Some initiatives may extend past school supplies and include back to school clothing and personal essentials, too.
Speak with your child's school: Can you provide directly to your child's/neighborhood's school?
Equip your teachers: teachers spend a great deal of their own money trying to equip their classrooms — for the basics and also for tools beyond the essentials. They are typically also trying to look after those kids in their classrooms and each year, their lists are great. When it comes to classroom/communal supplies, if you're able, purchase extra during your shopping trip — even if it isn't required.
Purchase an extra set of supplies for your child's classroom: Maybe there's someone in your child's classroom who needs a little help. Maybe there were other parents who weren't able to totally fulfill their list of back to school supplies due to extenuating circumstances. If you're able to purchase extras — getting two of whatever supplies you grab for your own child makes it even easier — it will likely be to the benefit of a friend of your child.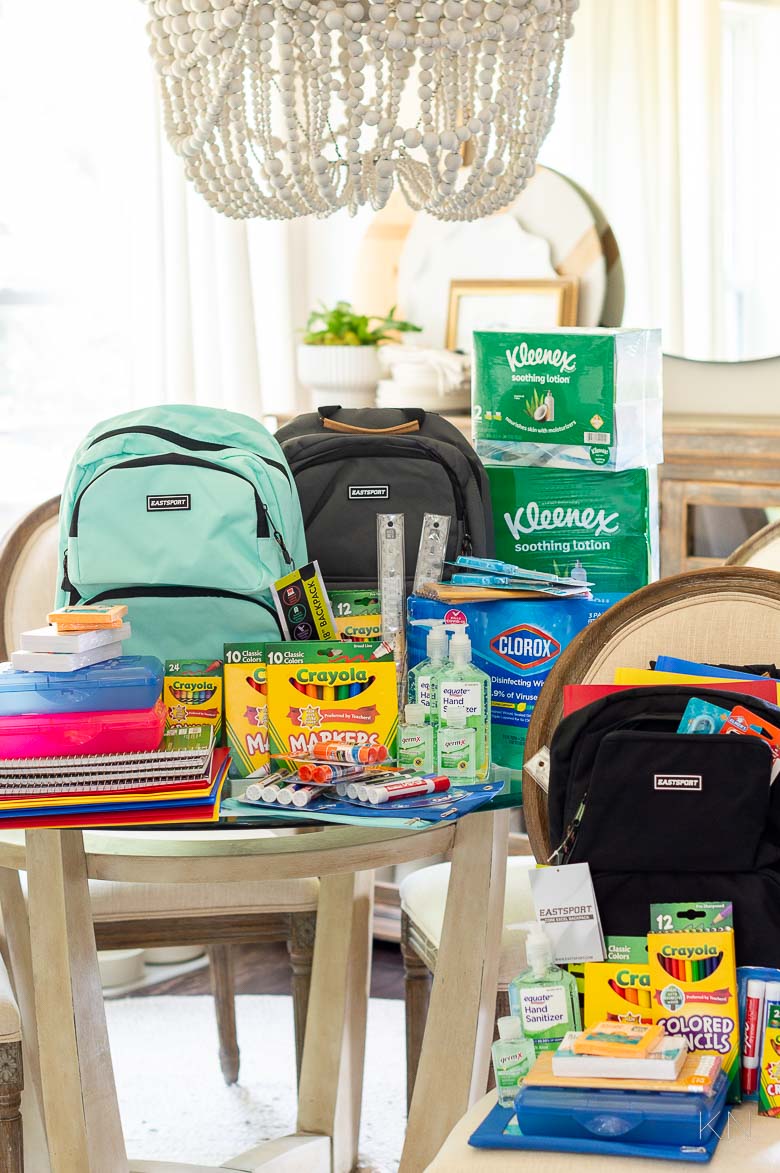 If that sounds like an expensive effort, I get it, supplying for your own child annually can get pricey. But, we purchased and loaded up three backpacks this year for a fantastic price at Walmart. Most supplies we shopped were under $1. You can find a comprehensive list of $1 and under school supplies on Walmart's website HERE. Since Eliza is younger, we concentrated on the young elementary school so that she would more easily identify with the items we were choosing. Including the back packs and items for the class rooms, we were able to fill three backpacks for less than $50 each. Here's what we shopped…
* = $1 and under at the time of purchase 
(Note: under $1 prices reflect when we shopped the supplies. Prices are subject to change)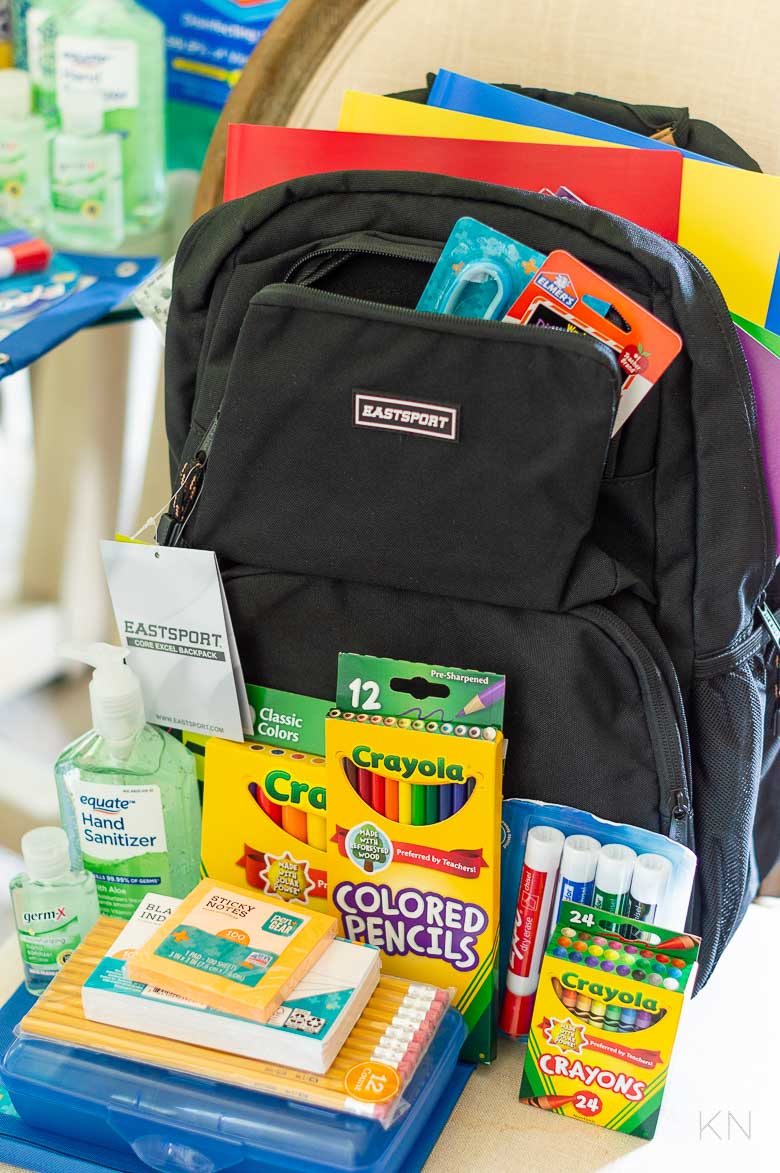 We always have fun choosing items that will be useful, needed, and fun! If you're joining an organized effort, you will likely be provided with a list, or, you can receive one from school administration/a teacher, but if you're "flying blind", most schools post their supply lists online — you can search by zip code and then find your school on Walmart's website HERE.  At the very least, this will give you an idea of what is most needed.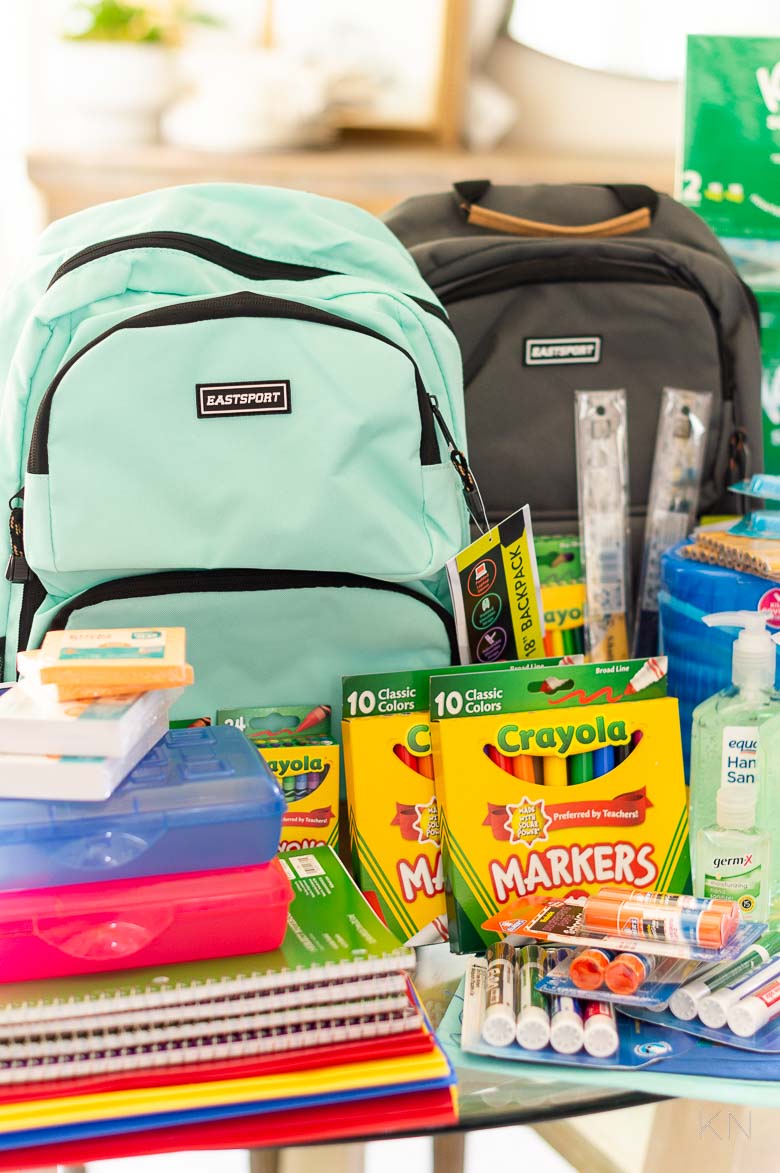 The whole back to school and supplies shopping process has certainly come a long way, since back in my day. Back then, we didn't know what was needed until the school open house that was typically held a day or two before the first day of school. We traditionally attended the open house and afterwards, rushed to the store to purchase the items on the list that was provided during the open house attendance. I remember my disappointment when so many of the supplies were picked over or not to be found!
In the back to school initiative we participate in, you can provide a monetary donation in a set amount to sponsor a backpack, but since this is a family service project that we want to involve Eliza in, I thought it was more important that she actually see the supplies and get her hands on it all to help her better understand what she's doing and why. (It also helps that we can make sure our support funds can be stretched in the most efficient way with Walmart's huge inventory of affordable supplies ($1 and under supplies HERE; all supplies HERE).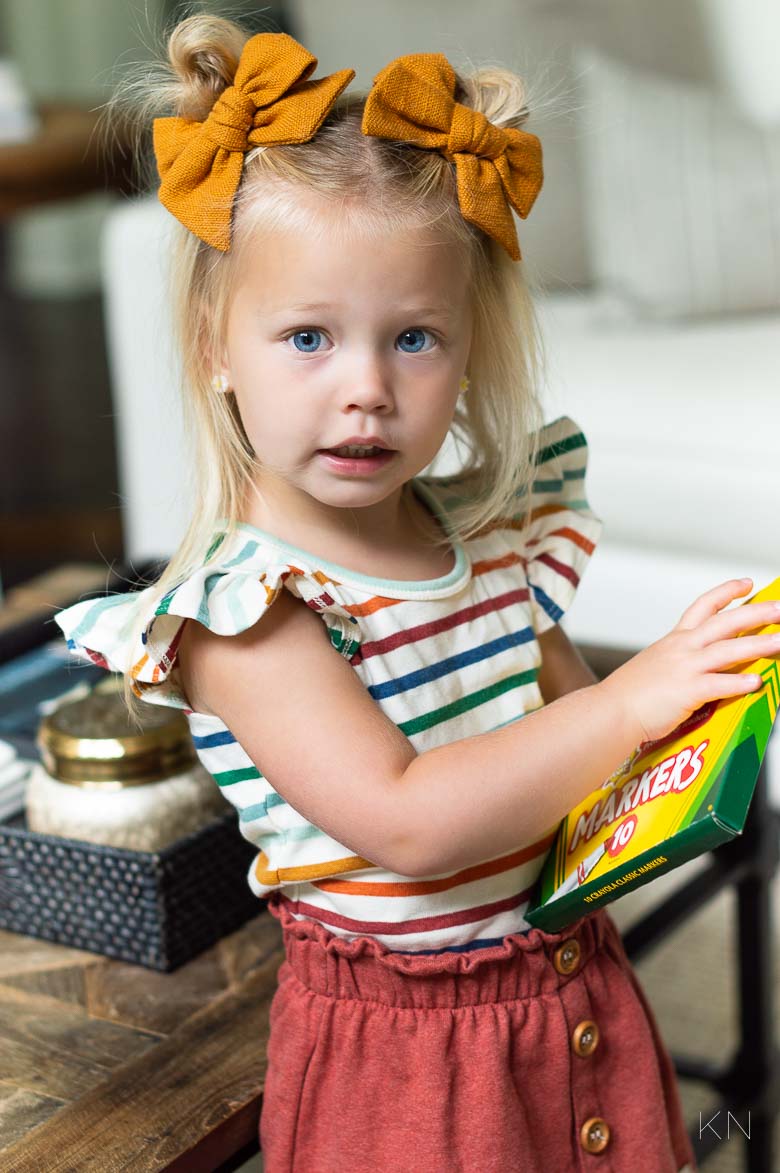 We did the same thing during Christmas this past year — instead of just making a monetary donation to our favorite local charity that supports children in our community, we also took part in the in-person shopping so Eliza could pick out toys and we could work towards her understanding what we were doing and why. While making financial donations is needed, we are trying to participate in ways Eliza can actually see and become involved with, also. And then, turn those efforts into traditions. Not only does it provide a way for Eliza to get involved, but it's also more fun for us.
After I ordered all the necessities for this school year, I let Eliza spearhead the effort of stocking and stuffing each backpack.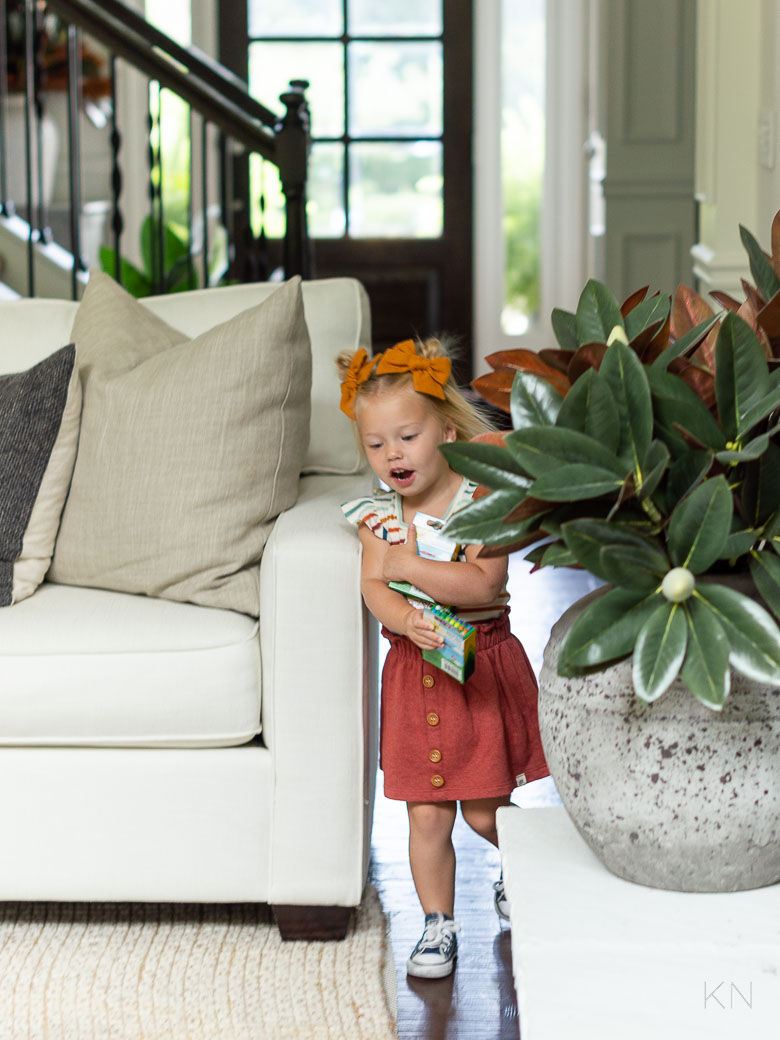 I lined up the backpacks and instructed her to place one of each item inside.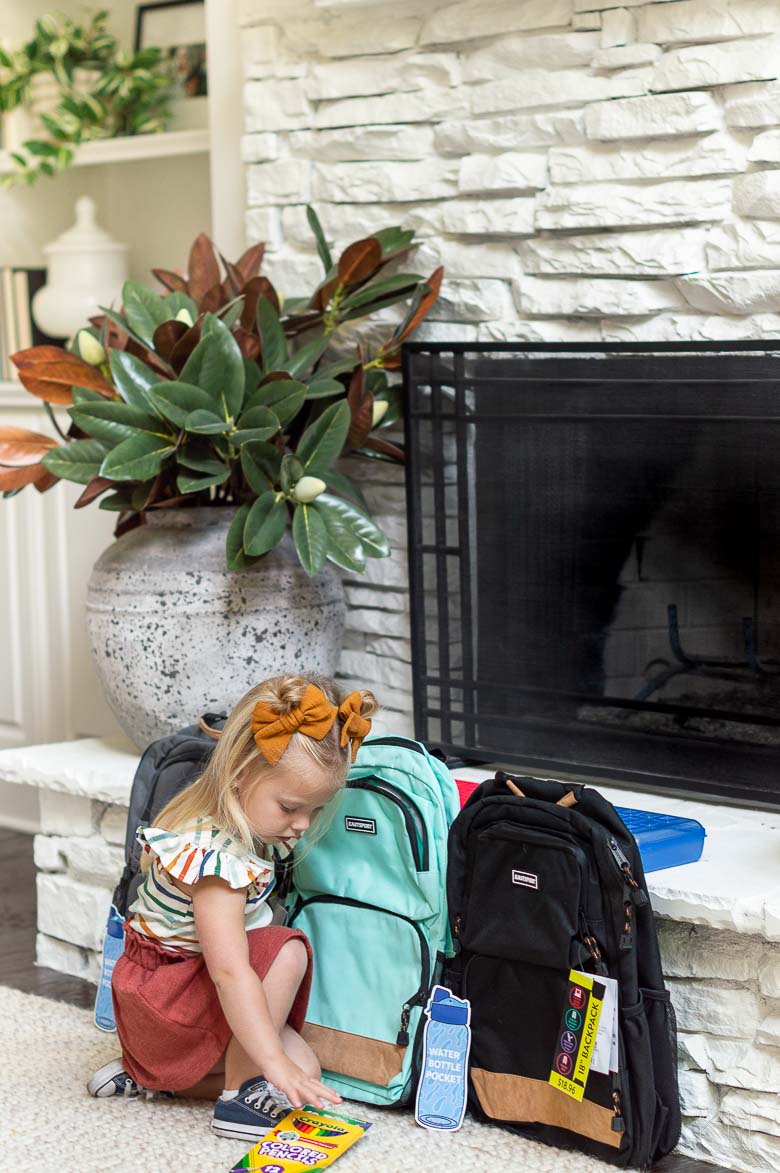 She got creative with what she wanted to place where, but that's totally fine — she took ownership 😉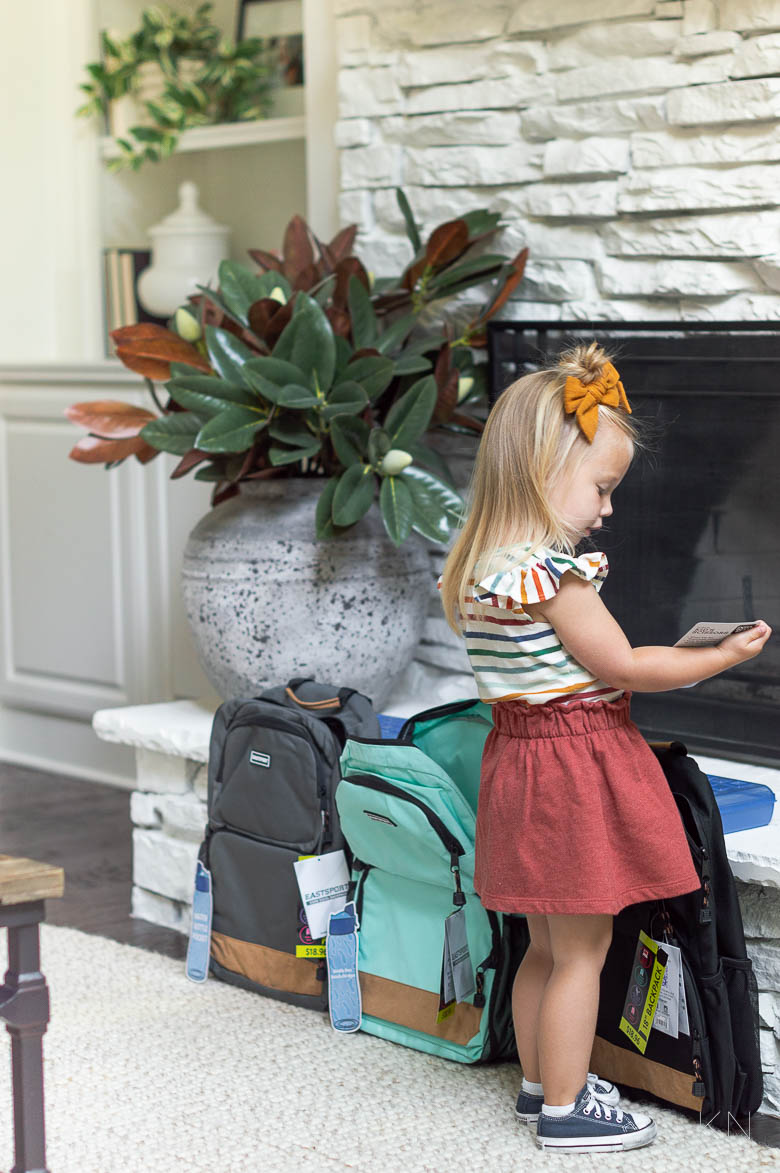 Throughout the process, I reminded her why we were stocking backpacks for other kids and thanked her for generously helping to prepare supplies for kids headed back to school. And that because of her help, there's going to be some kids who have what they need for the school year, that may not have otherwise been as prepared this year.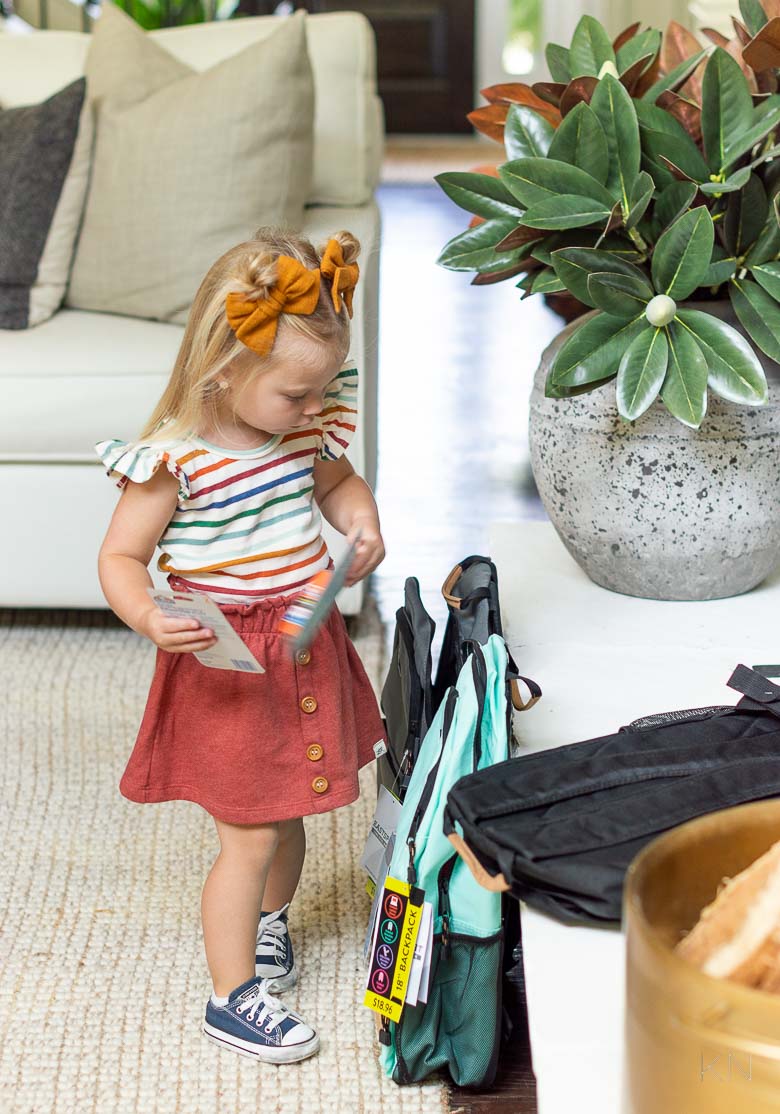 She loves art and school supplies so seeing so much in pristine condition was a treat for her. And, I don't blame her — who doesn't love school supplies?!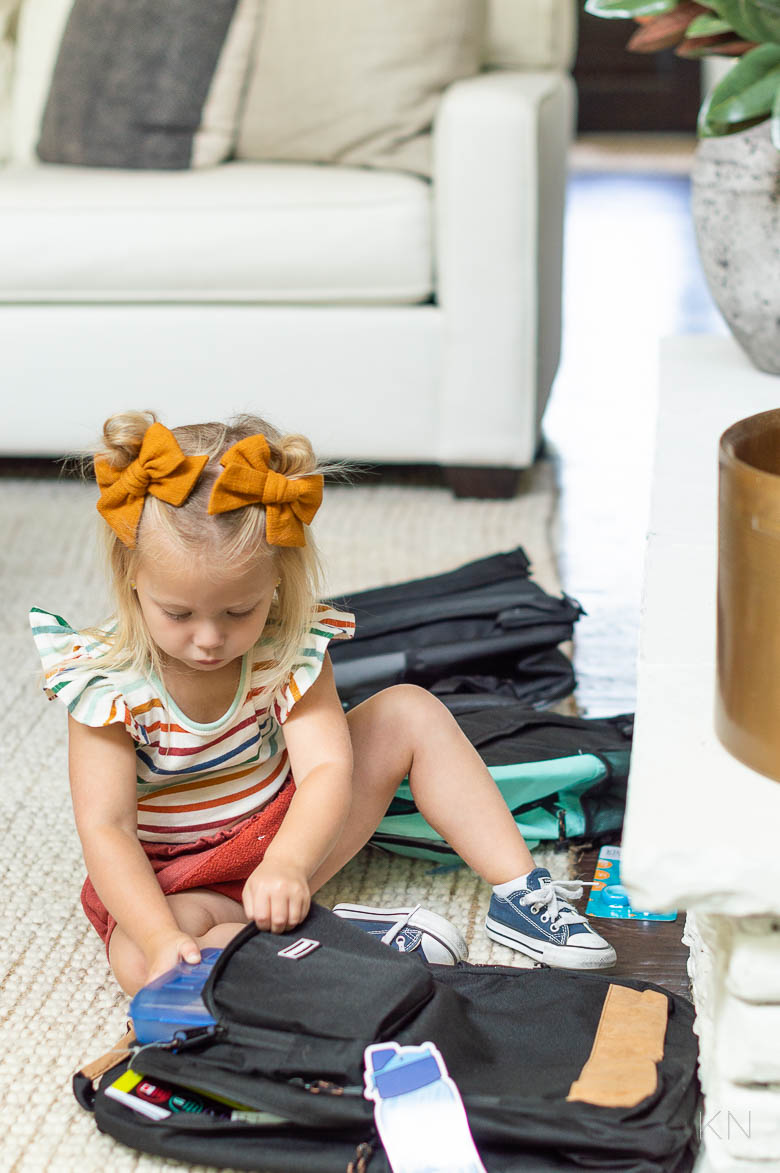 She "organized" for each child and had strong opinions of what should go where.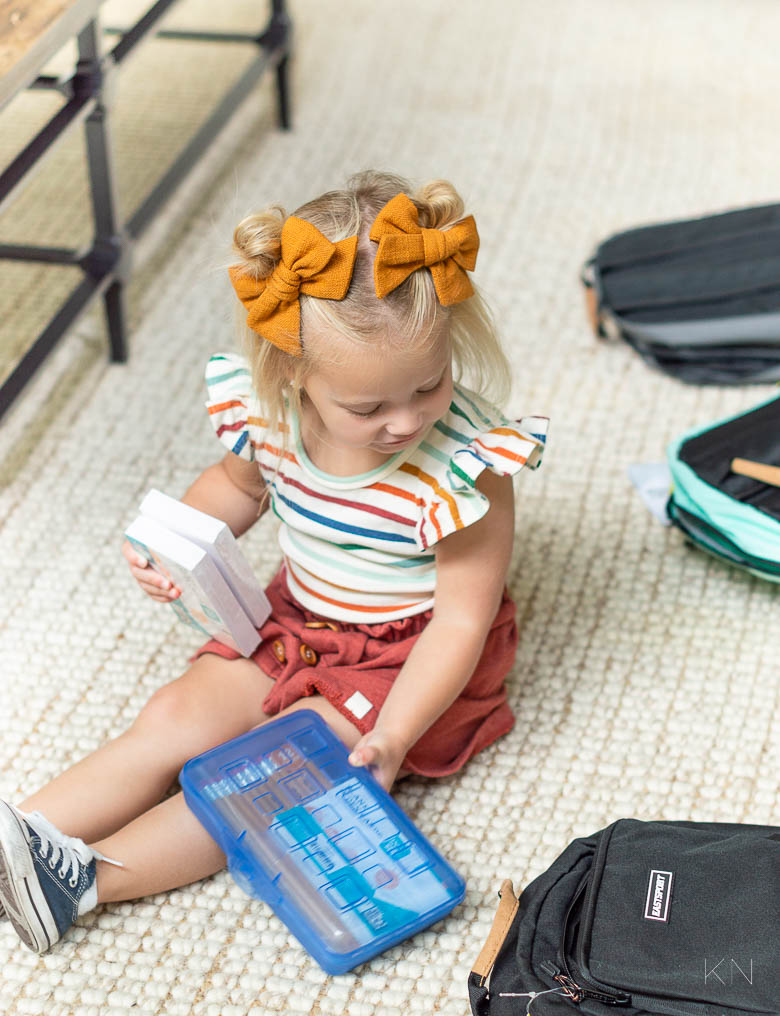 Scroll & Tap to Shop the Supplies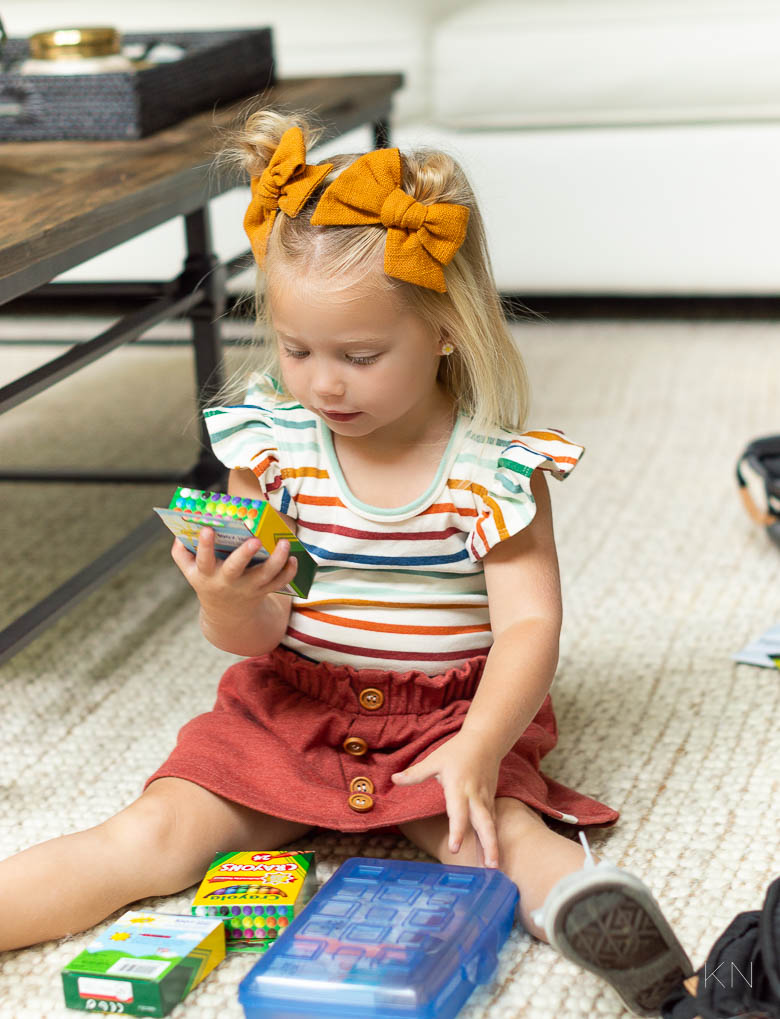 She decided when she was done and ultimately, when she wasn't around, I went through and sorted and packed each backpack as it should be 😉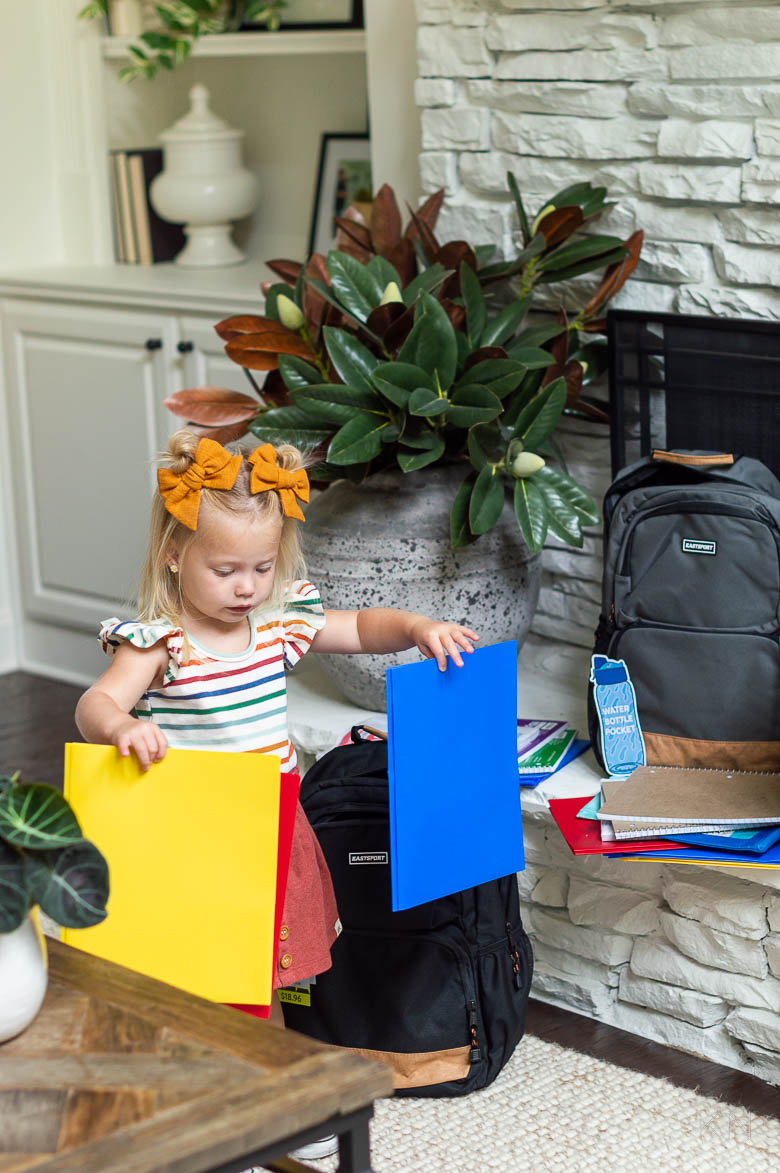 This weekend, we'll drop the backpacks off as a family and I hope her love for charitable contribution grows through small acts as she gets older. And, I hope she understands that we all face different circumstances and hardships throughout our lives. No one is immune. But instilling an empathetic and humble attitude — and the importance of small actions — can make a big difference in what she practices when she grows up.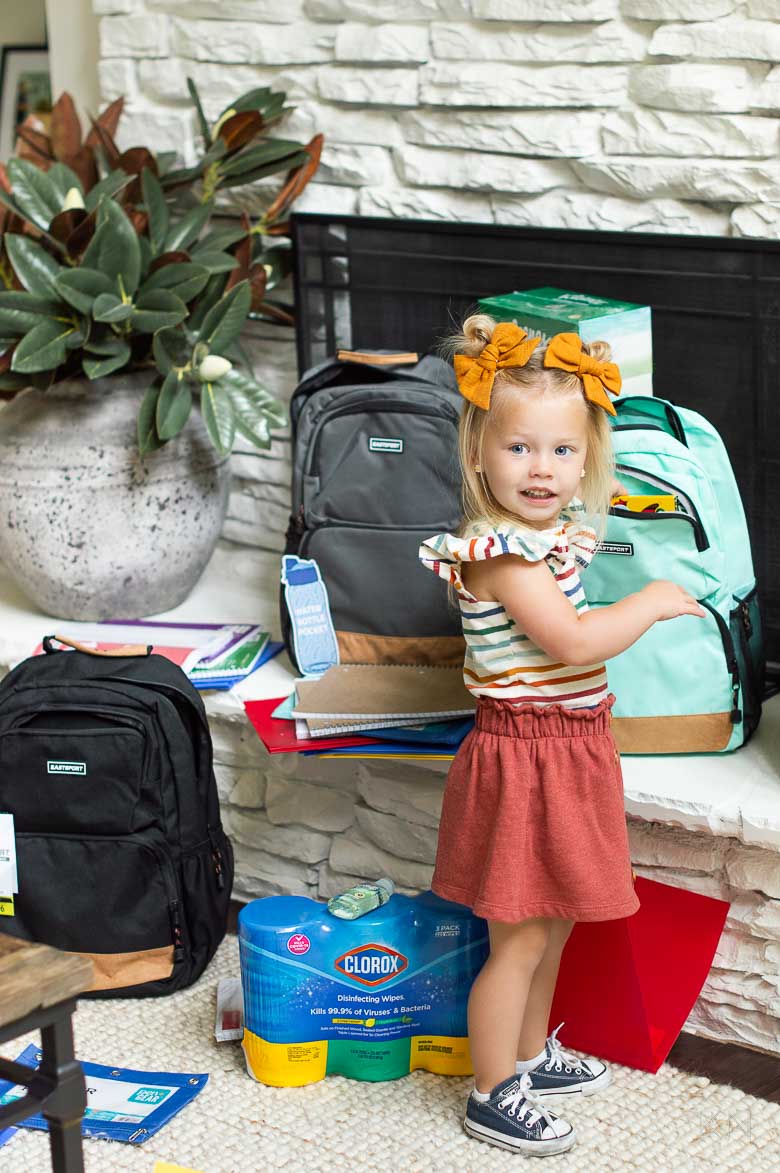 For the record, THESE backpacks are loaded with pockets, extras, and tons of space. When I first looked at the collection of school supplies we'd amassed, I wasn't confident we'd be able to fit them all in. Especially with each holding multiple tissue boxes and large containers of Clorox wipes.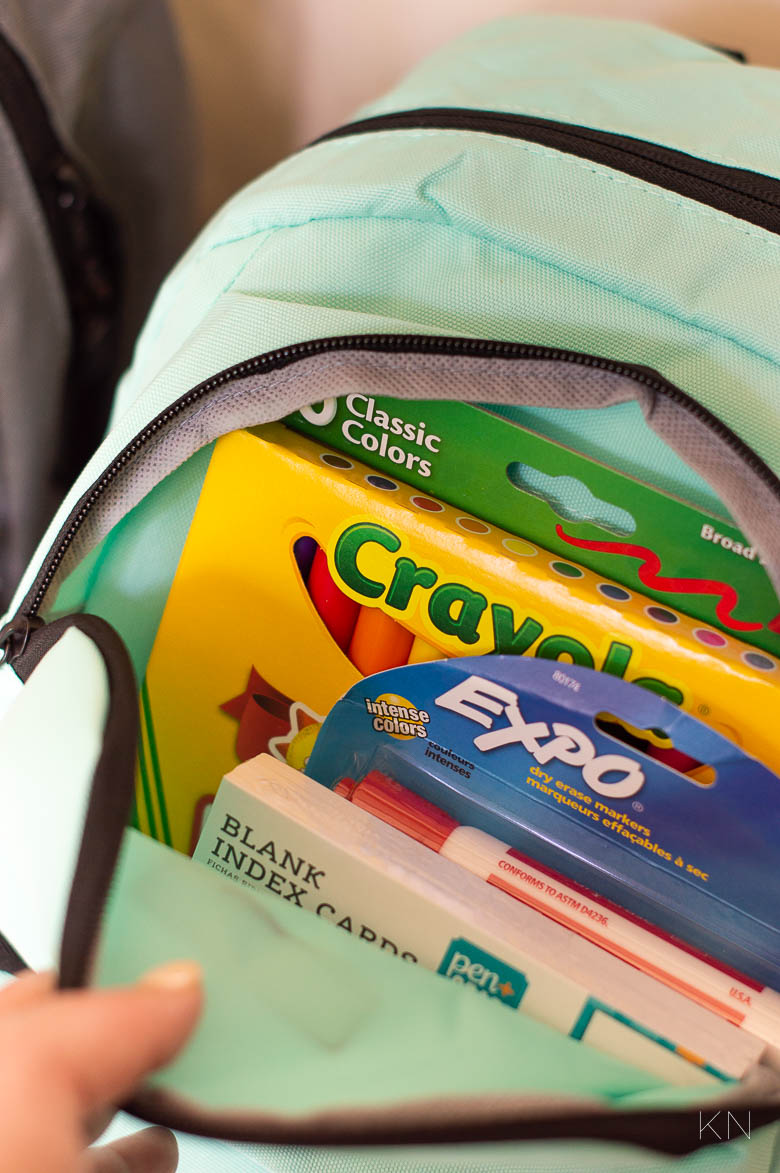 Not only did we fit it all in, but there's plenty of room to spare!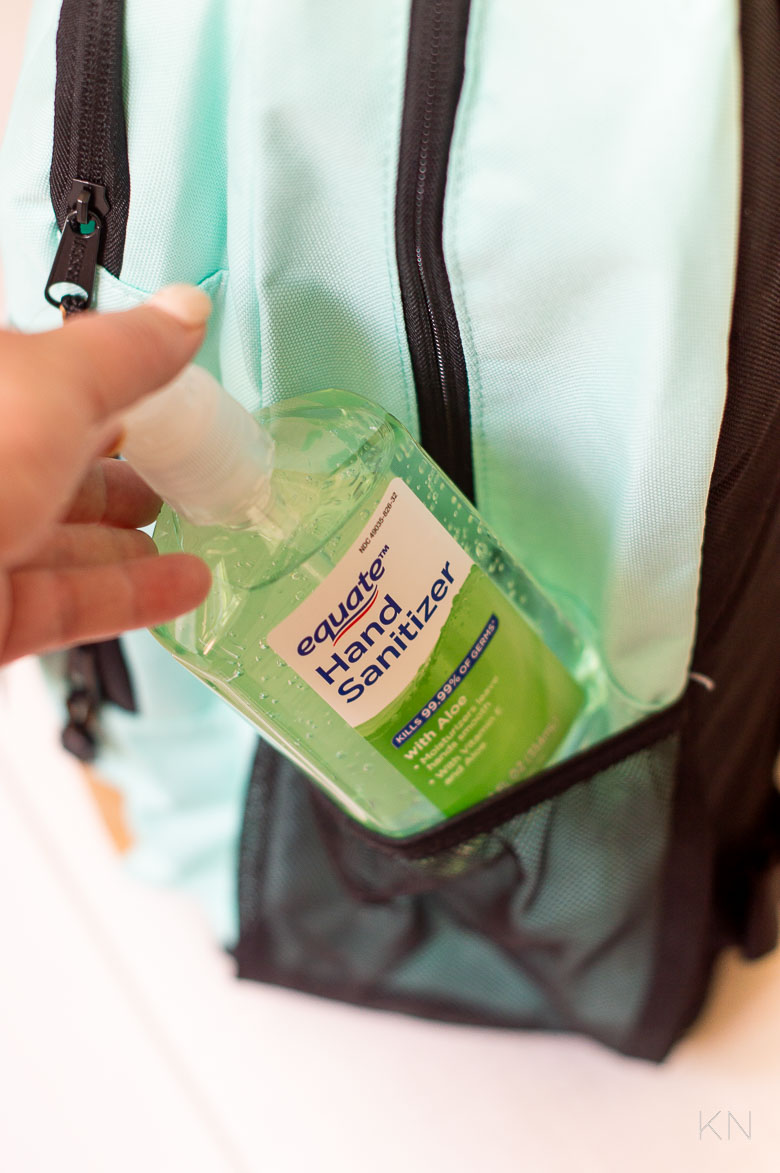 Here's our three backpacks loaded up and ready to go!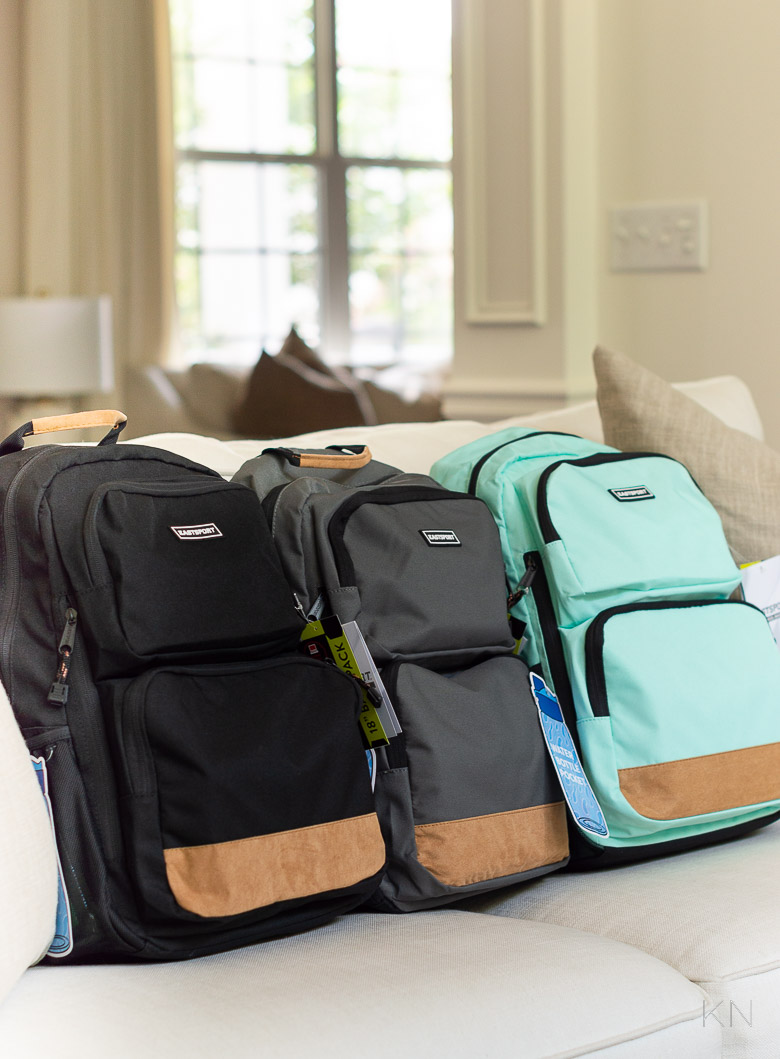 Whether you're shopping for your own child(ren) or you're interested in shopping for others, there are over 100 items less than $1 which makes this project (and your personal shopping) more easily accomplished. I could not believe that so many basics were way less than $1, like THIS 24-pack of Classic Crayola crayons (you can get two for $1), THESE kids' scissors and THIS pack of 12 No. 2 pencils, just to name a few!
Scroll & Tap to Shop the Supplies



2. End of Summer Weekend Trip
Along with our family service project, there are a couple other things we have to mark off our summer list. Thus far, we've had a wonderful summer of fun, which started with a panhandle Florida beach. We planned some day trip experiences close by, had family come visit and we all had birthdays to celebrate. But before the summer is over, we'd like to take a short, end of summer, weekend trip to cap off our summer of fun. There's lots of close-by possibilities, from smallish cities to the mountains to smaller resorts. In planning this trip, we don't want travel time to eat up the time we have, so we're looking at traveling to a destination that is no more than two(ish) hours away.
Here are some of the possibilities we are contemplating:
Greenville, South Carolina
Calloway Gardens
Wild Animal Safari
Huntsville, Alabama
Blue Ridge, Georgia
Lanier Islands
Chattanooga, Tennessee
Birmingham, Alabama
Lake Oconee
The University of Georgia
Helen, Georgia
Amicalola Falls
Covington, Georgia
We've been to several of these before but most have things we've never done and with Eliza, every place/trip feels like a new experience. If you have any opinions, I'd love to hear them!
3. Home Clean-Out Project: Organize the Garage
Lastly, with all of the home renovating we've had — with some projects ongoing and others gearing up to start (more on that later!) — we have been left with a bit of clean-up and I'm desperate to get some spaces settled. When the bathroom flooded and went through the garage, we shifted things, left things, stored things temporarily… there's dust and dirt and in general, the garage is not in a great state. That said, "not a great state" for us still means we are able to both park inside it. It's manageable — just dirty and unorganized and needs attention. Cleaning it out is a substantial enough project to feel good about, but small enough of a project to tackle within a weekend. So, in addition to dropping off our backpacks as a family, we're also (hopefully) going to get the garage cleaned out this weekend!
A full overhaul and permanent solutions with more sophisticated organization and storage solutions are for down the road but we need a major clean-out. Here's a general list of what we have in store…
Clean cobwebs from corners and walls
Blow out/sweep floors
Take tools and building supplies (and random items) to basement
Clear large rack and dedicate to bulk food items and cleaning supply excess
Clean out large freezer
Sort piles for outdoor play and set up storage bins by like items
Clear out old scrap wood and cardboard
With summer coming to a close, what do you have left on your list? Did you get in all you wanted over the past couple of months? It always seems to fly by, doesn't it? Here's to enjoying the last of it and good things ahead as we inch toward fall.