After contemplating a clever angle to talk about this past weekend for far too long, I gave up. My heart is still full and all I really want to do is re-hash the details exactly as they were. I have been excitedly anticipating early August for the last several months, and finally, my closest blogging friends and I were able to meet at Haven, an Atlanta hosted home and DIY blogging conference. (Imagine 350+ bloggers in one hotel) They have all made an appearance on KELLEYNAN.com before, likely through a blog hop, feature, or home tour, but today, I am going to show you the faces behind those gorgeous, inspiring spaces.
I can't explain how strange it is (in the very best way) to finally meet these true friends in person after basically "online dating" for over a year. We email and text and I talk to several of these girls on the phone, multiple nights each week. They understand the late nights and crazy hours, the walking around the house with a camera around my neck, the sacrifices of family/friend time… they get the joy and passion we all have from using our homes as our own creative canvas and they encourage when others don't understand. Some of the most precious relationships in my life have been born out this blogging journey and I am so thankful for it all. I was excited to meet my long-time friends who inspire me every day, but I was more excited to learn. Ok, that is a complete lie haha- I was most excited to throw myself into a hotel with some of my favorite creatives to brainstorm and plan and stay up chatting in pajamas until 3:00 a.m. (that is exactly what we did), but I was excited to take part in some awesome sessions and learn from so many blogging veterans.
I had zero to do with the planning of the conference, but since my friends were flying in from all over, I wanted to pull together a few "welcome to Georgia" gifts.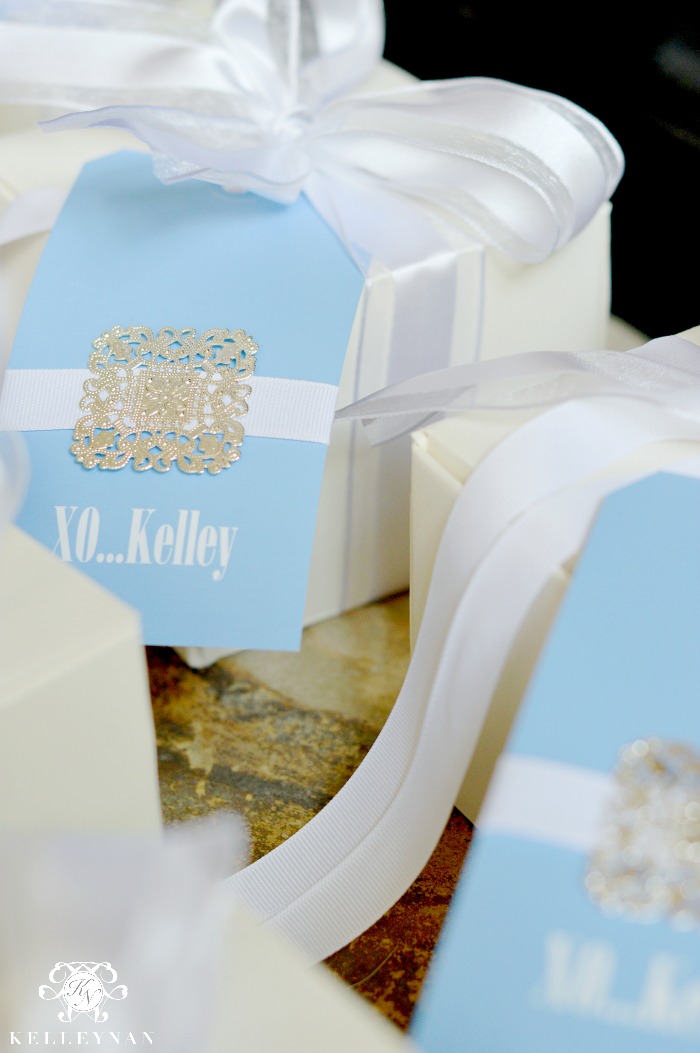 These adorable, custom gift tags were made for me by my friend Janice (you can find her HERE on Instagram) so I was thrilled to be able to put them to use. I'll have to share my purple monogrammed queen bee tags soon- super cute!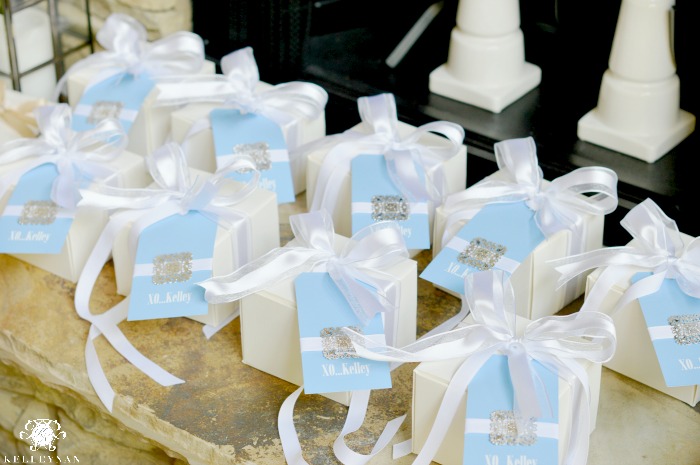 Inside each box was a gilded monogrammed coaster from Anthropologie. From the most neutral girls to the most colorful, I was confident these could accessorize any of their desks. \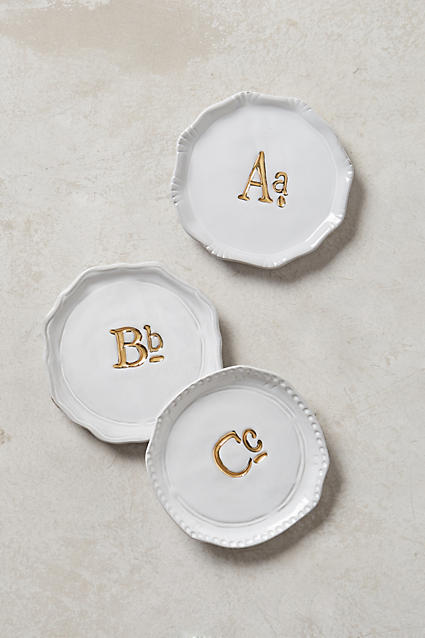 I ordered a 5 lb. bag of my favorite sugared peach gummies from Amazon and separated them into these small bags.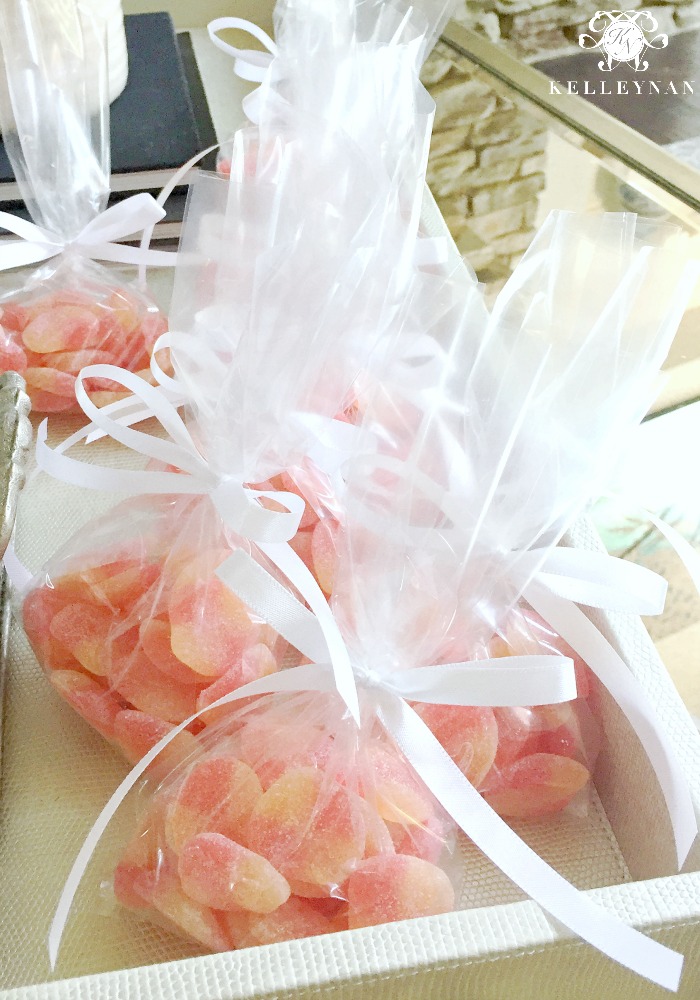 My favorite piece of the welcome gifts though were these sweet little notepads from silhouetteblue.com I had customized with each friend's blog name. They have a lot of custom stationery but the collection I ordered can be found HERE.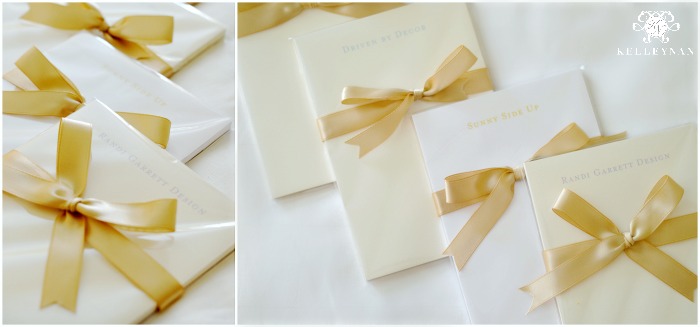 Remember when I said you can dress anything up with a bow in my last blog post on hostess gifts? Well, I did it again 😉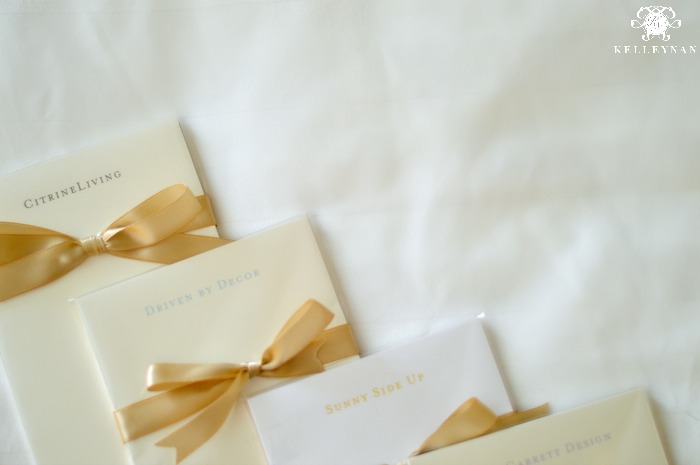 And, of course I had to get myself one of each for my own desk, too 😉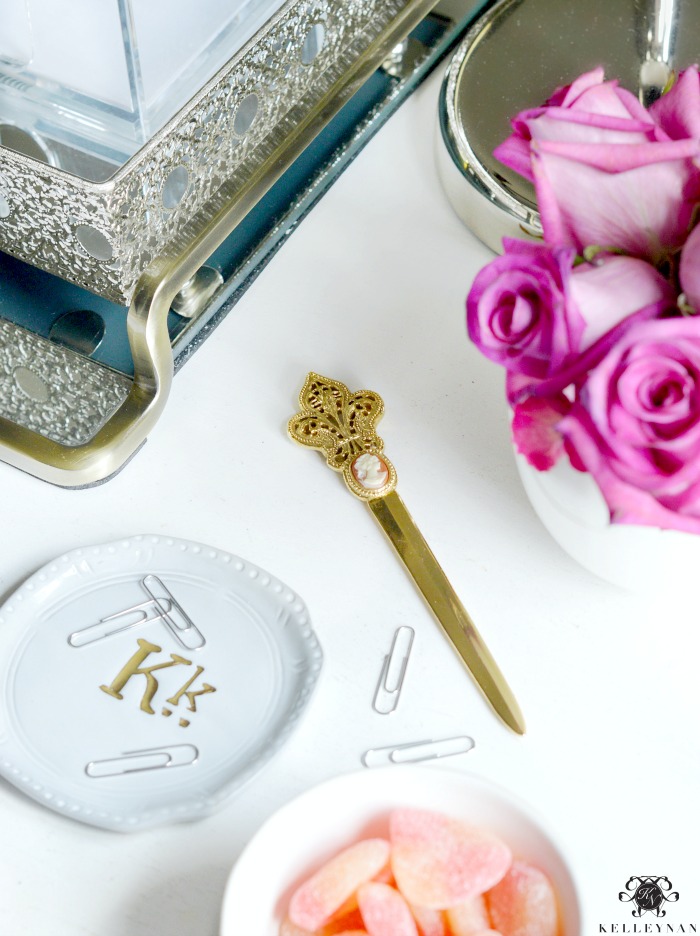 Also in tow for the conference weekend were my new business cards; I have been having my cards made by Atlanta Ad Graphics for years and Cindi never does me wrong! As still a fairly new blogger, This weekend was the first opportunity I have had to see my name printed; I loved it so don't be surprised if my office turns into one big monogram! haha

And these… these are snapshots of the friends' homes I was finally able to be with this past weekend. Lots of diversity, lots of inspiration, and you don't want to miss a single, fabulous one 😉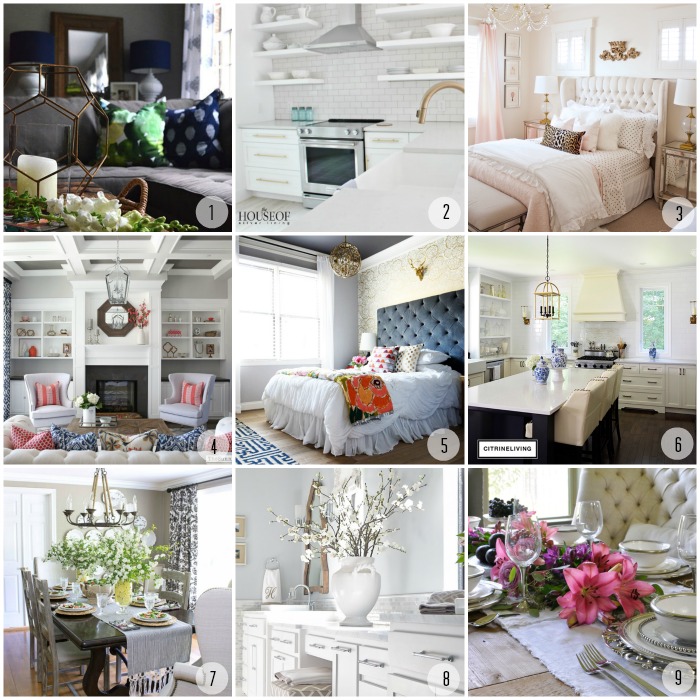 (1) Haneen @ Haneen's Haven | (2) Shauna @ The House of Silver Lining | (3) Randi @ Randi Garrett Design | (4) Erin @ Sunny Side Up | (5) Brittany @ Addison's Wonderland | (6) Tamara @ CitrineLiving | (7) Kris @ Driven by Decor | (8) Bree @ Z Design at Home | (9) Jennifer @ Decor Gold Designs
*Get ready for lots of cell phone photo footage as I introduce you to my uber talented, creative crew.* Over the course of the trip, it basically took us an hour and a half to do anything. For example, we were all so excited to be with each other, we would say at noon we were starving, head downstairs, and not actually order until 1:30. Actually, that is exactly what happened the first day we were there. Below, Shauna, Jennifer, Kris, and I were the first of our group to arrive.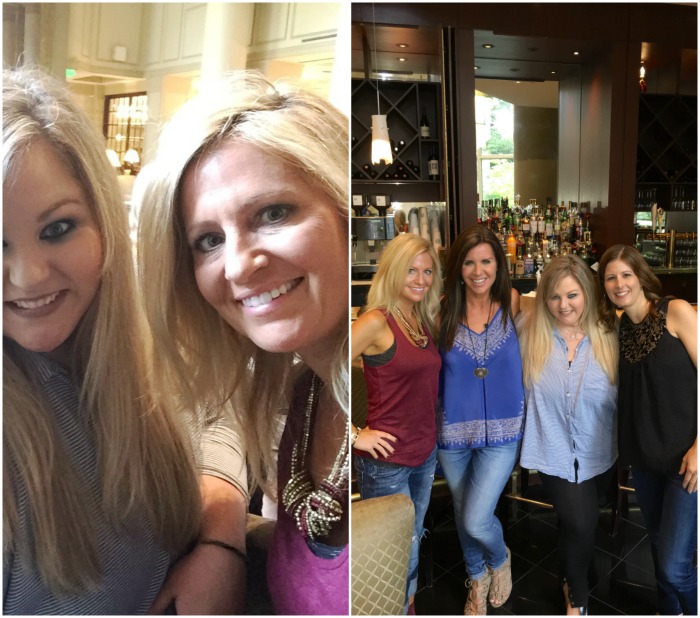 There is a reason it is called "Hot-lanta". Actually, people who live in Atlanta totally don't say "Hot-lanta" haha. It was muggy and humid – even more so than usual – so any photos with resemblance of my hair somewhat being pulled together and my makeup not dripping, I'm pretty proud.
My weekend roomie Tamara @ CitrineLiving made the trek all the way from Montreal, Quebec. We connected earlier last summer and she quickly became one of my dearest friends. Picking her up from the airport was an interesting start to the trip (envision her at the international concourse, me circling domestic, and her cell phone being down to 3%), but when I tracked her down with 1% battery to spare, it felt like we hadn't ever not actually met in person.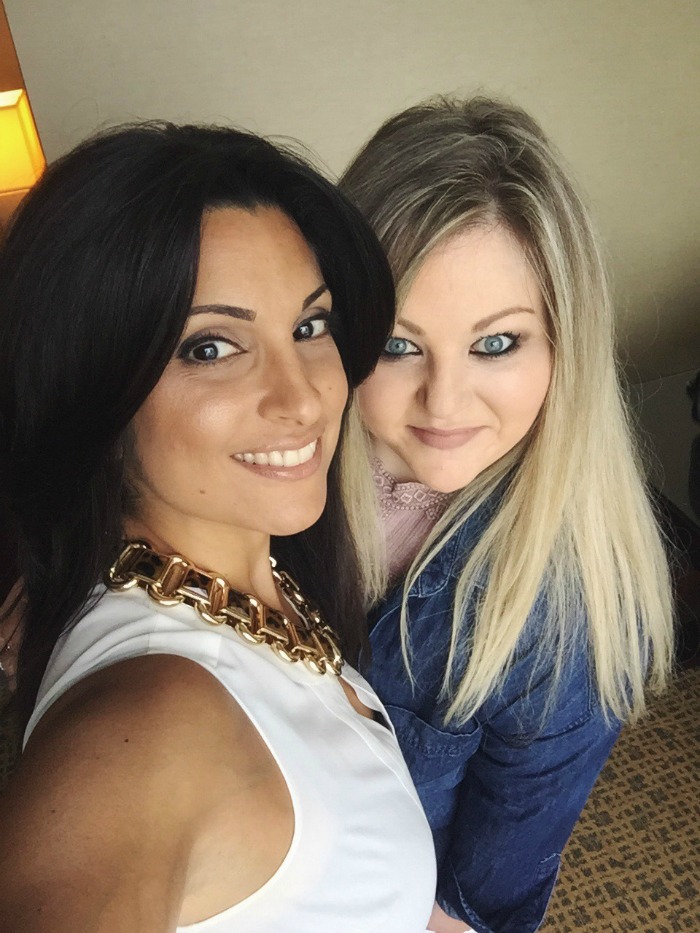 Here is a group shot of "my people": L-R- Jennifer, Haneen, Tamara, Brittany, Randi, (front), Erin, (front) Shauna, Bree, me, Kris
*Please note the difference in my hair in the photo above vs. photo below. It only got worse from there haha.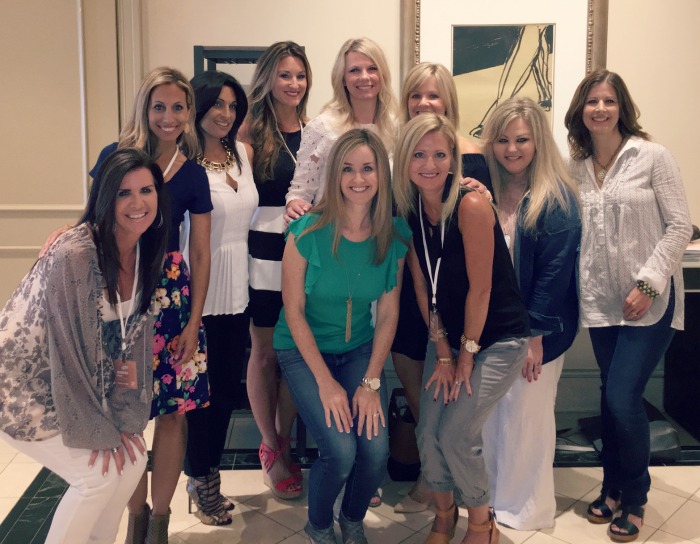 Day one and we are already taking selfies in the middle of class. Because… priorities. 😉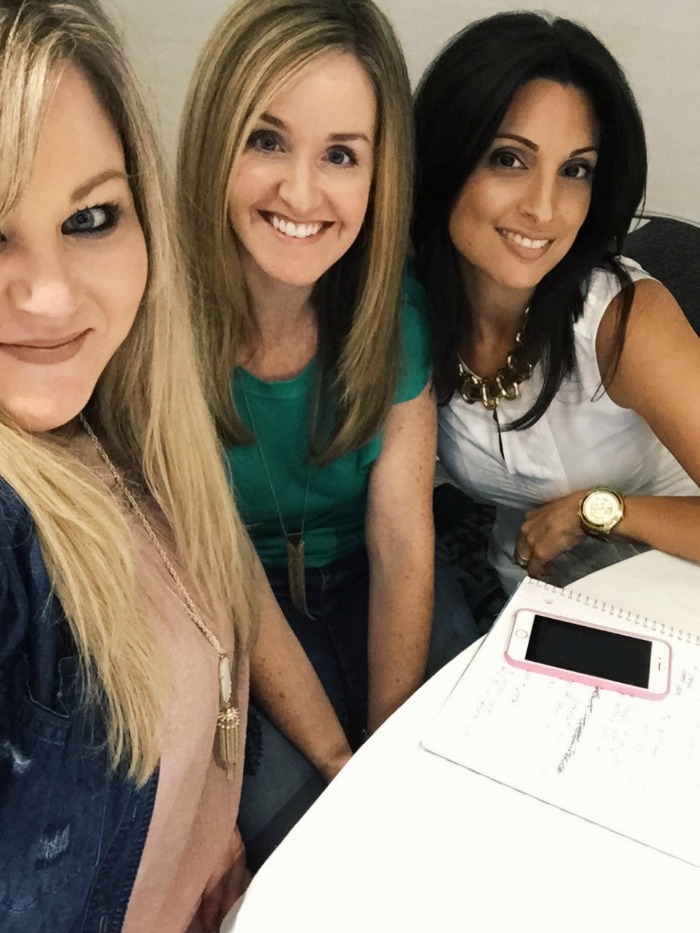 Here we are after attending a session taught by Matthew Mead. And, I was thrilled to meet Emily (far right next to me) of Eleven Gables. Just like the other girls, I first met her through Instagram.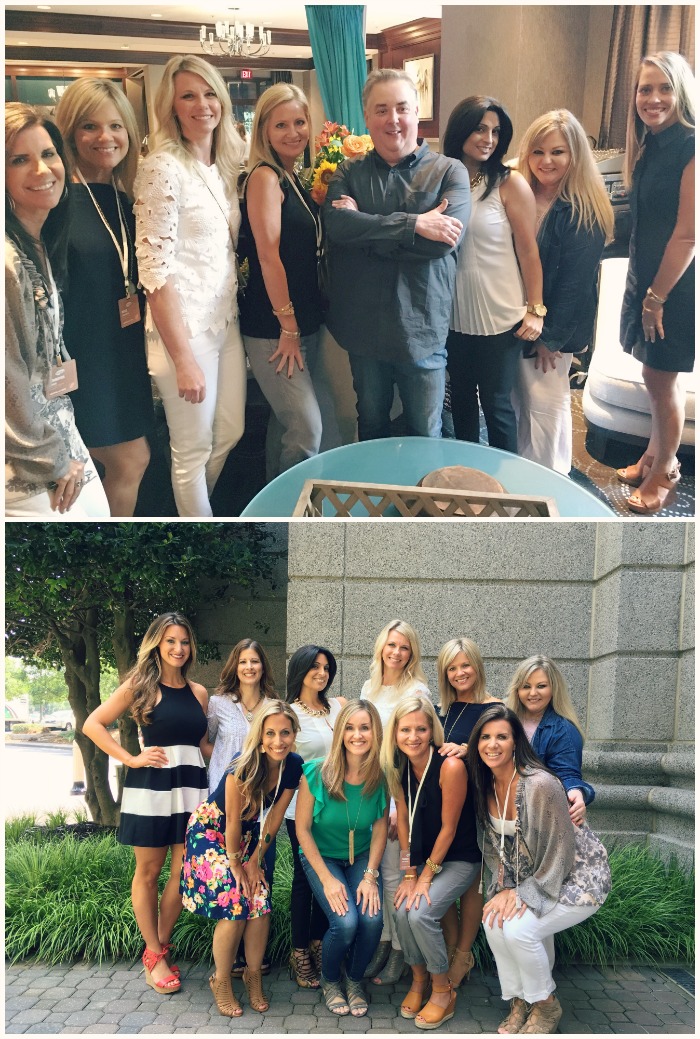 Before our Saturday evening event, we spent about an hour outside taking pictures above the steaming pool. I sweated. A lot. Everyone else seemed to be unphased, looking like they were standing in an air conditioned room. I walked home barefoot with frizzy matted hair this night 😉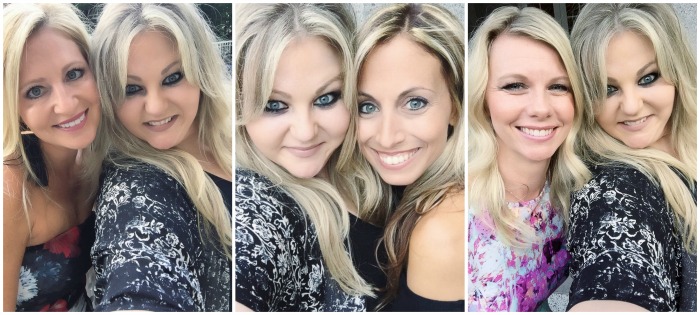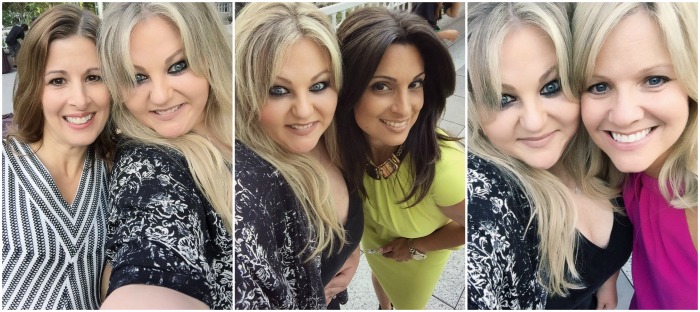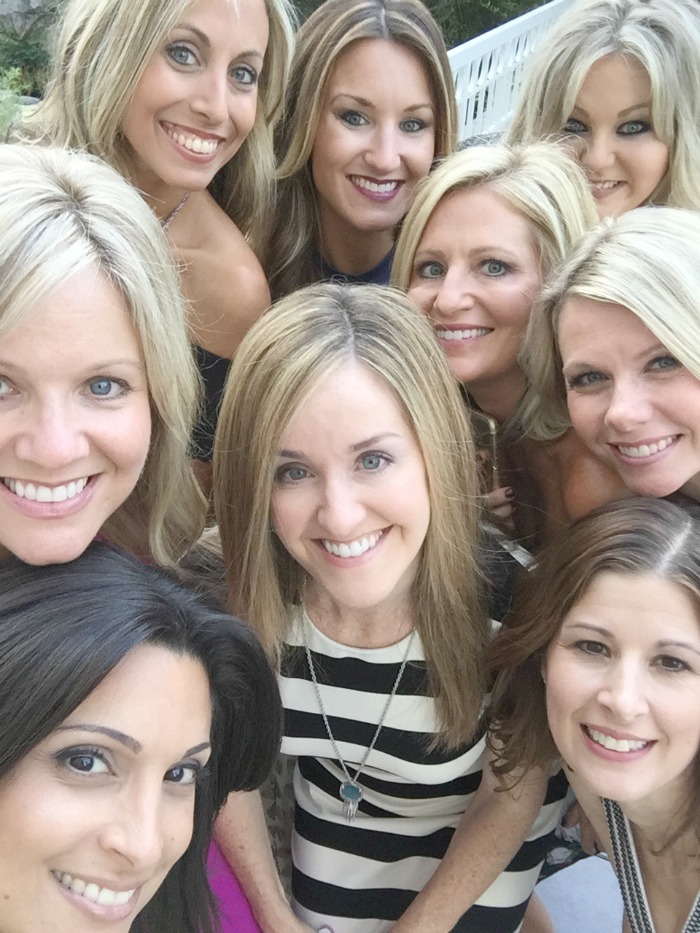 I don't know who snapped a shot of our clutches lined up during our photo sesh, but they were brilliant. This is basically us.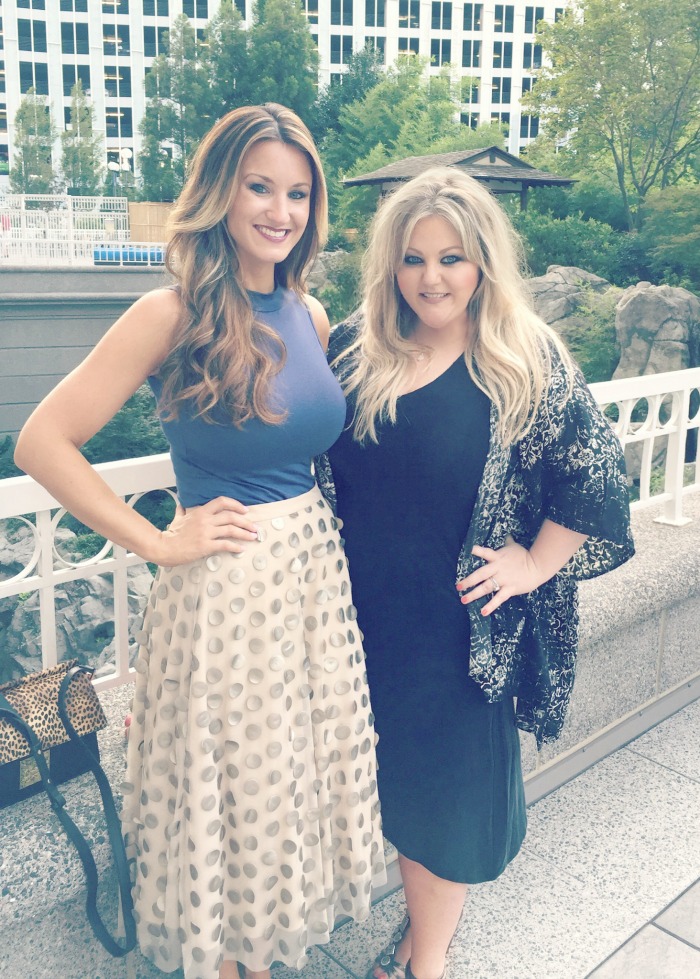 When the weekend came to an end, there were tears. A lot of tears. I depend on these ladies to lift me up, give me honest feedback when I talk to them about you, my incredible readers, and inspire me when I can't see beyond four beige walls. Thank you, ladies for enriching my life and thank you readers for letting me share this part of my life with you.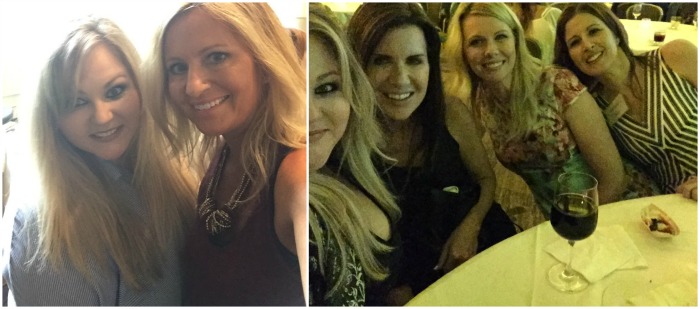 I don't typically share personal stories but would love to know- would you like more posts about what is going on in my world or leave it to the decor and entertaining? You can leave me a comment below to let me know your thoughts.