This past year, I read fifty-something books. That's a ridiculous feat for me. Admittedly, my preferred reading method is of the audio variety but having the constant company of stories I'm excited about and characters I'm invested in is a calming, quieting therapy. I can't seem to make time to devote to physical books but even when I'm running around manically — in the car or around the house — I've gotten in the habit of always having something playing. Either a podcast or an audiobook. And this past year, I took in some good ones. Today, I'm sharing some of my faves — from light to suspenseful, from fiction to autobiographical.
*Post on KelleyNan.com may contain affiliate links. Click HERE for full disclosure.
My Top 12 Books Over the Past Year…
I decide what to add to my reading list from lots of sources. I'll go through the charts, follow recommendations (my friend Jamie is an English teacher and avid reader so I always love hers!), read additional titles by authors I enjoyed, or even grab some I've never heard of during a rare sale/freebie offer. Not all of these were released in the last year, but MOST are incredibly current. In random order, these topped my list.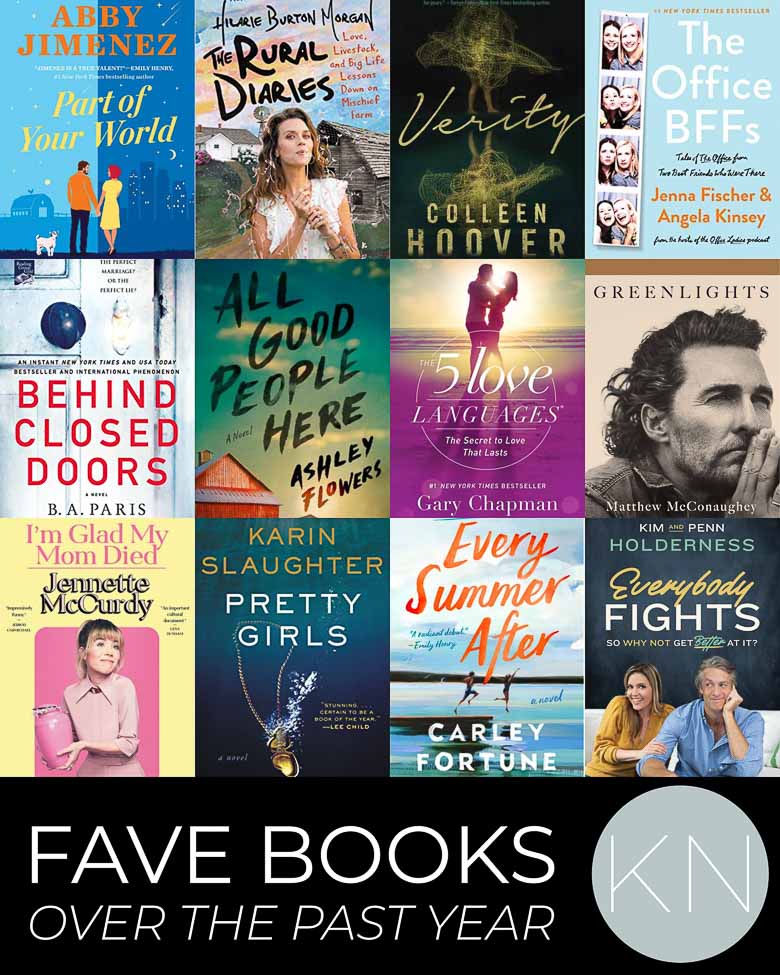 It was tough narrowing the books from the past year down to my top 12 — and impossible to rank the 12 in order. For that reason, the following are in total random order. I won't give a description since that's available on each listing and would probably be redundant. Instead, I'm giving my impression and general tone/category.
1. Part of Your World by Abby Jimenez — This witty fiction romance was the first I'd read by this author and I loved it so much, I immediately purchased her other three earlier books (The Friend Zone, The Happy Ever After Playlist, and Life's Too Short). They are technically a series and are best read in order but could also be read independently. I adored them also so I would 100% recommend them all. Her next book comes out in April and I can't wait!
2. The Rural Diaries by Hilarie Burton Morgan — A One Tree Hill super fan, I've long been a fan of Hilarie Burton (and her husband) but I especially appreciate how down to earth and normal she's always seemed. This autobiographical book primarily focuses on living on their farm in New York and how they got there. It was super enjoyable and I definitely recommend listening to the audio version, narrated by her.
3. Verity by Colleen Hoover — I've read a lot of CoHo books and enjoy most of them, but I'm not quite as fanatical as the majority of her following seems to be. This one is different than most of her other books, though. It's still steamy but more suspenseful and dark and I was glued to it.
4. The Office BFFs by Jenna Fischer & Angela Kinsey — I adore the office still and look forward to Jenna and Angela's weekly rewatch podcast so I was stoked when their book came out. A more collective look at behind the scenes and a closer look of the life of The Office actors, this is another book I'd definitely recommend listening to. In general, I definitely recommend listening to autobiographies, most often narrated by the authors. If you love The Office, this is an easy, enjoyable book that will make you even more of a fan.
5. Behind Closed Doors by B. A. Paris — A psychological thriller about a married couple, whose relationship isn't what it seems. This one felt like watching a movie.
6. All Good People Here by Ashley Flowers — I didn't have really high expectations for this debut novel by Ashley Flowers (founder of Crime Junkie), but it was a surprise in the best way. A murder mystery that goes back and forth between two women's lives a few decades apart, you'll guess who it was the entire time you're reading.
7. The 5 Love Languages by Gary Chapman — So, this book has been around since the early 90s and even though I knew (or at least suspected I knew) my own love language, I didn't really know what that meant. I LOVED listening to this book (read by the author) who inserts real life examples and how to apply the concept of love languages — not just for partners (although it's fantastic and I made Dave listen afterward) but for other people you have close relationships with. I refer back to this book all the time and try to stay in practice because it makes so much sense, you'll find yourself being like "YES! That's me!" It also teaches you how to love people through their love languages, which was the most helpful. If you haven't read it, 10/10, add this to your list stat.
8. Greenlights by Matthew McConaughey — I've always liked him, but I have even more respect for Matthew McConaughey after listening to his book. He's so humble and down to earth and I bet if you grew up in the south, you'll be able to especially appreciate and relate to a lot of his childhood.
9. I'm Glad My Mom Died by Jennette McCurdy — Admittedly, I didn't even know who Jennette was when I read this book several months back. But, people were talking about it so I was curious — that controversial title worked! She was a child actress who starred on iCarly and it documents a heartbreaking account of her childhood. But, she brilliantly delivers it with so much humor mixed in, she made it enjoyable. Some things are relatable and some things are so crazy, I can't believe they were her norm.
10. Pretty Girls by Karin Slaughter — Also a Georgia native, I immediately felt connected since the author set this book around where I live in Athens and Atlanta. This dark serial killer novel is insane, with lots of twists (beware — also a lot of disturbing violence and torture). It's tragic, nail-biting, but so so good.
11. Every Summer After by Carley Fortune — Her debut novel (her second book comes out in May!), this book is so nostalgic and visceral to those most heightened younger years. Taking place over a series of several summers at a family's lake house, it's so well written and easy to enjoy.
12. Everybody Fights by Kim & Penn Holderness — You've probably seen at least a few of their viral spoof (but oh so relatable videos) and I LOVE that they share how they deal with navigating conflict and life in this book. It's hilarious, relatable, and just makes you feel warm and understood. Also, it's packed with great advice and lessons.
*As you could expect, trigger warnings for each of the thrillers.
When to Listen to Audiobooks
The biggest reason I never seemed to read before was time. With everything to do, there just didn't seem to be time to dedicate to a book and it just wasn't a priority. Or, I'd get distracted and at night before bed, I typically prefer to rest my eyes on the TV. So, this is pretty interchangeable with podcasts, too, but I prefer listening while multi-tasking. It makes what I'm doing more fun, gives me something else to focus on while I go through the motions, and I don't have to intentionally plan time to set aside. FYI — this reason alone makes THIS version of the noise cancelling AirPods worth it. If you plan to listen while doing other things (especially noisy chores), you need THESE. Here's when I typically listen if making time for a book is seemingly impossible…
On walks outside. It's way better than music when it comes to zoning out and staying engaged and entertained. It can also help motivate you to get going to even get out there moving if you're looking forward to getting back in the book you're currently in. When I'm on the treadmill, I typically watch my iPad.
In the car. Always.
In the shower & while getting ready. In the shower, I prop my phone on a ledge and when I'm getting ready, I pop my AirPods in. That way, I can even listen when drying my hair.
Doing house chores. Unloading the dishwasher in the morning, prepping coffee, taking care of the pups, getting Eliza's snacks ready — it keeps me quiet while the rest of the house may still be asleep. At night when I'm cleaning the kitchen, my AirPods keep the sound of clanking and running water out while I listen. I love listening when doing laundry because I'm usually moving between several rooms (instead of having to hit 'pause' on the tv repeatedly. Basically, if I'm taking care of house business, I have a book on.
Cooking.
I can't listen to a book (or even watch tv, for that matter) while I'm working, writing, or doing something that involves a lot of thought because I won't retain the information. But, if it's hard to motivate to get housework done or you're sluggish just going through some of the daily grind (or can't turn your brain off), I highly recommend popping in some ear buds and trying an audiobook. Some narrators are more enjoyable than others but I pretty much always get used to the style of the speaker — enough at least so it isn't distracting.
I subscribe to Audible and get a new credit each month, but usually end up purchasing discounted credits, too. If you don't already use it, you can try it for free HERE.
Since I'm on an intentional peace quest, books are something I've come to enjoy (especially since I can incorporate them without making them a chore) and I now value that time that felt more monotonous. By the way, I share a lot of what I'm reading (and watching) in my weekly newsletters. If you aren't already subscribed, you can sign up at the bottom of this post to get more immediate titles I'm enjoying! Have any books you're loving lately? I'd love to hear them!