Once upon a time, on a Friday afternoon, a girl was sitting at her computer. What she didn't know then, as she ate her Fourth of July leftovers for lunch, is that within the next two hours, she would have ordered two new sofas. Spoiler alert- said "girl" was actually me and this is a true story. And, she now has a full Pottery Barn sofa comparison.
*Posts on KelleyNan.com may contain affiliate links. Click HERE for full disclosure.*
Let's back up a little… If you are a regular reader, you probably know of our big sectional in the great room. You also probably know about my love/hate relationship with it. I love the functionality, I love the comfort and it has so much room. But, I ordered it before we moved in and it takes up so much space (a little too much space for us). It's also a little darker than I would prefer against our greige walls. And, 3/4 of the sofa remains untouched because it's just me and Dave. The worst part which I hadn't considered is (in case you didn't know, both Dave and I are on the shorter side) because of our height, we have a difficult time getting in and out of it- especially the chaise. And with the shape of our room, the chaise has been more of a hindrance. When we broke the coffee table over NYE during a lively game of jumbo Jenga, I didn't want to pay to replace it, knowing I had my eyes on eventually replacing our sofa for something that fit our space (and needs) a little better. So, here it sits, seven months later, with an oversized tray holding down the broken mirrored glass. Real safe, right? haha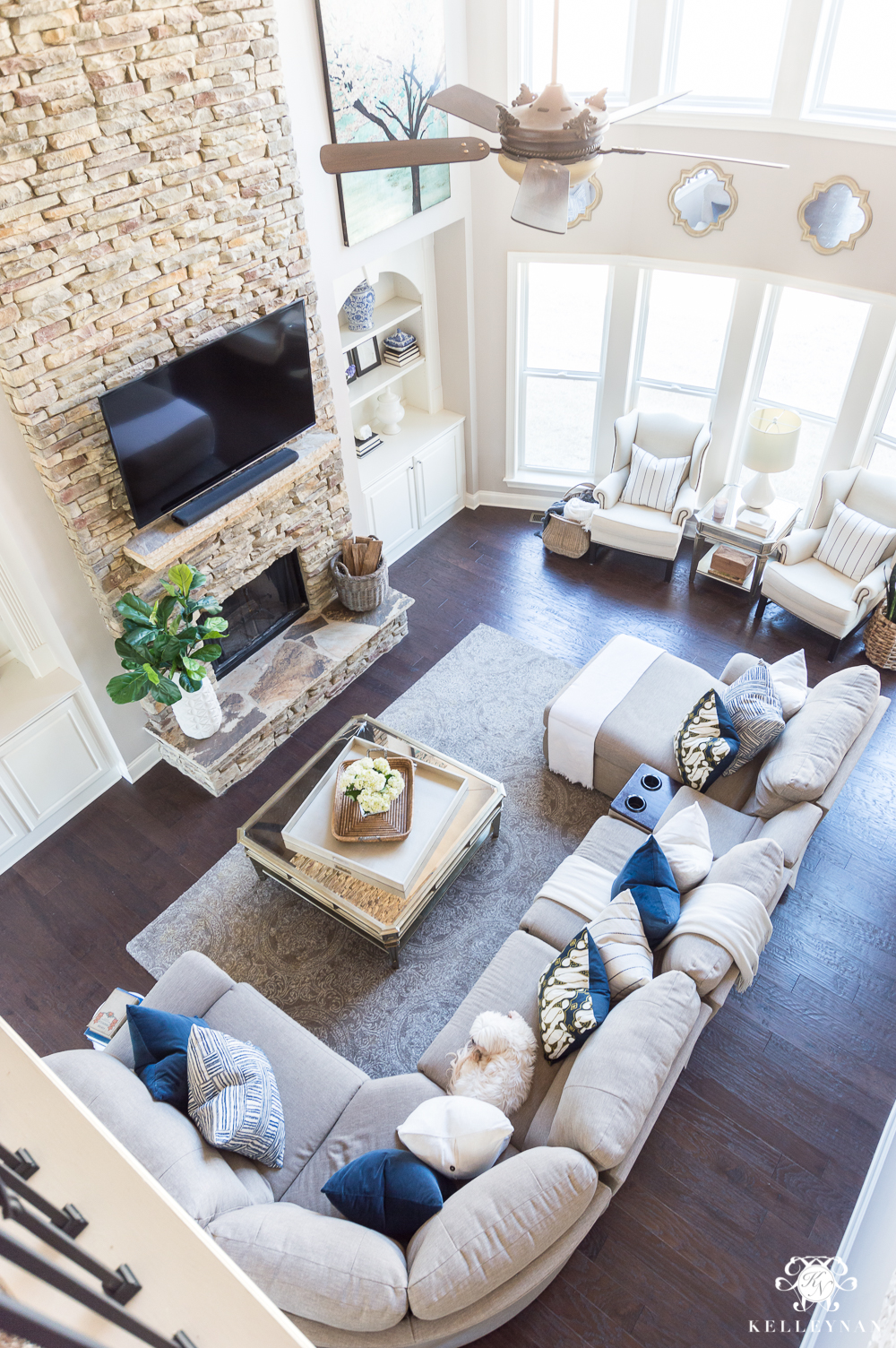 ---
Sources: Rug | Wingback Chairs | End Table | Blue and White Jar | Lidded Rattan Basket (similar) | White Tray (similar) | Clock 

1. Striped Pillows | 2. Indigo Print Pillow | 3. Indigo Velvet Pillow
---
I've been looking at sofas casually for months. I had looked at a few from Crate and Barrel and had even considered the Axis II. But, knowing I didn't want to commit to something for many years down the road, I wanted to find a happy medium – something nice that wouldn't break the bank and that I wouldn't cry about spending the money on. I also knew I would be spending more on high performance fabric so the cost would likely be a good bit higher than the base price of the sofa. Our current sofa wasn't cheap and the decision to divorce it wasn't an easy one.
POTTERY BARN SOFA COMPARISON
Pottery Barn has pretty frequent sales and my mind was pushing me in that direction; we've been really happy with all the upholstered furniture we've ever purchased there (see our Thatcher Wingback Chairs – shown in the photo above – and former Tall Tufted Harper Bed– also purchased together during a Buy More, Save More event). But, when I saw their occasional – Buy More, Save More event (up to 30% off when you spend $3,000+) – I decided it was time to go and test some out, in store. The three I was considering were the Pearce, the Cameron, and the Buchanan. I had heard great things about the PB Comfort but it was just too deep for us (more on that in a bit). A few things to keep in mind:
Each sofa is made to order, so you select your own fabric. We decided before we even headed out that especially because we love on our sofas hard (and because we wanted to go with a light fabric), we would need to get a higher (more expensive) performance fabric.
Each sofa comes in a slip-covered option. I knew I wanted upholstered so I don't include the slip-covered options in the comparison.
Each sofa comes in a standard size, grand size, love seat size, and sectional. The sectionals are not included in the comparison below. I knew I wanted a sofa and love seat going into it so that is what our focus was on.
Each sofa comes in a roll arm and square arm option. We decided on the square arm pretty quickly. Surprising, the square arm is still padded and comfortable.
The roll arm sofas are longer but that is due to the arm size; the seat size is the same.
Here's a run-down of our trip.
POTTERY BARN CAMERON SOFA
What We Liked: 
Aesthetic
Price
The grand is available in the longest length
What We Didn't Like:
The depth – this was the most narrow of the sofas and I actually kind of liked the depth. My feet don't usually touch the ground while sitting on sofas and they did on the Cameron. Dave was ok with it too but thought something a little wider would be more conducive for naps. The back cushions are removable, which would have been fine, too.
It doesn't come with the down wrapped cushion option
*all images via PotteryBarn.com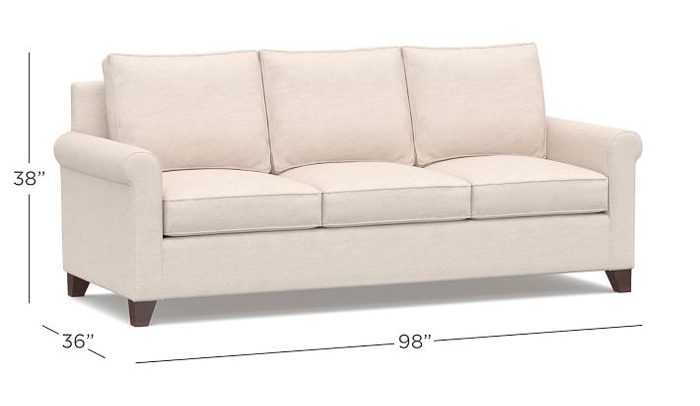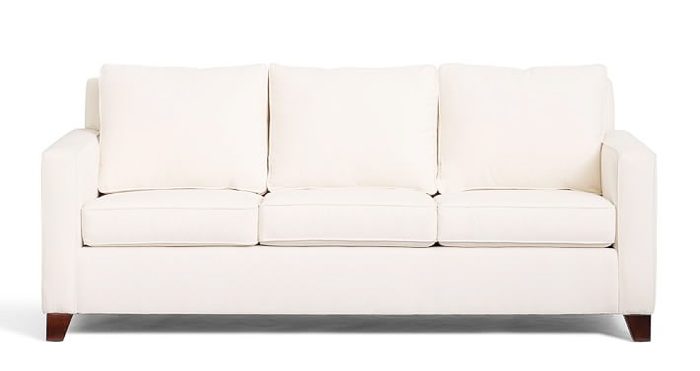 POTTERY BARN PEARCE SOFA
What We Liked: 
Aesthetic
Comes with down wrapped cushions
Low feet
What We Didn't Like:
The depth – this depth was actually pretty good but I would have preferred just an inch or two more shallow.
Two seat cushions- I actually like the look and think it would be great for lying on but when I started imagining the rare occasion of having someone sit in the middle, I didn't like the idea of them having to share the two cushions.
The lengths are on the shorter side – the "grand" size is actually almost the same size as the love seat size in other models. Ultimately, this was the deciding factor on why we decided against it.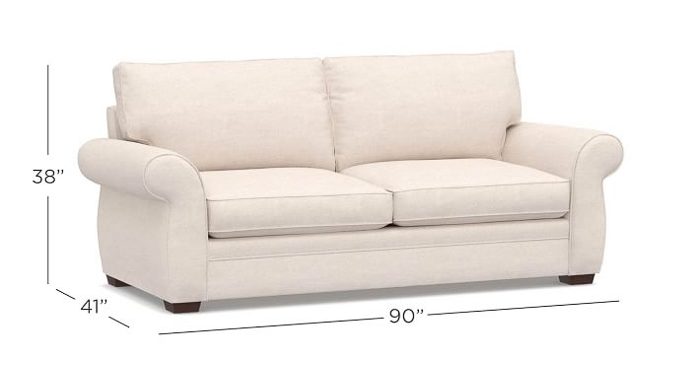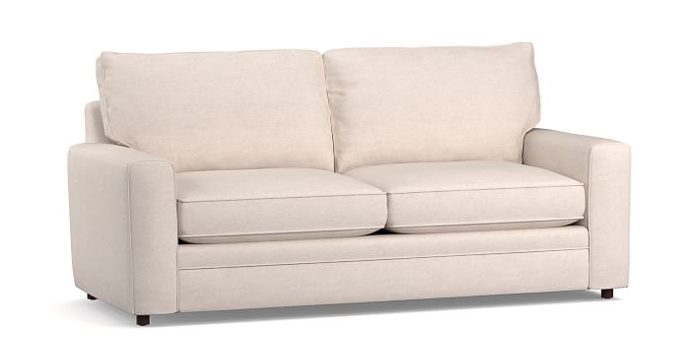 POTTERY BARN BUCHANAN SOFA
What We Liked: 
Aesthetic
Price
Perfect depth
What We Didn't Like:
It doesn't come with the down wrapped cushion option. This was the biggest contention when I was deciding whether or not to pull the trigger.
The love seat is pretty large- That isn't a bad thing but it does make me nervous – I'm hoping I measured correctly!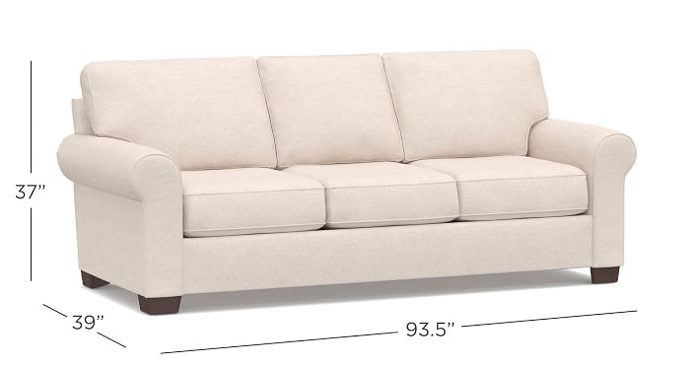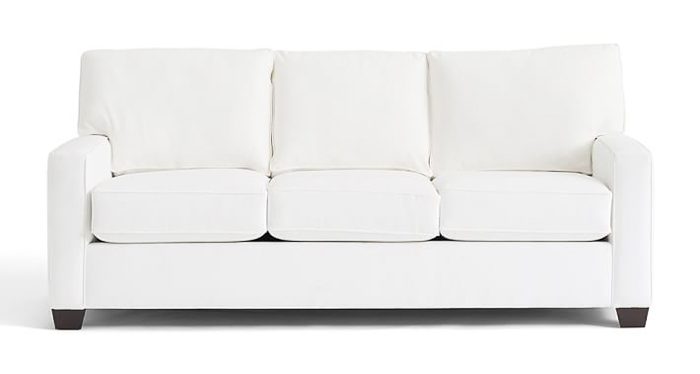 Here's a quick breakdown of the factors we considered in comparing each of the Pottery Barn sofas – I wish I had created this prior to our trip!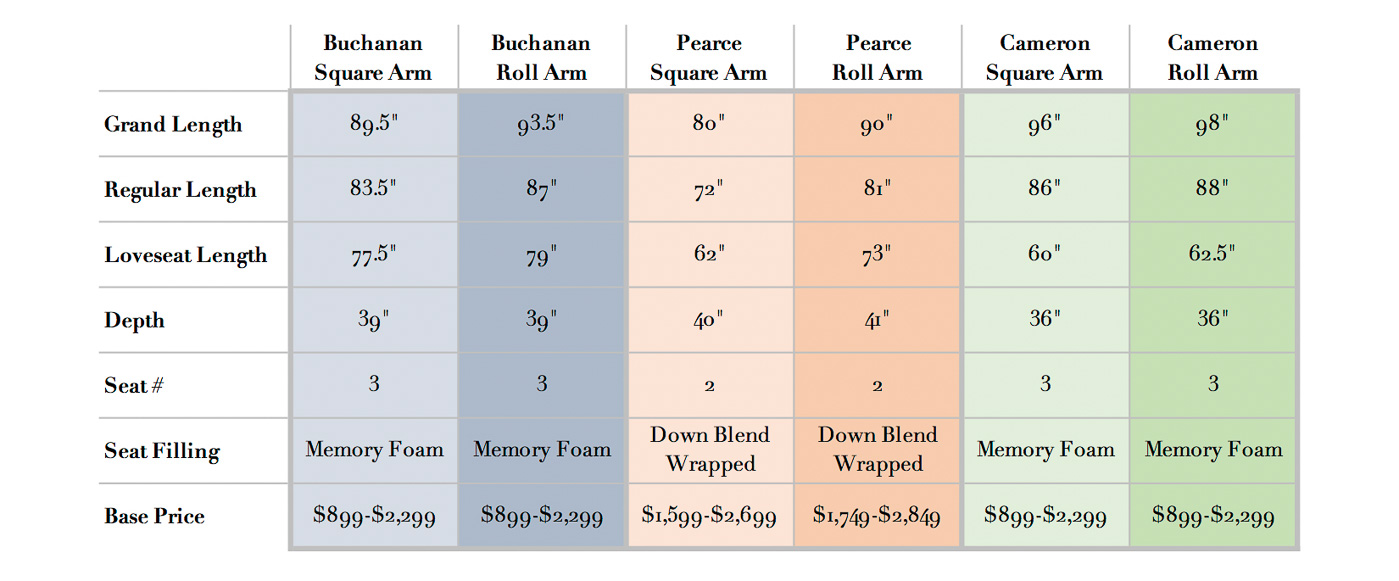 THE WINNER… 
Ultimately, we went… with the Buchanan Square Arm Sofas! We ordered one grand and one love seat in Ivory Crypton performance fabric. A huge thank you to Tricia at the Alpharetta Avalon location who was a total gem, super informative, and beyond patient.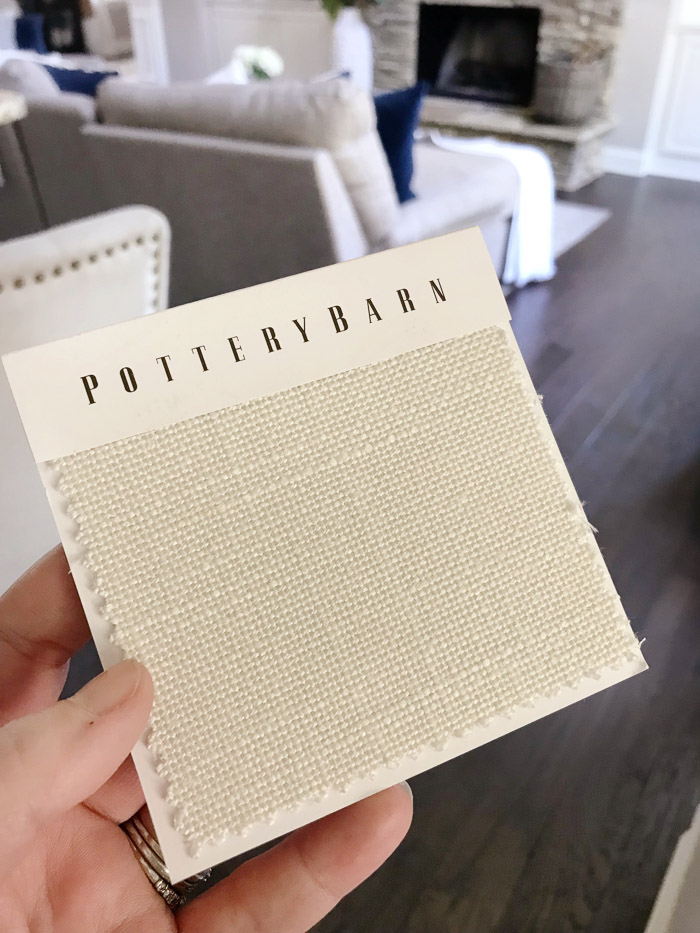 We were able to see a large piece of fabric in-store and they even had another sofa upholstered in it. I didn't want something too cool or too yellow or too white – basically the perfect light neutral. I asked Dave if he knew when we took our little impromptu field trip we would be coming home with new sofas on the way – he gave me that look like "you can't be serious" but I told him, "that's funny because I didn't even know!" It's true- he knows me and my ways better than I know myself. Because we were able to get 30% off, we saved about $1,000 and I was shocked at how reasonable the final price was – even after the upgraded fabric, tax, and white glove delivery. If you have never ordered a large PB piece, when they deliver, they set everything up for you, where you want it. This even goes for beds.
I'll be sure to report back and I'll definitely be sharing them once they arrive (an estimated 6-8 weeks) and of course the other changes I'll be making as a result (that shattered coffee table can't make its exit fast enough!). If you are in the market for a new sofa(s), this will help as a guide for some of the specifics we were looking for but do your own research when it comes to sustainability and preferences. Our situation was finding something with good quality that would last – but not the best quality that would be a huge investment for decades. If these do, I would be thrilled! I know that years down the road, if you do think your cushions aren't as plump as they used to be, you can order replacements.
---
Sources: Buchanan Square Arm Sofa | Buchanan Roll Arm Sofa | Cameron Roll Arm Sofa | Cameron Square Arm Sofa | Pearce Roll Arm Sofa | Pearce Square Arm Sofa  
________________________________________________________________
Make sure to subscribe to my emails at the bottom of this post, and don't miss when our Buchanan sofas arrive! Plus, I'll be sharing other updates and living room projects soon.
Other Posts You May be Interested In