Real talk- I don't switch my bedding seasonally. Actually, even my mom who sometimes laughs and shakes her head at how often I want to change things up switches her bedding more than I do. Ok, and it's no secret I can kind of get a "pass" in making some changes since it's my job to always be creating and sharing new ideas, but my bedding? I discovered (what I call) the "power couple" combination several years ago that's been my go-to ever since – the Pottery Barn Belgian Flax Linen Duvet Cover and Belgian Flax Linen Diamond Quilt. Like my favorite maxi dress, I can't just have one. I actually have three of the quilts (in White, Natural, and Flagstone) and two of the duvet covers (both in white) I use year-round in two bedrooms.
*Posts on KelleyNan.com may contain affiliate links. Click HERE for full disclosure.*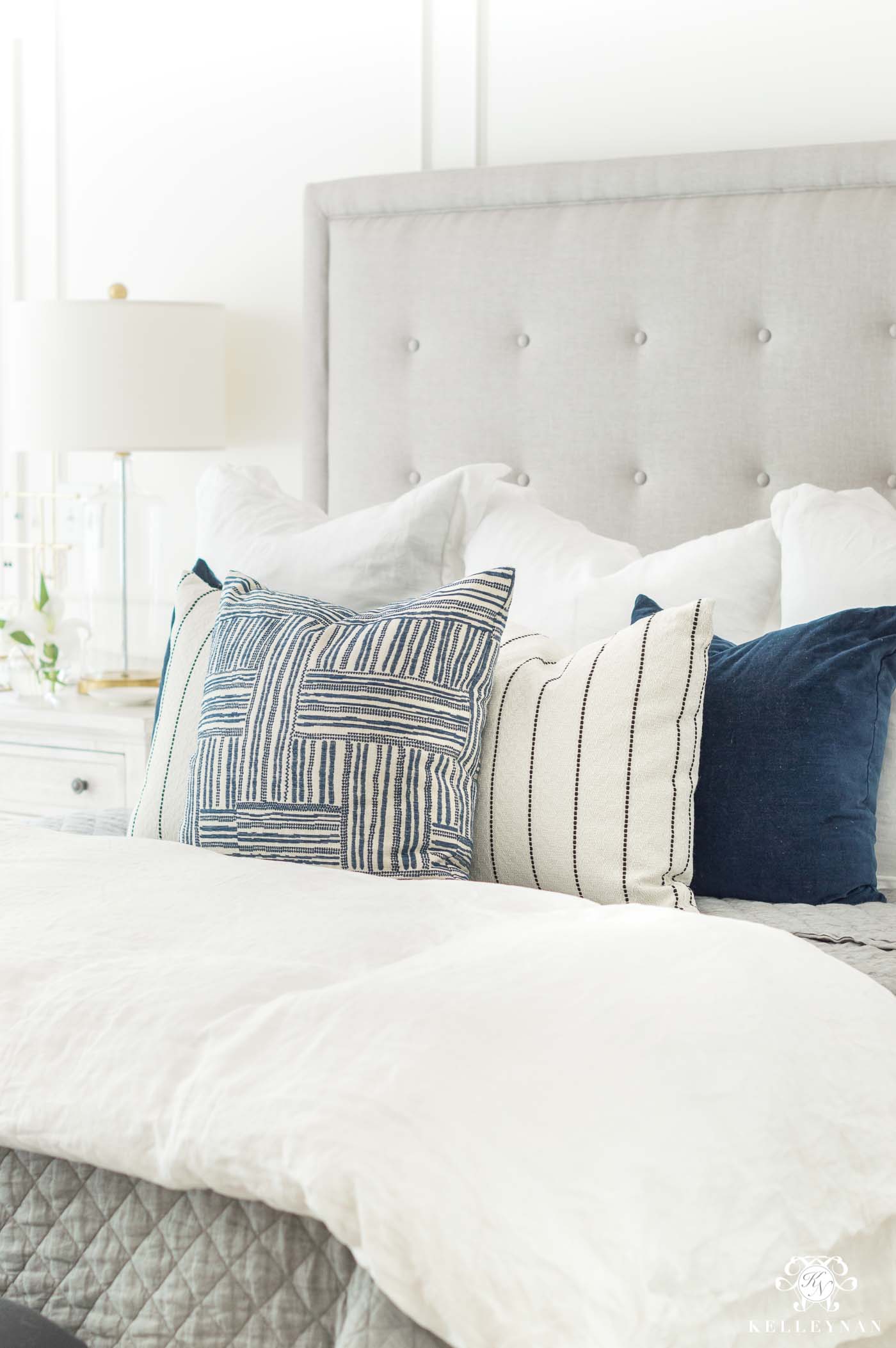 So, what's so great about these two bedding staples?
If you've never had linen bedding, you may not know how soft it is. Once you try it, you will never again want a poly-fill comforter.
The weight is perfect. Somehow, the quilt is the perfect weight for summer and winter. It doesn't even make sense when I type it that it keeps you warm and cool, but it does.
When you want to get extra cozy in the winter or cooler weather months, the duvet cover (with a proper insert) feels like you're cuddling a cloud.
They are classics and you won't tire of the look – and, they can go with just about any style.
The more you wash them, the softer they get. Pulling the quilt out of my dryer is one of my favorite things.
The quality is fantastic. I've never had a rip, tear, pull, run, or anything else that may make you cry.
While Pottery Barn cycles through a lot of decor and discontinues a lot of pieces and patterns, these have been available for years.
I get more emails from readers who ordered one/both of these with raving compliments than almost anything else in my home.
They're an investment that will last you for a long time (I've never gotten rid of any of my pieces) but they're more affordable than a lot of linen retailers.
You can constantly give your ensemble (or entire room) a whole new look with a few throw pillows/throws in any color or pattern. I may not switch my bedding often but throw pillows are a whole different ballgame 😉
GUEST BEDROOM – FEATURING THE BELGIAN FLAX LINEN DUVET COVER & DIAMOND QUILT IN WHITE
Speaking of which, I've had the white guest bedroom pretty "white"… well… forever. I was itching for a little change and thanks to my white bedding (both the Belgian Flax Linen Duvet Cover and Diamond Quilt), I literally removed a few throw pillows, and added a few in their place (along with a throw) that I picked up this past week during the Nordstrom Anniversary Sale. (I shared my favorites, along with my home pieces HERE). This is what my my guest bedroom most recently looked like…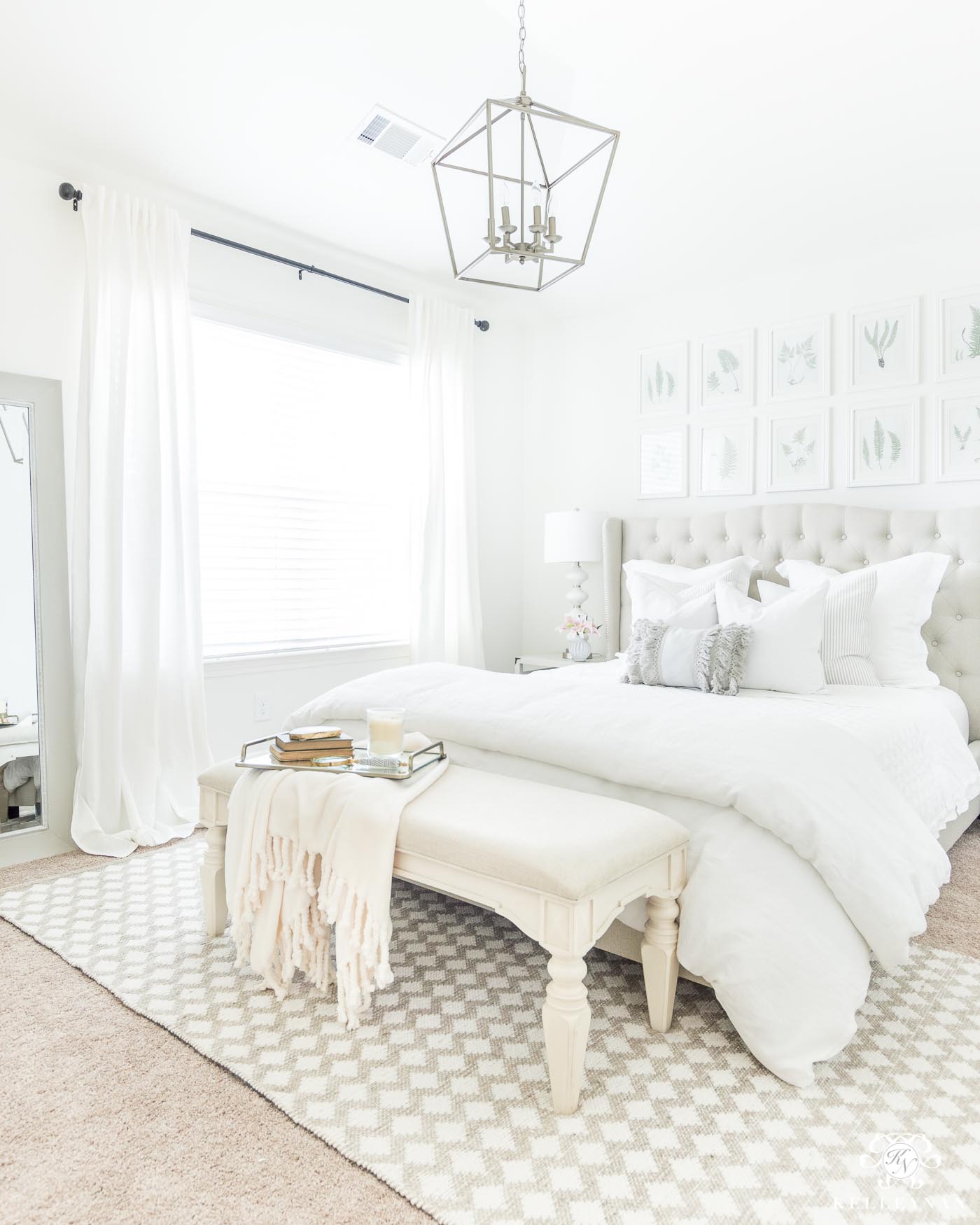 Sources: Curtains | Gallery Wall Frames | Rug | Bed | Fringed Pillow | Ticking Stripe Pillow | Fringed Throw | Quilt | Duvet Cover  
---
And here it is today.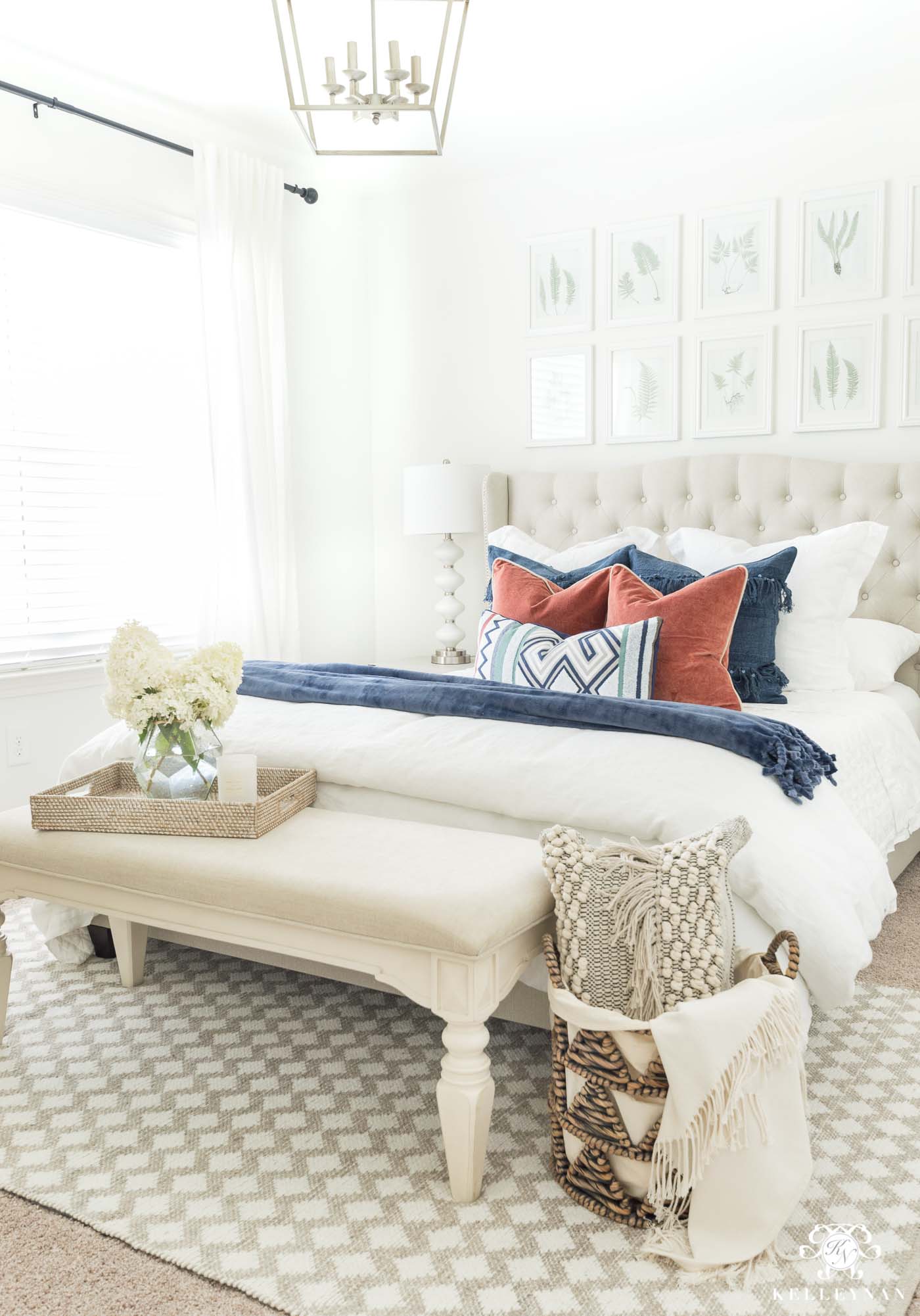 Because I'm always rotating throw pillows throughout every room of the house, I never feel guilty adding to my collection. And you guys know I have a lot- remember my throw pillow organization in my office closet HERE? And, each pillow I purchased can coordinate with tons of other colors and patterns I already have.
And just like I believe the PB Linen bedding is worth saving for and investing in, I think everyone needs one of these throws. I already had a cream one and just added this navy one to my arsenal- it is the softest movie-watching blanket ever, and can be found HERE.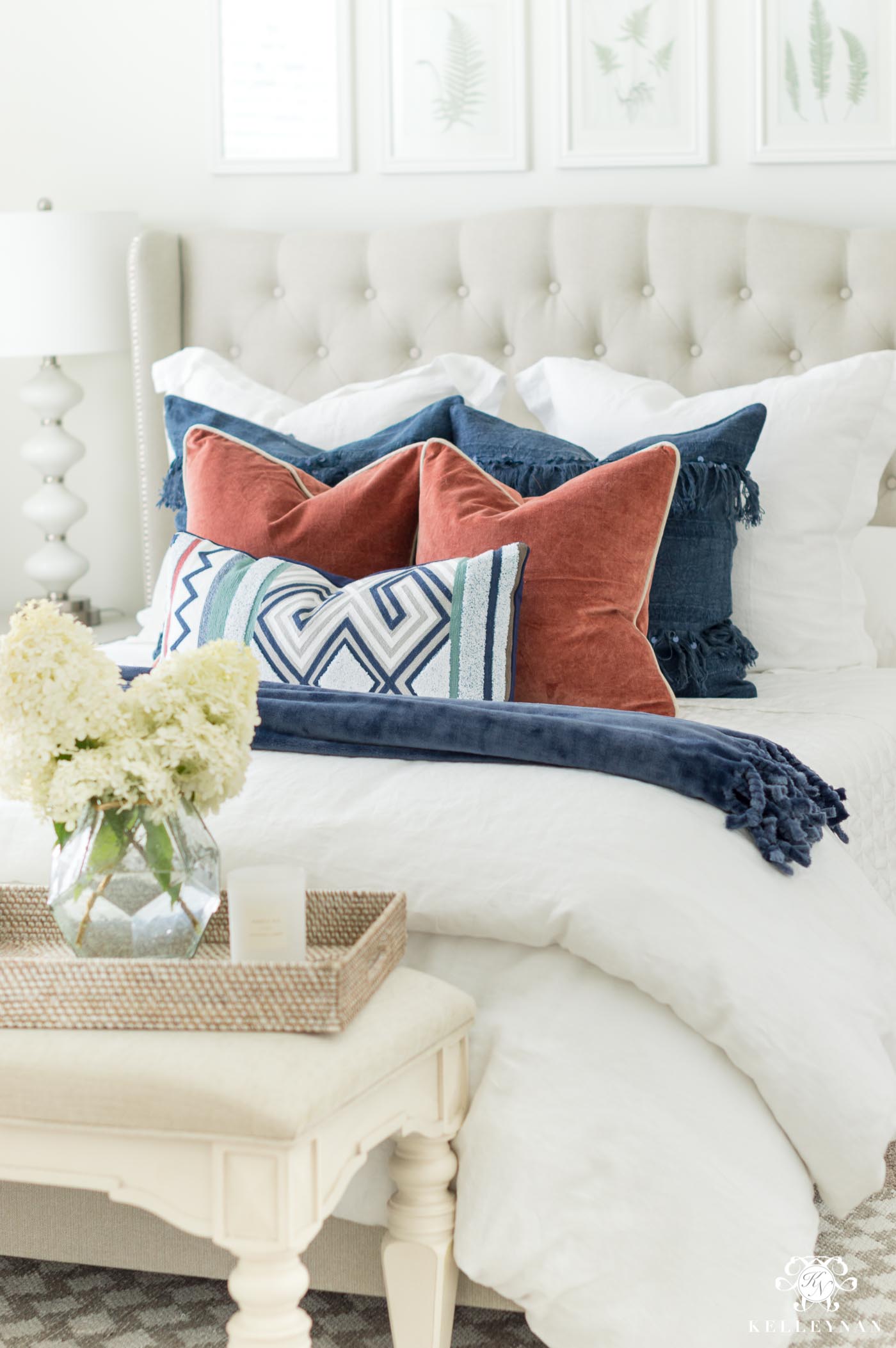 ---
Sources: Tasseled throw | Tassel Pillow Cover | Rattan Tray
---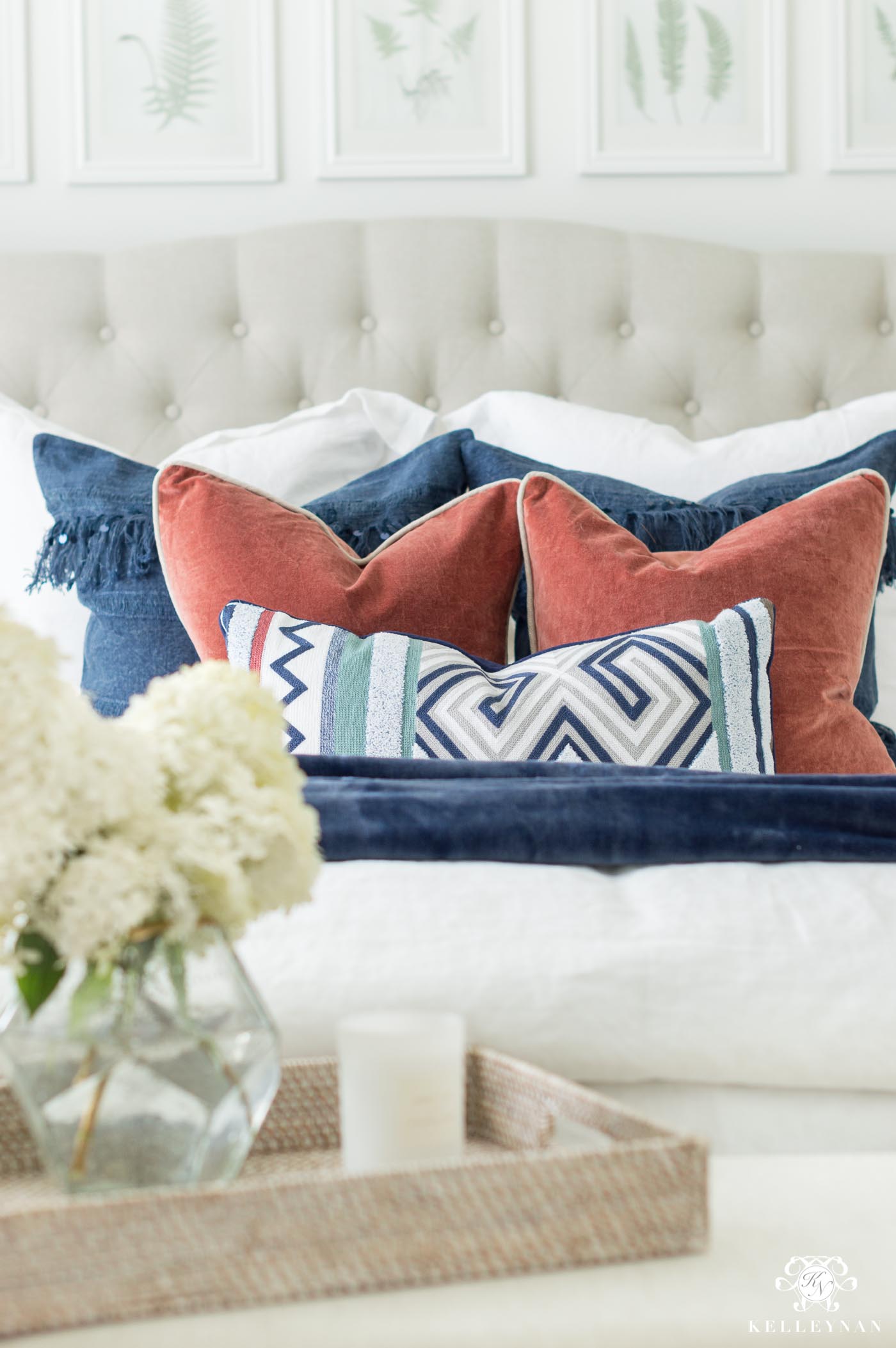 Each of the new pillows already comes with down inserts, too, which is a big plus.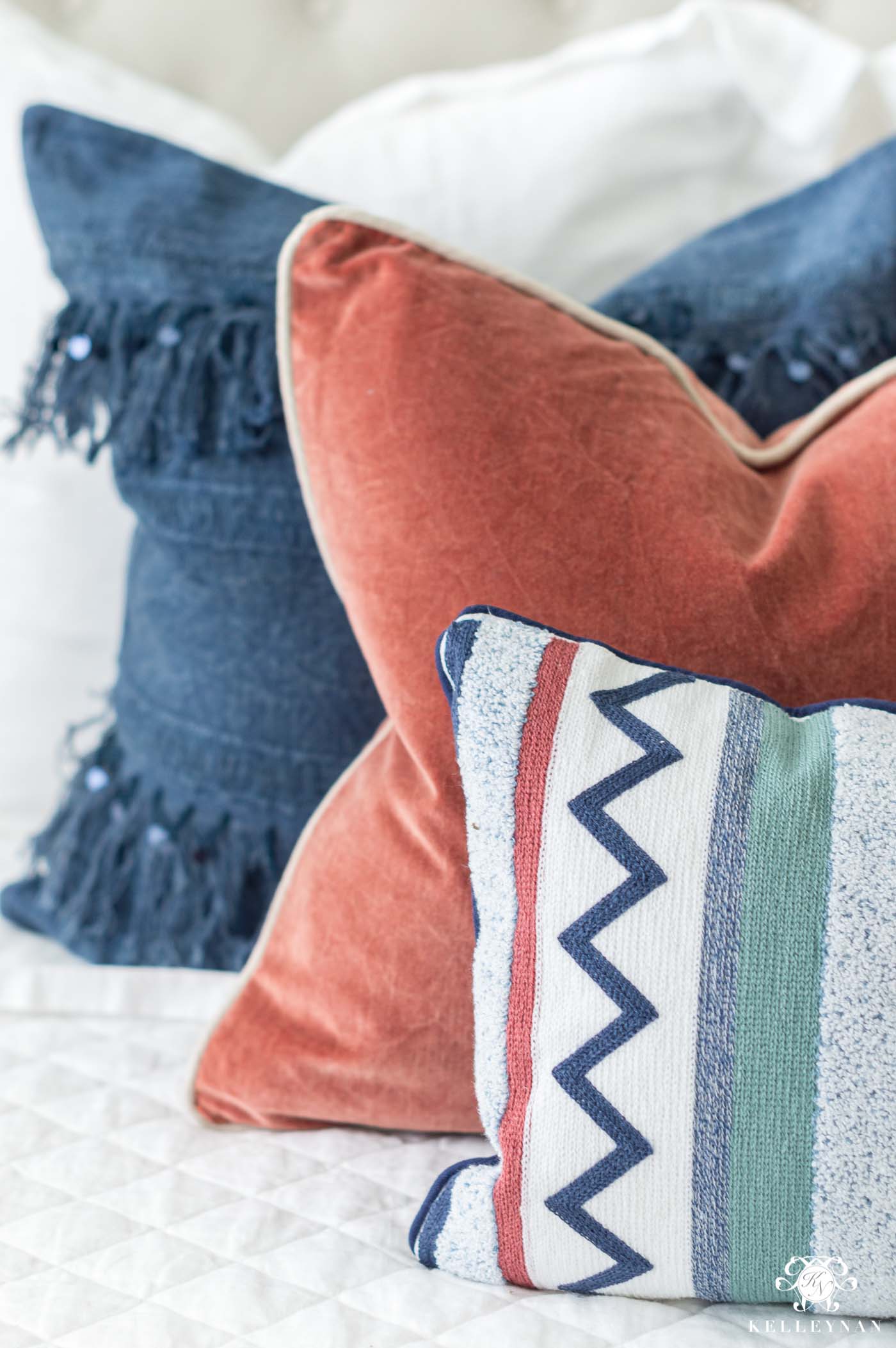 Here are a few other white bedroom looks I've shared over the past two years, all rockin' the Belgian Flax Linen Duvet Cover and Diamond Quilt aka "The Power Couple".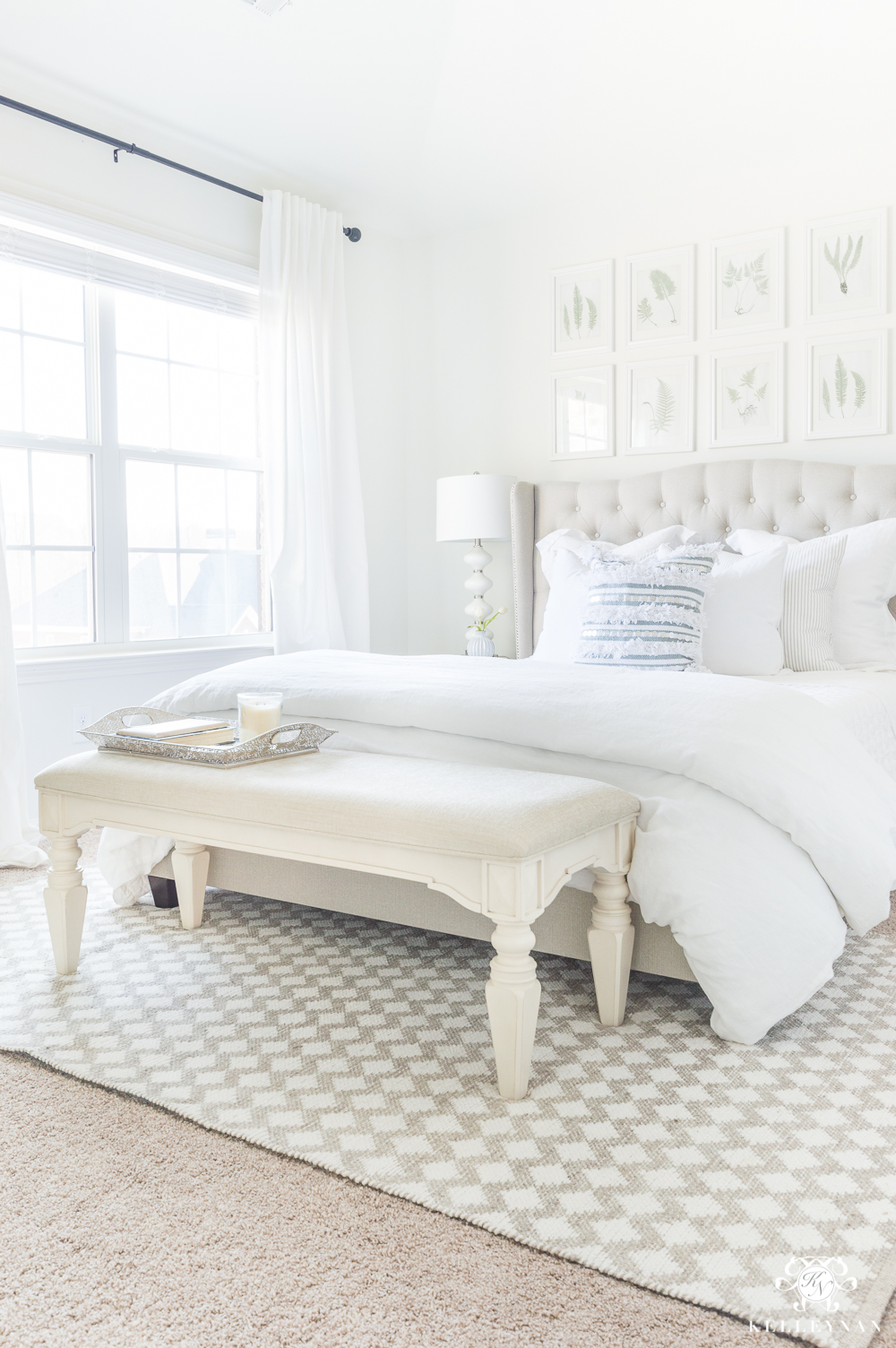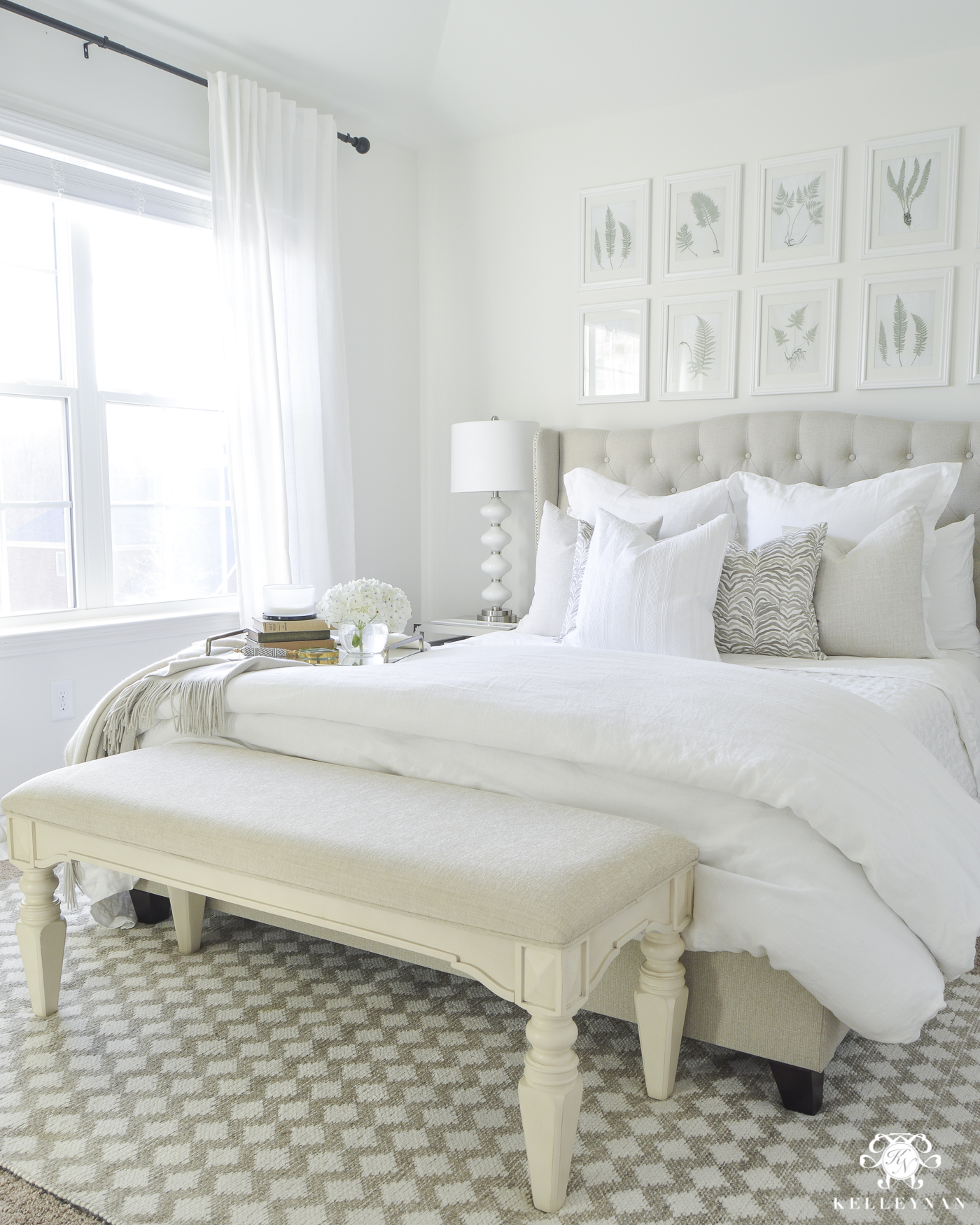 ---
Sources: Zebra Pillow (similar)
---
MASTER BEDROOM – FEATURING THE BELGIAN FLAX LINEN DUVET COVER & DIAMOND QUILT IN WHITE & FLAGSTONE
In the master bedroom – well, I just finished my makeover in November and this room has already seen more looks than I can count – all while keeping my linen bedding the exact same.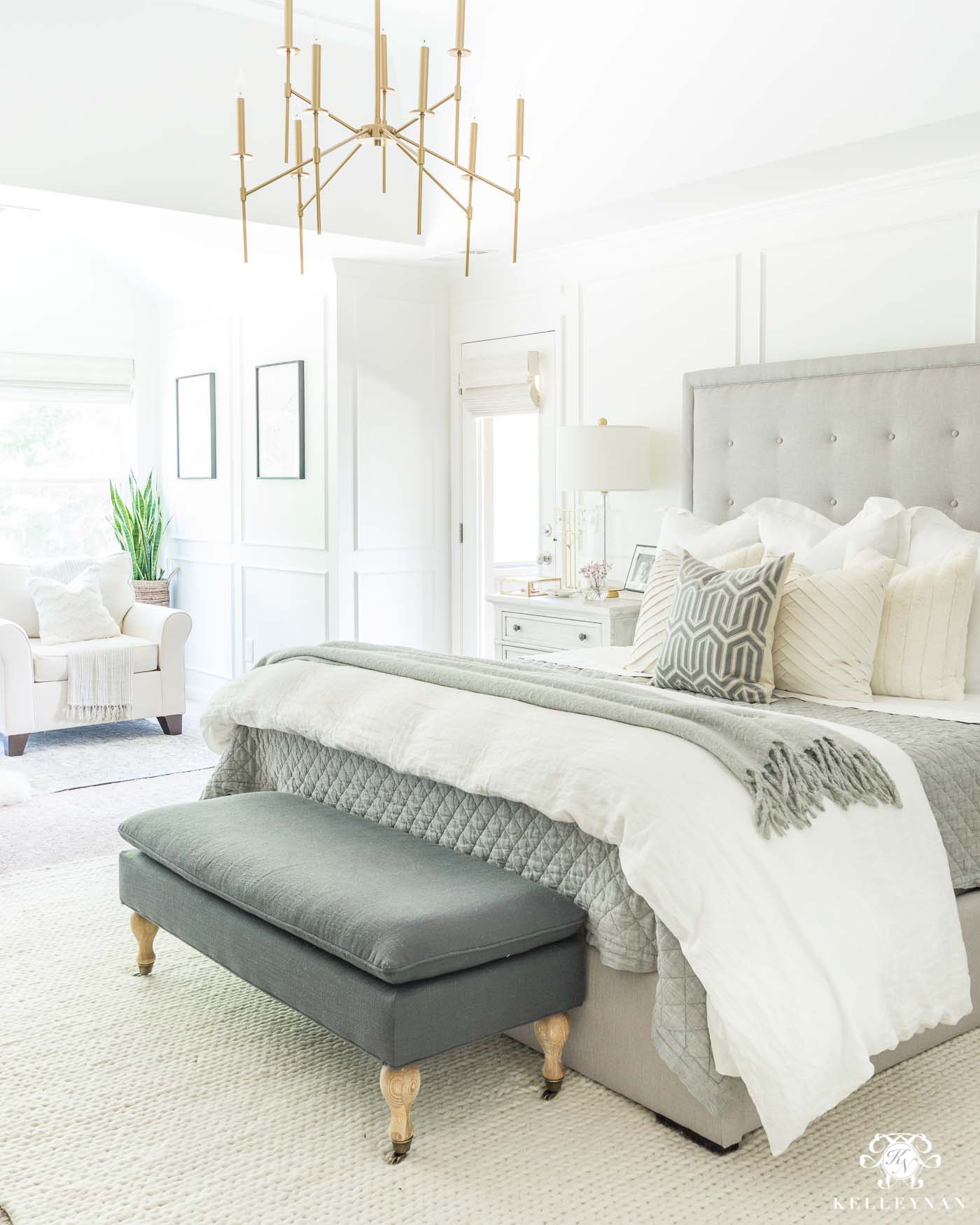 ---
Sources: Chandelier | Rug | Bed | Bench | Nightstand | Glass Lamp | Quilt | Duvet Cover | Bird Art 1 | Bird Art 2
---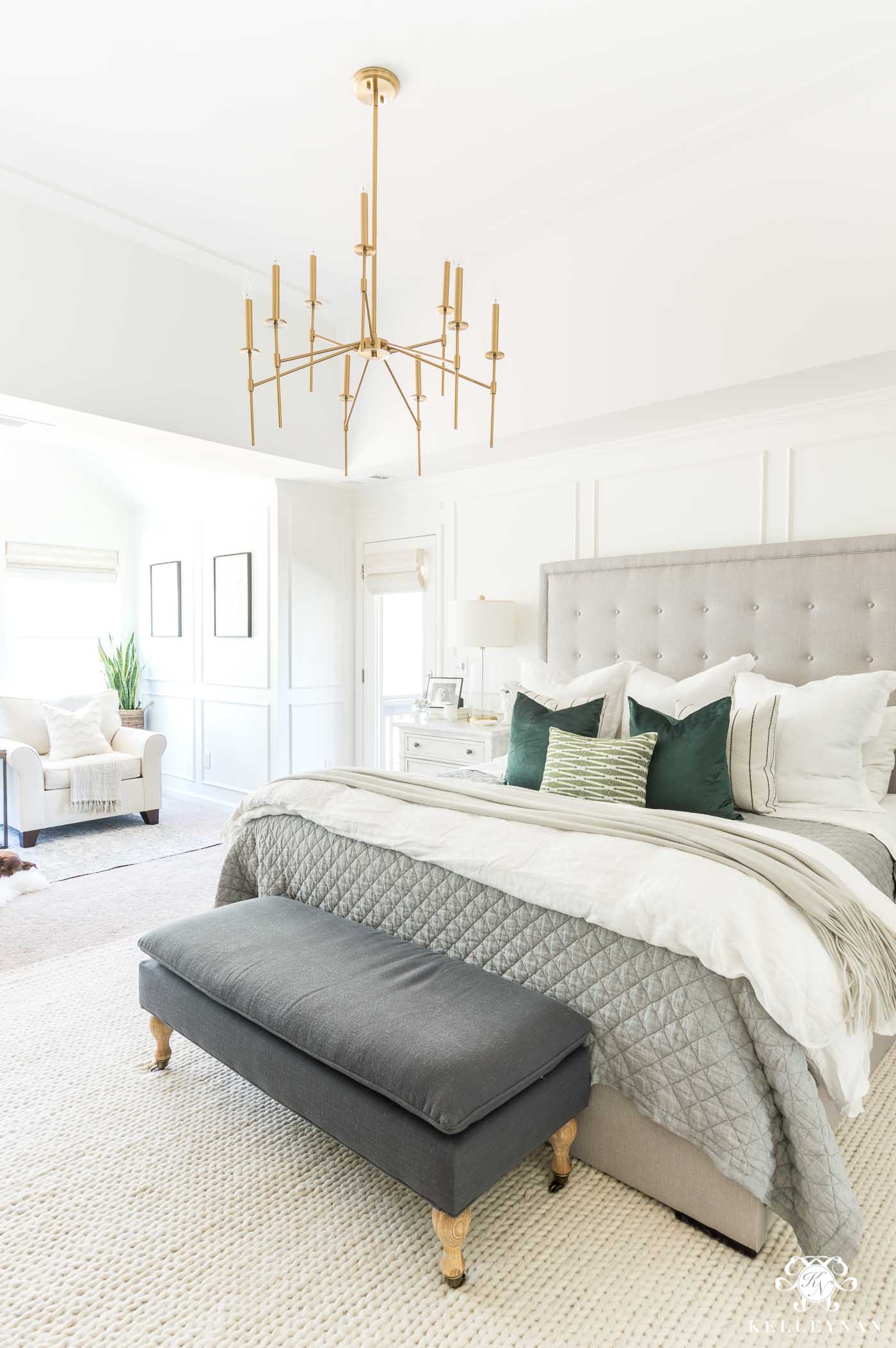 Striped Pillows // Ingrid Moss (Green Pattern) Pillow // Green Velvet Pillows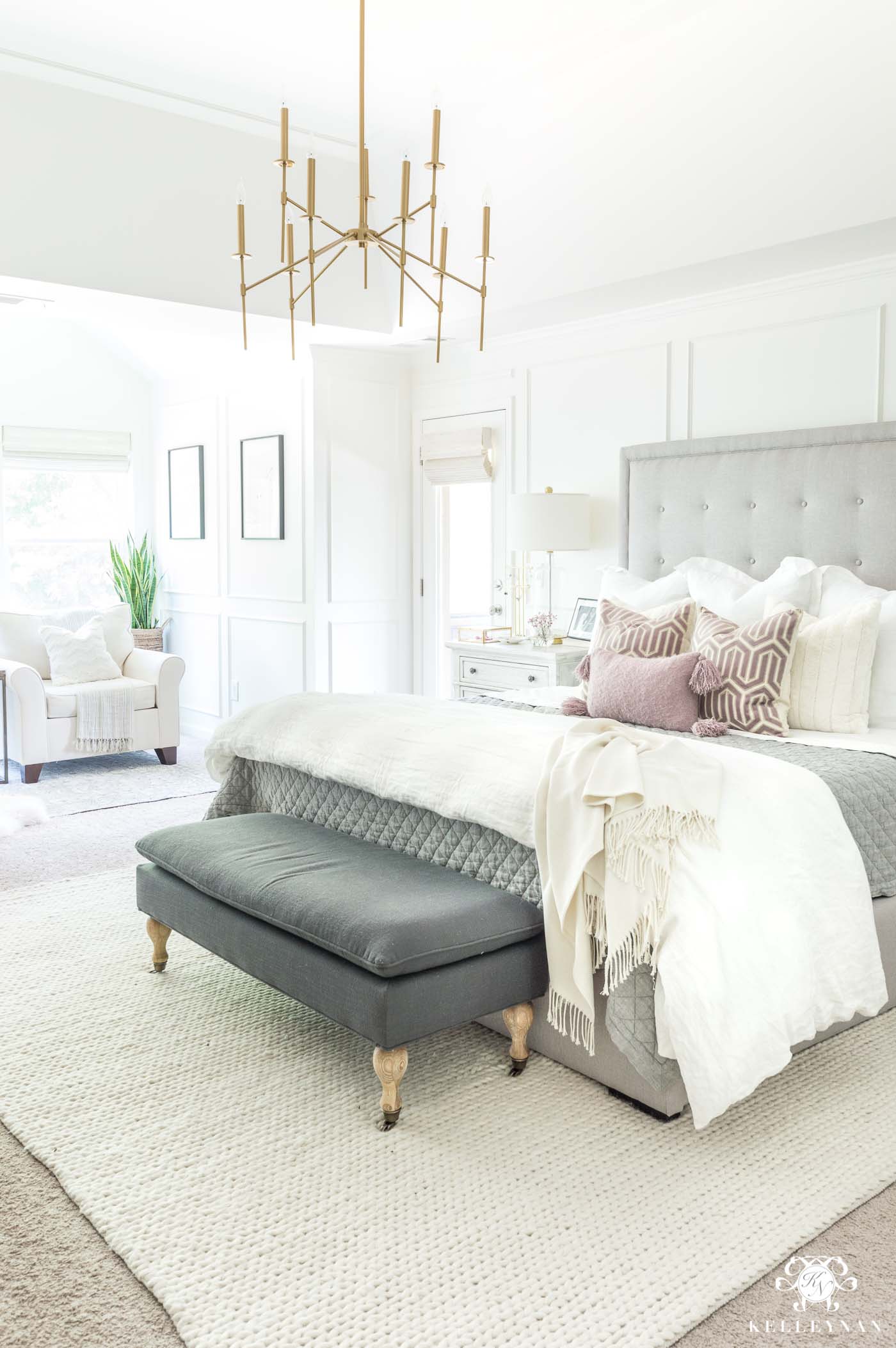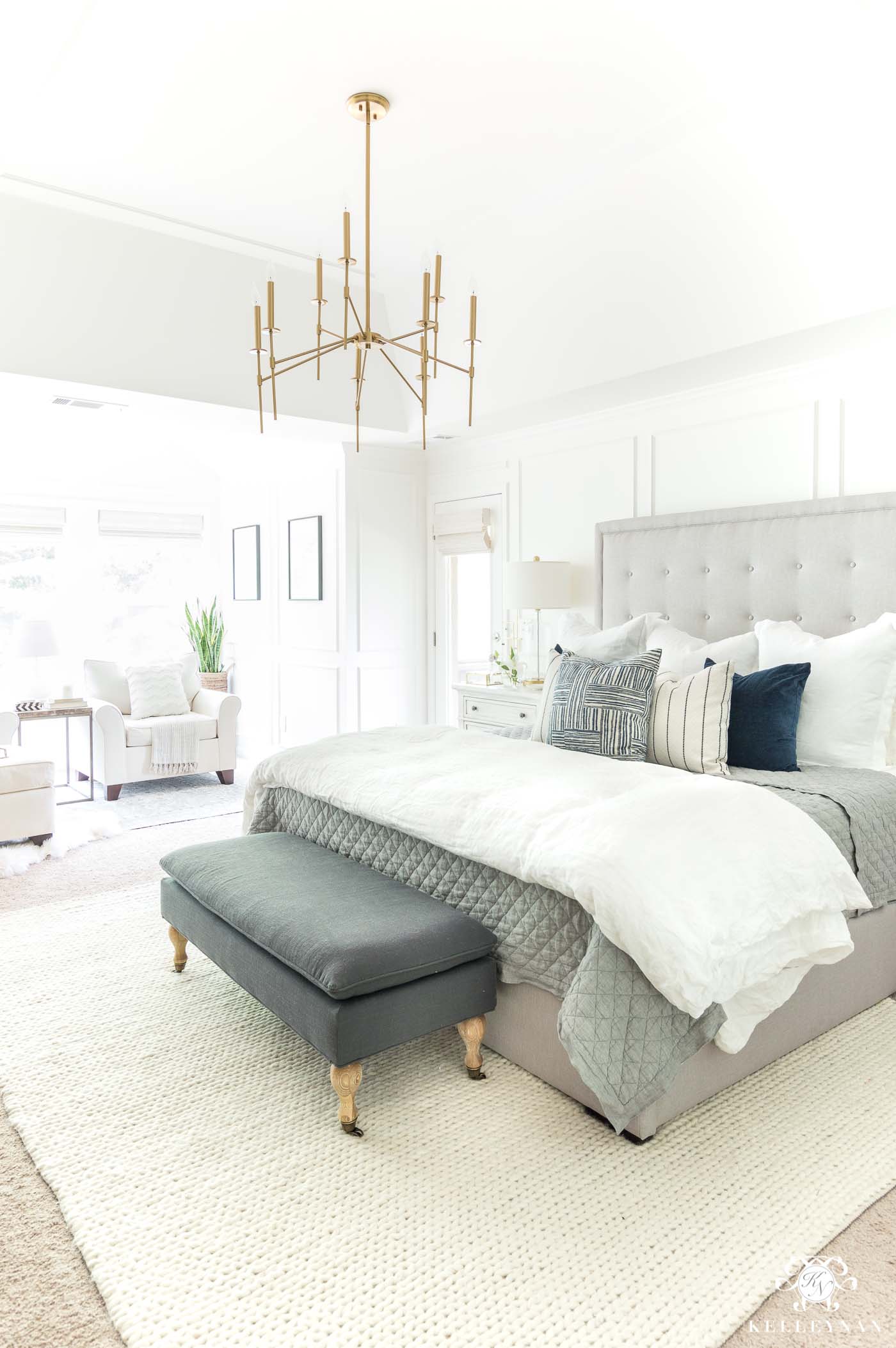 1. Striped Pillows // 2. Indigo Print Pillow // 3. Indigo Velvet Pillow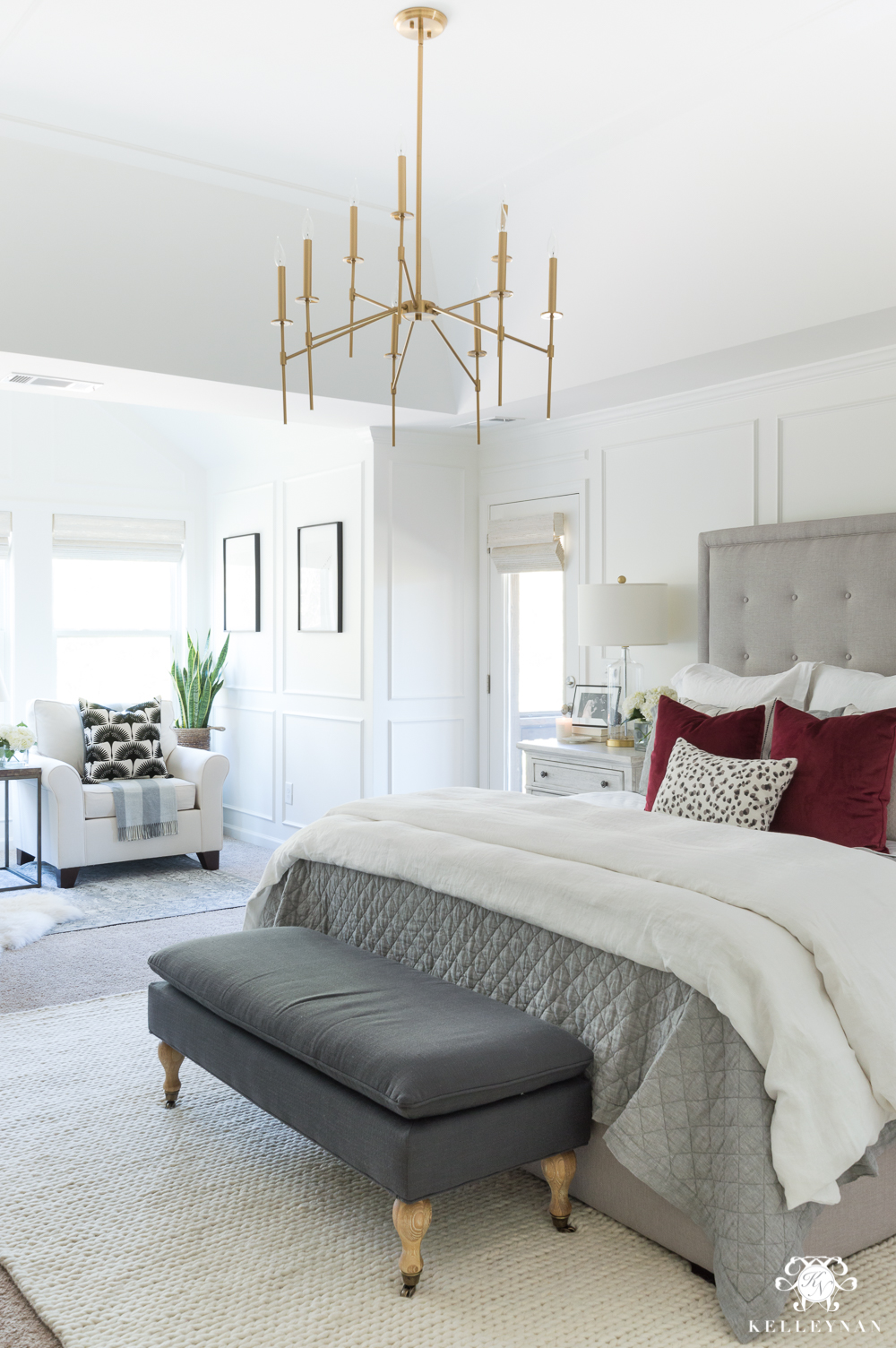 Black & White Flock Pillows // Leopard Pillow // Wine Velvet Pillow // Black & Cream Striped Pillows
A FEW QUESTIONS
Q: Which one of the two is your absolute favorite?
A: If you've been thinking about new bedding and only go for one, make it the Belgian Flax Linen Diamond Quilt. Even if you don't think you are a "quilt person" – trust me.
Q: I like the look of white but I have kids/dogs; what about stains?"
A: I have three dogs. They make messes and play outside. They even sleep in our bed. I've come to be pretty fearless when it comes to white (in most regards). Make sure you have OxiClean on hand but I bet it's easier to maintain the white than you realize. 
Q: What are your favorite sheets?
A: I had a set I loved that were discontinued. Then, I found THESE. They are hefty, soft, and again- have no tears/rips/pulls. If you are springing for the linen bedding, I would 100% make sure you love your sheets, too.
Q: What about the Ivory color? 
A: I am usually all for ivory, however, I actually ordered the quilt in ivory once. Instead of being cream, it looked like Easter egg-yellow against my white walls. If you don't want to do white and are looking for a soft neutral, the Natural color is a little darker but much better.
Q: Doesn't linen wrinkle?
A: Yep. It does. But, 1. it will be a lot better if you take it out of the dryer immediately, and 2. linen looks good and lived in with a few light linen creases. Plus, it's super easy to steam if you're really adamant about making it smooth.