This year for Christmas, I am going hard on the plaids. The best part — you don't have to choose just one tartan pattern; they look awesome layered together. Whether you're considering a single element for a room or are looking to make a big tartan statement, I've pulled together some of my favorite plaids this season — including a few things you'll see in my house within the next month 😉 If you're an email subscriber, you should have received a sneak peek of our main tree this year; if you aren't, sign up HERE to make sure you catch future peeks.
*Posts on KelleyNan.com may contain affiliate links. Click HERE for full disclosure.*
PLAID & TARTAN CHRISTMAS FAVORITES
I actually had planned to do something more simple with just a vibrant red but I'm still really loving the navy velvet pillows in my living room. I've had navy velvet in there for the majority of the year and THESE are the covers I've had in there for the past few months — in Midnight Blue — which are on sale for $17. So, I started thinking of how I could carry over the navy velvet while still bringing in the red I had planned. In the living room, I only had to grab a few things to mix with what I already have — a couple of pillows, throw, wrapping paper, and ribbon. I'm using plaid in the dining room too so I brought in a new runner, napkins, and chargers; everything else is what I already have in my everyday arsenal. Here are a few plaid favorites that can be used individually, or combined.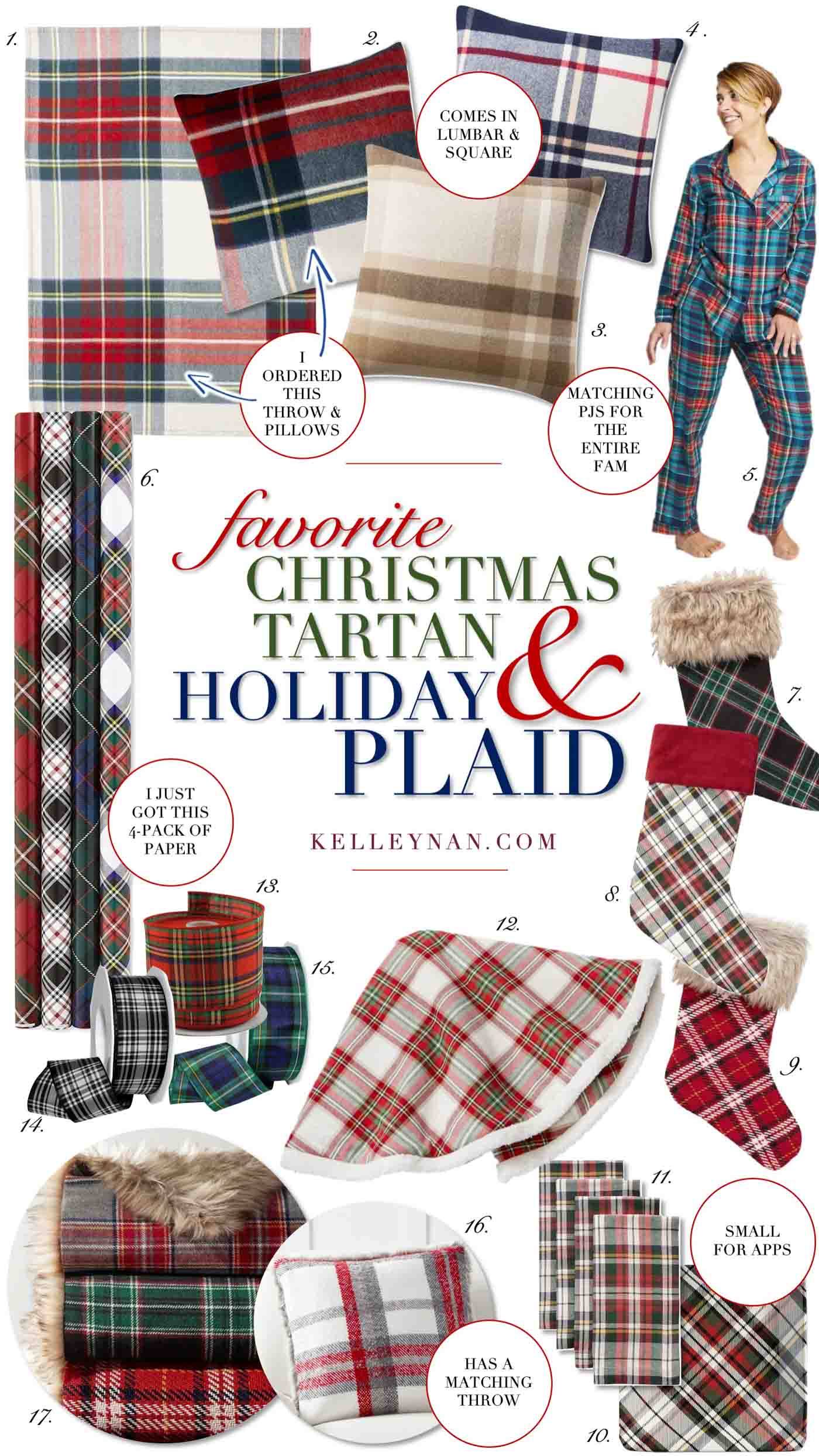 1. // 2. // 3. // 4. // 5. // 6. // 7. // 8. // 9. // 10. // 11. // 12. // 13. // 14. // 15. // 16. // 17.

My new plaid lambswool pillows (I got the 22″ square and lumbar), along with this gorgeous lambswool throw are set to arrive tomorrow! Those, along with #3 and #4 aren't cheap but they are on sale this weekend. I haven't started wrapping yet (or really started my shopping for that matter haha) but this plaid four-pack of wrapping paper arrived free via one-day shipping. To bring a little plaid into your place settings, using a napkin set or appetizer plates — mixed in with your regular dinnerware — is all you need. If you're the family that wears matching pjs, I loved THIS plaid print — it's a little different While I am going for mix and match faux fur stockings, I love the idea of creating a plaid moment on the fireplace hearth and mixing and matching a few tartan stockings (#7, #8, #9). Here's a look at our new stockings…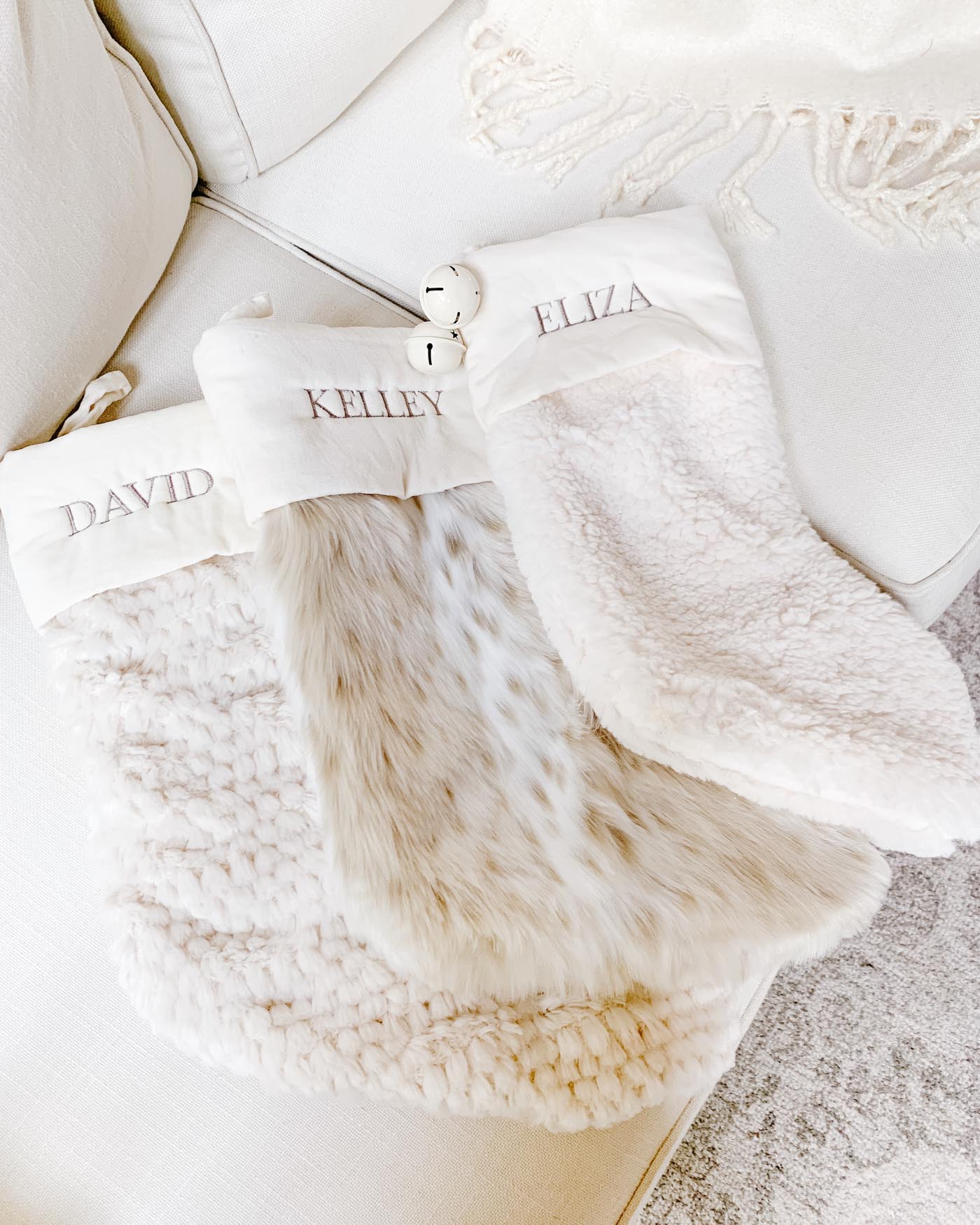 David Stocking // Kelley Stocking // Eliza Stocking
I also just received THIS ONE, blank, for the dogs but it didn't arrive prior to me snapping this pic a few weeks ago. Each of the stockings are about 25% off right now.

And while it's a little more specific and not included in the main favorites above, I've also been adding plaid to Eliza's wardrobe for the winter. I ordered this red plaid set for this Christmas a few weeks ago, and the purple/green plaid set for next year (both are also currently on sale).

This Tuesday, I'll be sharing my first Christmas space of the year. Check back then because it's totally different than anything I've done and I've been looking forward to posting it for weeks!

OTHER CHRISTMAS IDEAS
For more early Christmas ideas, you can visit my full Christmas gallery of previous posts HERE. or visit some of these reader favorites: