It's Christmas Home Tour day! For the first time ever, I'm sharing before Thanksgiving — maybe it's because Thanksgiving is so late this year; maybe it's because so many of you have already decorated. Maybe it's because we started weeks ago so we could take our time and enjoy the lights a little longer. We're still early in the best time of year but it's already felt like the most magical holiday season yet. This is the first year we get to introduce old traditions and start new ones as a family of three. We're fully decorated, light evergreen candles each morning, and keep Christmas tunes rolling on the Echos. We took Christmas card photos this past weekend (for the first time in three years!) and I've been more diligent about finding all the deals Santa needs to know about 😉 We've booked a trip to Chattanooga next month and have a day planned for Santa pictures. We are working on our bucket list and I just received Eliza's first ornament in the mail. We started early (everything takes a bit longer these days 😉 ) and my goal is to put the blog on vacay mode by mid-December, until next year. We want to do *all the things* but we want to go a little slower and not miss a single minute. Whether you're celebrating next week amidst pumpkins and leaves and are here looking for ideas, or will be dining in the glow of lit trees and are just curious about what we've done, welcome! I'm excited to share what we've been up to and what our home will look like through the rest of 2019.
A few months ago — out of laziness or resourcefulness, I'm not quite sure — I decided that I wanted to try to leave put as much of my everyday and fall decor as possible. I wanted to keep my blue and white. I wanted to figure out a way to use my indigo pillows in the great room. I have also been craving a heavy dose of candy apple red… which is how I landed on a tartan vibe for 2019. The overall vibe is more simple but a bit bolder than my typical. There are plaids and magnolia leaves everywhere and I am so all about it 😉
*Posts on KelleyNan.com may contain affiliate links. Click HERE for full disclosure*
I think also for the first time, we haven't actually finished our front porch prior to Home Tour day. We did have our roof outlined in lights earlier this month (we've wanted to do it for years and are so happy we finally did!) I"ll be sure to share the porch later but I don't plan to deviate much from the usual, traditional decor 😉 Here is a favorite front porch moment from a couple years ago when we had snowfall in North Georgia before Christmas.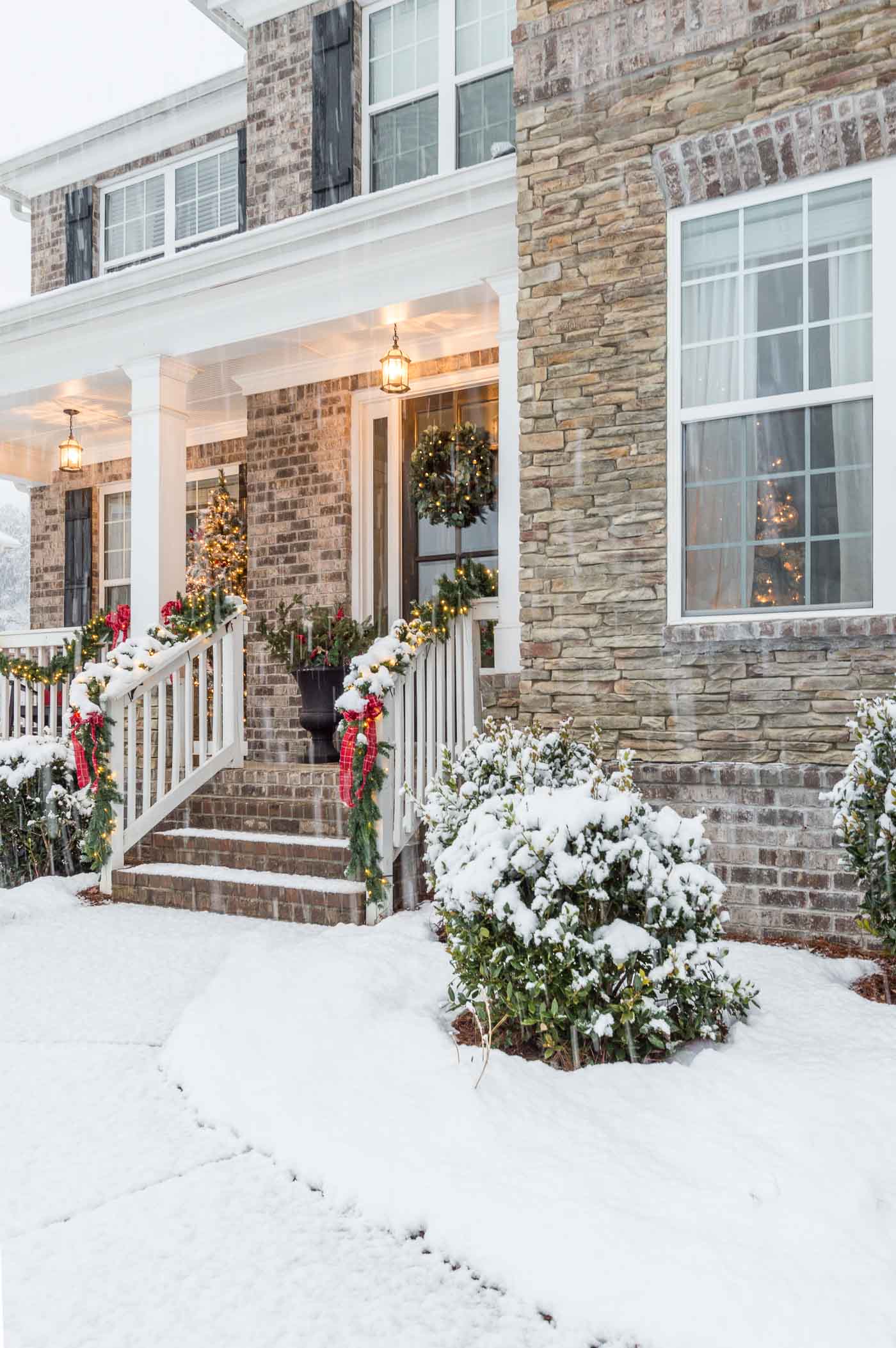 I don't know if we'll be that lucky this year but I would love to see our roofline covered and glowing! We'll go ahead and head on in and I'll share what actually is current 😉
ENTRY
We usually assemble a dining room tree (which adjoins the entry); this year, instead, we positioned a slim tree in front of the front door, adorned with all our family ornaments and little sentimentals from over the year. Our "nostalgia tree" in the past has been a taller tabletop tree and this year, we finally moved up a bit in size 😉 PS: We have a few of these slim trees from At Home now and love that they are 1. nice and full, 2. easy to fluff, and 3. fit most anywhere.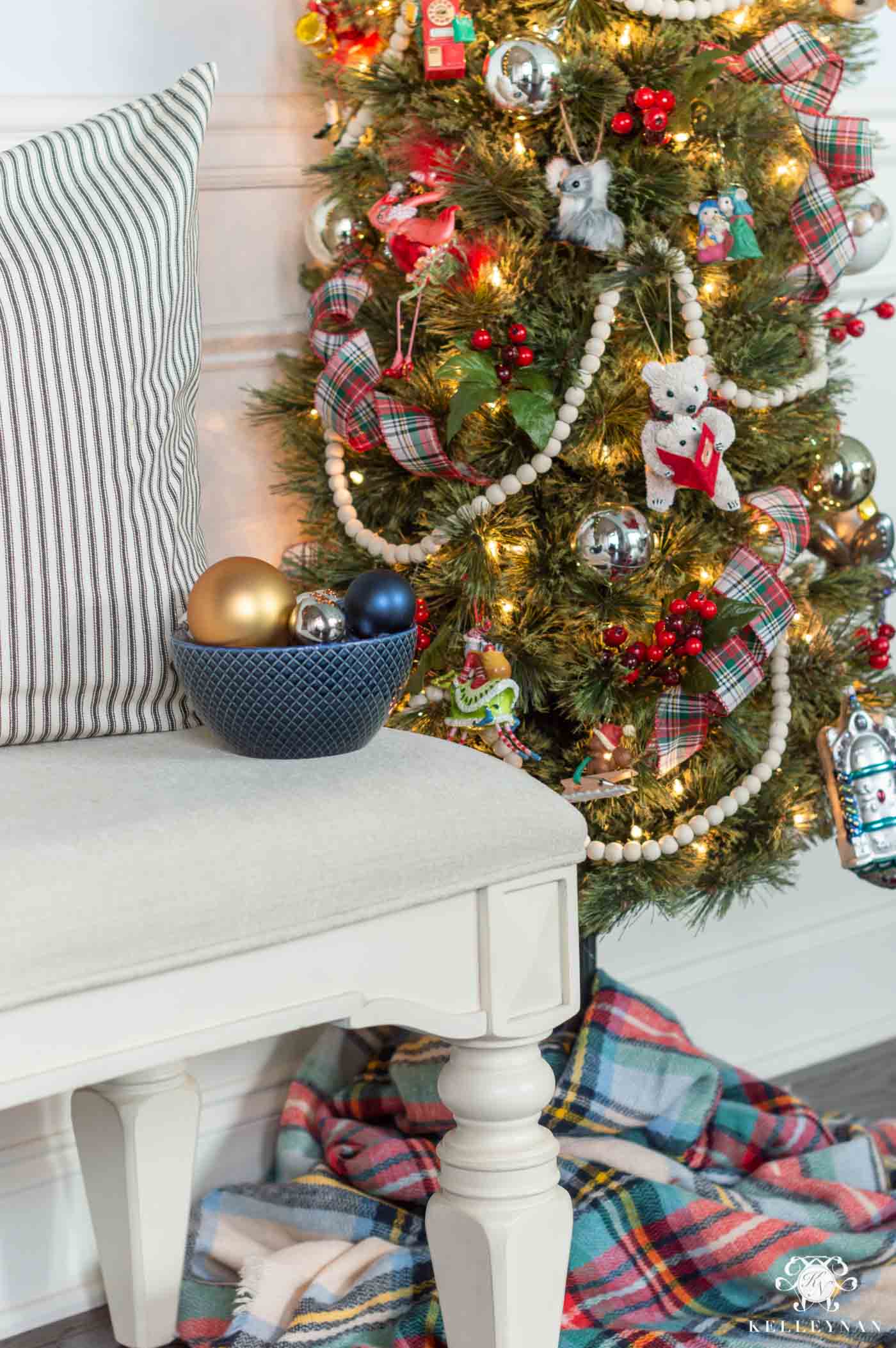 I started with strands of wood bead garland and a little ribbon on the tree before adding all our special ornaments. I added in just a few silver balls and red berries, leaving her classic and understated. By the way, I haven't picked out Dave's new annual ornament for the year but THIS is Eliza's.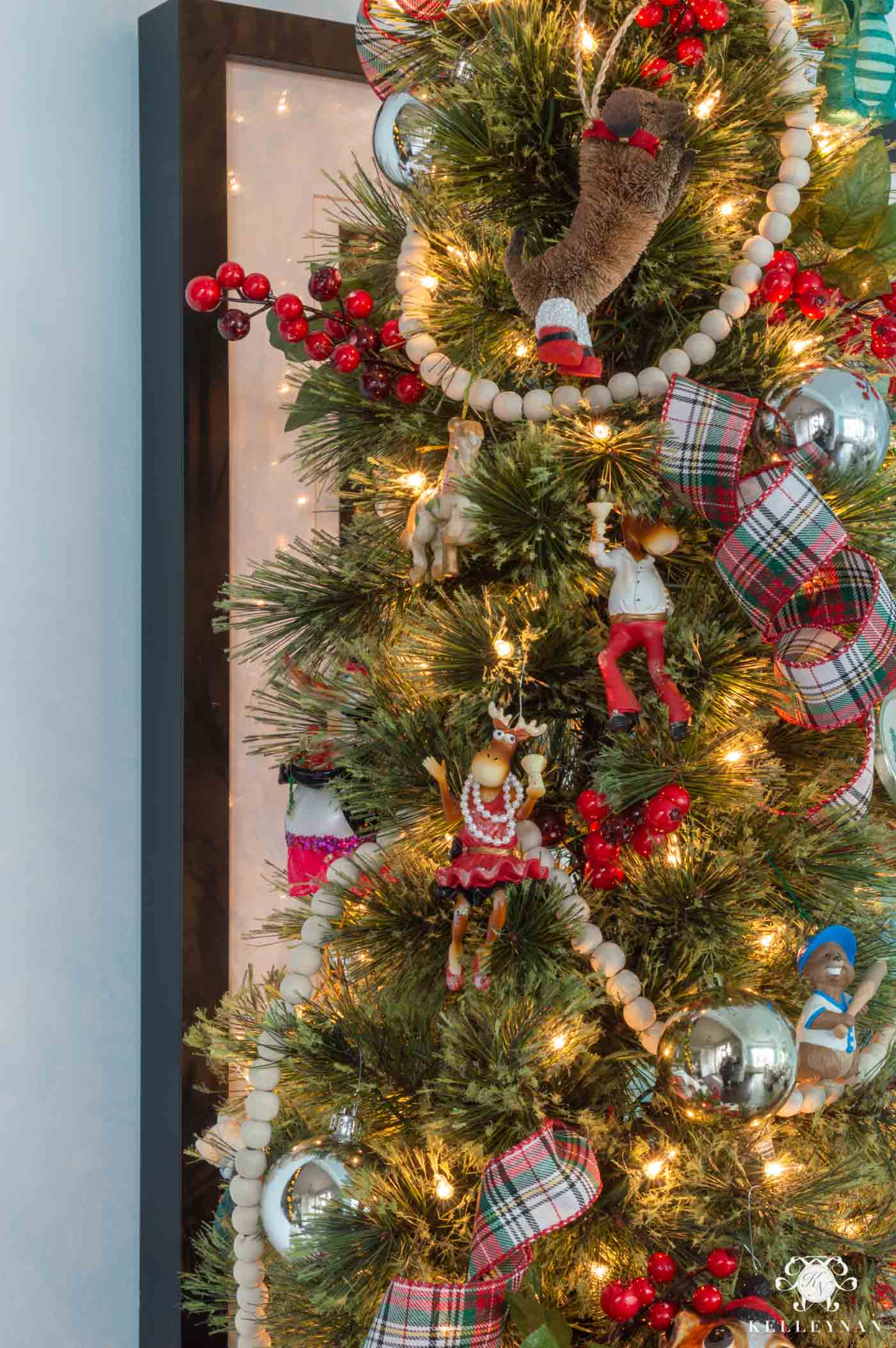 I love using magnolia leaves because not only are they hearty but they will last the entire season. I trim fresh branches each winter to sprinkle throughout our home.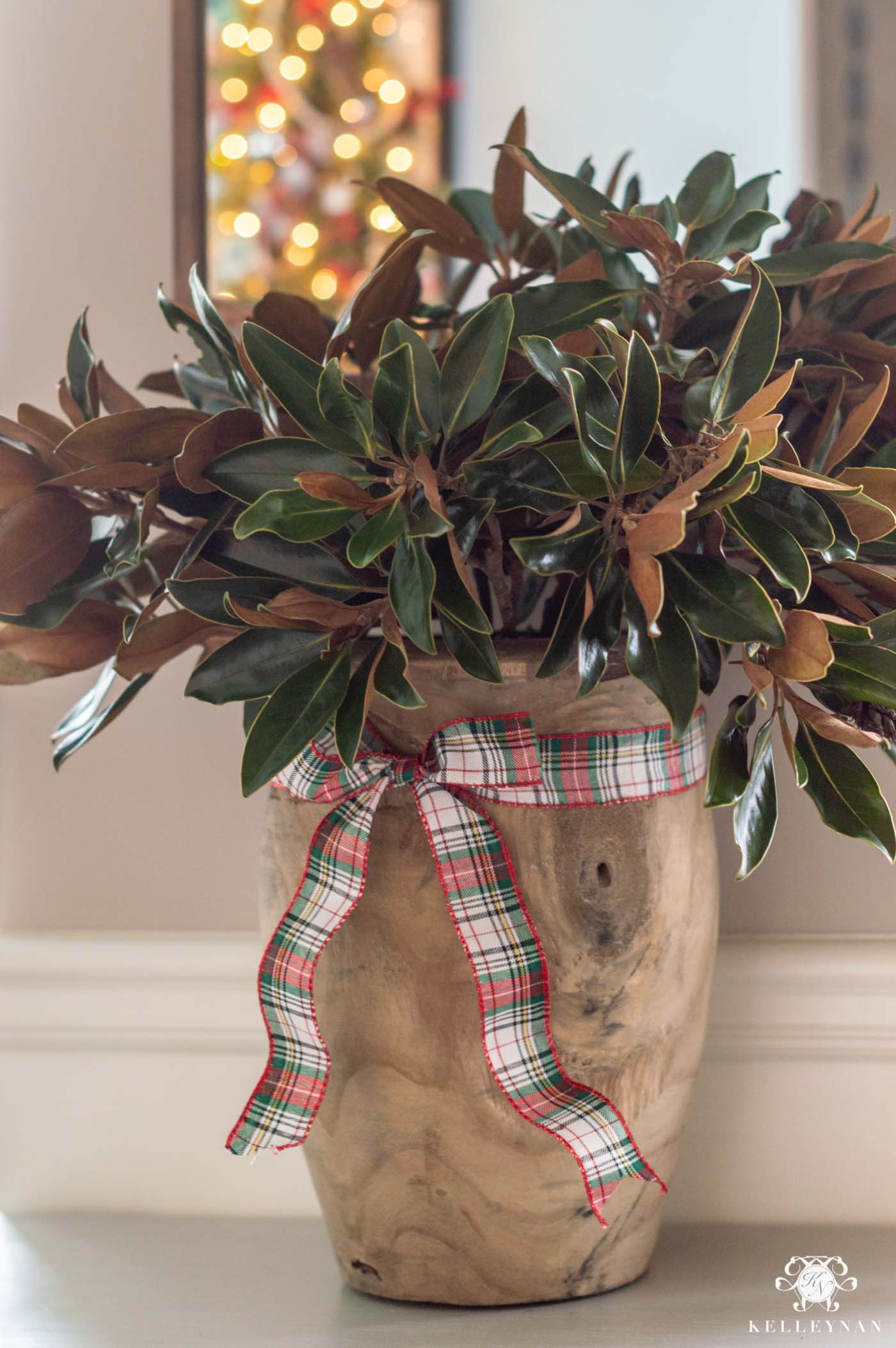 Scroll & Tap to Shop the Entry

DINING ROOM
Adjacent to the busier entry, I kept the dining room on the more simple side with layered plaids and scattered candles. There's something I love about those collected-over-time-looking, mixed metals and varying candle types alongside the nostalgia tree.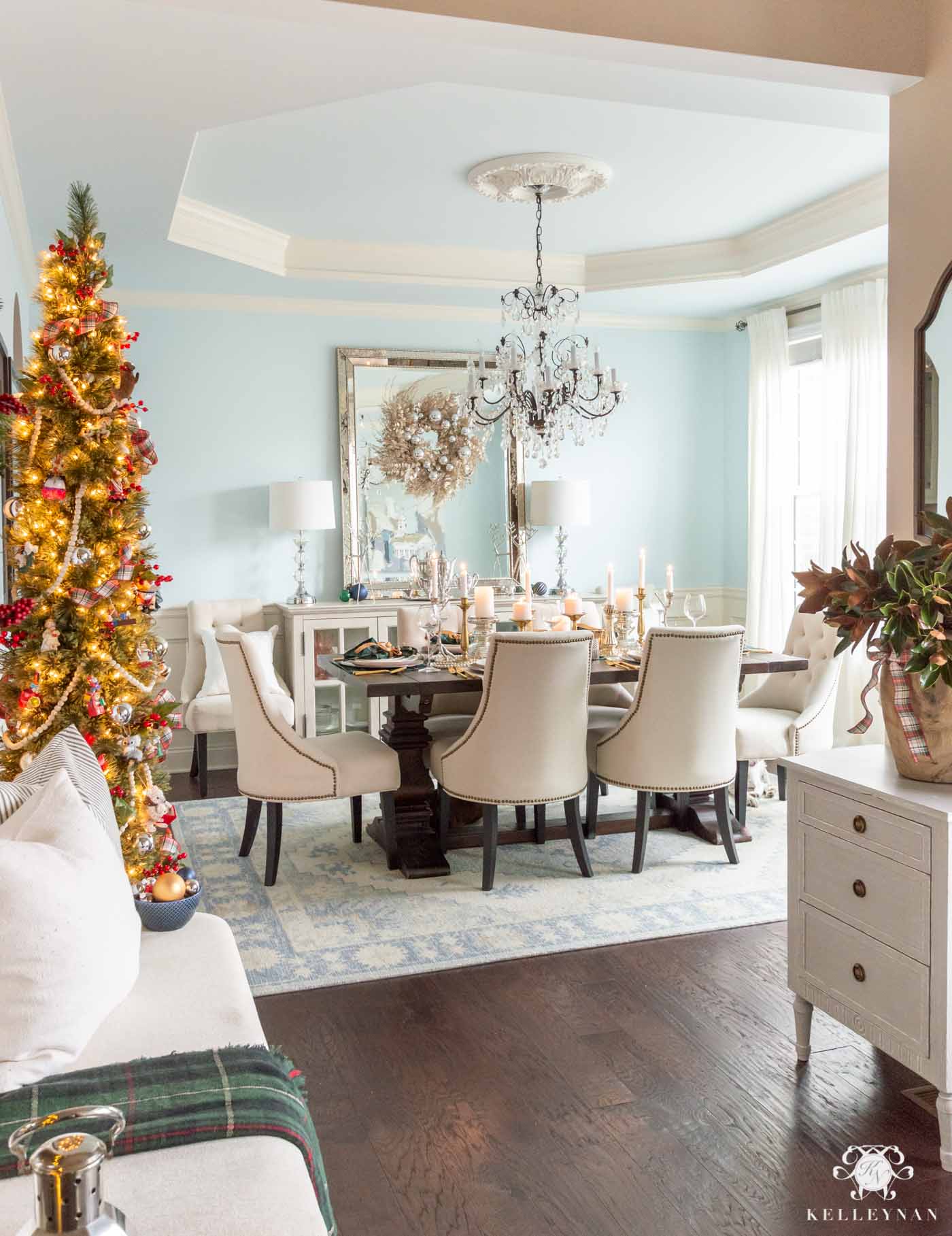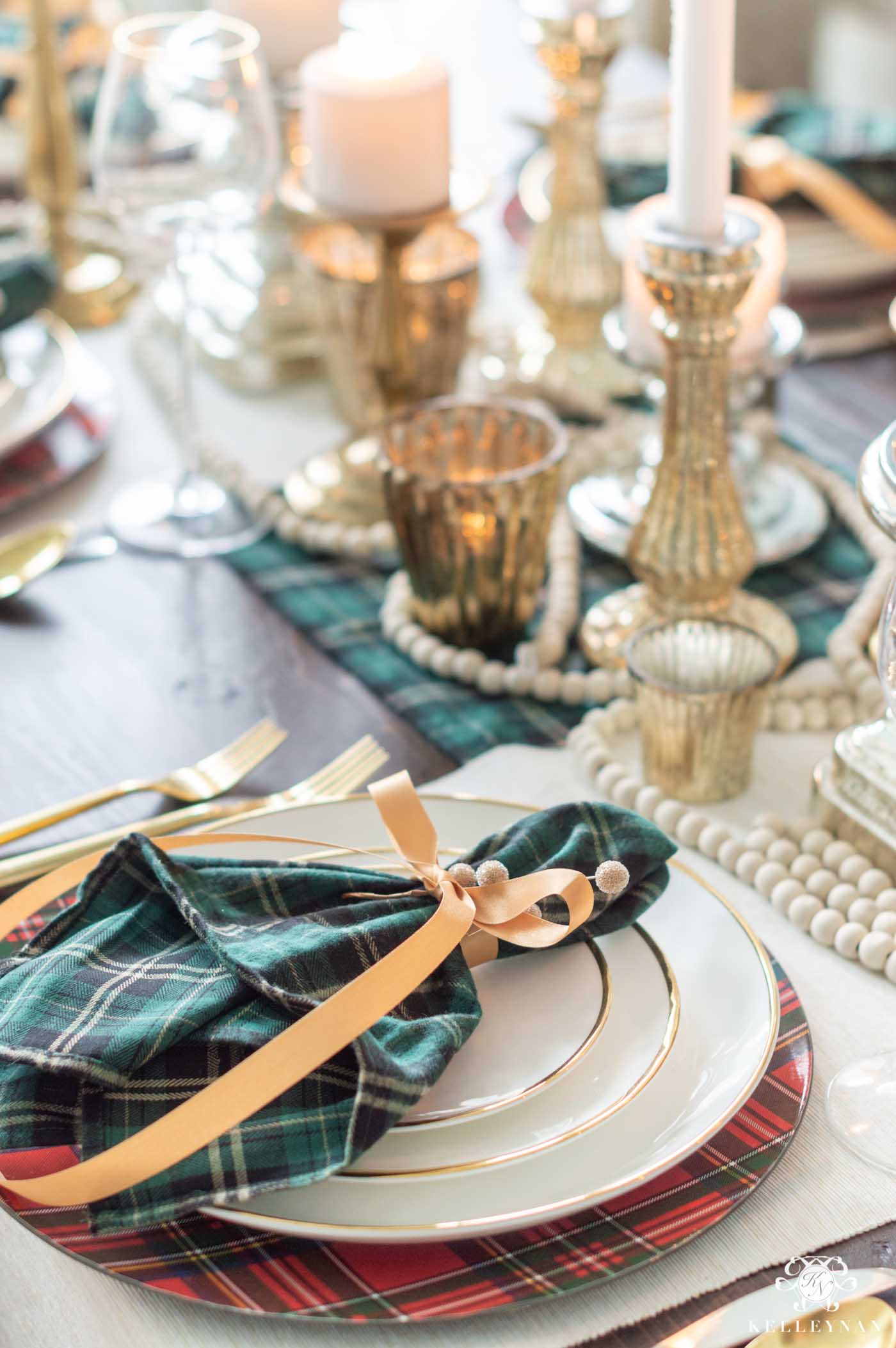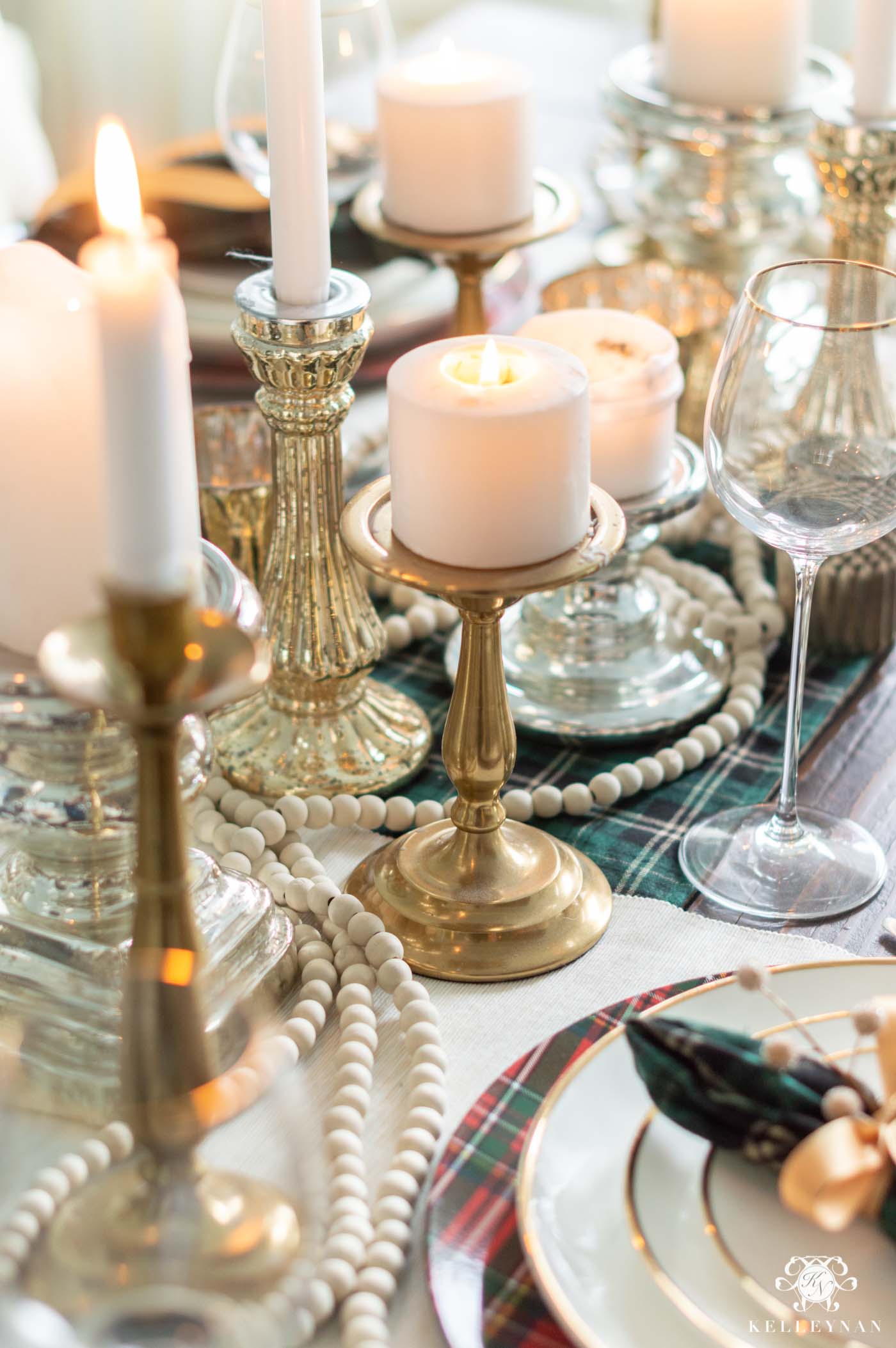 With a full table directly in front of it, I kept the sideboard as simple as possible.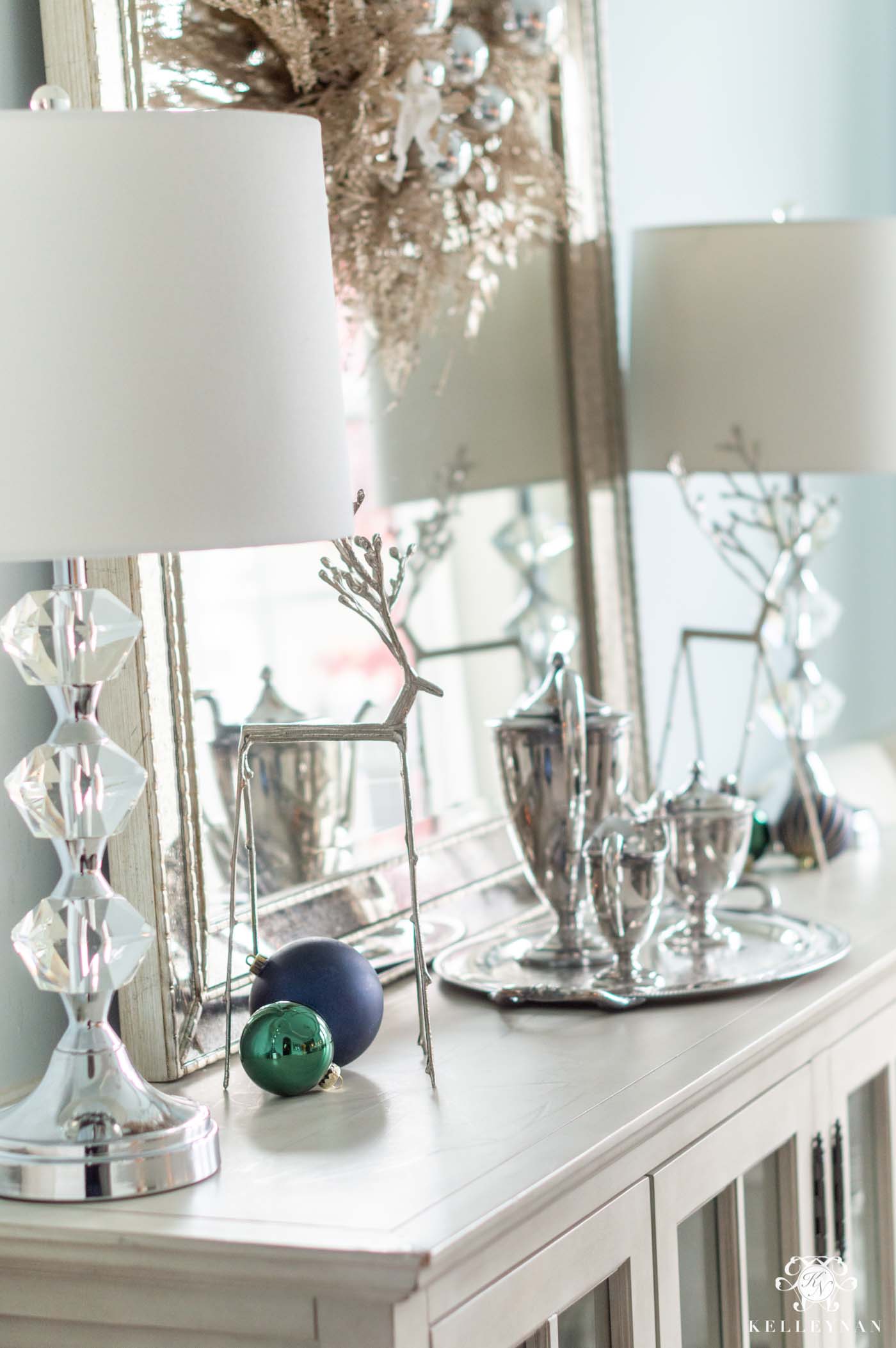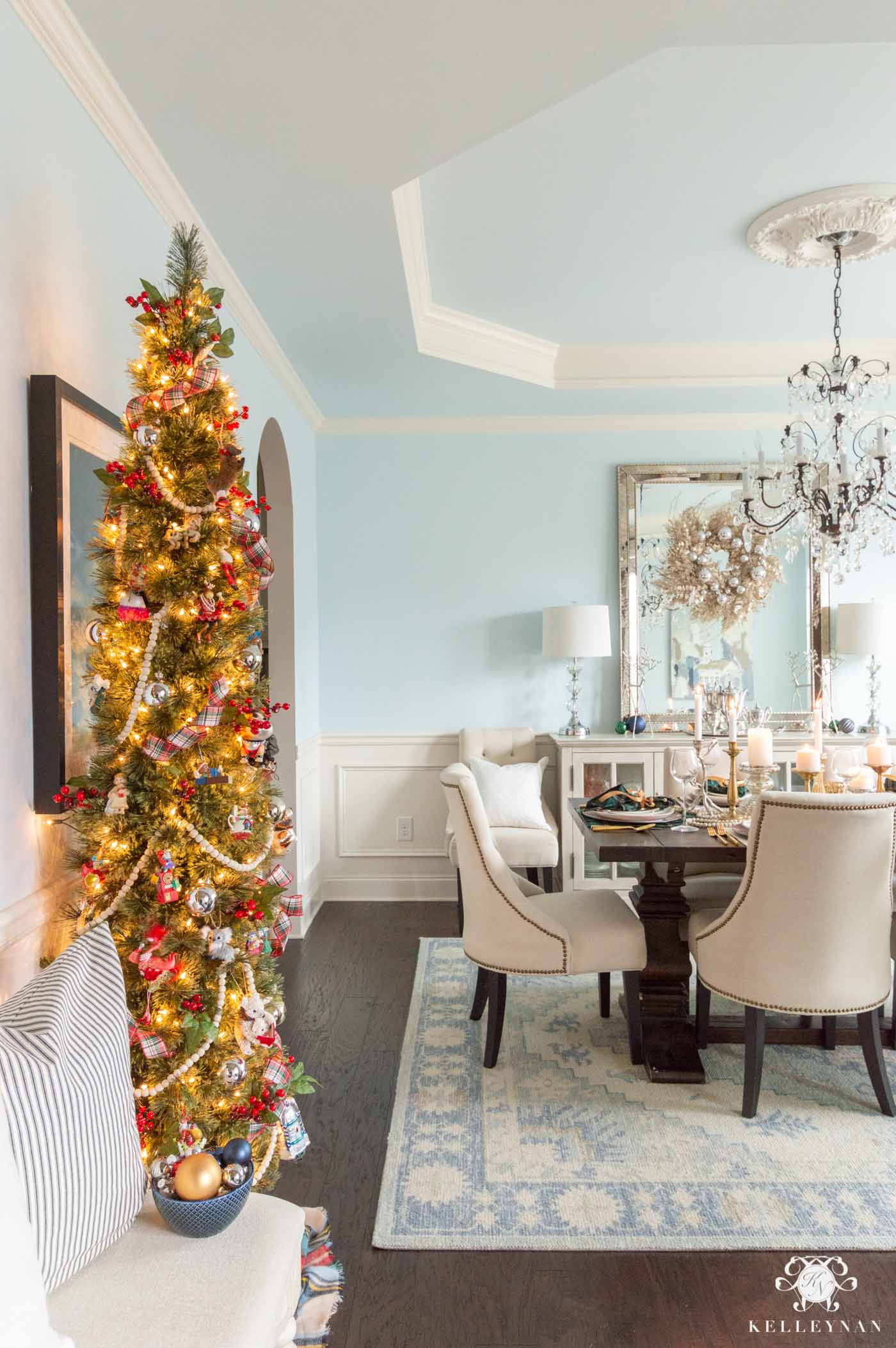 Scroll & Tap to Shop the Dining Room

SITTING ROOM
The sitting room is a project I want to take on in 2020; I added wreaths to the French doors and some greenery in baskets and a vase but don't spend much time in here 😉
KITCHEN
The kitchen is also understated this year, reserving lots of room to do all the holiday things.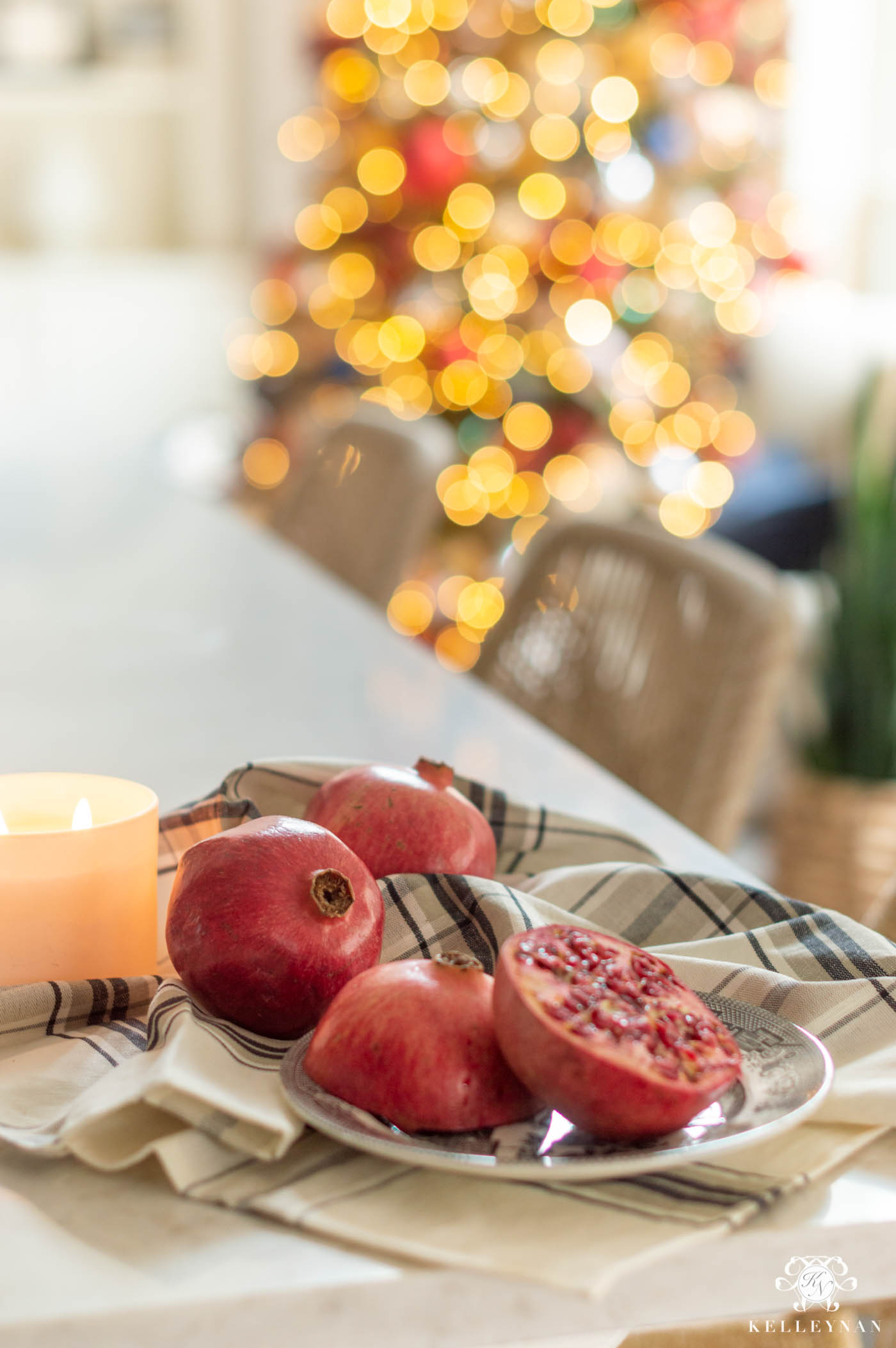 I don't think I've moved this huge statement vase since I got it earlier this year; if you're into faux or live stems and more substantial arrangements, THIS guy is a gorgeous centerpiece.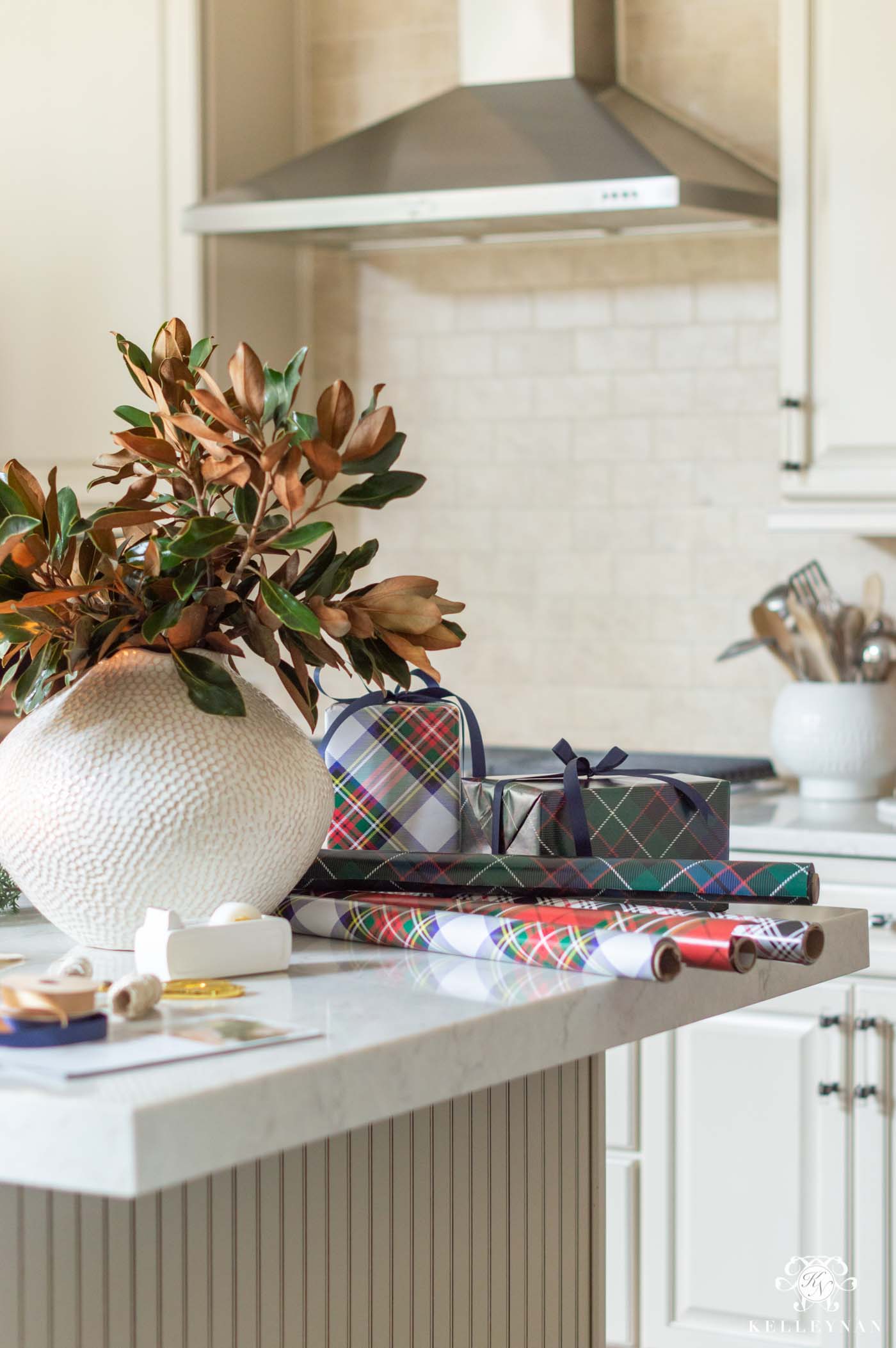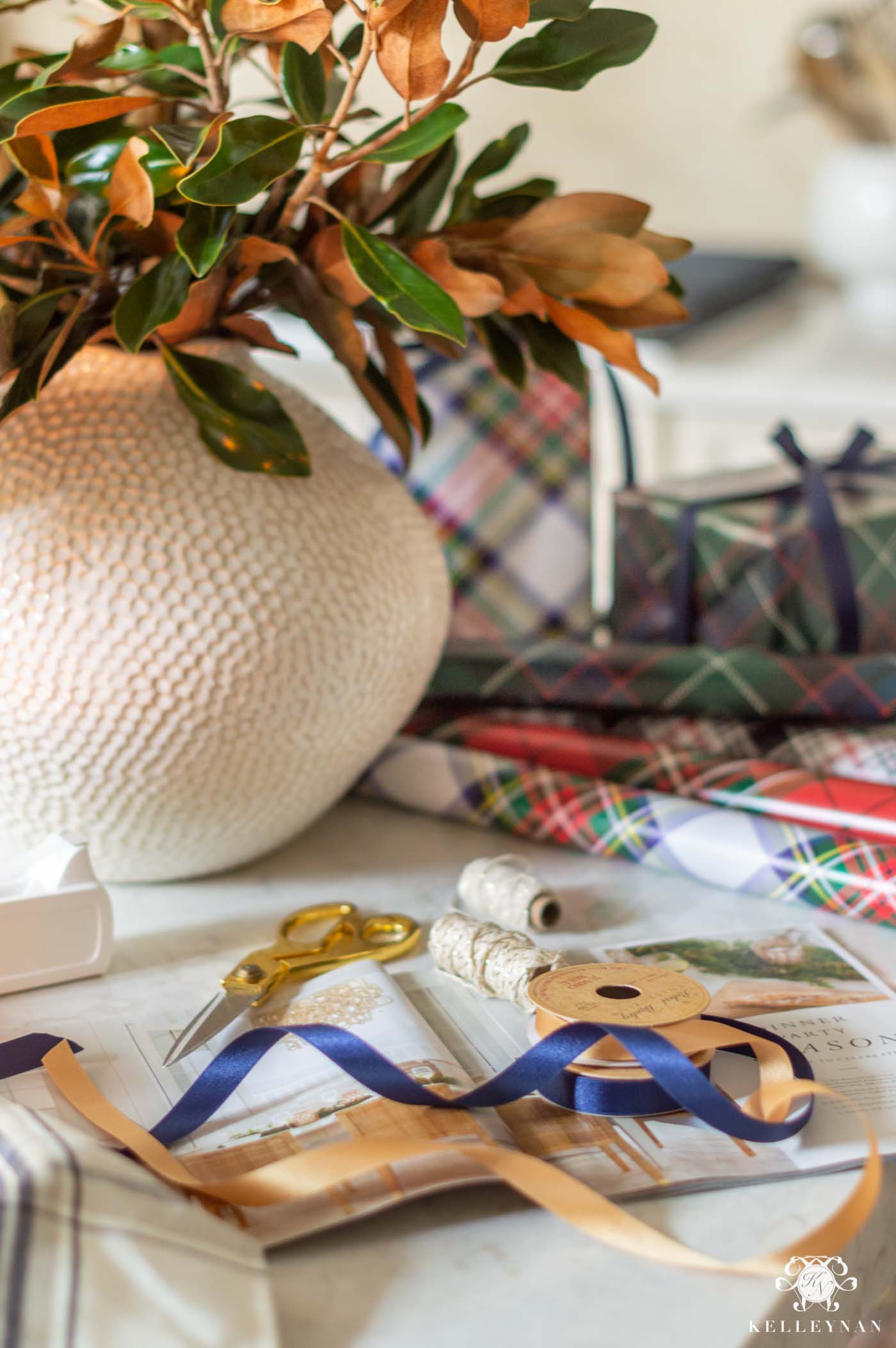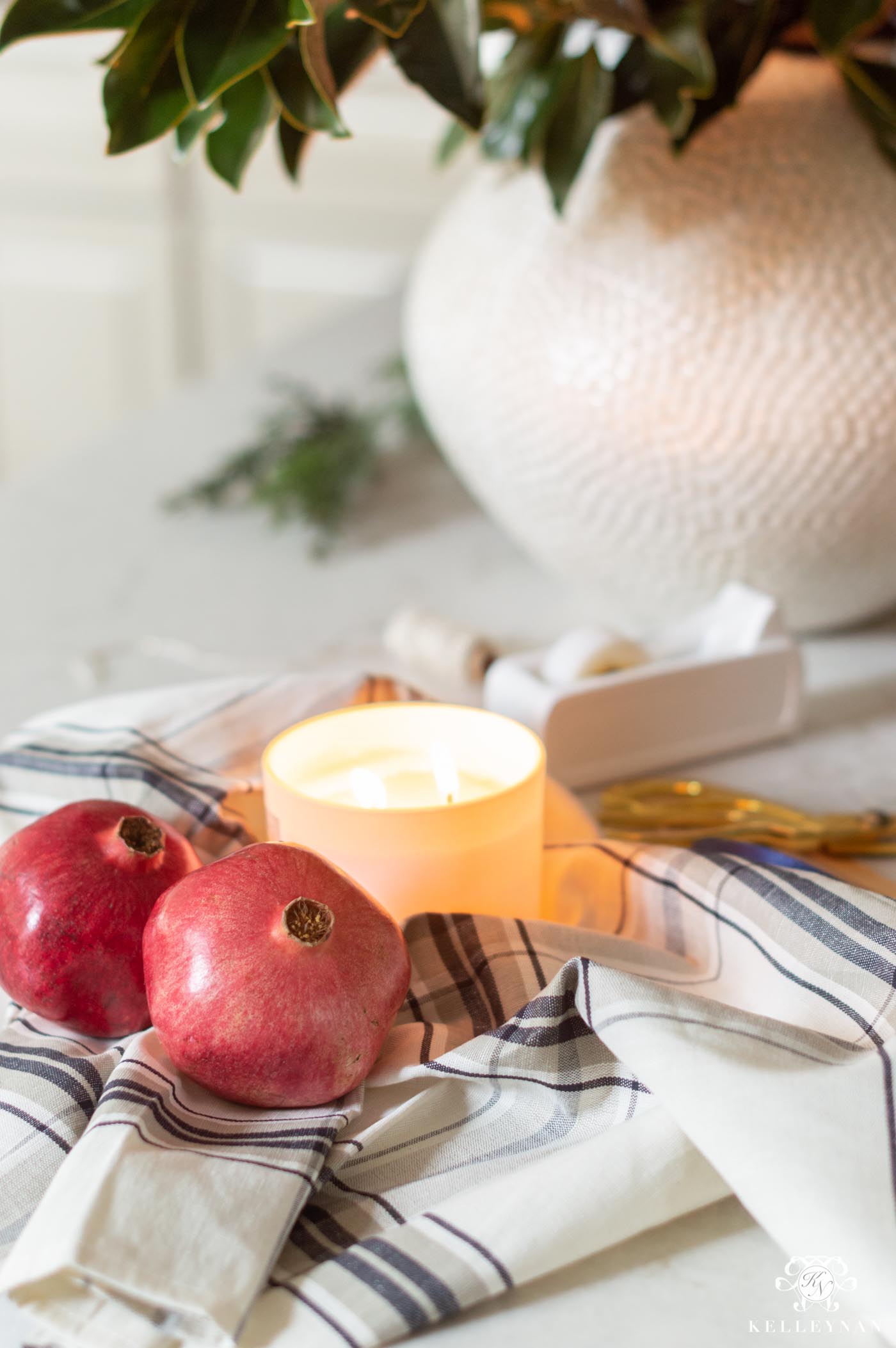 Scroll & Tap to Shop

BREAKFAST NOOK
Same as in the dining room but opposite, because the sideboard in the breakfast nook is a bit busier with all that green and gold, I kept the table centerpiece simple and understated.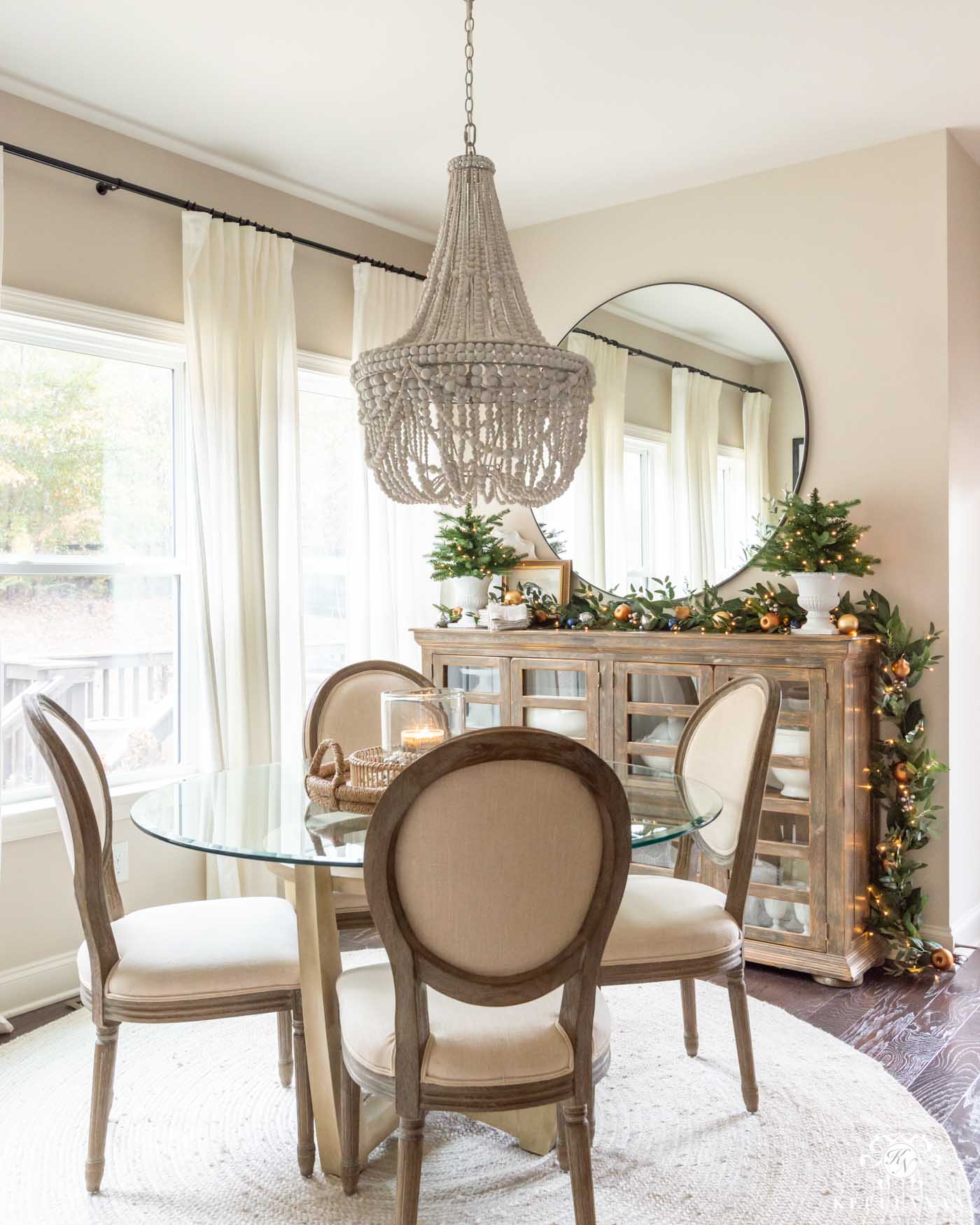 Scroll & Tap to Shop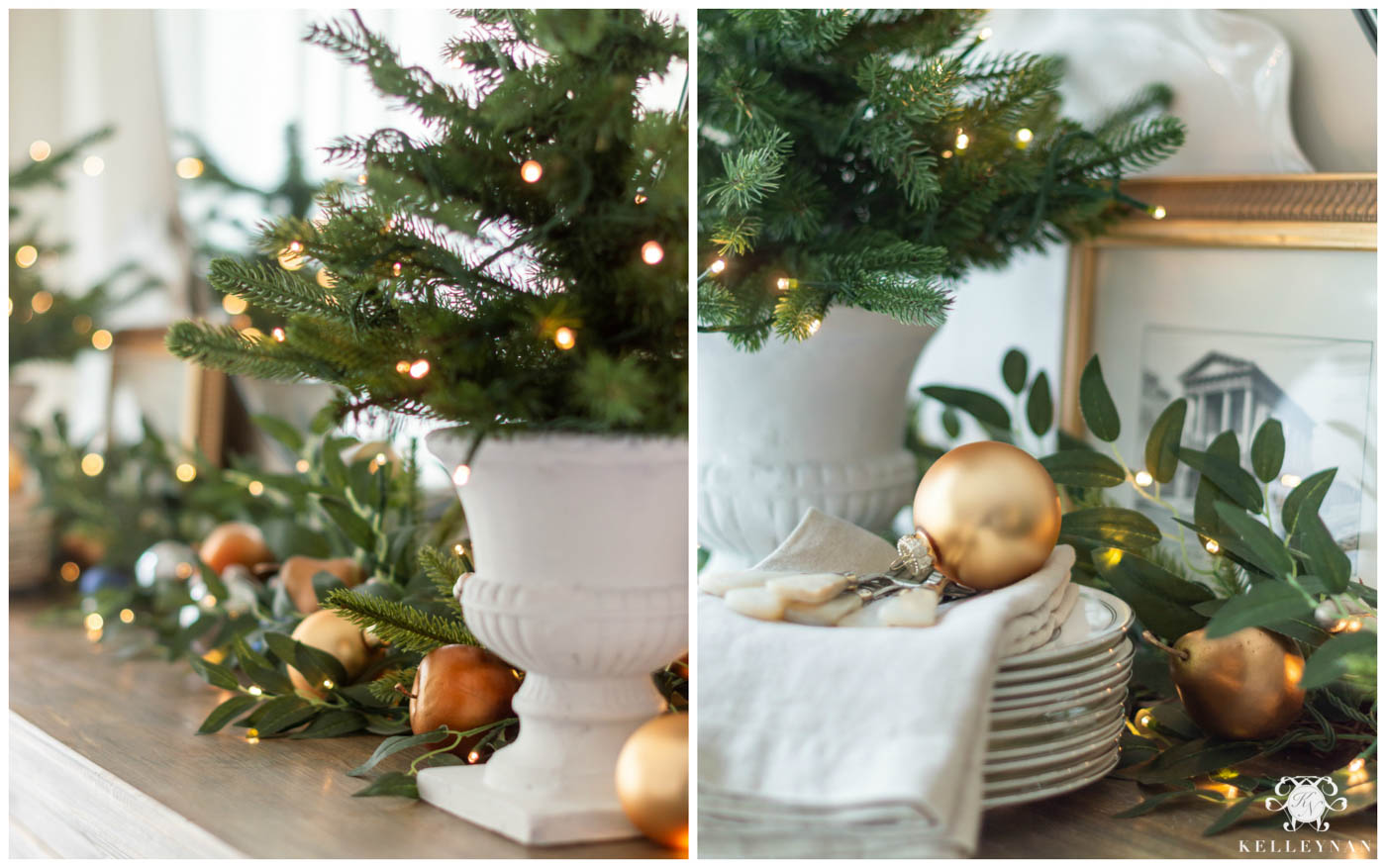 By the way, right now, these round-back chairs are 40% off HERE!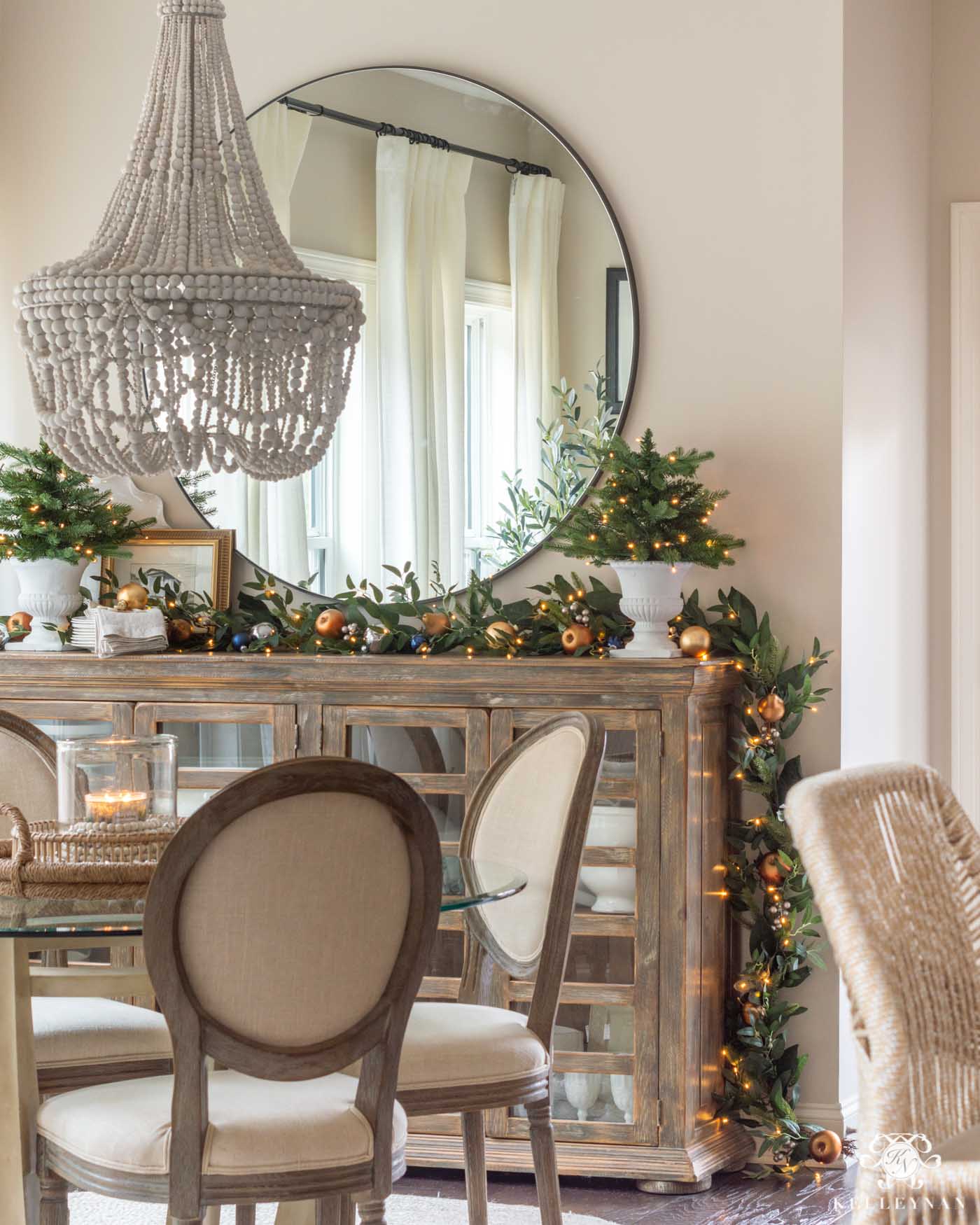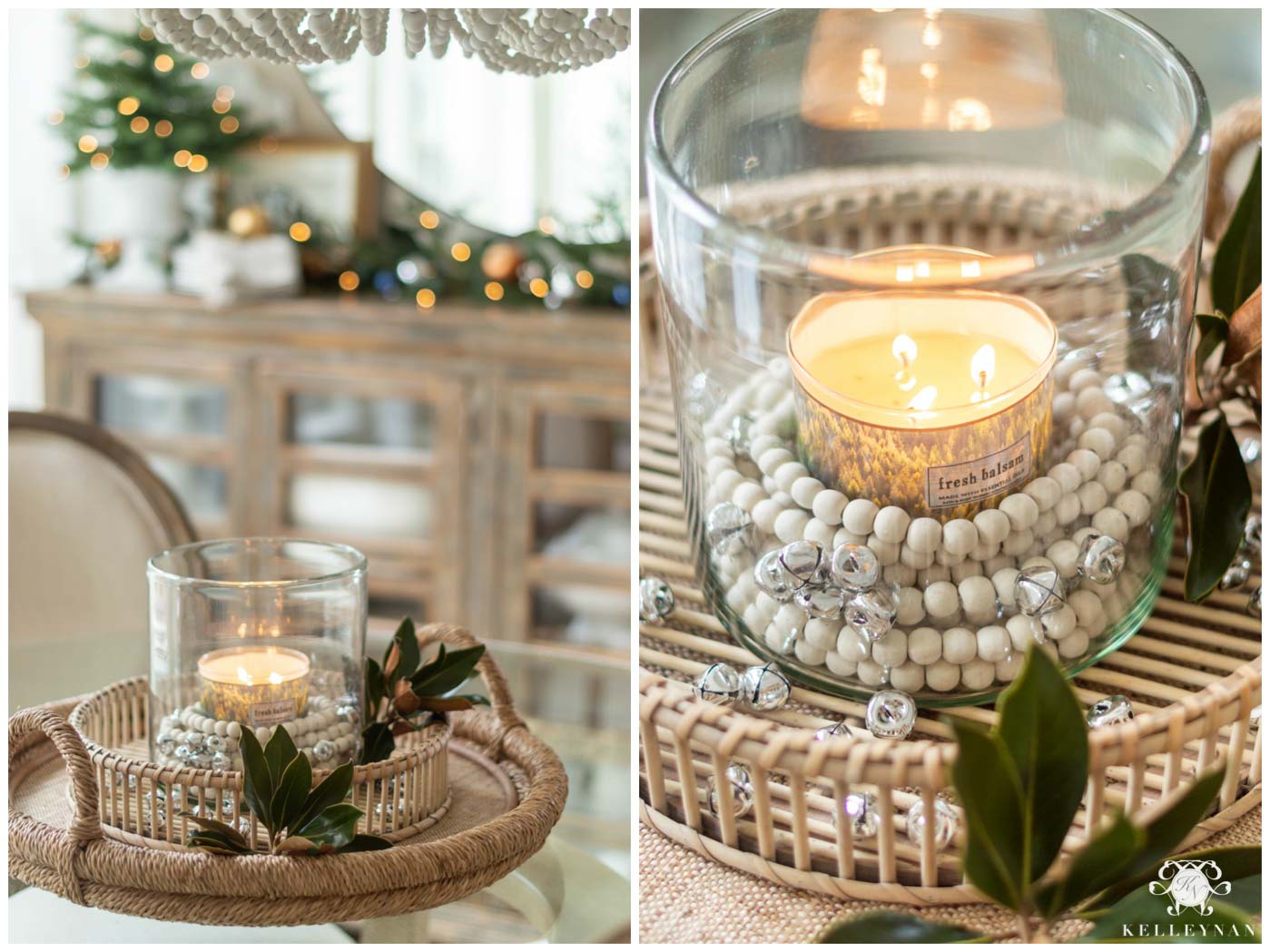 Scroll & Tap to Shop

The wood bead garland strands I have throughout my house are super inexpensive at At Home but if you don't have one local, it's a bit more but you can get a similar look HERE. Also, if you have never met the Fresh Balsam candle from Bath & Body Works, stock up for the holidays! I have an entire arsenal of refills for the next two months!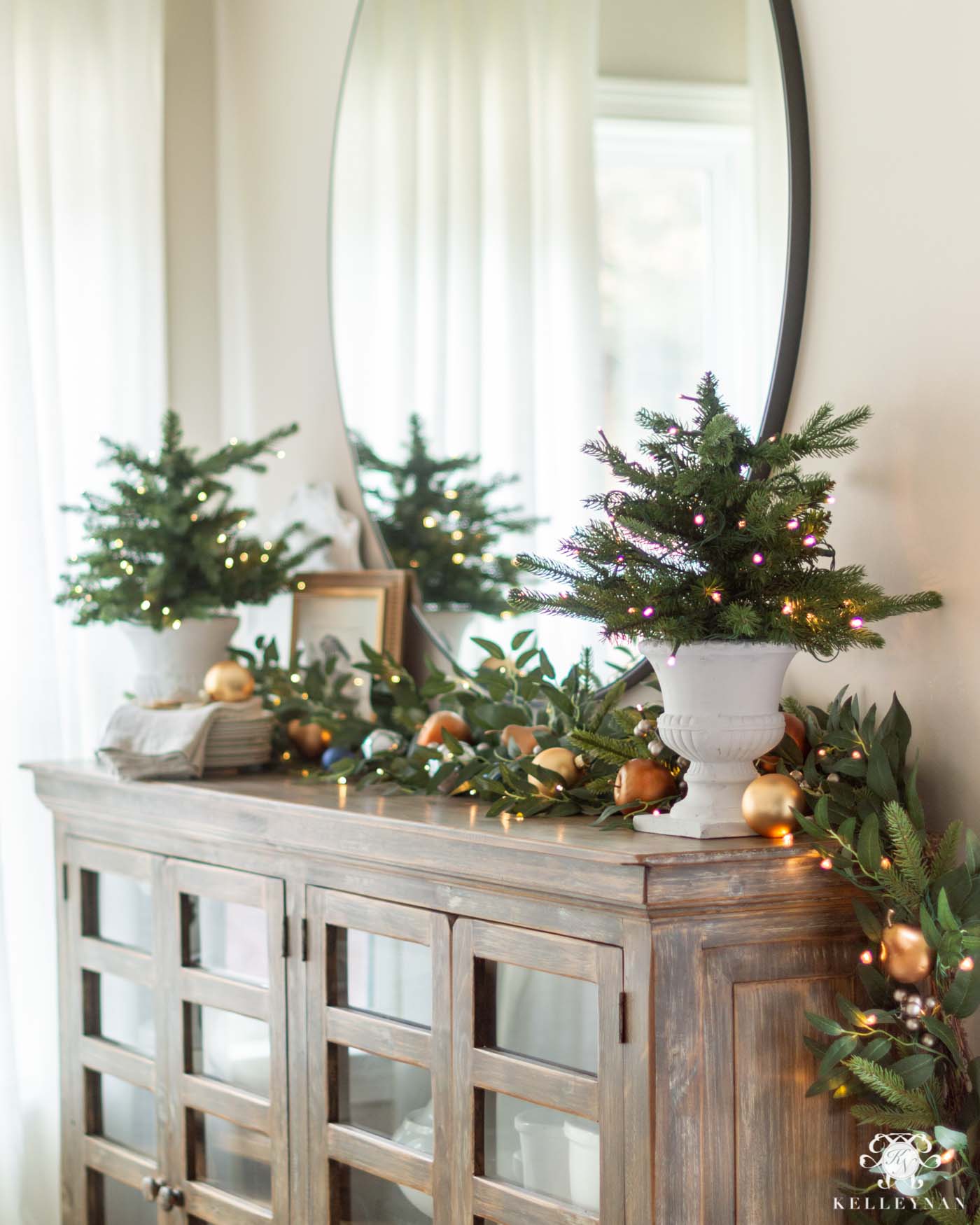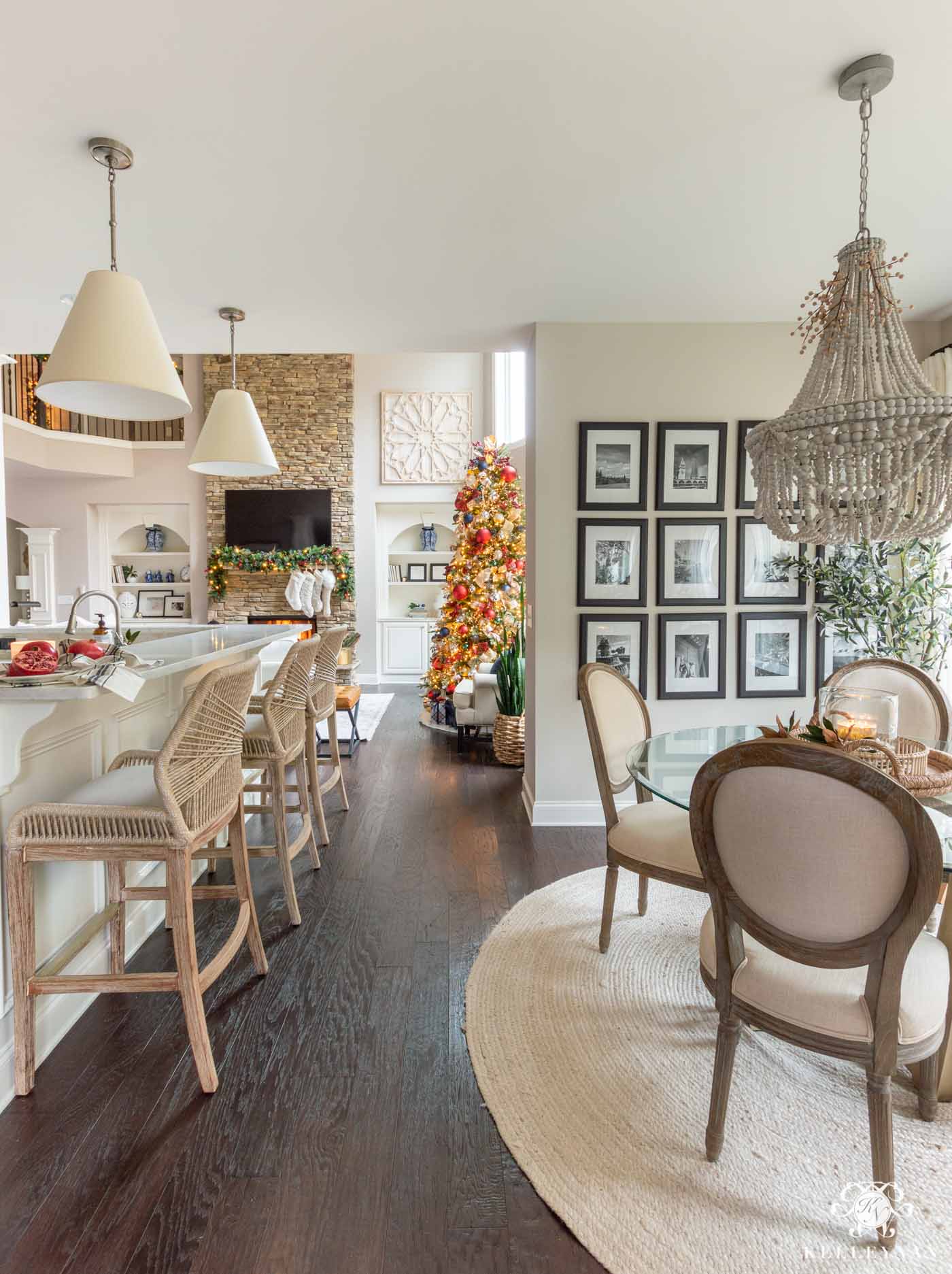 Scroll & Tap to Shop

And now, let's head on into the living room, where I put the lion's share of my time and attention this year.
LIVING ROOM
Like I said, the entire vibe of this space evolved from wanting to keep THESE washed velvet, midnight blue pillows in place. And the result — well, I don't think I've ever loved our living room more.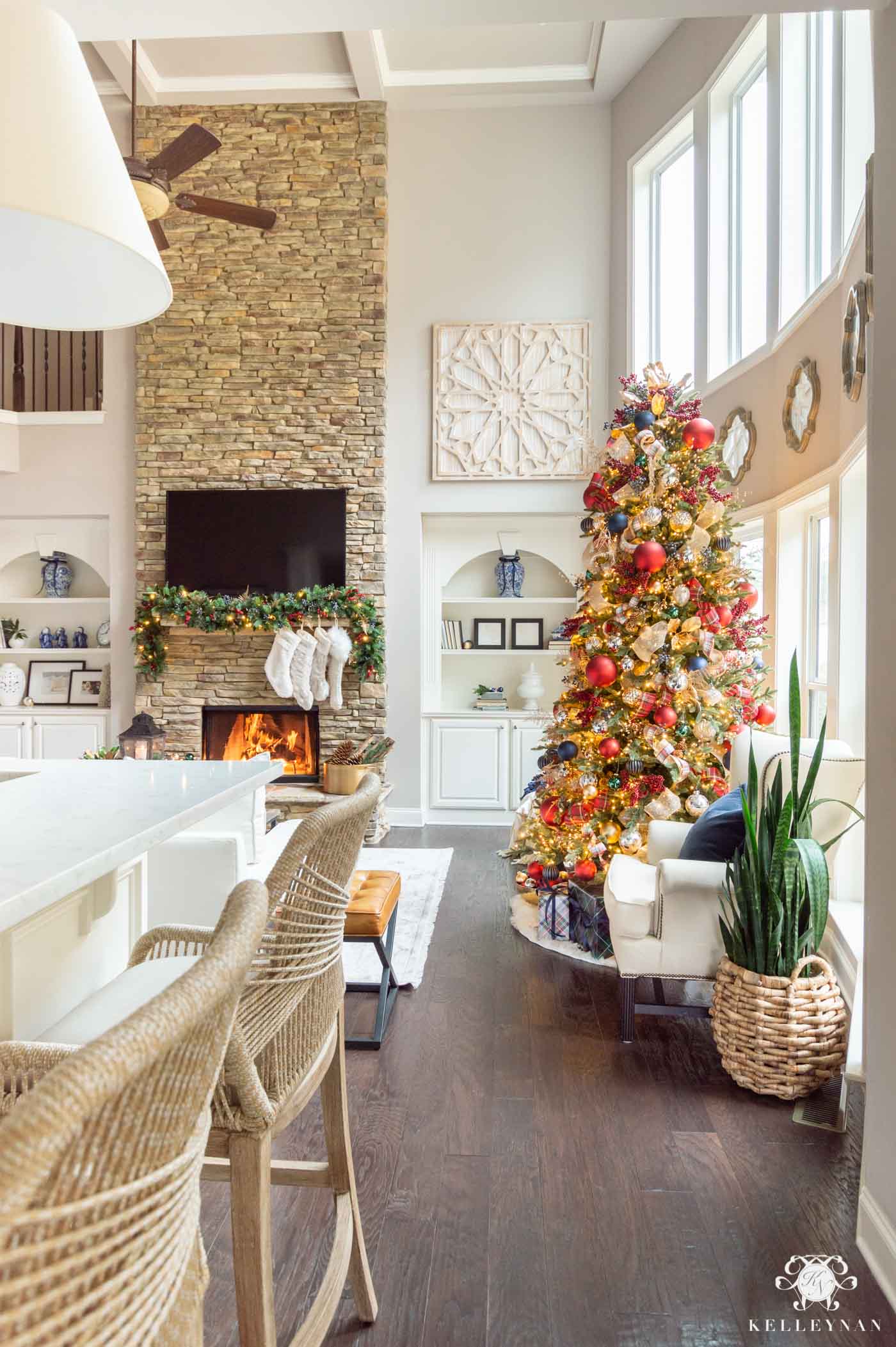 I mixed and layered plaids, red berries, frosted blueberries (from Hobby Lobby) with gold, ornaments I had on hand, and a few new larger balls.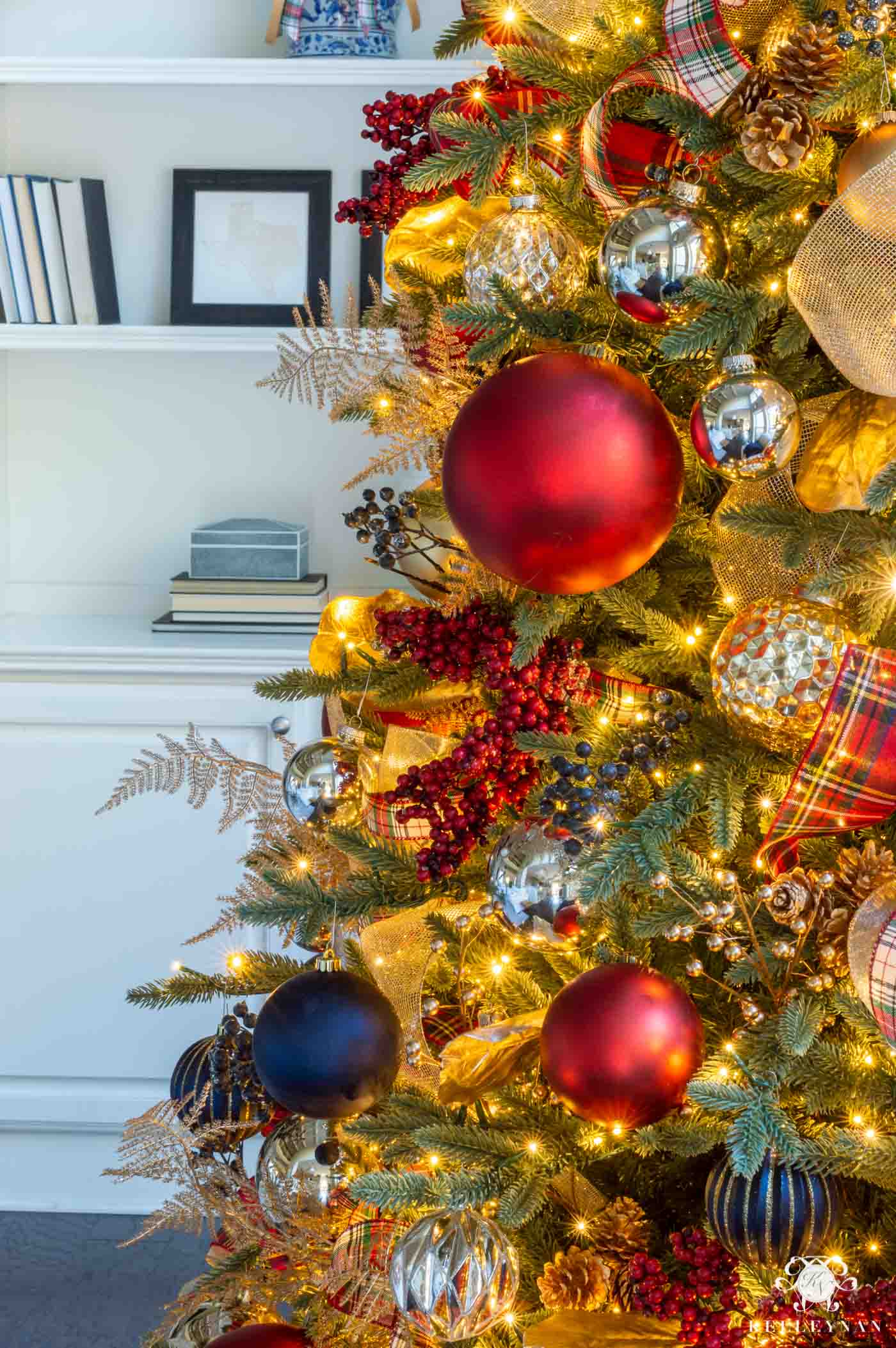 You can see how I add ribbon to my Christmas tree in THIS tutorial. I twisted some of the thinner ribbon into more of a corkscrew shape, using the exact same method.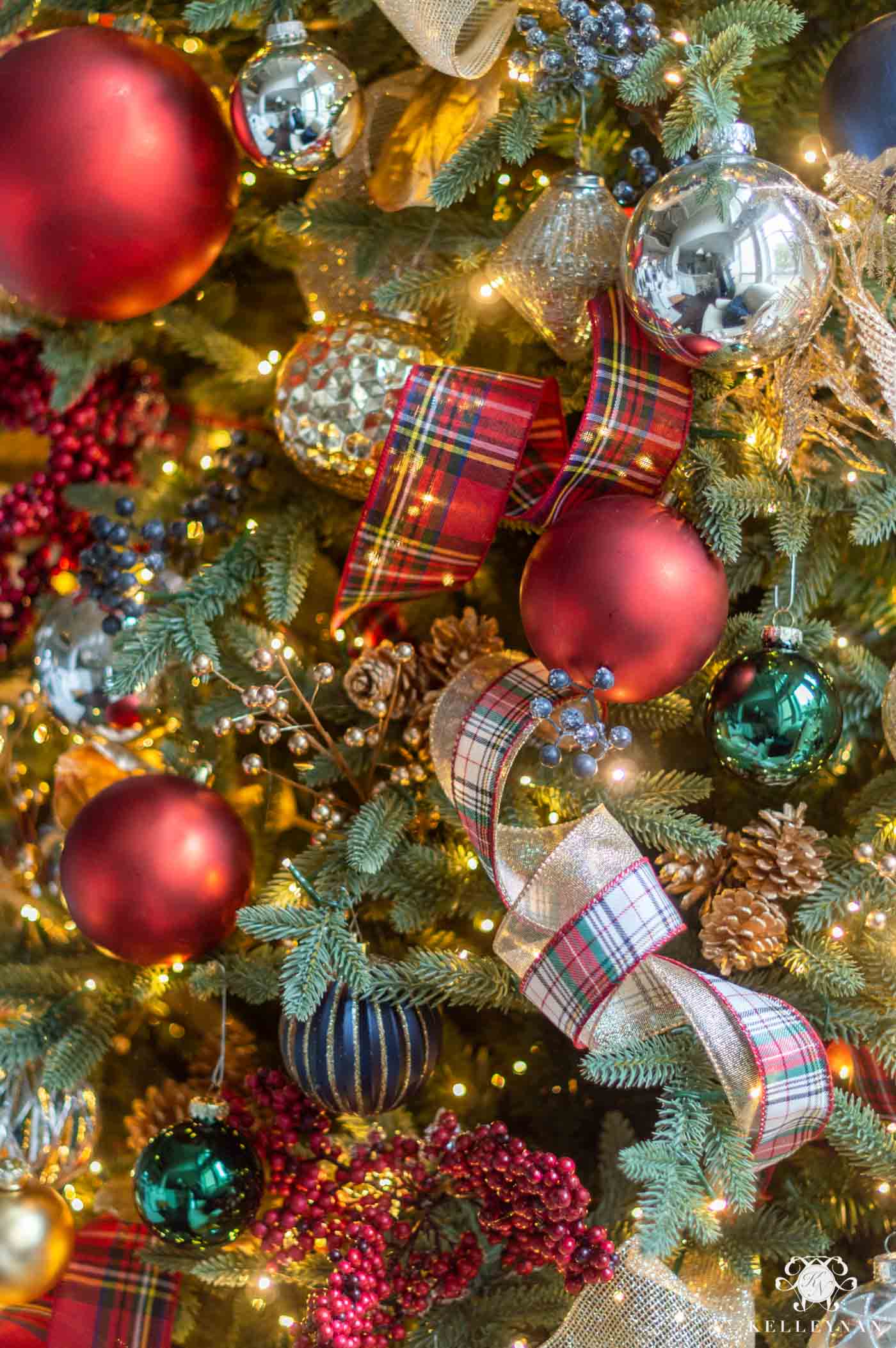 I layered some on top of wider ribbon and kept some strips as individual pieces. And just as I mixed the plaid on the tree, I mixed the plaid under the tree too. I found THIS 4-roll wrapping paper set which ships quickly from Amazon. Obviously, I'm still in the early stages 😉 All the satin ribbon was sourced from the regular (not Christmas section) ribbon section at Hobby Lobby and the plaid came from a combination of stores like At Home.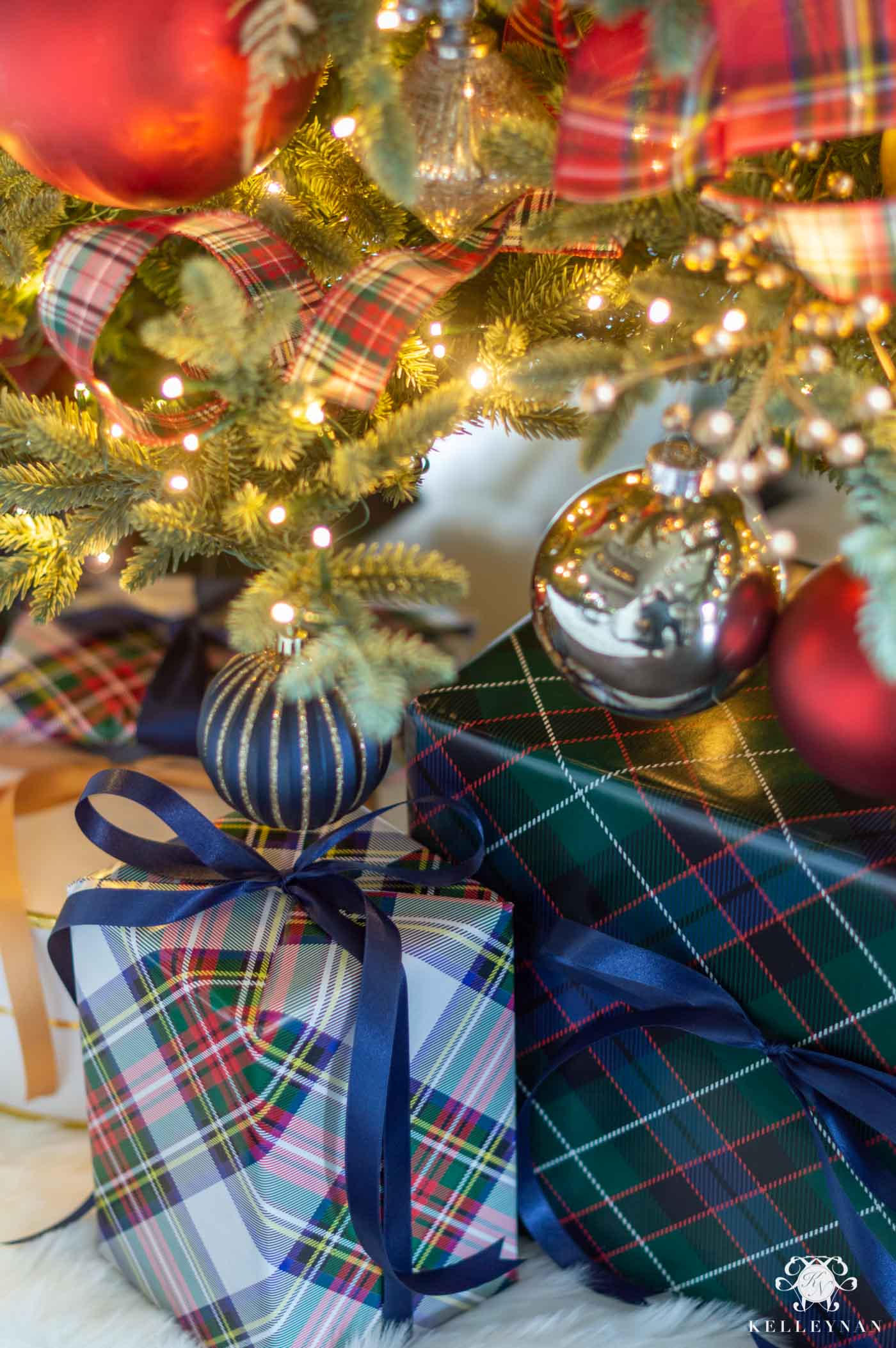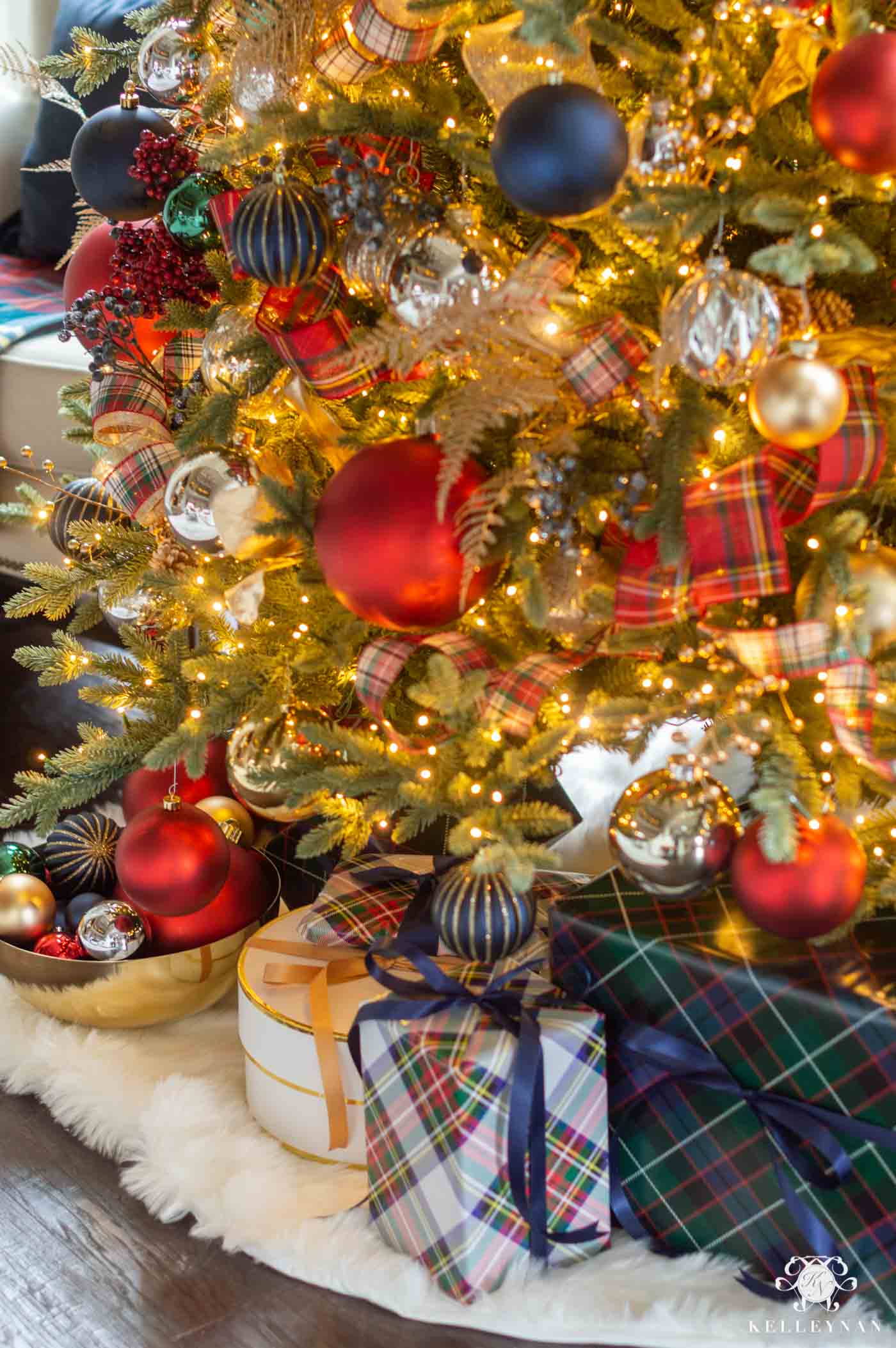 Before I even started decorating, I ordered new stockings for our family. Instead of going theme-specific, I stuck to the faux fur and knit neutrals that will carry us through the years, regardless of annual themes.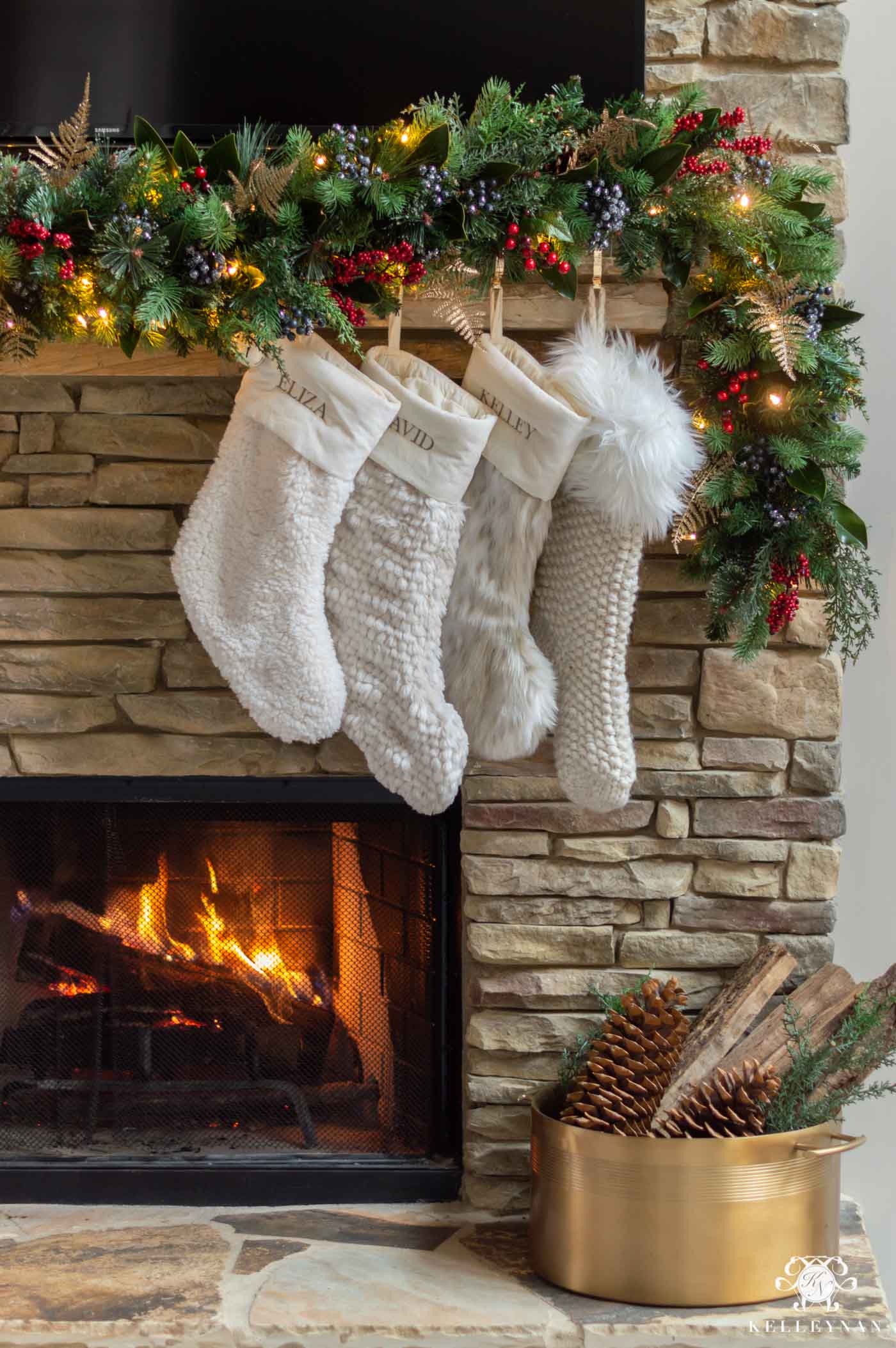 Scroll & Tap to Shop

I feel like this beverage tub has been the "secret weapon" for my hearth over the past year but I've found uses for it each season. I also like that it makes the stone look a little more polished and bright since it could easily appear more muddy and rustic. You can find the beverage tub HERE (it's currently 25% off).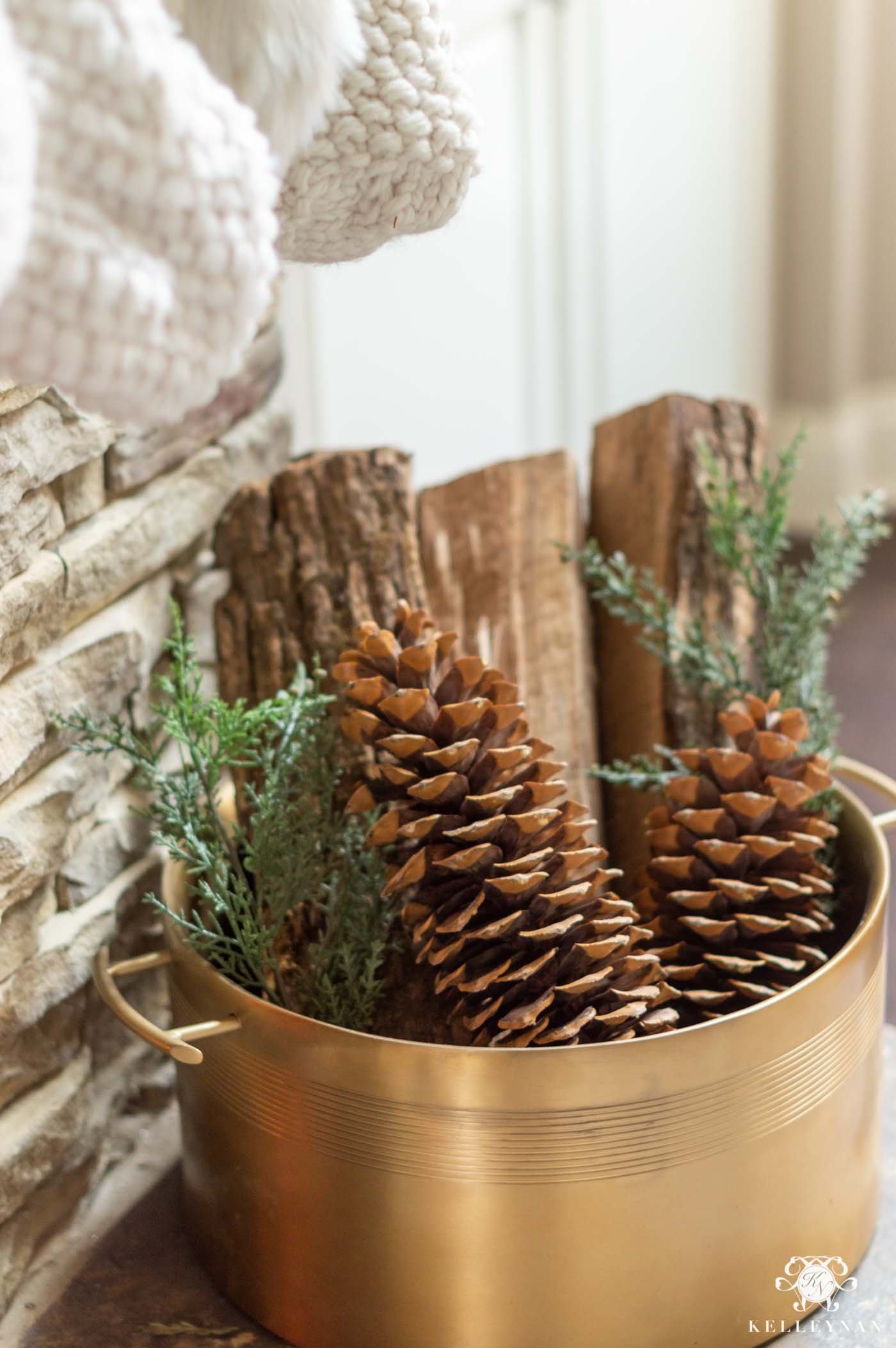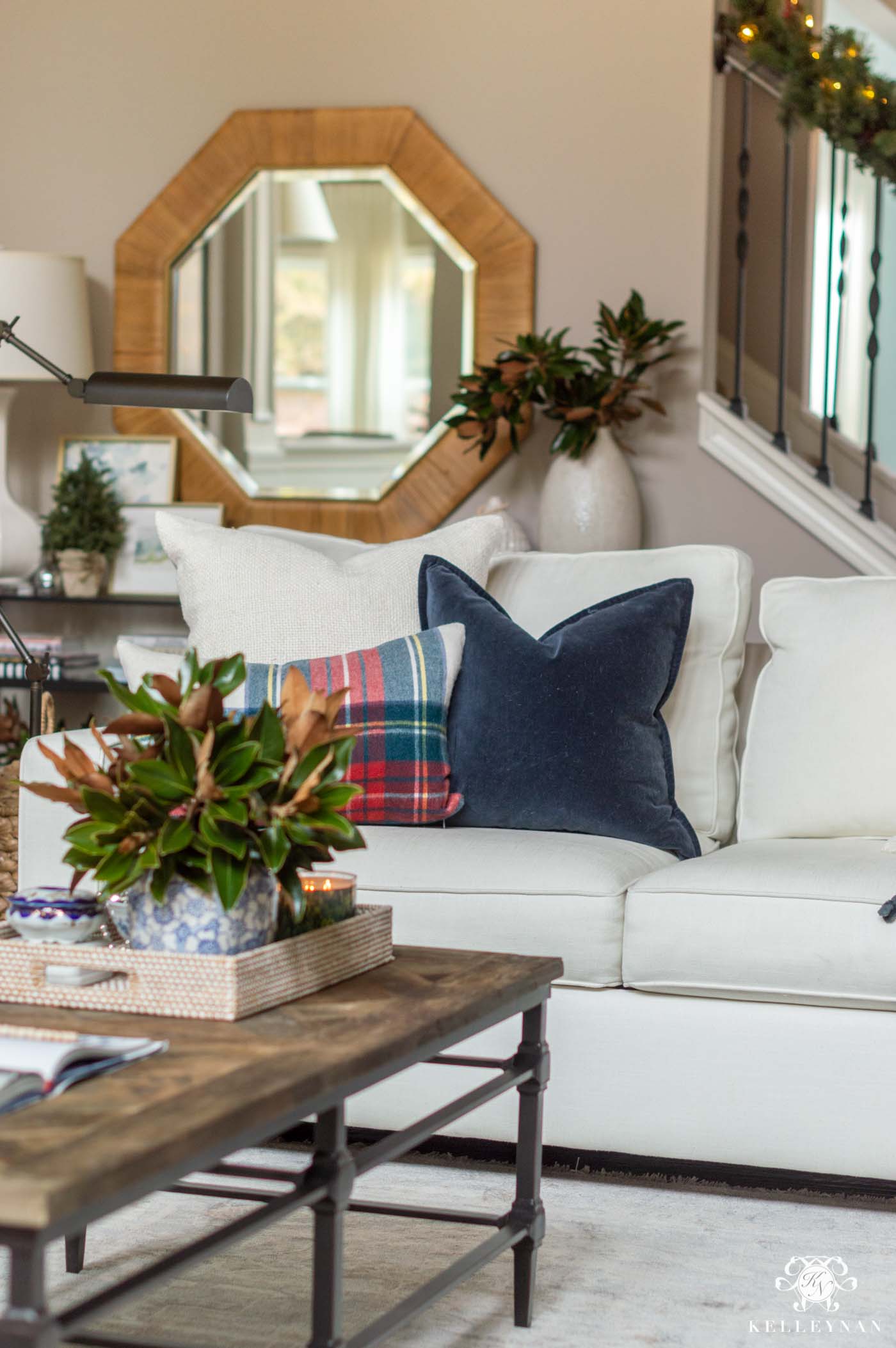 Scroll & Tap to Shop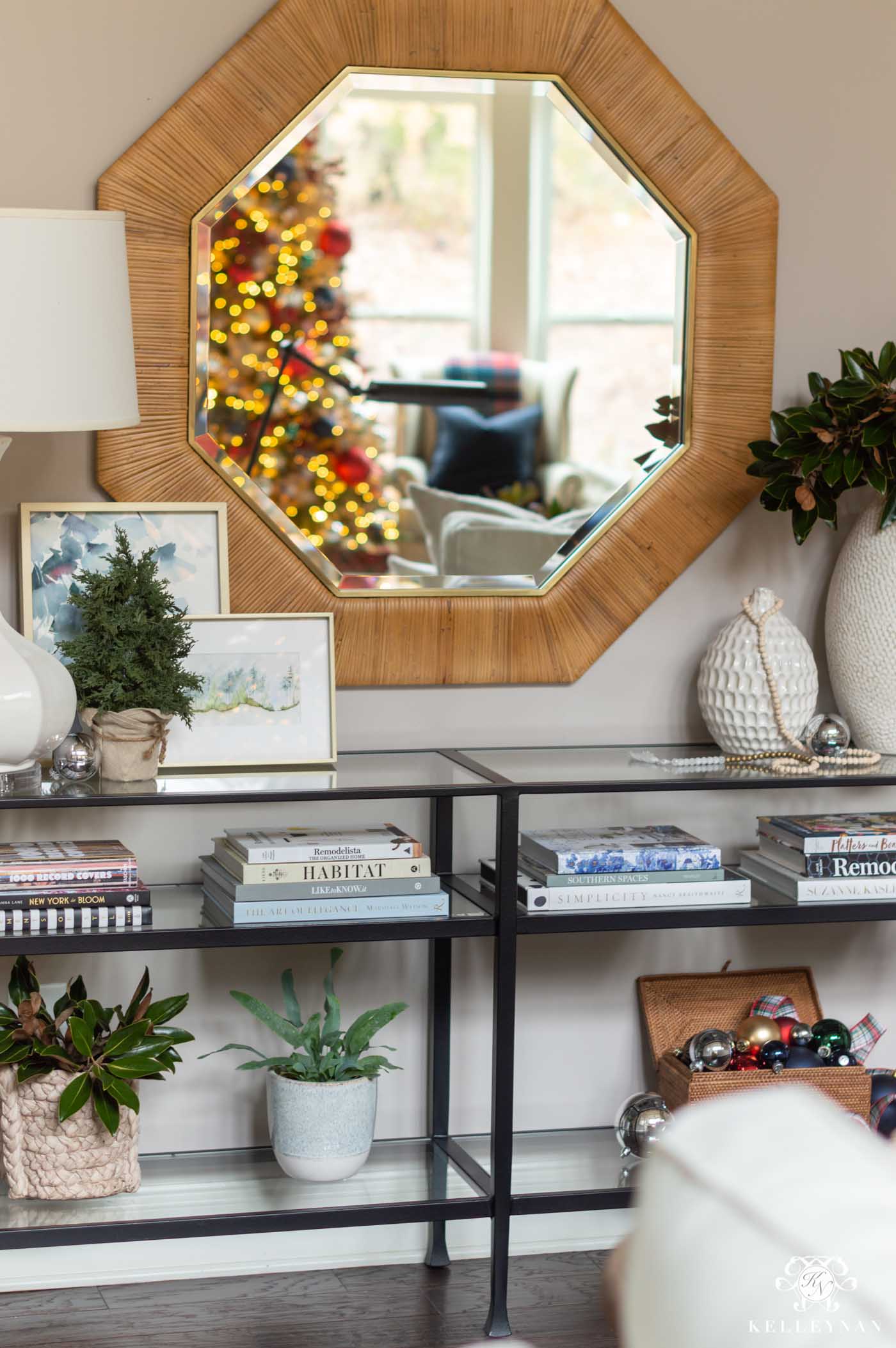 Scroll & Tap to Shop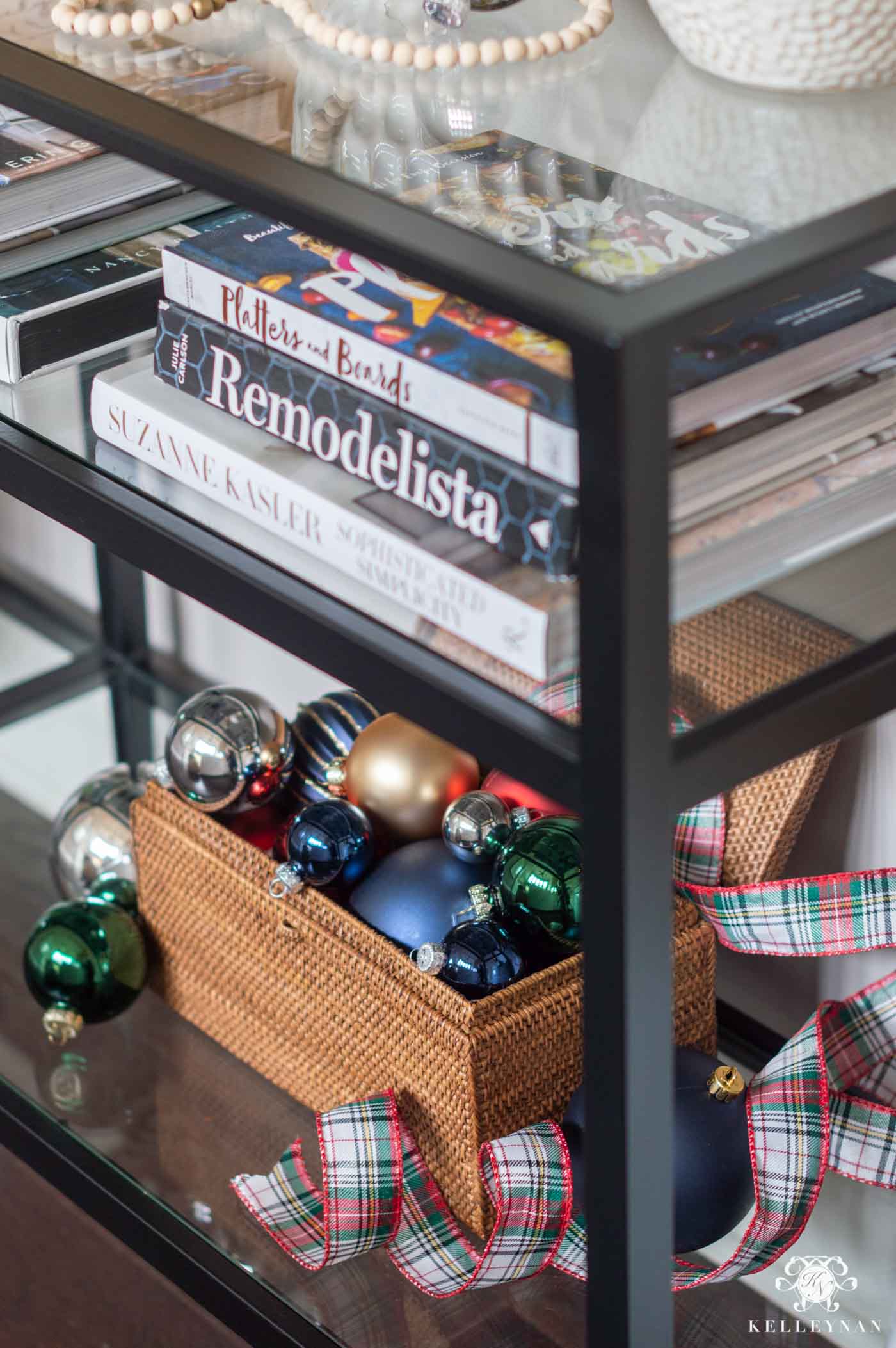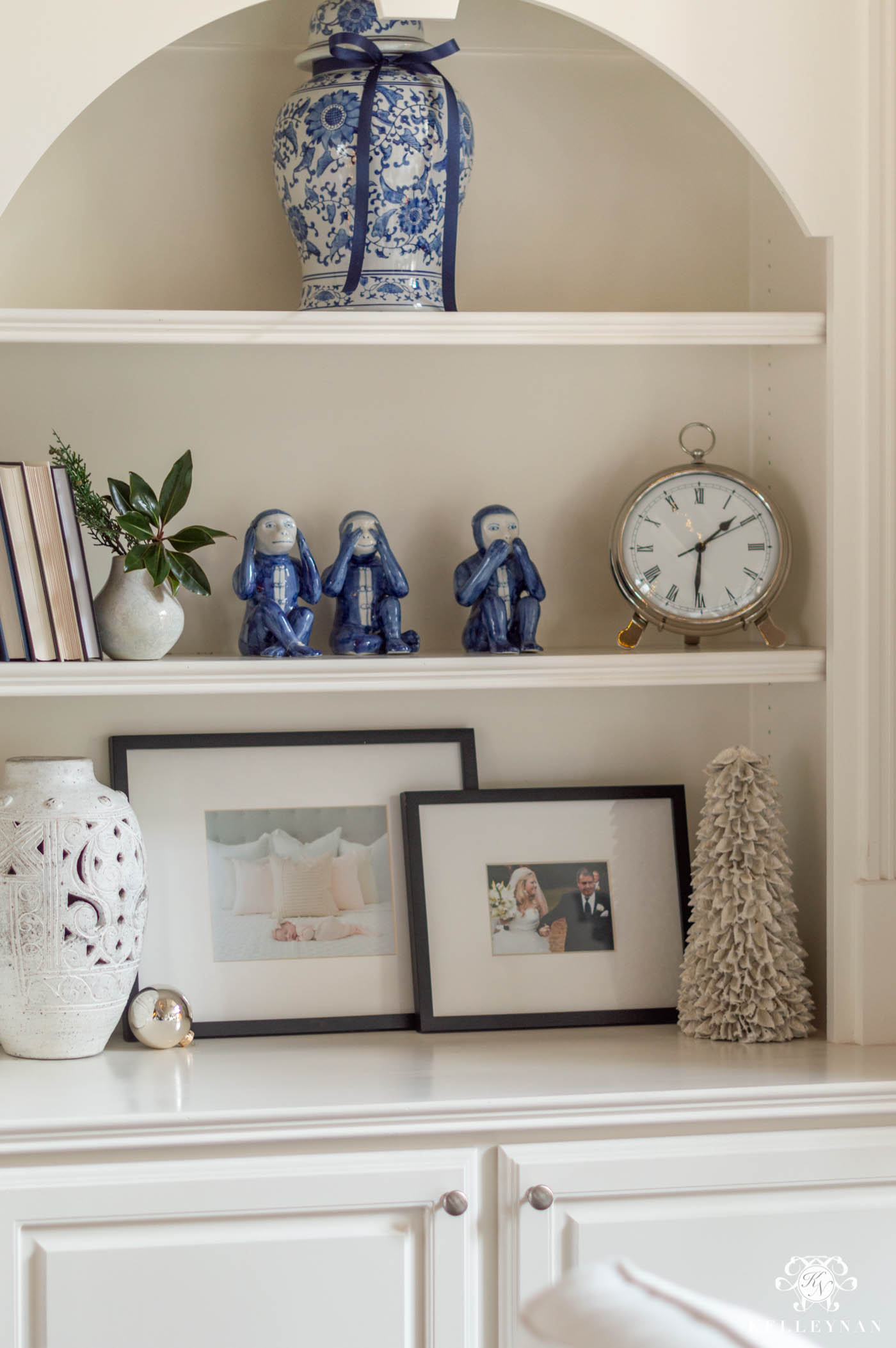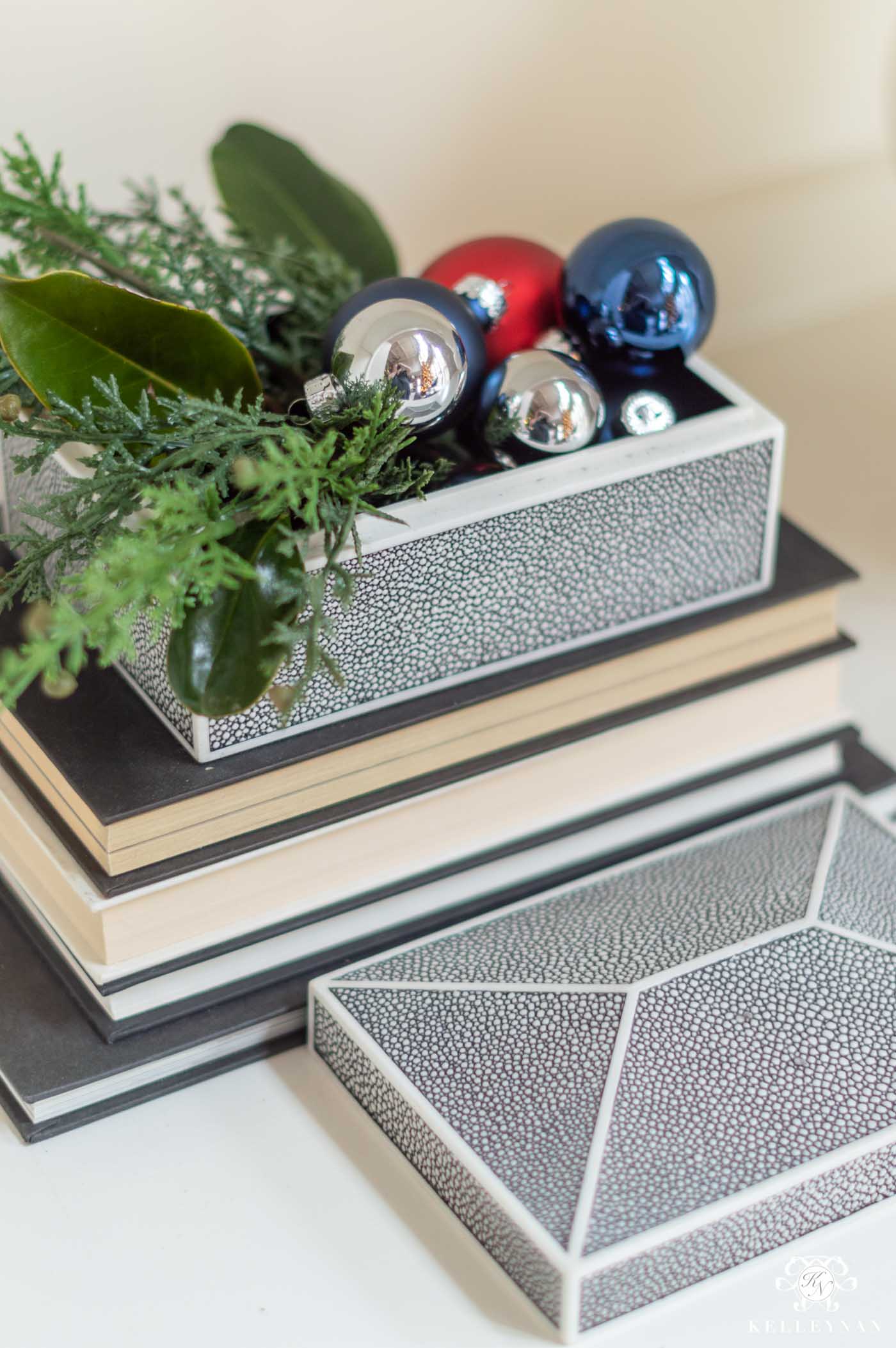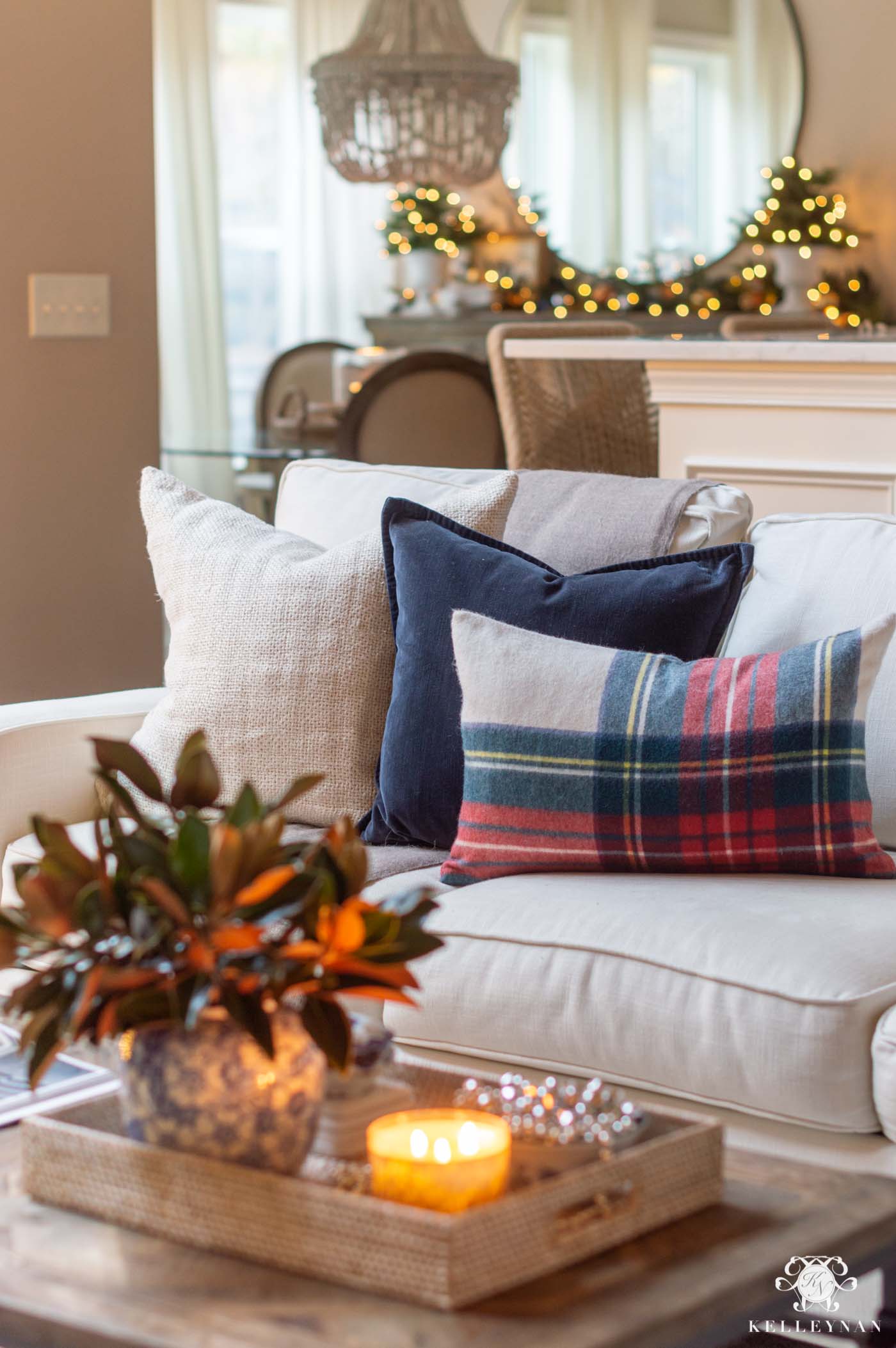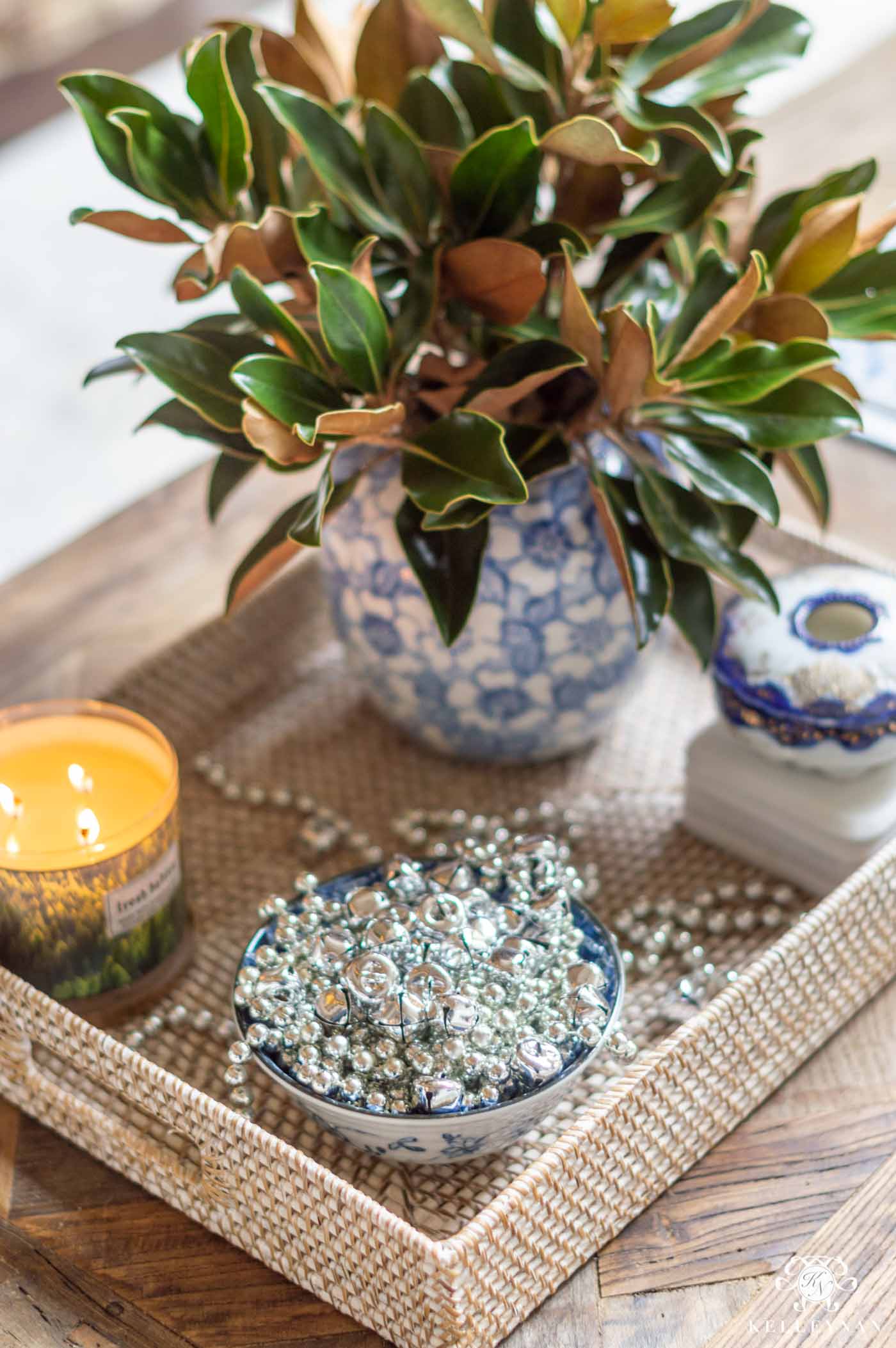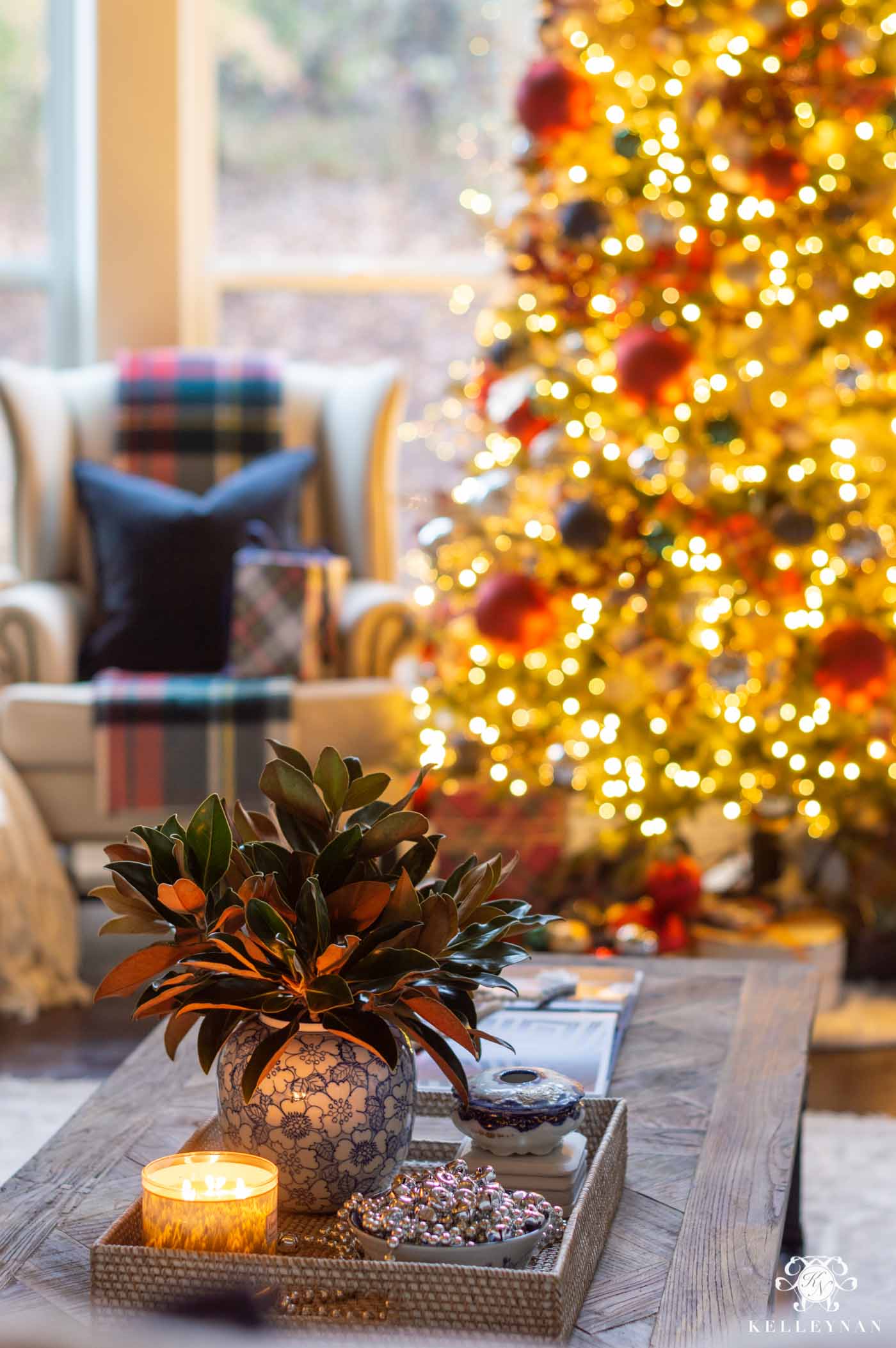 We invested in a new Christmas tree this year — it was the micro-led 9.5′ option at Costco. Just like we are fanatics for pretty much everything at Costco, this tree is amazing. I shared it on Instagram stories earlier this month and how it is pre-fluffed, has a ton of light settings (with a dimmer), is so full and dense, etc. etc. It sold out early online but I know a lot of you have been hitting up your local stores (it comes in a few sizes).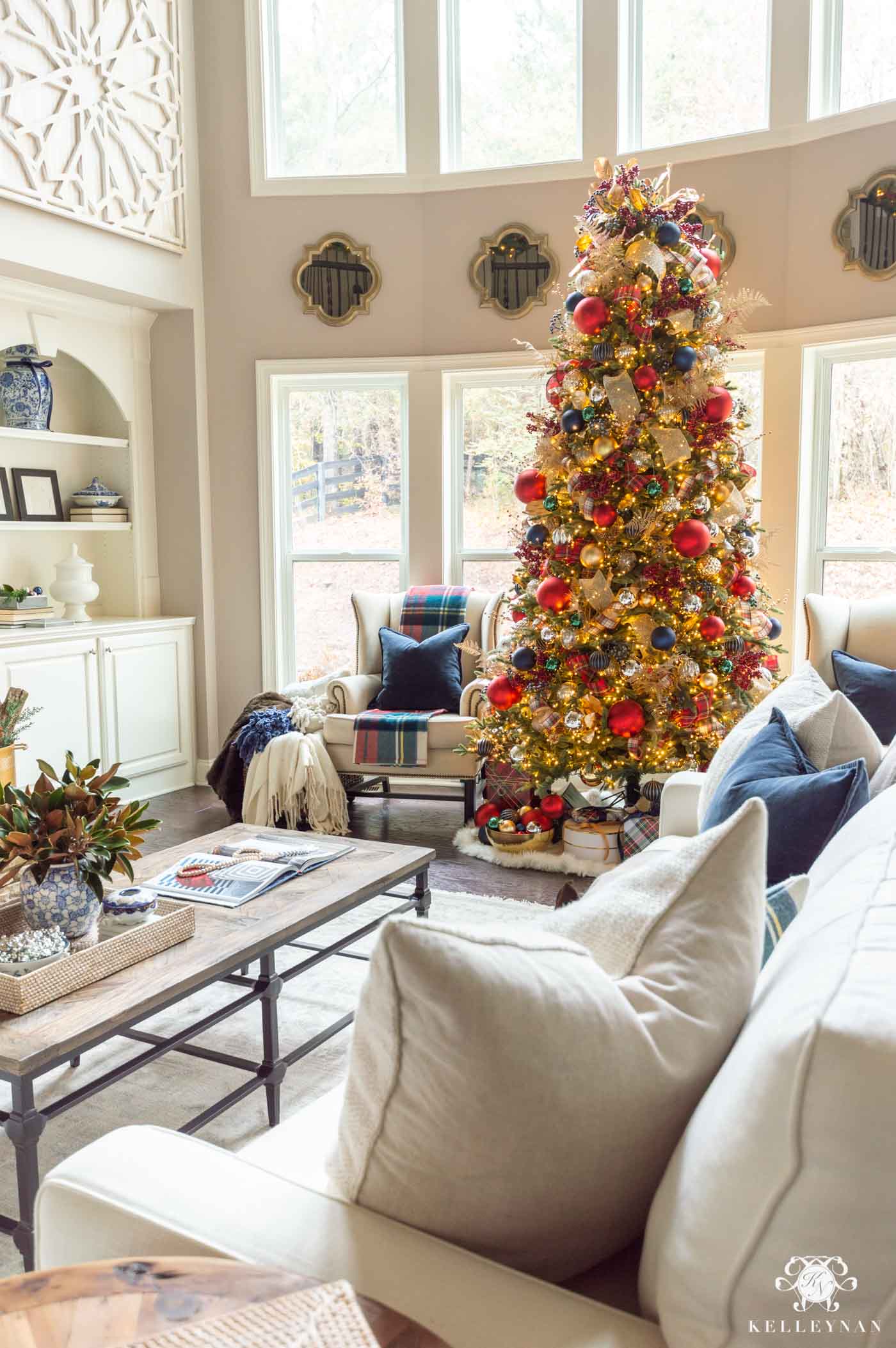 Scroll & Tap to Shop

We added a new strand of the garland (also Costco) over the fireplace (we've used the same garland on our bannister for years); I easily embellished it and will be sharing a simple post on it soon 😉
Also looks like Mister's been enjoying our new rug haha.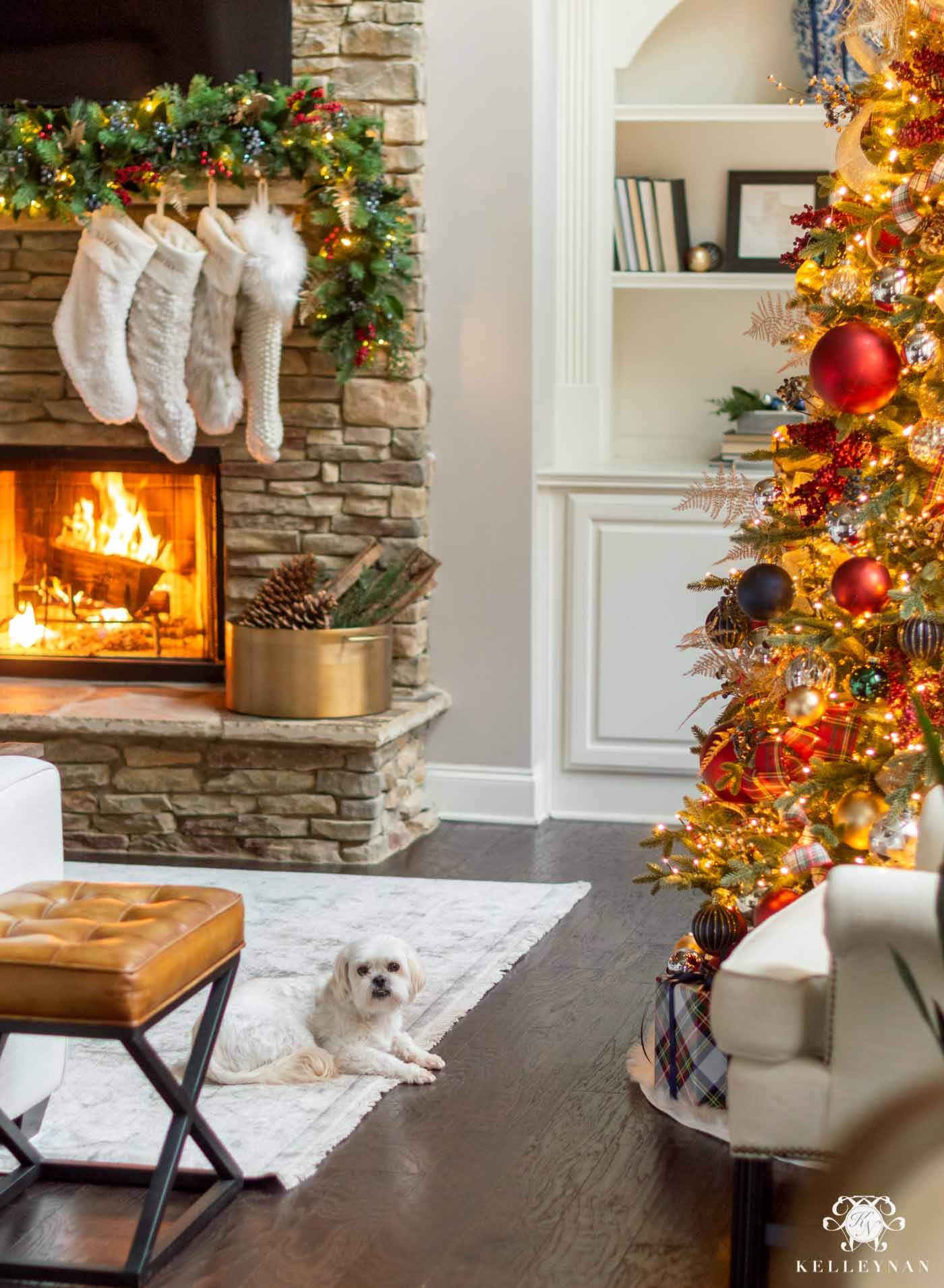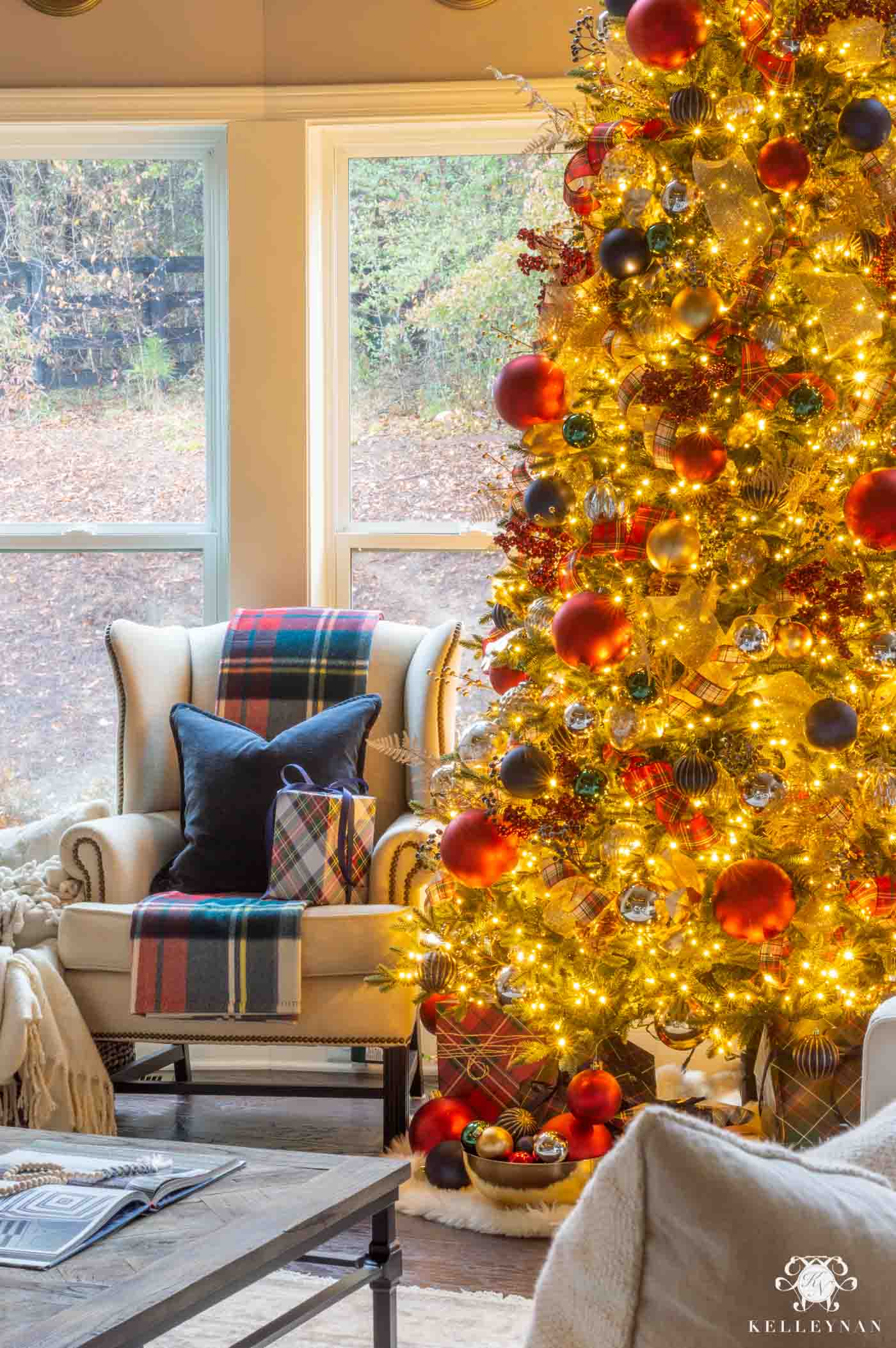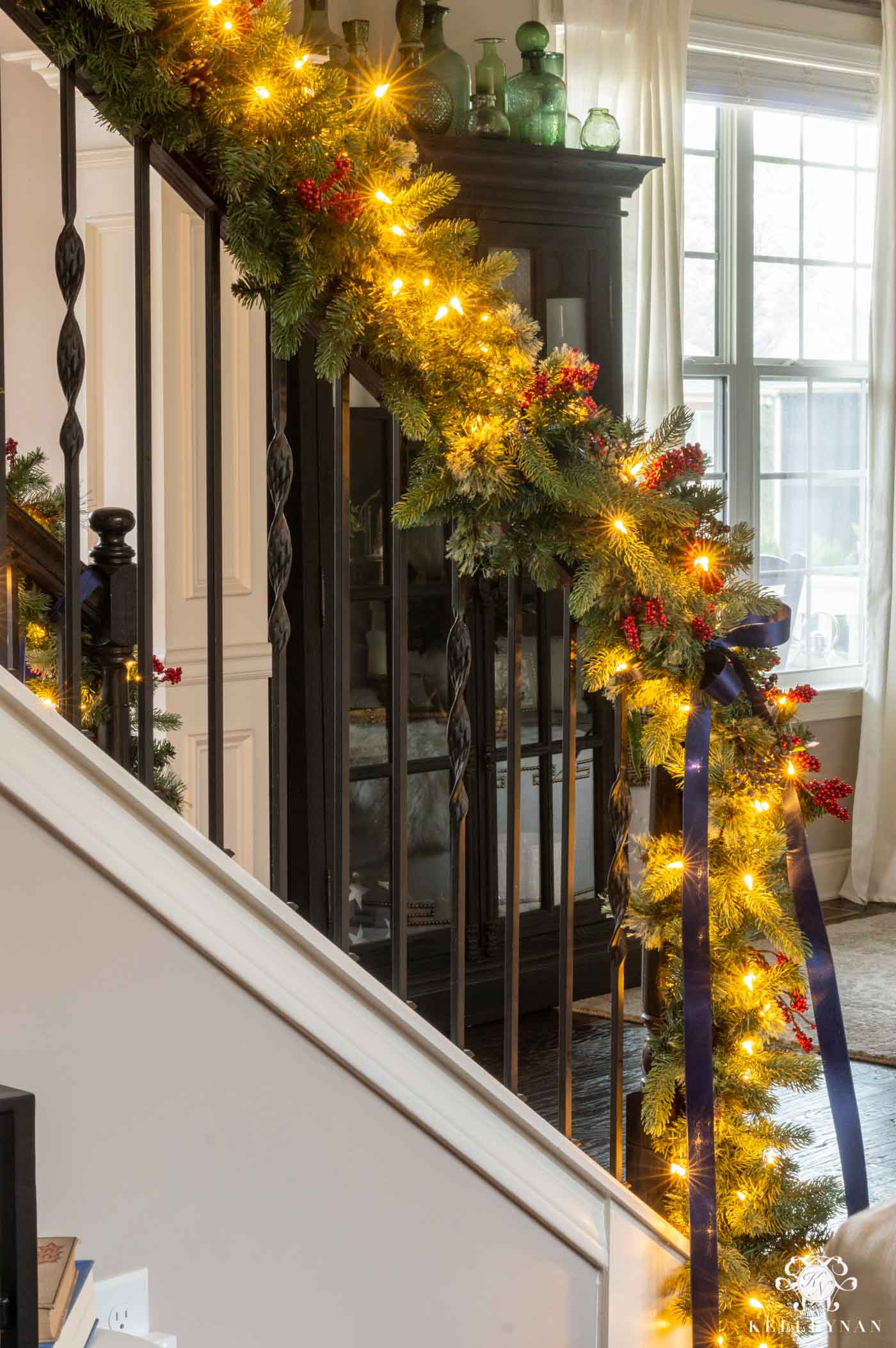 NURSERY
I shared Eliza's nursery earlier this month; you can check out the full post and all the details HERE. It's gonna be a said day when those trees come down!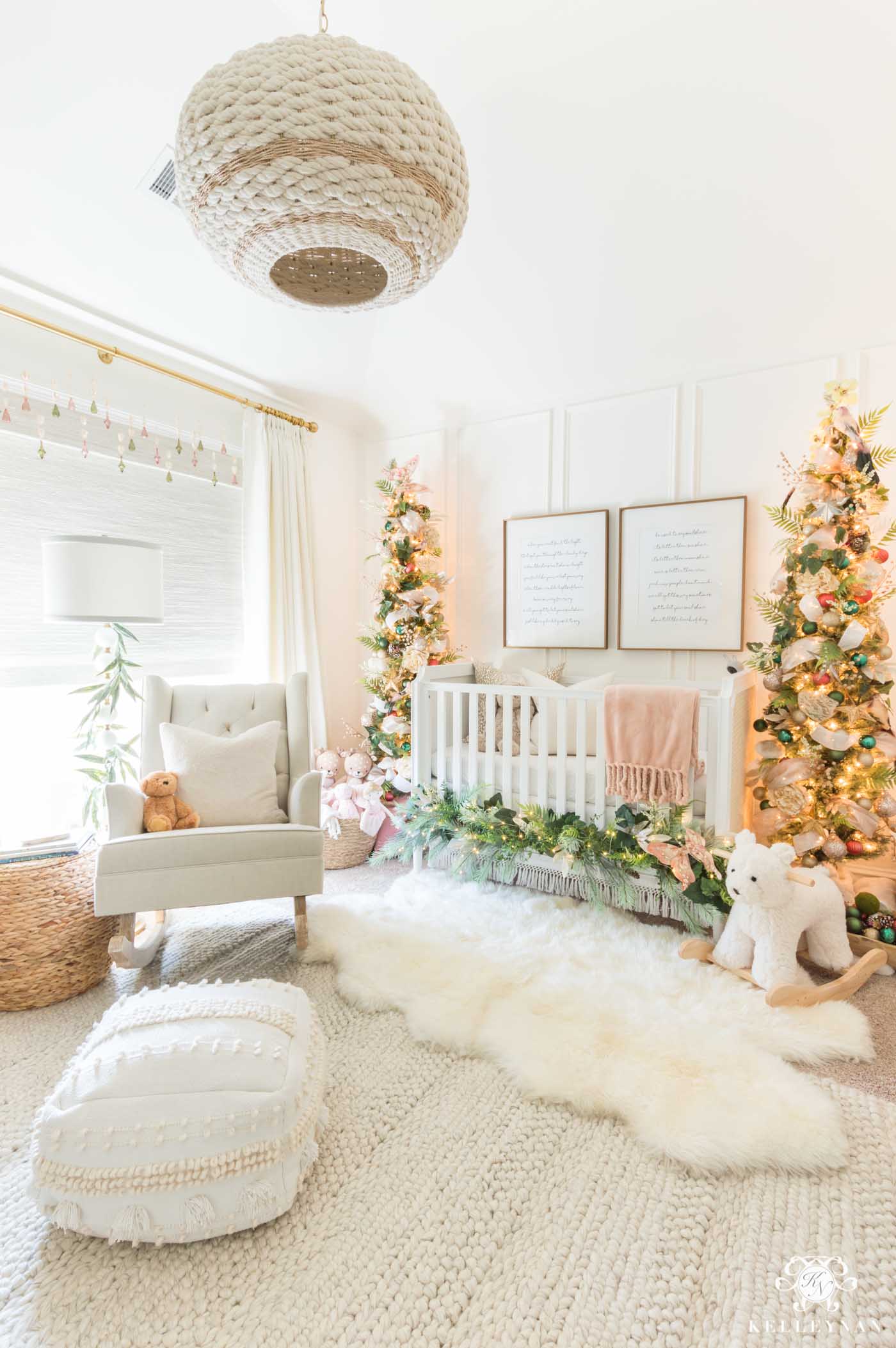 Scroll & Tap to Shop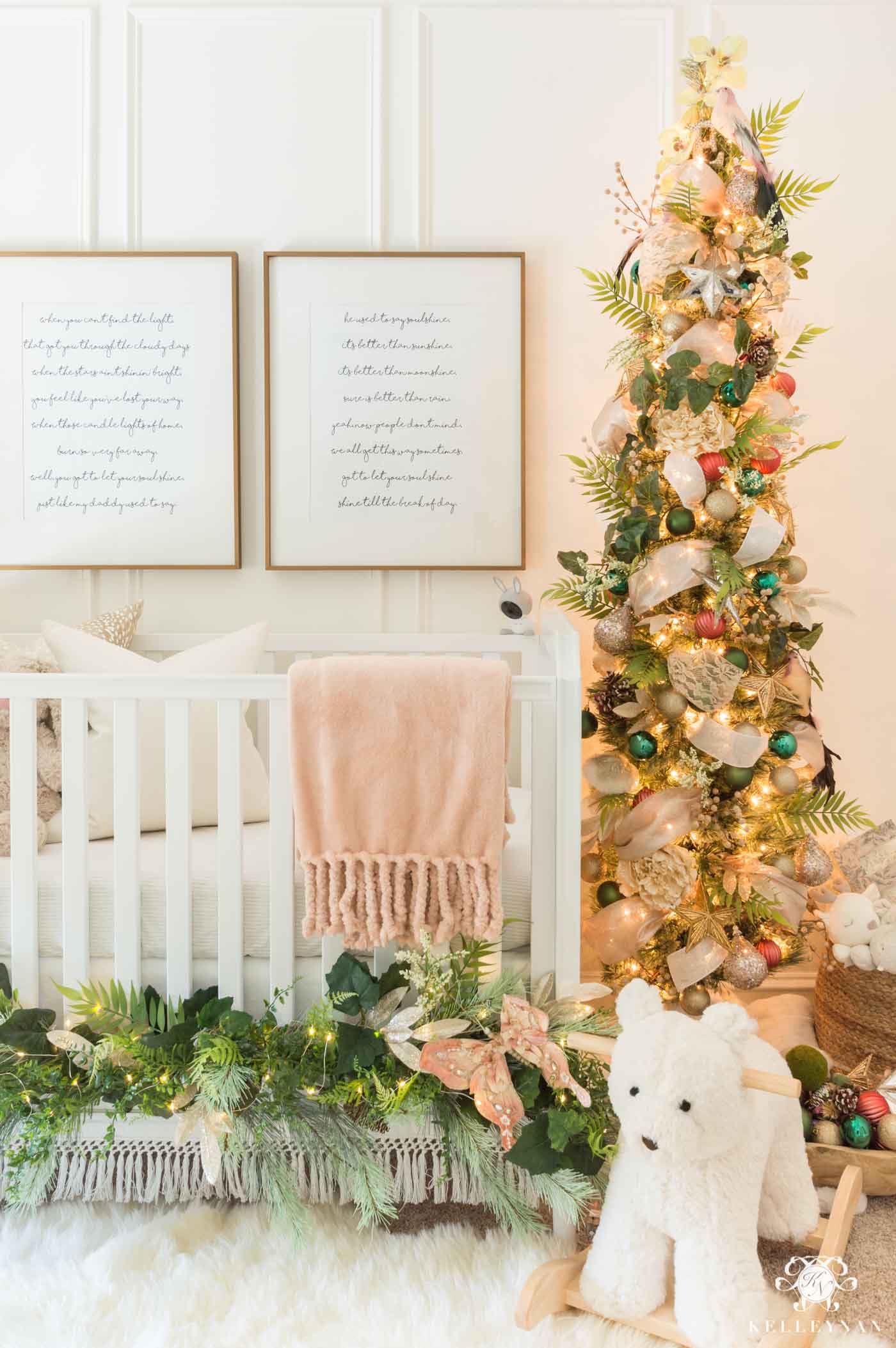 I know next year, when she's mobile, Eliza's room likely won't be able to be as elaborate (#safetyfirst) but we have loved spending all the time in here!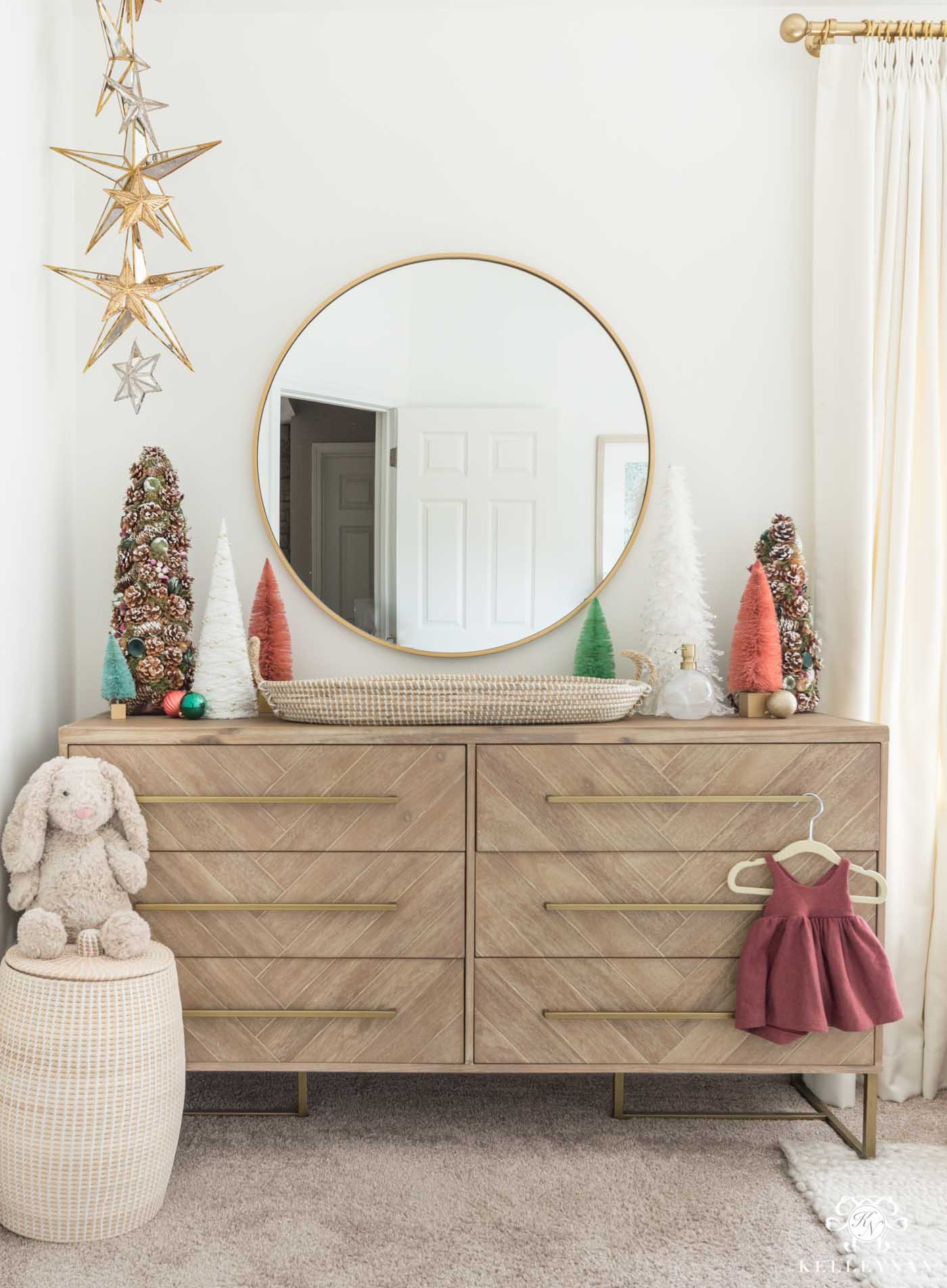 Scroll & Tap to Shop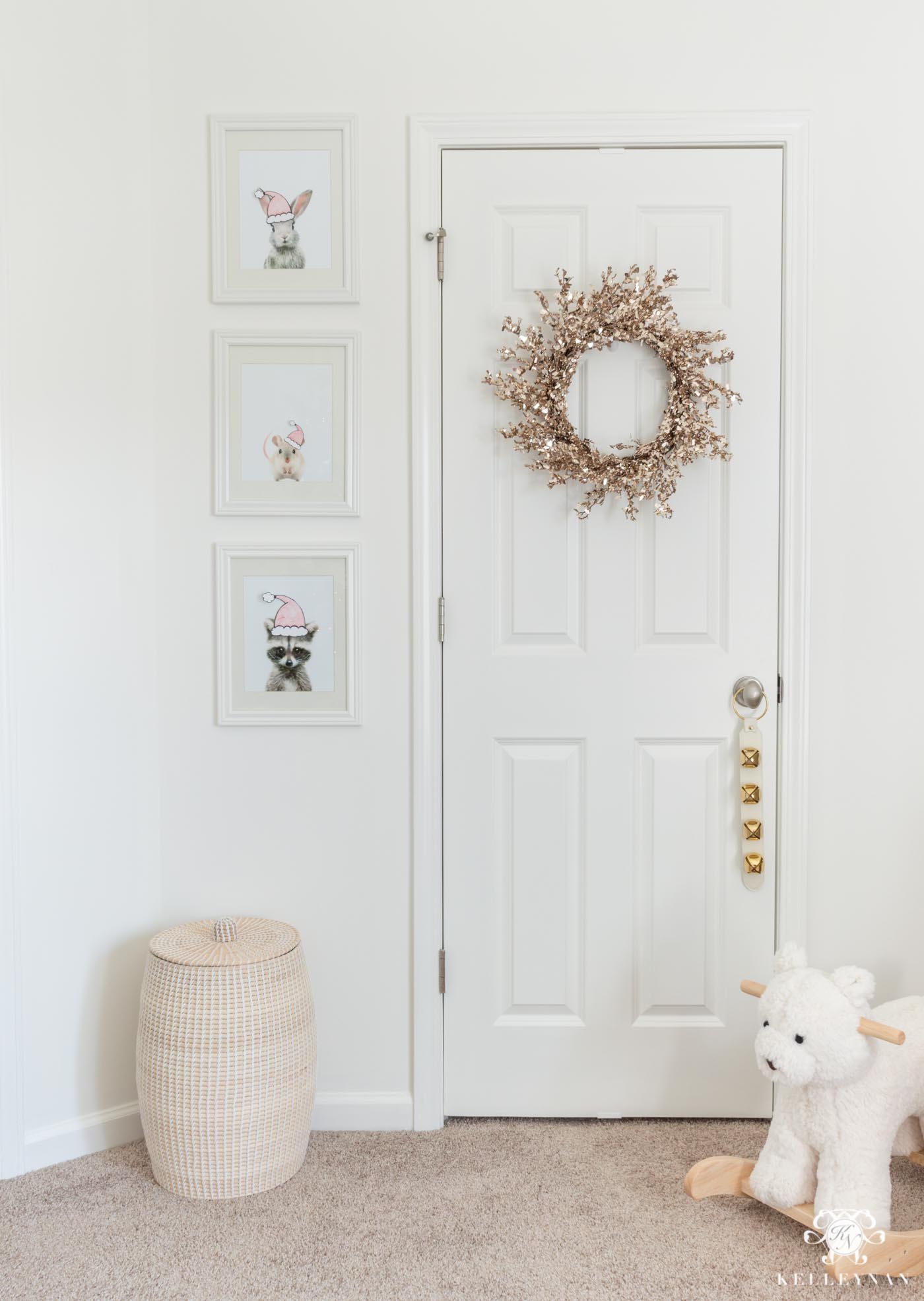 MASTER BEDROOM
The last space in today's tour is our master bedroom. I didn't purchase a single new thing for our room and decided on my frosty theme after taking inventory of what we had left in the bins that wasn't used in the main common areas. For the first time in years, we don't have a flocked tree in here! I used one of our shorter, 7.5 footers in the sitting area and while I prefer the height statement of the taller one in previous years, this was so much simpler to decorate and I loved switching it up a little.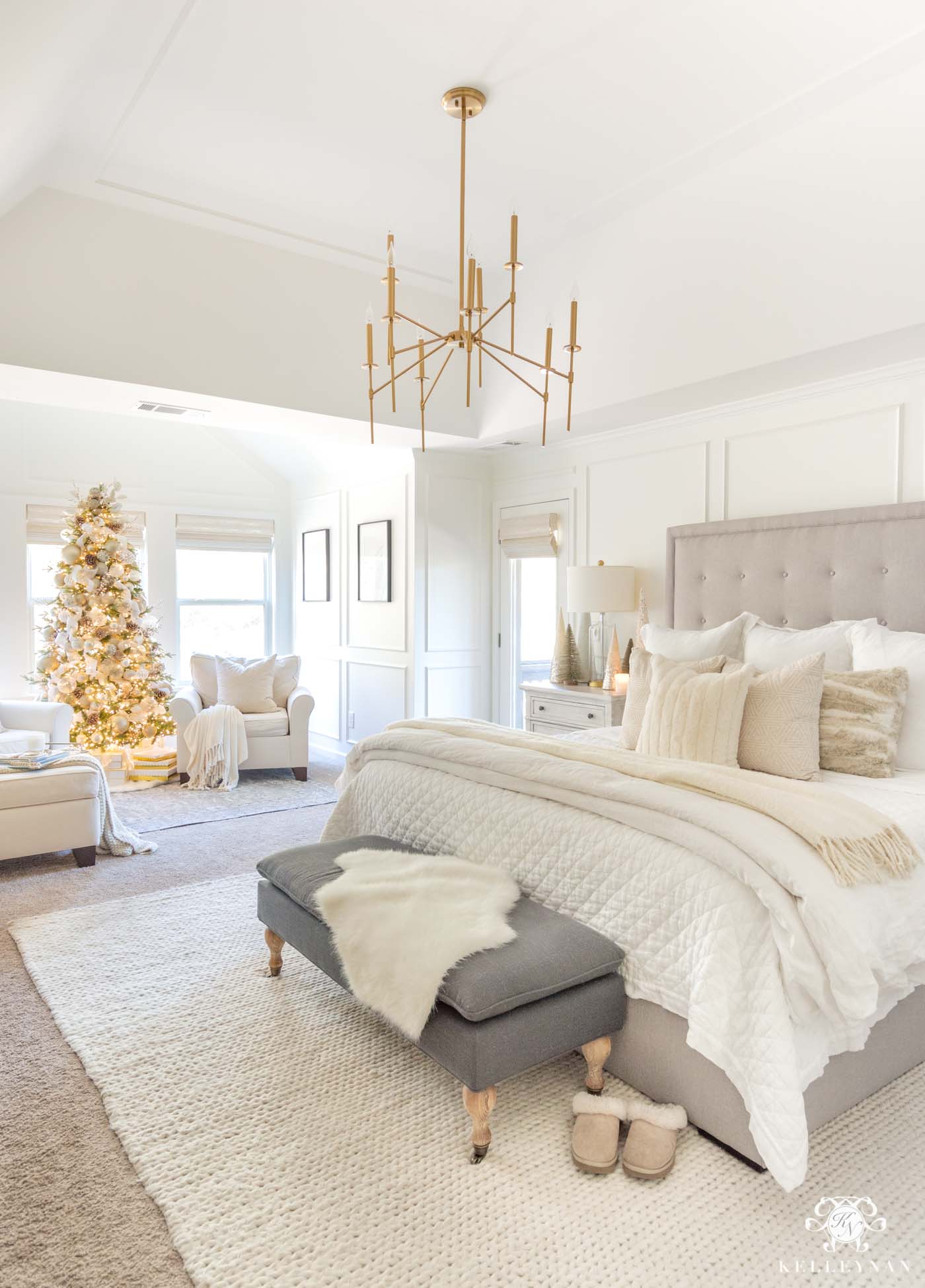 Scroll & Tap to Shop

It's peaceful and serene, not overdone or fussy…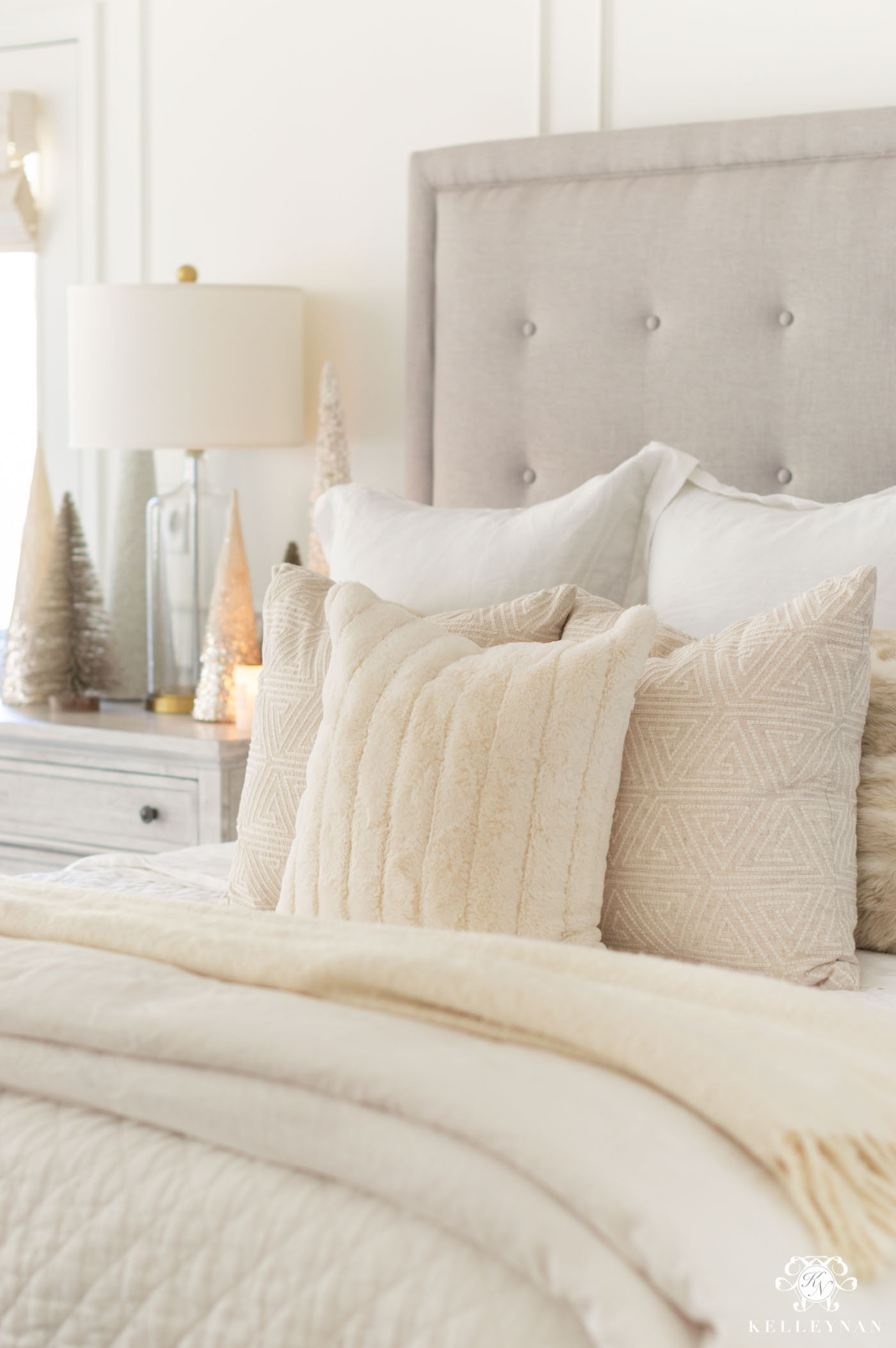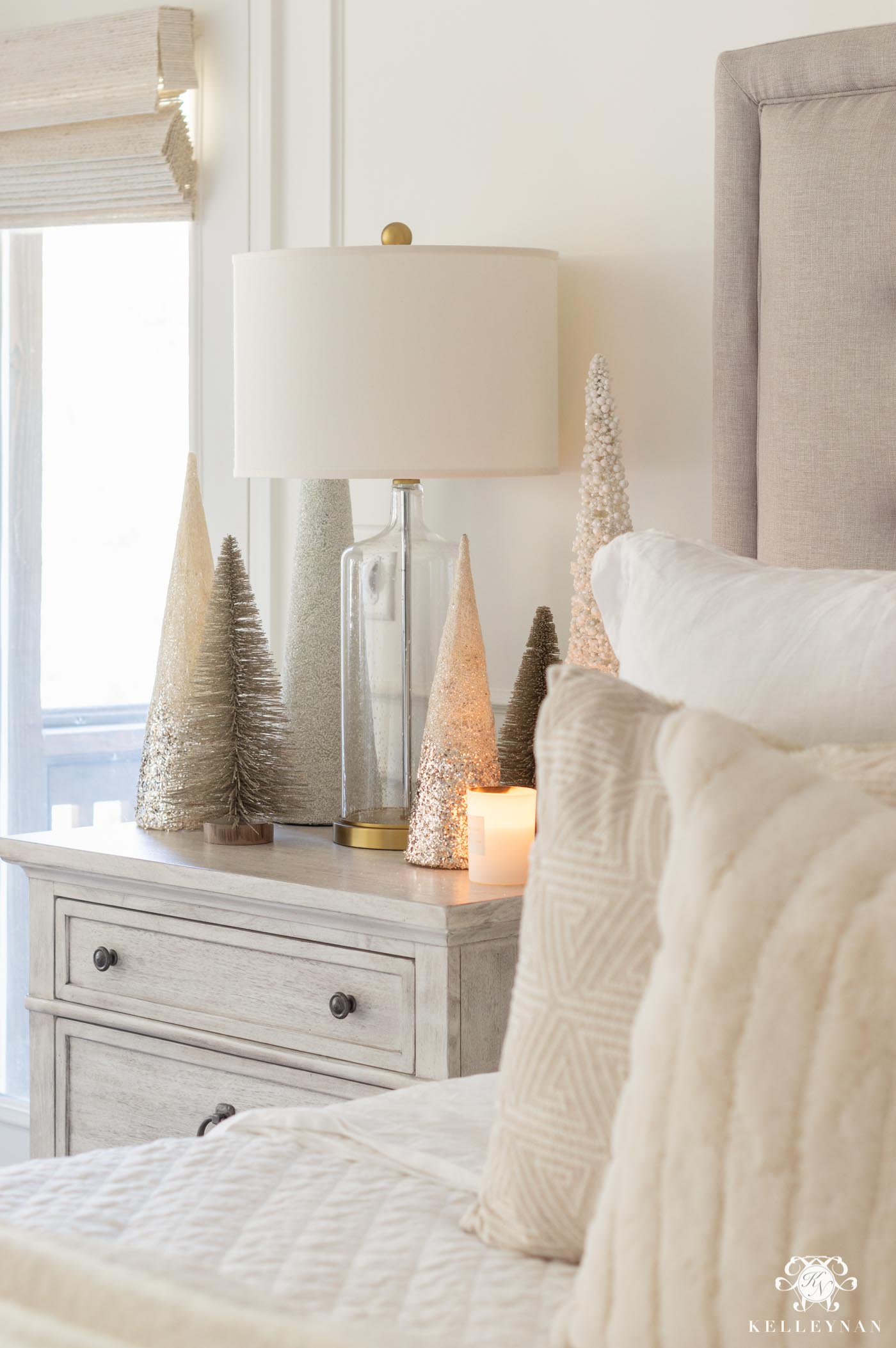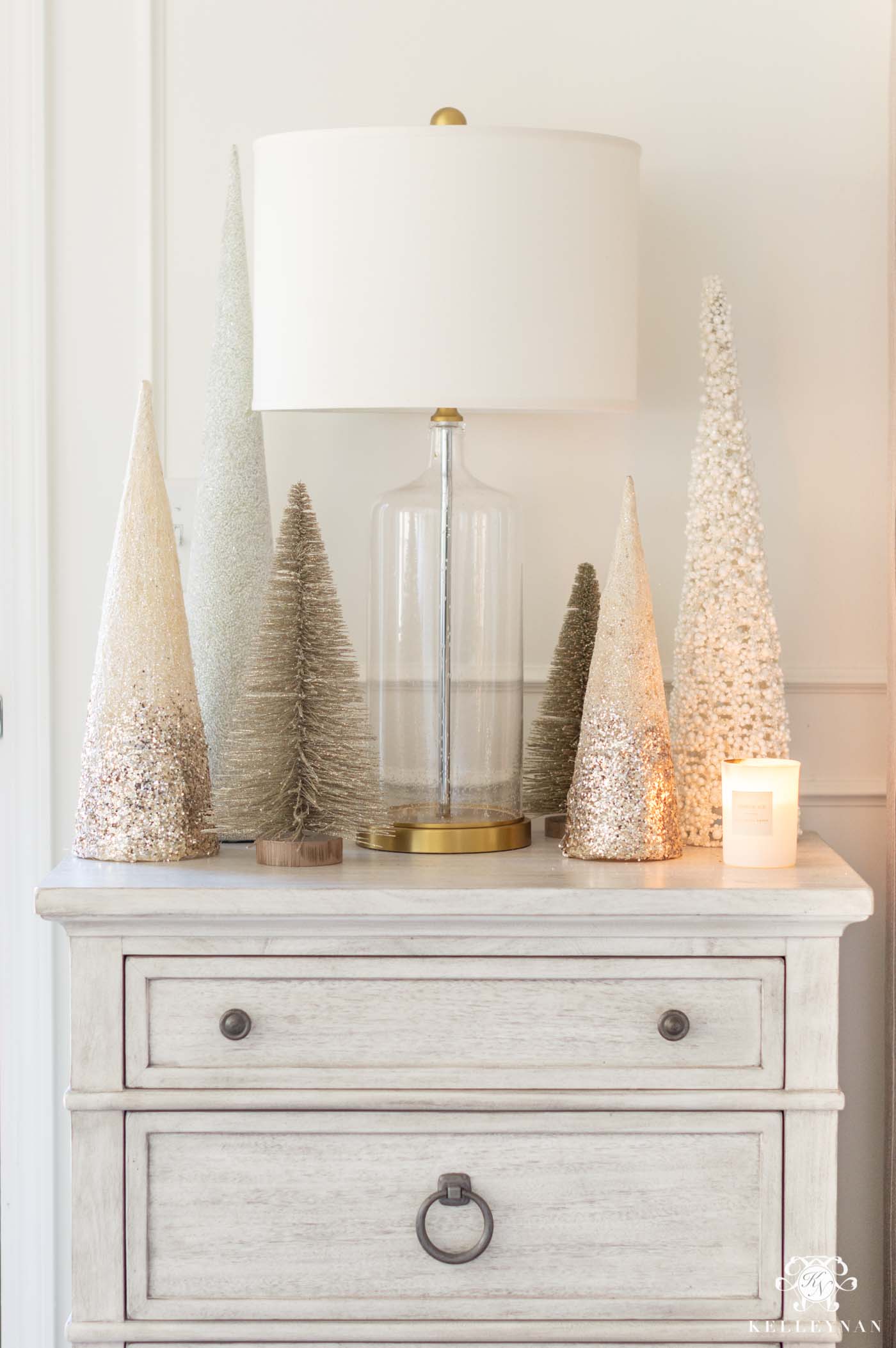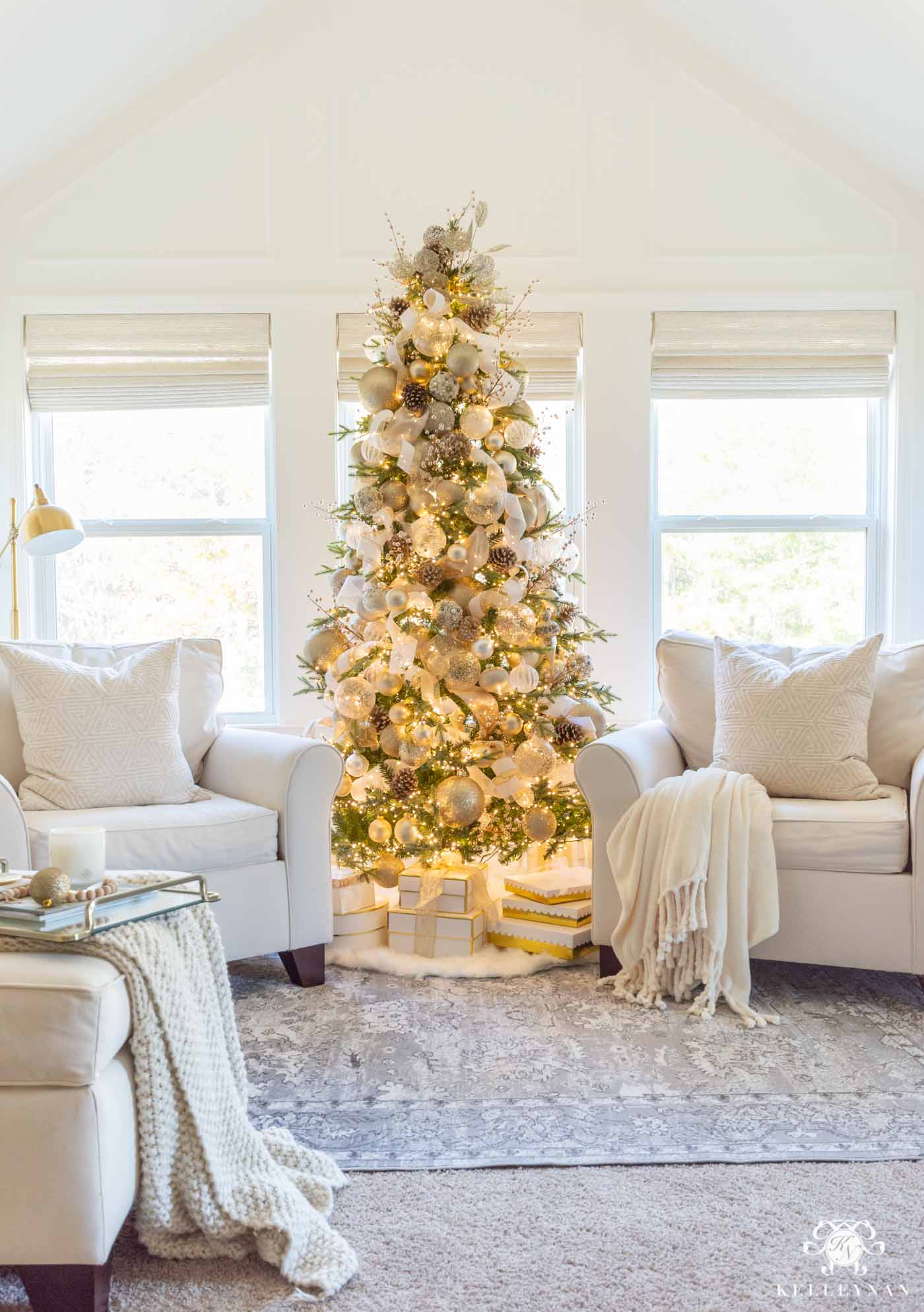 Scroll & Tap to Shop

And just like the main tree, I didn't purchase a lot of new ribbon this year so I put the thinner ribbon to use by layering it and twisting it a little (similar to my 2015 throwback bedroom tree).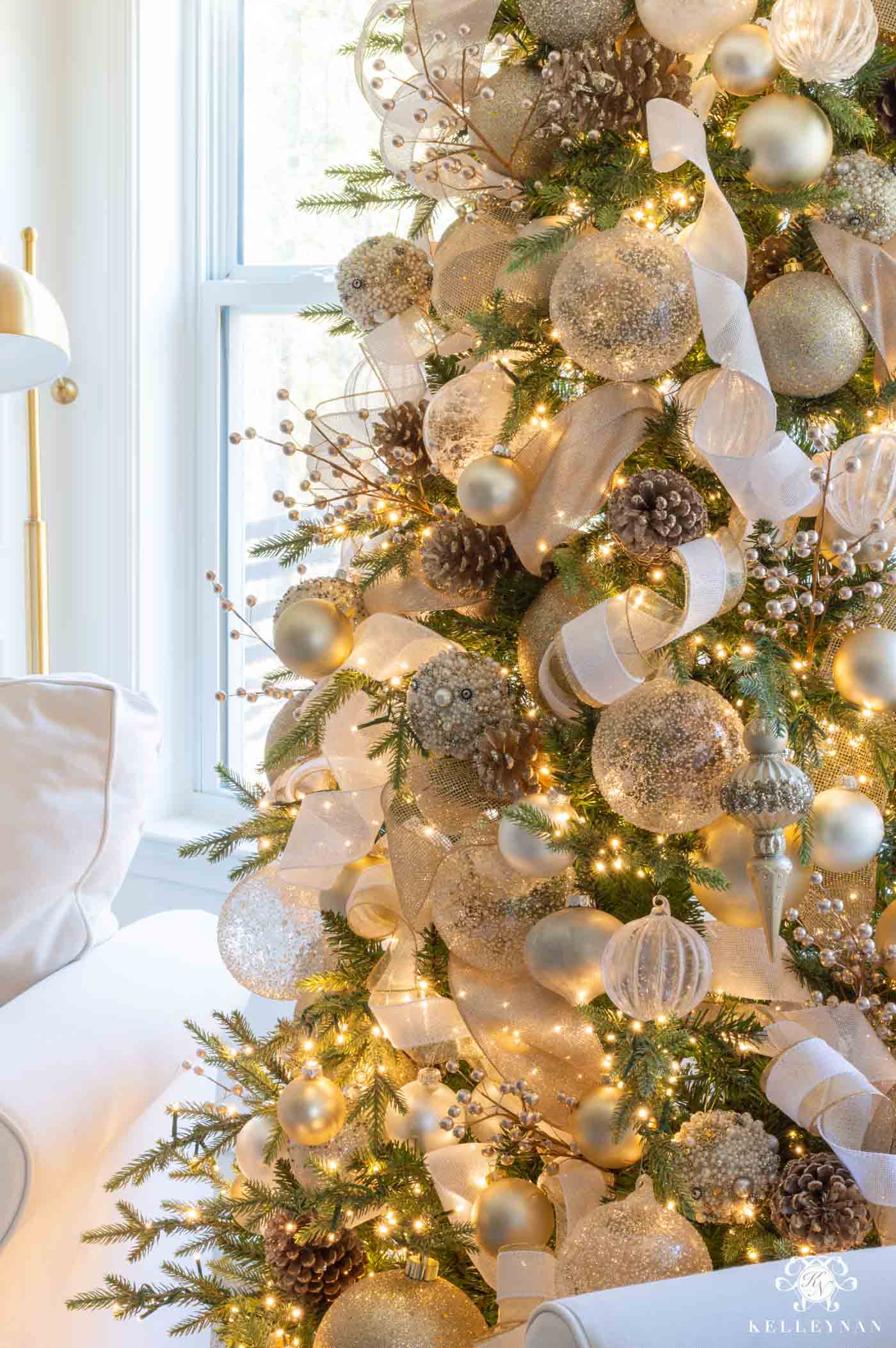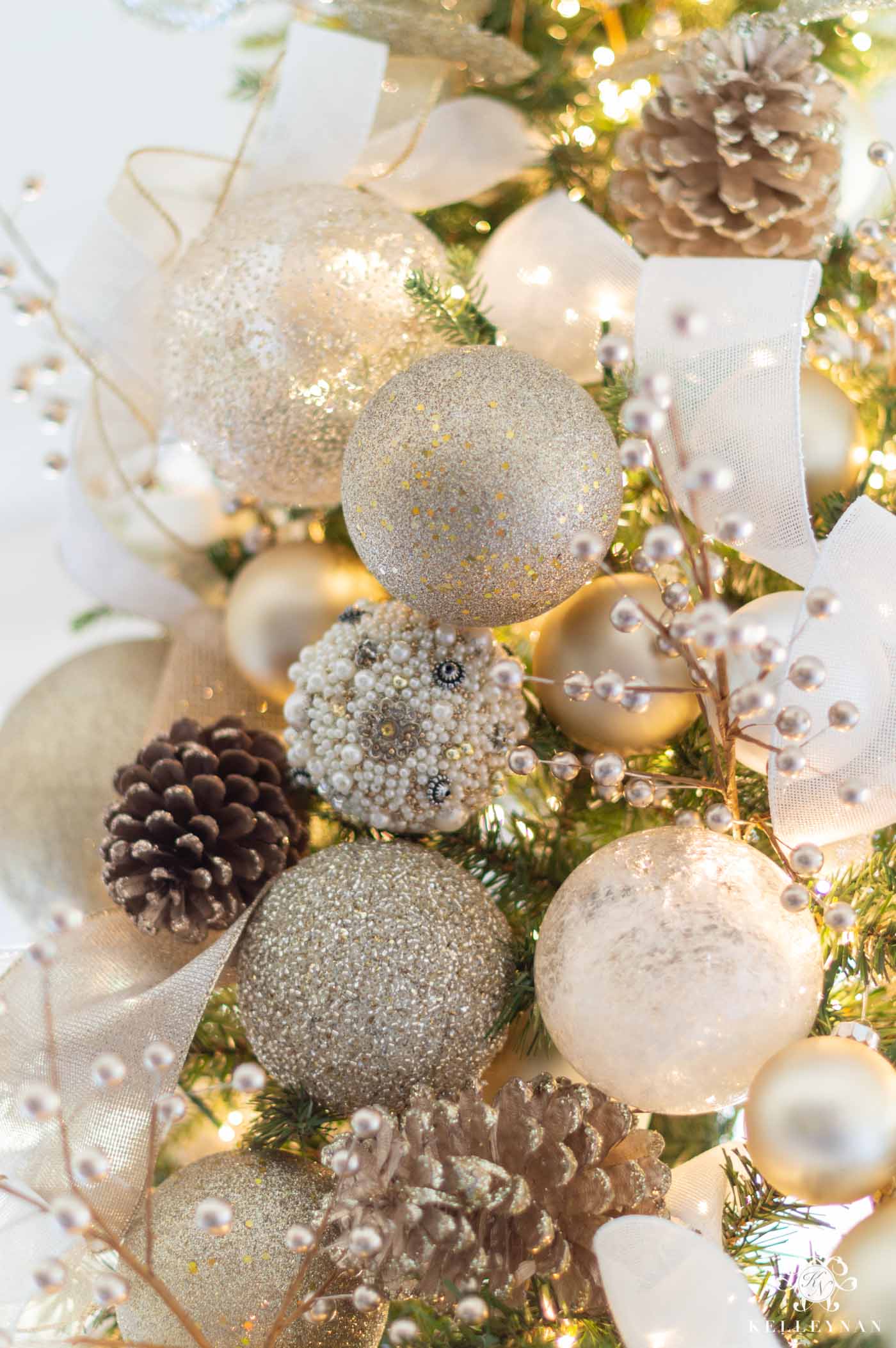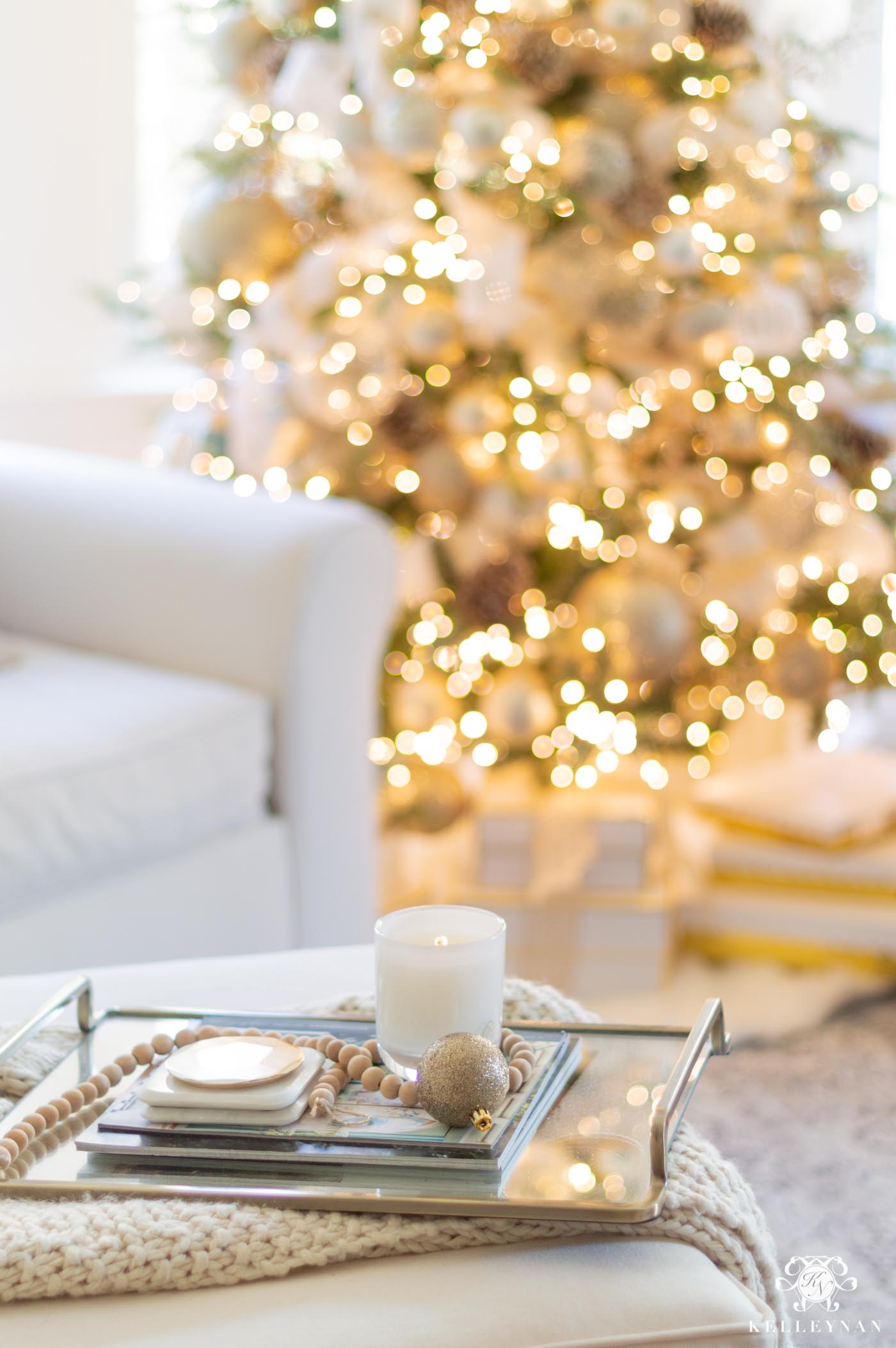 Now that the scene is set, we'll be taking it all in stride for the rest of the season. Thank you for taking the time to come and take a look around; for more holiday projects (and to see what's to come in the new year!), be sure to subscribe to emails at the bottom of this post. Wishing you all the absolute best of the season and know how thankful I am for each of you KN readers. Happy holidays and Merry Christmas season to you all!