I'm sharing something today that has been hanging over my head for far too long- it is both the biggest relief and most embarrassing collection of "before" photos I've shared. But, I don't even care because my kitchen cabinets are finally cleaned out, decluttered, and organized! Seriously, a drawer here and there was child's play compared to what was waiting on the other side of those doors. And I knew it. But as terrible as I thought it would be, I was able to tackle the entire space by dedicating a few hours over a two-day period. When it comes to kitchen disaster, there is little truth in the adage "out of sight, out of mind". Sure, it was out of sight enough to stay in denial but it certainly wasn't out of mind… with each space tackled, I feel a little less weight on my shoulders. (or in this case, a LOT less weight) ;). If you're in denial too, hopefully these organization ideas for a kitchen cabinet overhaul are just what you need to get goin'.
*Posts on KelleyNan.com may contain affiliate links. Click HERE for full disclosure.*
I am thankful to have a lot of cabinets but no matter how many you have, they always seem to be filled to the brim. Even though it's just Dave and I, we cook almost every night and I keep a lot on hand for entertaining. But, there was a TON of stuff we had accumulated that we never touched. Ever. And we certainly don't use our THREE knife blocks. No exaggeration haha.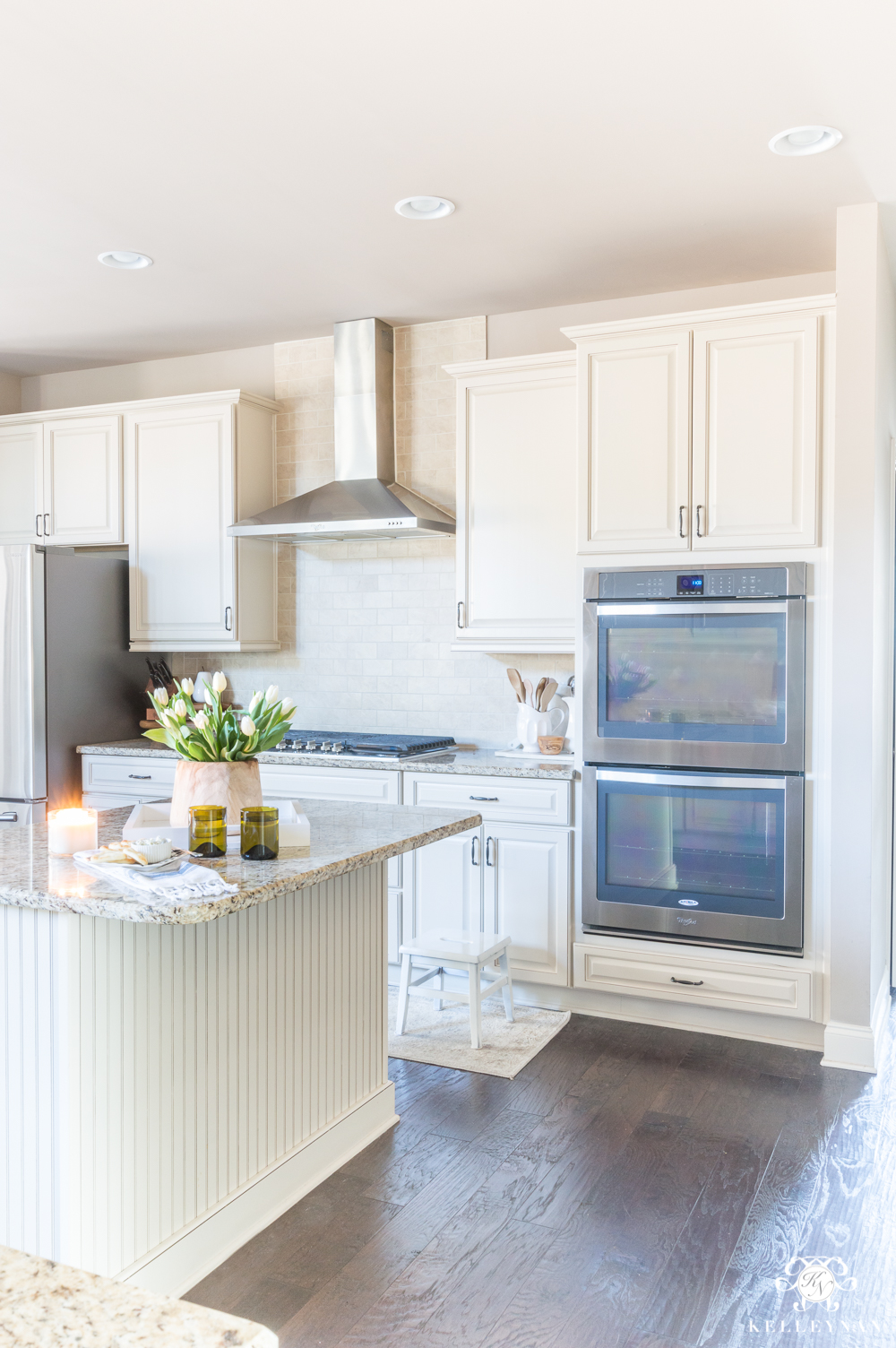 Before I take you through each and every cabinet, I wanted to share my new obsession- if you follow me on Instagram stories, you already know this 😉 These Naan dippers with La Terra Fina Spinach & Artichoke dip (both from Costco) is life changing. Put this on your list FOR SURE.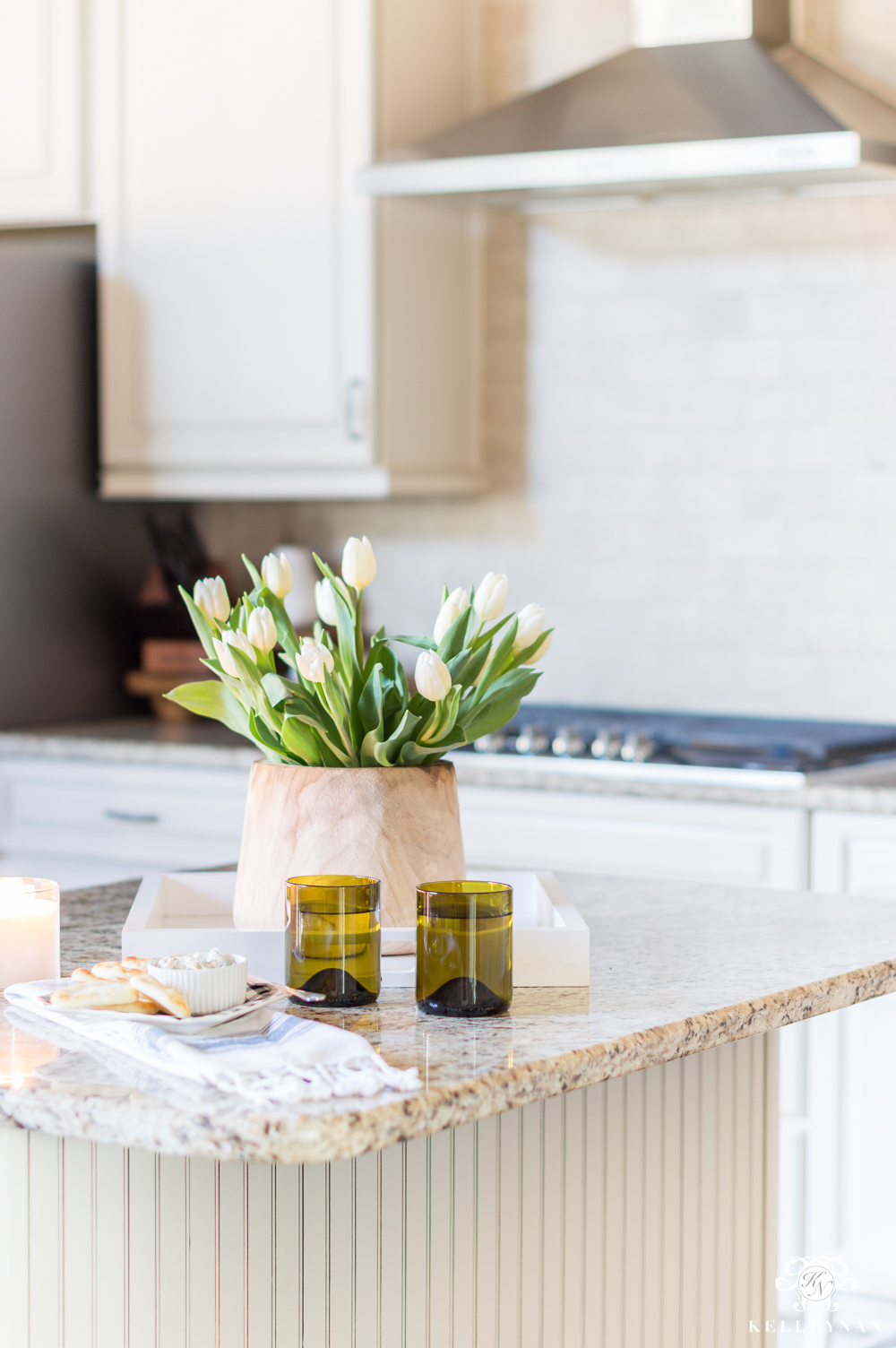 Available Sources: Recycled Wine Bottle Glasses | Turkish Tea Towel | White Tray (similar)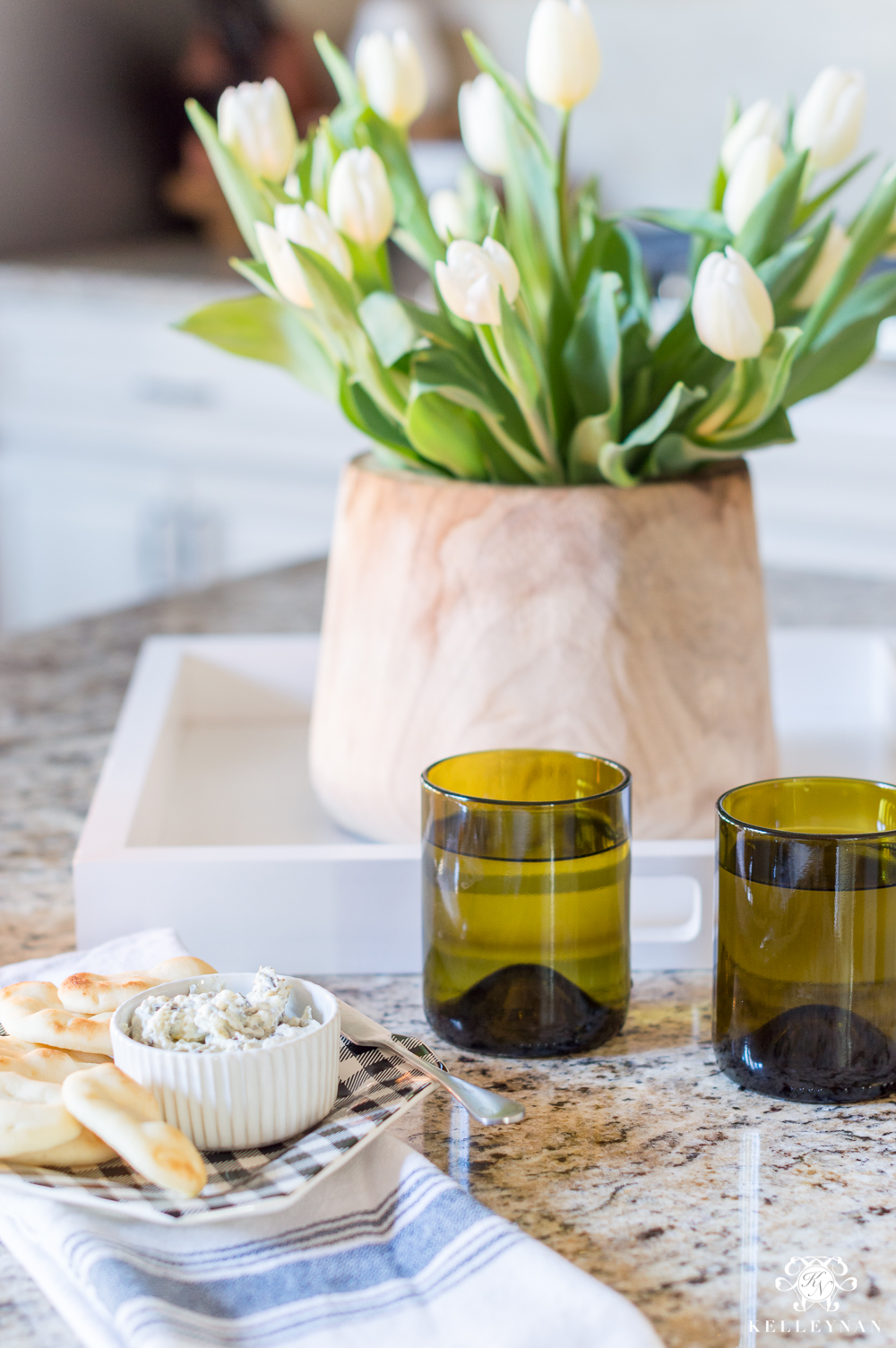 As I worked my way through through the kitchen, with each cabinet I approached, I would first take everything out and empty it in its entirety before taking a vacuum to it – cabinet by cabinet, drawer by drawer. Also, the morning I shot these photos, I washed everything that was available by hand, to give an accurate representation of all these cabinets contain 😉
Ok, here we go…
ENTERTAINING CABINET
The cabinet above our double stove is pretty high up. I still keep some entertaining pieces on display in the breakfast nook, and others even in the basement but platters, melamine glasses, vases, etc. are stored in the kitchen in this space. And… this is what it looked like. *rips the bandaid off*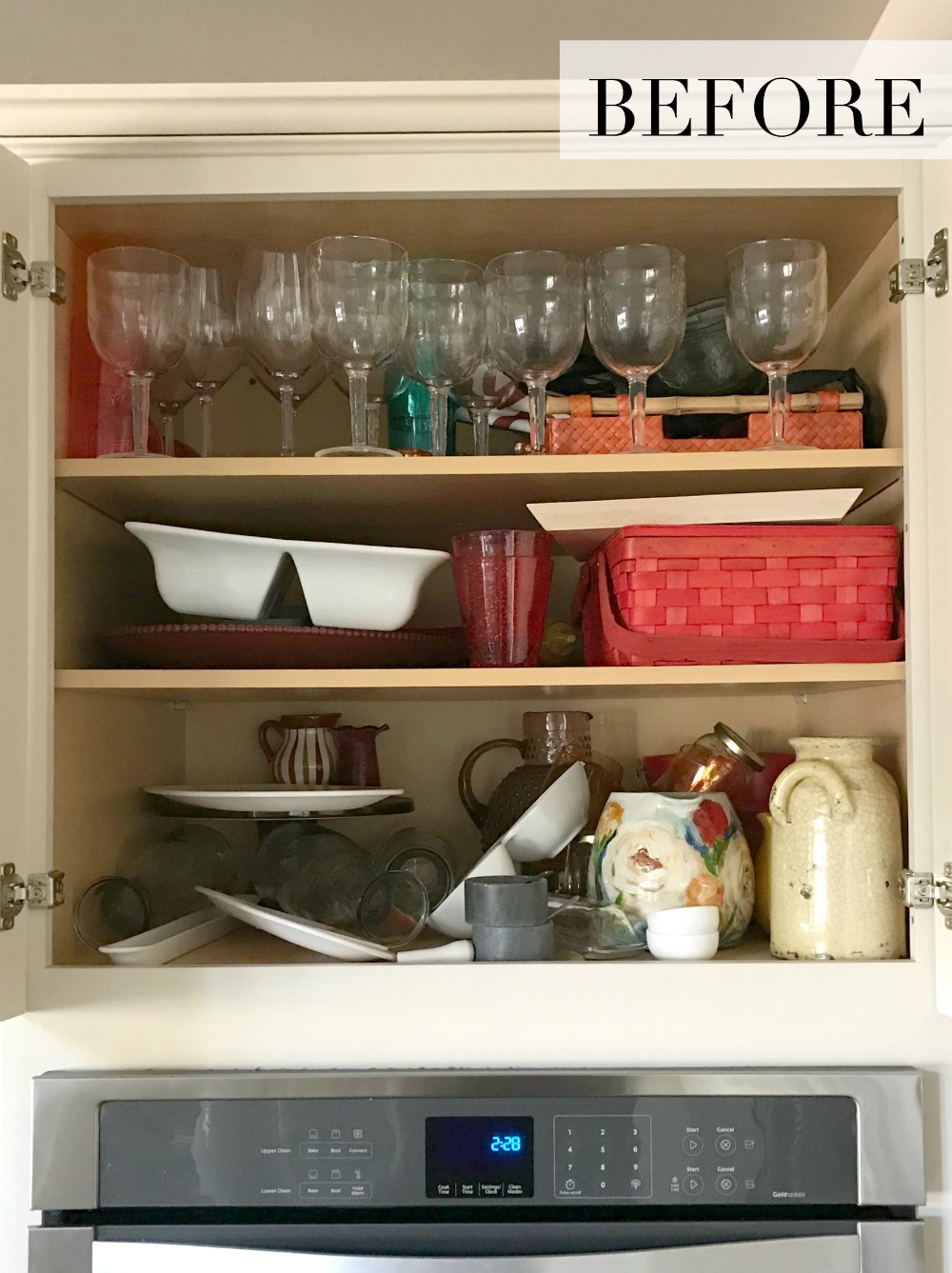 I had so much shoved in there out of laziness, and probably had every color picnic-ware you could ask for. I filled three boxes of kitchen supplies for donations and several items came from this cabinet. When I finished, I was even able to bring in some pieces that were awkwardly stored haphazardly in other "prime" cabinets. I pared my melamine wine/deck glasses down to three sets; there are still about 20 here. After conquering this cabinet, I had more motivation to continue on.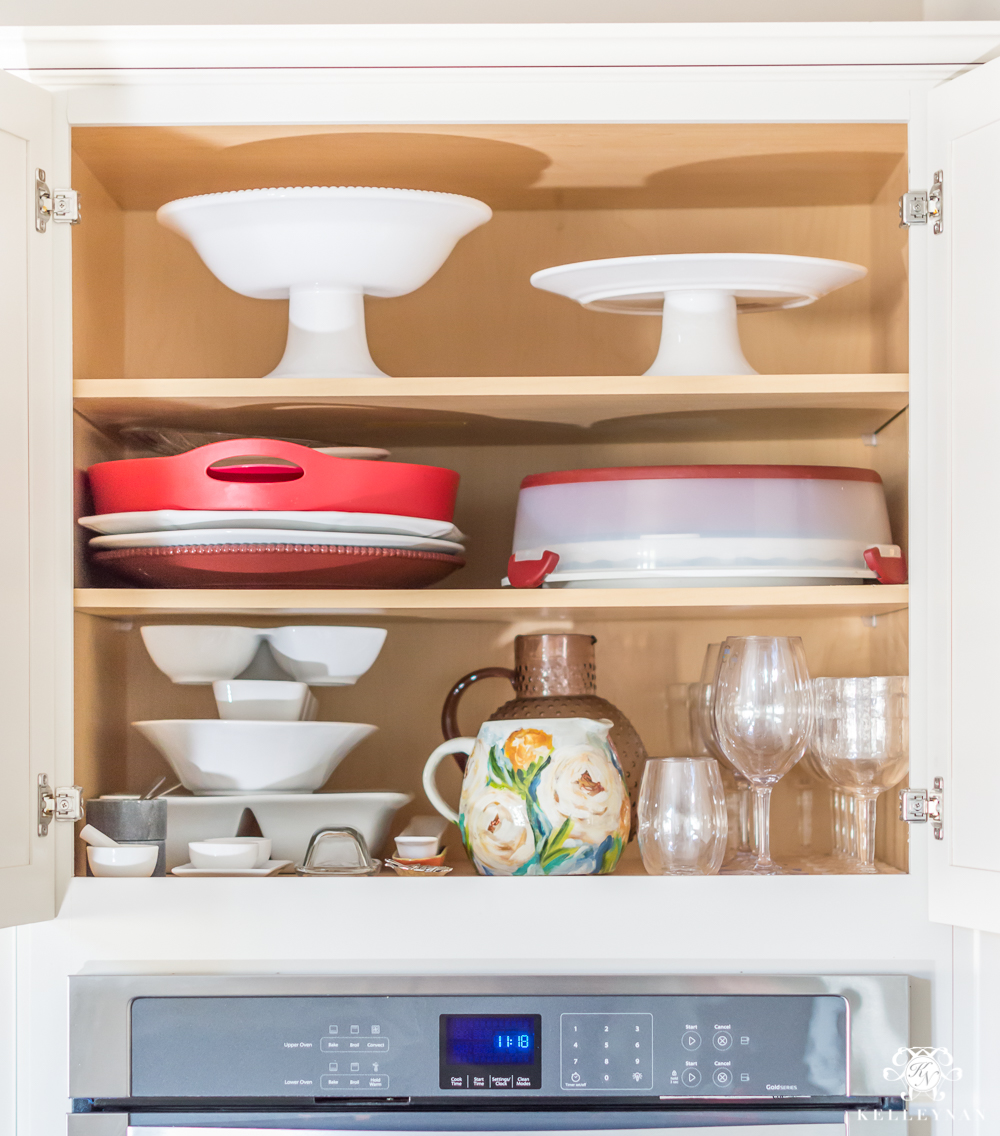 I actually added these two classic platters to my collection this past week and they are on sale at a FANTASTIC price right now.
CASSEROLE/BAKING DISH CABINET
Lidded baking and casserole dishes are a staple of a southern kitchen. Mine had become so out of sorts, I didn't even know what we had.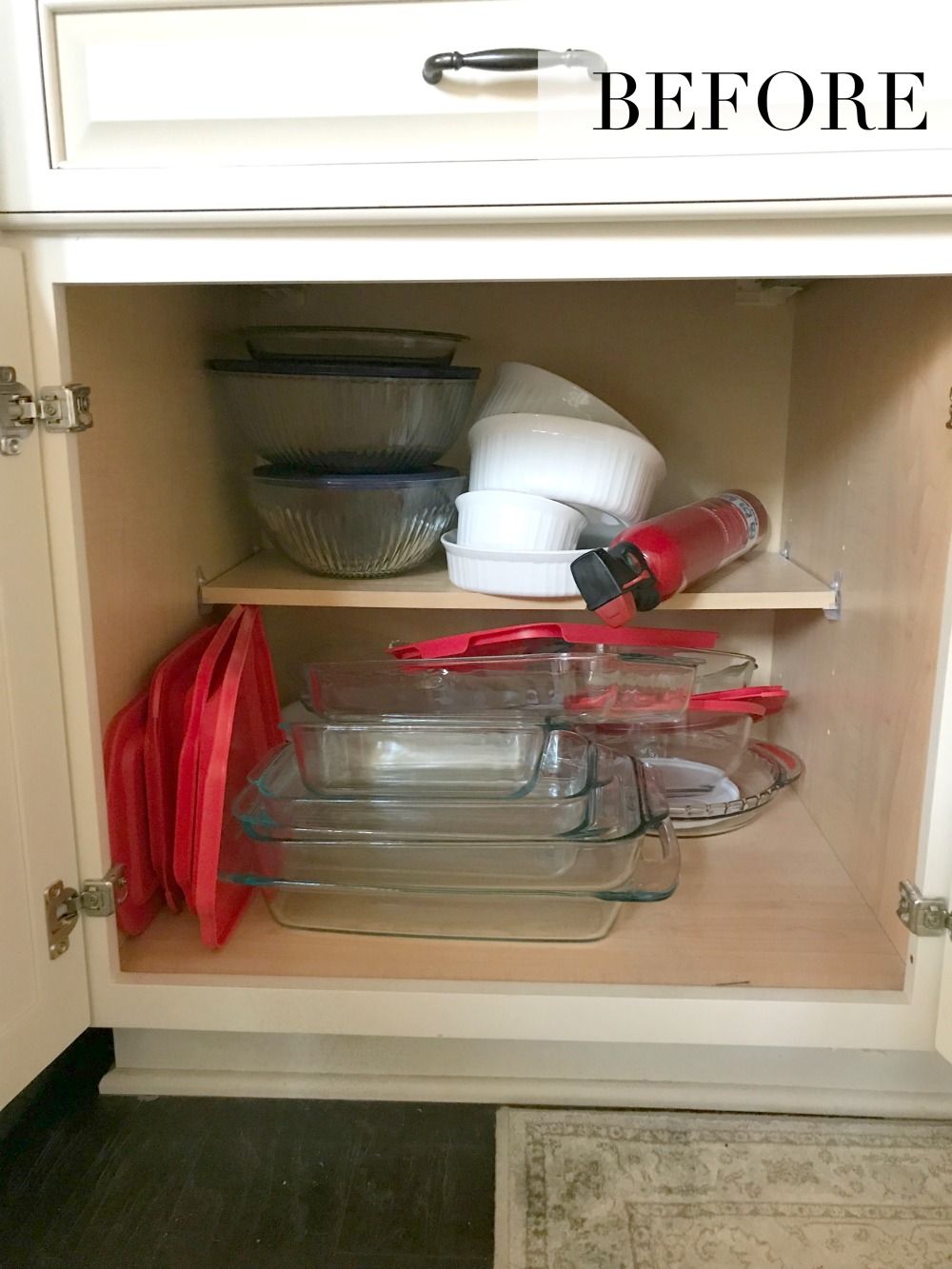 I grouped like items and here's where I ended up.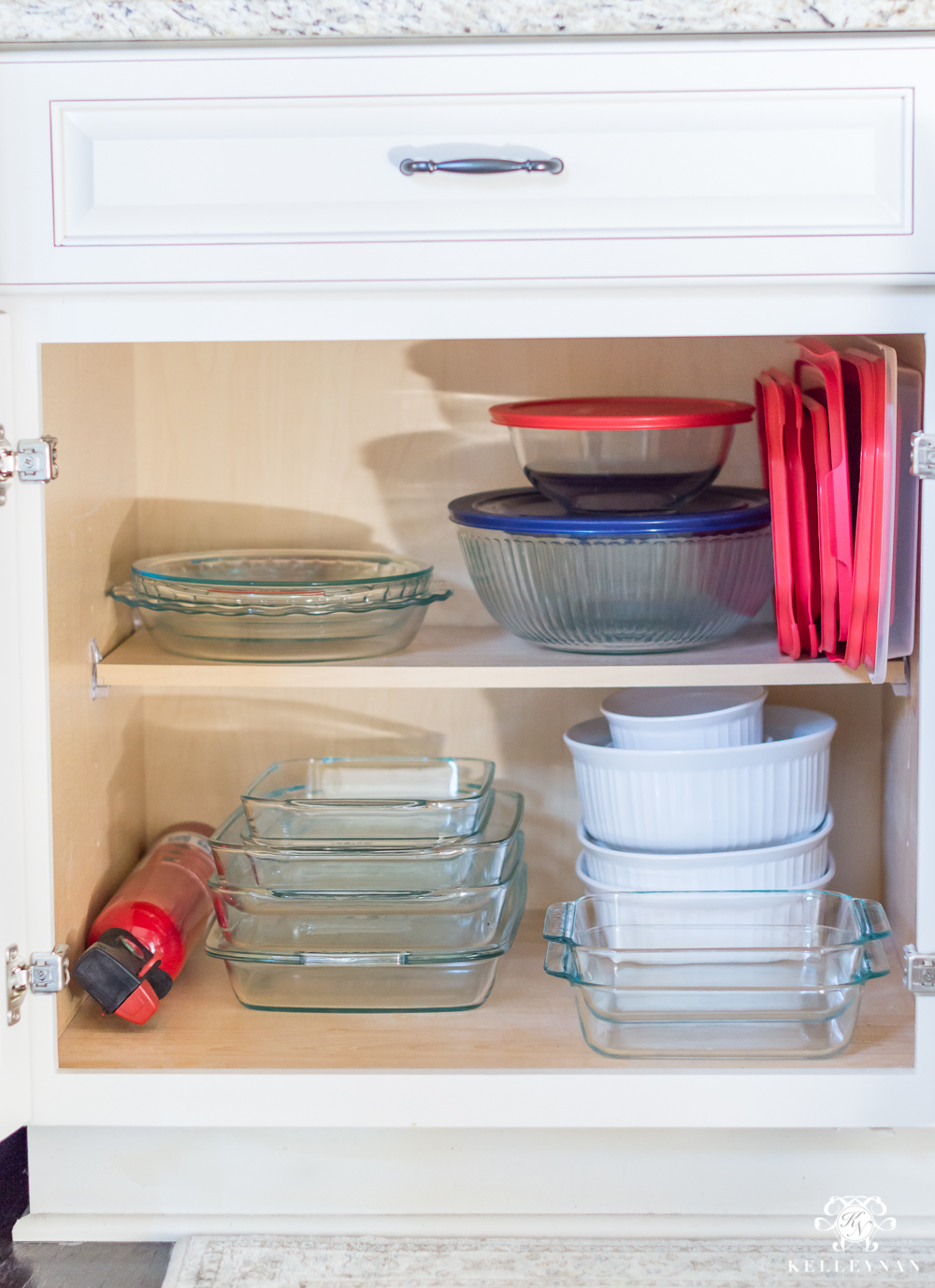 This set of Pyrex (with the double decker tote) gets a major workout in our house. We also use our French White Corning Ware casserole dishes every week.
I MAY consider a door rack for the lids but wanted to live with this configuration for just a bit before determining. If you have more space, you can get an inexpensive lid organizer (HERE).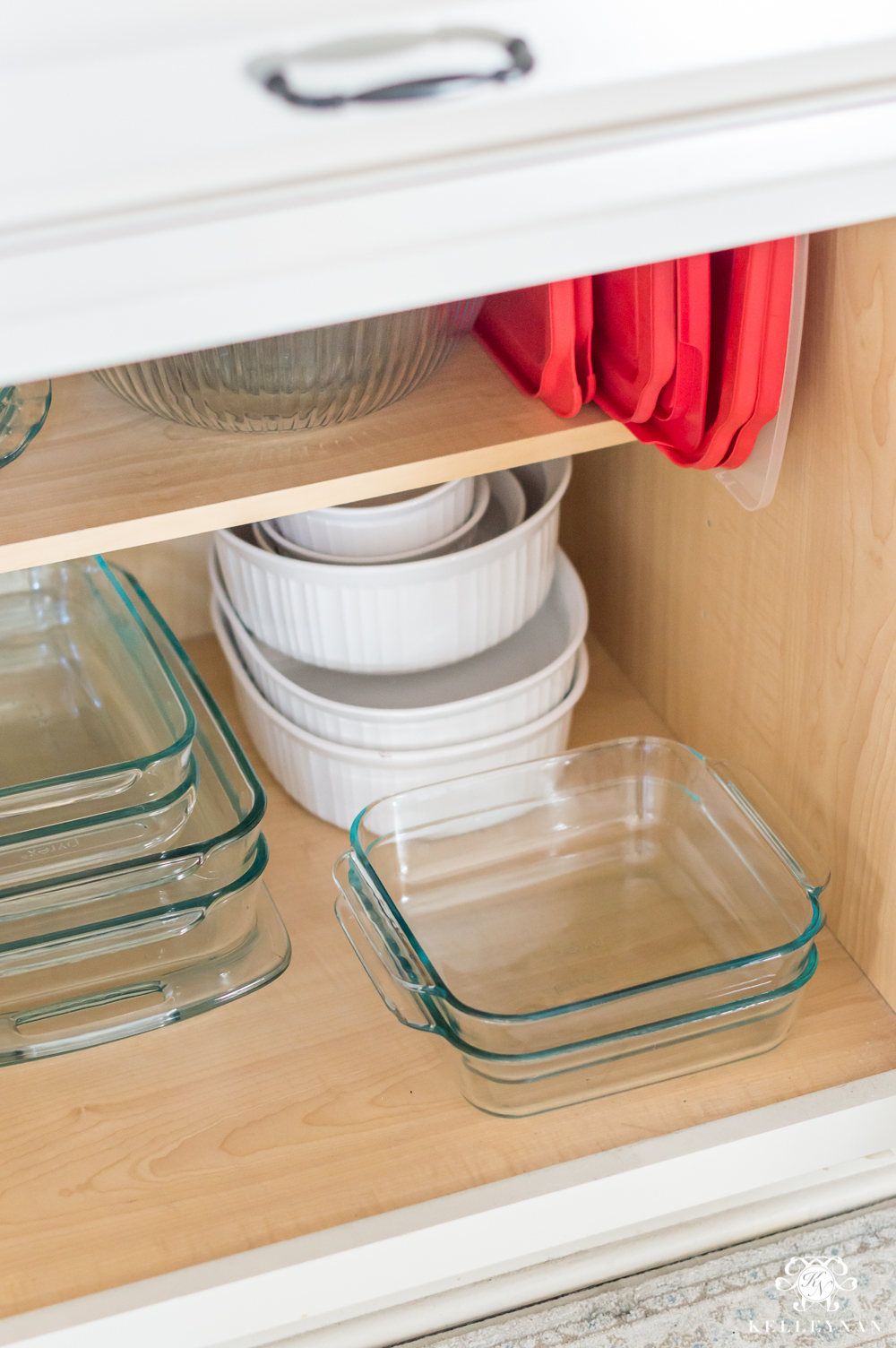 CUTTING/CHEESE BOARD CABINET
I mentioned we had three knife blocks- one we use on our counter, one in the basement we've been "holding onto", and for some reason, one taking up all the space in this cabinet. This cabinet is used primarily for cutting boards but with an awkward shelving height we never bothered to adjust, all the boards were stored stacked. Like this. (Ok, kind of stacked haha). On the top shelf- a food saver that doesn't belong there, a press, and water bottles that were likely picked up in a conference swag bag that have never been used.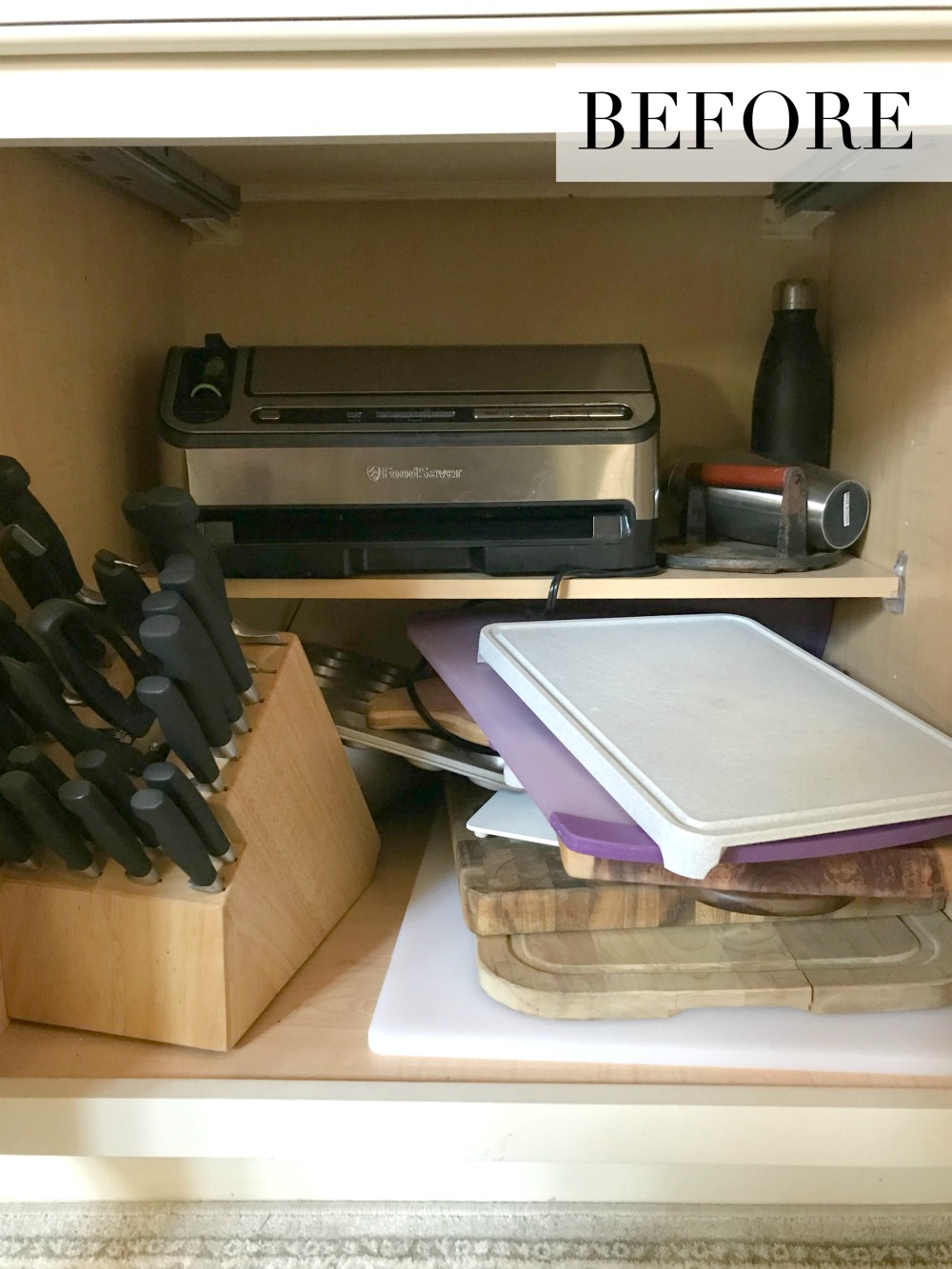 Basically, a mini black hole. I took everything out and had Dave adjust the shelving up to clear the largest cutting board, on its side. I found this $4 four-sort divider (HERE) which worked perfectly to position the boards vertically. The top shelf became the new home to my cheese/appetizer boards that aren't kept on display and I still had room for my big 'ole Le Creuset stockpot that won't fit in the pot and pan drawers.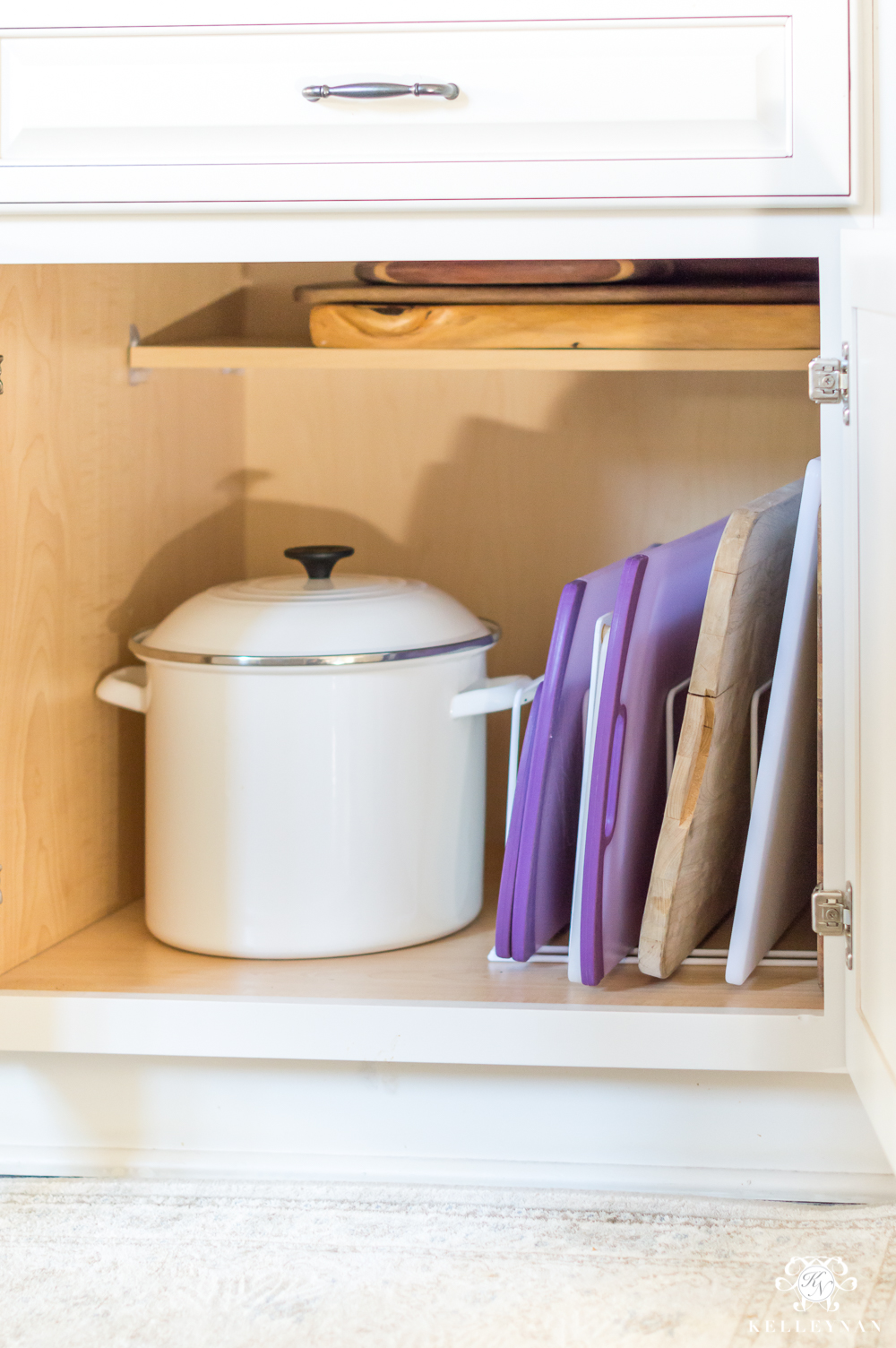 If you've never had your cutting boards stored vertically, take it from me- it makes a HUGE difference.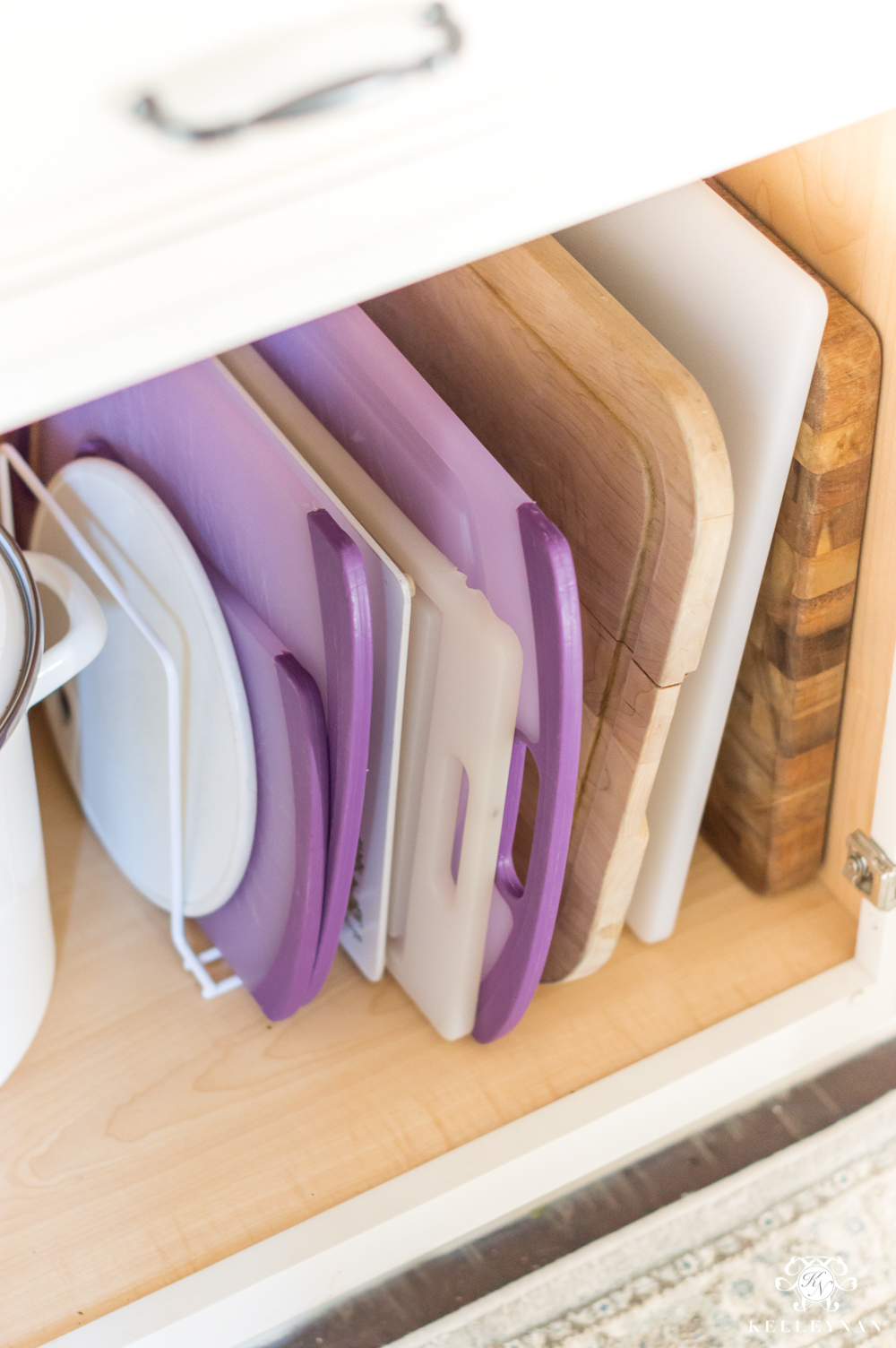 FOOD STORAGE/BAKING CABINET
One of our worst cabinets was this double beast which was dedicated to holding plastic food storage. The whole. Dang. Thing. Oh- and random goodies without dedicated homes. (To be honest, that was the case with all of my cabinets). I even had trays and platters my mom tried to sell at a yardsale over 10 years ago. I like a lot of food storage because leftovers are a staple in our house and we always have several in use, but we had far too many that had definitely seen better days.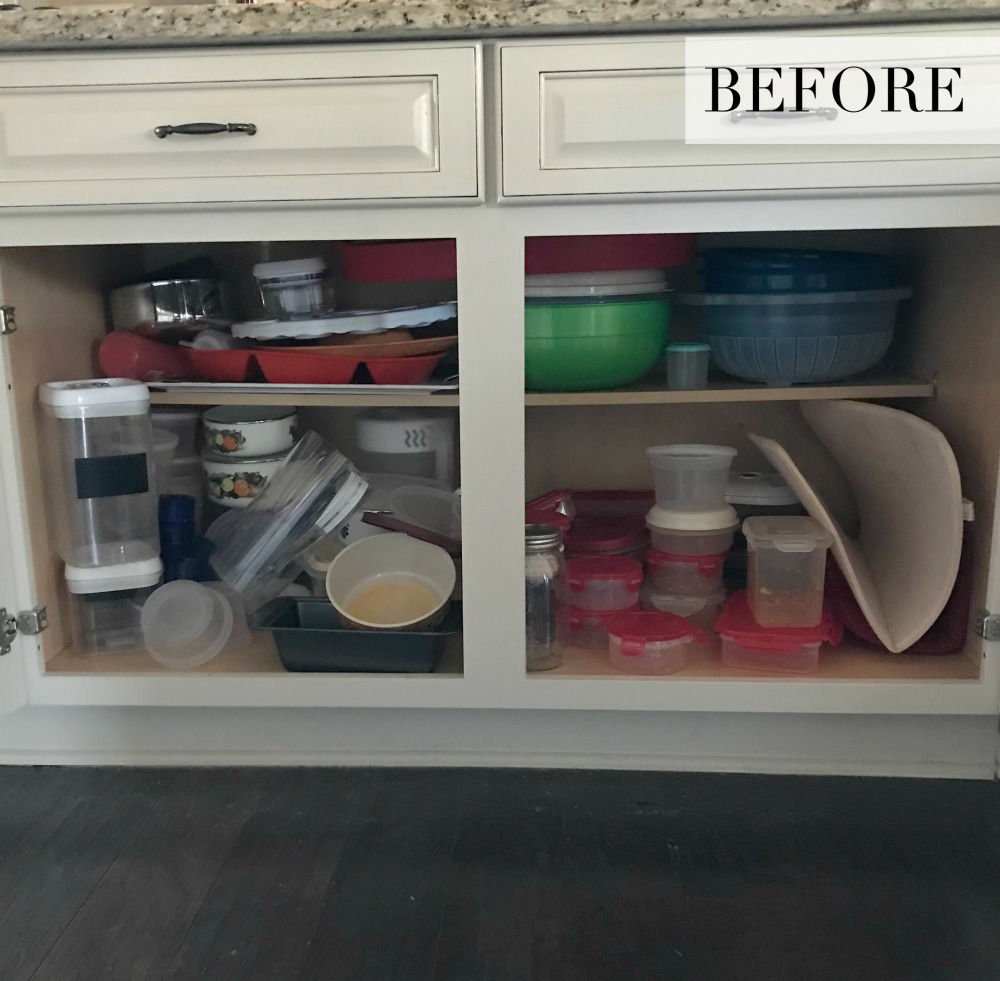 I kept a few large pieces for freezer batches but ultimately decided to toss the old and purchase a new, cohesive set that would fit together and store nicely. I went with this 42-piece set for under $38 and was shocked at how small the box was when it arrived. BECAUSE THEY ALL FIT TOGETHER SO WELL. Sorry to be shout-y but finally deciding to divorce my 12 year old pieces was hard for this hoarding heart of mine, but SO paid off.
Because the cabinet is deep and difficult to access, I knew I wanted some pull-out drawers on gliders installed. These are the Medium and are part of the Elfa sale (good through this weekend!)- I scored them for $13 each and Dave was able to install in 10 minutes. You can find the gliders separately HERE. I also wanted a solution for my drying mats; I found this placemat holder with open sides that couldn't have been a more perfect fit. This is the result…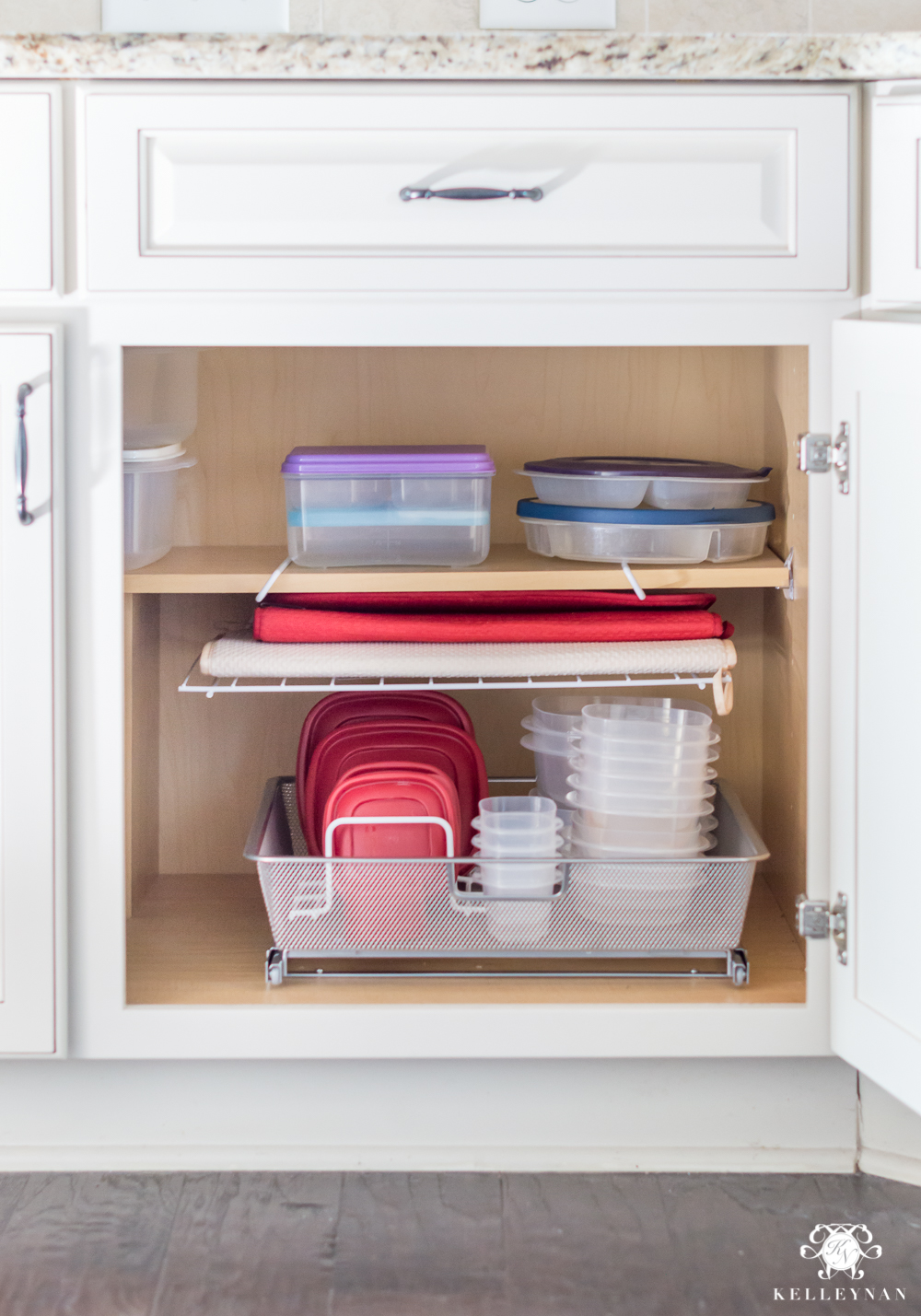 I used this small 4-sort divider (for $3.99) to organize and separate the lids. this 42-piece set actually snaps together, which I love.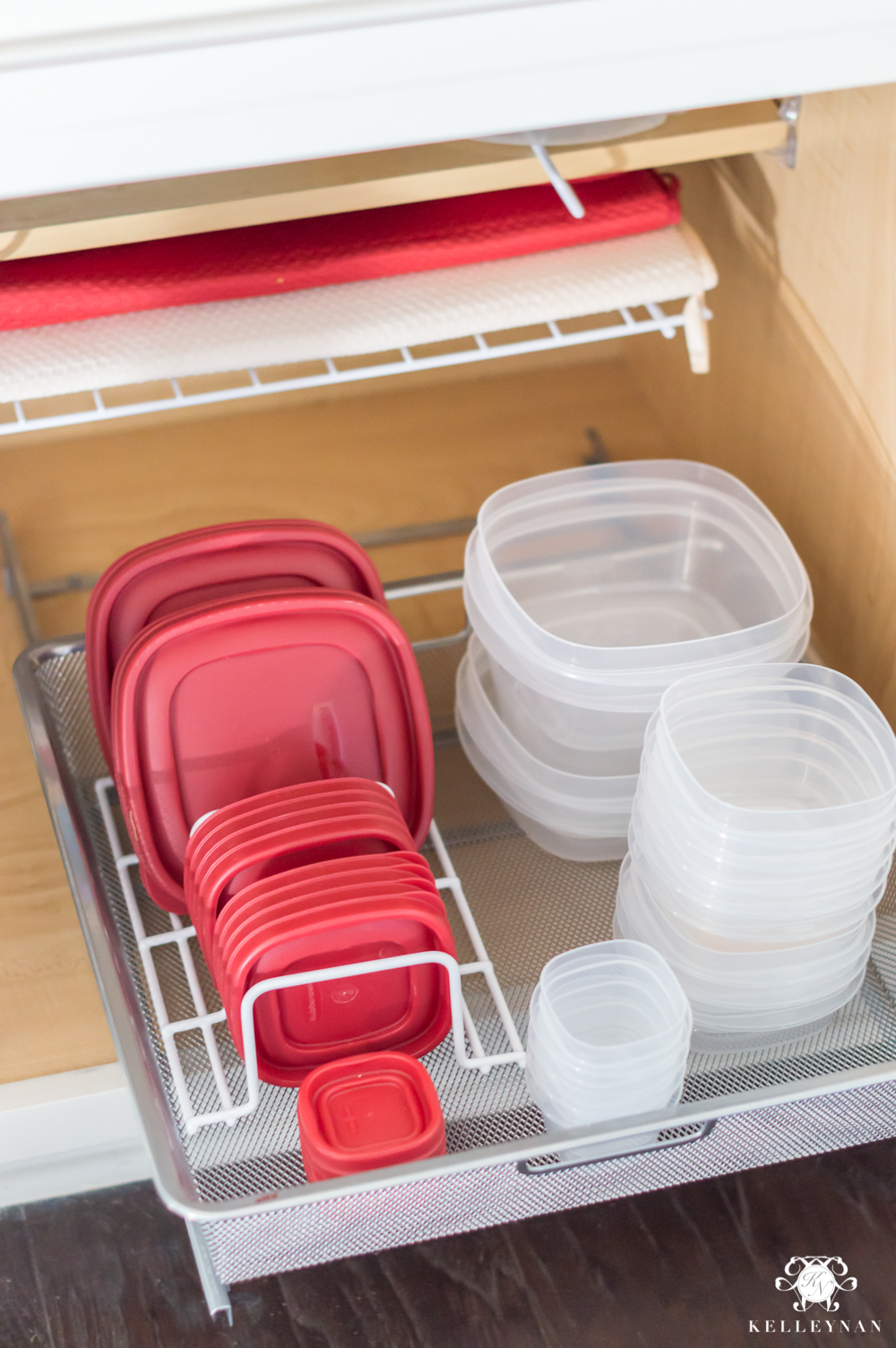 On the other side, I corralled baking supplies and nested the mixing bowls on the upper shelf. It was liberating to part with the army I had accumulated and pare my collection down to a "small platoon".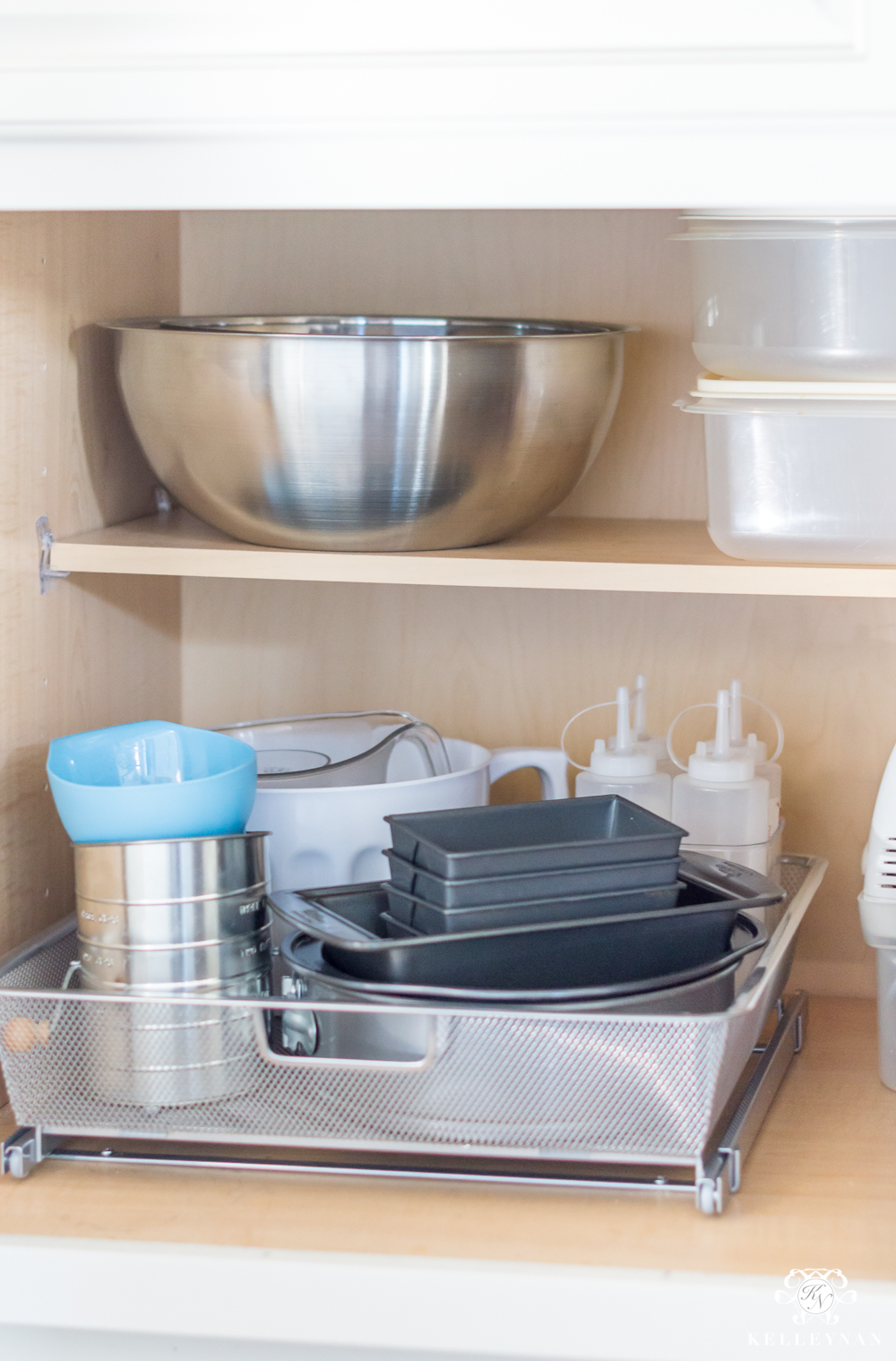 Every single thing is SO easy to access now.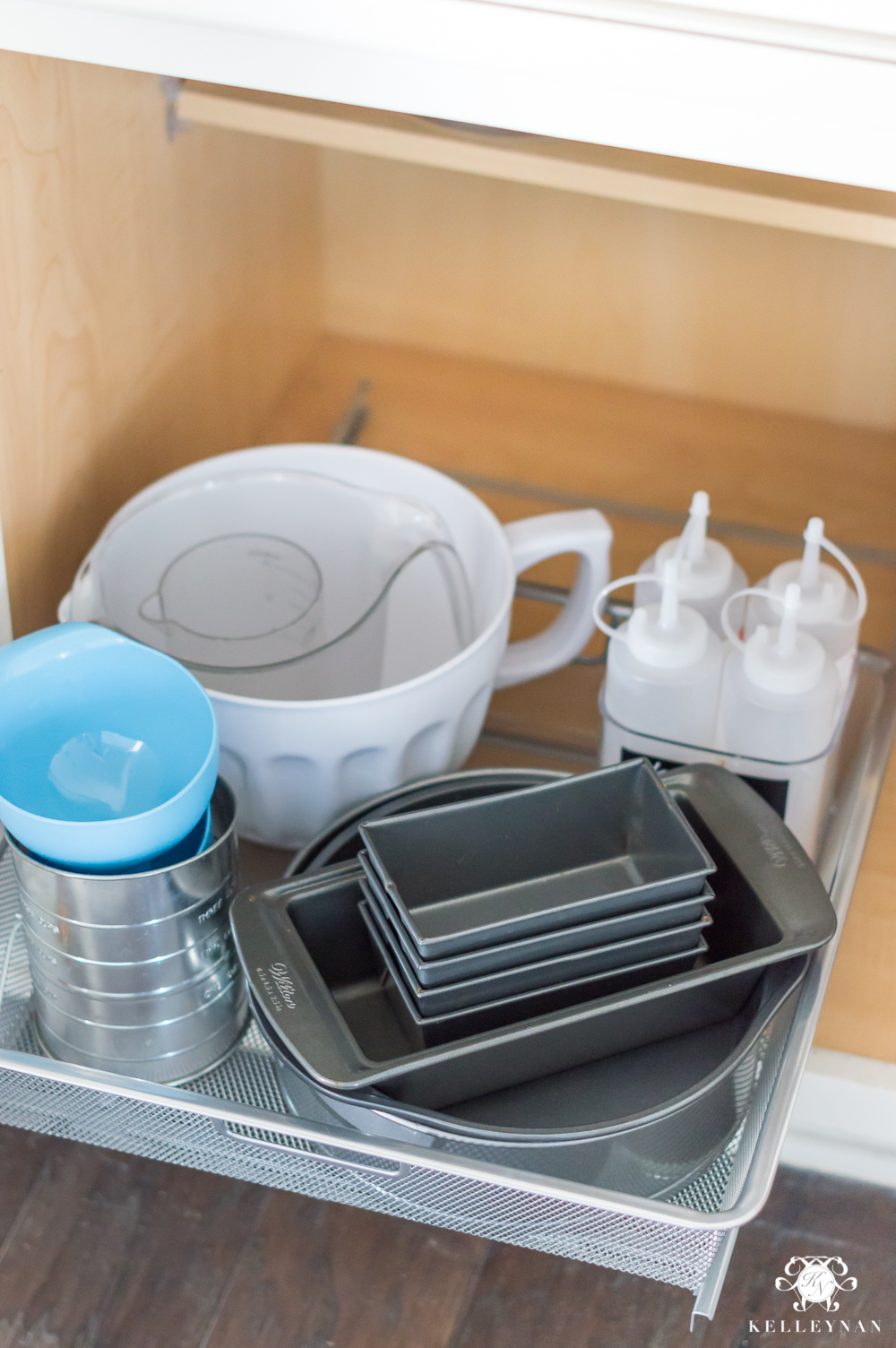 COLANDER/STRAINER CABINET
The colanders (and random friends) were a wreck. After being able to move some of these into other cabinets, I had more than enough room to store some of the larger food storage I already had for large batches of dinners that we use for the freezer.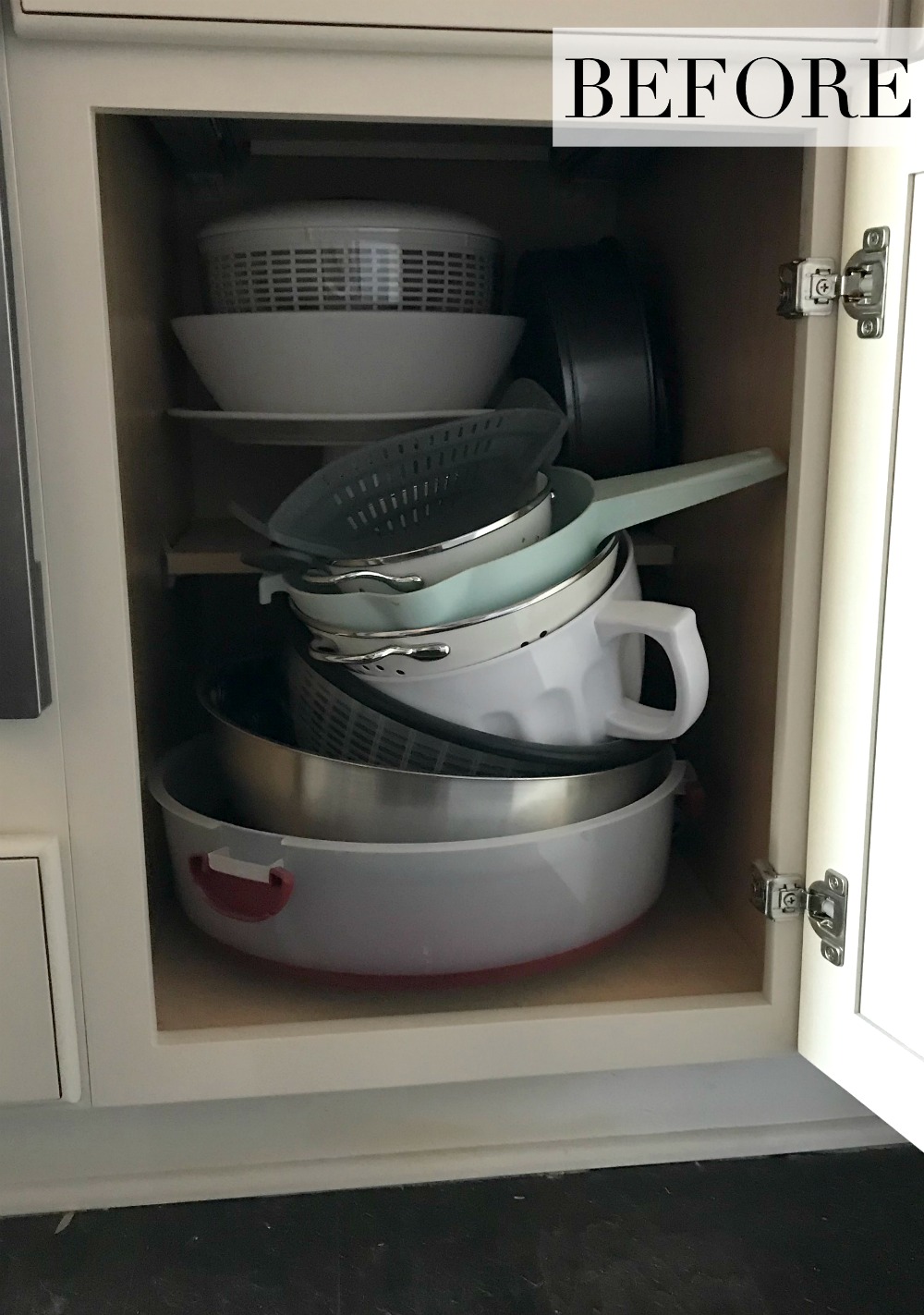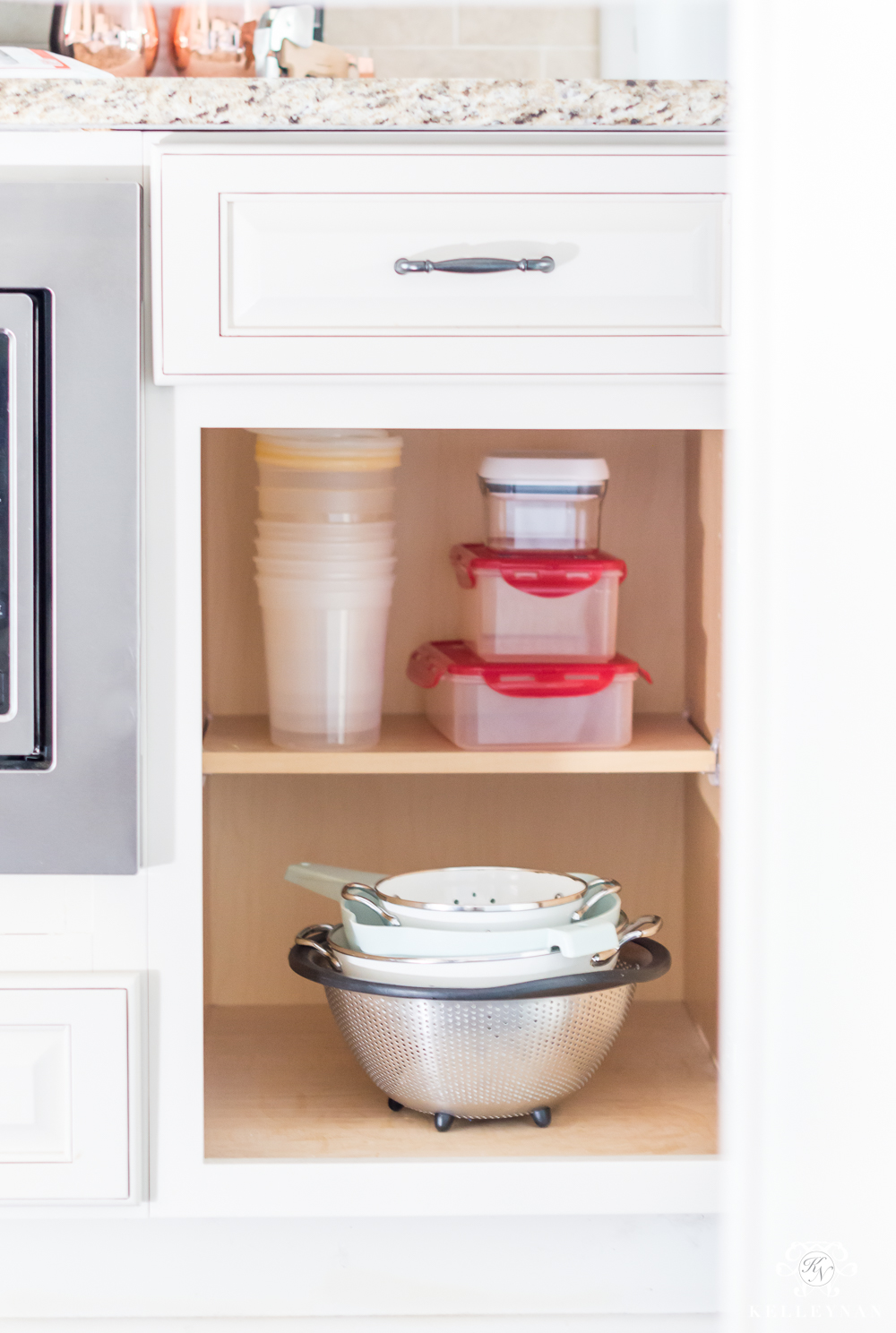 DRINKING GLASS CABINET
Dave and I are creatures of habit. 99% of the time, we use Tervis tumblers, Yeti, and cups with straws.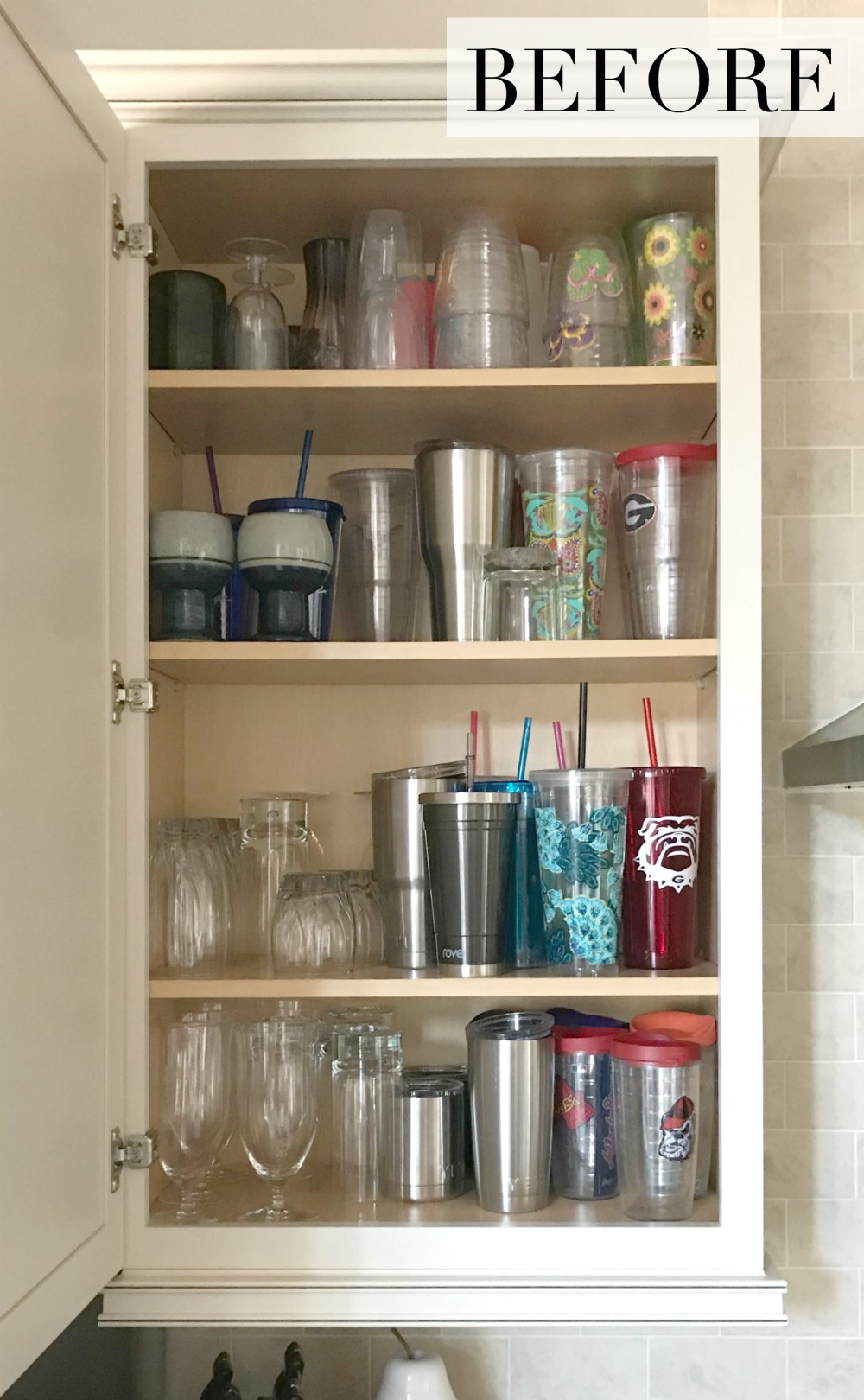 Glass sets that were down to three or random glasses (why do we have a Coca Cola glass?!) were put in the donation pile and I rearranged each shelf by putting what we use most often toward the bottom.
PLATE CABINET
Our cabinet that holds plates was probably the least terrible. But, I still had random one-off plates that I never used (and have no idea how they found their way into our kitchen in the first place).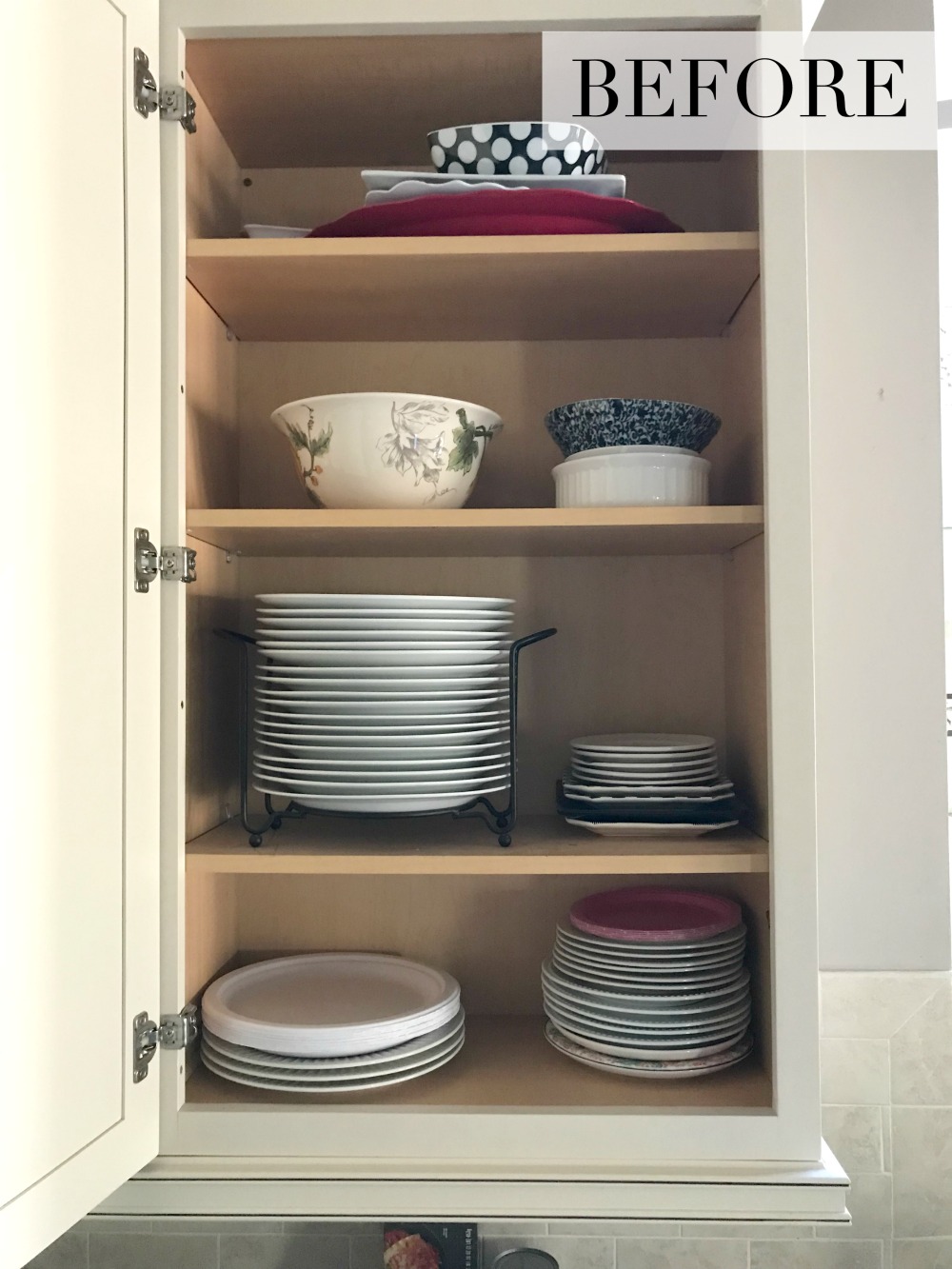 After discarding the outcasts, I was actually able to add more seasonal plates and melamine deck plates that had been in the top of a guest bedroom closet.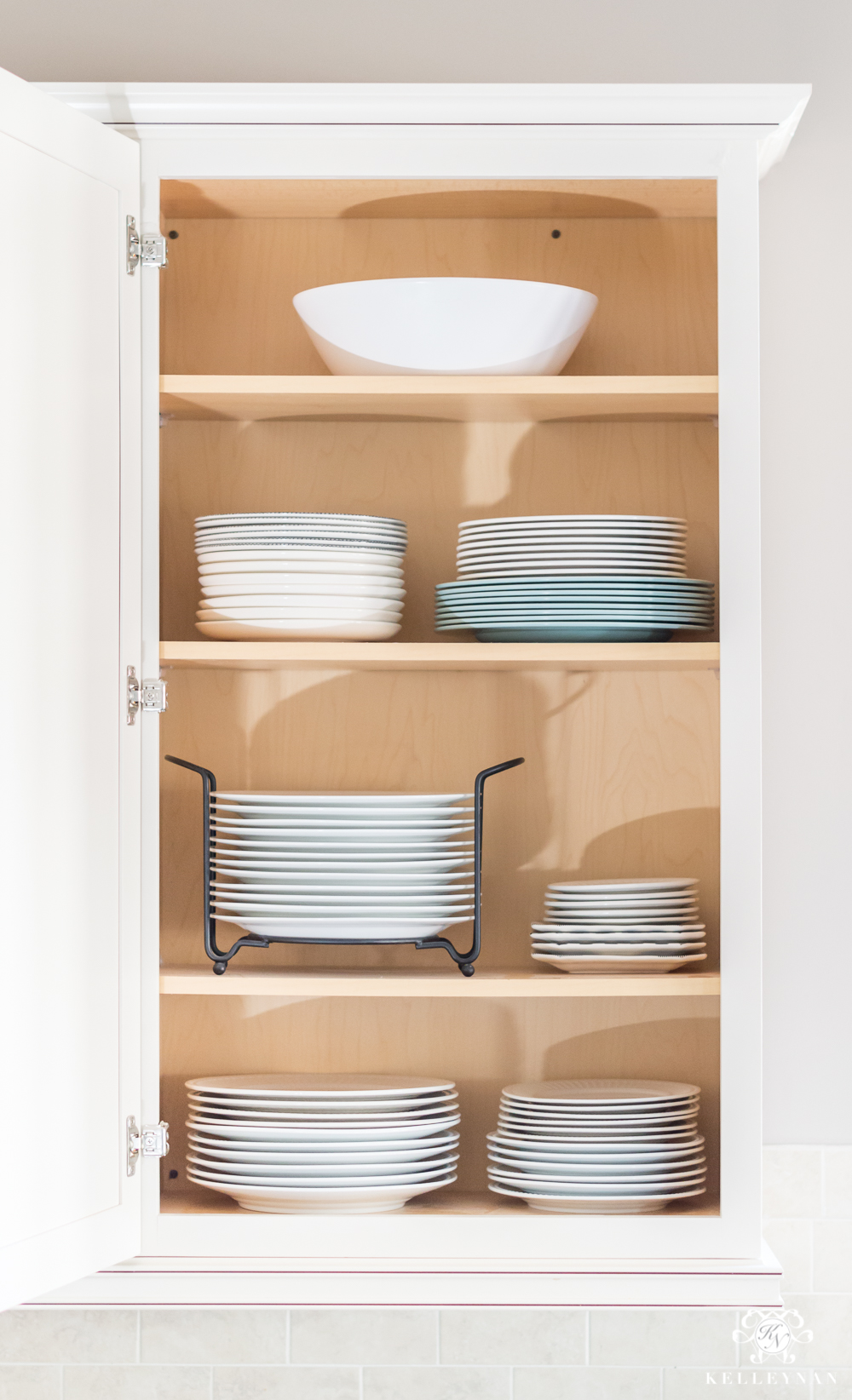 Available Sources: Buffet Plates | Serving Bowl
The rack of buffet plates (HERE) are a huge help when you're hosting a large group of people; it fits perfectly inside the cabinet, too.
BOWL/COFFEE CABINET
The next cabinet is dedicated to bowls and coffee mugs. Disregard the fact that we are in desperate need of adding a center support haha. I tossed old chipped bowls and donated over half of the mugs. The majority of small, multi-colored bowls were also donated. (We still have a TON but use them often 😉 ).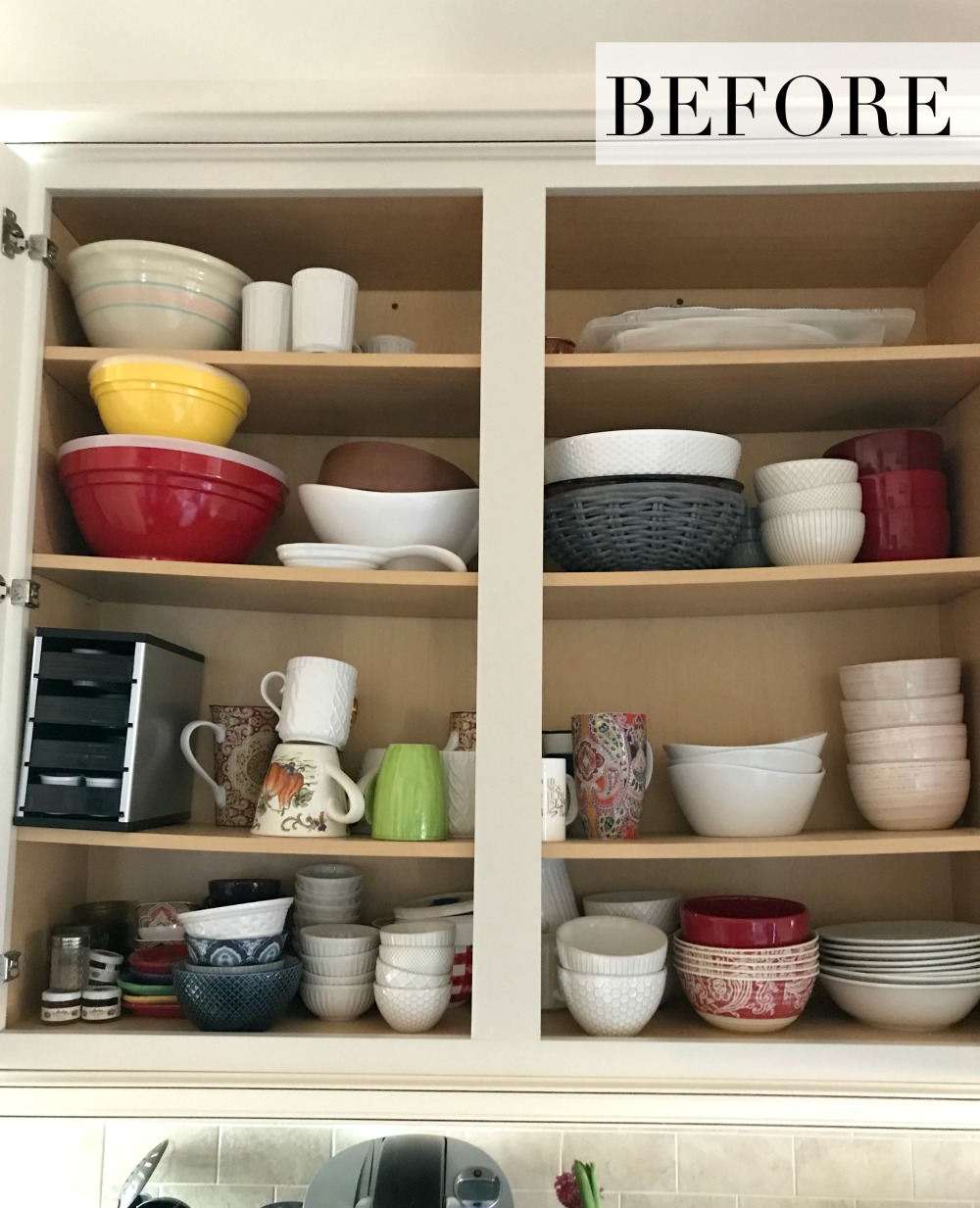 And, now, I can breathe much easier 😉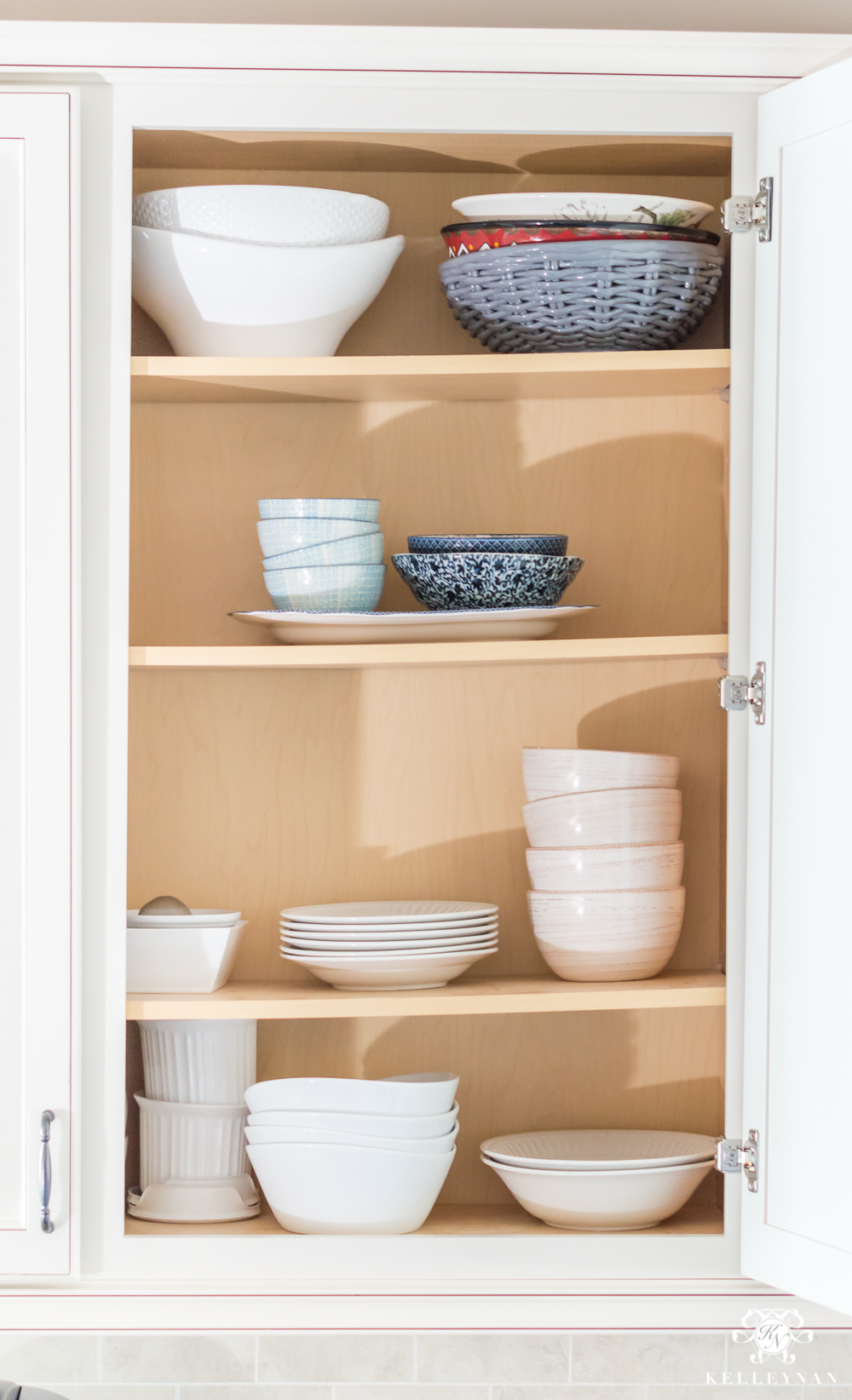 There isn't much center weight but the shelves are still warped. Again, we will be in the market for a support solution.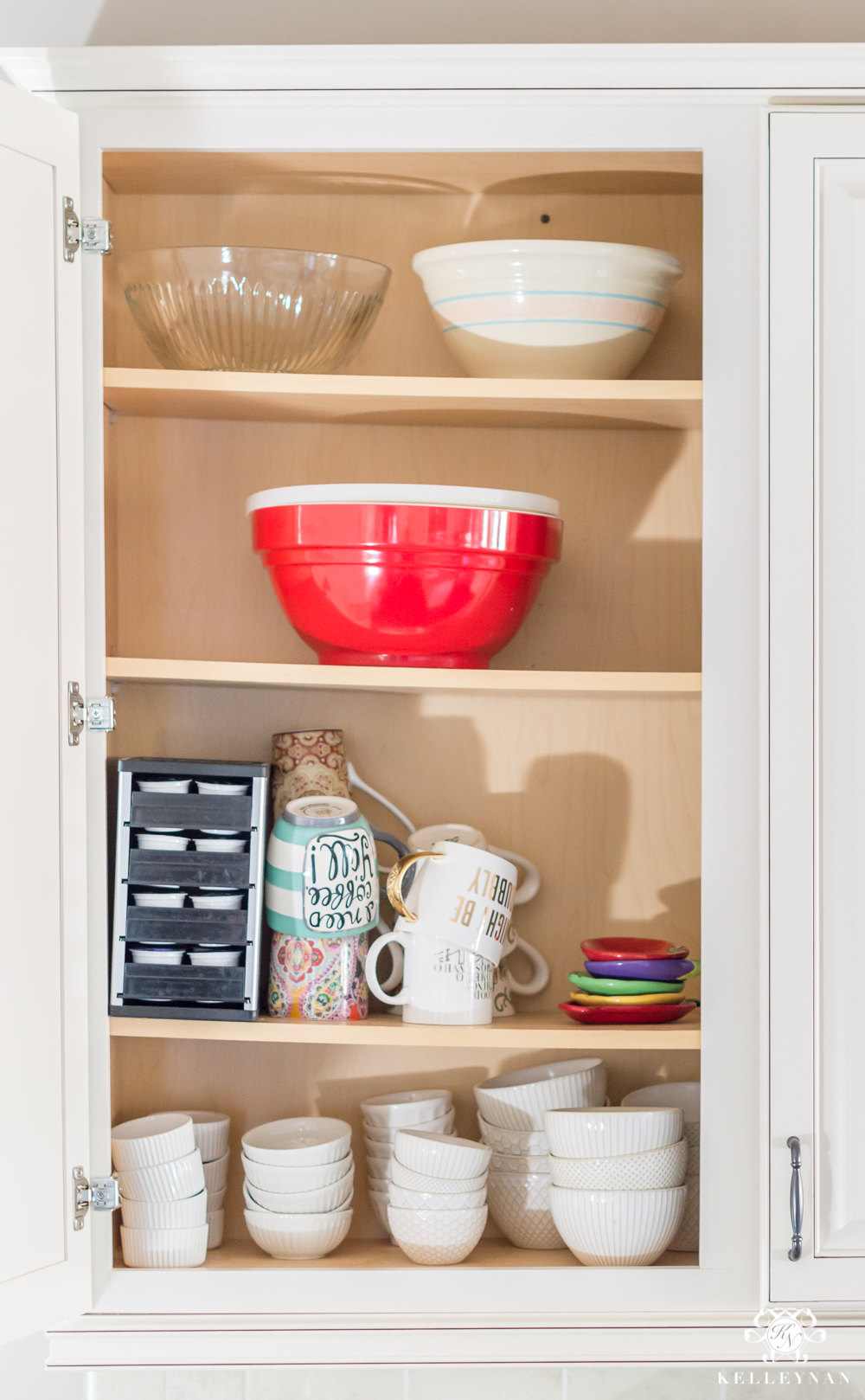 Available Sources: K-Cup Organizer
By the way, my k-cup organizer is perfect inside the cabinet. Each drawer pulls out and down and is a huge space saver.
APPLIANCE CABINET
When I was going through my "before" photos, I was so disappointed to find that I either never took a photo of the appliance cabinet, or, I lost it. This was by far the most terrible of all so you'll just have to use your imagination. Envision this- 93845 appliances; random, small appliance parts thrown in on top in disarray; overflow pots and pans, and all the crumbs known to man from taking the toaster/grill in and out. This thing was bursting at the seams. After the random pieces were able to find homes in other cabinets, I cleared out the appliances, set aside what we didn't use to donate, and gave the vacuum a hard-core workout. I shared some of the random finds in my Instagram stories (so many of you helped me identify little pieces of "what the heck is this?!" haha). (Side note, our Instant Pot was in use this day – it now sits in front of the crock pot that I haven't parted with just yet since I haven't tried the slow cooker function on the Instant Pot just yet – I am hoping I will love it enough to get rid of my regular crock pot).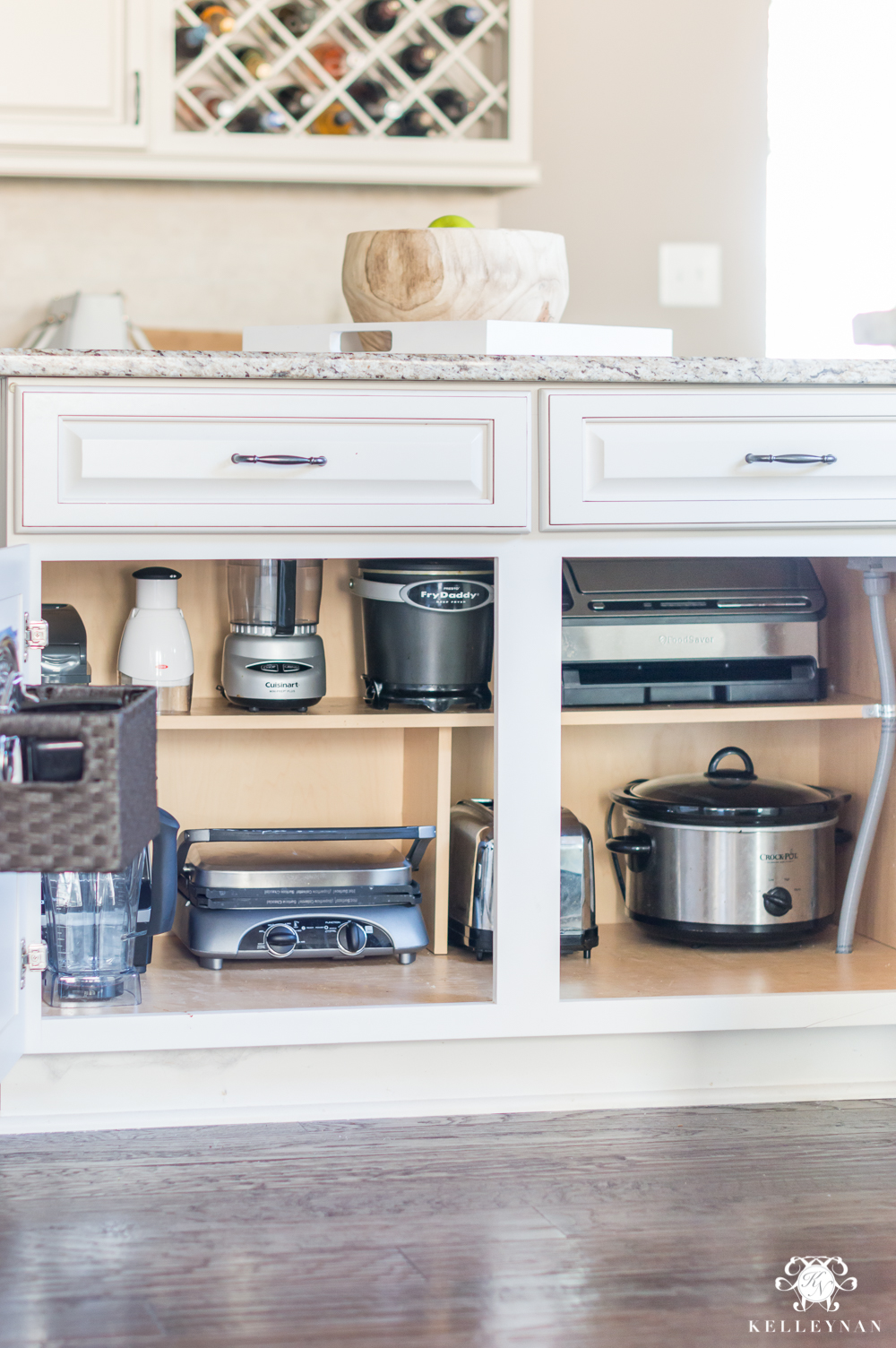 For the small appliance pieces (we all have 'em!), I didn't want something to clip over the door that would show from the outside and in a pinch, I searched my basement for small, narrow-ish basket that was woven. I used sticky, no-residue command hooks (HERE) to hang the woven basket and it worked perfectly. Note- I had to position it on the far side of the door to allow for clearance. If you have too much in your cabinets, this may not work but if you have a little depth space, this was the perfect easy solution to corral all those little pieces.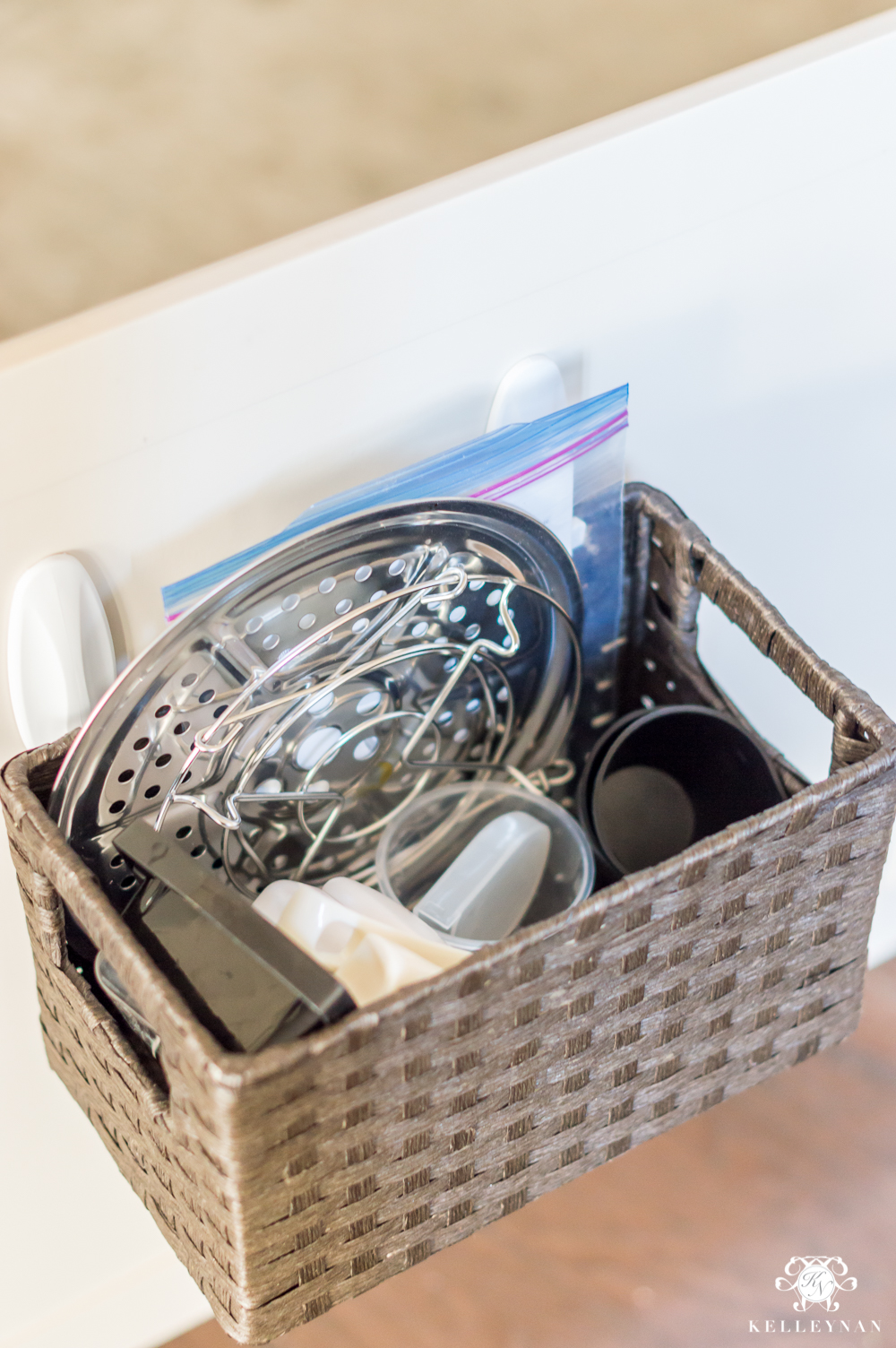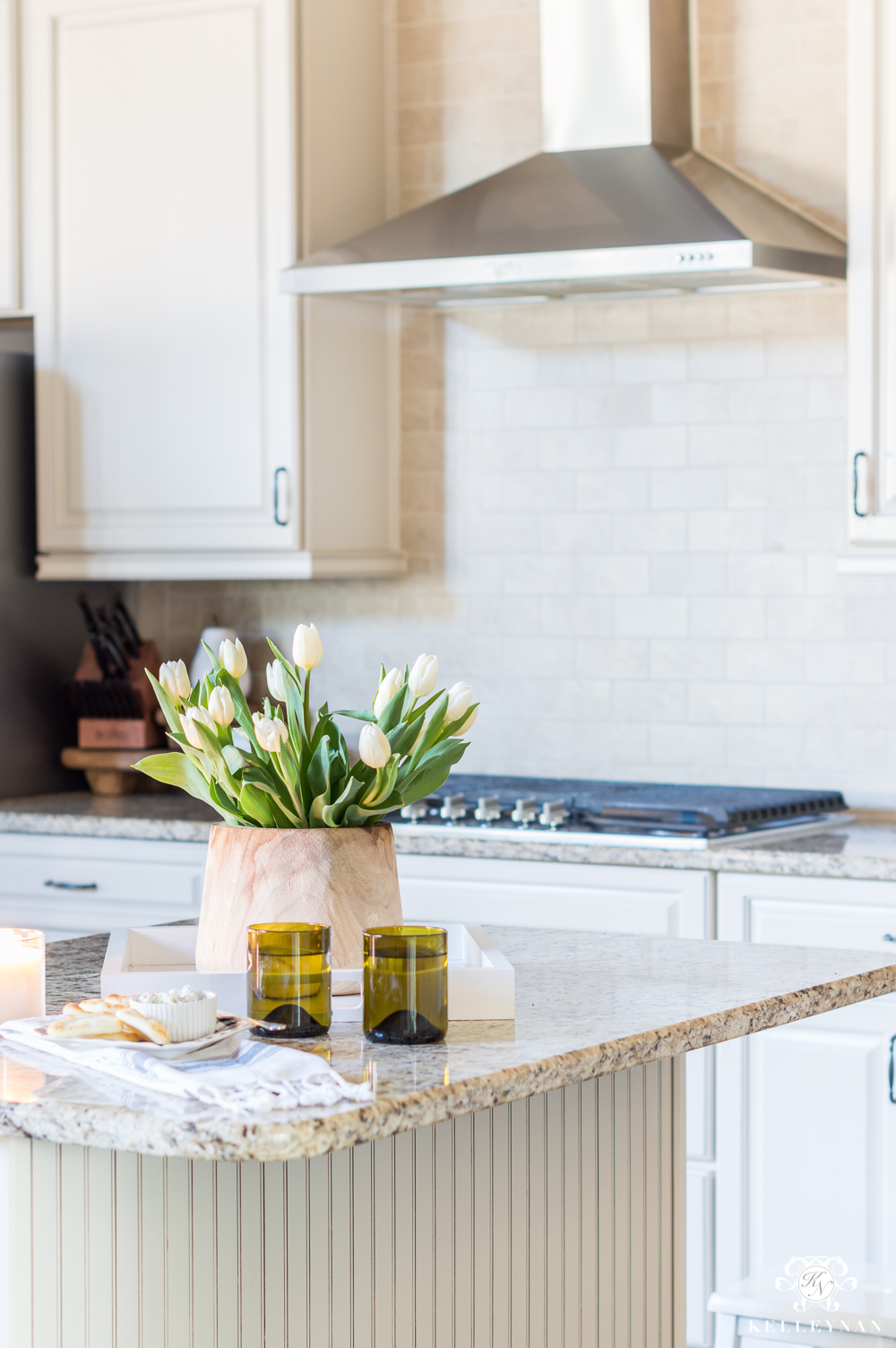 Did that stress you out or put you one step closer to tackling your own cabinets? I'll be sharing a full kitchen organization round-up soon, but in the meantime, check my organization gallery (HERE) to see the other spaces I've tackled throughout the kitchen (and the rest of my home). If you aren't already, subscribe to my emails below and don't miss any upcoming projects.
---
Scroll & Tap to Shop Favorite Cabinet Organizers


---