I'll be honest. Decorating (or un-decorating) after the holidays isn't something I've paid much attention to in the past. For me, it's all about minimizing, purging, getting organized, and giving your eyes a break from all the "stuff". Surprisingly, as soon as we had cleaned the last of the wrapping paper remnants off the floor, I received several emails requesting for a post on how to decorate post-Christmas but before the warm weather hits. I even had a couple of requests for an after-Christmas home tour. And well, while I didn't set out to do that, I guess that's pretty much what today's post became haha. In the midst of taking inventory and chronicling the current "moments" throughout our house, I ended with nine tips to transition your holiday decor to winter and basically a mini tour of our entire main floor.
*Note: Posts on KelleyNan.com may contain affiliate links. Click HERE for full disclosure.
The thing I love most about getting our home back in shape after the holiday craziness is that it isn't necessarily about adding more, but simplifying what you have. The challenge is being able to keep that cozy factor without making your surroundings too stark in the process. I'm sharing nine easy ways to do just that.

PRE-PLAN YOUR CHRISTMAS DECOR TO TRANSITION TO WINTER
This may fall into the "bookmark-for-next-year" category but most of my holiday decor isn't necessarily holiday specific; it lends itself more to the entire winter season. Our front door wreath is super simple and while I consider it our "Christmas wreath", the truth is, it's also our "winter wreath". We could add a bow for the holidays, but we don't; instead, we just have it lit with twinkle lights through Christmas and then "retire" them through the rest of the season. The mix of greenery works for Christmas but will also fit in until we are ready to sub it out for the spring wreath. The more ornate (with ornaments, bells, etc.) your wreath is, the more difficult it will be to pull off. But, if it's a matter of removing some ribbon, you may already have the perfect winter door embellishment and just don't know it. If you are looking to up your Christmas/winter arsenal for future holidays, think about pieces that may work even after the Christmas-specific decor has been taken down.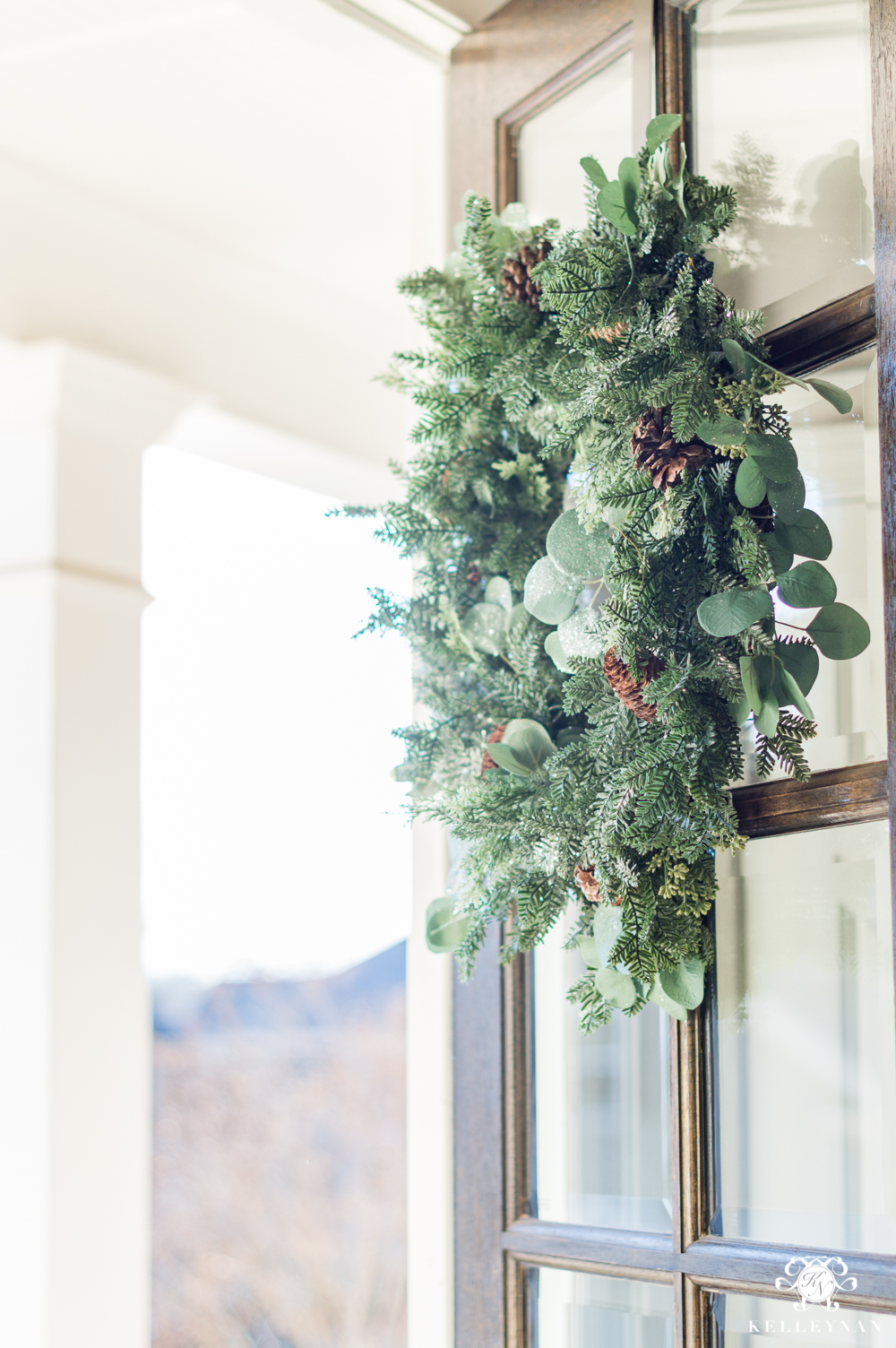 INVEST IN VERSATILE, ALL-SEASON DECOR THAT'S EASY TO CUSTOMIZE
Similar to the first tip, I don't go too crazy with Christmas-specific decor. I talked about this some in my Christmas Home Tour (HERE) but I prefer to use all-season decor and add holiday touches. 1. It saves storage space. 2. It keeps seasonal decor more affordable. 3. You don't have to re-decorate your entire home once the season has ended; you just make a few alterations. Think of the bowls, vases, urns, baskets, etc. in your home. Adding to them for the holidays and then removing the additions is way easier than bringing in an army of Santas, teams of reindeer, etc. The Christmas tree set-up and garland is tough and time/labor intensive enough.
One of my favorite pieces I use in each season is this lantern – a gift from my Aunt Susan. During Christmas, I had a candle, additional silver pinecones, and snow. I left the natural pinecones and subbed the snowy scene for a substantial magnolia stem (more on those in a bit).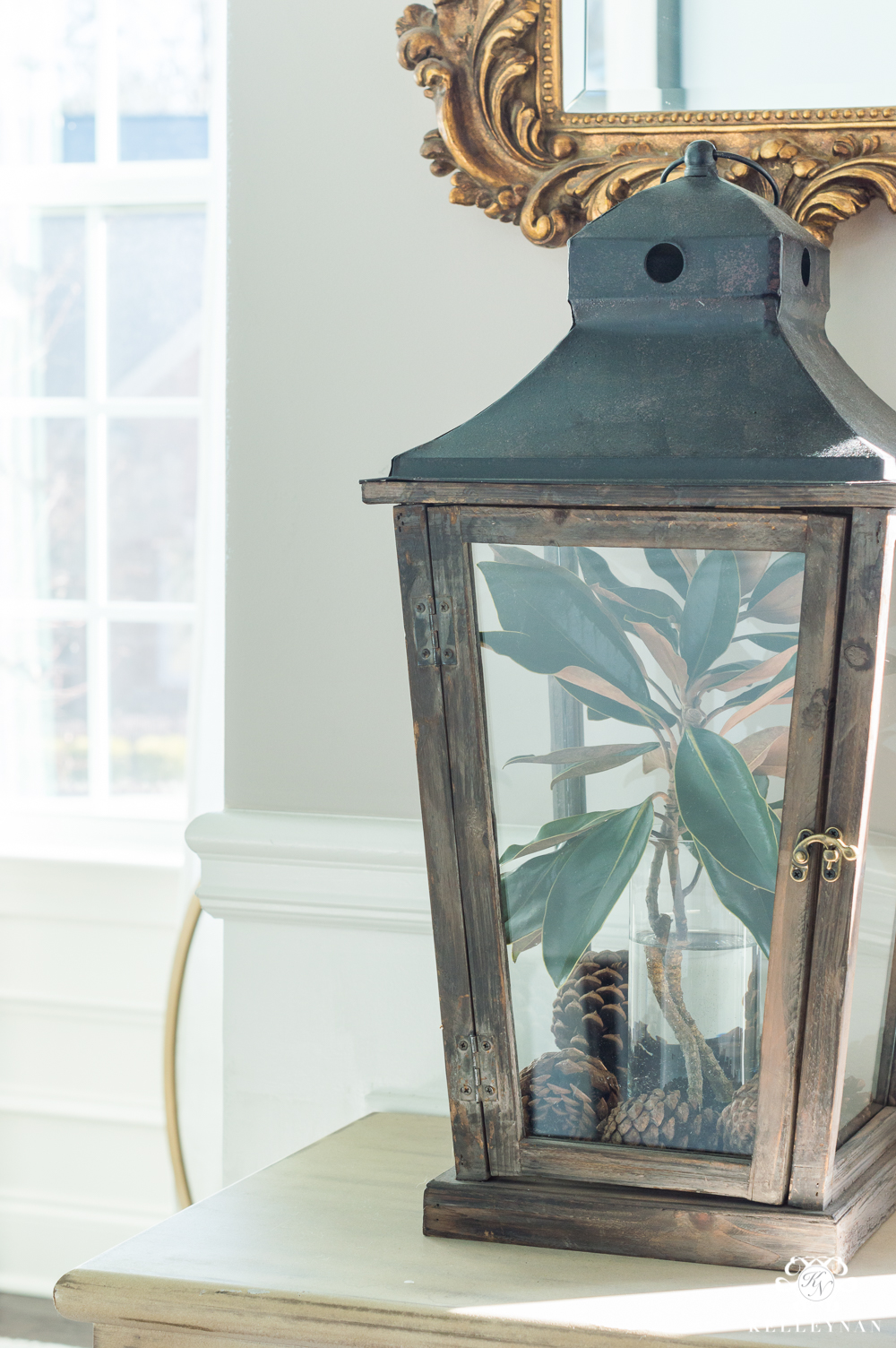 ---
Source: Lantern (similar)
---
Our bookshelves have only changed slightly; I added some greenery and subbed out the ornament filler in the small box… that's it! Unless there is some uber special piece, save your splurges for timeless decor that can be used in any season. Y'all may be tired of hearing me say this but – it absolutely pays to lean toward those neutrals in your mainstays 😉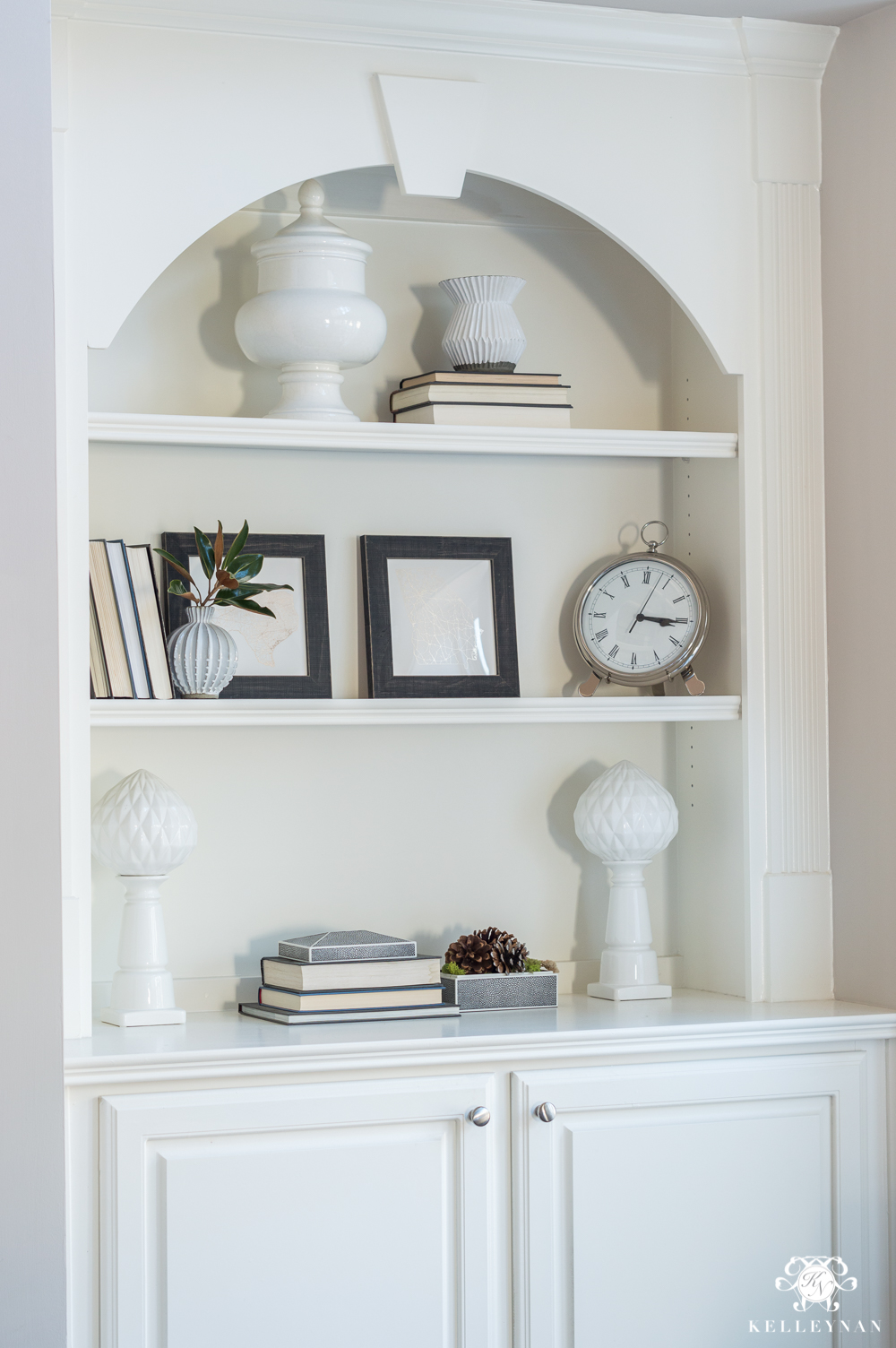 ---
Sources: White Lidded Vase | Clock | Obelisk (similar) | Texas Foil Art | Georgia Foil Art
---

DE-CLUTTER AND MINIMIZE
The last thing I want when I am trying to organize is to be distracted by visual clutter. (I keep a few basics on my countertops but for the most part, they stay fairly bare throughout the year.) After Christmas, I don't want to "decorate" my kitchen; I want it undecorated. And simple. And clean. The only things I want to be in transition are the donations that are getting ready to be sorted into boxes. Ok, and maybe just a little pretty something.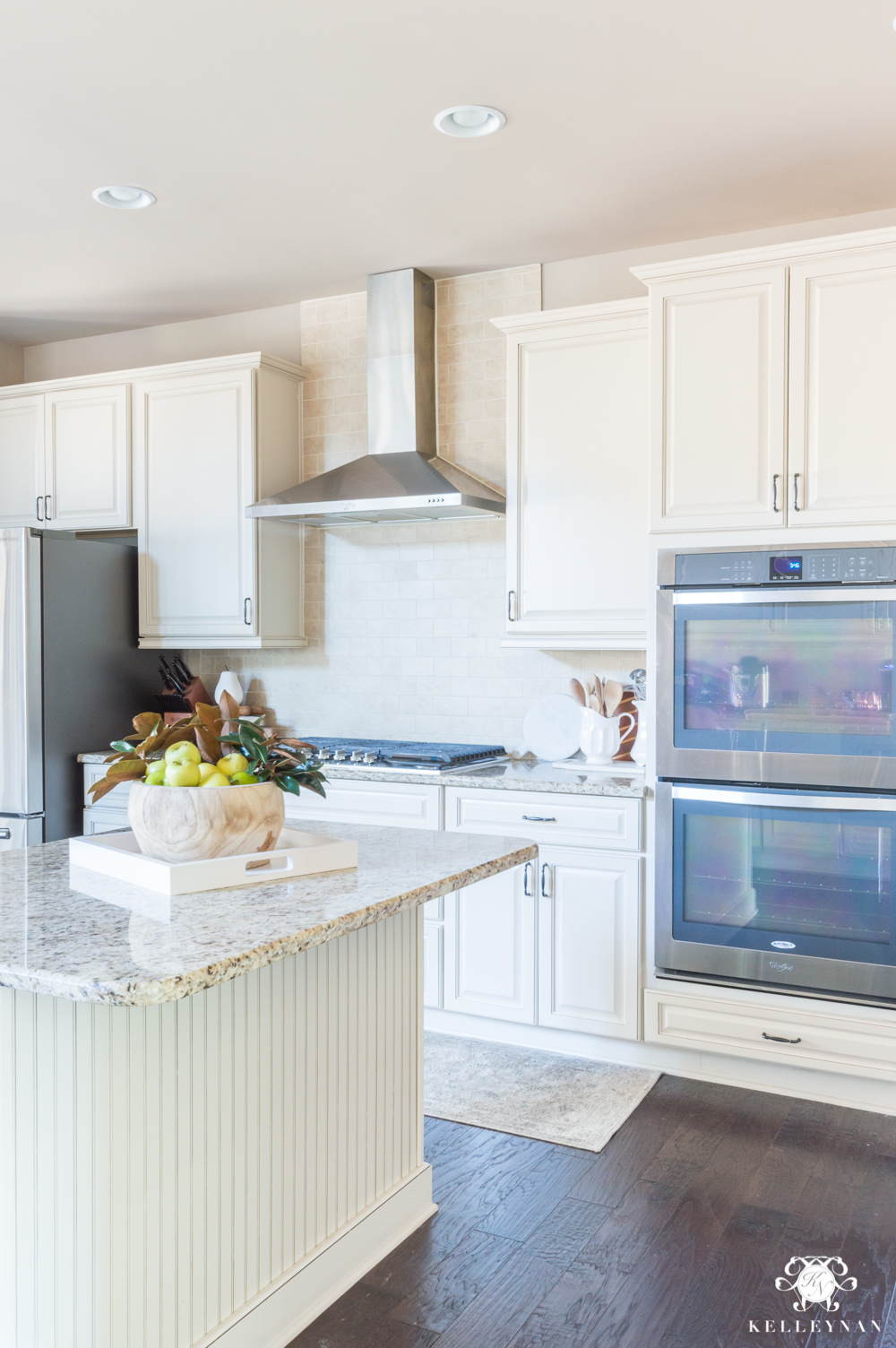 ---
Sources: White Tray (similar) | Wooden Bowl (similar)
---
Having one larger-scale item feels so much better when you are simplifying than a bunch of small knick-knacks. You'll probably notice that trend throughout most of my rooms.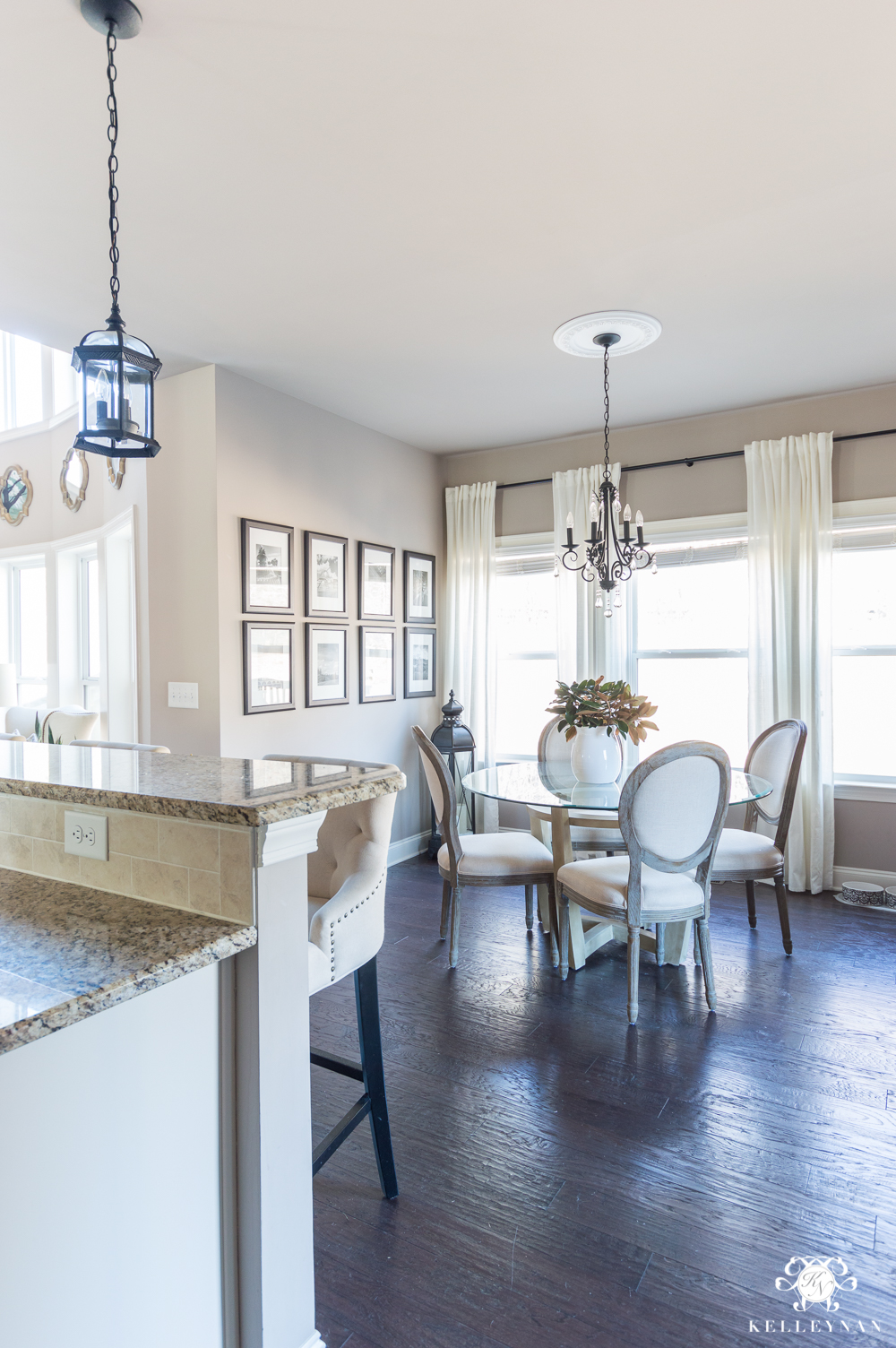 ---
Sources: Table | Chairs (similar) | Frames | Curtains | Curtain Rod
---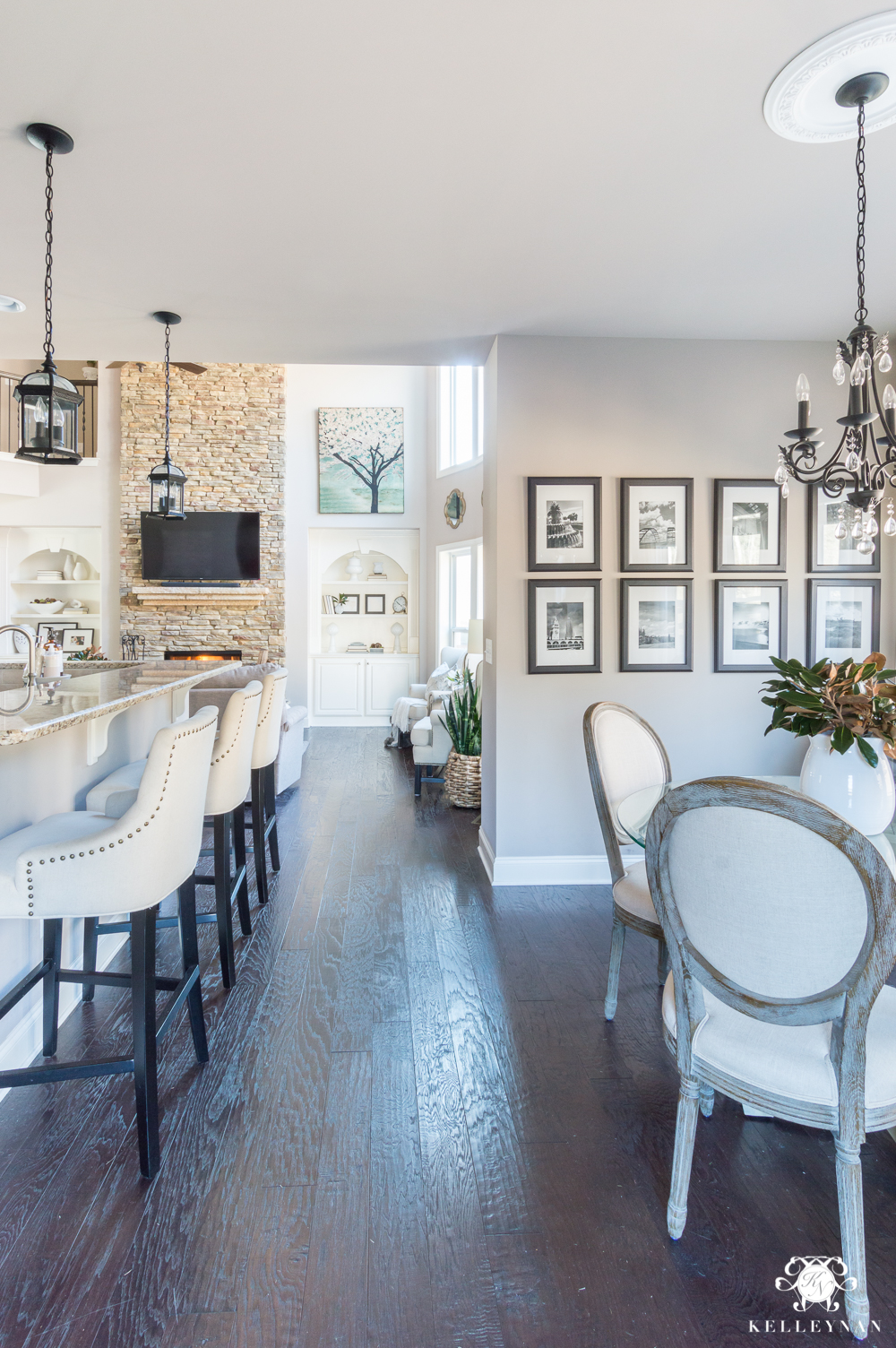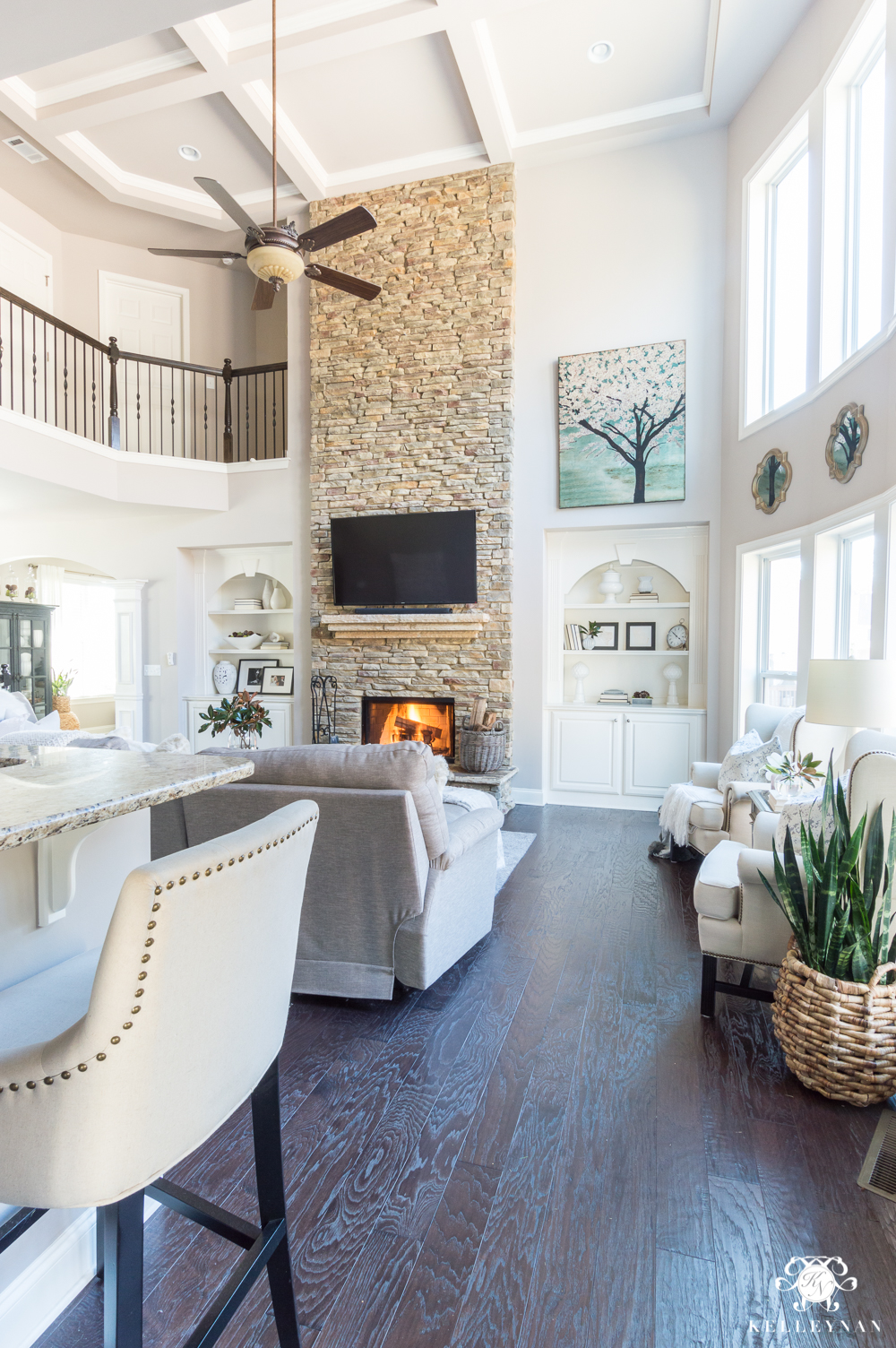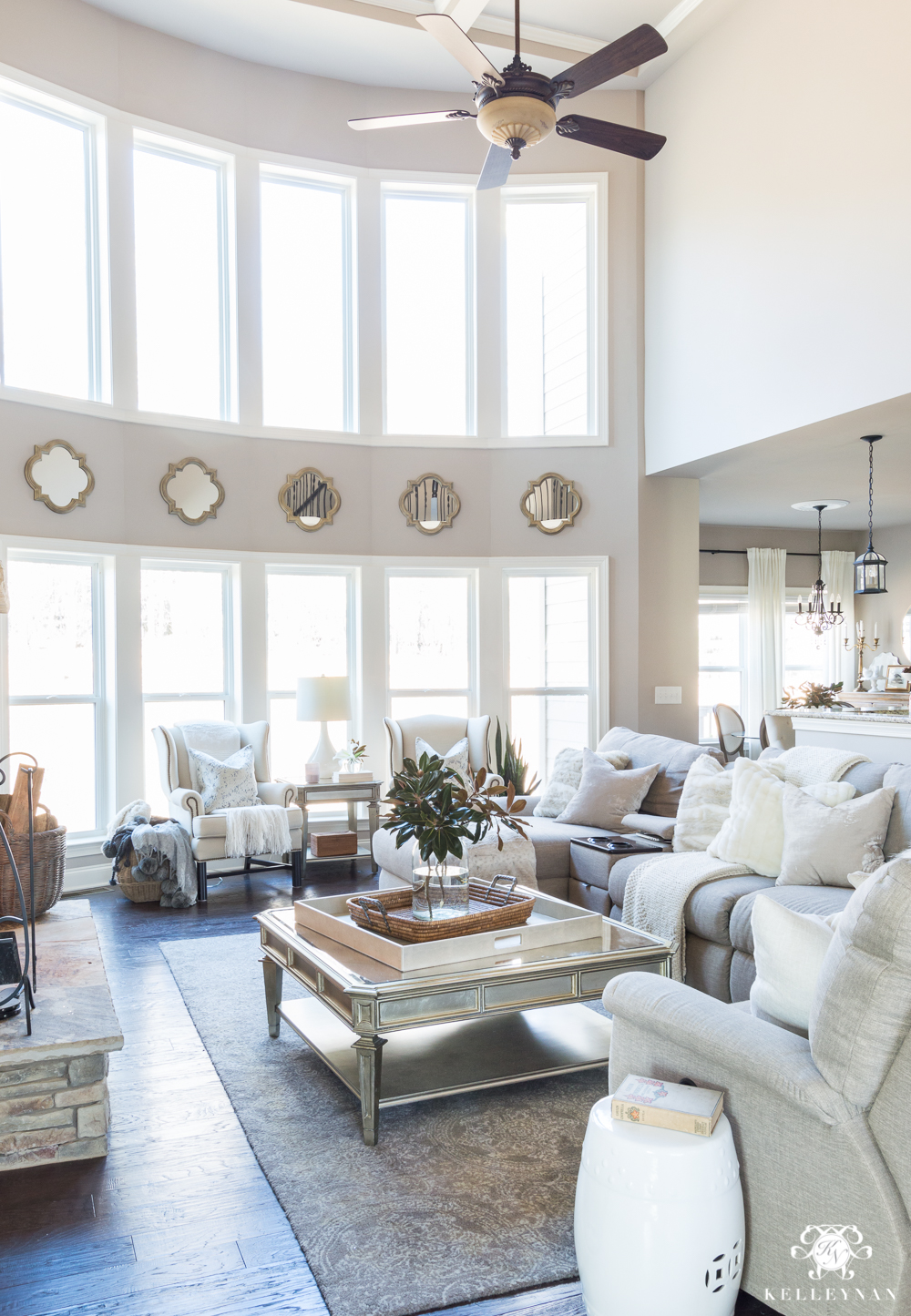 ---
Sources: Wingback Chairs | Garden Stool | White Ottoman Tray (similar)
---

DON'T SWITCH OUT THAT FUR AND VELVET JUST YET
Just because the holidays are over doesn't mean that all the cozy times (fires, cuddles, blankets) suddenly stop. For a lot of us, winter is just getting started 😉 My pillow game is the exact same as it was on Christmas day – furs, velvets, chunky wool – they are all here to stay until springtime. This may be something else to consider if you catch yourself eyeing a bunch of Christmas-specific pillows. If you stick more to the universal heavy fabrics, there's no need to do a pillow overhaul just yet.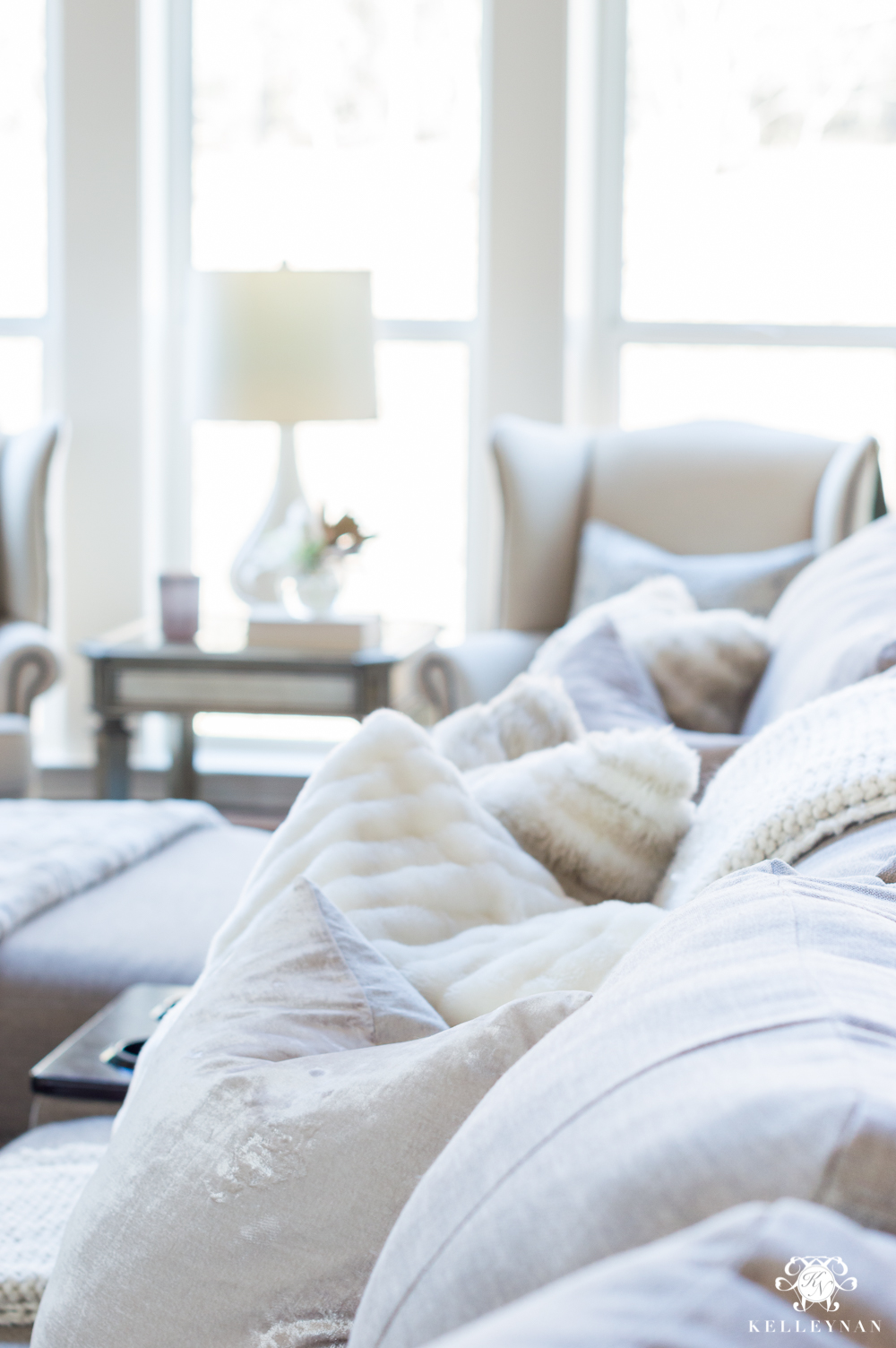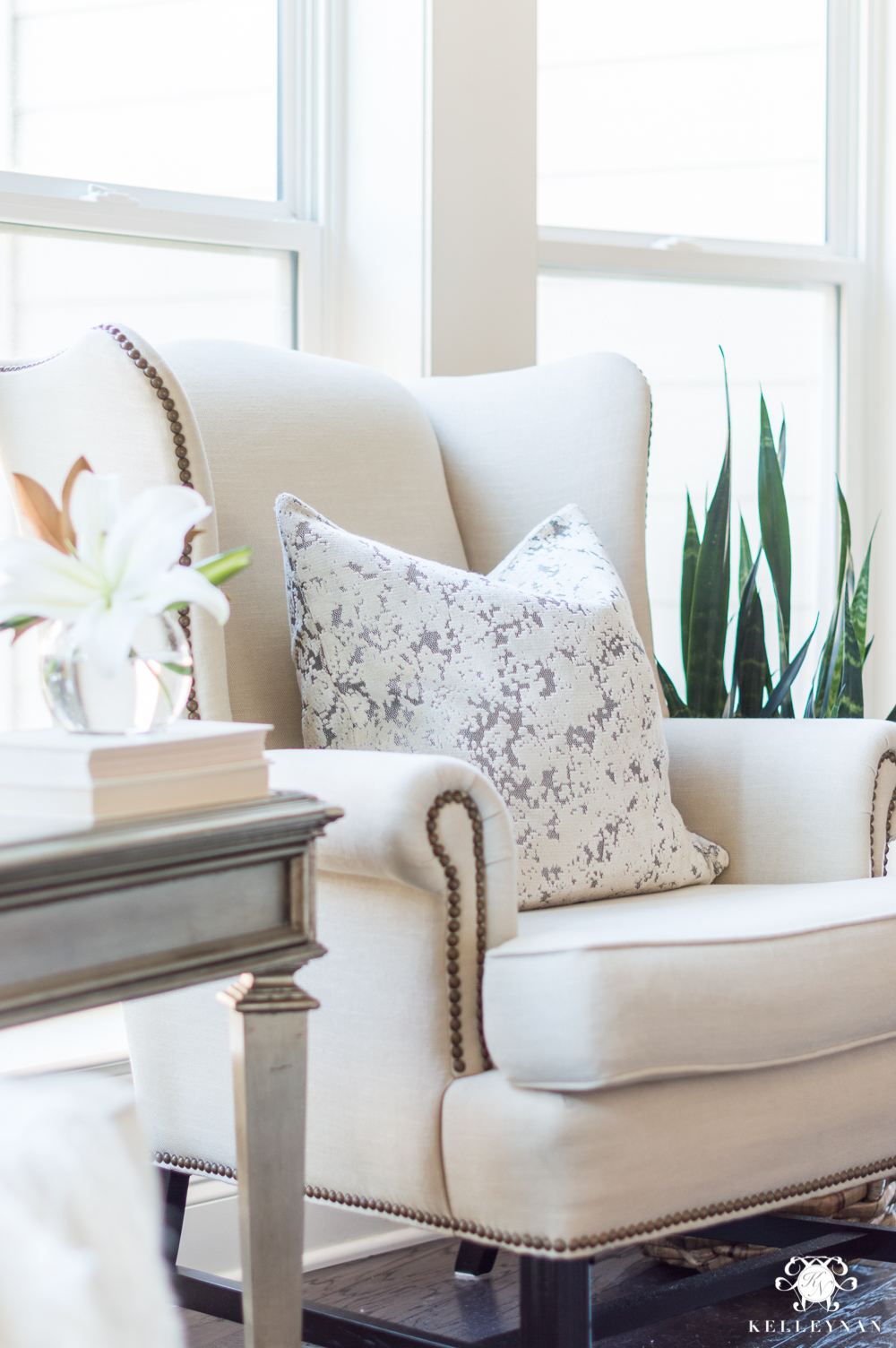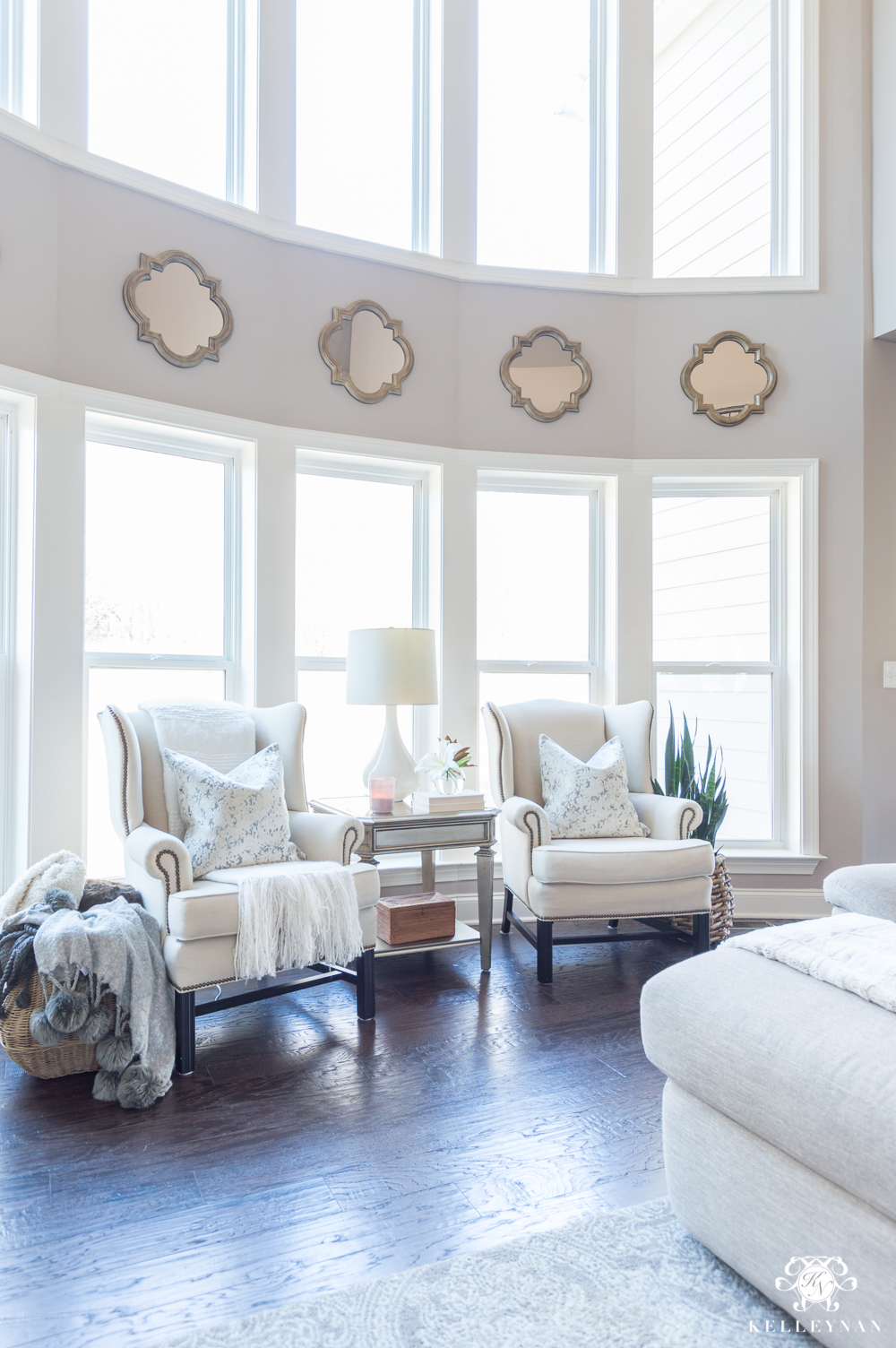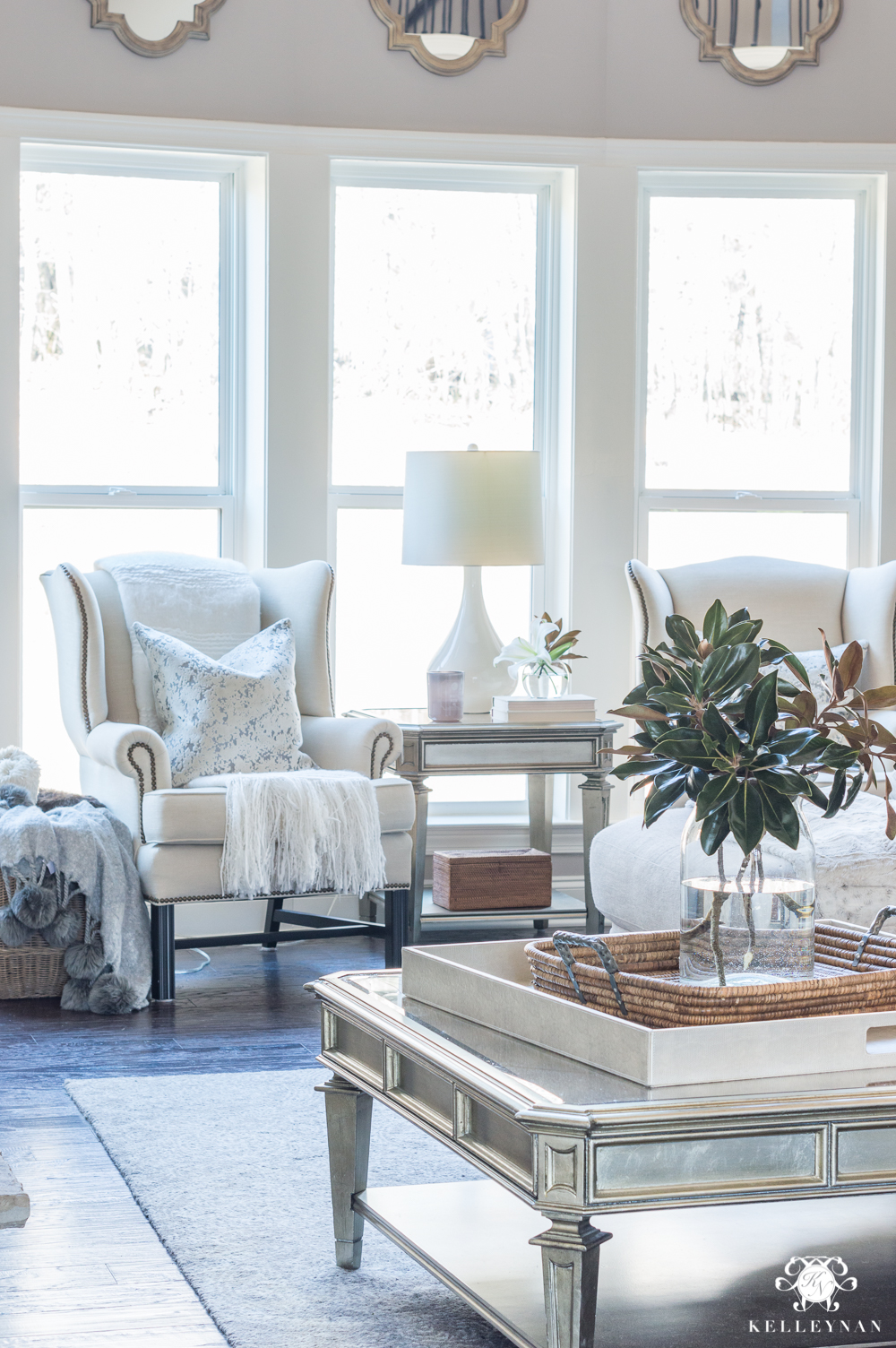 USE HEARTY GREEN STEMS FOR IMPACTFUL FOCAL POINTS
When you don't want to think about how to accessorize one more thing or style up one more vignette, rest assured that a natural arrangement always looks good. Hearty branches and stems typically last longer than a floral arrangement (think upwards of a few weeks) and heavier leaves like these magnolia stems work perfectly in the winter. If you love the look of these magnolia stems and but don't have any around to snip your own branches, you can order live stems by the pound (HERE) for under $25. They are said to dry naturally and last for up to a year!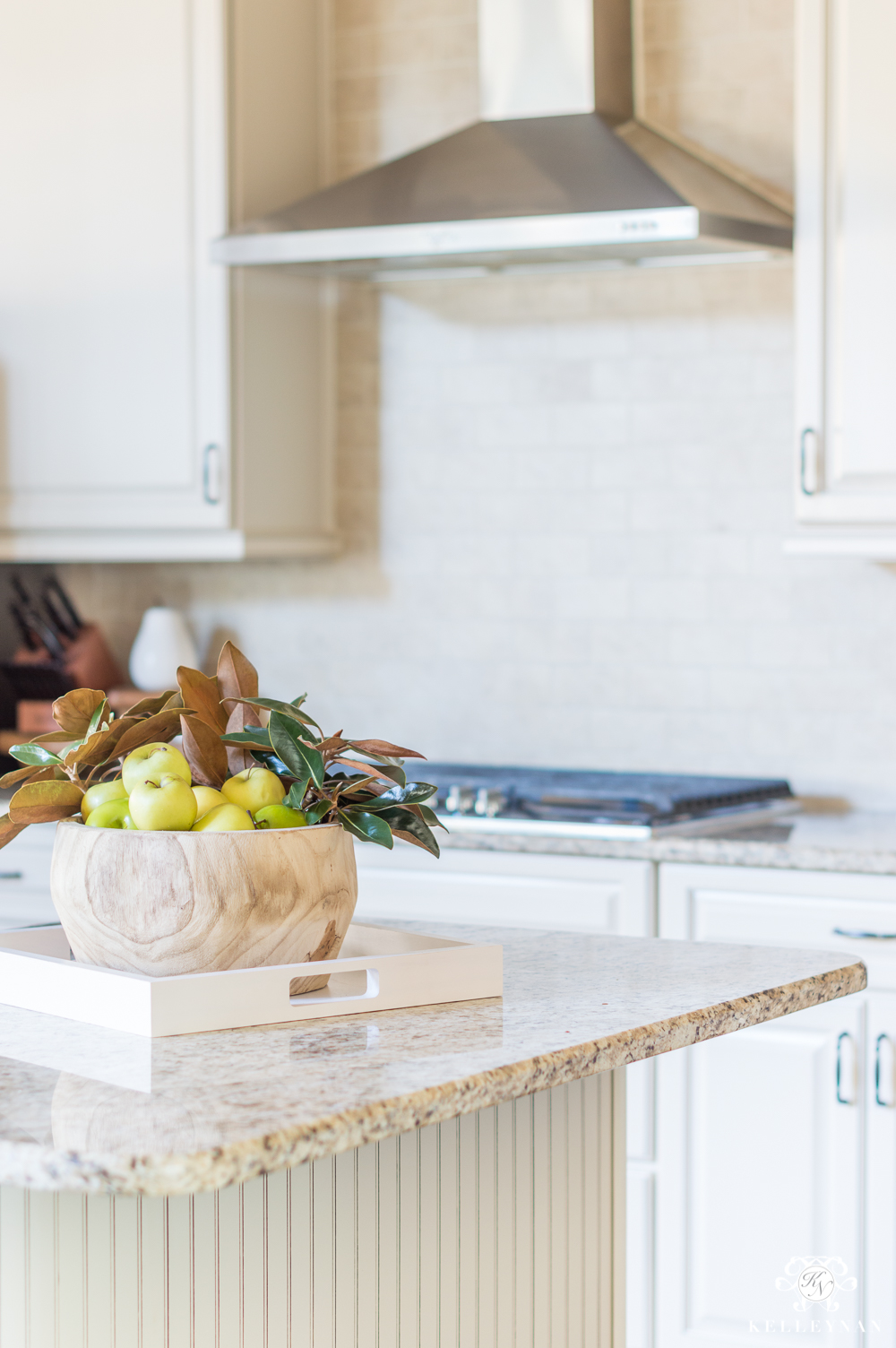 Warning… I went a little overboard; I was just really trying to prove my point 😉 Haha- actually, I went nuts trimming and didn't want any of these pretties to go to waste.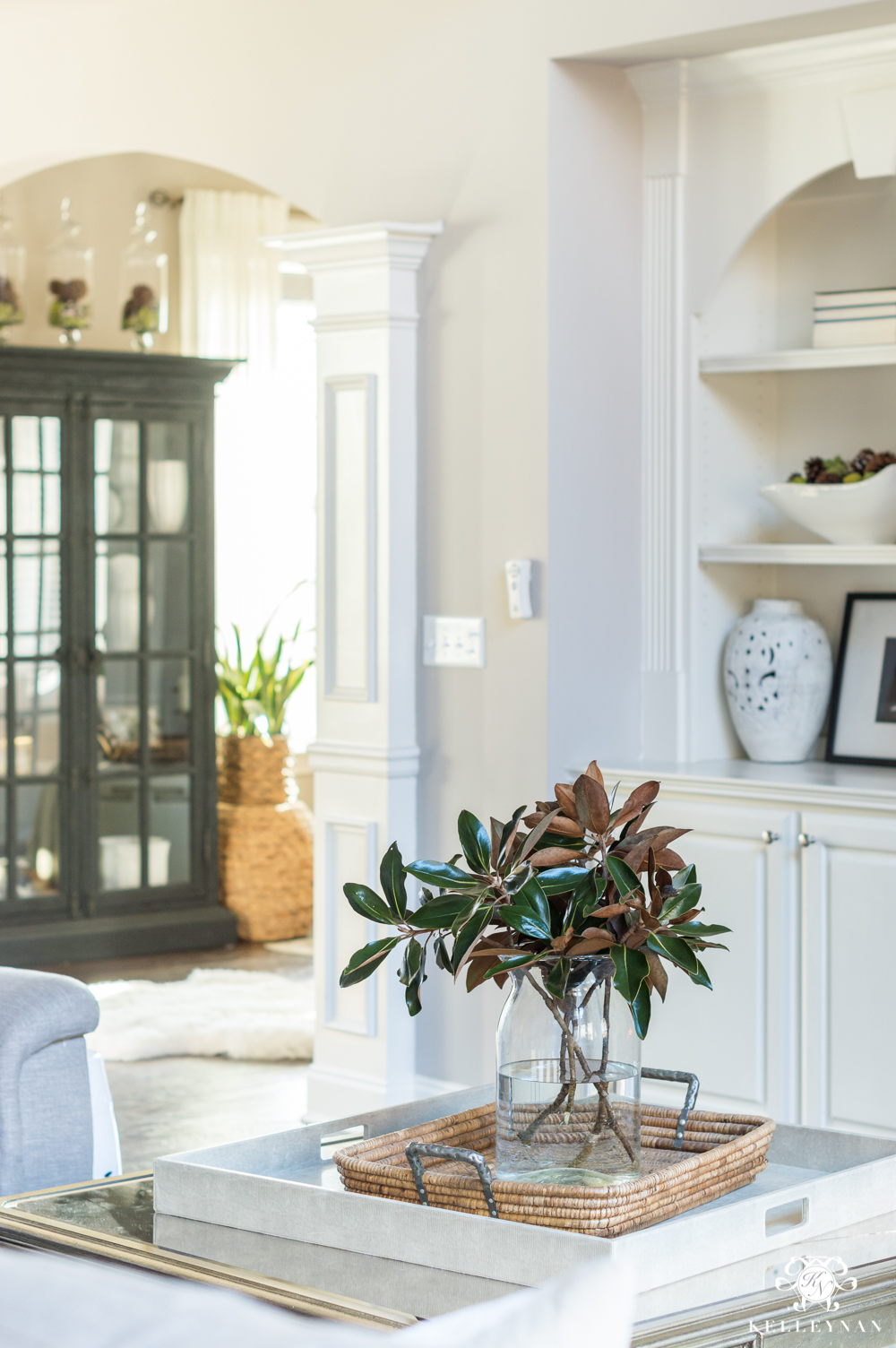 This is why I have 29830 vessels. I can always find a use for them all over my home.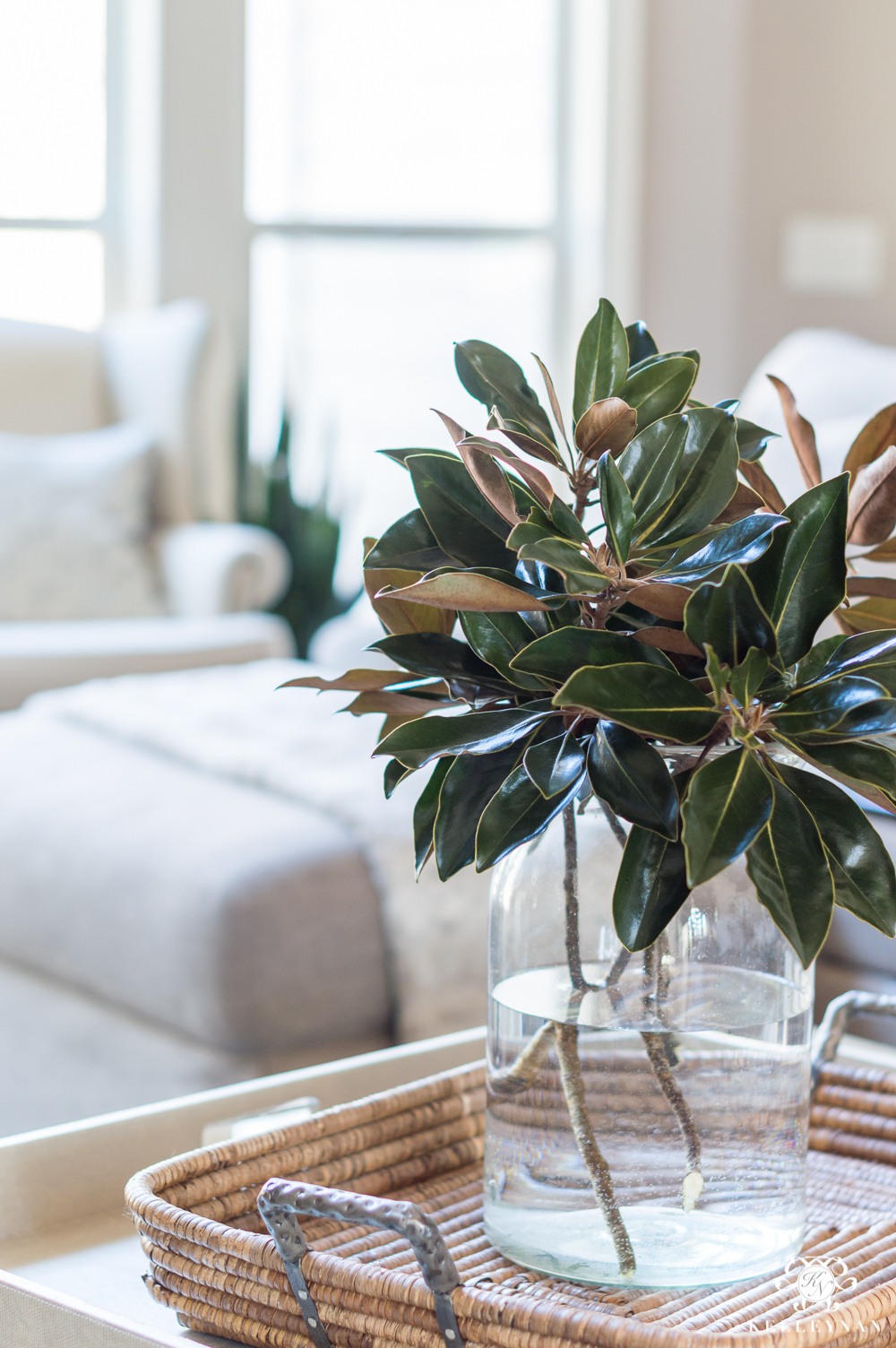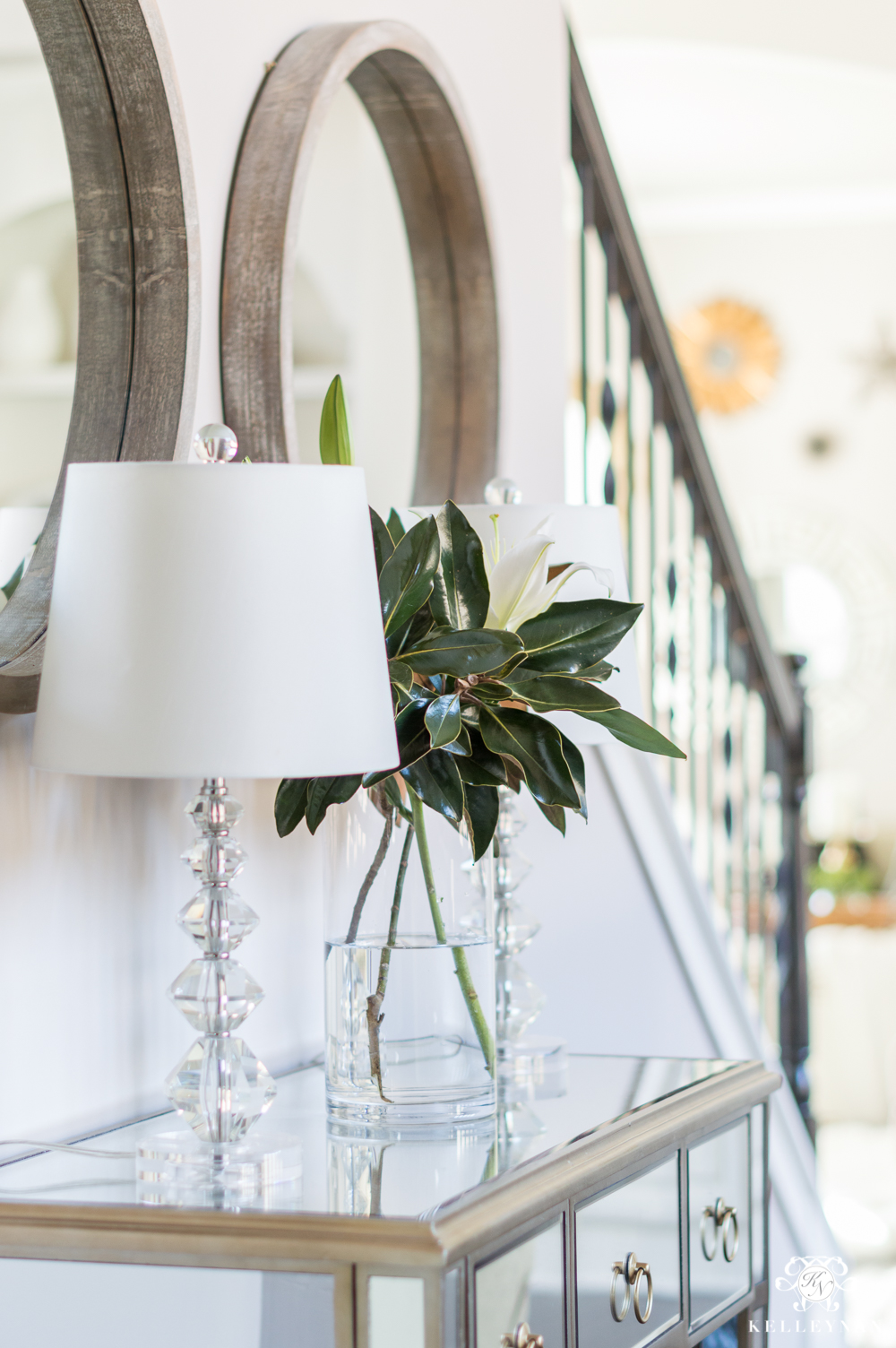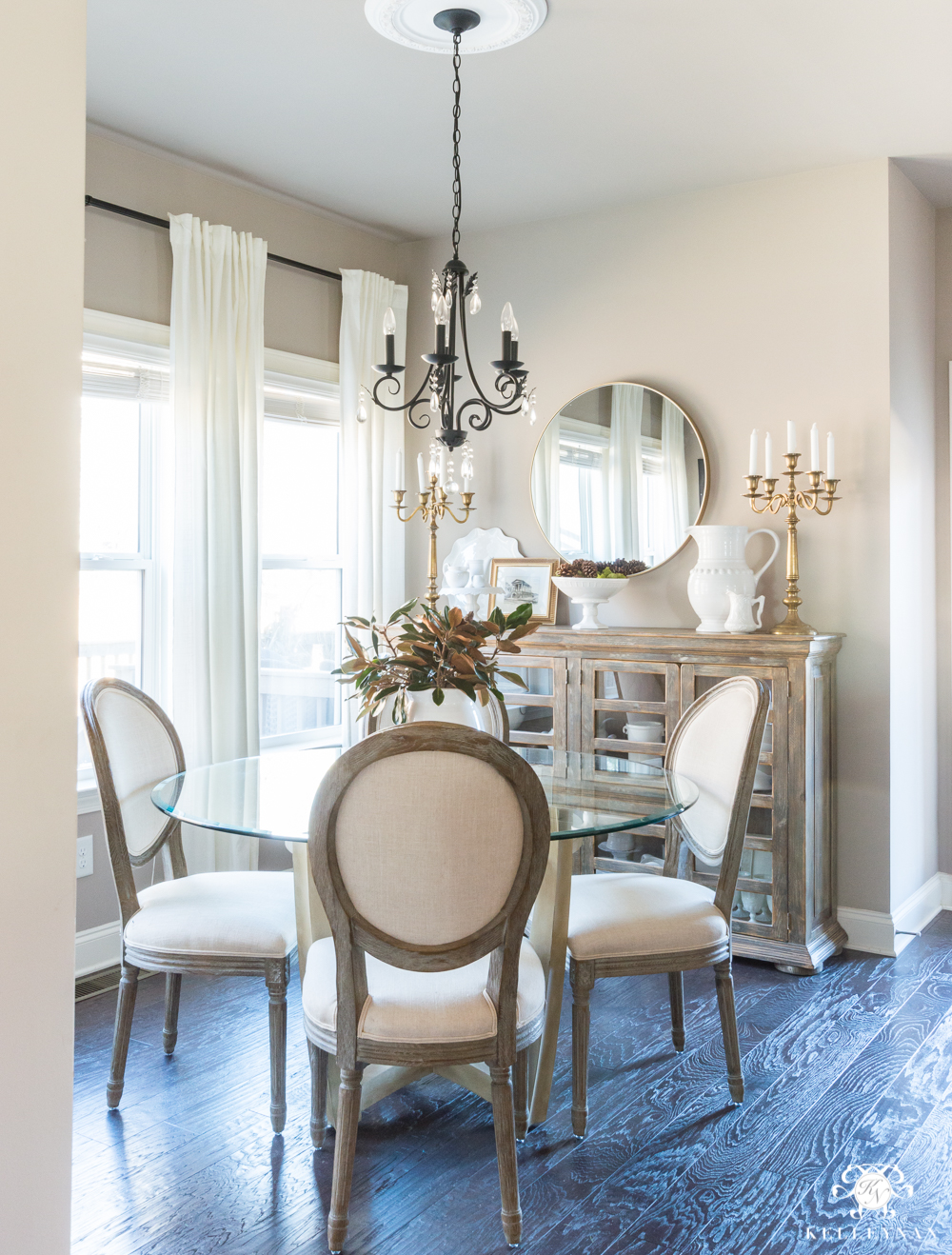 BRING IN SOME HOUSE PLANTS FOR A LITTLE LIFE
Just because the Christmas trees have been taken down for the year doesn't mean you can't have fresh greens. Actually, bringing in a few house plants will help warm up your home more than anything else.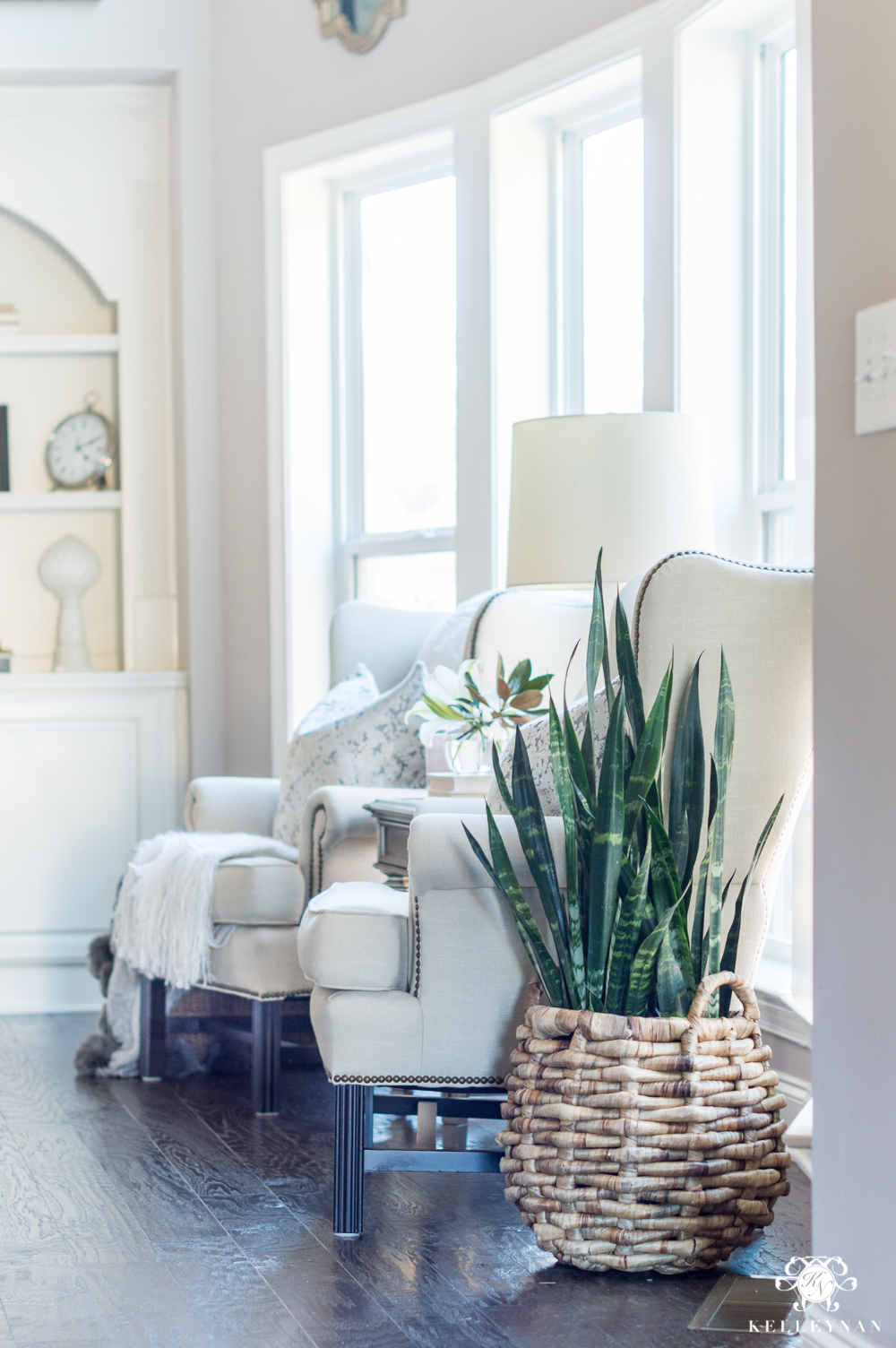 I used to think I wasn't a house plant person- that I would ultimately kill anything that made its way into our home. (Dave has the green thumb of the family). But, after keeping a small peace lily alive for (going on) three years, I brought a snake plant into our bedroom this past fall. Those babies are SO easy to care for – just put it next to sunlight and give it a small amount of water every couple of weeks. Seriously. That guy has been thriving for a few months now so I decided to get two more (because again- they are SO easy!)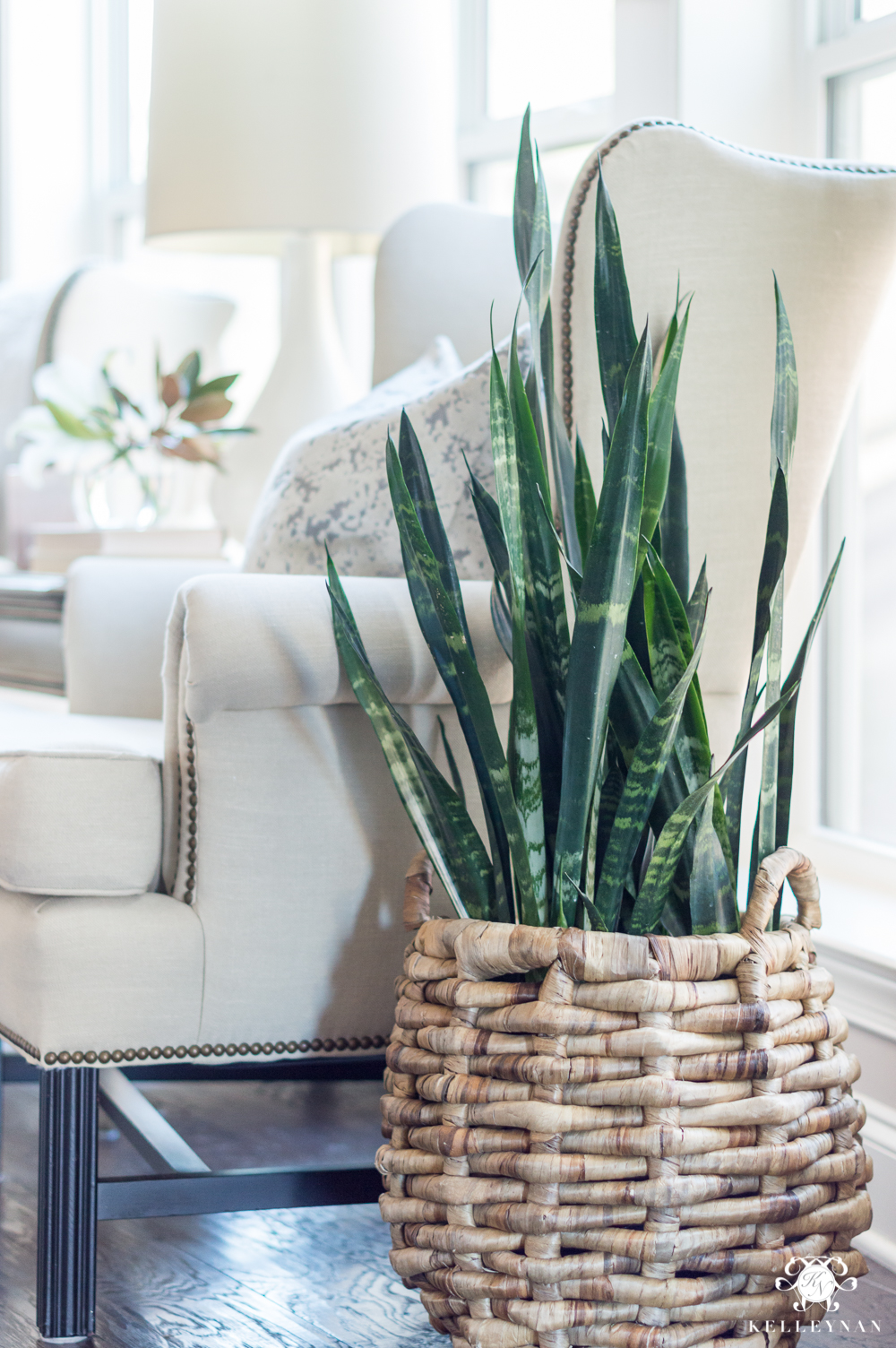 They are also known to be good air purifiers. I basket-ed (is that a word?) a dark green variety in the great room and a yellow/green variety in the sitting room.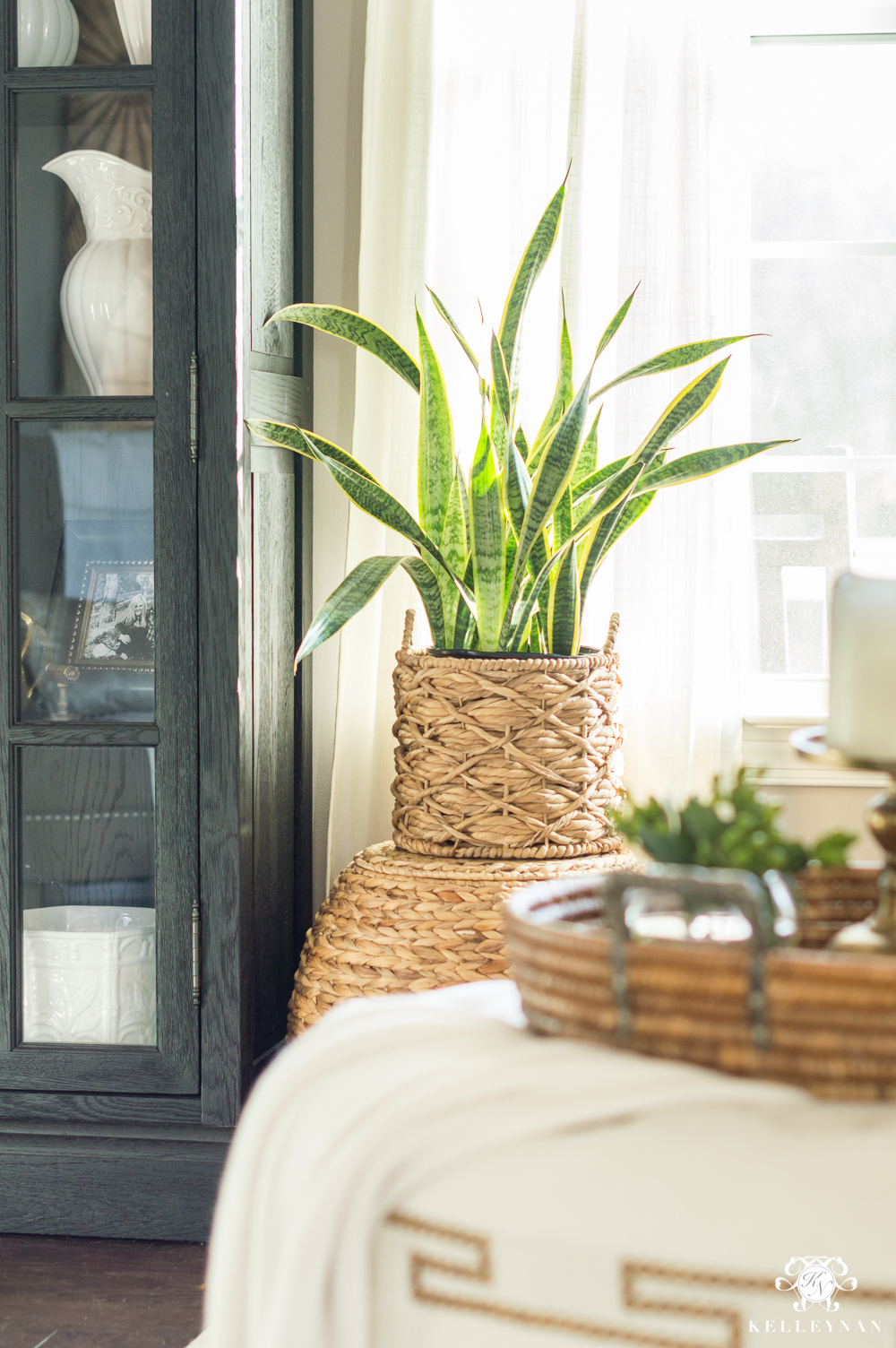 And, per Dave's request, we also brought in a rubber plant. The substantial leaves remind me of large magnolia leaves – perfect for anytime but especially winter.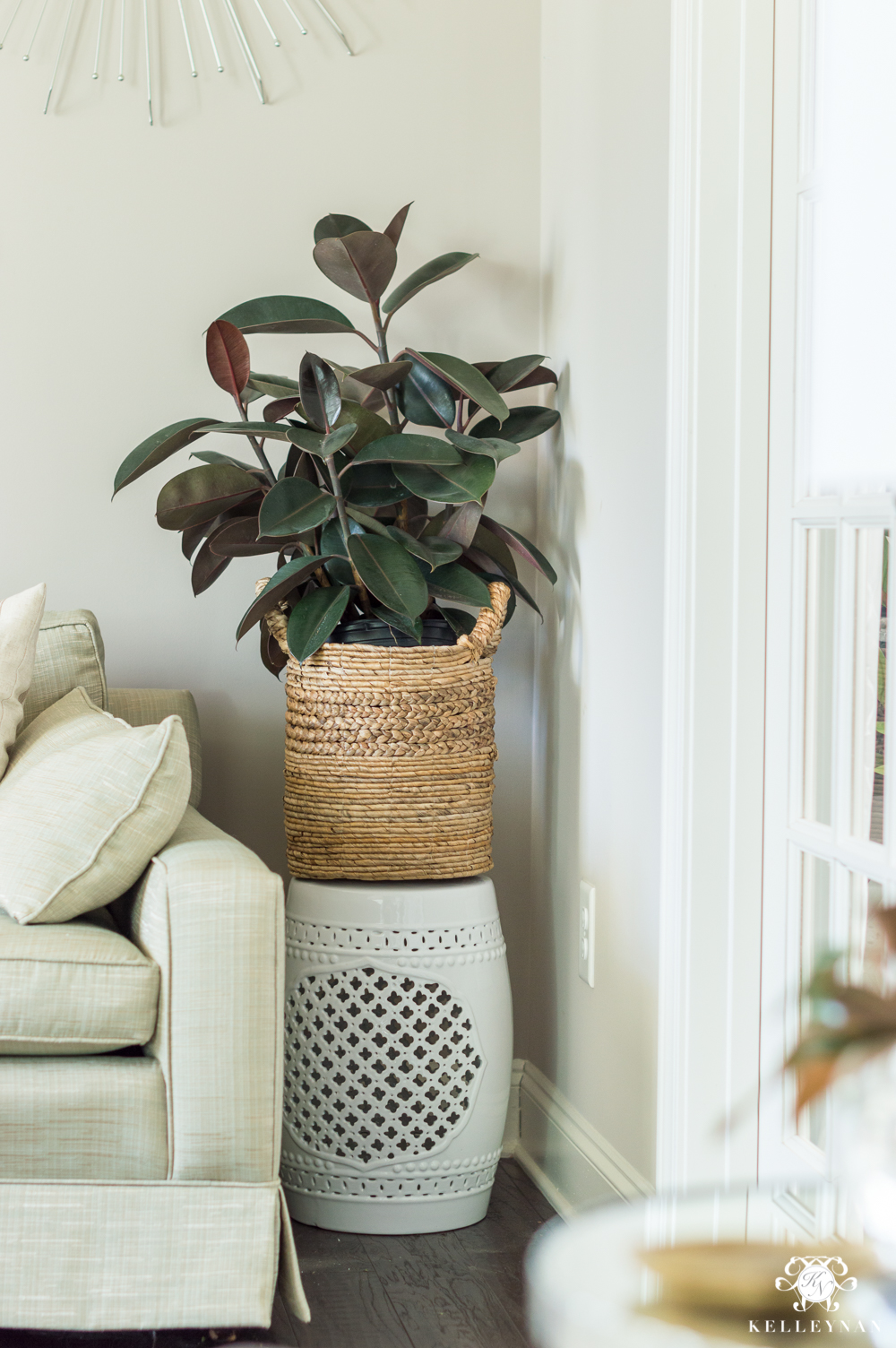 MIX IN JUST A TOUCH OF SPRING 
Friends, I think I went two months without any fresh flowers (what?!) Now that things are pared down and there's more surface space, I can enjoy the simplicity of a few blooms without the distraction of all the glitter and sparkle-ies (ok, I know I'm making up words now haha).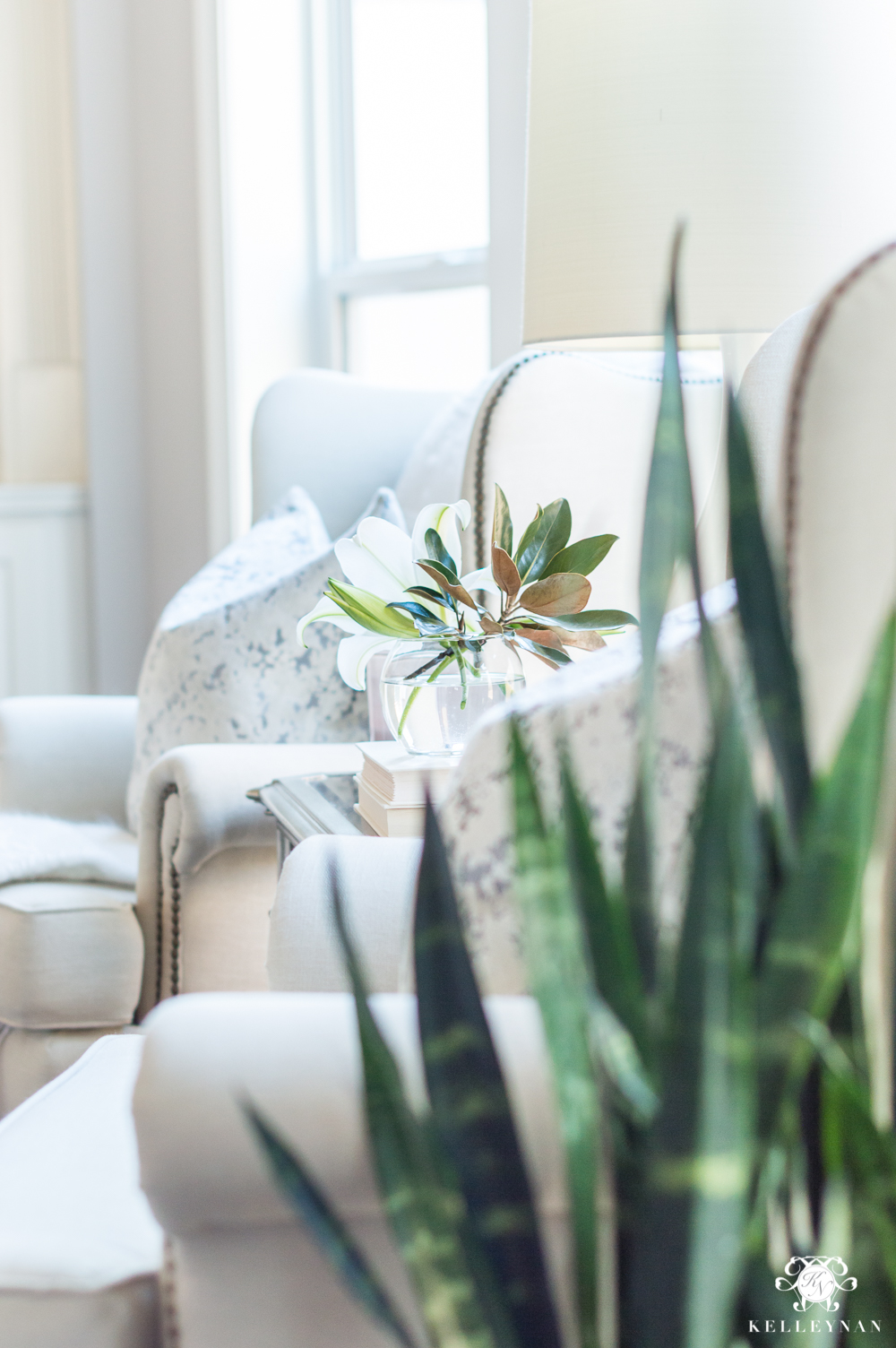 I mixed in a few lilies with my magnolia leaves (which totally make them resemble magnolia blossoms).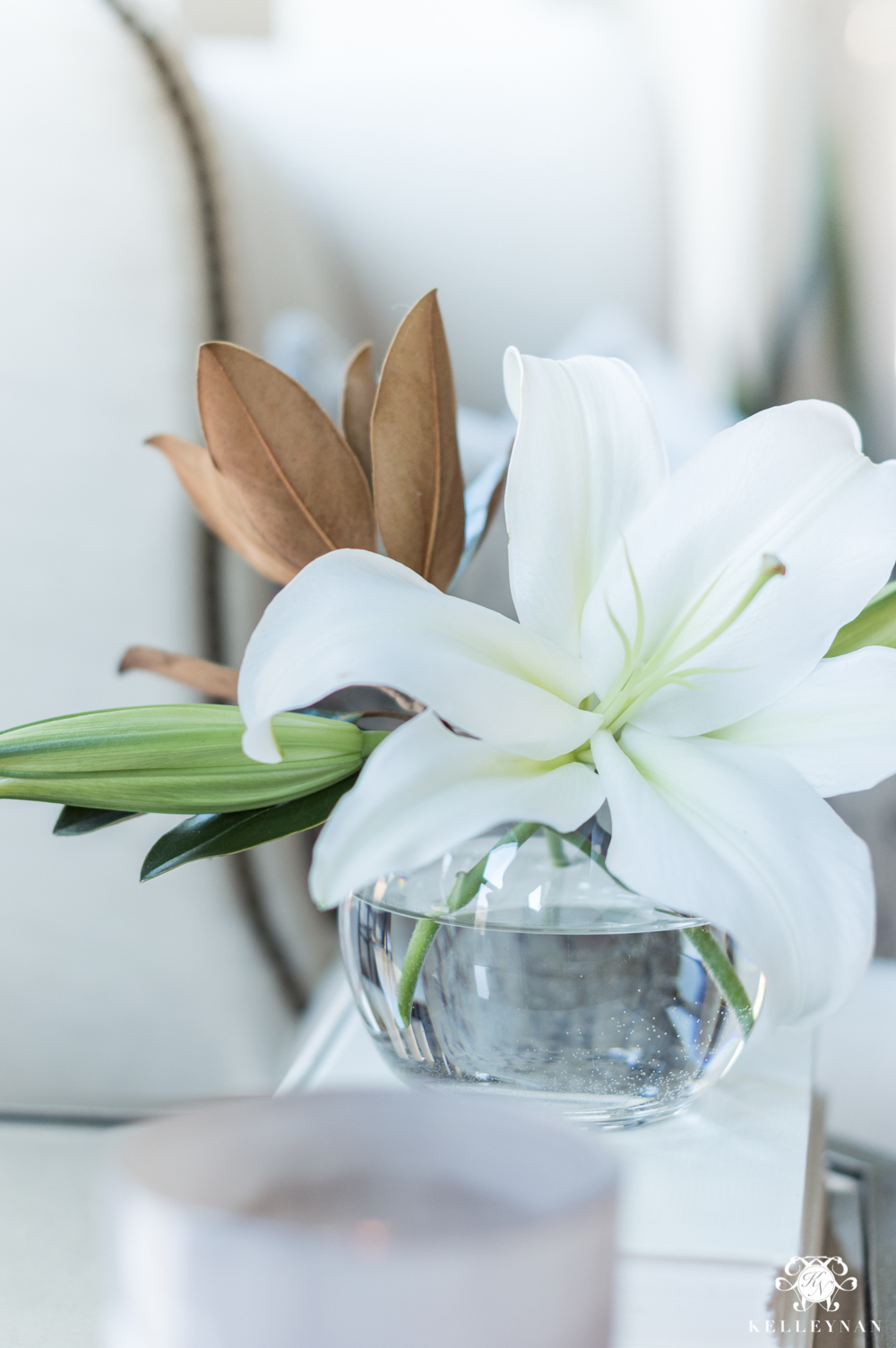 And I married some natural pine cones and moss in vessels all over the house. I use pinecones in the fall, add some white/silver pinecones to the natural at Christmas, and use moss during spring and summer. The two together make the perfect little transitional pairing.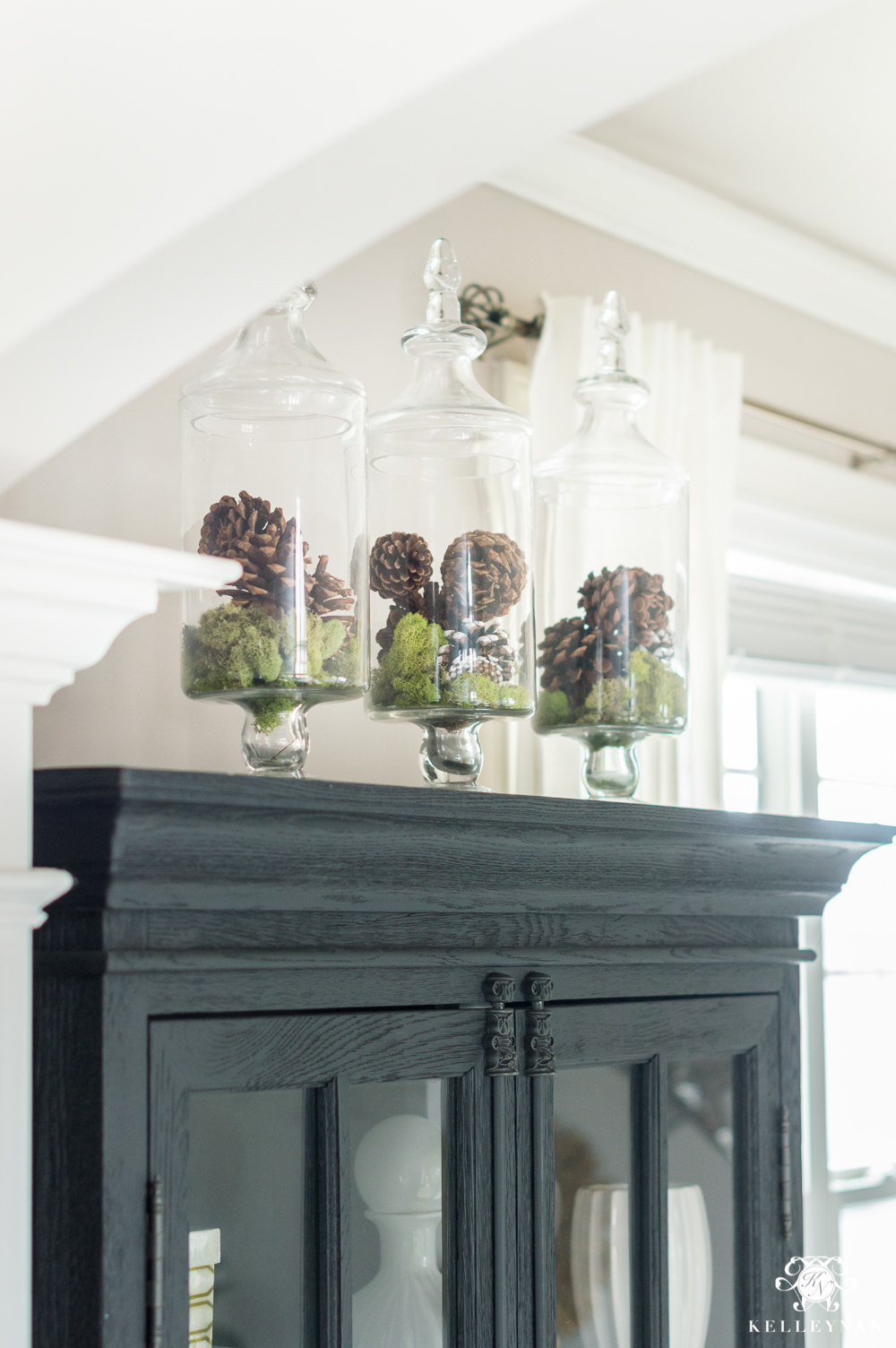 KEEP EVERYTHING FUNCTIONAL
Sticking with the theme of simplicity, keeping those heavily used winter areas free from obstruction is key for us. This is the time of the season that we build fires in our home most often. I don't try to get too cute with extras around the fireplace during this time of year- just the functional staples 😉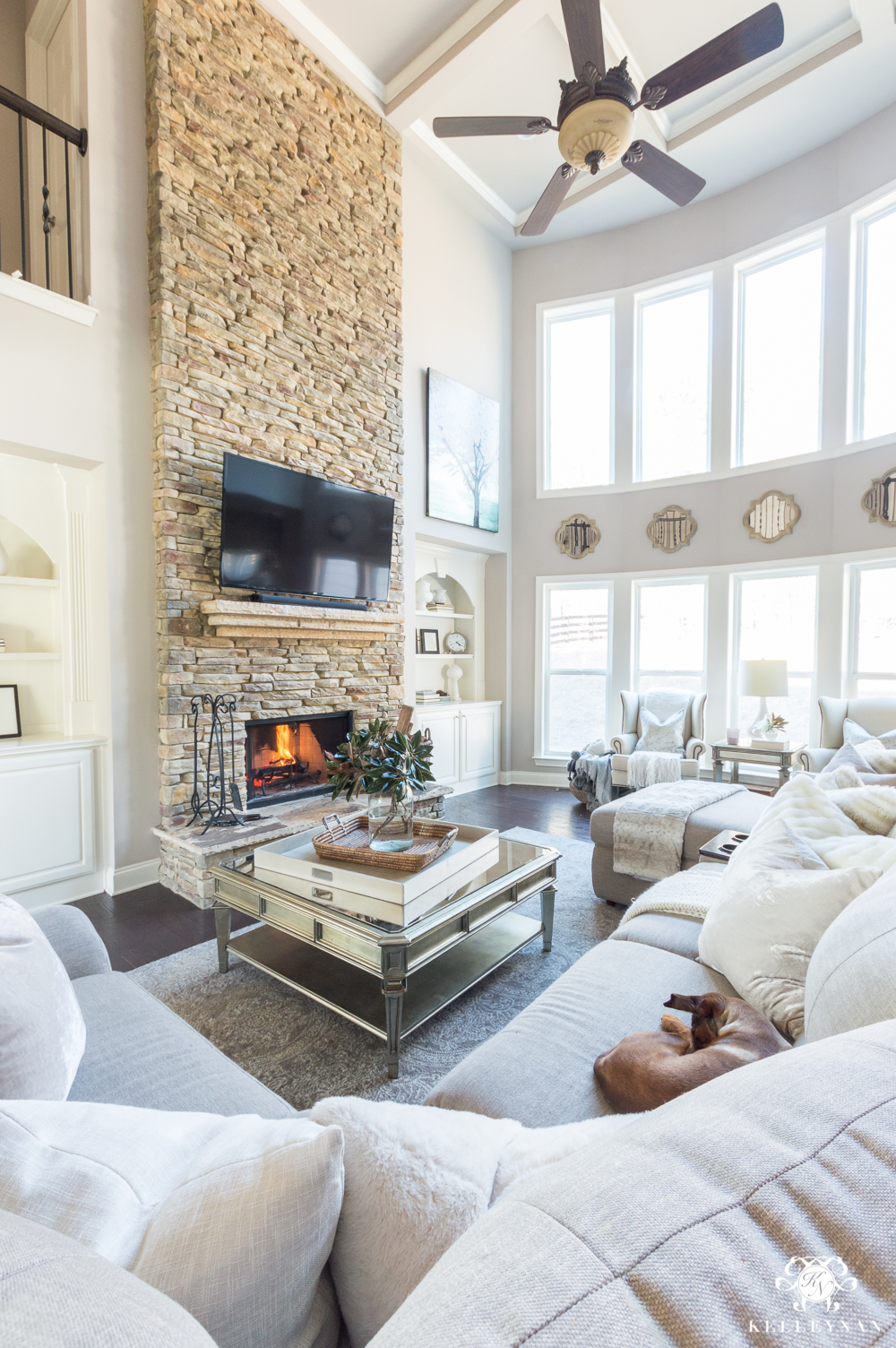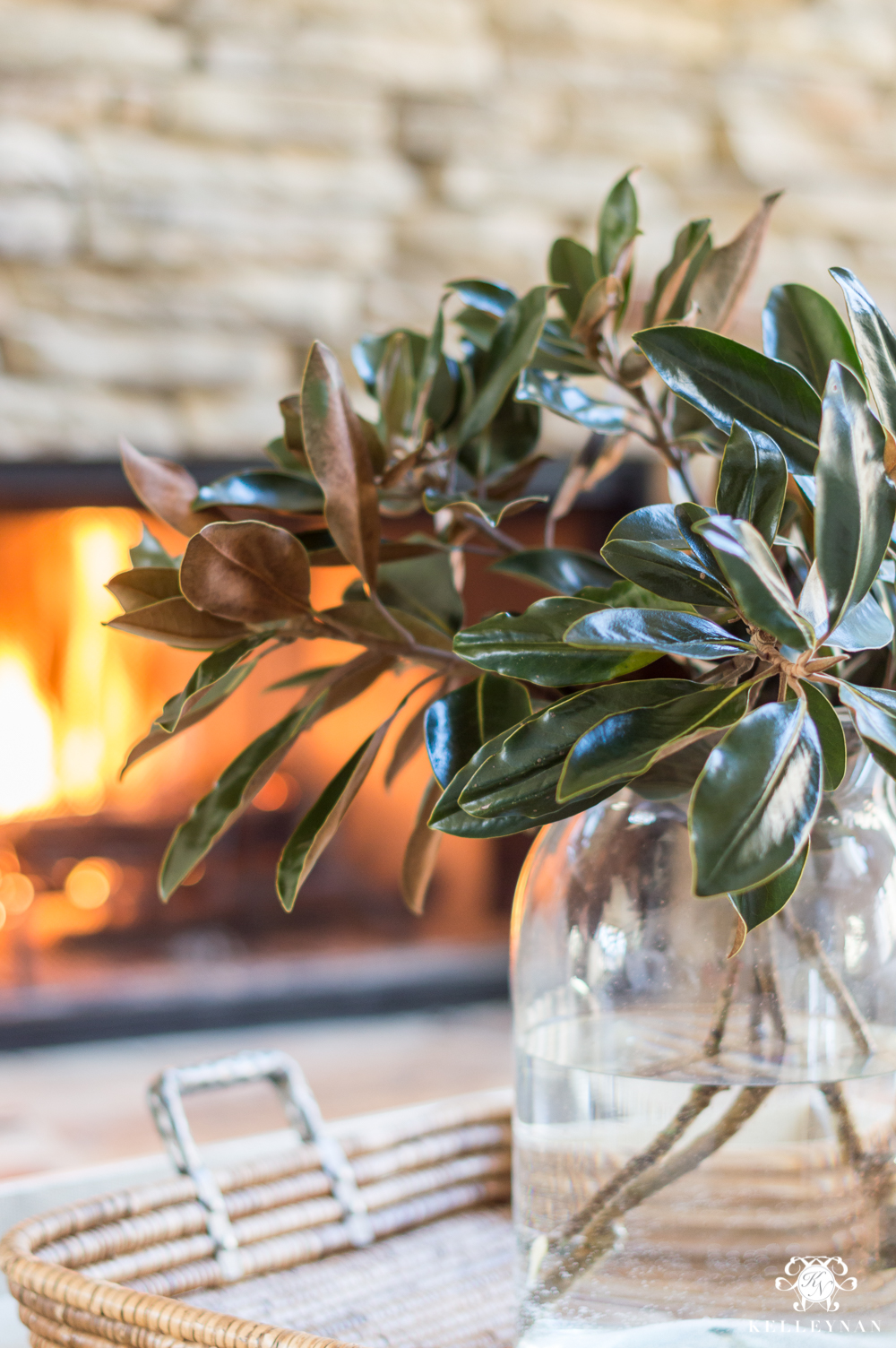 MIX THOSE METALS TO KEEP THINGS WARM
Y'all know I do this year-round without hesitation but mixing metals for a little warmth just seems extra impactful in the winter. I had a few on my table during Christmas, but after I cleared it all, I added some candle holders back in, plus, an entire team of other strays who were going to be/already packed away. All different heights and types from tapered to pillar to votive. You can't ask for an easier centerpiece.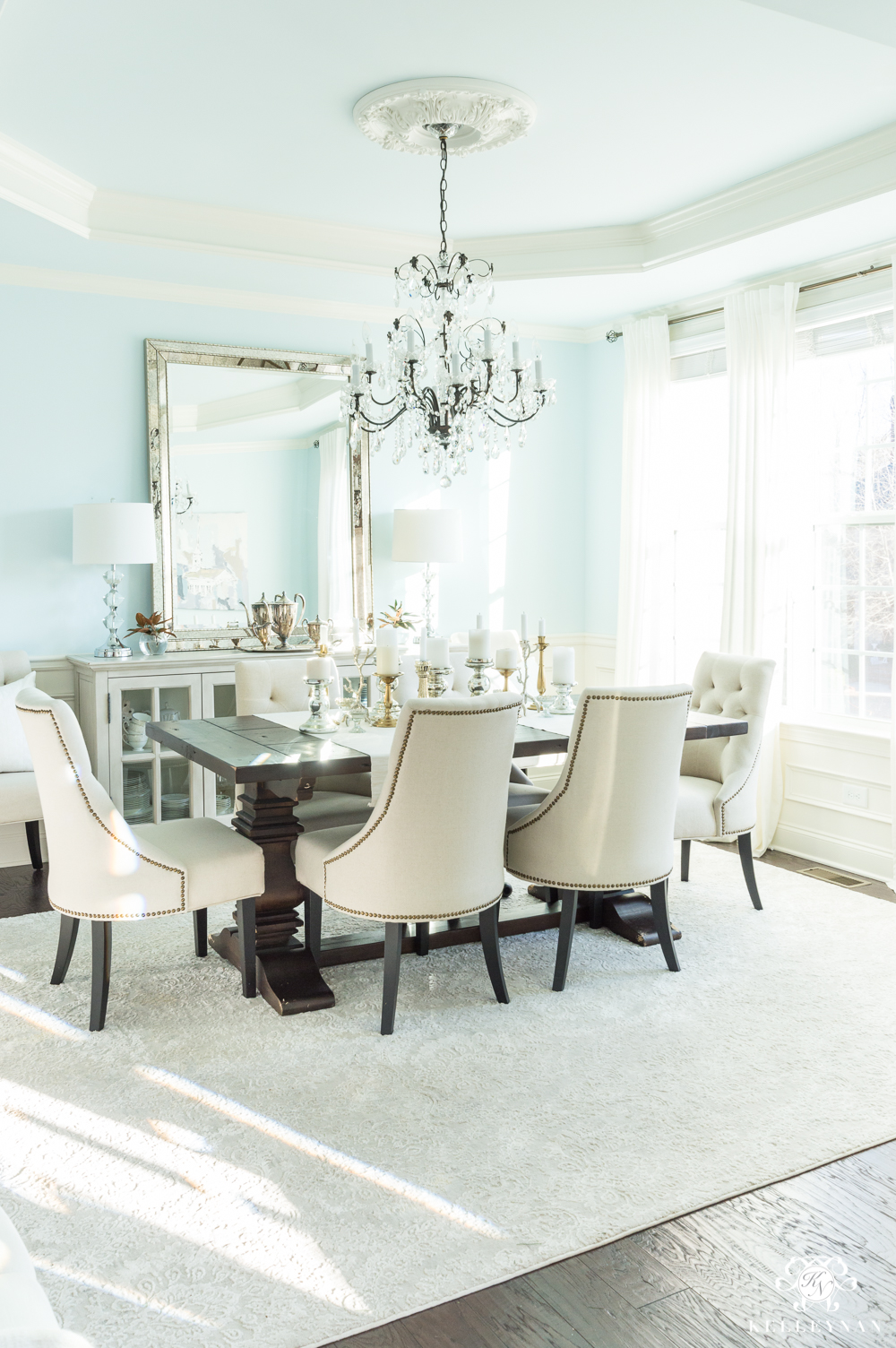 ---
Sources: Chandelier | Table (similar) | Chairs | Sideboard (similar) | Curtains | Mercury Glass Votive Holders| Pillar Candle Holders | Mercury Glass Candle Holders | Taper Candle Holders 
---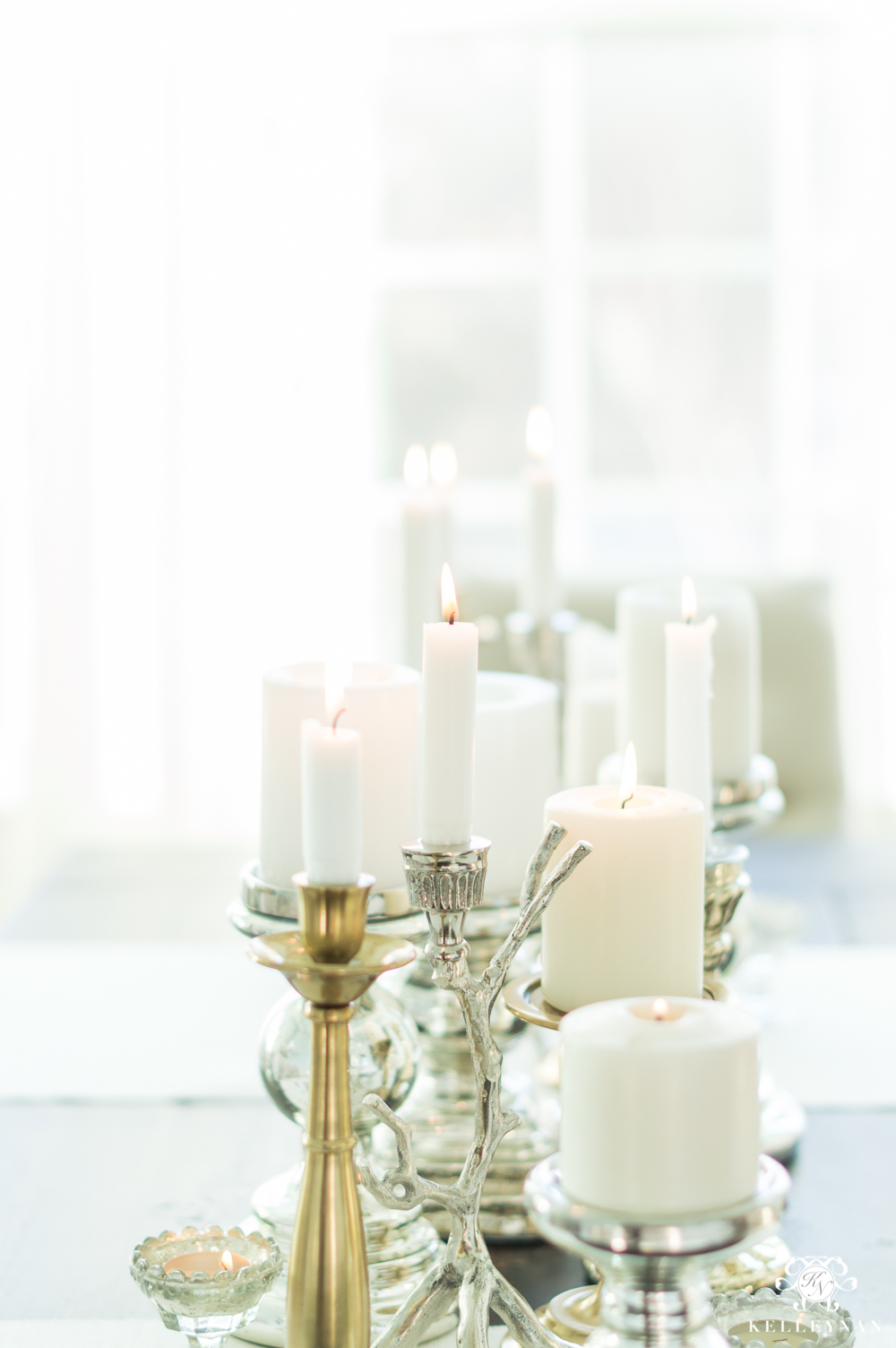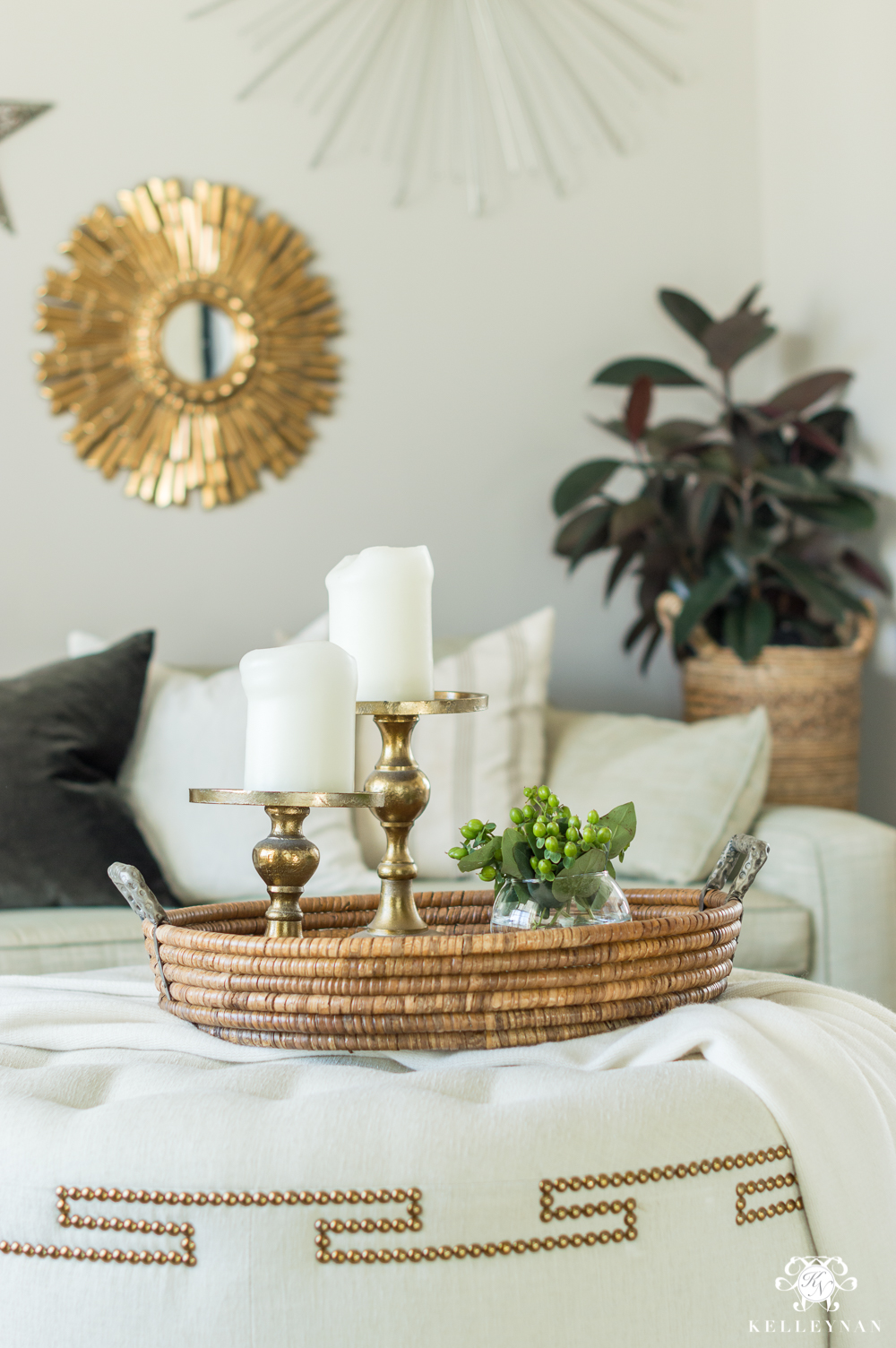 Now that we've successfully transitioned our surroundings, I'm almost ready to start bringing on the organization. I have a really fun post coming Thursday (one of my favorites ever; right up there with the Elf on the Shelf 😉 ), and then next week, my pantry overhaul will be going live. In the meantime, you can take a peek at past organization projects in the gallery HERE. If you aren't already, sign up to receive my email updates at the bottom of this post to make sure you don't miss a single upcoming project!