I asked the question on Instagram stories about a week ago and polled everyone to see the most popular guesses for May's "Board of the Month" theme. Several guessed correctly and among the mentions were:
May Day
Memorial Day (patriotic)
Floral
End of School
Quarantine
… but there's no board quite like a Cinco de Mayo board so today, I'm sharing my take on a make-your-own-nachos bar! Like I mentioned last month, if you aren't even thinking about entertaining or having a big, special family celebration, you can pin/save for later 😉 Obviously, it doesn't have to be Cinco de Mayo to pull together chips, dips and all the toppings and I never turn down an opportunity for a fiesta theme. I think I've shared this before but I actually graduated college on the fifth of May and had a full blown Mexican themed graduation party to mark the occasion. Whether you're hanging with family or friends, this board is a guaranteed hit any time of year.
*Posts on KelleyNan.com may contain affiliate links. Click HERE for full disclosure.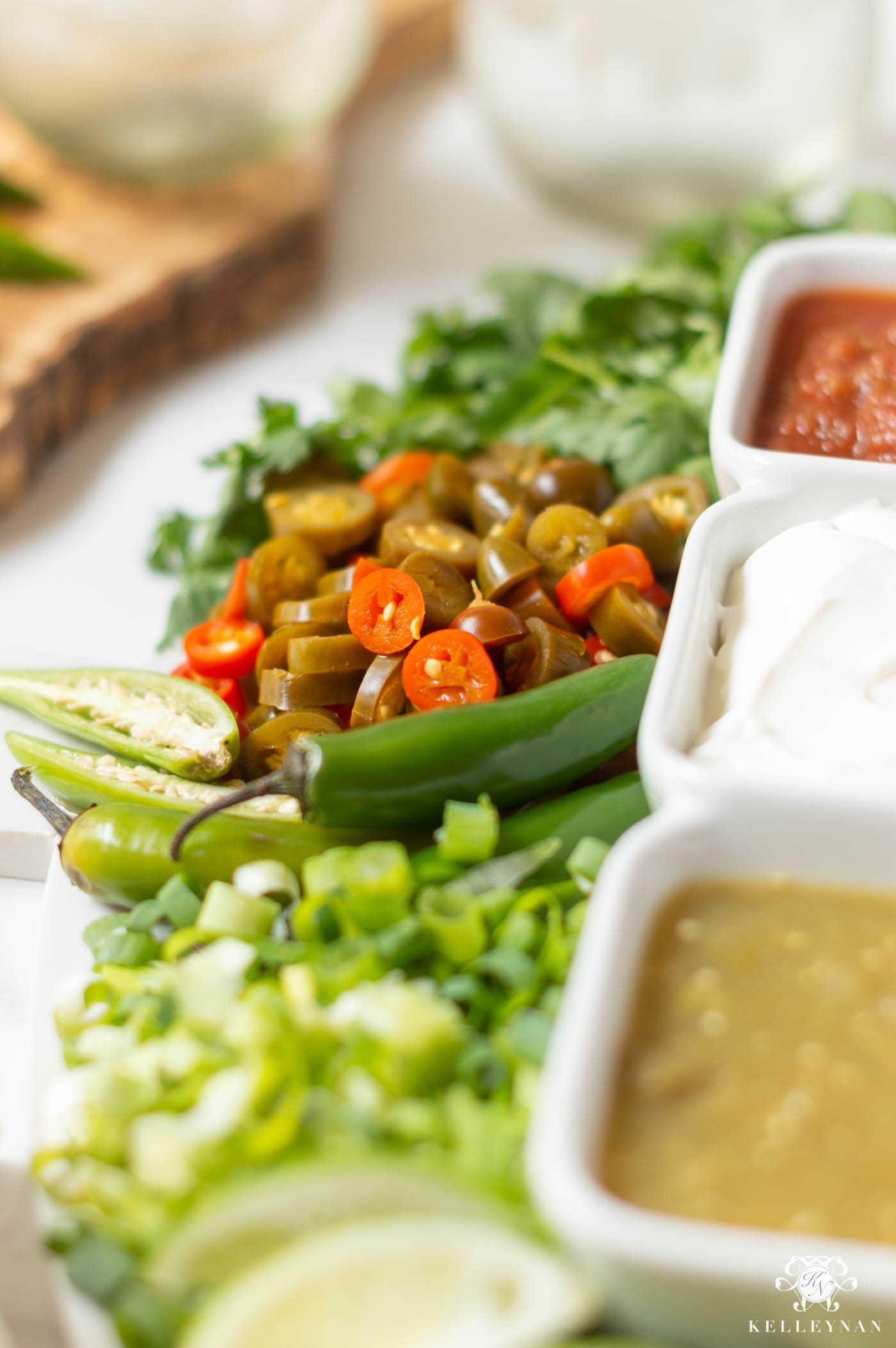 Make-Your-Own-Nachos-Bar (Board)
While I went for "the more toppings, the better", you can totally curtail your ingredient list and quantities, depending on how involved you want to get and how many you're entertaining. After pulling together 19 different sauces and nacho toppings, here's the end result…
Aside from some dicing and chopping, there's not much prep involved. You can opt to whip up your own guacamole (see the BEST recipe HERE), queso, pico, etc., or, take a shortcut and grab it prepared from your grocery store.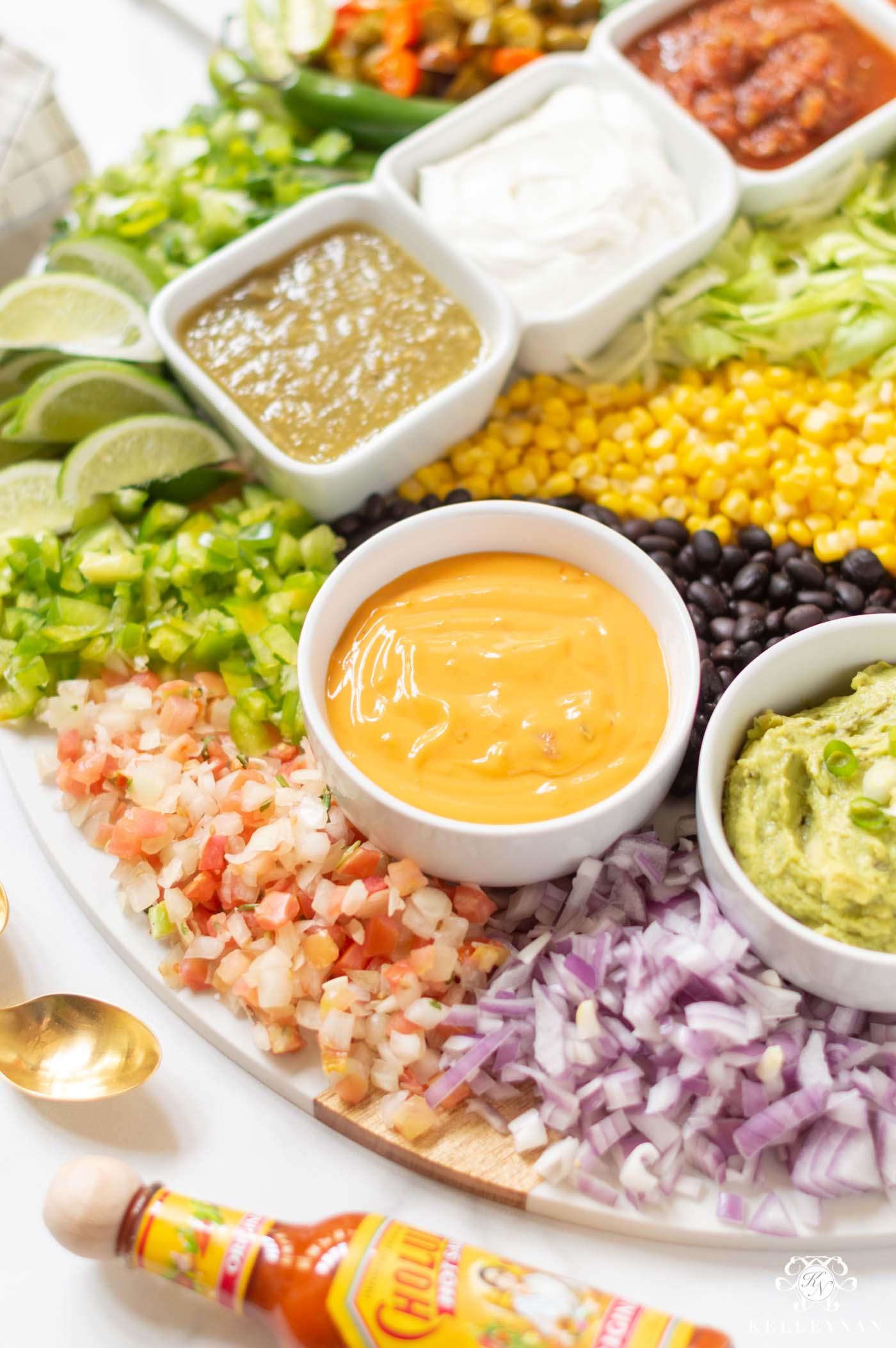 If you want to expand your nacho board into tacos or taco salads, you can add a crock pot of shredded chicken or ground beef nearby. Even those this is a grab-as-you-go nacho board, you could totally take it a step further and turn this into taco accompaniments.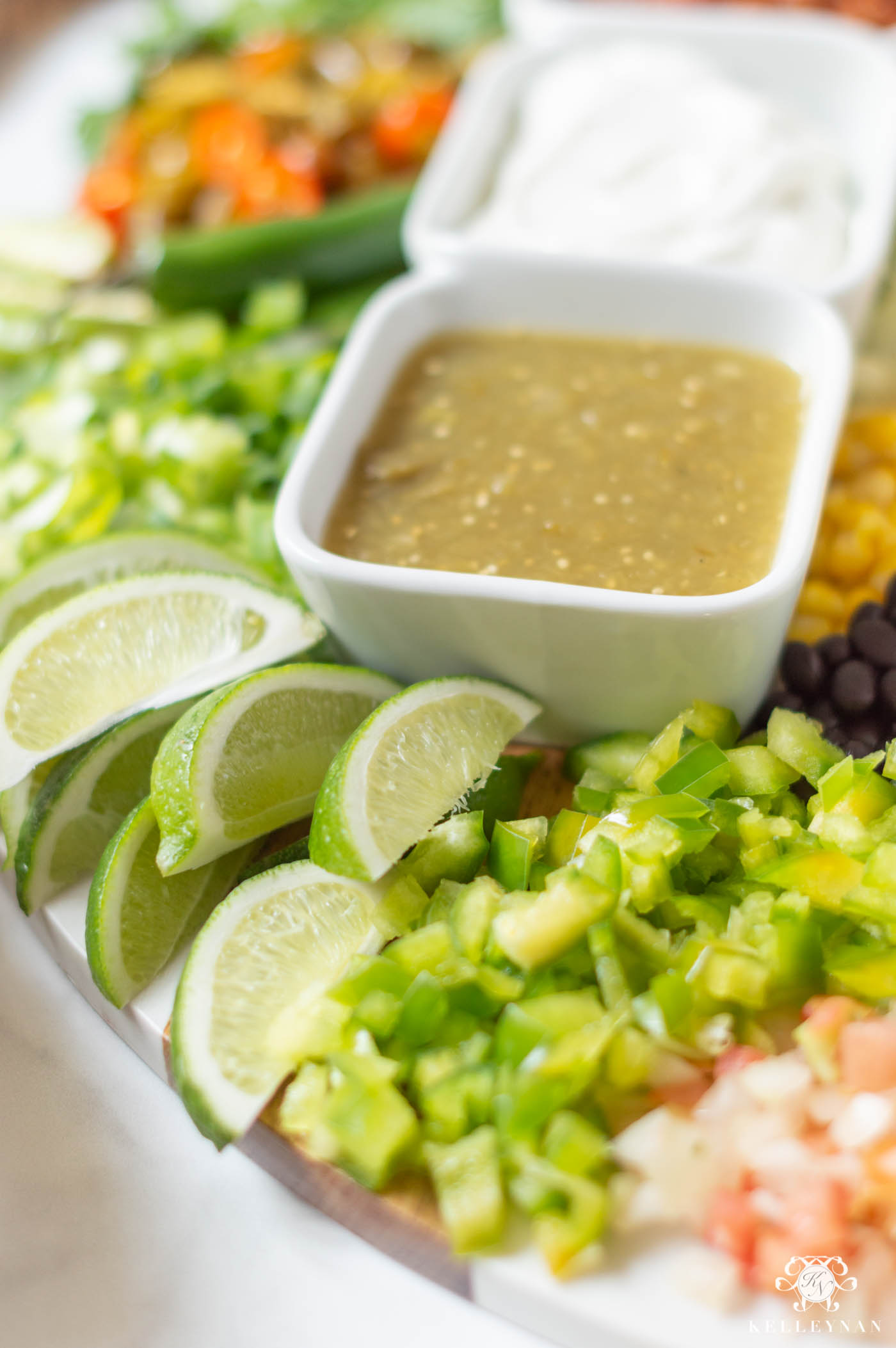 Here's a breakdown of everything I used on this big, 23″ board — it isn't currently available but you can sign up for restock alerts HERE.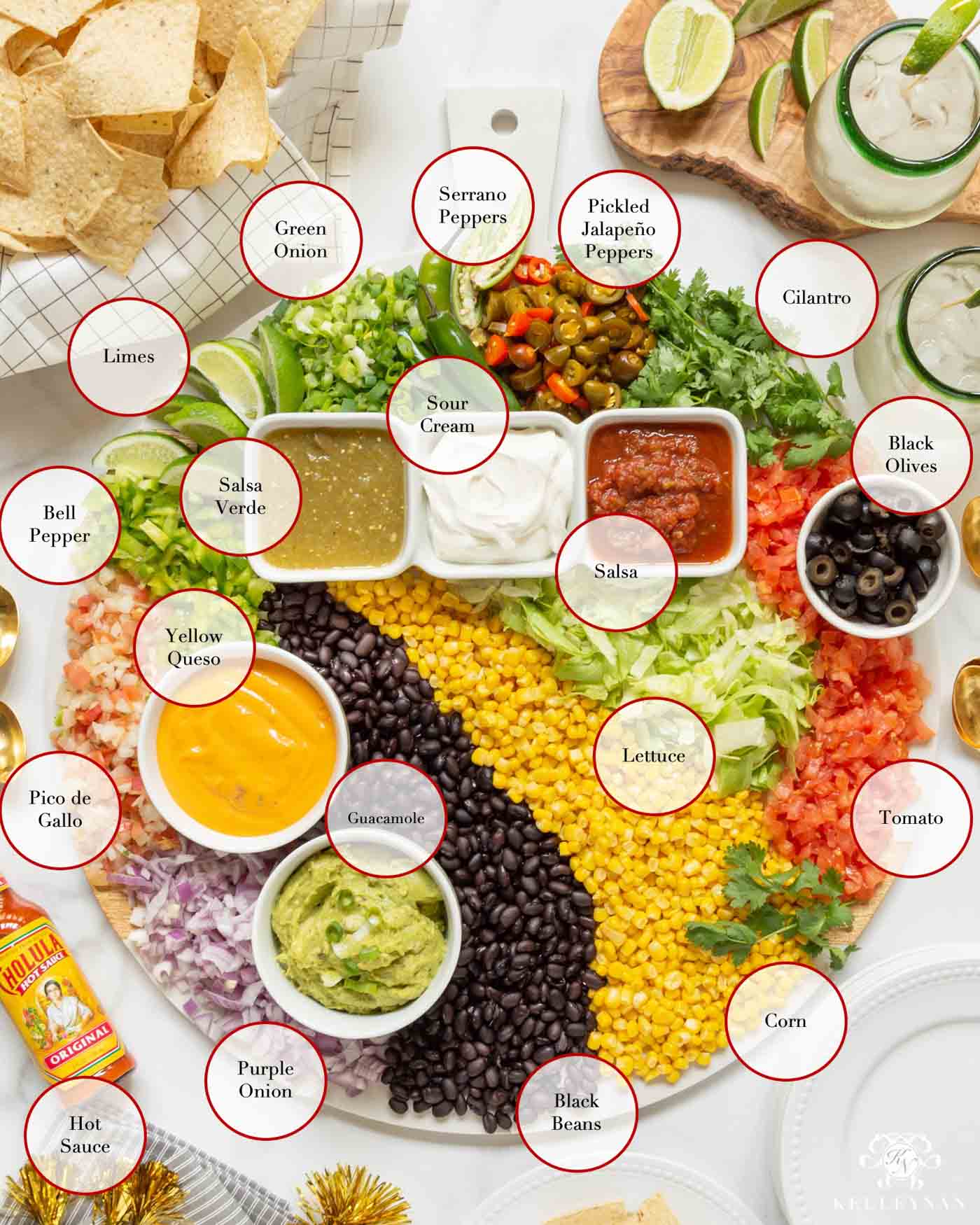 If you're serving this for several, I would have extra on hand, prepped/chopped, in bags in the fridge for replenishing — especially with some of the more common toppings (salsa, cheese, lettuce, tomato…)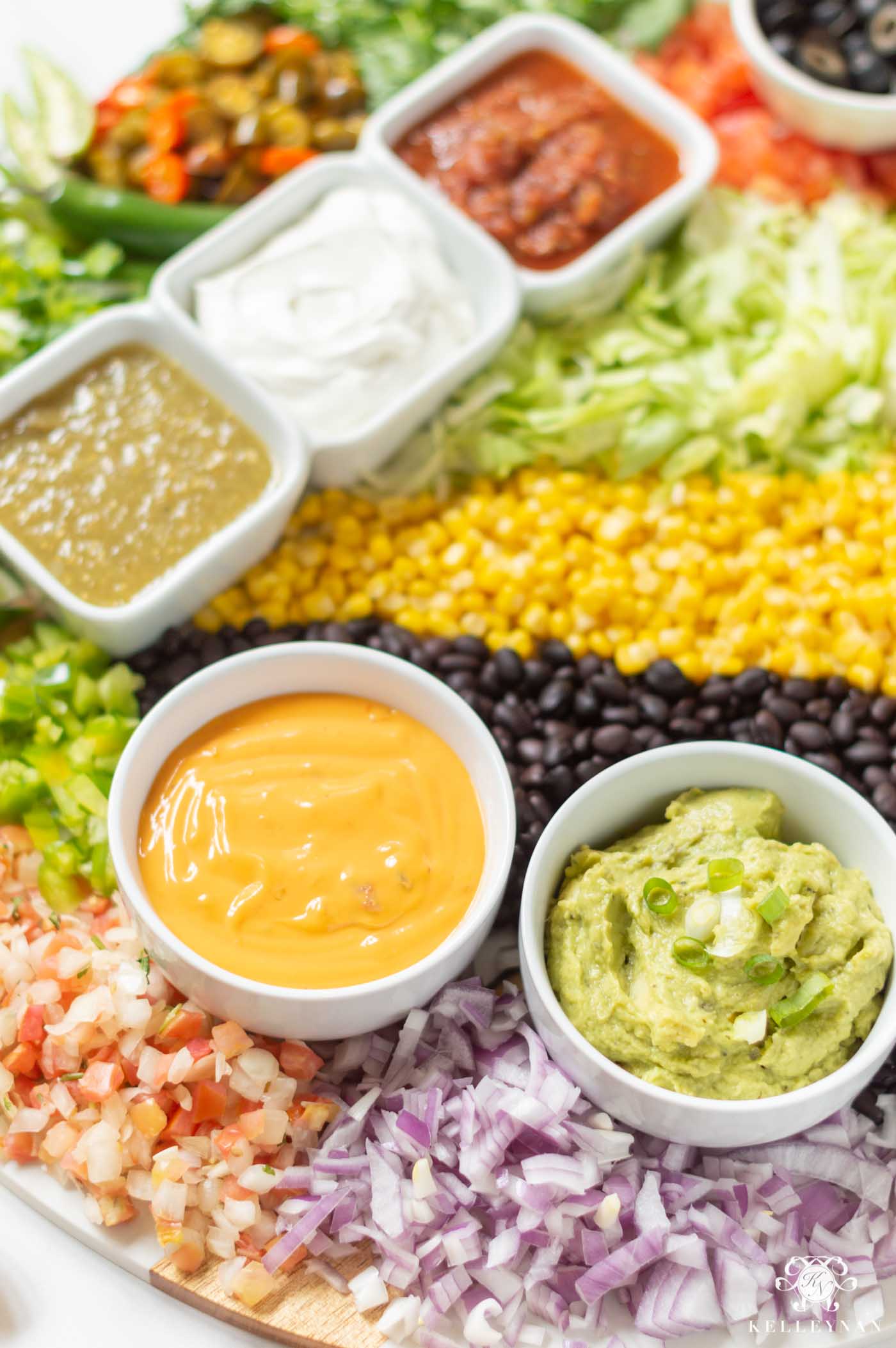 I'll be back next month with a new board and fresh ideas and while I'm not going to share just *what* the theme is, it is based on Father's Day 😉 To catch next months Board of the Month when it comes out, be sure to subscribe HERE.
Scroll & Tap for a Few Fav Boards

A FEW MEX RECIPES YOU MAY LIKE
A FEW OTHER BOARDS YOU MAY LIKE