Friends, do you remember when my brother planned his proposal over Thanksgiving and asked me to photograph the special moment? (SO fun!) Fast forward to a few months later when Mama Nan took on the responsibility of hosting a bridal shower for the bride-to-be. She asked if I would mind helping (um, playing with cute party supplies- totally in!), but since we live over six hours away, most of the planning took place over coffee via Saturday morning conference calls. The shower was held in south Alabama two weeks ago and even though Mama Nan and I had made a collective list of needed items from my house, at the last minute, my case of the "what-ifs" spiraled out of control when I was loading the car. Vases, platters, lanterns… if I thought it was a possibility, I stacked it in the car (Jenga-style). I swear I witnessed a miracle, cruising to south Alabama, loaded to the gills with unprotected glass and ceramic- not a single chip or break. Have you ever hosted a shower? If so, you probably already know, there is way more planning and work than what guests may see. A few things were established up front. The location was set to be at my mom's home from the beginning, it would be indoors (south Alabama heat in the middle of summer?!), and the loose theme would be a garden party of sorts. From menus and table styling to invitations and games, today I'm sharing all the details and hopefully, you'll get some ideas to throw an indoor garden party bridal shower of your own.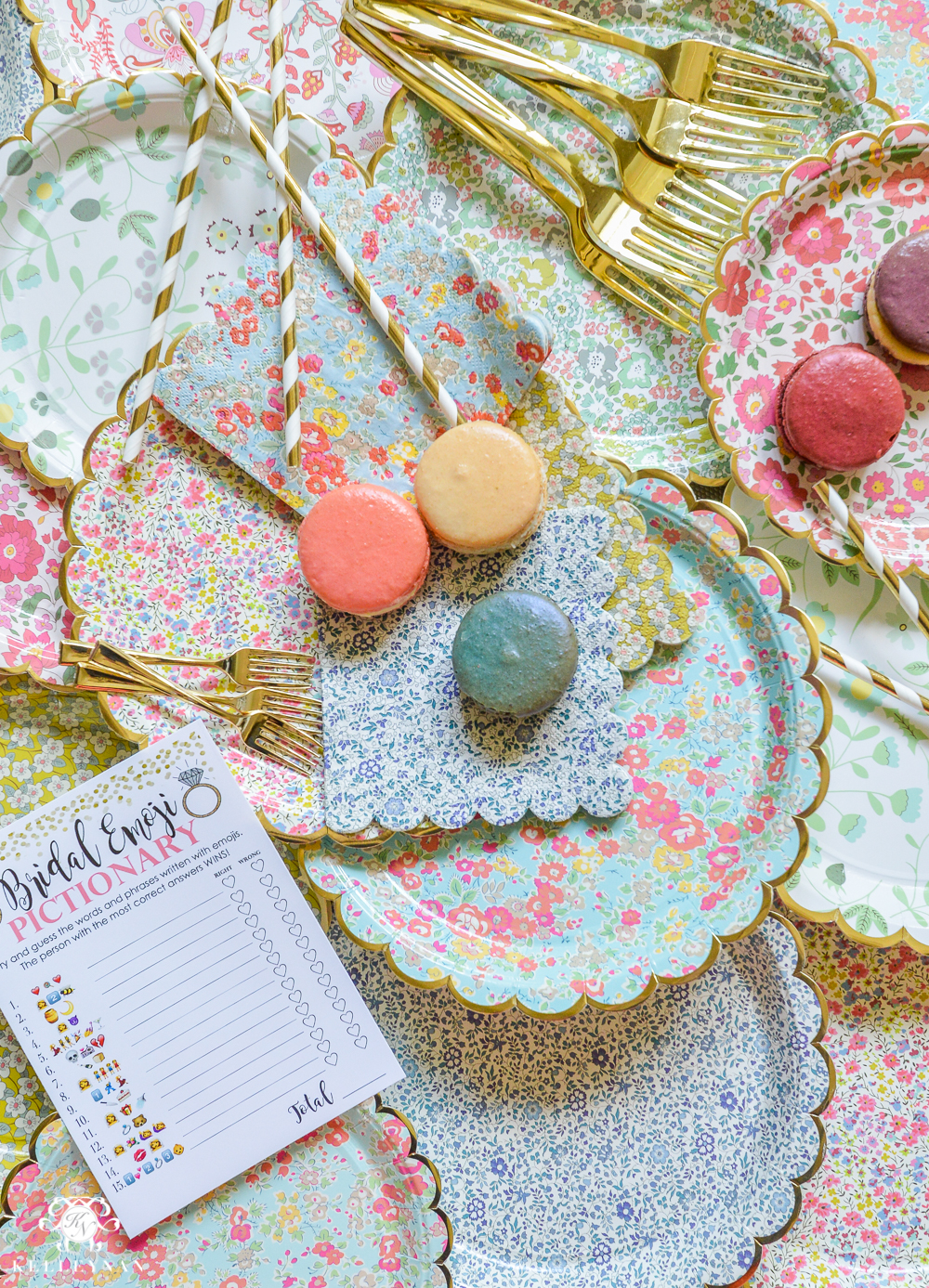 *post contains affiliate links*
Once the date was established, I had the bride send along a guest list. The invitations are the first impression of the event and can be as elaborate (have you seen the butterflies a la Bridesmaids?!) or simple as you want. But, this is your first chance to have fun with some creativity. I won't re-hash all the details since I shared all the details on the invitations in THIS POST, but we did include recipe cards in each invitation so the bride could have a special take-home. I found this Kate Spade recipe card box and purchased a pack of extra cards so my new sister in law could expand her collection. I opted for these watercolor floral invitations and matching monogrammed stamps. The full assembly and card details can be found in the previous post HERE. Bonus, if you have never used Minted, you can upload your address list (in Excel spreadsheet format) for complimentary, pre-addressed envelopes. This saves a ton of time.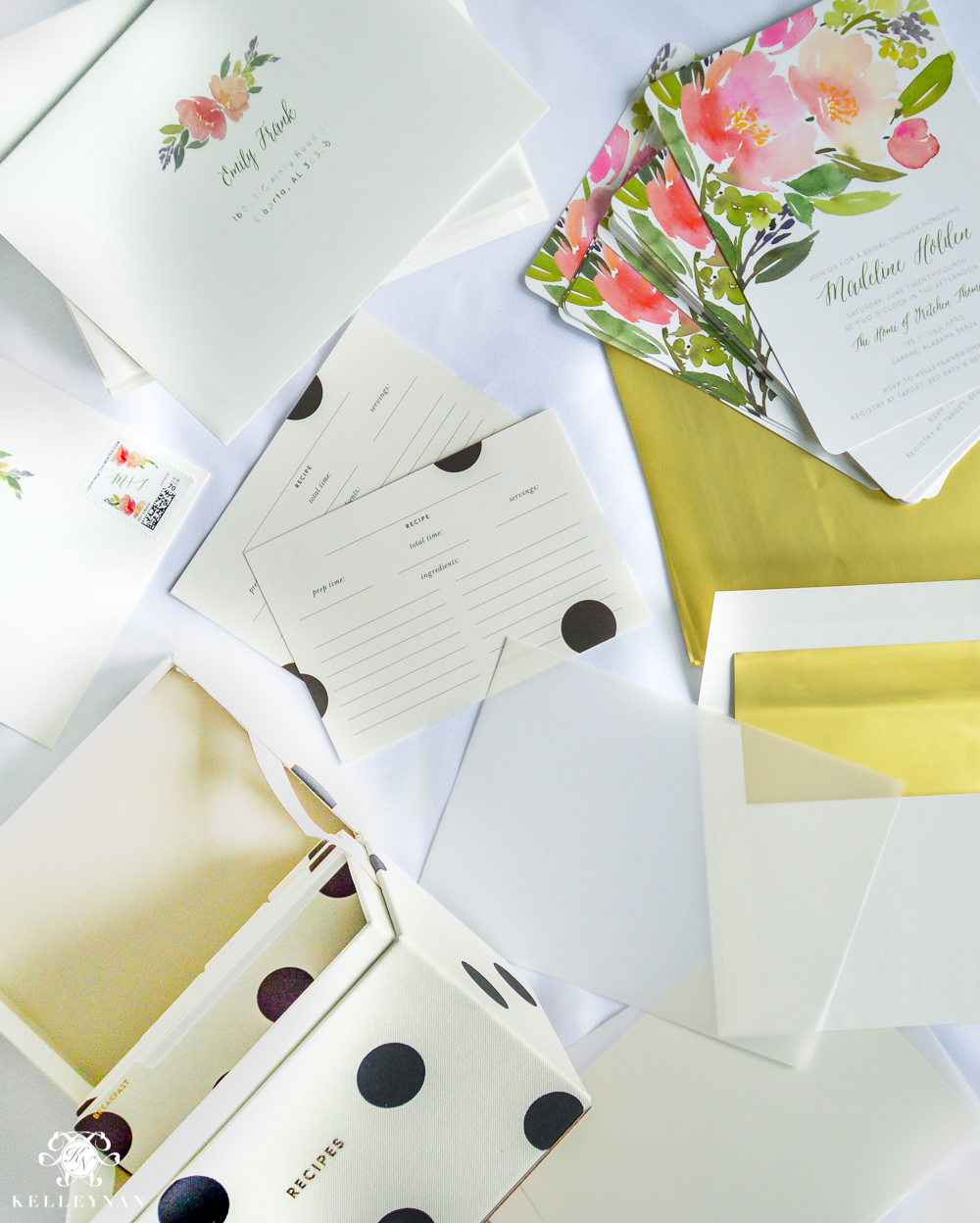 *SCROLL & TAP BELOW TO SHOP*

Instead of decorating the entire house, we had "zones". You can concentrate on each of the zones instead of just putting a little bit everywhere. We set up a sign-in table just inside the front door – yes, we had the box of recipes so guests could drop their special cards but we also had a little sign-in book for wishes and tips. This doubled as the notebook the maid of honor used to log each gift. I remember being engaged and loving anything monogrammed with my future initials. We ordered a simple notebook (HERE) she could use throughout her planning process, with her future monogram.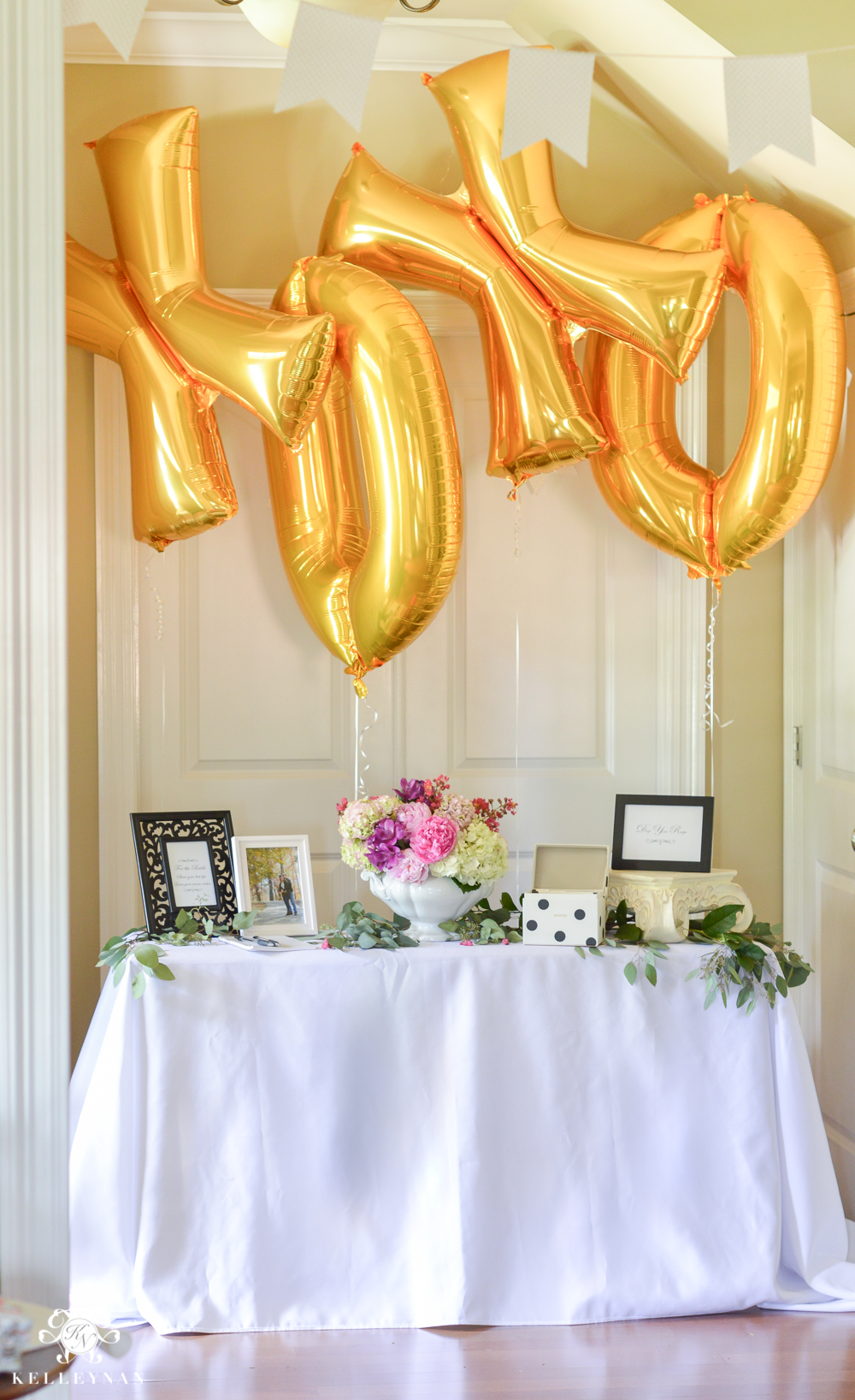 The gold balloons were HUGE (and I loved them) but if you plan ahead, you can order them (or a smaller variety) for far cheaper than what you pay at Party City. If you do go the Party City route, be ready to pay over $10/balloon and make sure to search for coupons! If you have access to helium or purchase your own little tank, here are some options that are a fraction of the cost.
*SCROLL & TAP BELOW TO SHOP*

We bought bunches of peonies, hydrangeas, and a few other garden varieties to split into arrangements throughout the "zones". I lost a few the morning of the shower and headed to the yard to snip a few crepe myrtle branches to fill in some of the dead zones.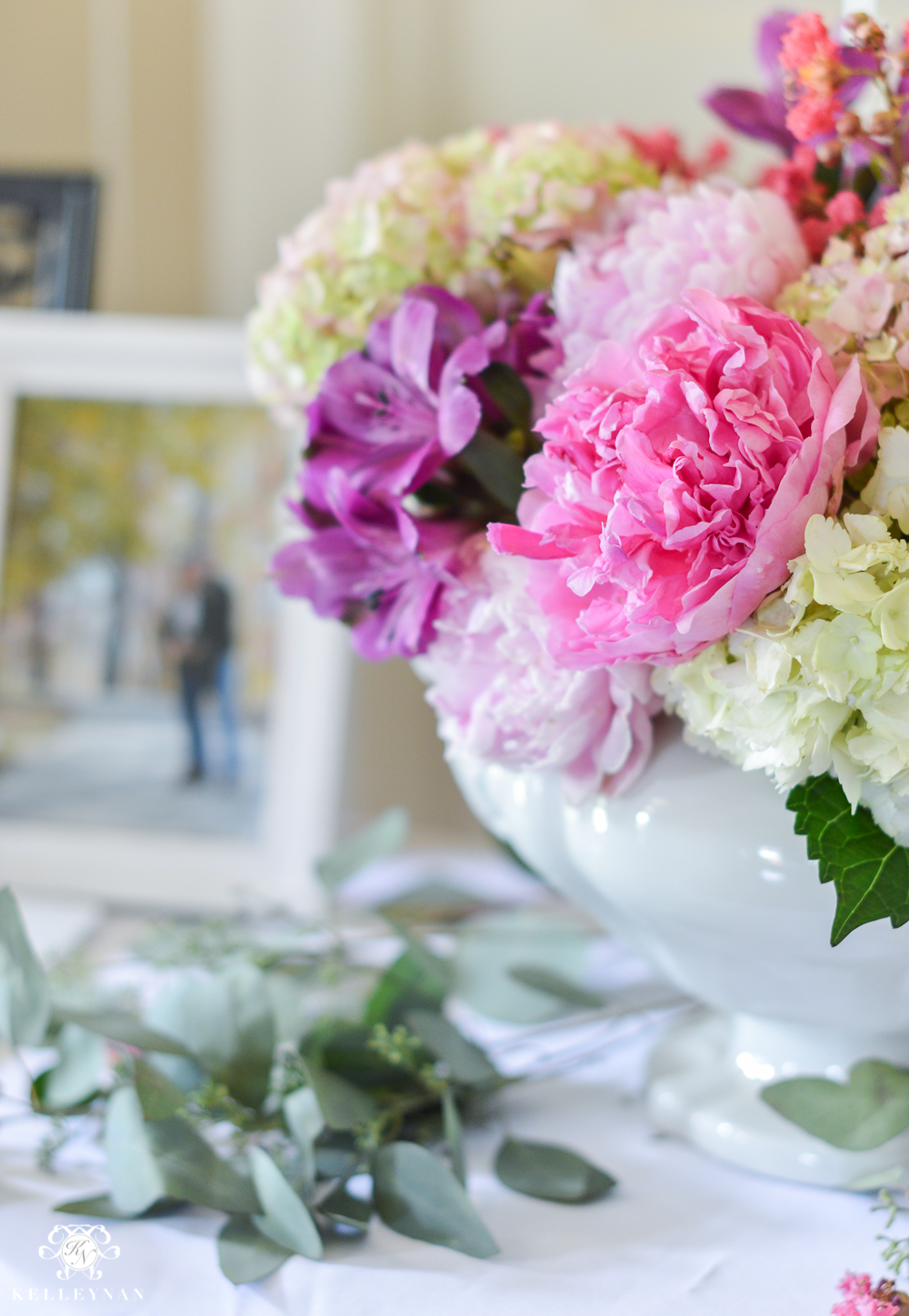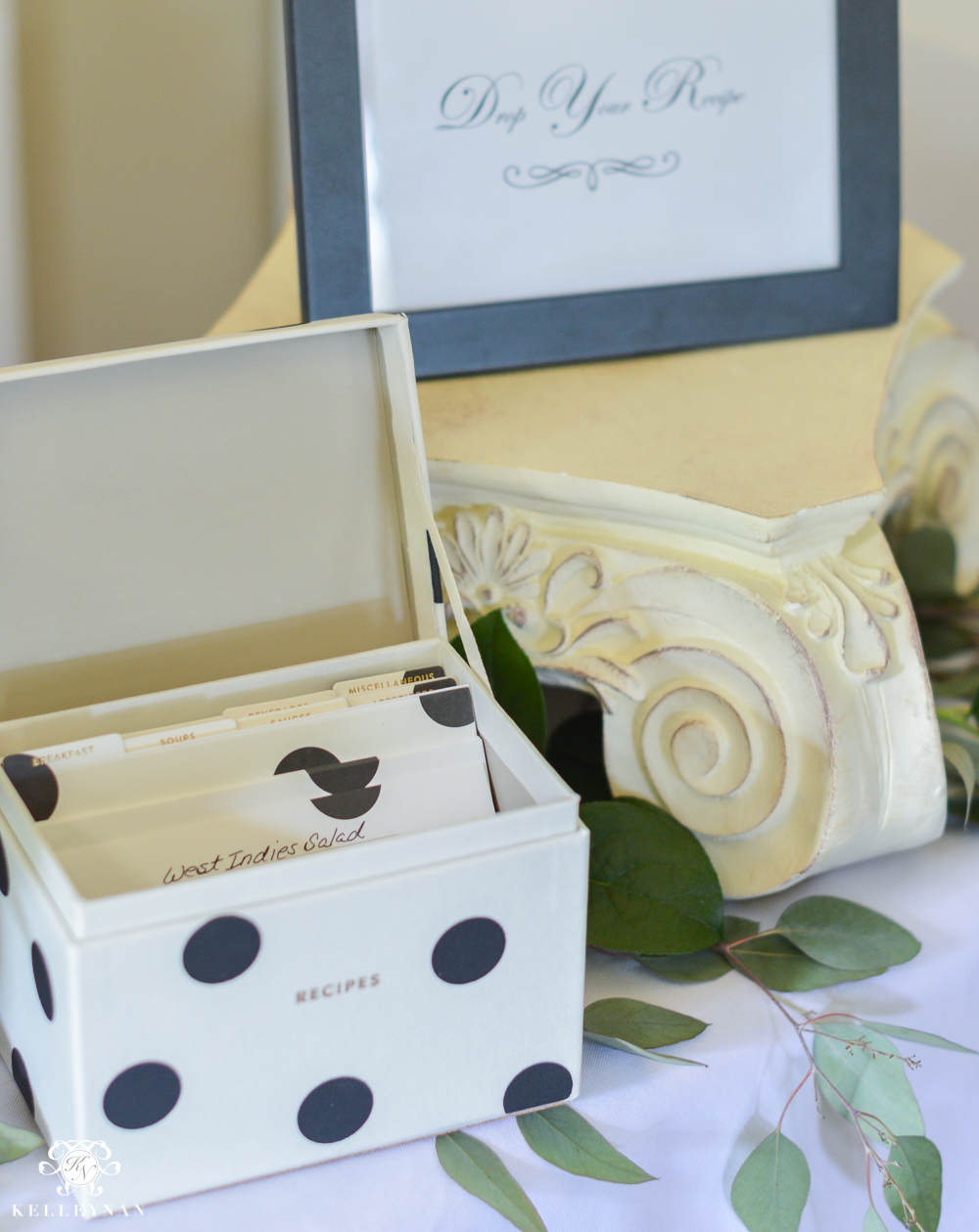 I also round up extra frames (or borrow frames already on display) to use as signage. I ordered engagement photo prints from Mpix.com a few weeks ahead of time. They are my favorite for price AND quality. Mama Nan had purchased those frames specifically for Madeline (the bride) to take home with her photo inserts.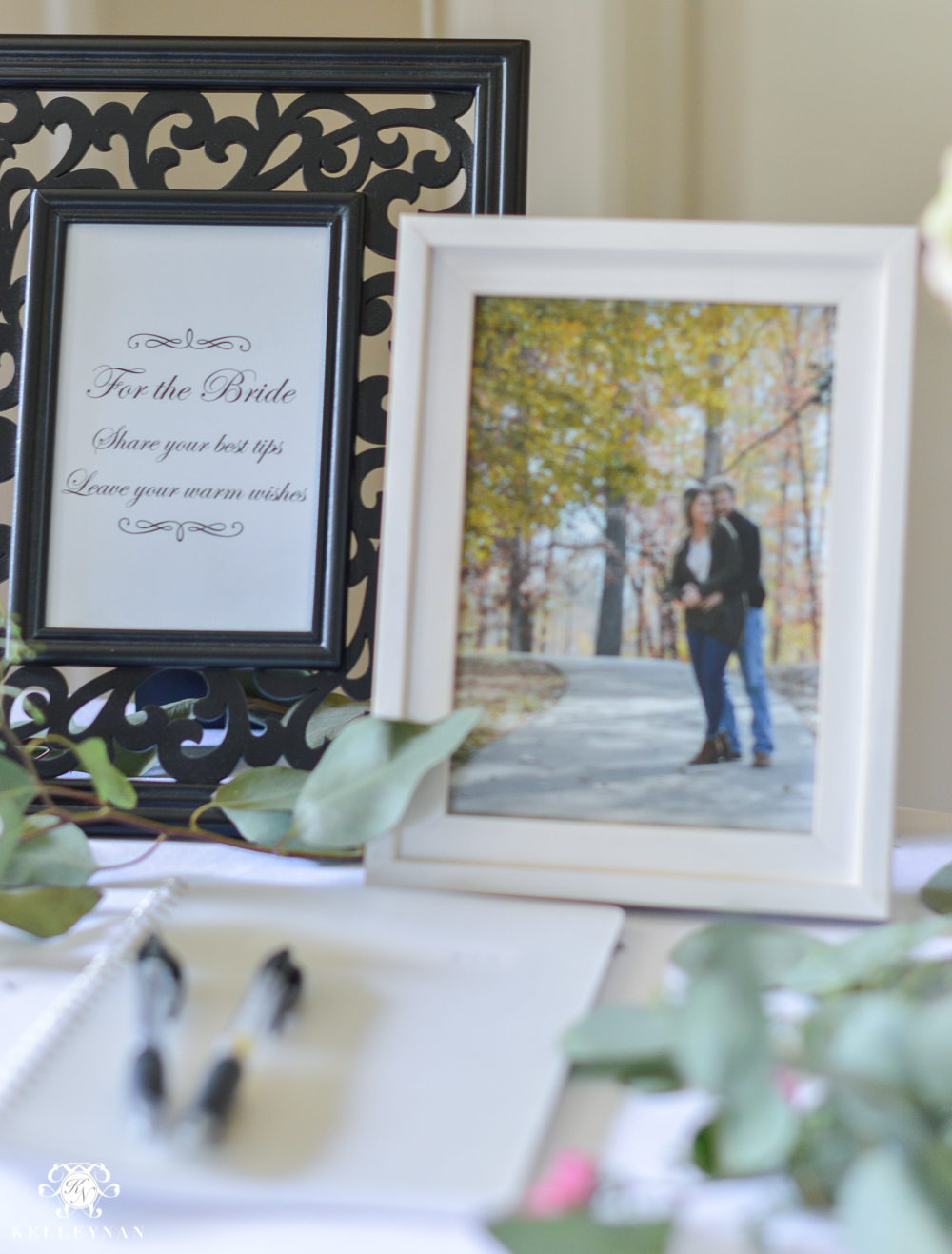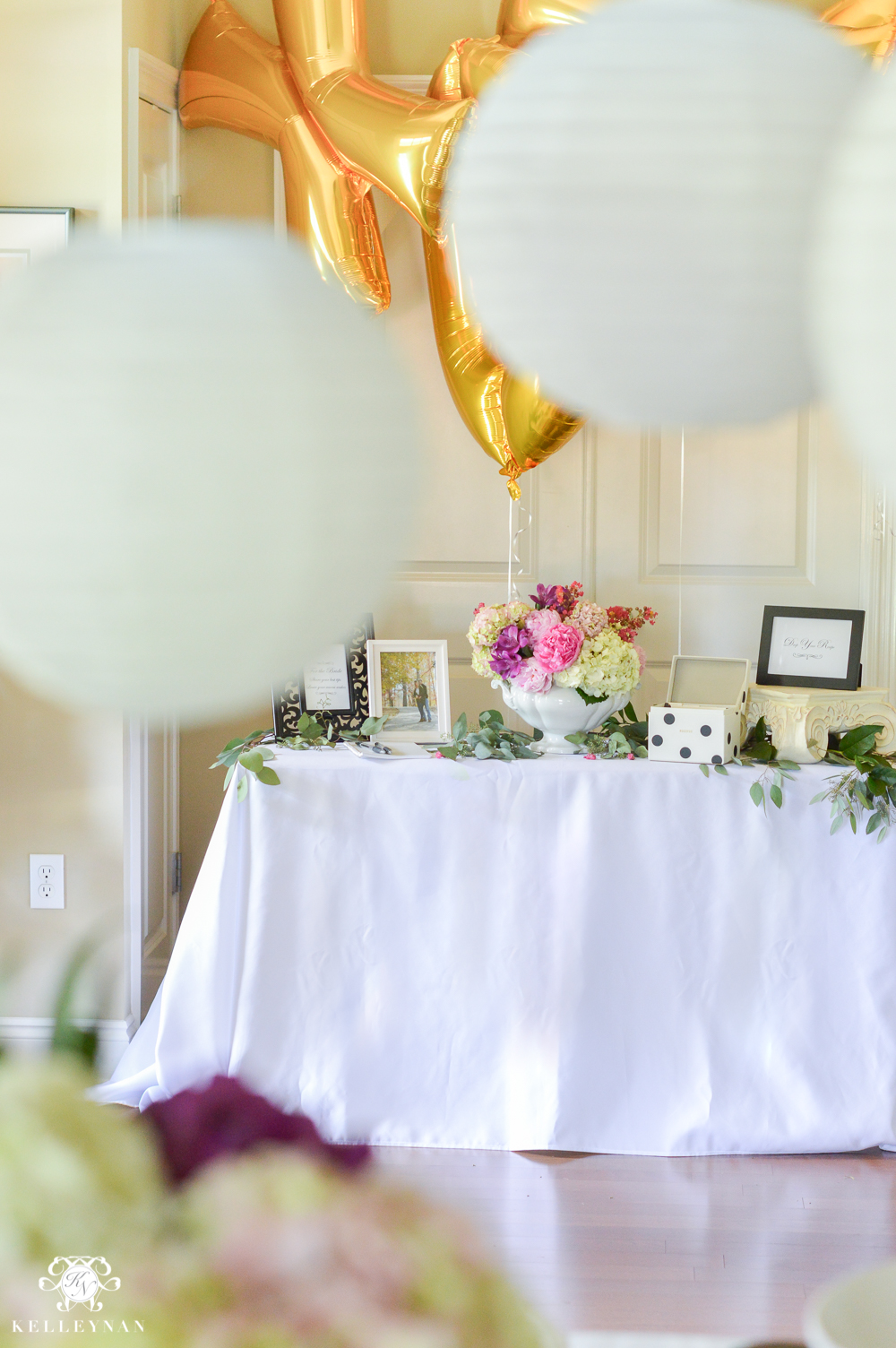 I wasn't sure how much luck we would have in the floral department so I stopped off at Trader Joe's on the way to Alabama to stock up on several bunches of eucalyptus. This stuff is inexpensive and makes it EASY to fill in bare spaces. Madeline had commented on THIS TABLE I had styled for Valentine's day so I wanted to give her a little hint of that in her shower.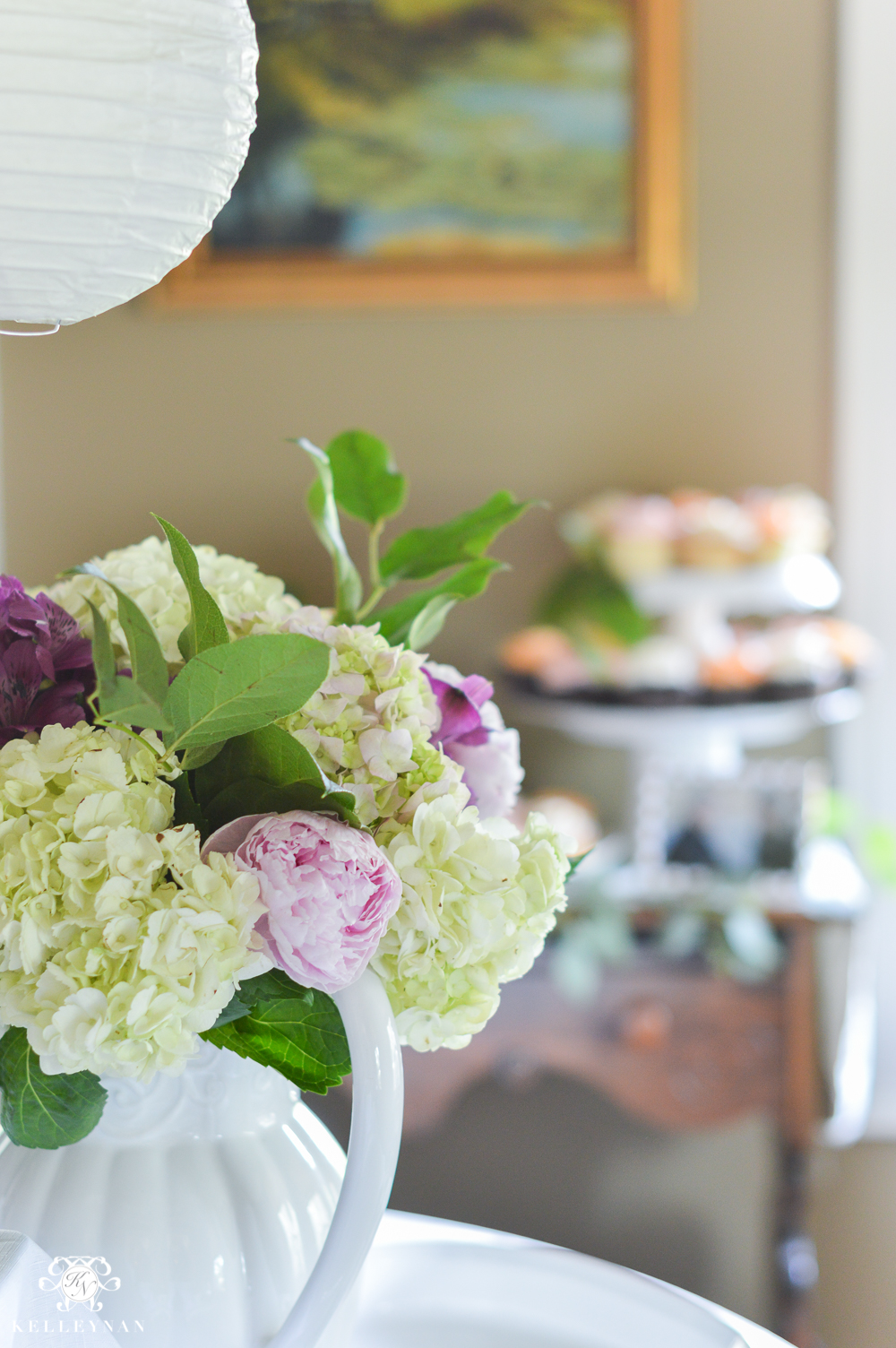 The area "zone" that probably took the most planning was the dining room – where the food tables were displayed.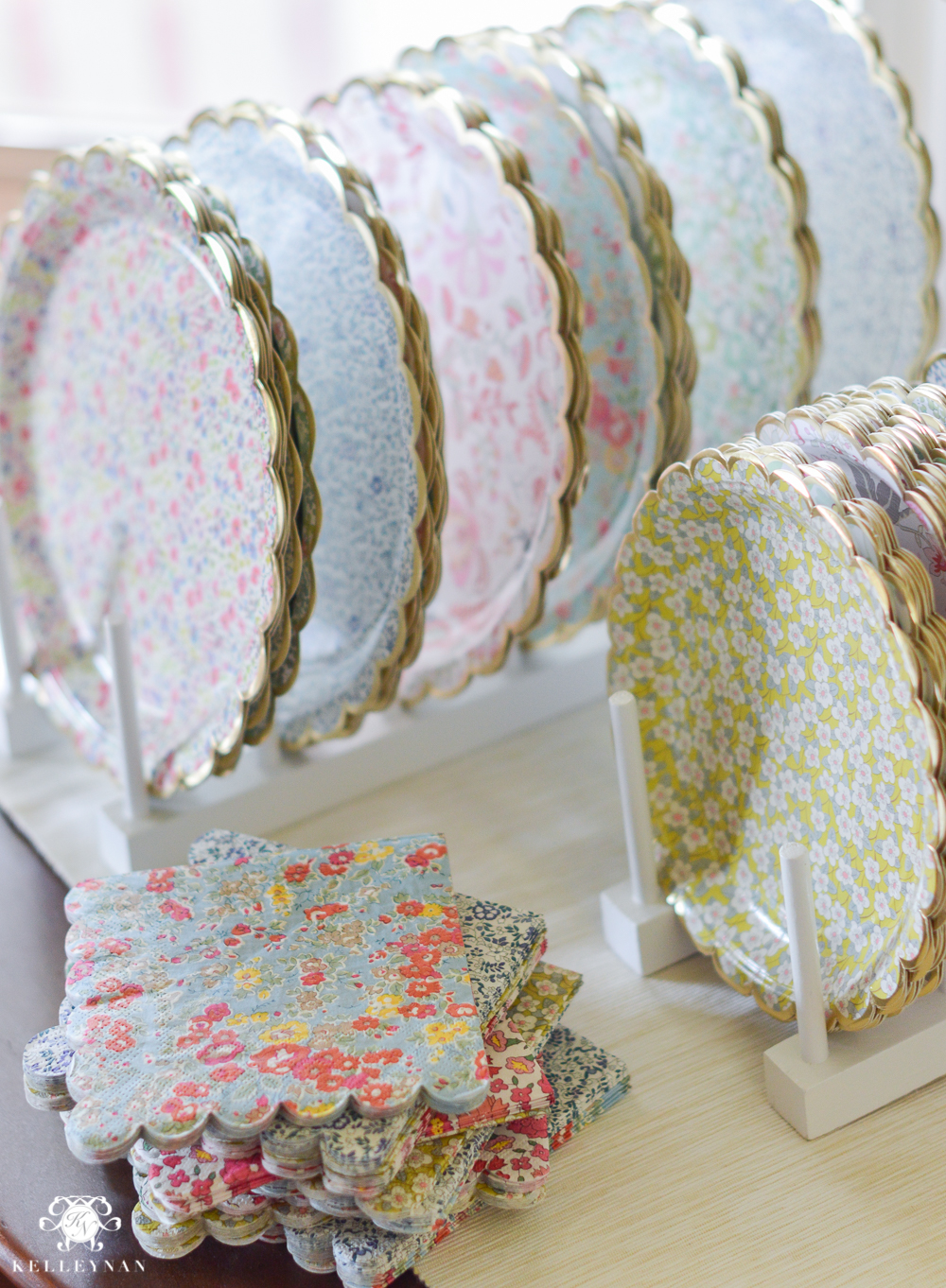 When I shared these adorable plates and napkins from CrankyCakesShop on my Instagram stories during the party prep, most of you felt the same way I did- SO cute, right?! We used large plates (HERE) for food and smaller plates (HERE) for desserts and cocktail napkins (HERE) for everything. The floral patterns are all mixed with gold foil scalloped rims. If you are digging the pattern, the shop carries a ton of other matching party supplies HERE.
I didn't order these but LOVE the lanterns and fans in the floral.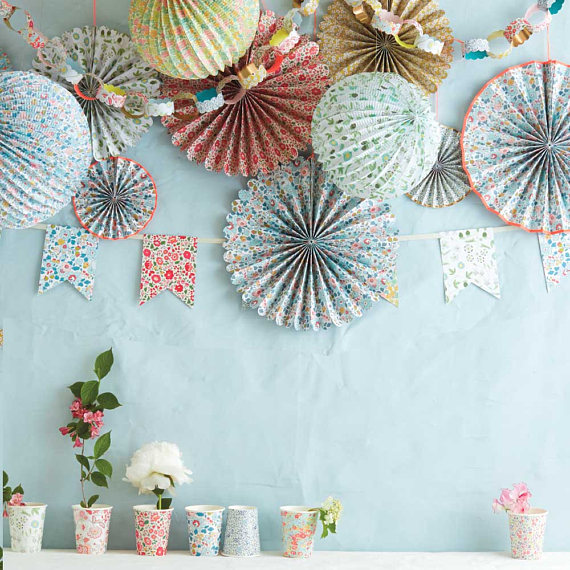 A couple years ago, a local Crate and Barrel was moving and had a huge sale – they were even selling their shelving, stock supplies, and customer shopping baskets. We picked up a few wooden plate racks for literally CENTS; Mama Nan revitalized hers in a bright white and came up with the idea of using some to display the paper goods.
*SCROLL & TAP BELOW TO SHOP*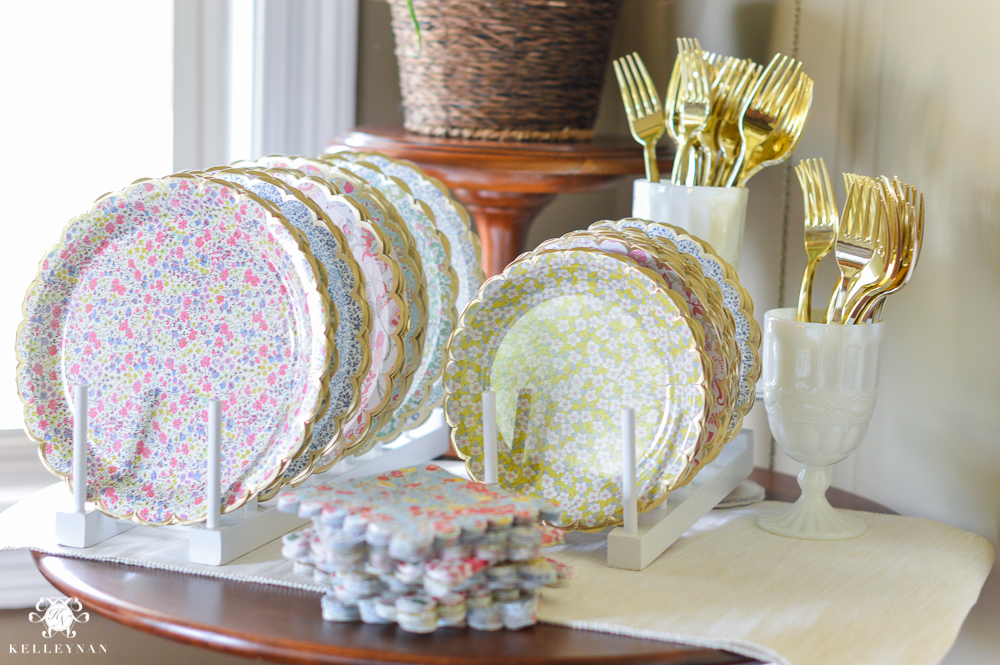 On the dessert table, we used several white cake stands and platters for truffles, cupcakes resembling flower blooms, and the little delights that stole the show- the authentic macarons from MacarOn Cafe, shipped down from Manhattan. Ok, I know this has to speak to some of you. If you are from a big city, you may not relate or think this is silly. But, the best reference I can give is to imagine the movie, Sweet Home Alabama. Now, put yourself in that movie and living in the south, being treated to fancy desserts that have been overnighted from NYC. Ironically, we were in south Alabama. In this story, I am young Melanie (Smooter not Carmichael) haha. I'm not saying country folks aren't used to fine things (I am definitely a "country folk"); but, when you are far away from "the big city" there is a "special factor" of having these little decadent dreams sent from a seemingly glamorous place. Kind of like going to California and wanting to buy one thing on Rodeo Drive, or being in Manhattan and wanting to stop in at Tiffany's on 5th Avenue. PS: They do ship anywhere in the U.S. if you have an event/special occasion coming up.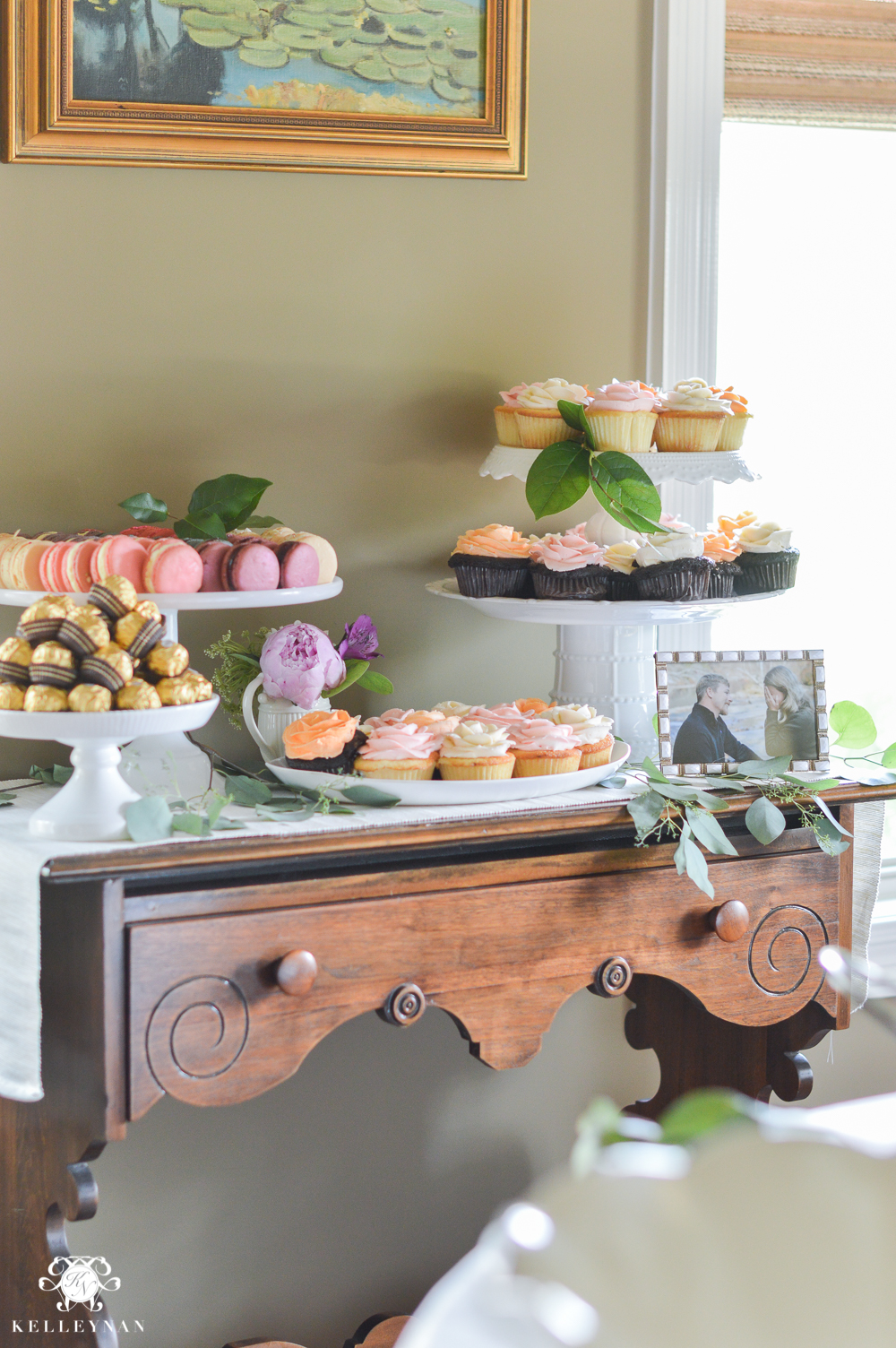 My mom had actually never had a macaron before (I'm so glad her first experience wasn't from the packaged HomeGoods variety), and I had only had them a handful of times. But, even having some made fresh at a fancy hotel did not come close to comparing to these. They come in all different flavors (admittedly, I chose by color first and flavor second) and ultimately went with Raspberry, Vanilla, Strawberry Smoothie, Wedding Almond*, Honey Lavender, Blackberry Violette, and Coconut*. (*these were my FAV flavors)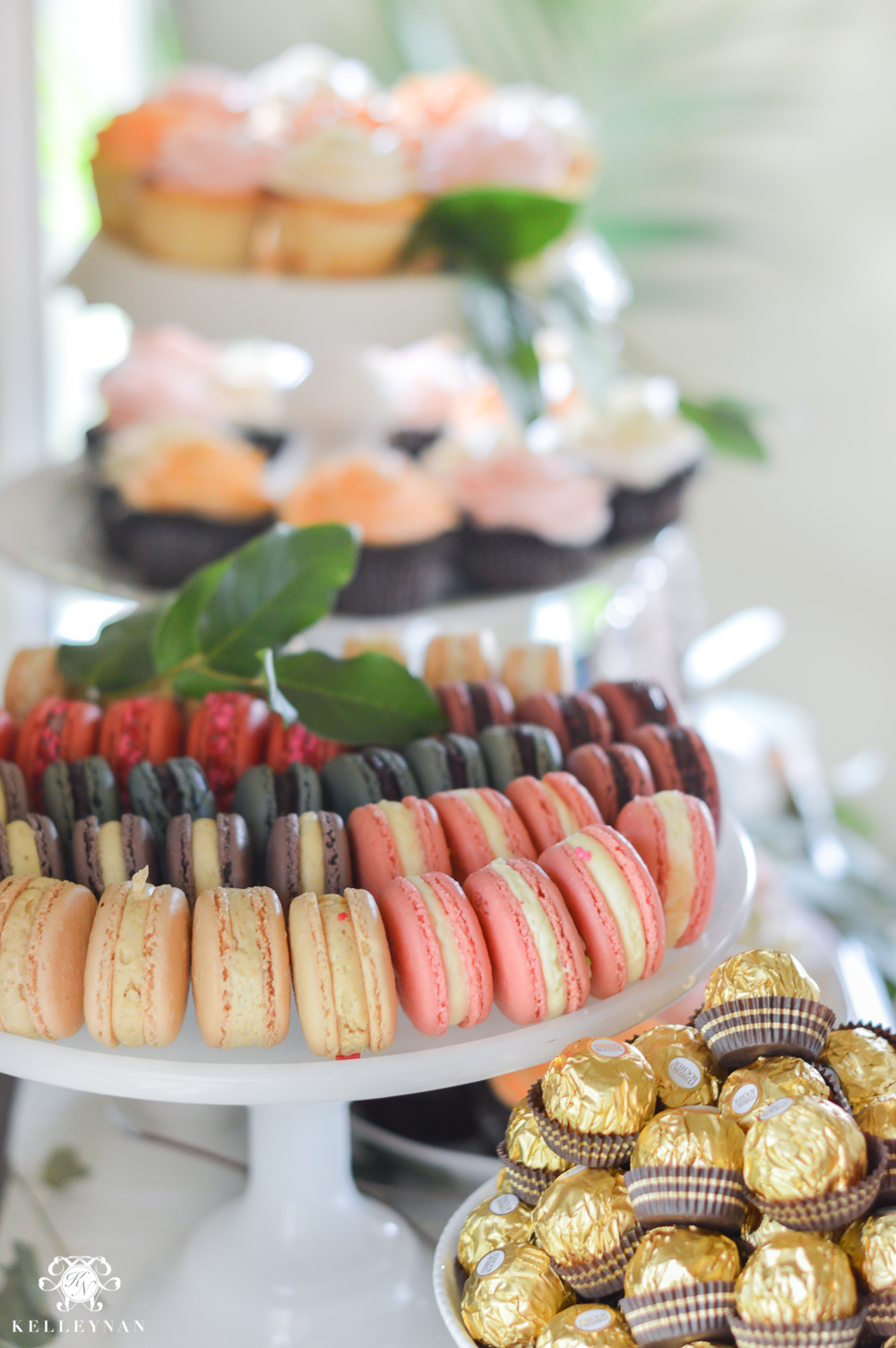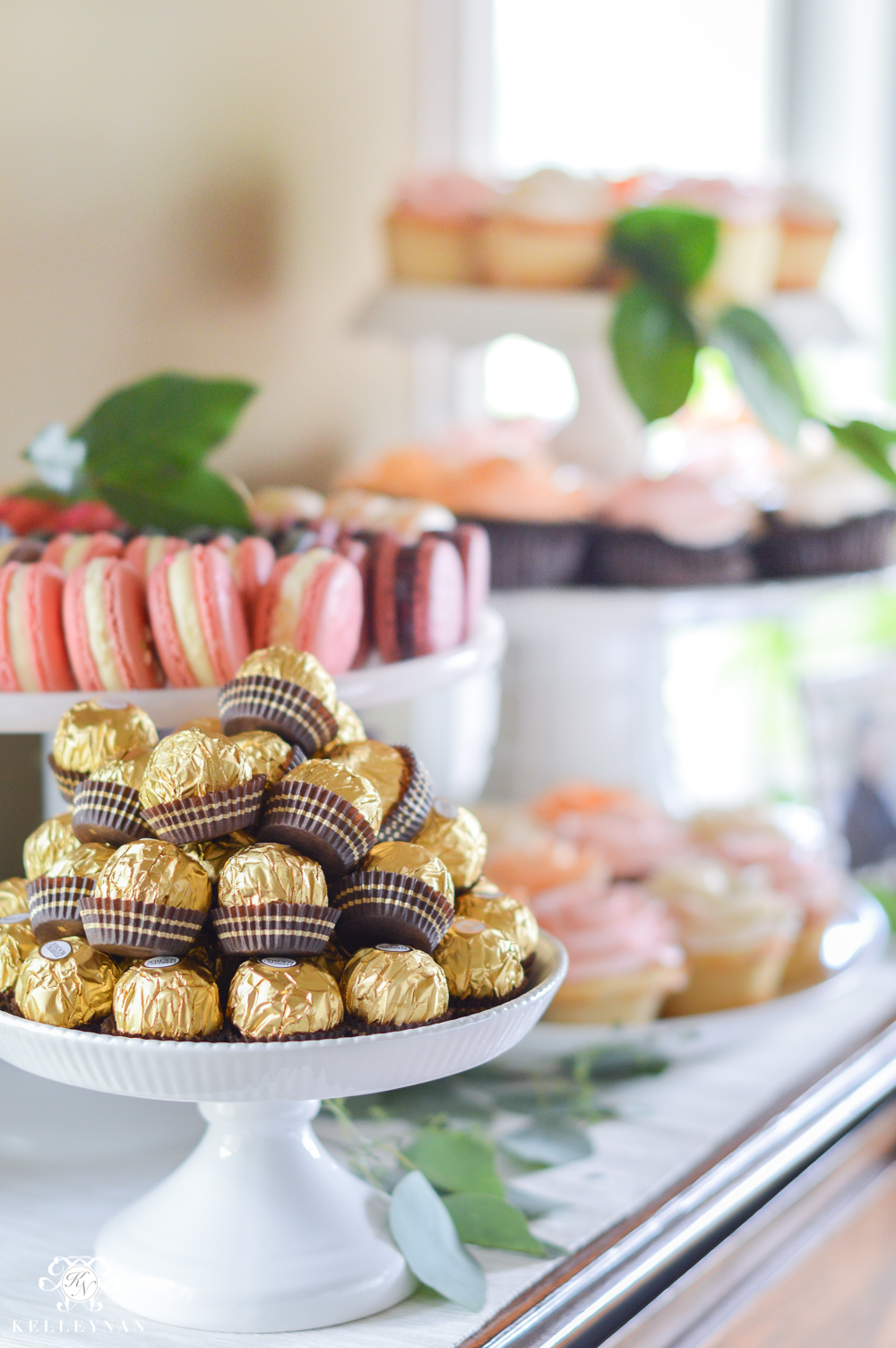 *SCROLL & TAP BELOW TO SHOP*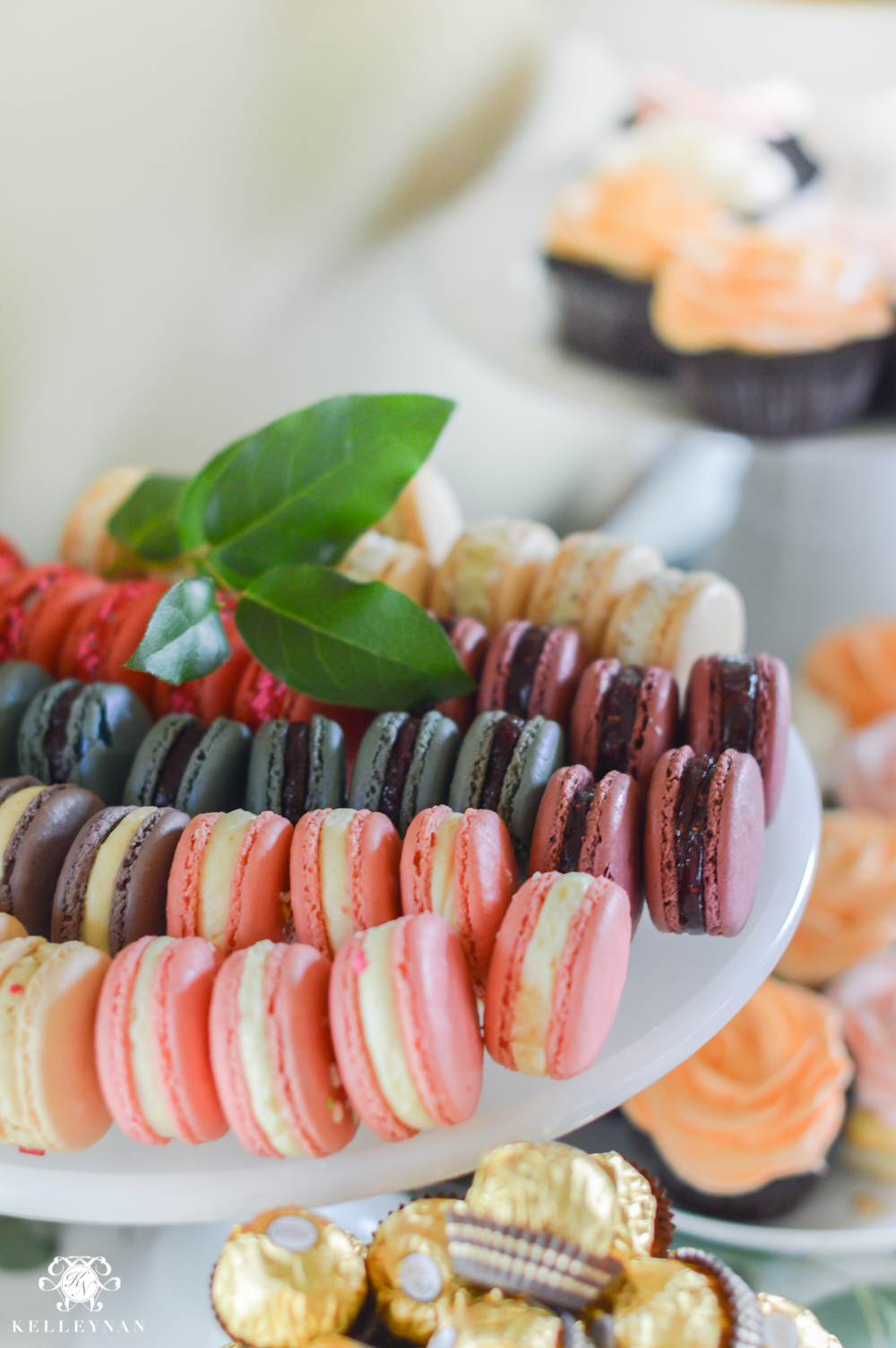 We staged the table the night before, assigning post-it notes to each serving piece so we could take inventory of what we had covered and where each piece would be stationed. We started with a white tablecloth before I added a stool, magazines, and a box for some elevation. (I also shared this process in my insta-stories. I share some of the specifics of my approach to setting a food table in THIS POST. Not a shocker here, we went with all white everything. My mom uses a lot of color in her home so having the white backdrop for the food makes it stand out more as a presentation.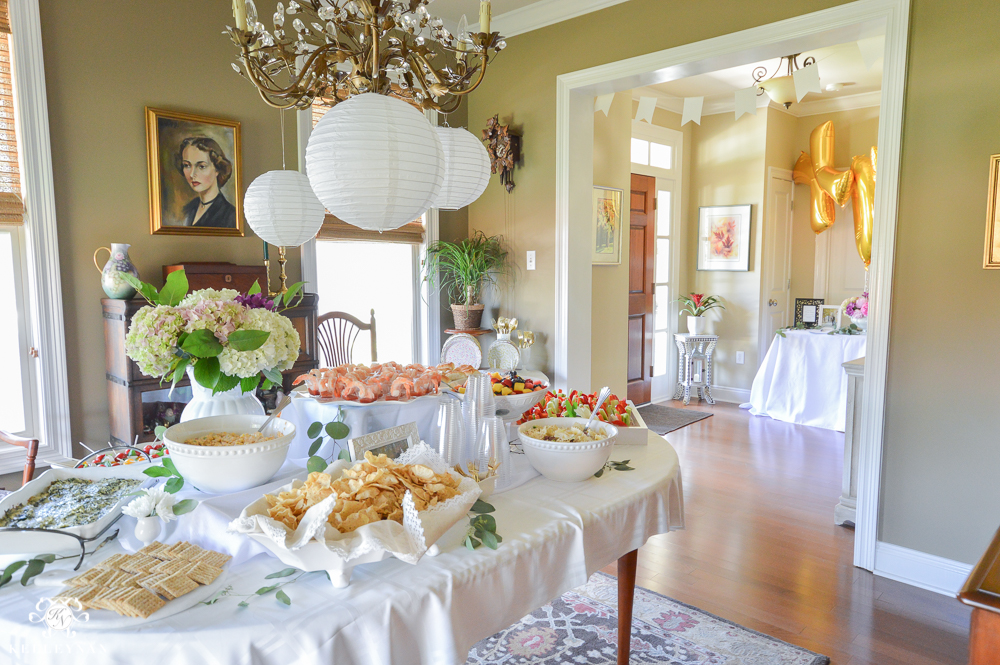 We went with bite-sized everything and instead of lining up several bowls and platters (of course we had plenty of those), we came up with different ways to serve some of the appetizers.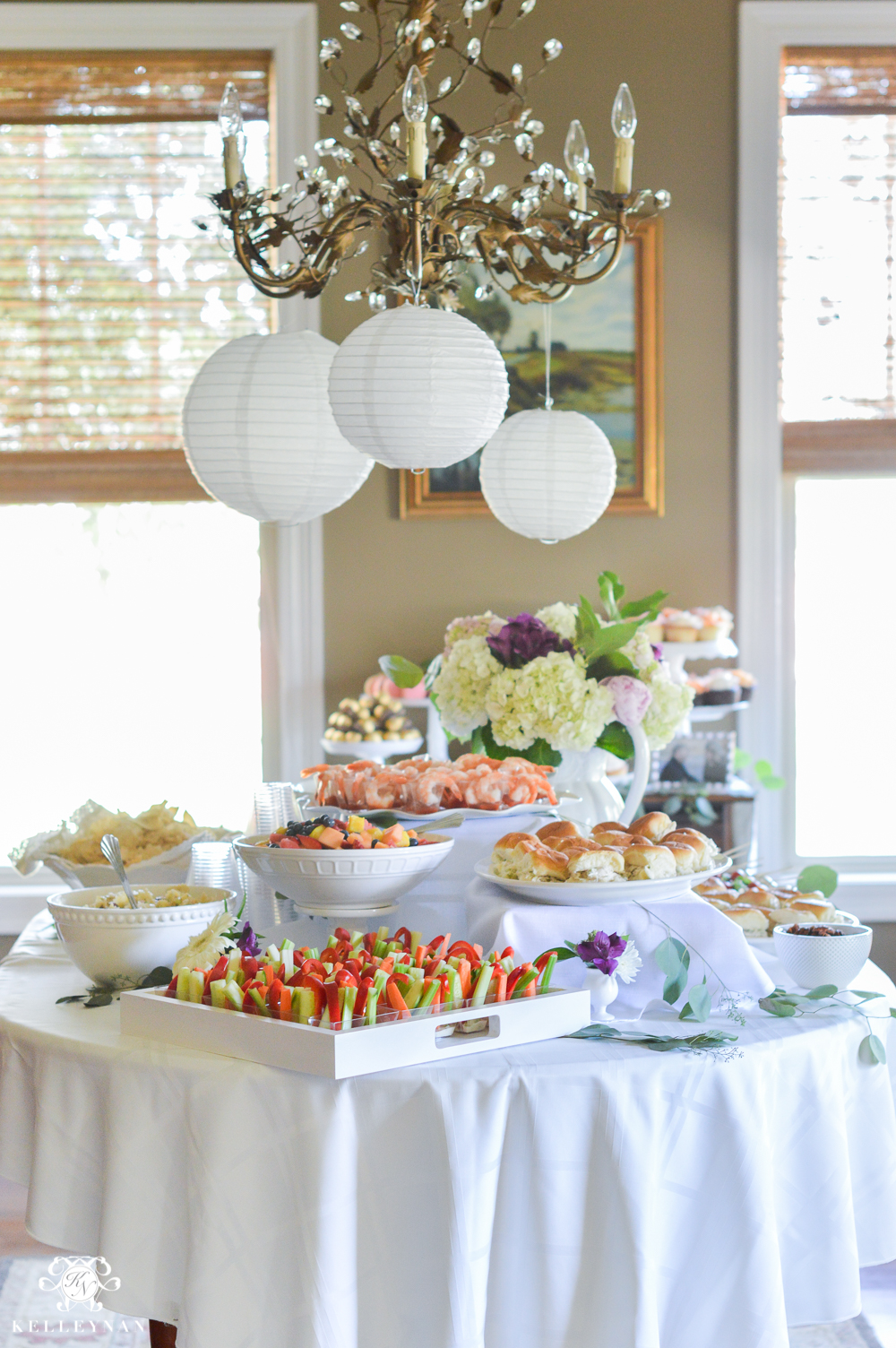 How gorgeous are these heirloom tomato caprese skewers my Aunt Susan prepared?!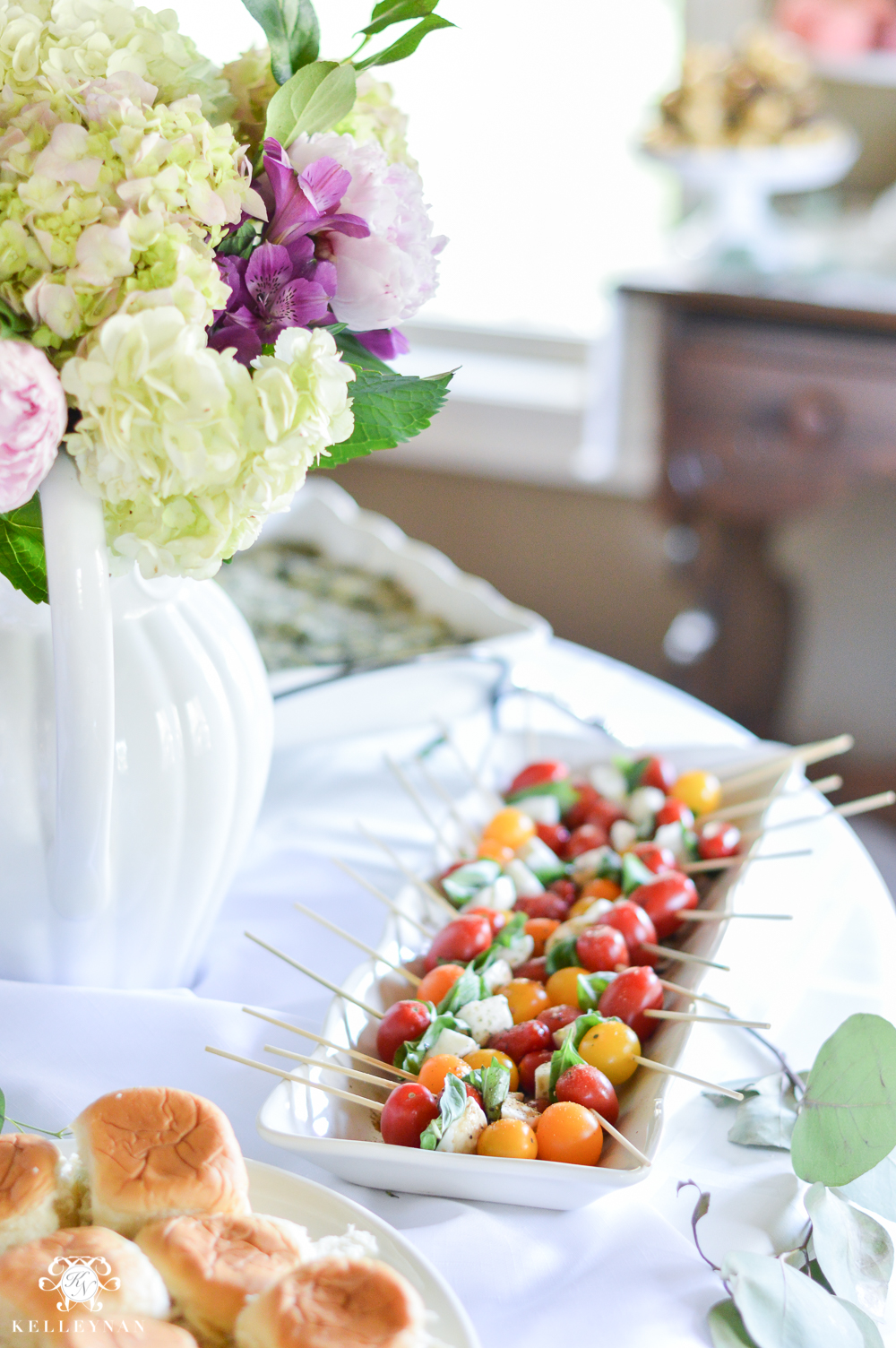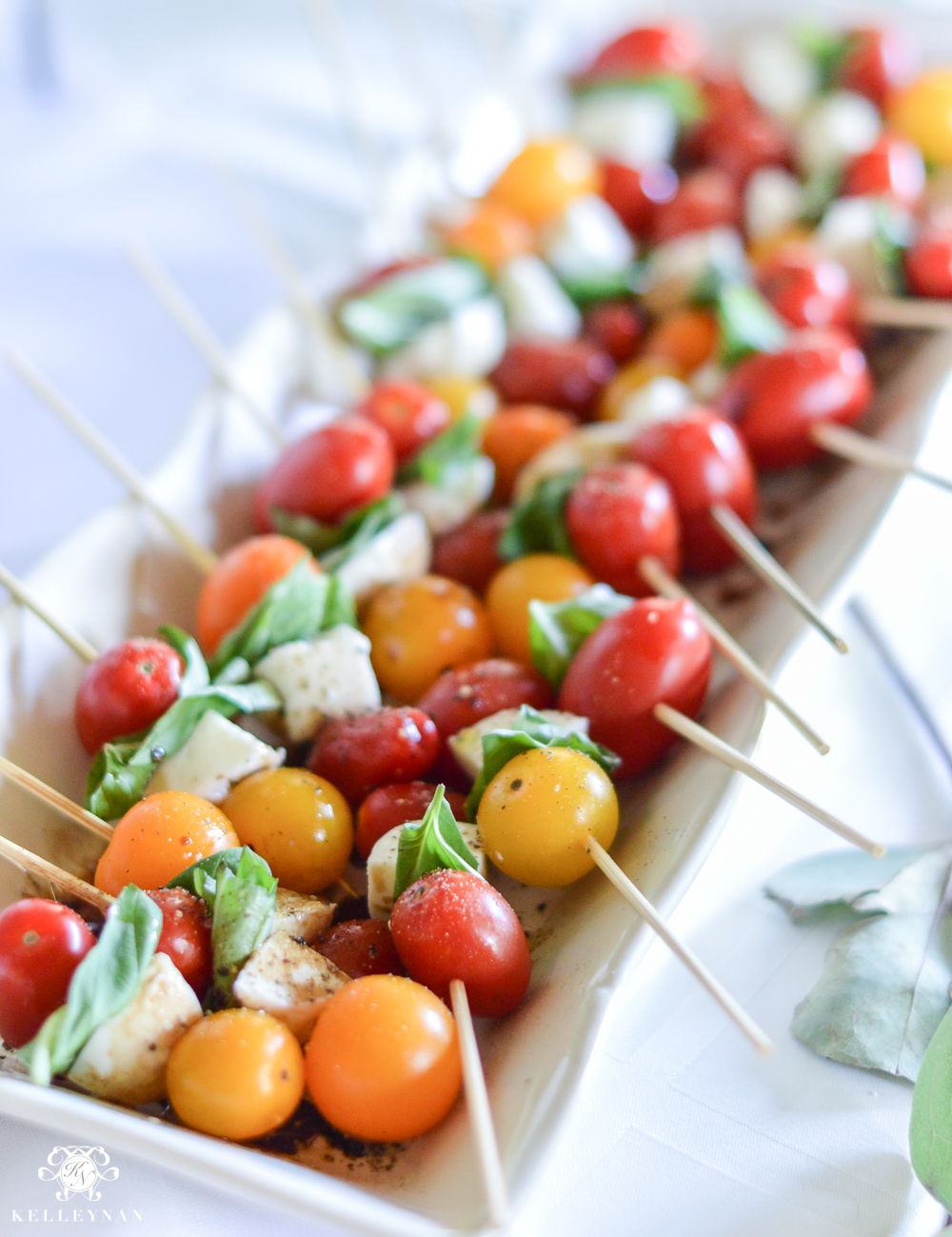 Here was full the menu:
Chicken salad sliders
Caprese skewers
Corn dip (recipe HERE)
Spinach & Artichoke Dip
Tortilla scoops and triscuits for the dips
Shrimp cocktail (served in these small cups, two per cup with cocktail sauce in the bottom)
Crudite cups (also served in these small cups with ranch dressing in the bottom)
Greek pasta salad
Fruit salad
Toasted pecans
Vanilla and chocolate cupcakes
Truffles
Variety of macarons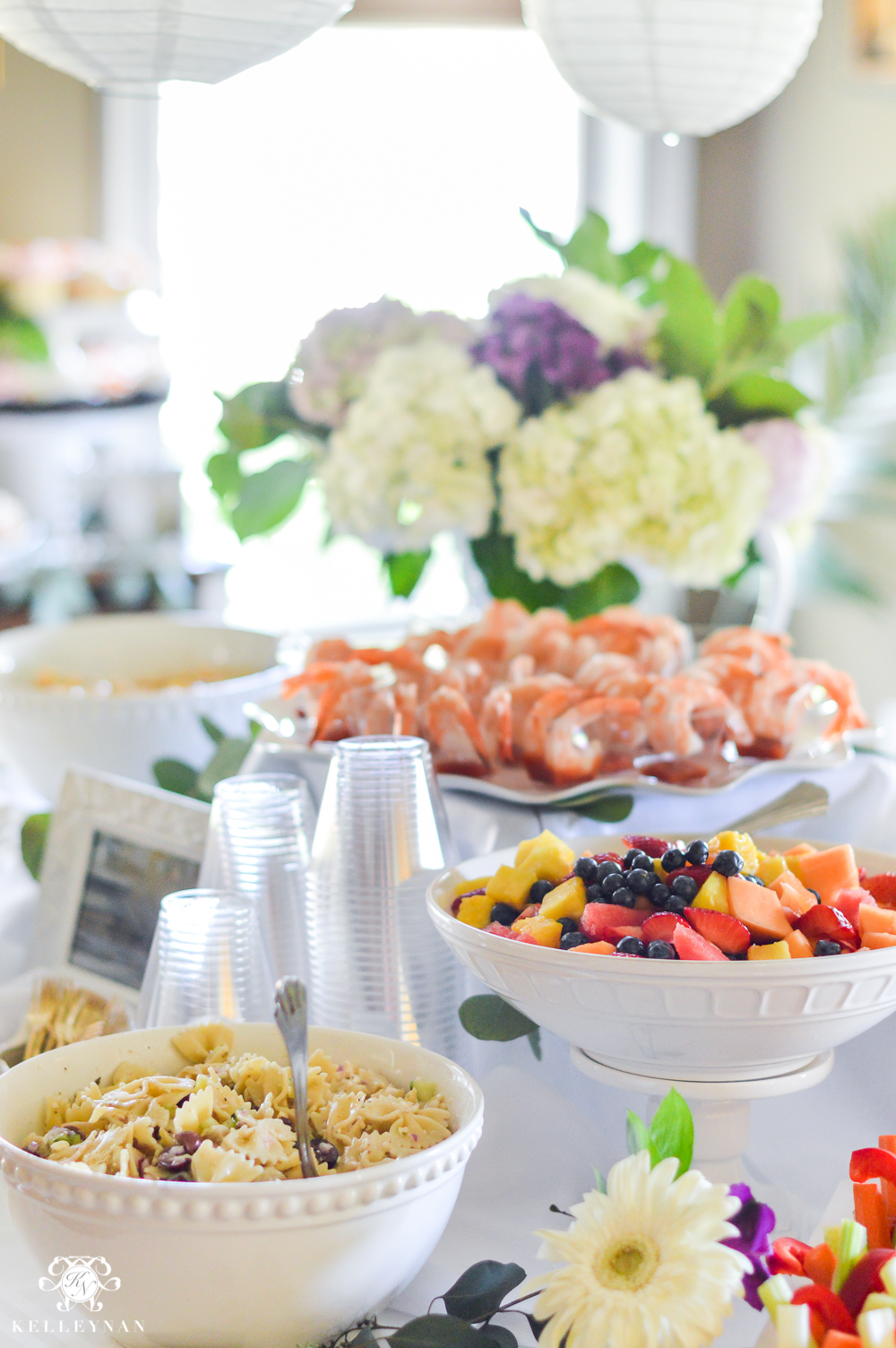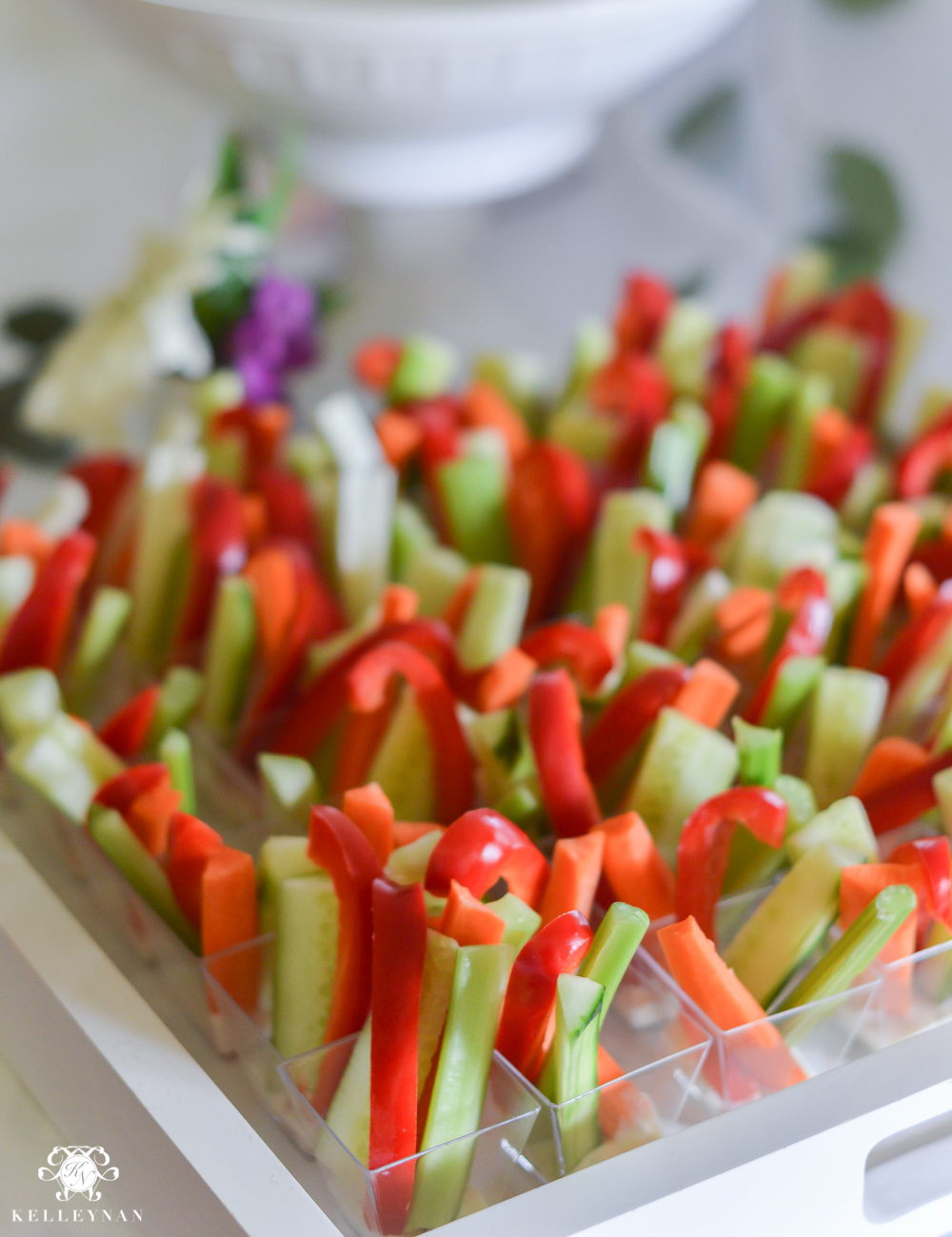 Throughout the different stations and "zones" I use framed photos, flower arrangements, single stems in bud vases, and eucalyptus.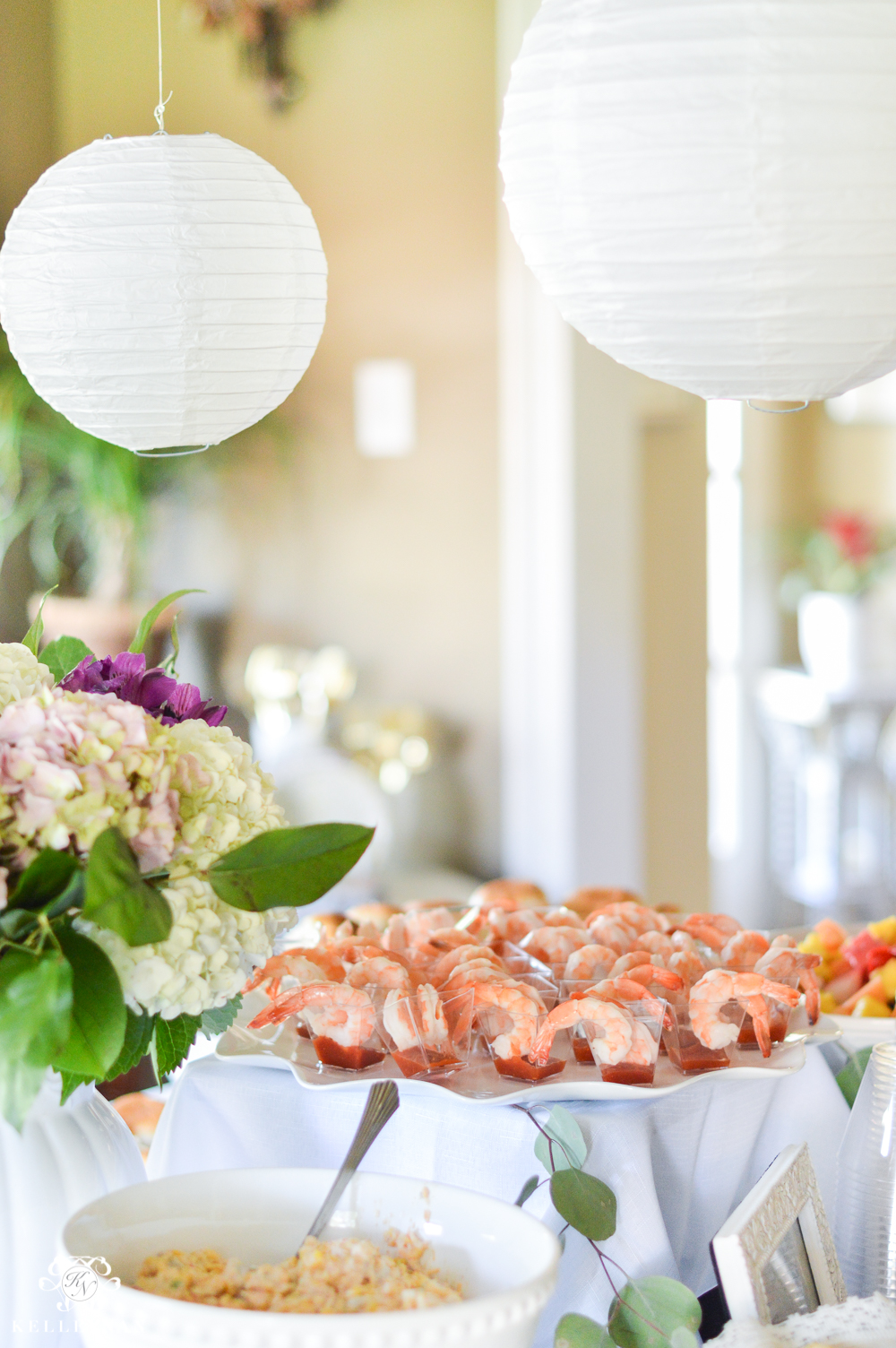 Break out the cheese boards and pedestals for some variety 😉 We stacked a few short plastic punch cups for pasta salad and fruit.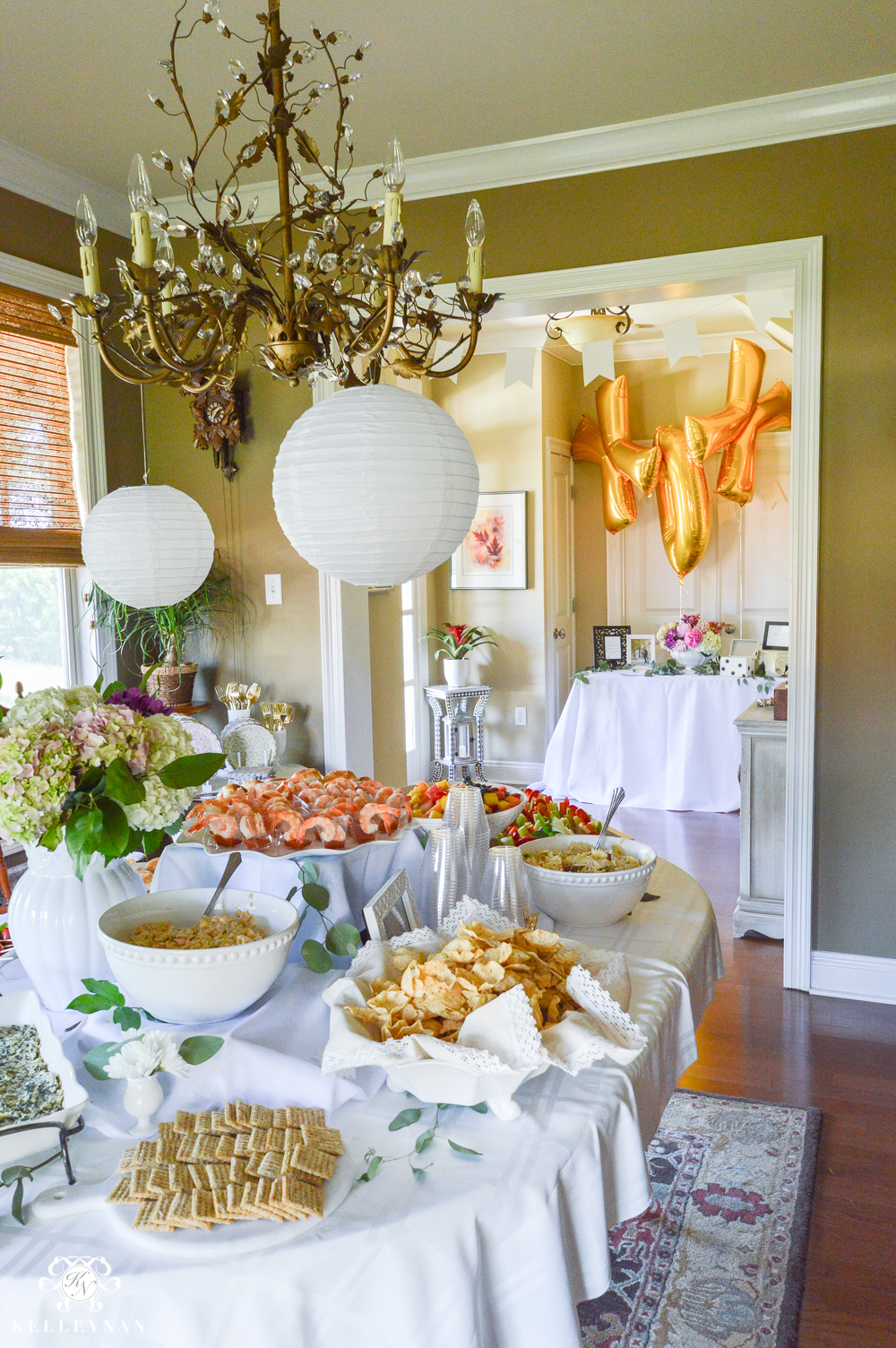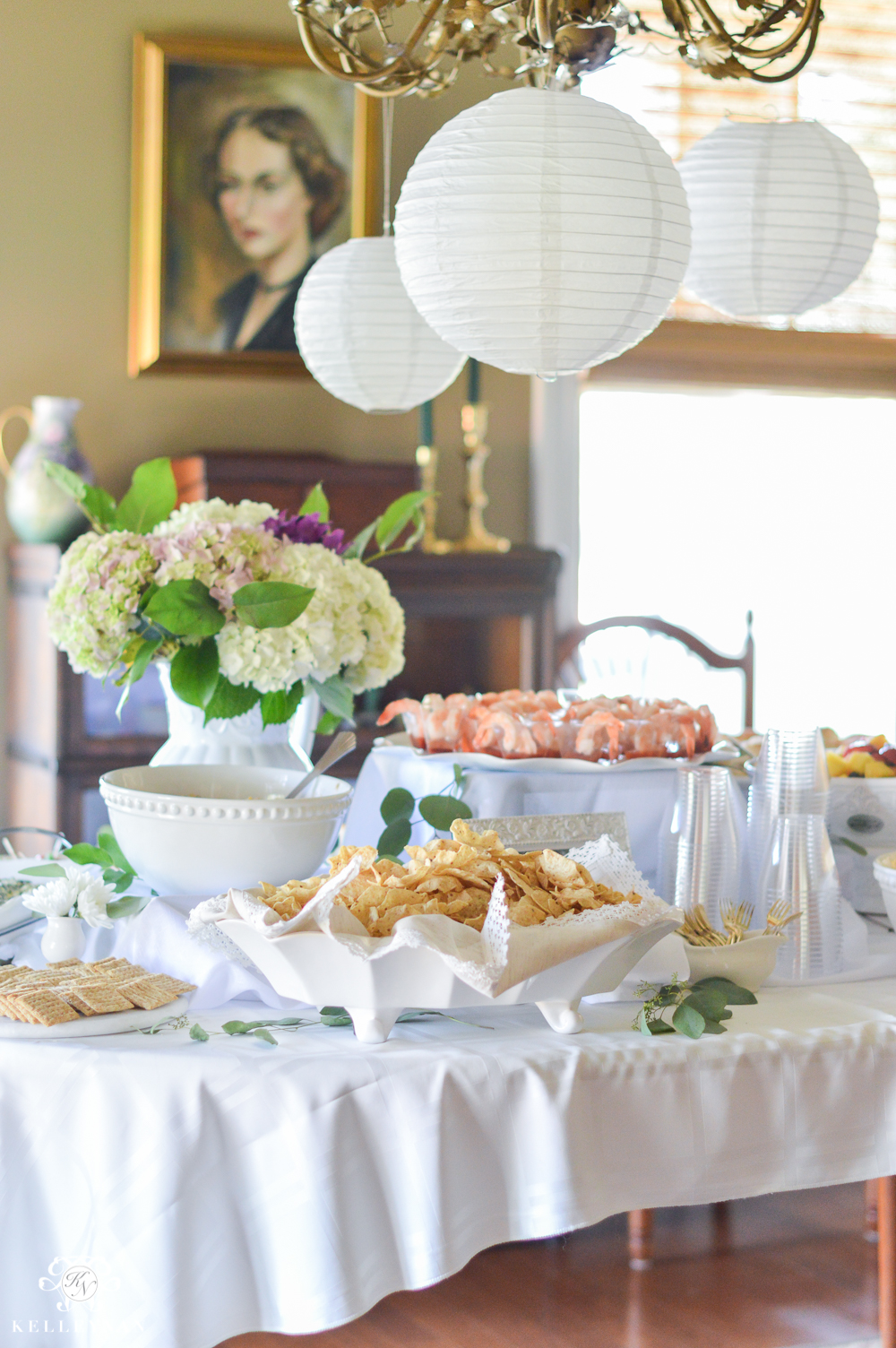 Here are two horrible, over-filtered snapshots from a shower I hosted several years ago. Different backdrop but same concept. PS: Those red walls were actually in MY previous house! 😉 Side note- in the midst of heartbreak one night, I had also painted my bathroom BLACK- back before it was trendy. I think everyone thought I was nuts haha.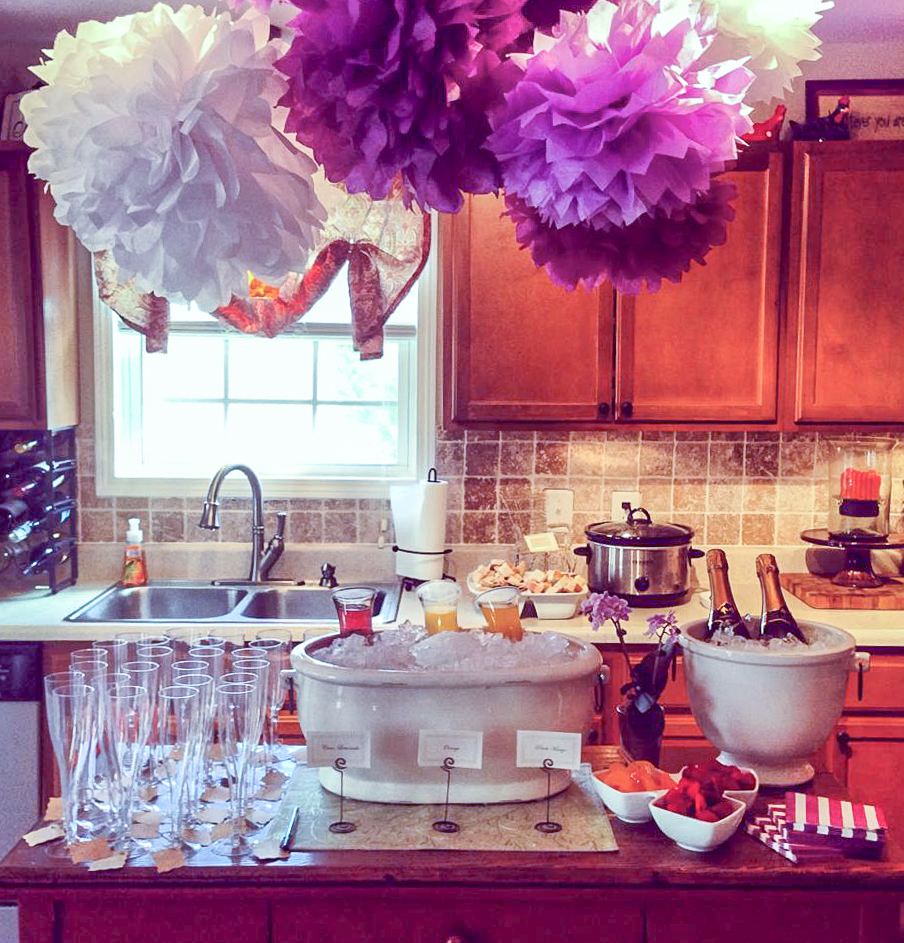 For the mimosa bar, I always like to serve at least three juices. In addition to classic orange, Ocean Spray and V8 Splash are my go-tos. There are SO many yummy combos and the ladies all love to come up with their own juice/berry concoction.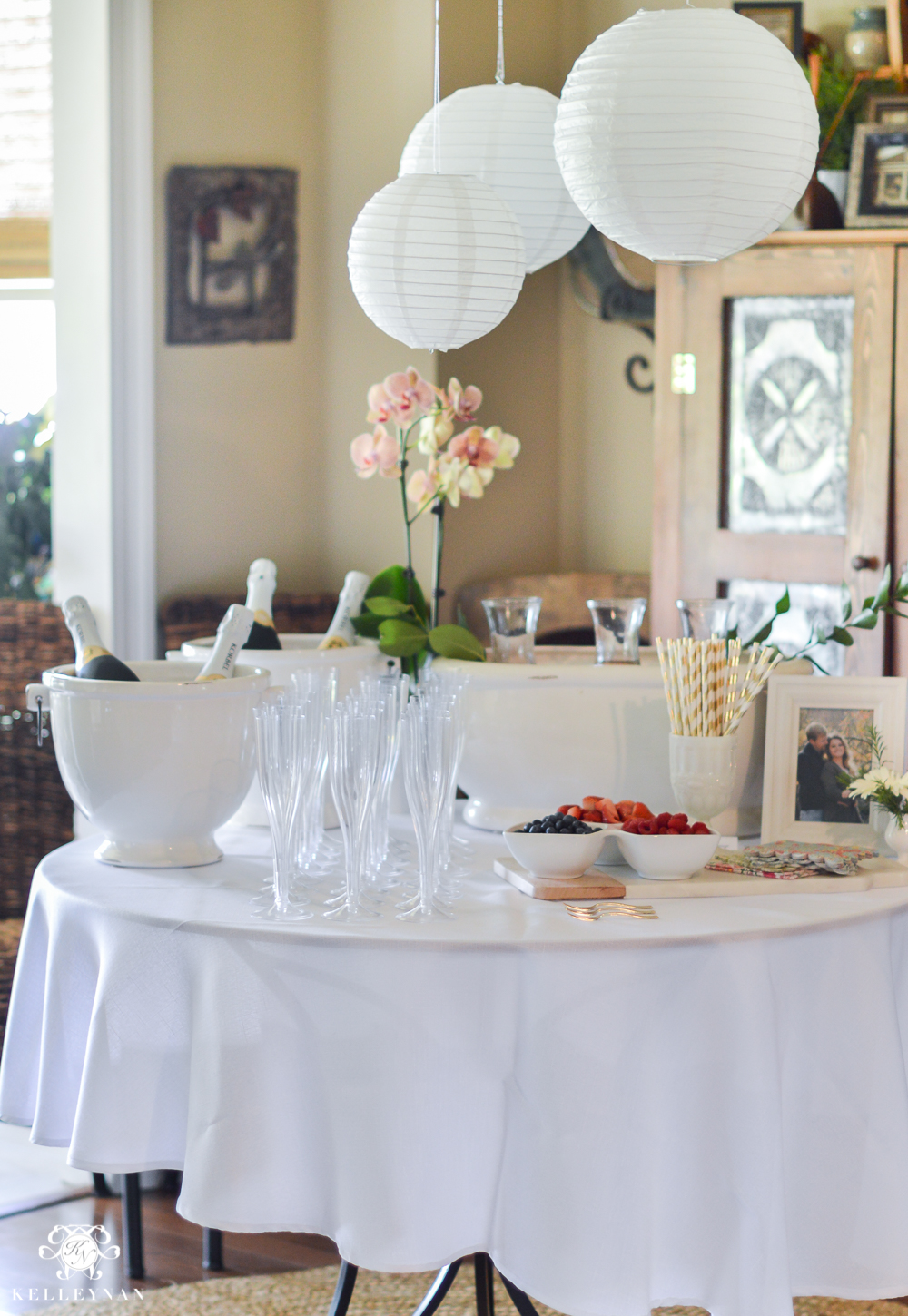 *SCROLL & TAP BELOW TO SHOP*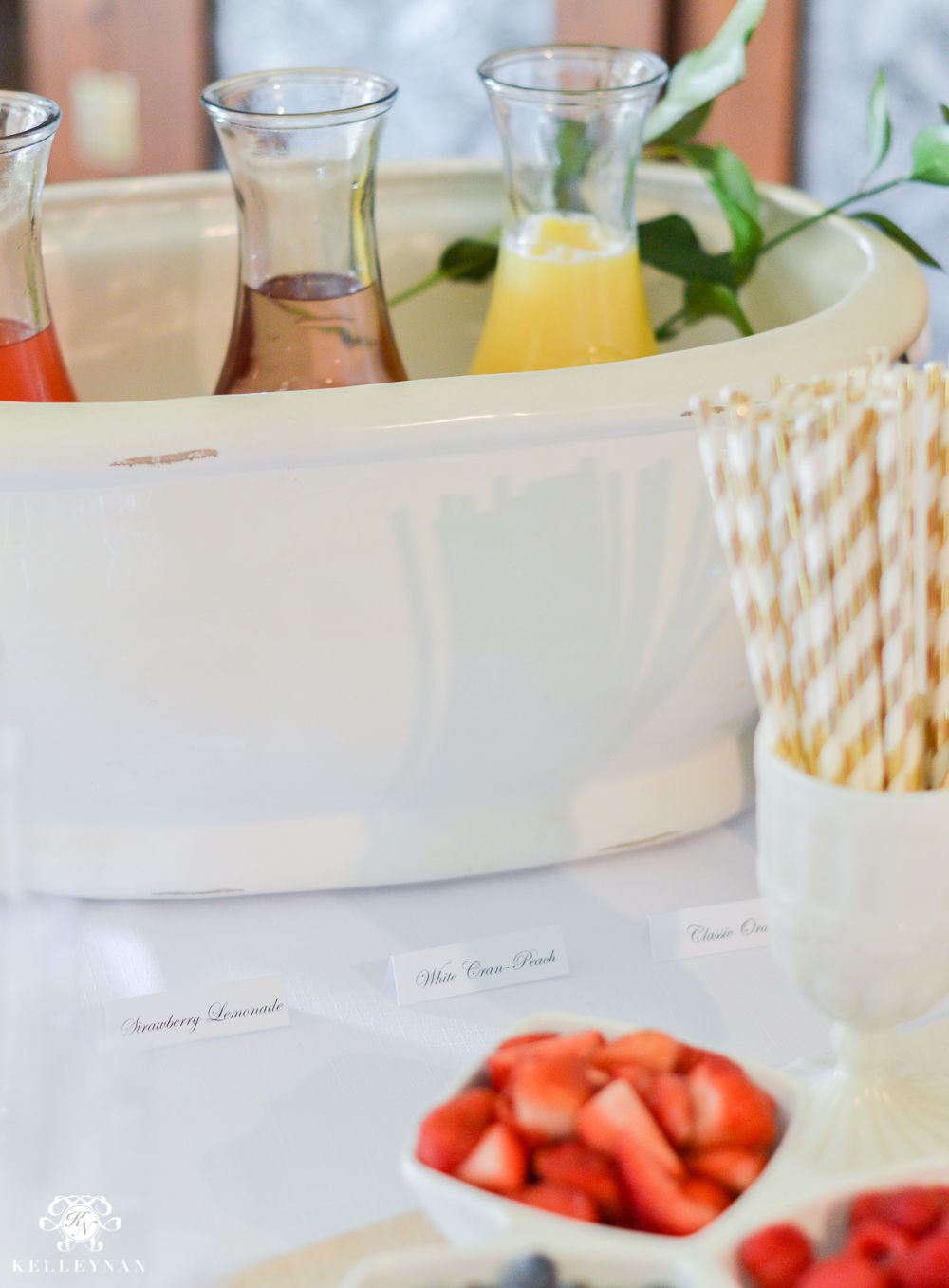 Just be sure to use labels or cards indicating the flavors of each. The white cran peach and strawberry lemonade were the most popular choices of the three. You can check out my Mimosas MTO for more mimosa ideas HERE.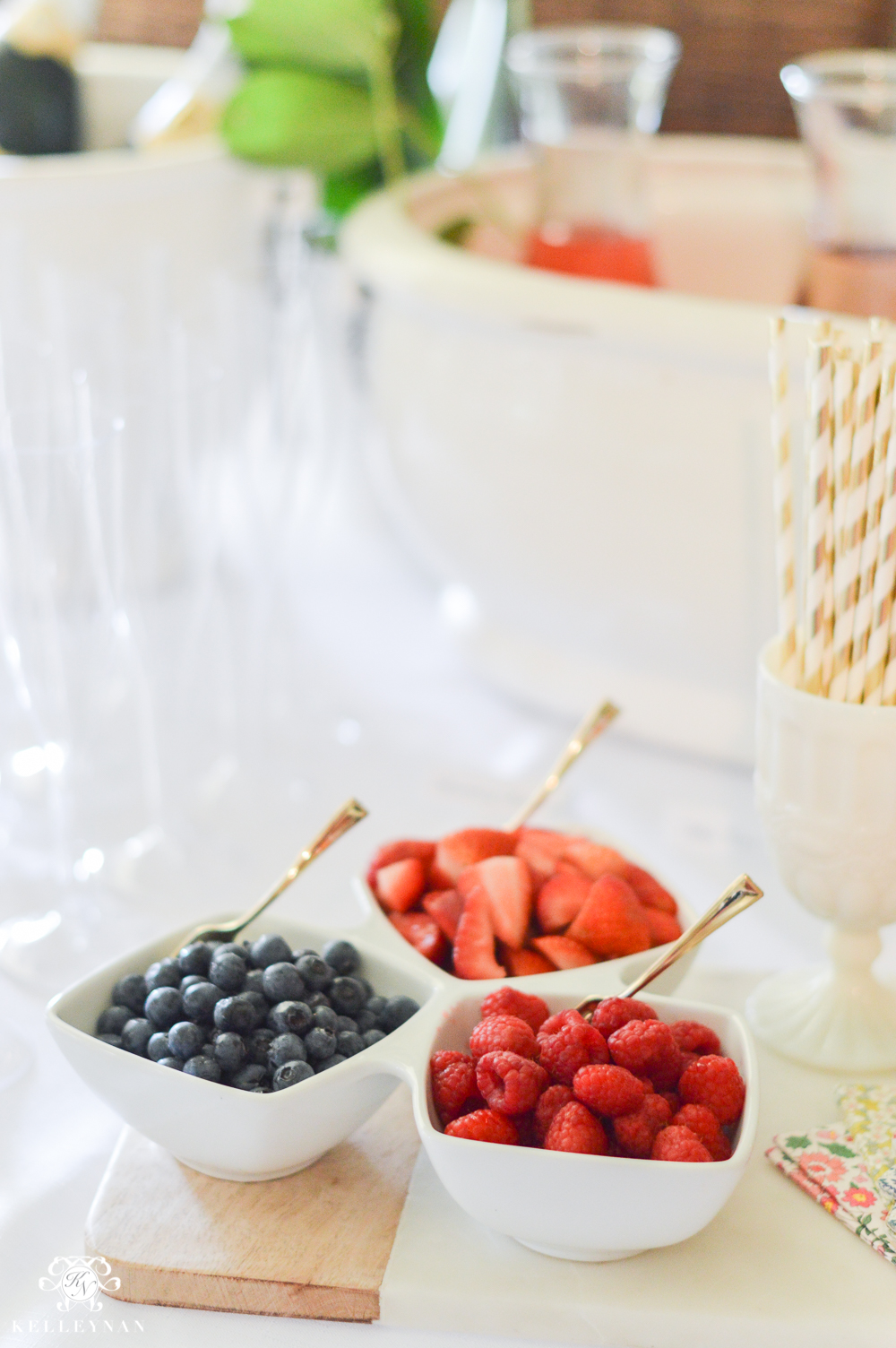 We had a LOT of champagne in the outdoor fridge but kept four bottles opened and on ice at all times.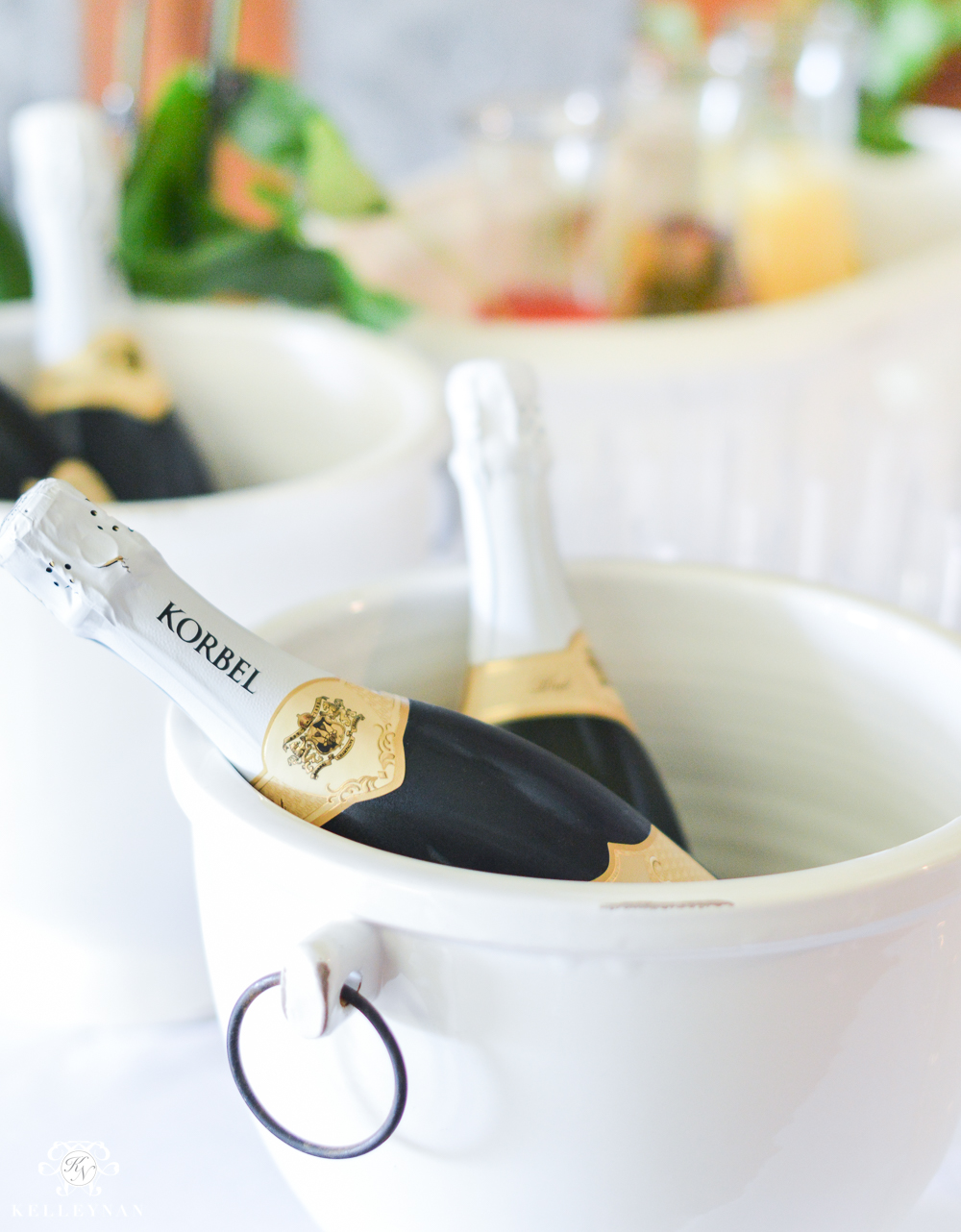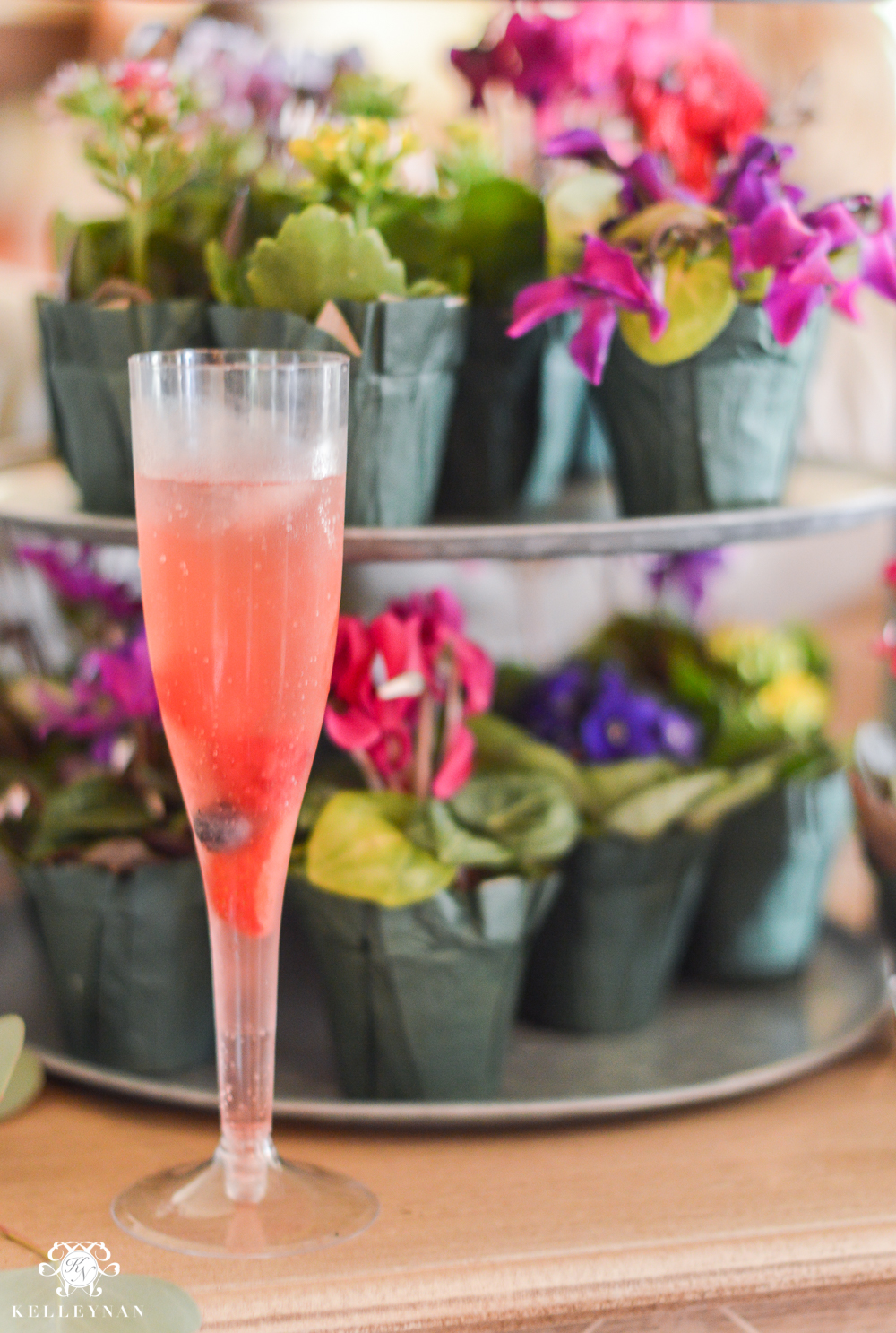 My original plan for the guest favors was small potted succulents (which I had used as guest goodies at a previous shower). Those didn't happen but as it turned out, Plan B was even better. Trader Joe's has a variety of tiny potted flowers so the morning I was planning to leave Georgia, I called all the Trader Joe's locations around Atlanta, trying to find one that would have 30 of these little guys. After asking three stores to hold their few and planning to make multiple stops, a store in downtown Atlanta ended up having enough to stock the full supply. We served them up on this galvanized three tier tray – another find during our huge store moving sale. They still have it in stock HERE.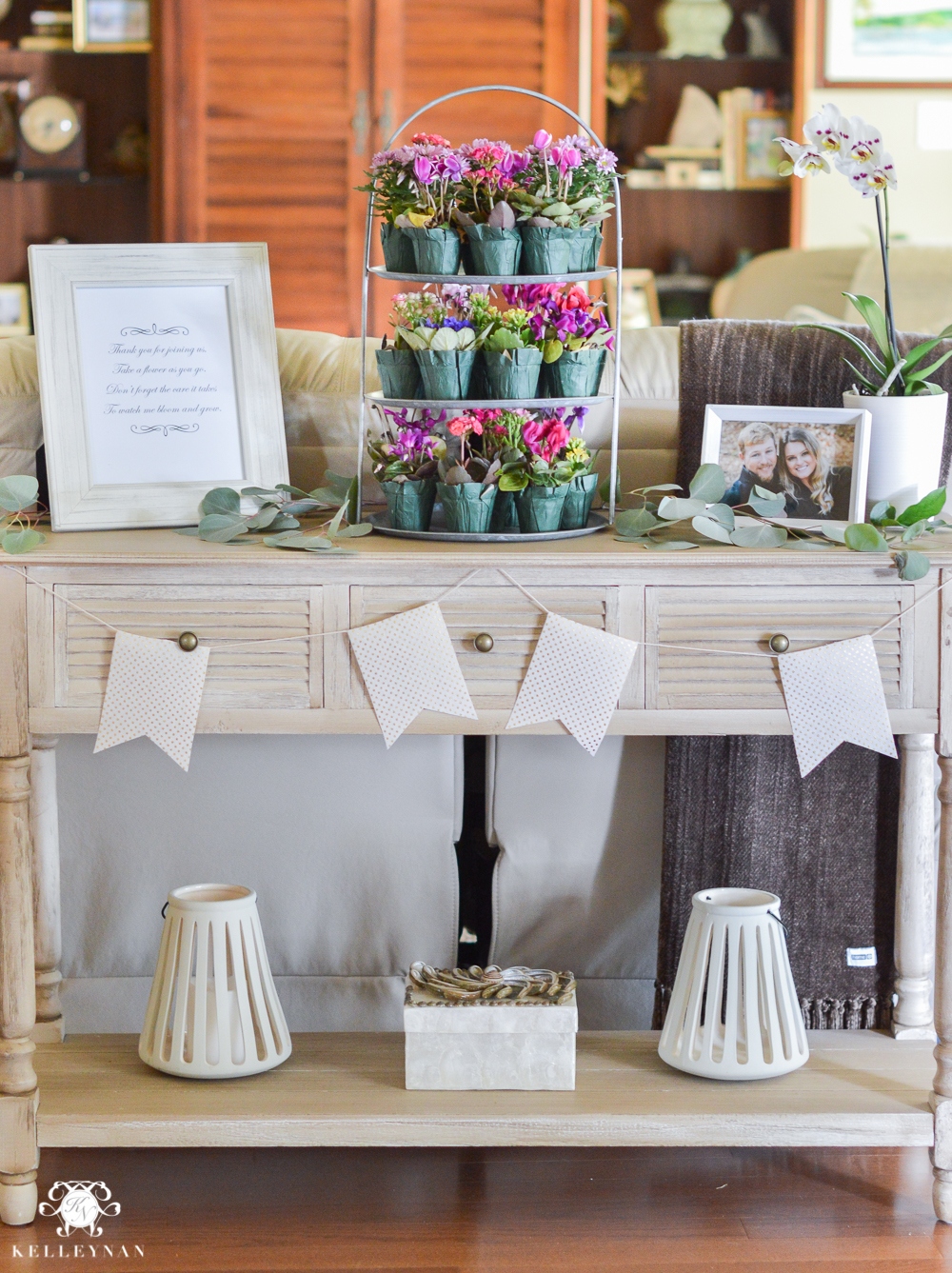 *SCROLL & TAP BELOW TO SHOP*

The tall orchid was the prize for the guest game winner. (If you need prizes, even if your shower isn't garden themed, orchids are fantastic.) We planned two games- the first was Bridal Emoji Pictionary for the entire group. I downloaded the card on Etsy (HERE) and printed them at home (it also comes with an answer key). I gave the ladies 4 minutes to answer as many correctly as they could; the winner took the orchid.
The second game, I prepared in advance – while it was for Madeline specifically, the ladies loved being able to listen in. I came up with this concept when I hosted the previously mentioned shower; it was a huge hit. First, I came up with 10 questions to ask the groom- some fact-based (ex: Where was your first date?; What temperature do  you like your steak?), and some opinion based (ex: What is your favorite meal that Madeline makes?, What is your favorite feature of Madeline's?). I sent the questions to the groom and asked that he send me voice memos for each question, all separate, using complete sentences. I labeled them with corresponding numbers as they came in and saved them to my phone. To play the game, I asked the bride each question, and had her answer how she thought her groom had answered. Then, I played the voice memo for the group to hear to see if she answered correctly. For each correct answer, she was given $5 to go towards a wedding day mani/pedi. You can choose your own amounts/"fund" – ultimately, she was given the full pot, anyway 😉 Again, the ladies loved this activity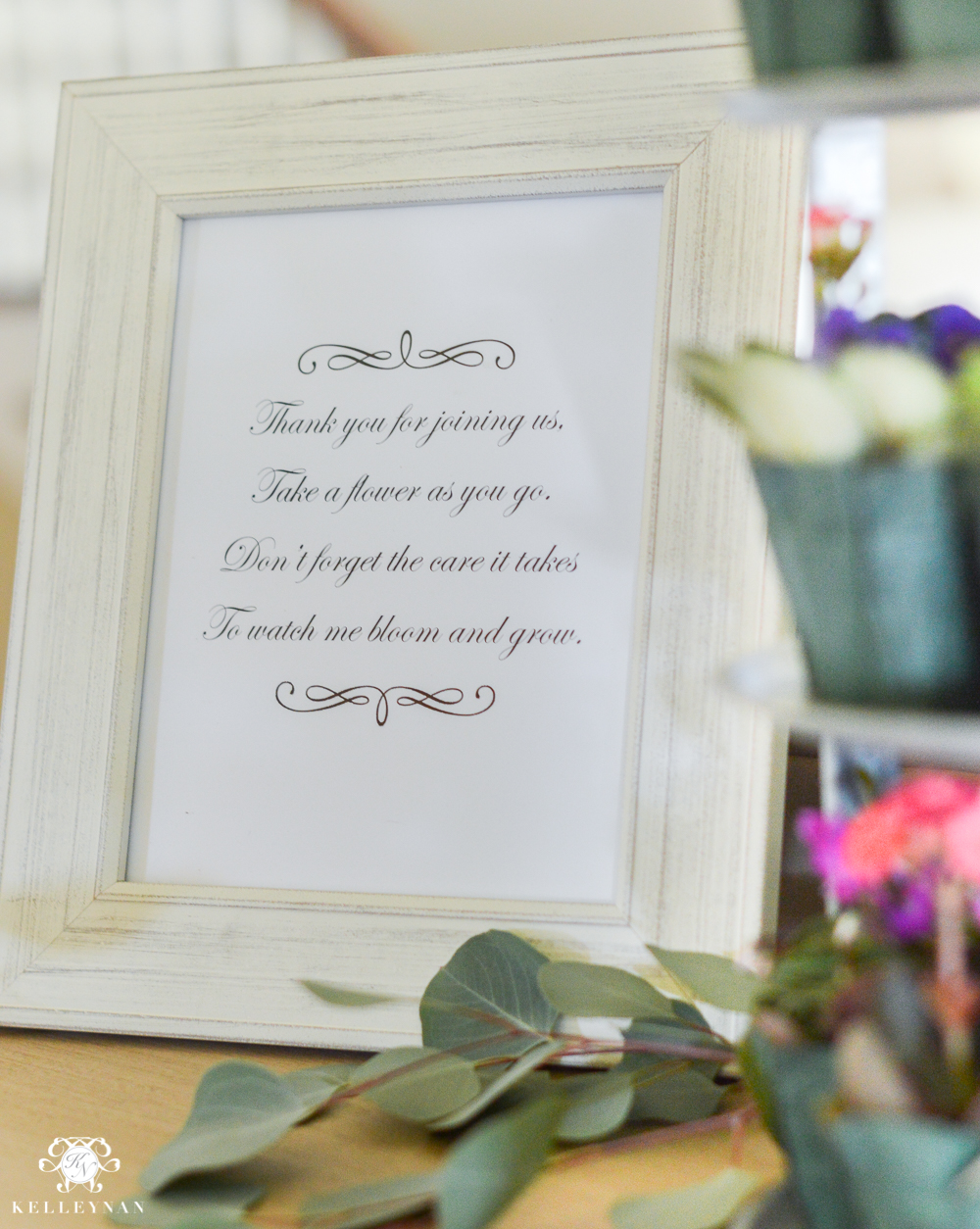 Obviously, I was feeling poetic 😉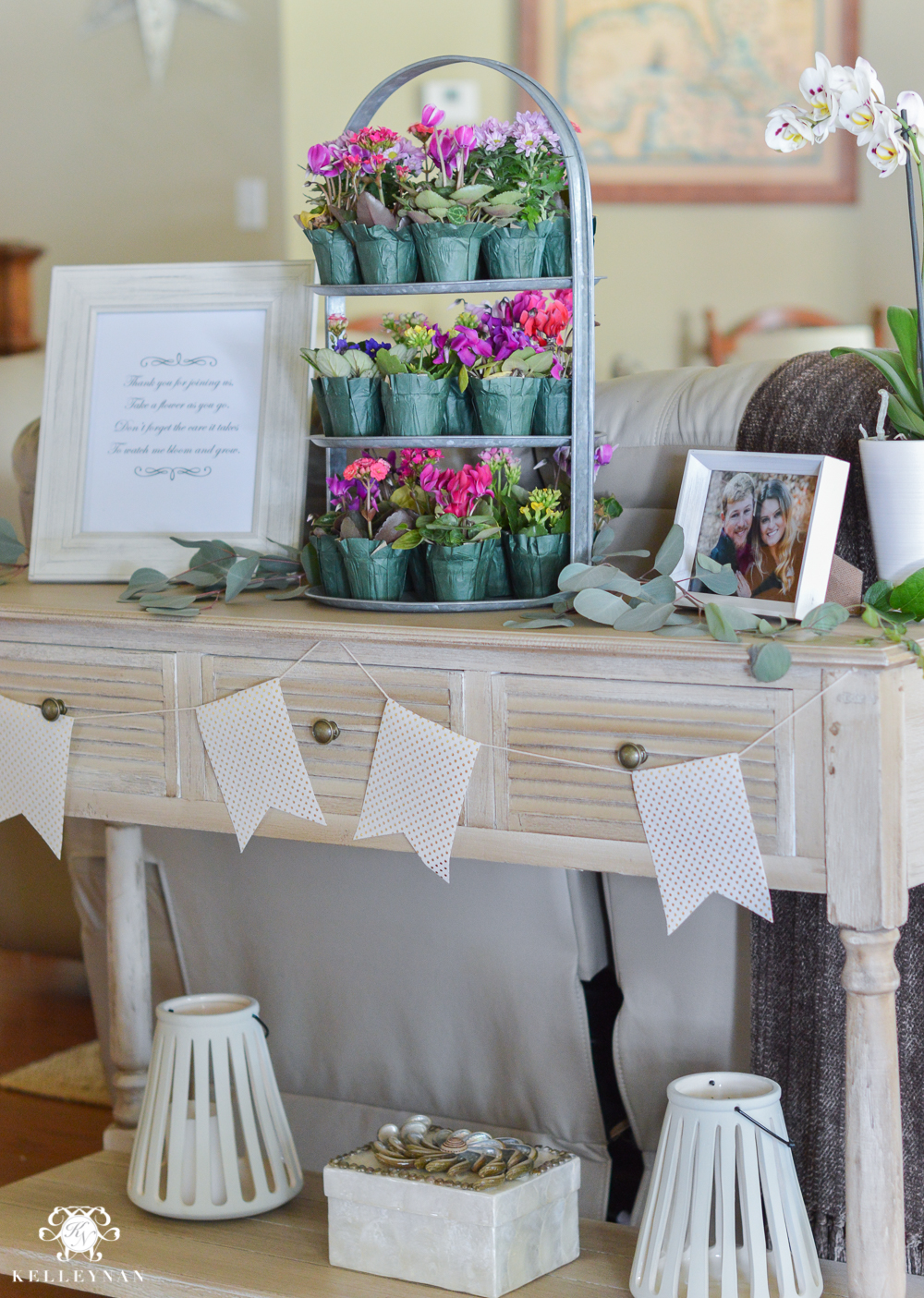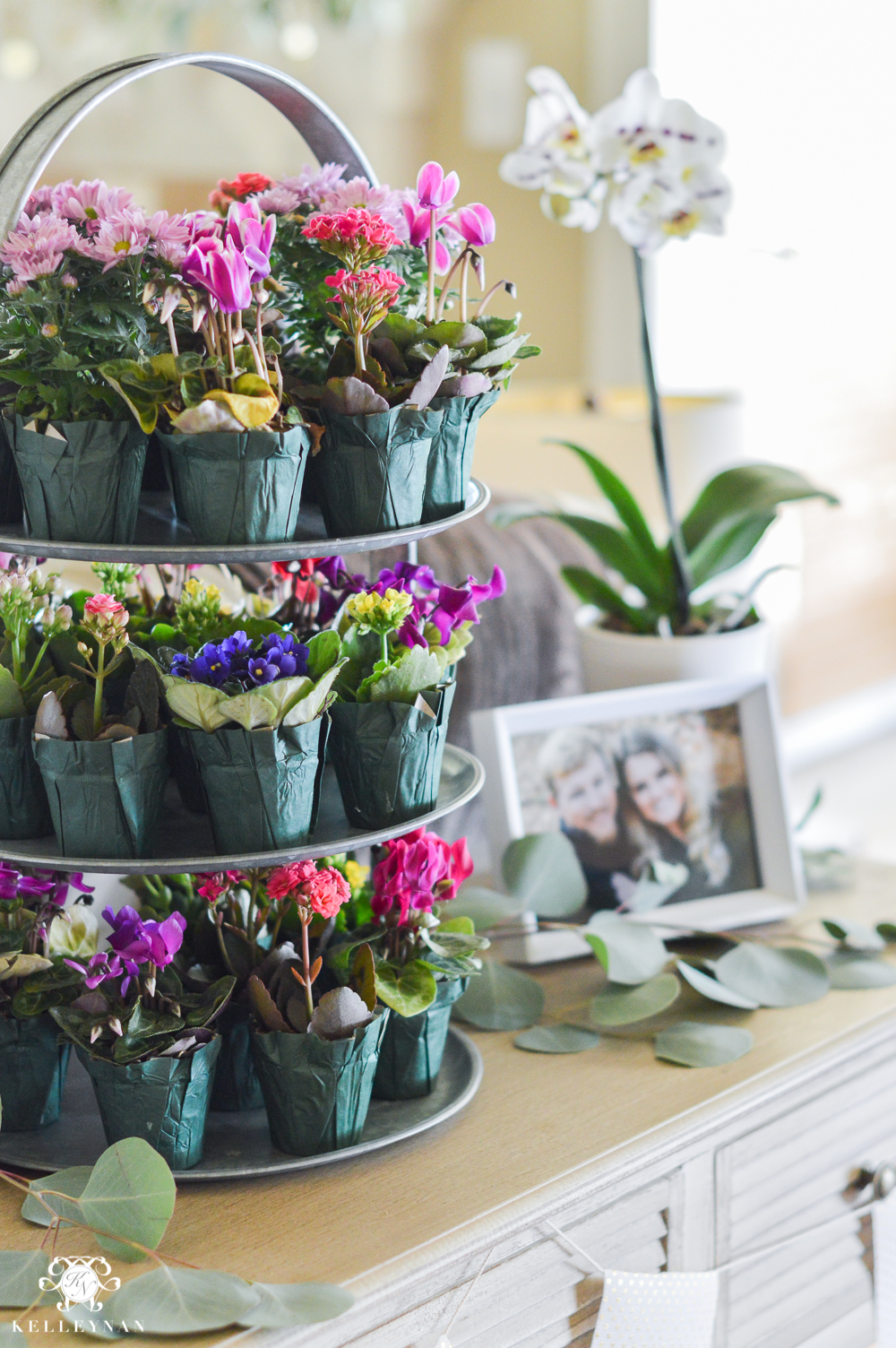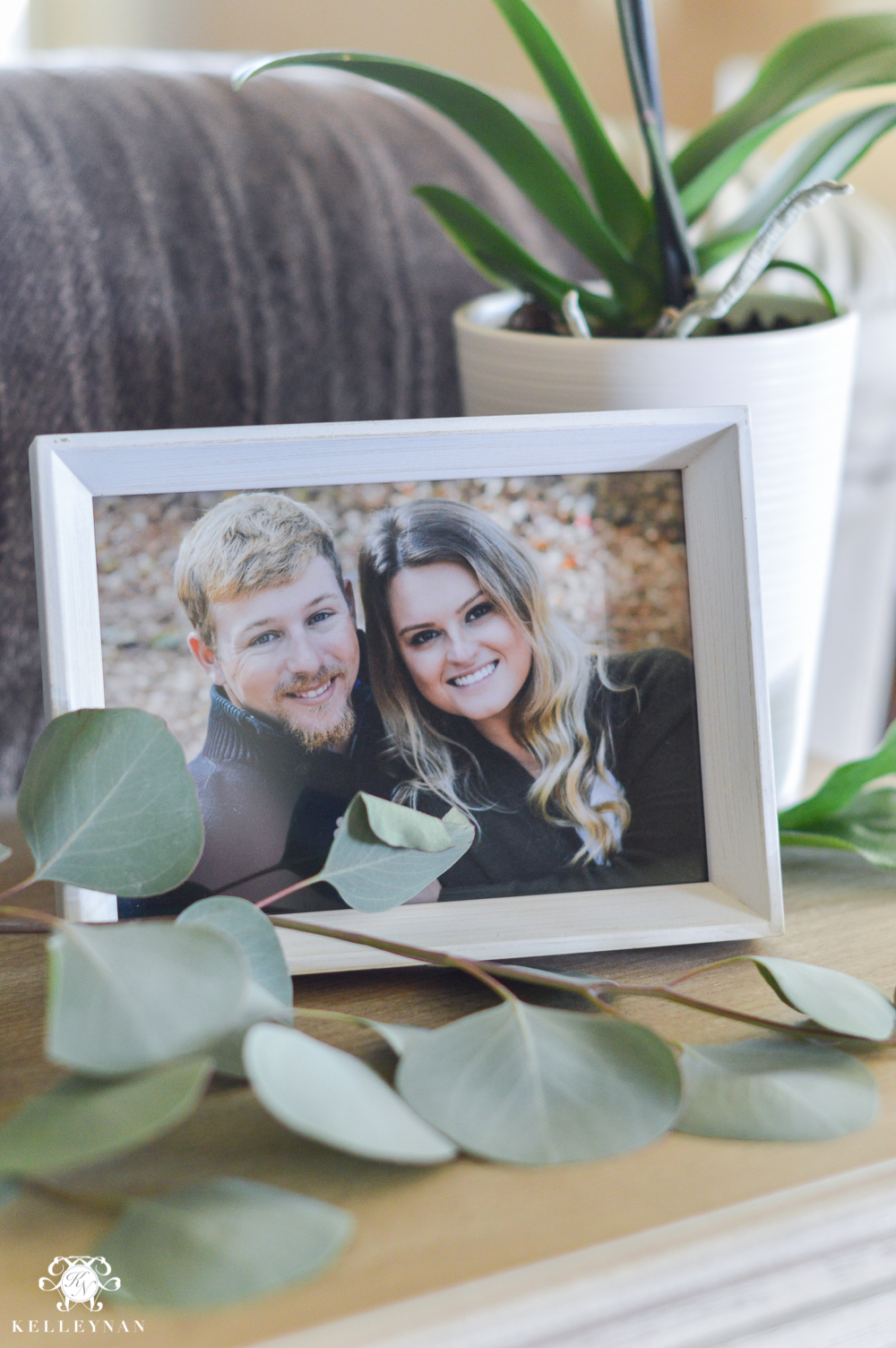 The final "zone" was the gift opening zone. Guests placed their gifts around the fireplace while Madeline sat in the nearby oversized chair. To make the mantel a focal point (without removing Mama Nan's permanent decor) I incorporated a photo of the bride and groom with a fresh little arrangement, nestled in some draping eucalyptus, and then added some pennant and pom pom garland. The iridescent gold circle garland came as one long strand. I trimmed individual pieces at varying lengths and staggered them with tape, some closer and some further away.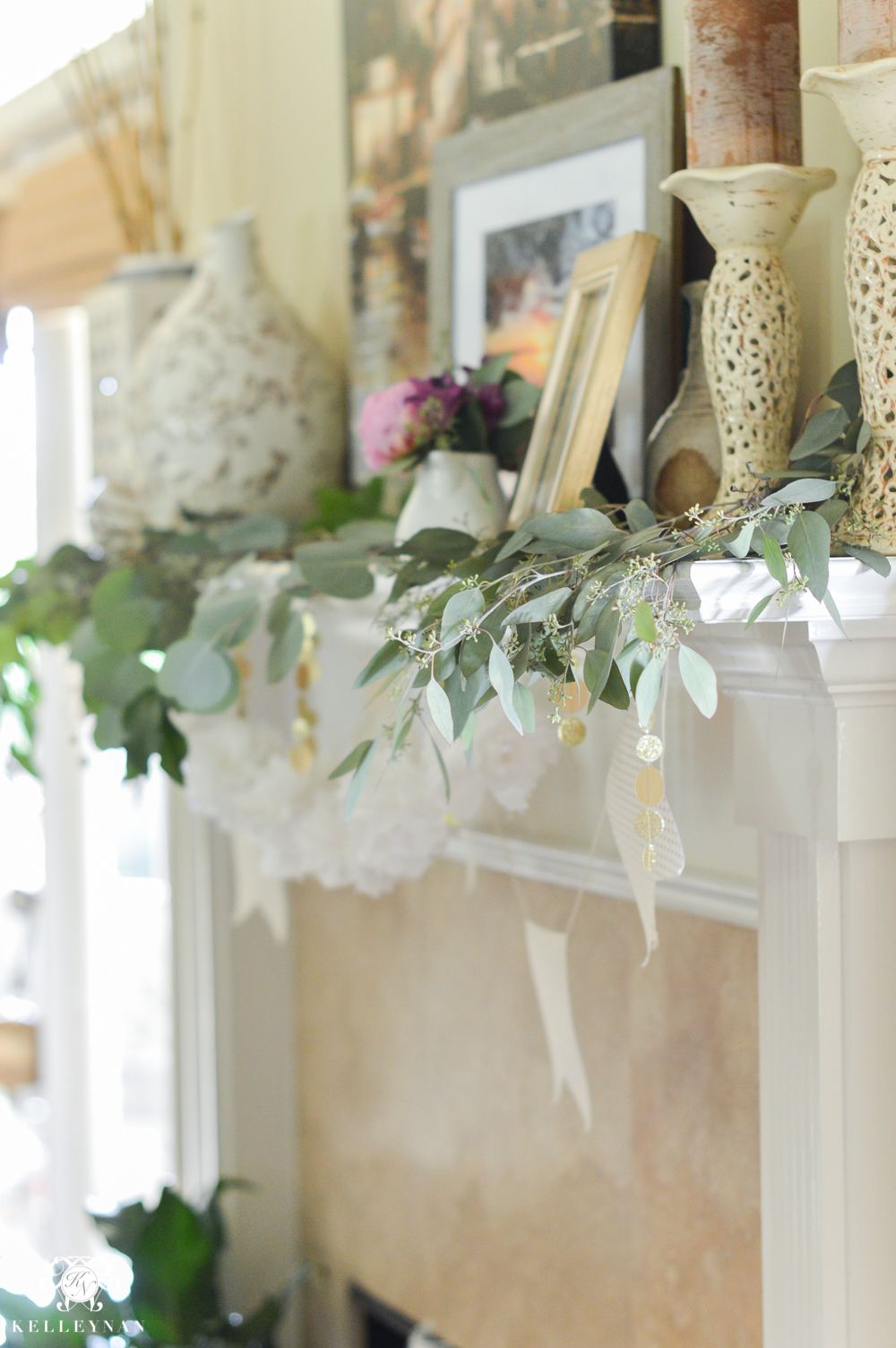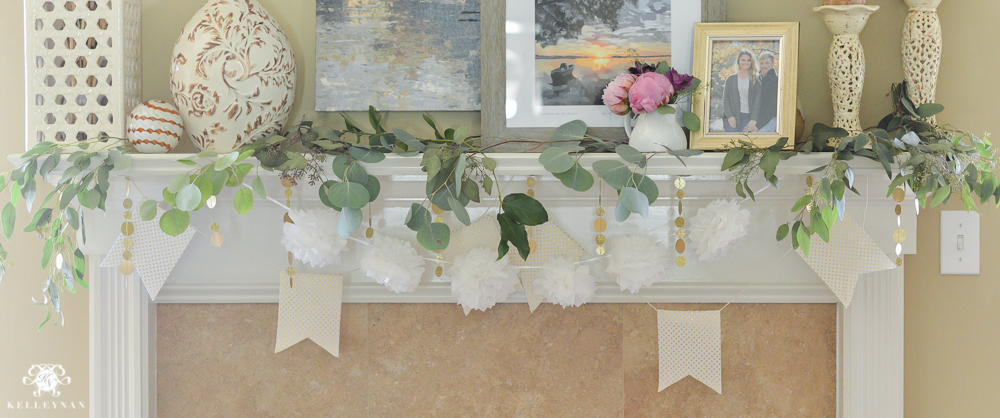 To recap, the five zones were:
Entry/welcome/sign in table
Food & dessert tables
Mimosa bar
Guest favor station
Gift opening/game area
*(There were actually balloons and signage at the mailbox but with the crazy weather, I never made it out for photographic proof)
If you are planning an upcoming shower, my advice would be:
Write EVERYTHING down- shopping lists, to-do's, ideas, etc. (Mama Nan kept us in line here)
Have appropriate food for the time of day (we hosted at 2:00 p.m. but still had enough food for a meal. Don't host a shower that overlaps lunch or dinner unless you plan to serve enough food to satisfy a full meal)
Instead of planning to decorate the entire space or a little bit all over, concentrate on specific spaces where guests will be gathered and go heavier on decor. (Sparse, spread out decor will blend in without notice.)
Have more shower tips? Have a favorite "moment"/detail from a shower you've attended? I'd love to hear all about them! Leave them in the comment section below.
---
A big thank you to the following vendors for contributing some super special goodies for the garden party bridal shower:
MacarOn Cafe | CrankyCakesShop | Minted