I recently got an email from a reader asking, "I've always purchased furniture sets, but it doesn't look like you do. Do you have any tips for mixing different furniture pieces?" Yes, yes I do. You don't have to outfit a room in the same collection, style, color or finish to bring it together. As a matter of fact, that collected, curated look will help keep you from getting bored or committing you to one style for years to come. It also makes it easier to switch pieces in and out or move furniture around in your home more freely. Here are a few tips I use to mix and match bedroom furniture finishes to give you a more custom space.
*Posts on KelleyNan.com may contain affiliate links. Click HERE for full disclosure.*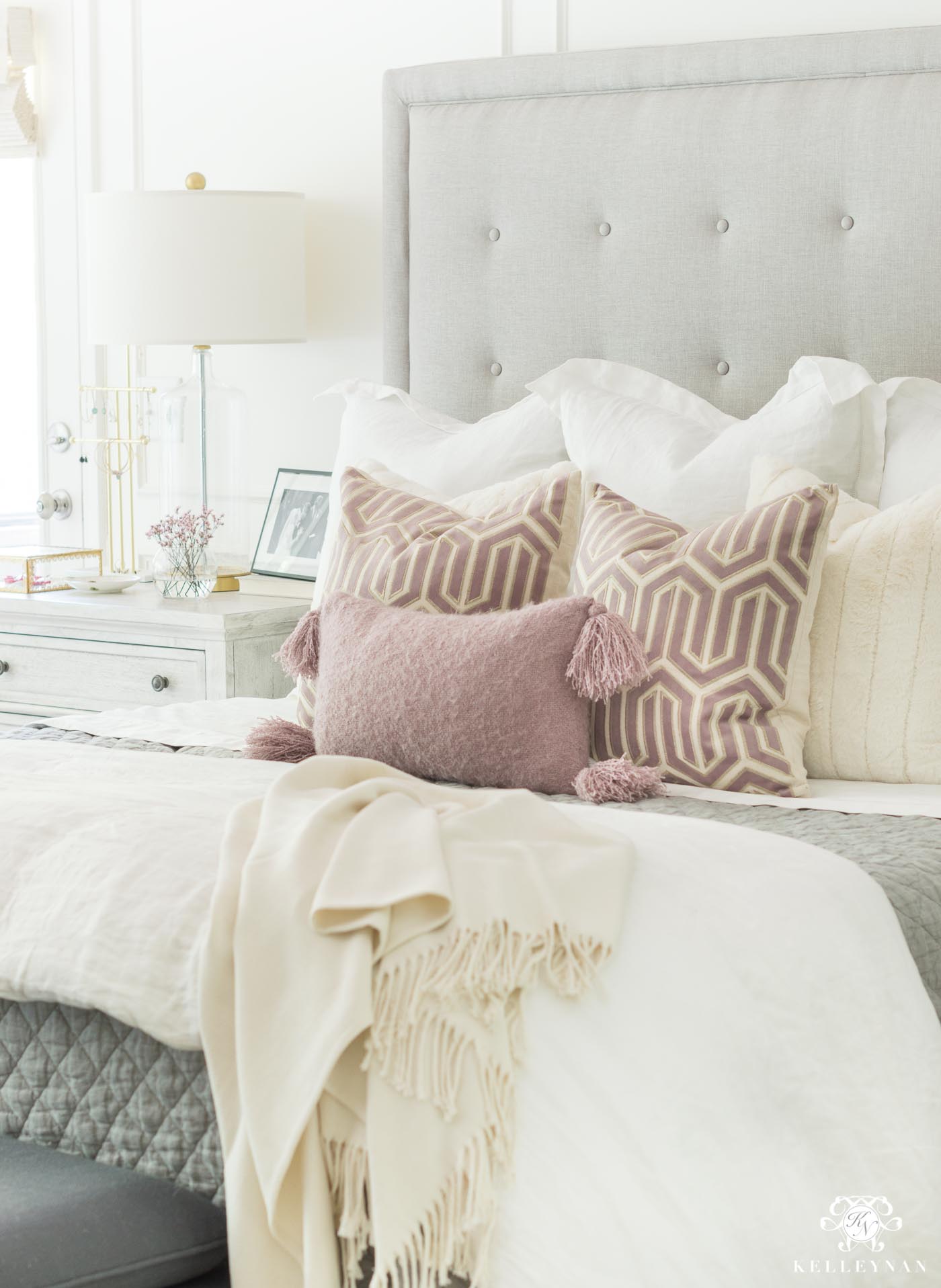 1. START WITH ONE PIECE OF FURNITURE
This would probably be surprising to a lot of you. When I started my master bedroom makeover, I knew I wanted to keep my big metal dresser I got from RH a few years ago. It wasn't my "inspiration piece" for the room, but it was the piece I used to determine the rest of my furniture. On its own, it didn't really fit the aesthetic I was going for. Had I continued to use the same bronzed metal collection throughout all my furniture, the room would have likely ended up looking like an industrial loft. But, I loved the dresser and knew I would be able to coordinate it with other, brighter pieces that would take me closer to the airy, transitional look I was aiming for. It reads a little darker and greener in photos but the cool thing about this chest is that it is washed with several tones – depending on what it's next to, it can appear more gunmetal, more bronze, more brass…the perfect reason to easily mix metals. If you have an antique, family heirloom, statement/colorful piece, etc., start with that first and plan your additional pieces around that piece. If you try to throw it in at the last minute, it will likely look out of place, like you're hanging onto it out of obligation, instead of having it be a thoughtful, intentional part of the room.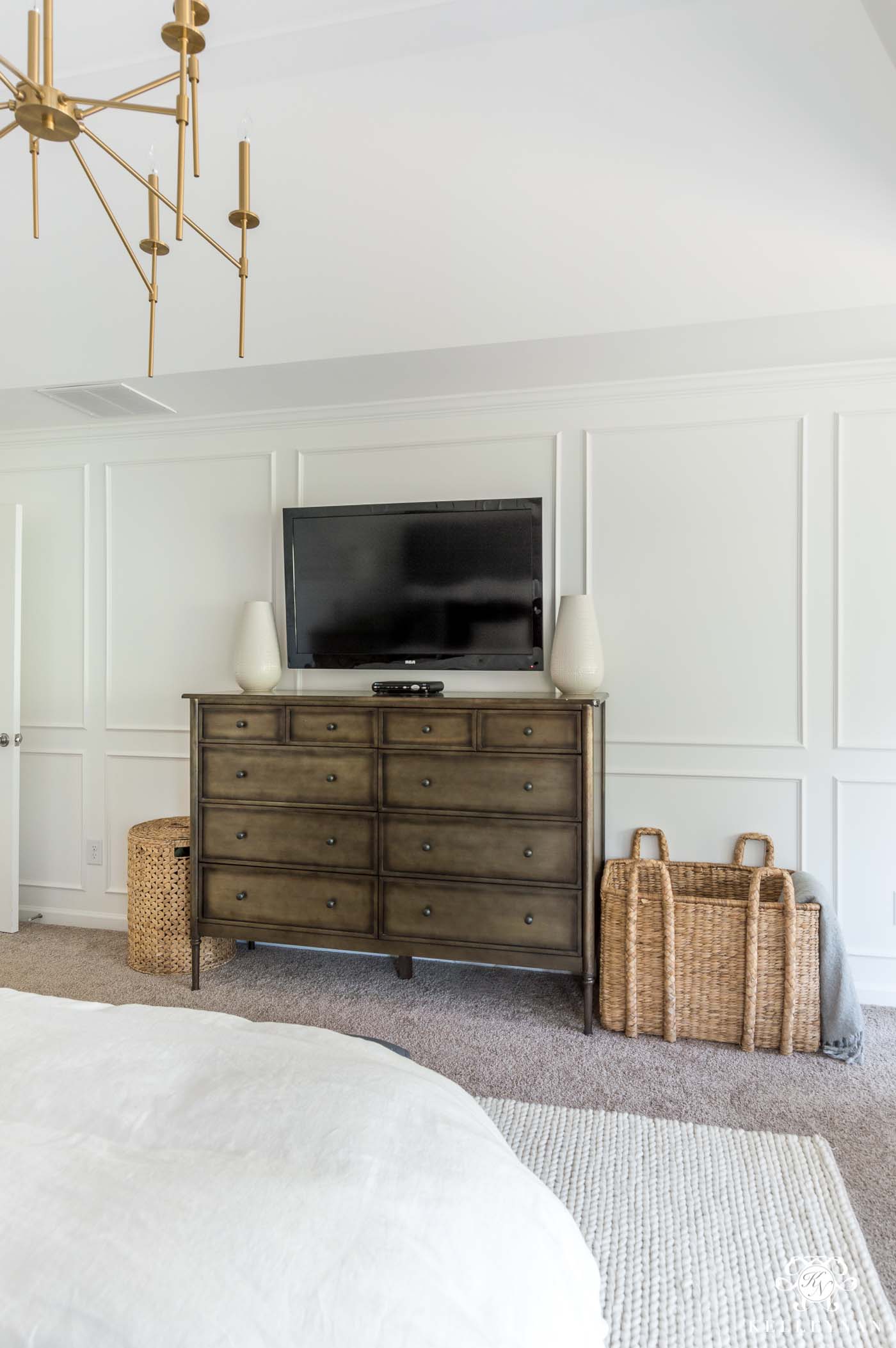 Sources: Chandelier | Tall Basket – (similar)
2. UPHOLSTERED BEDS ARE GOD'S GIFT TO INDECISION
I love and have both wooden and upholstered beds, but the easy thing about going with something fabric is if you're thinking, "Is that too much wood?", or "Does this really go with that?," an upholstered headboard will totally save the day and take care of that second guessing. Plus, it adds a plush, "this is gonna give you REM sleep and deep dreams" vibe that I'm all about in the bedroom. Having something larger scale in fabric helps break up those hard materials, too – think of a sofa in a living room – same idea. You can find mine HERE.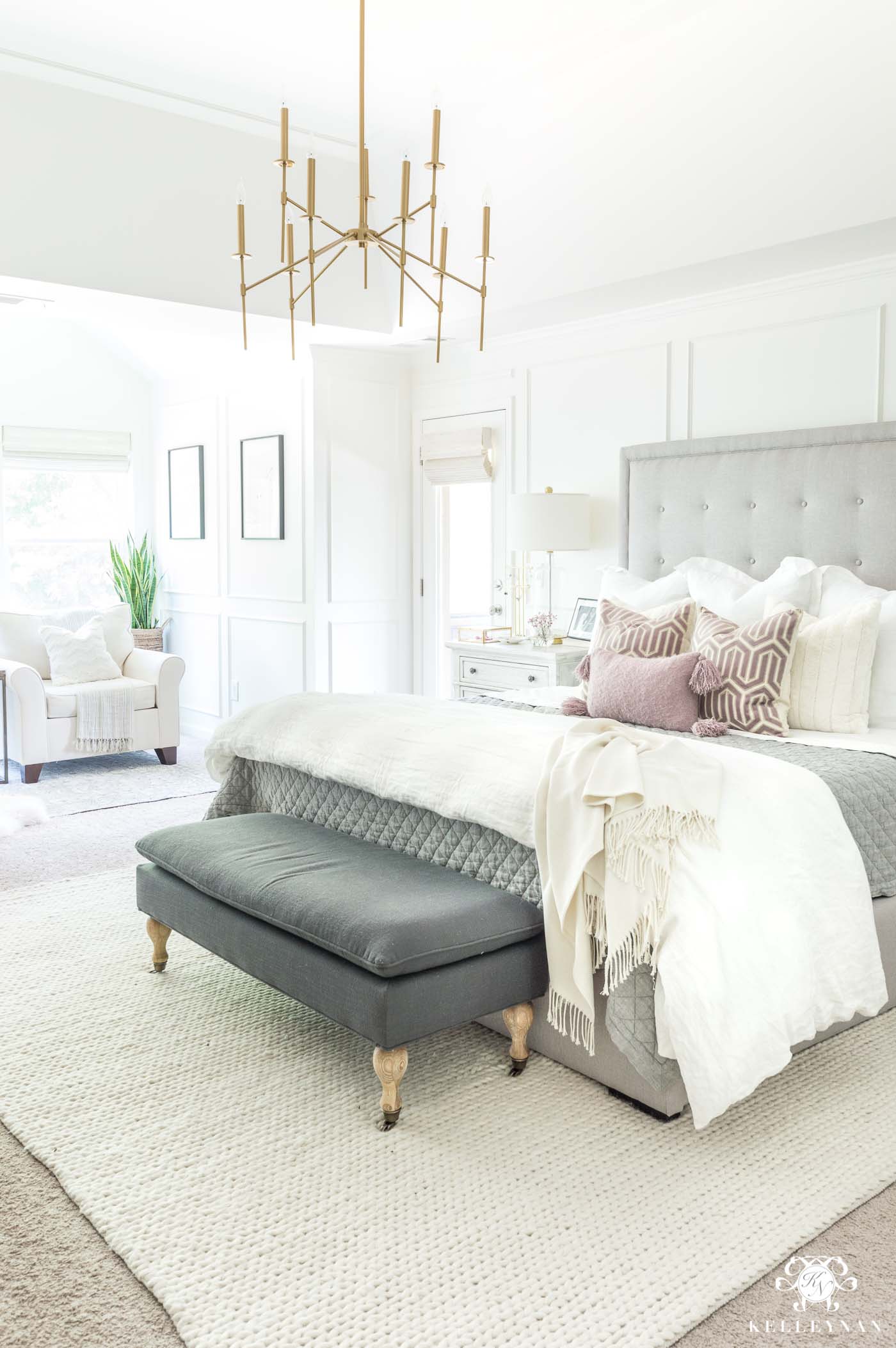 Sources: Chandelier | Bed | Bench | Nightstand | Glass Lamp | Rug | Quilt | Duvet Cover & Shams | Sheets | Fringed Throw | Bird Art I | Bird Art II | Chair (similar)
3. INTRODUCE TWO-TONED PIECES 
Bringing in a piece that is composed of multiple materials is an easy way to "cheat the system". I'll call this the "anchor piece" because I kind of consider my little sitting area side table to be the piece of furniture that brings the other furniture pieces together and bridges the gap of inconsistencies between the nightstands and dresser. It has a grey-ish acacia wooden top that sits atop a metal base – again, the metal is brushed and lends itself to looking like different colors, depending on what it's surrounded by. Take the dresser and the side table base on their own, and they'll look totally different. But together, the look similar in color, without being too matchy-matchy. Having the two-toned/two-material piece was my way to marry the metal and wood seamlessly. Having that one piece now makes bringing in something made entirely of wood so much simpler.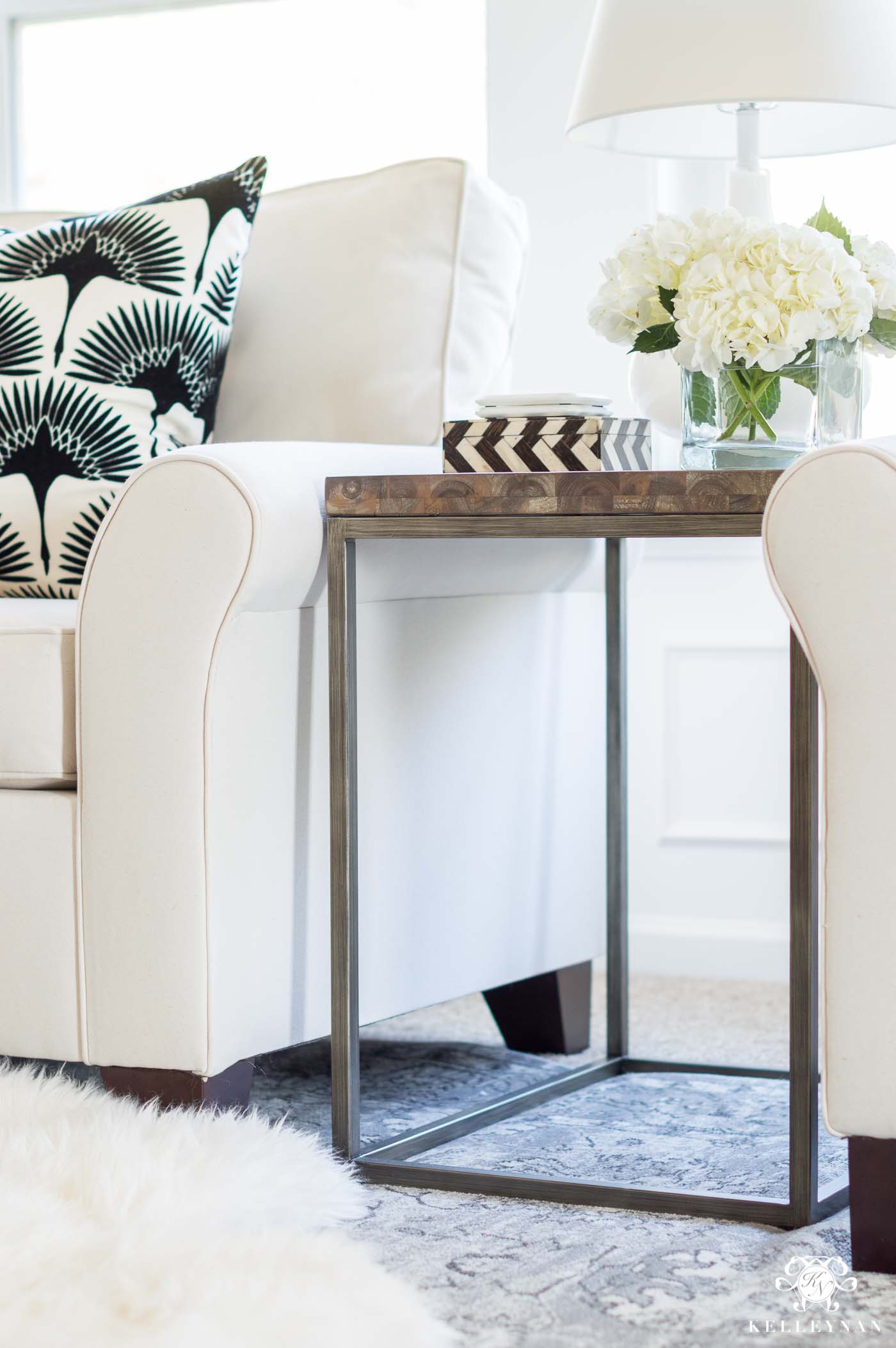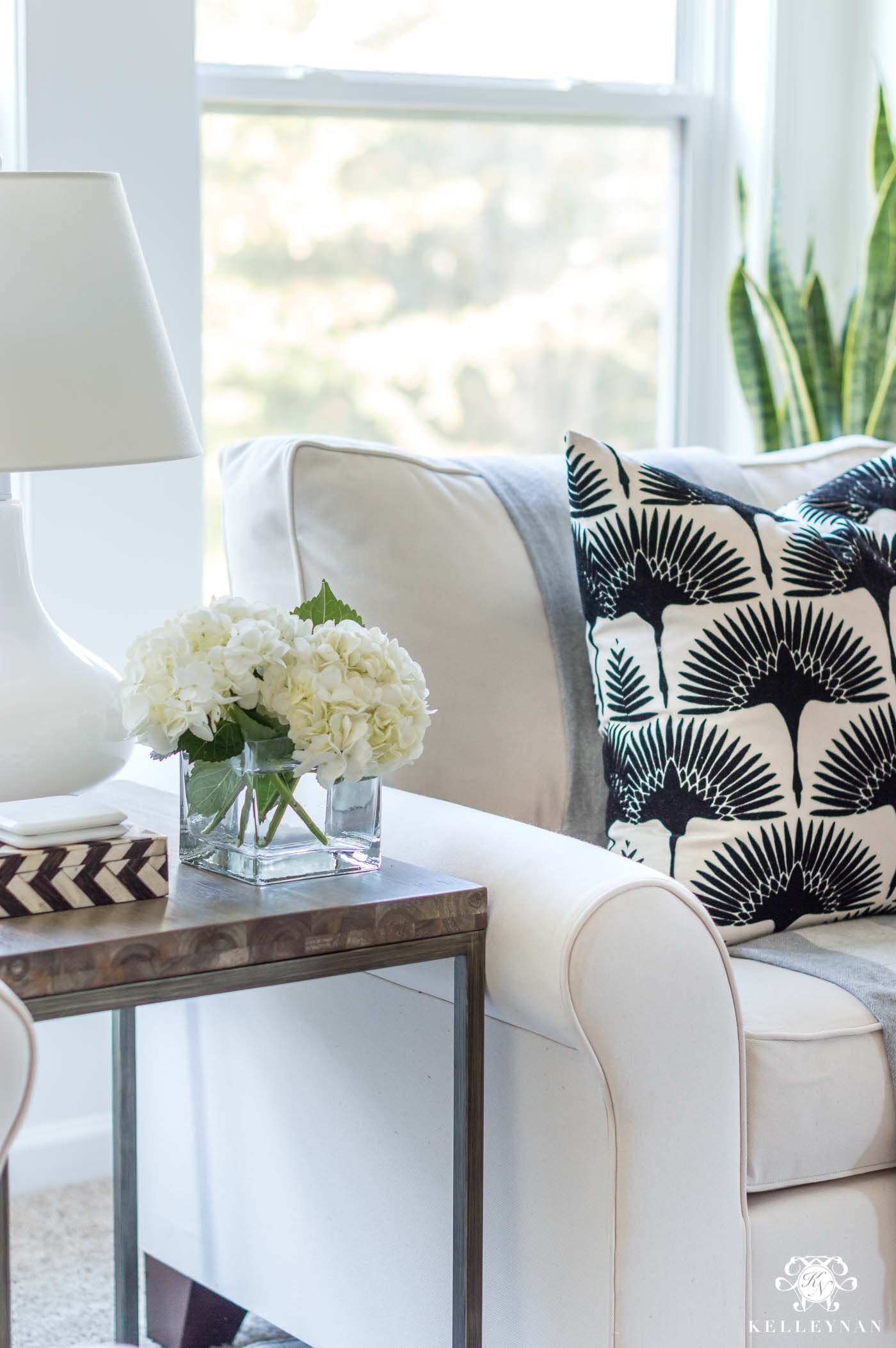 4. LOOK TO THE HARDWARE
One of the reasons I chose these nightstands (HERE) was specifically because of the hardware. I wanted something lighter and white-washed in the body but the darker, steel hardware made it coordinate with the other pieces in the room. Scroll back up and take a look at the side table and dresser. All three pieces now have some sort of common element and because the base on the side table lends its coloring to both the dresser and the nightstand hardware, it just works. Now, imagine this nightstand with something else- maybe bright brass knobs. Even thought I have other brass elements in the room, even in the lamp on top of this chest, it would have made it stick out like a sore thumb. It wouldn't share any commonality with the other two pieces in the room. But that's what's great about hardware – it's something you can change easily to make it coordinate with  your other furniture pieces.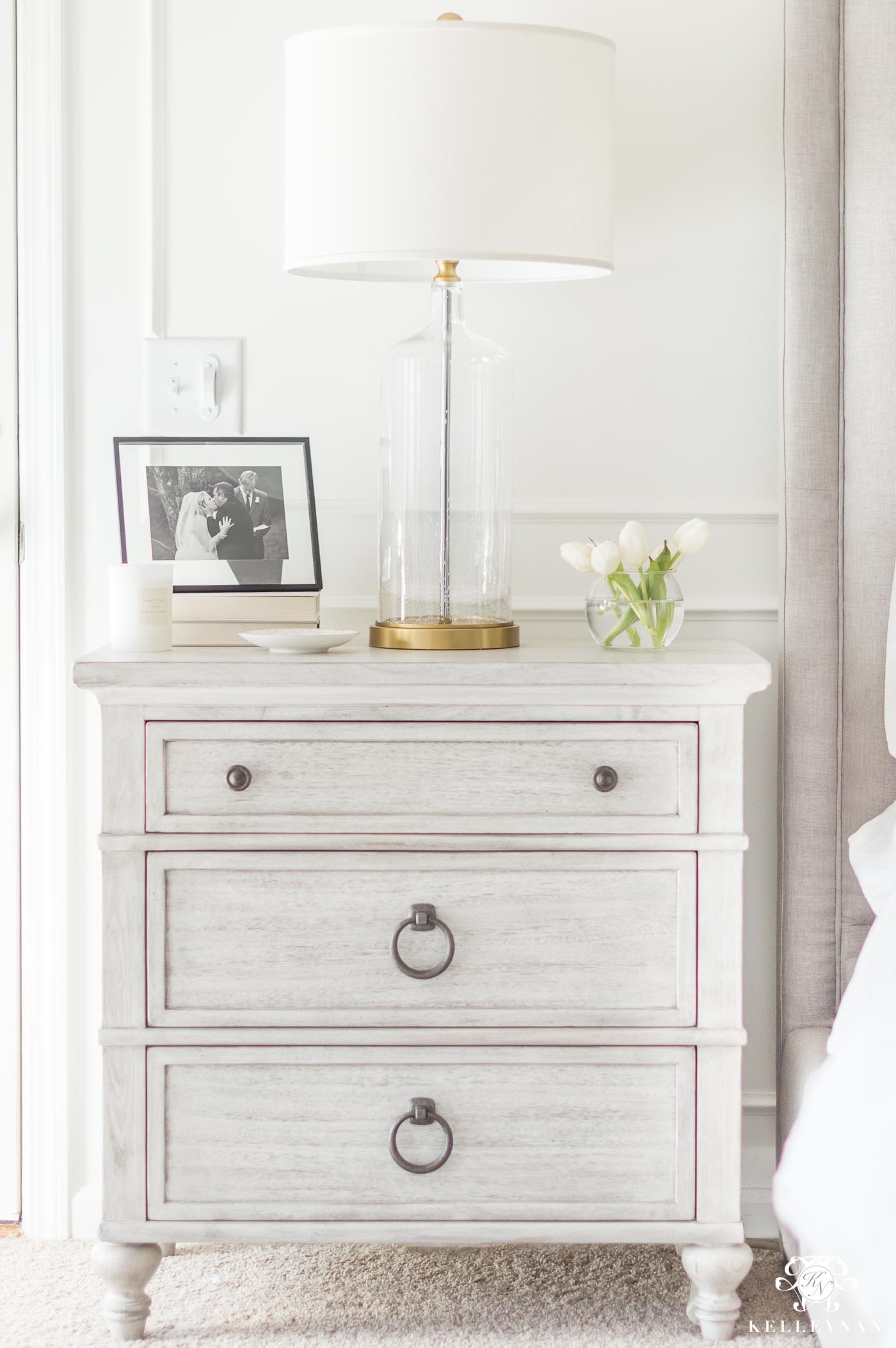 Sources: Nightstand | Lamp | Jewelry Dish
5. CONSIDER YOUR OVERSIZED LEANING MIRROR AS A PIECE OF FURNITURE
My oversized mirror was another piece I've had for a few years. Even though it isn't technically furniture, treat it like it is. Now's not the time to go rogue and bring in something crazy unexpected like you can do more easily with smaller accessories/lighting/textiles. Use it to your advantage to marry all the pieces together or make one of your lacking finishes more prominent. With the antiqued mirror and brushed silver almost all the furniture tones of the room are brought together.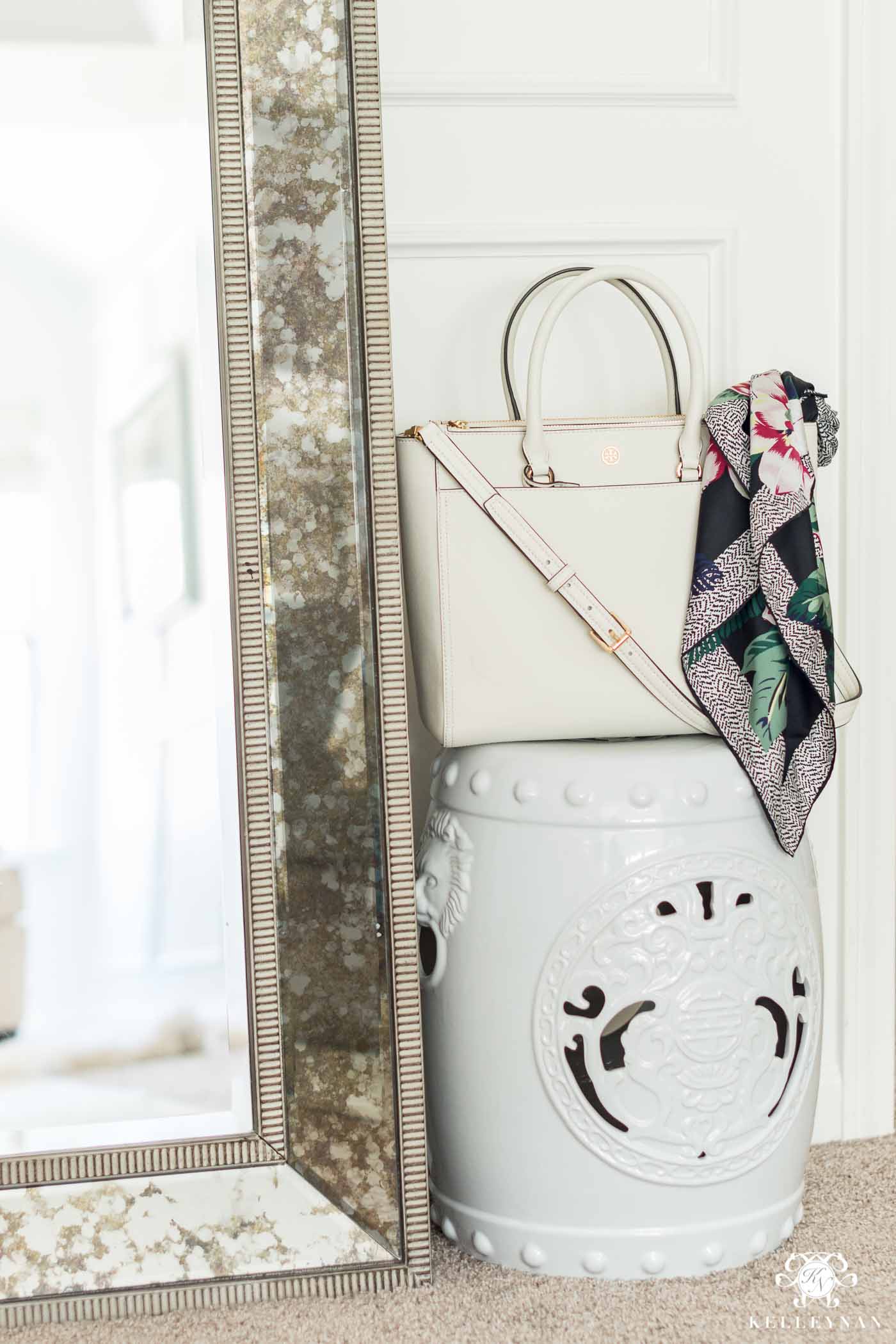 Sources: Garden Stool (similar) | Mirror (similar)
If you've been keeping track, that means, in our master bedroom, I have:
A gray upholstered bed
Metal dresser
Acacia Wood/metal side table
White-washed nightstands
And other small pieces like a slate gray bench with wooden feet)
Nothing is the same but by finding commonalities, I was able to coordinate and bridge some pieces together. If you have a piece of furniture that is sentimental or a different style and you can't figure out how to make it work, look for a piece that has some of its attributes present and work your way through, one by one, kind of like the "six degrees of Kevin Bacon". Your first and last pieces may have little in common but all the pieces in between will make them work together.