Stumped on how to decorate a large wall? Instead of looking at it as a vast, bare area that has to be covered, think of it as a blank canvas. An opportunity. Today, I'm sharing 10 wall decor ideas and examples of each across our home, along with a few tips and considerations as you start your projects!
*Posts on KelleyNan.com may contain affiliate links. Click HERE for full disclosure.*
Wall Decor Tips
Before you start filling a wall with *all the things*, there are a few things to keep in mind.
Scale: Go big. If it's a big wall, you need something that won't disappear into the wall. We've all seen big walls with tiny-by-comparison-art — if it isn't the correct scale, it can look cluttered, disappear, or may even look like an unintentional blemish of an afterthought.
Expense: But if it's bigger, won't it be more expensive? Larger art and wall decor can get pricey but it doesn't have to be. If there's a piece you love, save for it and purchase it in the correct scale. But, I'm sharing some budget-friendly alternatives throughout the post!
Continuity: Plan your walls to compliment your decor and surroundings — even from room to room if you have an open floor plan.
Repetition: While you may have a favorite go-to for bare walls (for me, it's mirrors), you don't want to use the same "trick" over and over; keep your solutions diverse.
Meaning: I am not the "special meaning" police. If I see a canvas that I think is pretty at HomeGoods, I'll totally buy it! I love when we are able to incorporate pieces or works that have special meaning or remind us of a special time, but liking it, in itself, is reason enough for me! Just don't feel like you  have to "settle" with a bunch of stuff from one trip out that you don't really like but think it "may go".
Now that we've covered the bases and what I try to keep in mind when I'm planning wall decor, let's get into 10 different ways to decorate a large wall!
1. Gallery Wall
If you're trying to avoid dropping a lot of money on a huge piece, you can create a wall of art that can serve as one big piece for a fraction of the cost by hanging a gallery wall. There are tons of approaches and tons of options to make these totally you. You can opt for a collected, diverse assortment or go the more uniform route. In the breakfast nook, I used the same Ikea frames to showcase iPhone photos of some of our travels.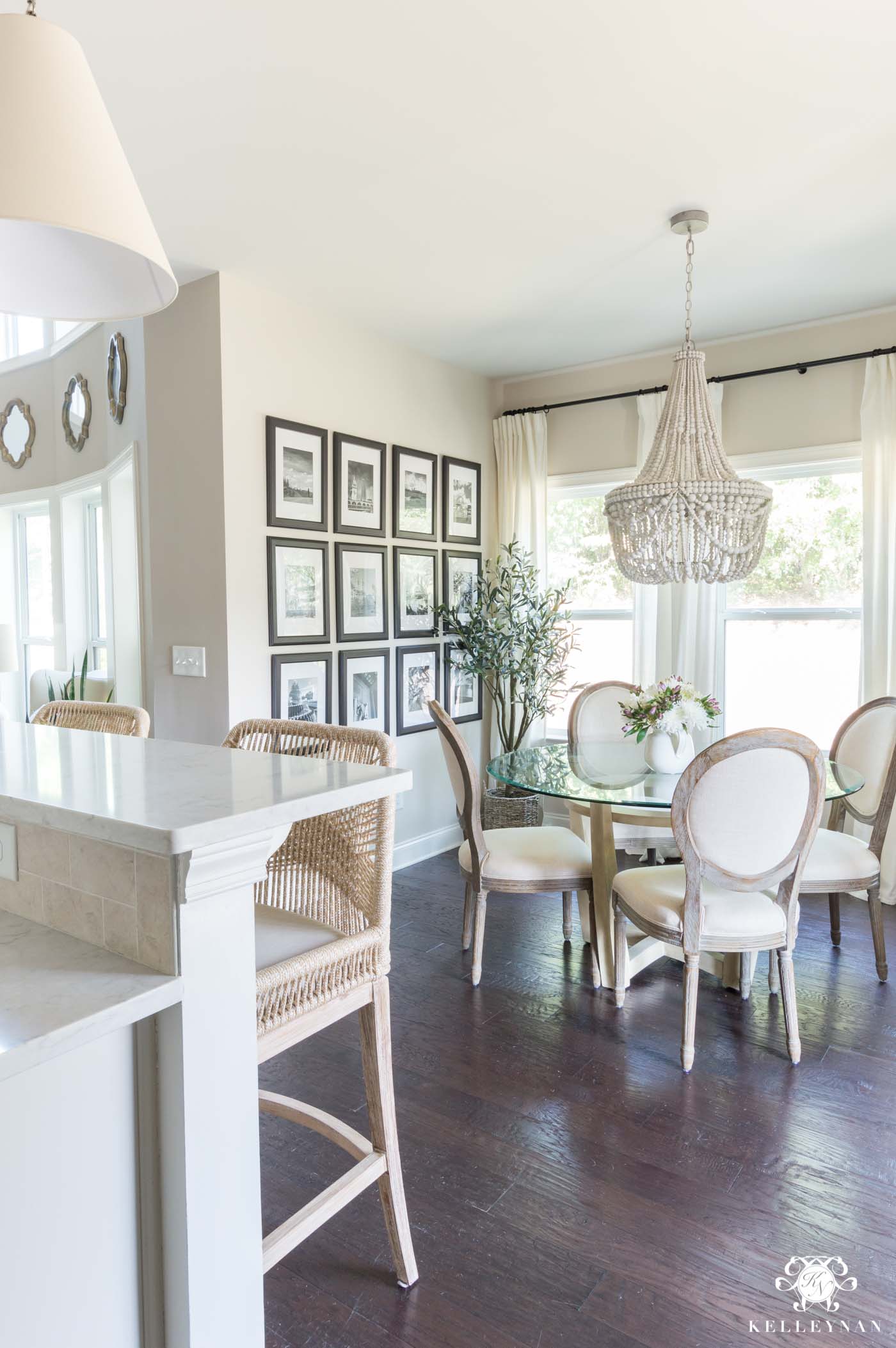 Sources: Beaded Chandelier | Faux Olive Tree | Dining Table | Dining Chairs (similar) | Gallery Wall Frames | Curtains | Curtain Rod | Bar Stools | Pendant Light
Each photo is a different state and is a landmark/landscape snap I grabbed on my phone. Memorable and special and while it captures memories from 12 different trips, it acts as one, monochromatic piece of art. Notice it also takes up most of that wall, too 😉 Go larger than you think you need to when you're framing photos.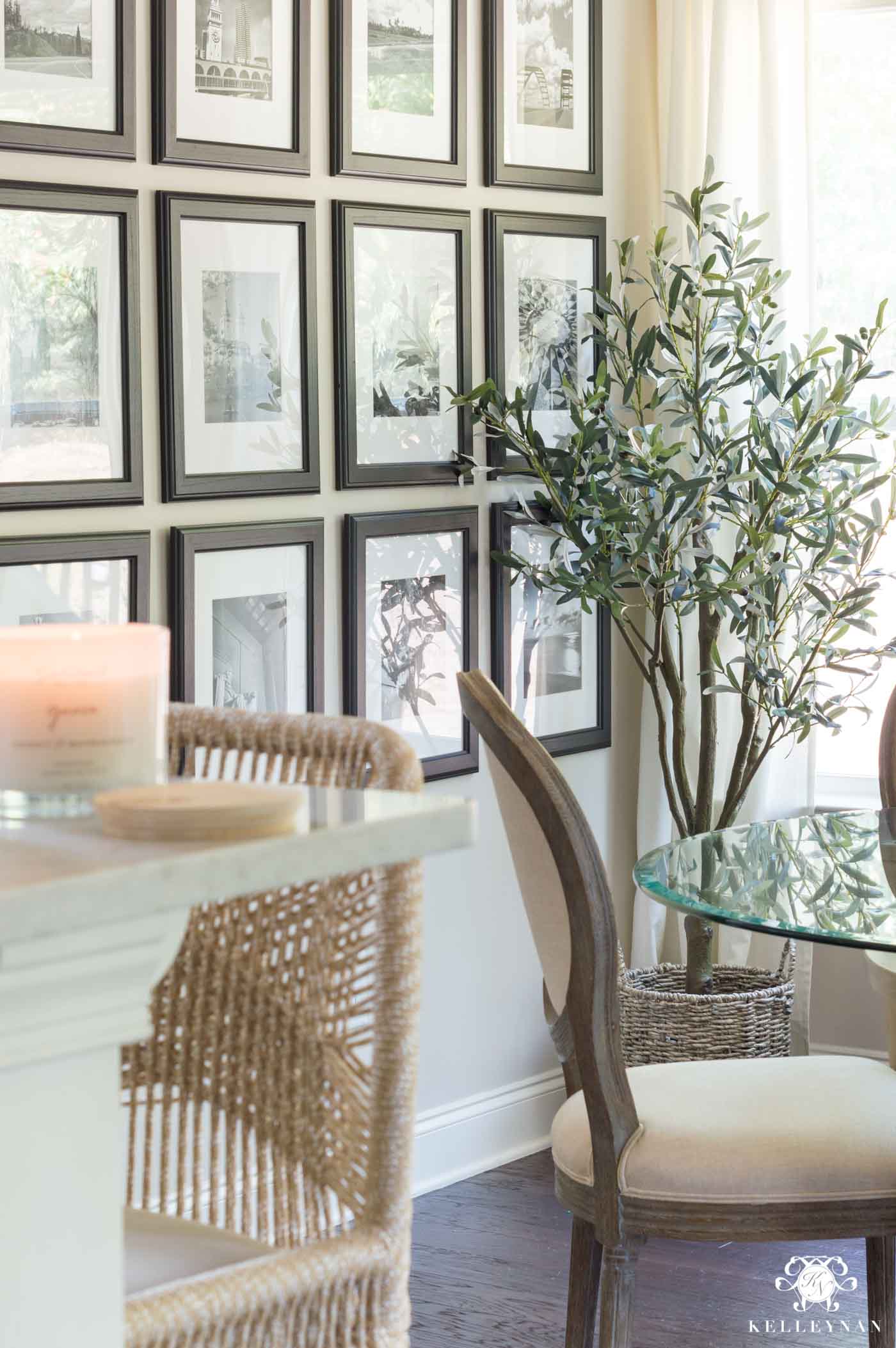 Another simple "gallery" of sorts that acts as one piece are the wall baskets on our screened in porch. They are all the same but three different sizes. I just quickly positioned them in an organic shape and called it "good!"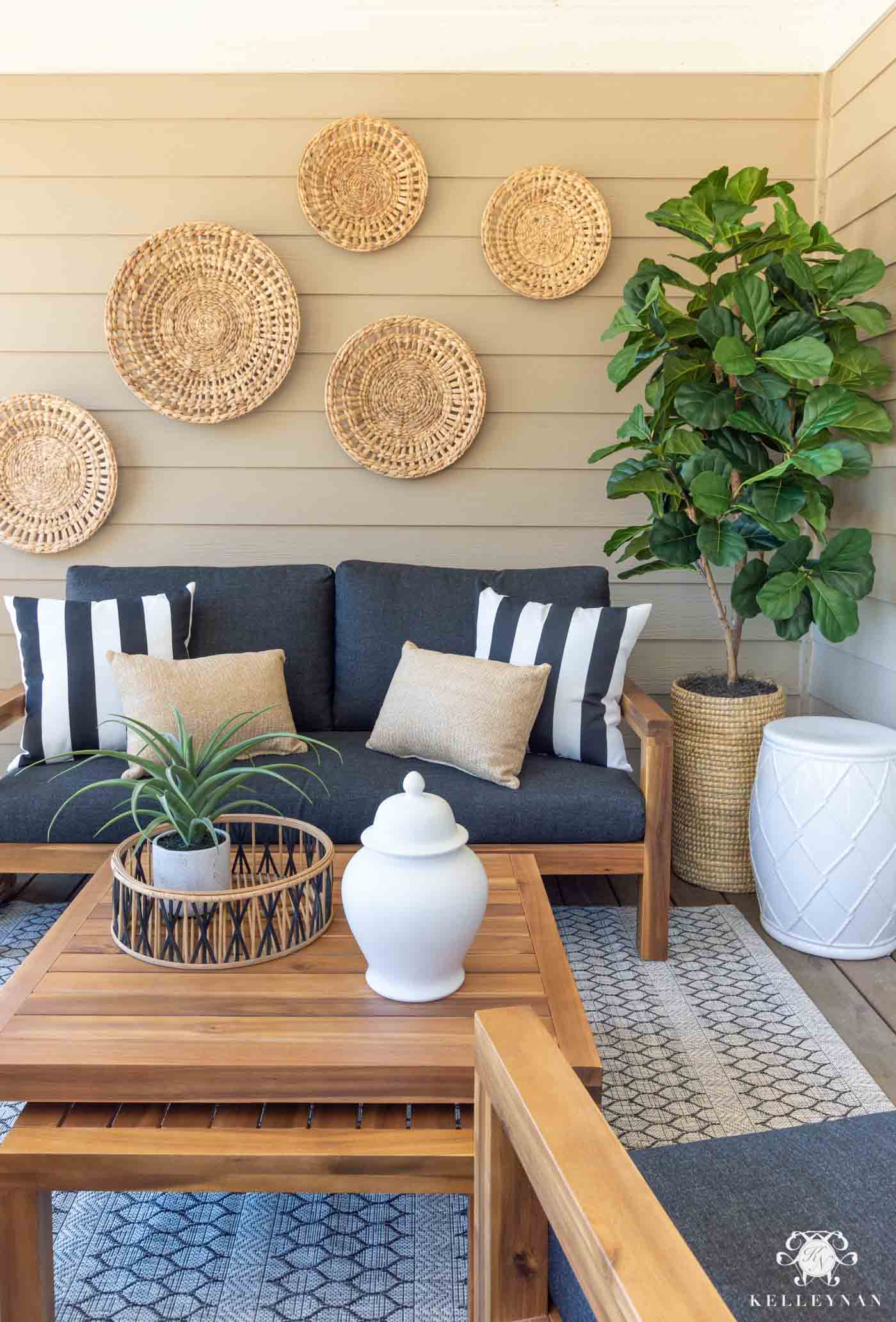 All porch sources can be found in the porch reveal HERE.
The sunburst gallery wall in our front room admittedly doesn't flow with the rest of our home these days and will be seeing a revamp soon. But, it's a great example of sticking to one them while using eclectic pieces and mixing metals.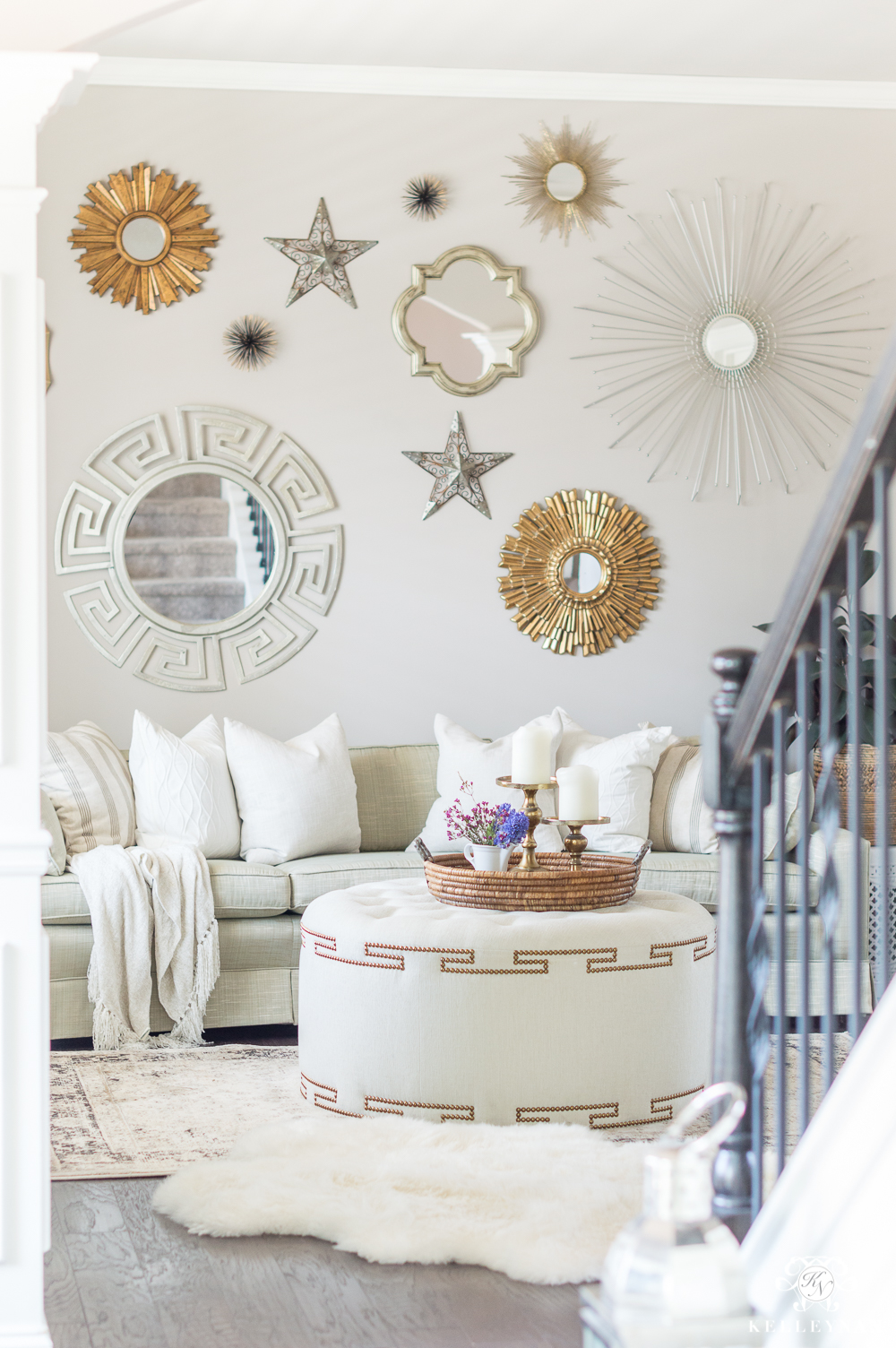 Sources: Ottoman
My office has an art arrangement that I'm calling a "gallery wall" — I positioned the large piece, along with three identical foil prints that I just rotated as I hung, into one big square. While the pieces are different, they do have the same frame.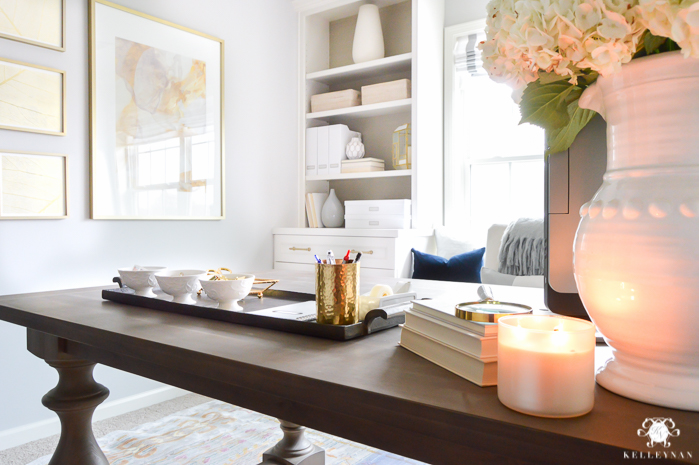 Sources: Large Wall Art | Small Wall Art | Desk Tray | Footed Bowls | Rattan Bin | Gray Vase | Magazine Holder Box | Document Storage Box | Roman Shade | Rug | Drawer Pull
There are some gorgeous galleries mixing black and white with color photos, same frames and mats in different sizes, and even all different frames, mediums, etc. If you're looking for easy and for something that's a little more calm, go more cohesive. If you're adventurous and looking to make an artful statement, mix it up.
2. Console Table
Sometimes, it isn't just art your space needs (or could use). This space was big and barren and while I wanted a console table, it is somewhat of a walkway. I was still able to find a piece on the more narrow side and create a whole "moment" in the living room. Not enough room for a console table? You can do the same with a bench or set of stools!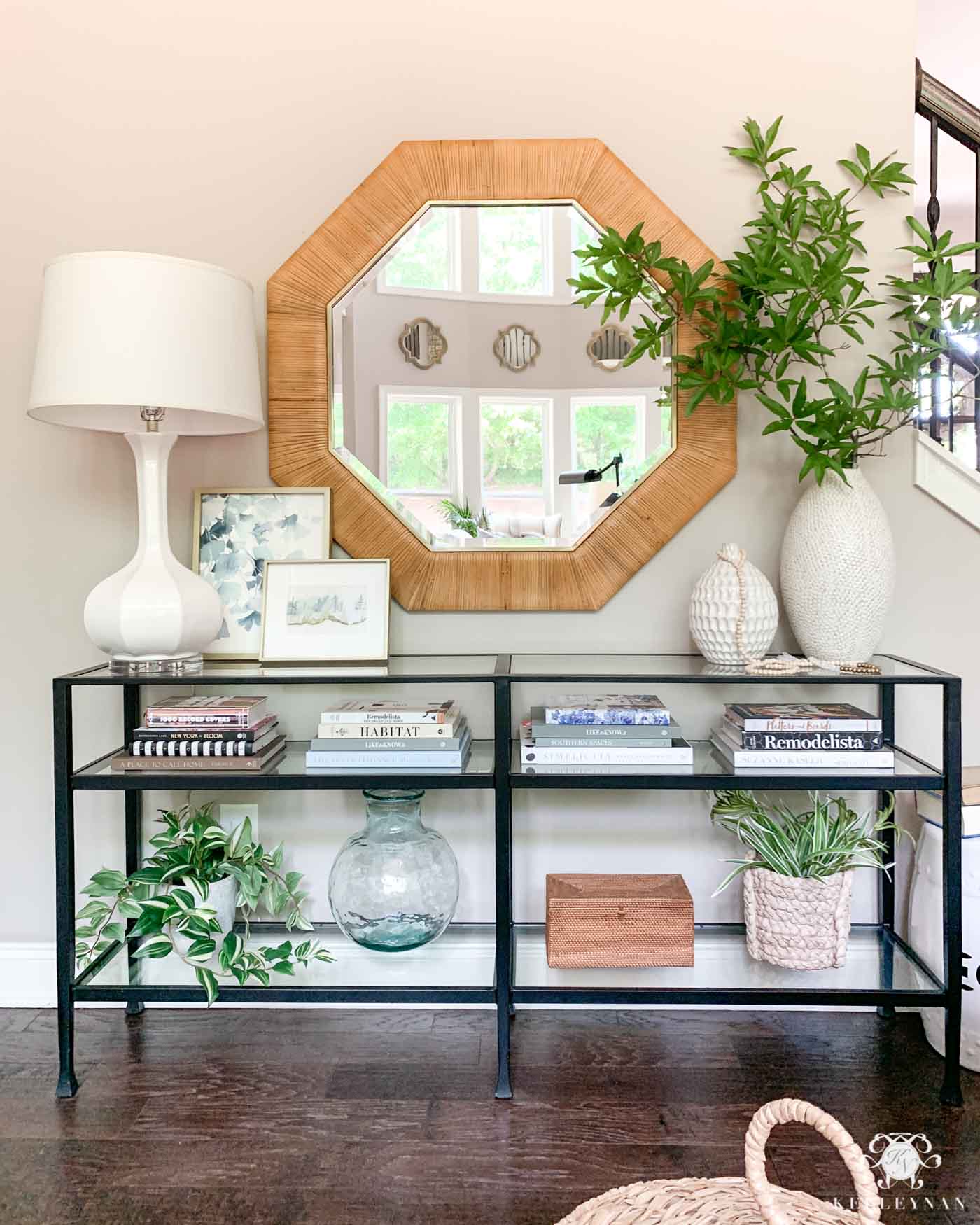 Sources: Console Table | Rattan Mirror | Lamp (no longer available) | Large Textured Vase | Small Textured Vase | Clear Glass Vase | Lidded Rattan Box (similar) | Blue Gingko Art | Beyond the Trail Art | Faux Green Plant (similar)
Sources for Coffee Table Books: Remodelista | Southern Spaces | Habitat | Platters and Boards | New York In Bloom | Simplicity | Elements of Family Style | Blue and White | Elements of Style | Sophisticated Simplicity 
3. Large Scale Art
Ok, I feel like this is probably the most obvious but when I say "large", I mean large. I don't want a piece of art to look like something I hung on a wall; I want it to become part of the wall — does that even make sense?! haha This whitewashed wood carving is 48″x48″…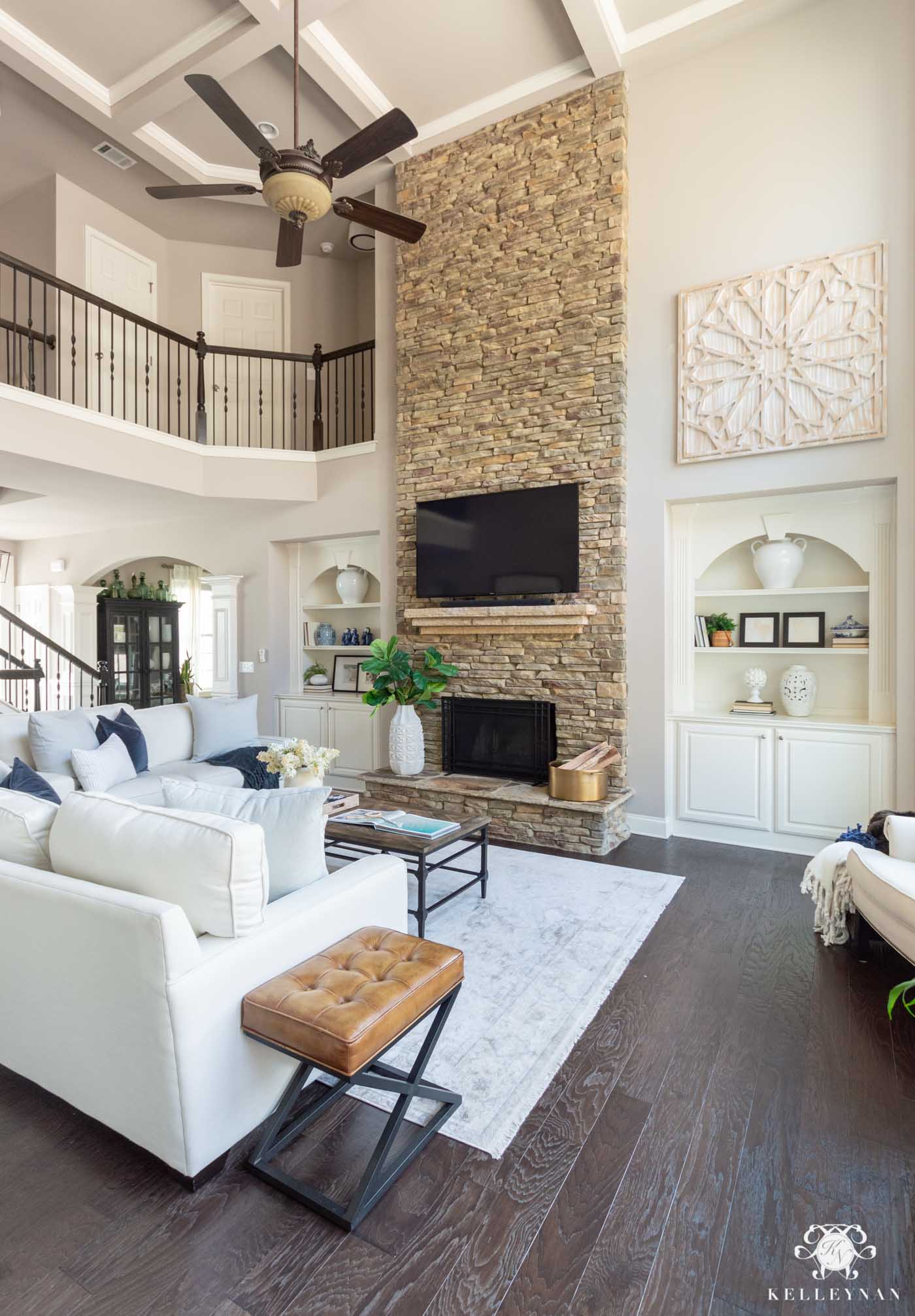 Sources: Large Wood Wall Art | Sofa | Rug | Coffee Table | Leather X Bench | Brass Party Bucket | Fireplace Screen | White Ceramic Vases  | Georgia Map Art | Texas Map Art
And this piece above Eliza's bookshelf is 30″x40″.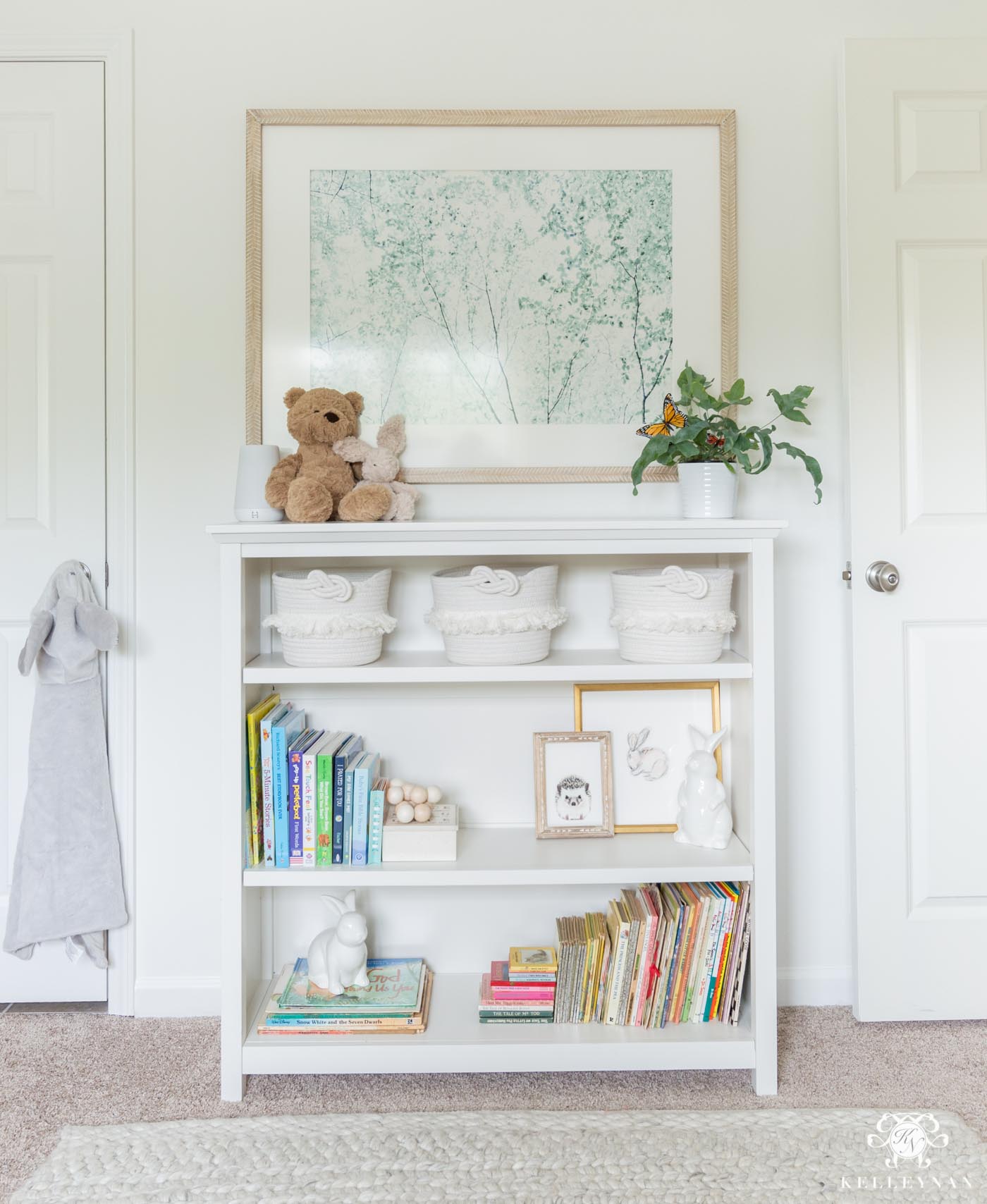 Sources: Bookcase  | Woven Rope Storage Baskets (similar) . | Large Forest Art | Bunny Art | Hedgehog Art | Hooded Bunny Towel | Wooden Bead Clutching Toy
The art on this living room wall is 40″x54″ and while it's huge in person, there's actually a size that's still larger!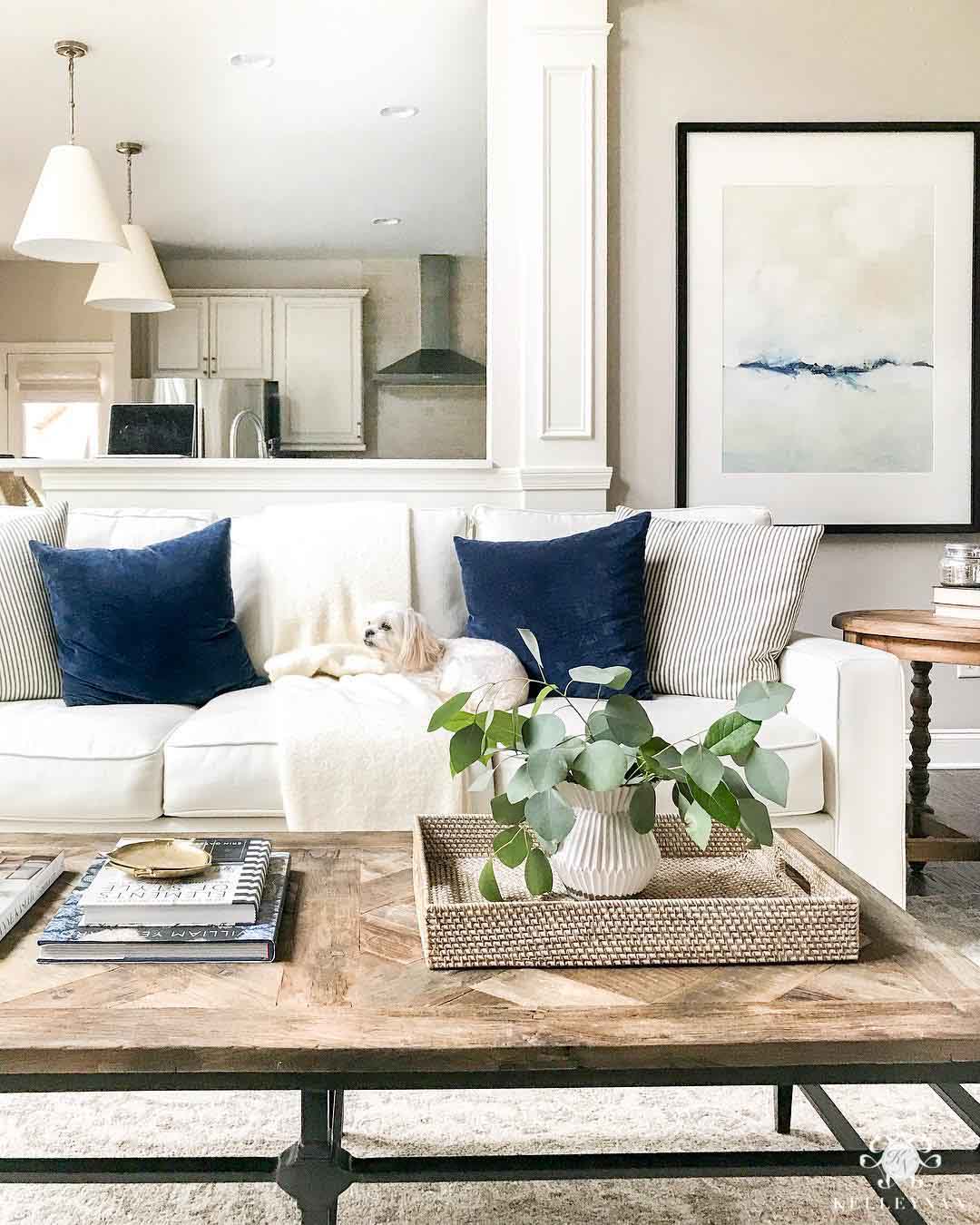 Sources: Large Wall Art | Sofa | Coffee Table | Round Accent Table | Rattan Tray
4. Set of Art
I love pairing art together as a set, especially when I only want something hung on the uppermost portion of the wall. It will also save some $$$ as two smaller framed pieces are usually less than one big one. This framed pairing of song lyrics above Eliza's crib ended up being the best "second option" — I'm so glad the wall basket I was waiting on originally never arrived ;). — a total happy accident. I get tons of questions about these; the actual Etsy shop who printed these lyrics closed shop shortly after the reveal but you can find a similar option HERE.  The frames I chose are in the 16″x20″ option, but that's actually the size of the photo within the mat. The actual frame sizes are 23″x28″.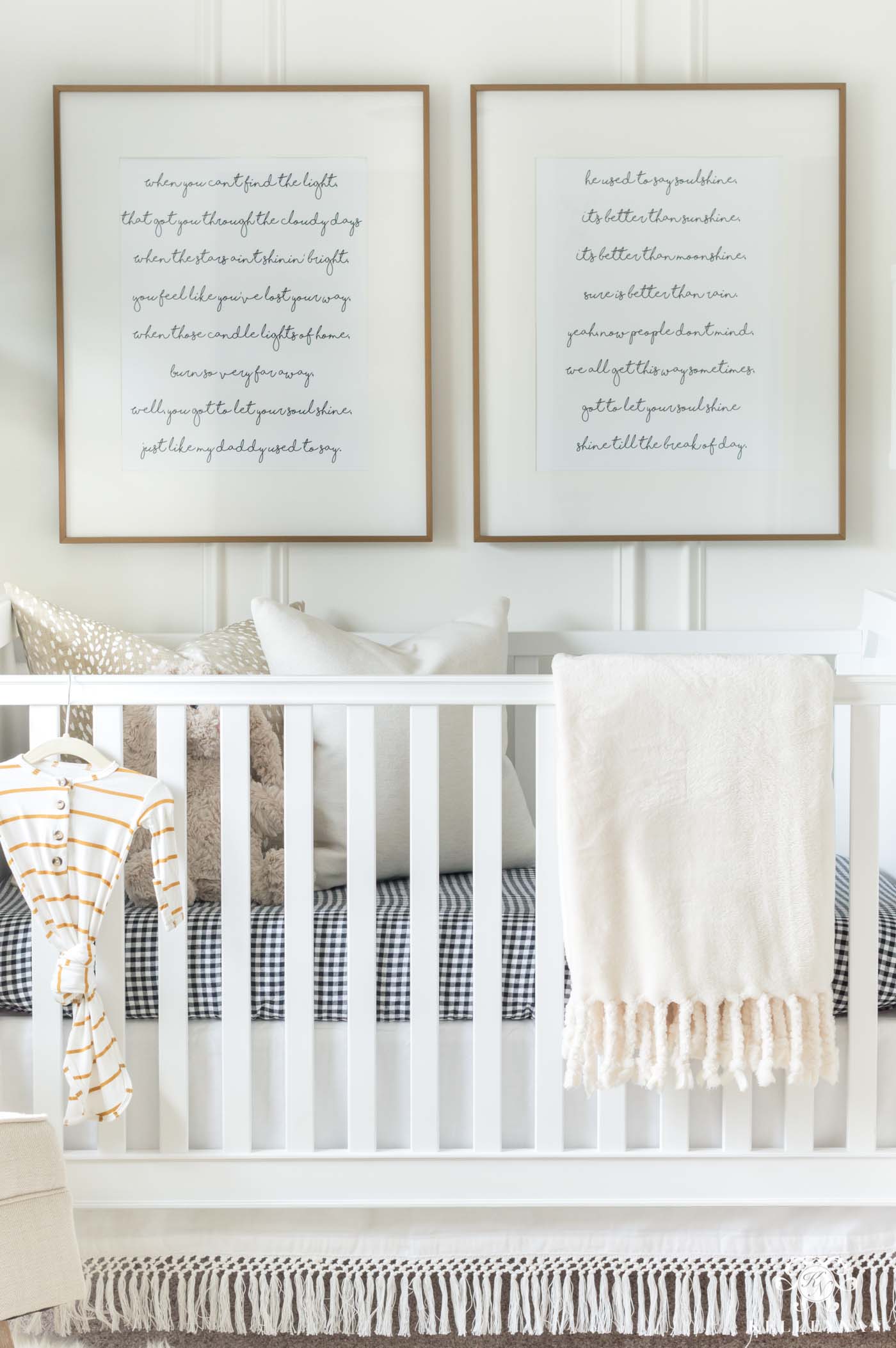 Sources: Song Lyrics (similar) | Frames | Crib | Macrame Crib Skirt | Gingham Crib Sheet | Antelope Pillow | Bunny | Cozy Tassel Throw 
I also like to search for art series and choose two favorites to configure together as a set. These were old lily pad art pieces from ZGallerie, about six years ago. Here's a pro tip — I love browsing Minted for art. While it isn't easy to "spot" a set, they typically number their prints within a series with Roman numerals. In the search bar, I will search "II", indicating a "2". When the results are run, I check "art" in the filters so it only gives me art (instead of cards, stationery, etc.) Most everything that filters from there is part II of an art series. If you find a piece you like, tap on the artist's name and you can browse their other work. Nine times out of ten, if they had something labeled with a II, there is also a I (sometimes a III and IV).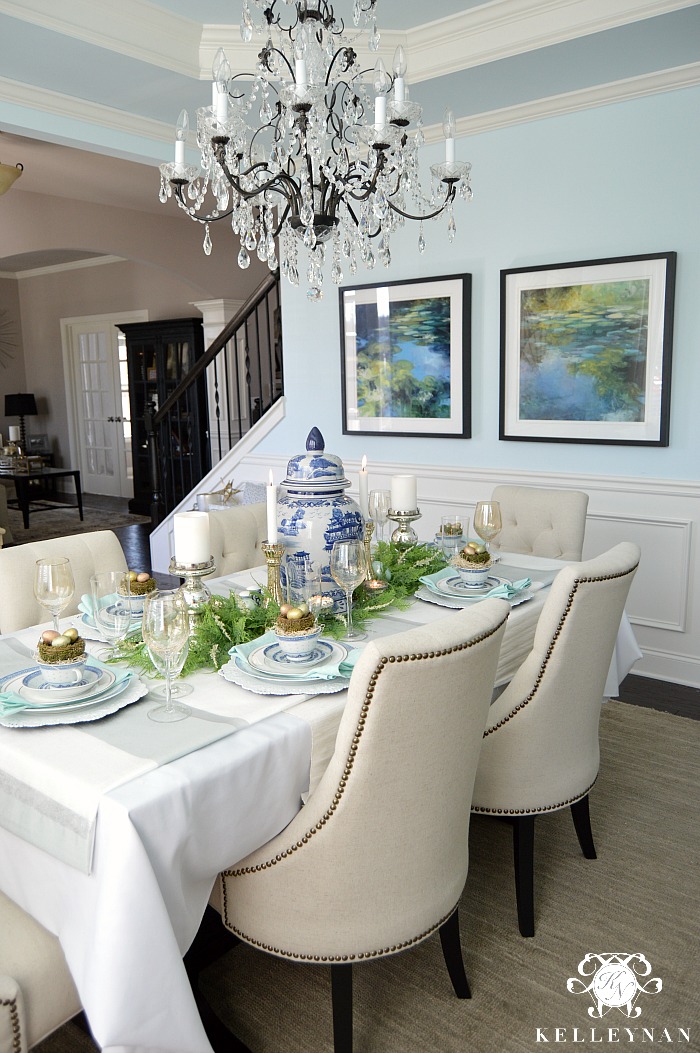 Sources: Chandelier | Dining Chairs (similar)
5. Wall Treatment/Moulding
A more involved (but statement maker, for sure!) way to "decorate" large walls is to make your walls art, themselves. Adding trim and moulding is something we have done to customize several spaces throughout our house and while you could add art on top, they can totally stand on their own without any extra embellishments. In Eliza's nursery, we added five single boxes of picture frame moulding, but in our bedroom, we added two rows of boxes around the entire room. We even added a trim detail around the vaulted ceiling. I had a contractor do all the work but using shoe moulding and sticking to simple boxes directly on drywall and topping with paint kept expenses down on projects that could add up quickly.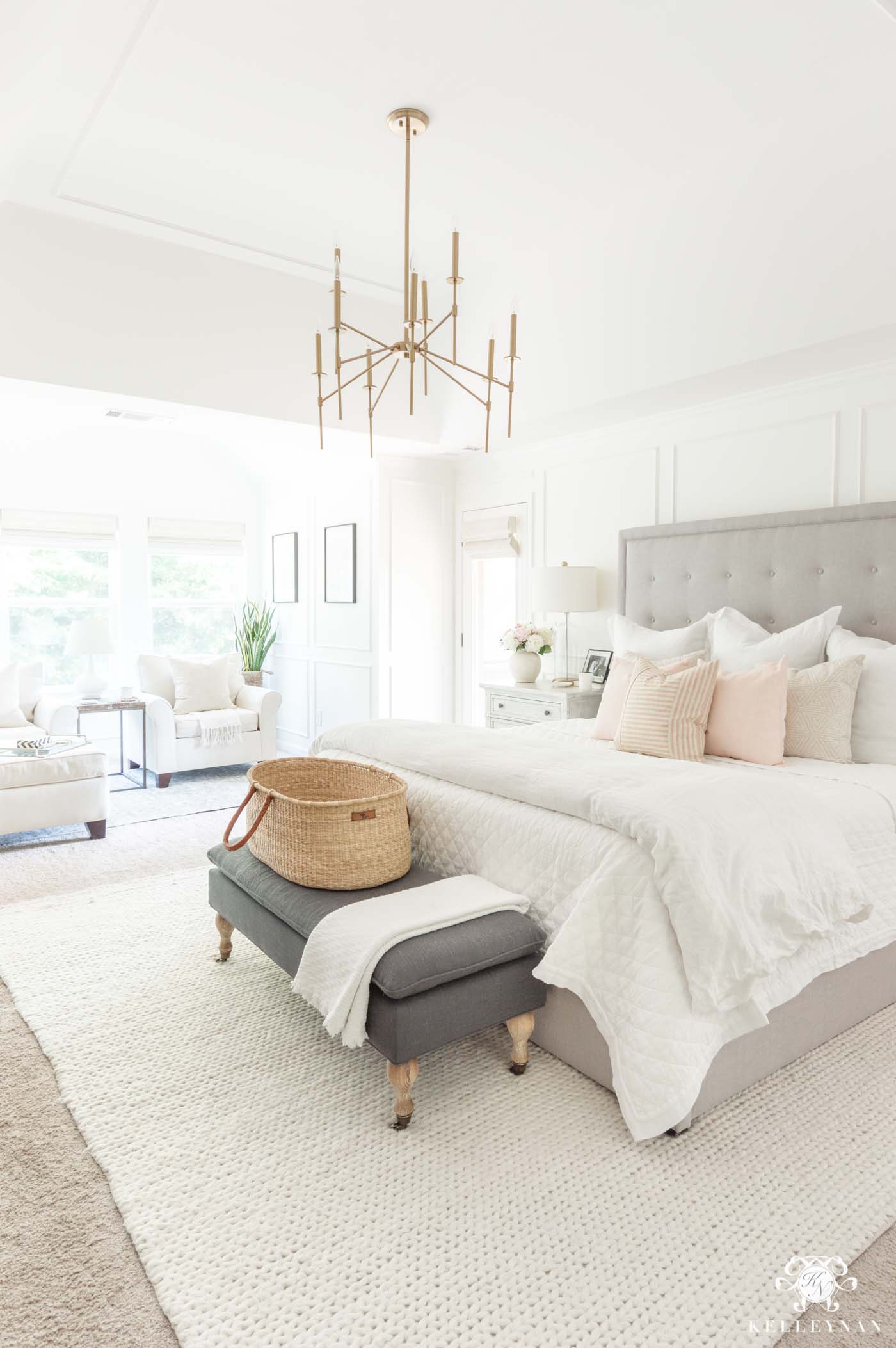 Sources: Chandelier | Bed | Bench | Rug | Nightstand | Glass Lamp | Quilt | Duvet Cover | Wall Art 1 | Wall Art 2 | Moses Basket
In the living room, I have a huge wall where the kitchen cutout looked pretty naked. I had a faux half-column added to match the columns on the other side of the living room…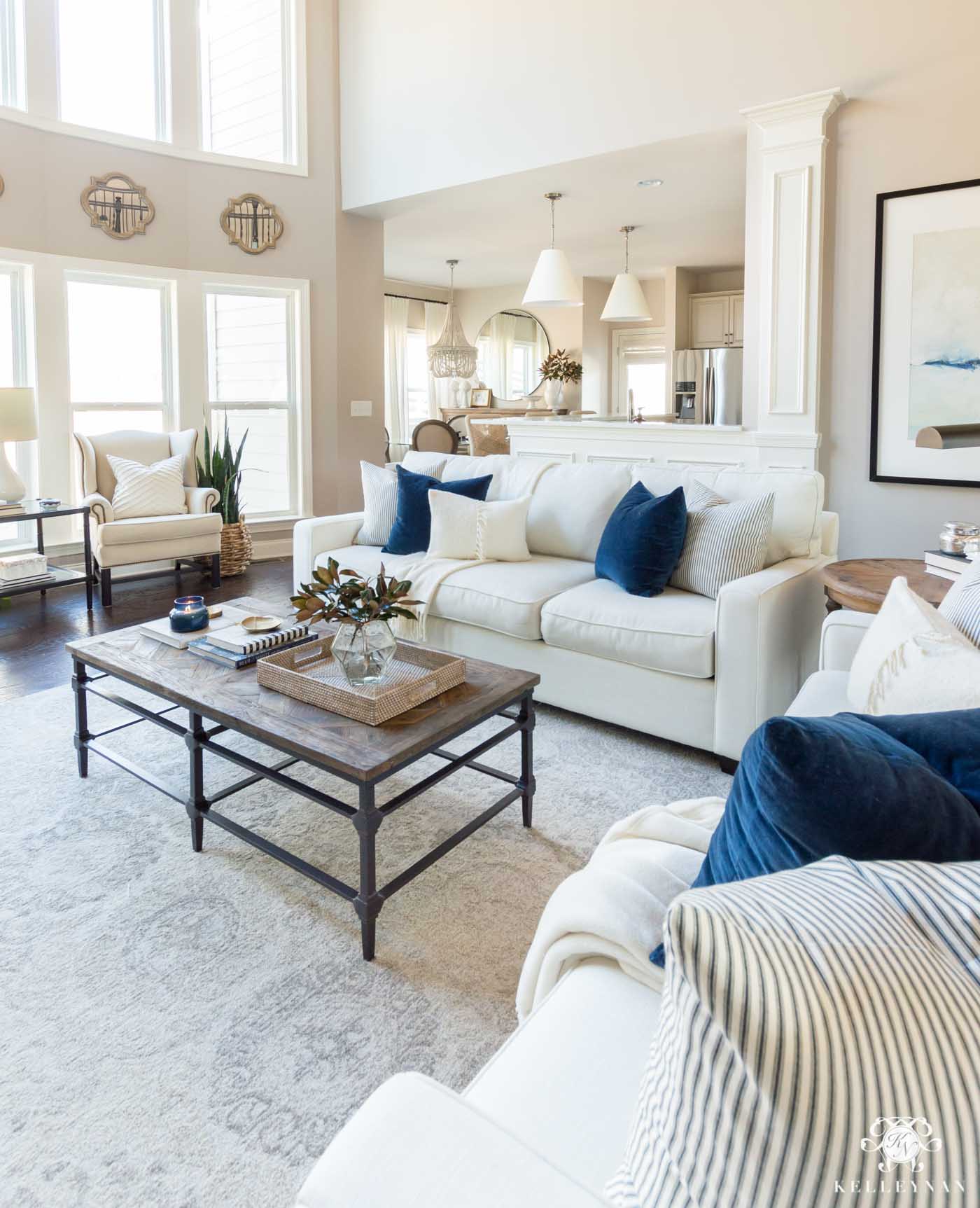 Sources: Large Wall Art | Sofa | Coffee Table | Round Accent Table | Rattan Tray| Wingback Chair | Rug
and added this detail which wrapped under the bar, around the corner to meet the new column. Functionally, it's also helped with being able to clean scuff marks where feet tend to kick that wall; before, the flat paint would just end up looking bad. The semi-gloss finish of the wall detail is way more scrubbable!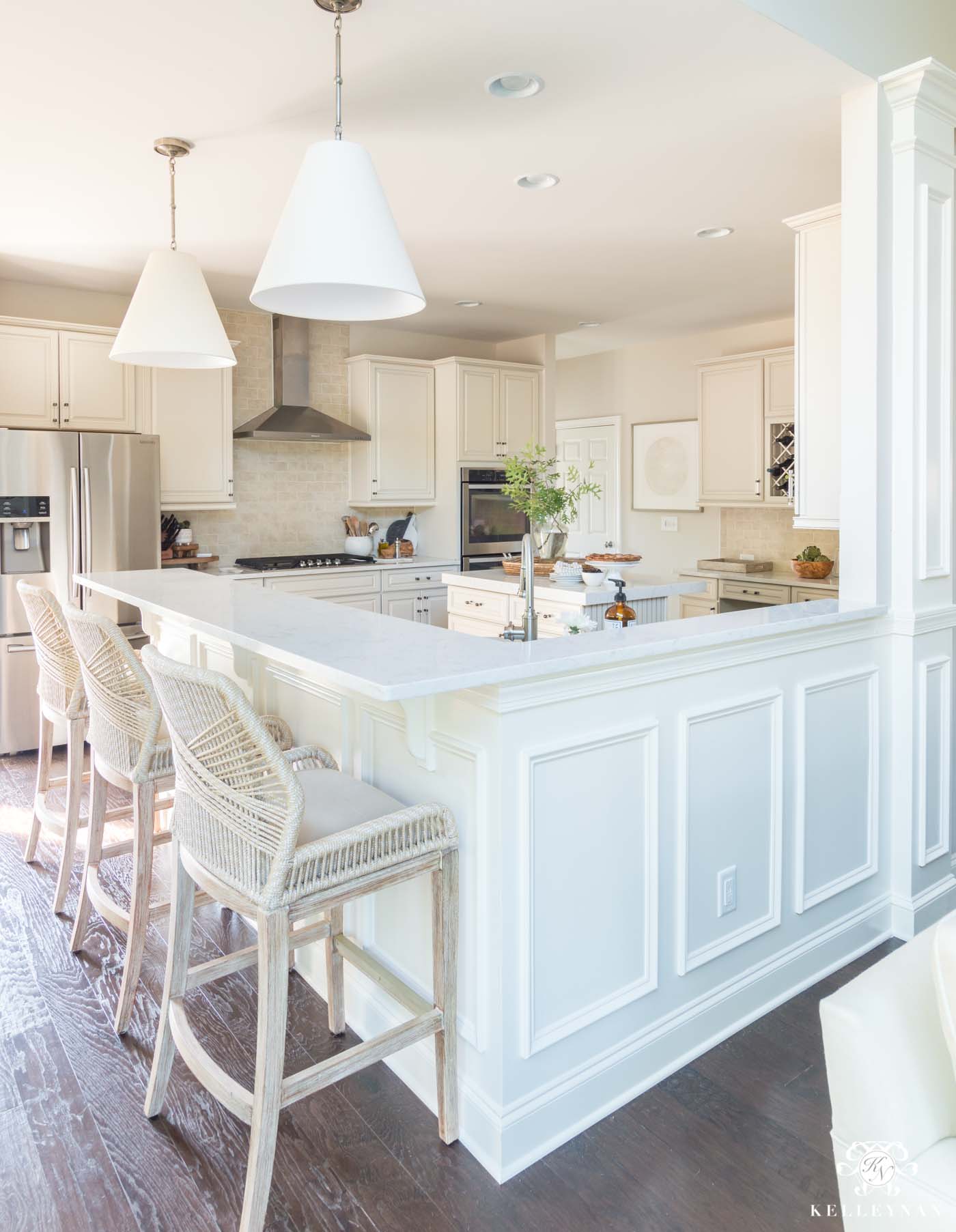 Sources: Bar Stools | Pendant Lights | Cabinet Pulls
While I've stuck to more picture frame moulding in my rooms, there are tons of pretty options if you explore board & batten or horizontal/vertical shiplap, too.
6. Wallpaper
I only tiptoed into the world of wallpaper earlier this year and… I'm totally obsessed. I started with our small powder room where it's way easier to be more bold and adventurous and I think the risk totally paid off. I also stuck to only wallpapering the upper 1/3 while I went with a moulding on the bottom 2/3. I don't have a single piece of additional art and I'm now trying to determine what space I can wallpaper next!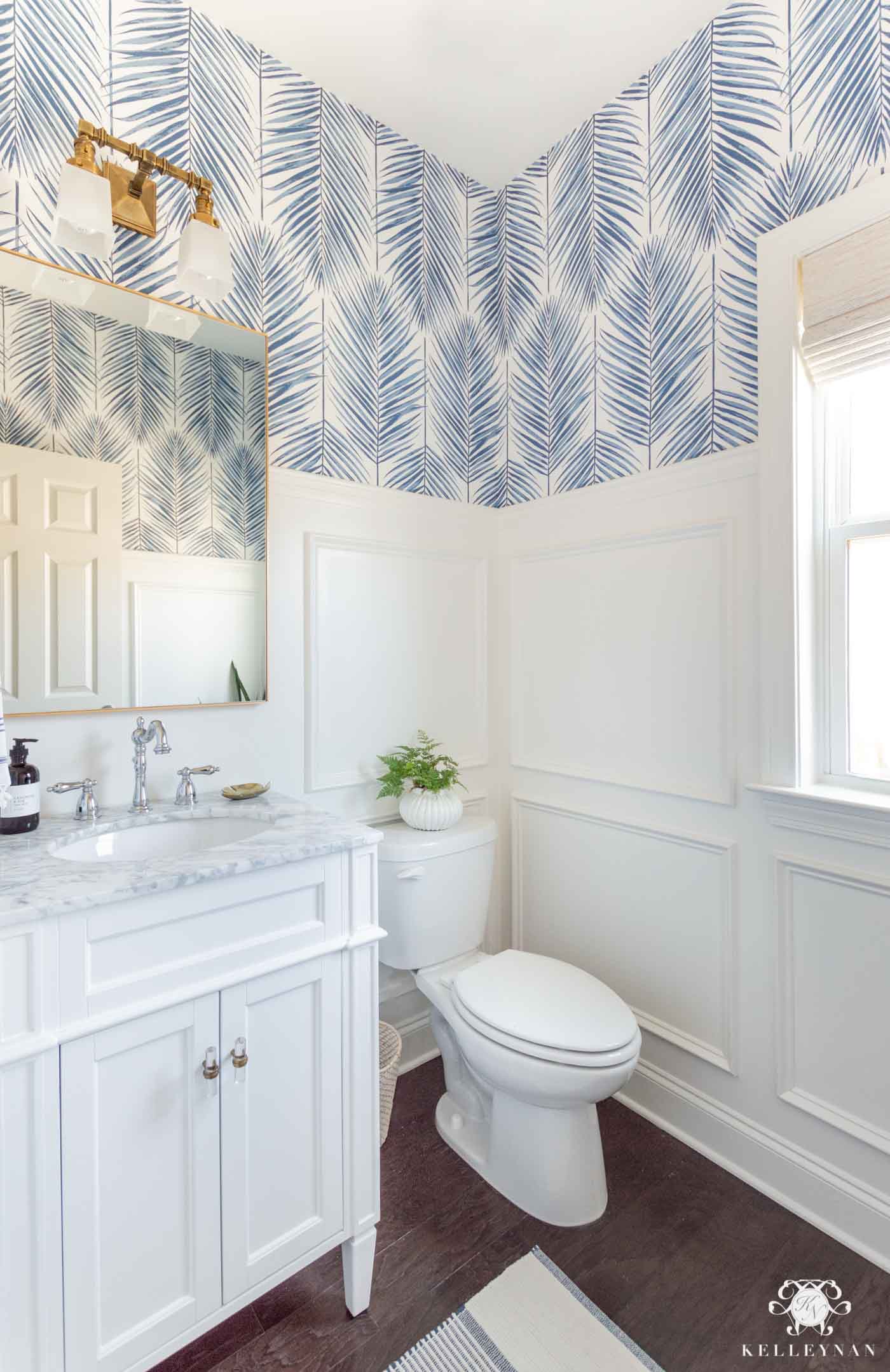 Sources: Wallpaper | Vanity | Faucet | Mirror | Sconce | Rug| Rattan Trash Can (similar)
If you don't want to commit, there are also a lot of pretty peel and stick options that are fairly easy to apply. I actually applied a faux brick in our master bathroom's toilet room a few years back!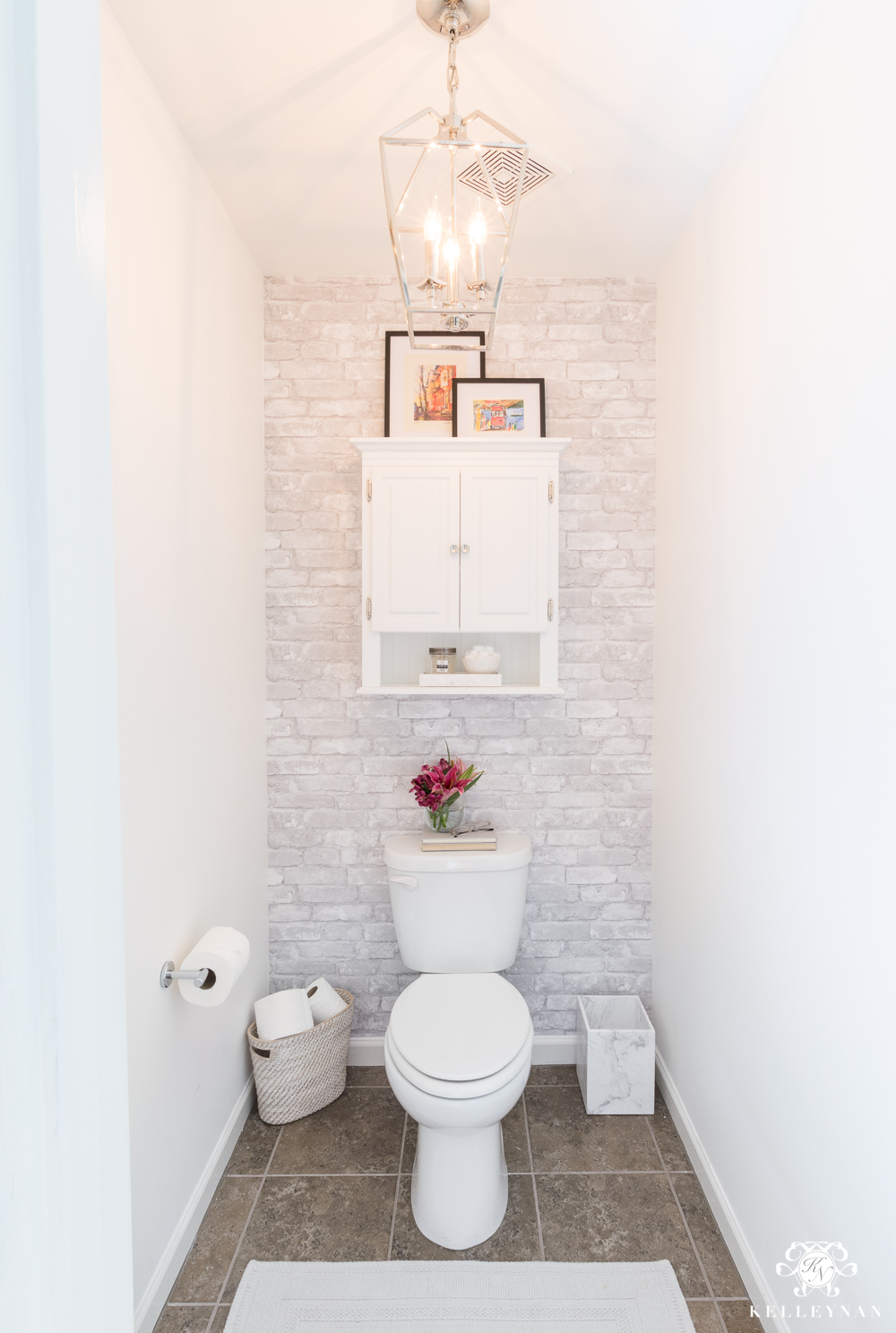 See all the details of this makeover HERE.
7. Large Mirror
I mentioned early on that my easy and first go-to inclination is to scope out a statement mirror. Like large art, the size you choose makes a BIG difference. This mirror is 48″ but works with the scale of the wall.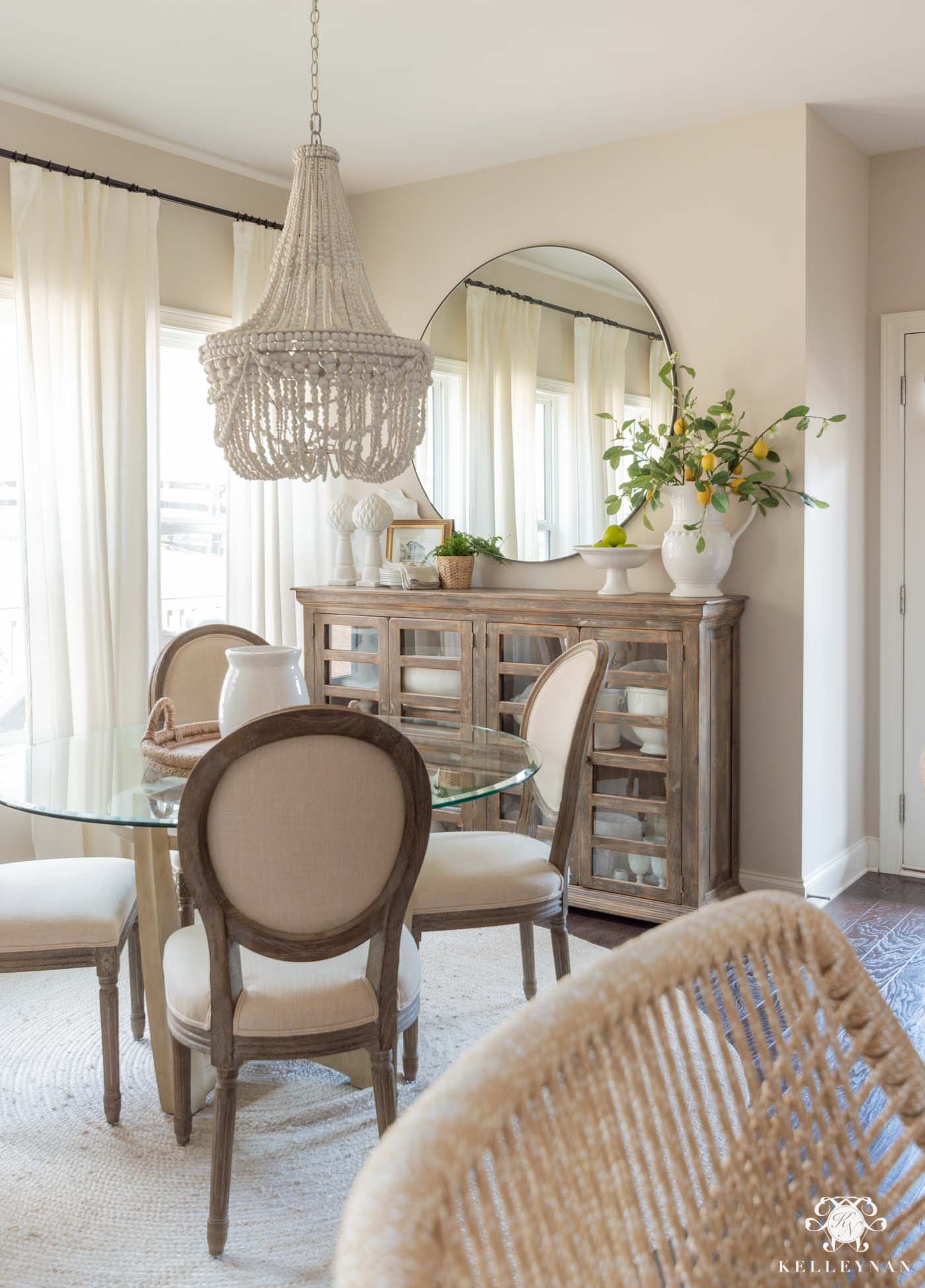 Sources: Beaded Chandelier | Dining Table | Dining Chairs (similar) | Round Mirror | Sideboard (similar) | Curtains | Curtain Rod | Rug
In contrast, prior to a few updates in the breakfast nook, I had this round mirror that in hindsight was far too small for the look I wanted to achieve…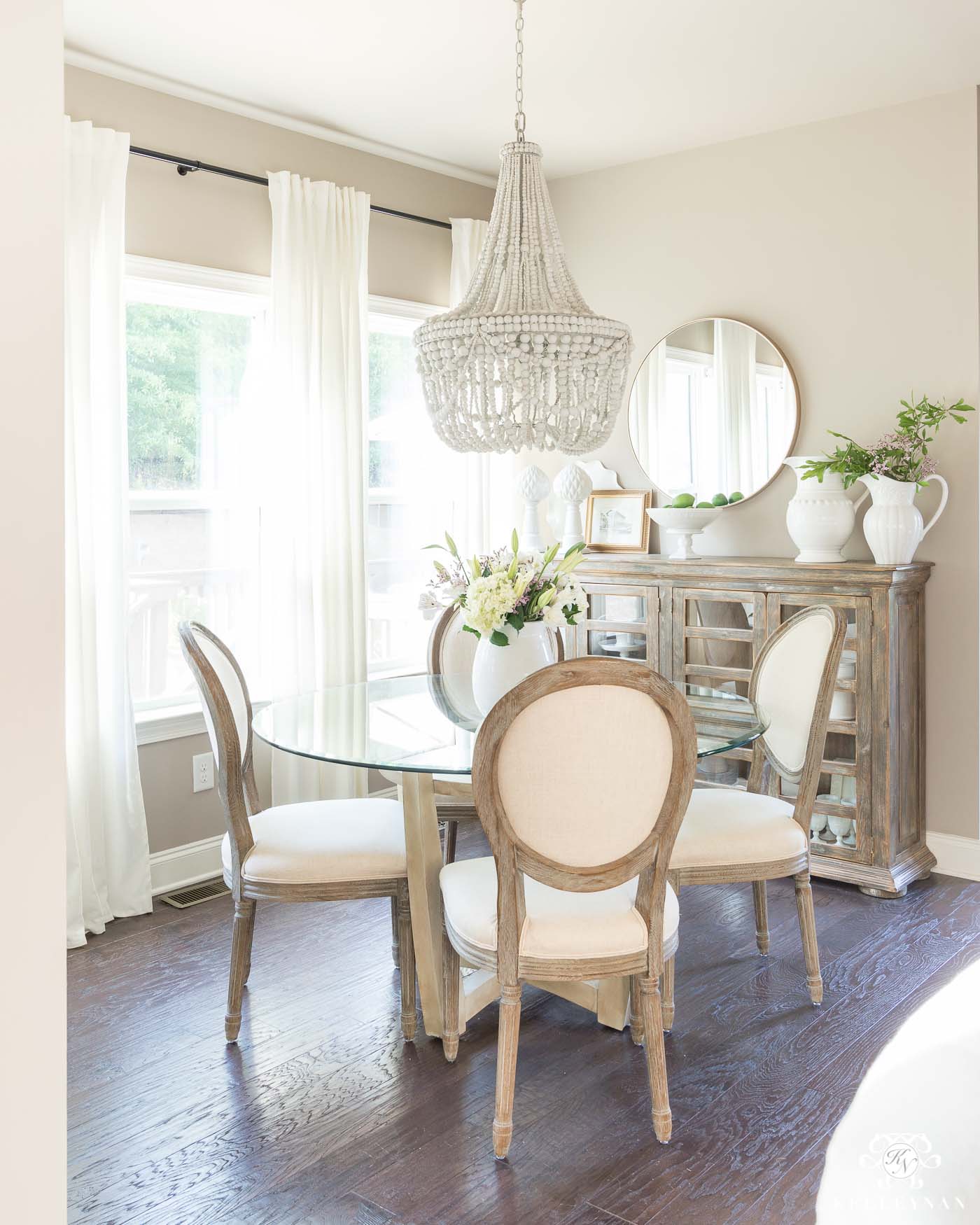 Pretty big difference, right?
In our dining room, I used a huge mirror but positioned it vertically to draw the eyes upward. I even wrote a post about opting for vertical over horizontal mirrors HERE a few years ago.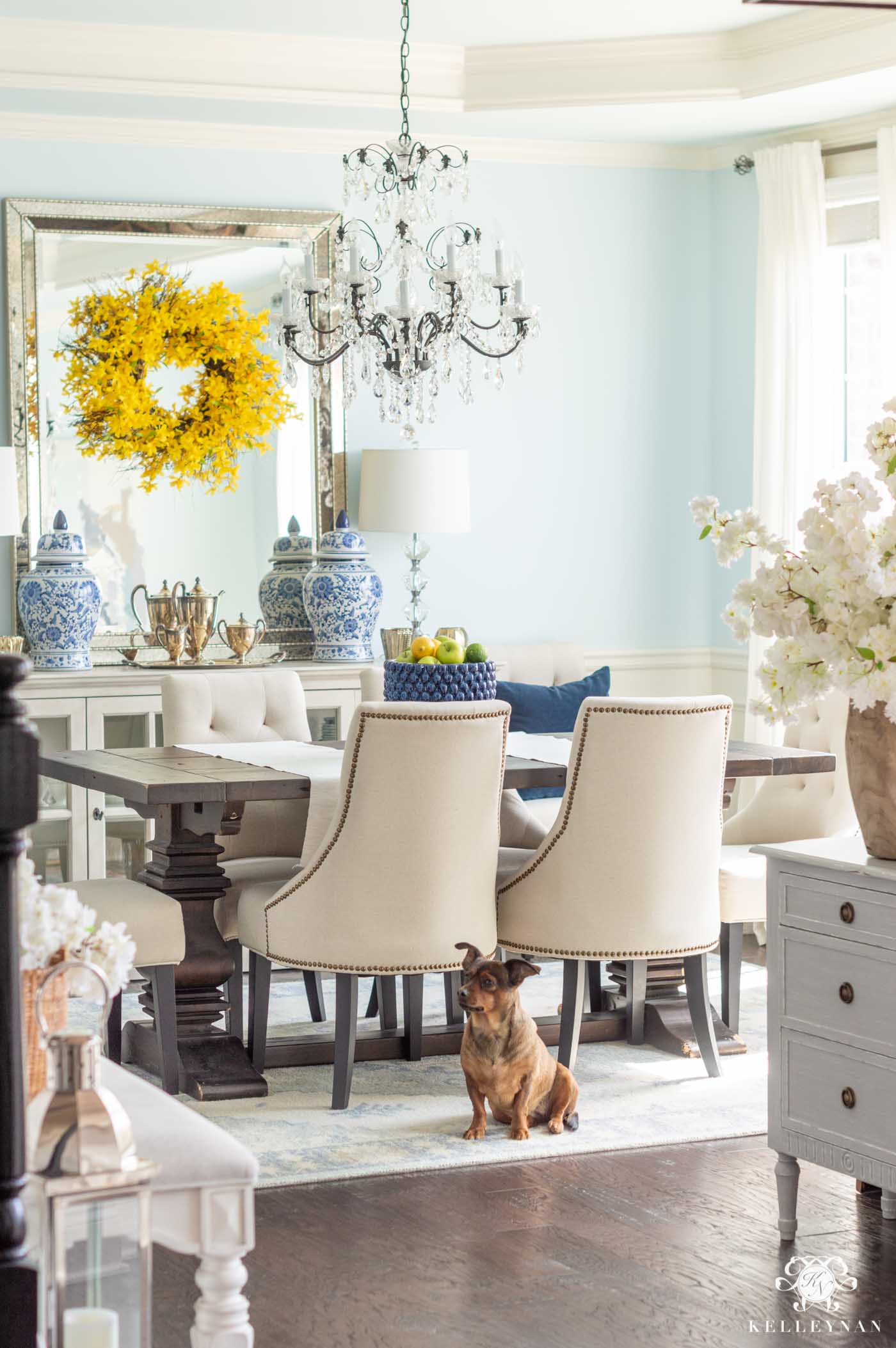 Sources: Chandelier | Dining Chair (similar) | Dining Table (similar) | Rug | Curtains | Foyer Mirror | Foyer Chest | Cherry Blossom Stems 44″ | Cherry Blossom Stems 40″ 
I use several large round mirrors in our home, over dressers, like in Eliza's nursery and this guest bedroom.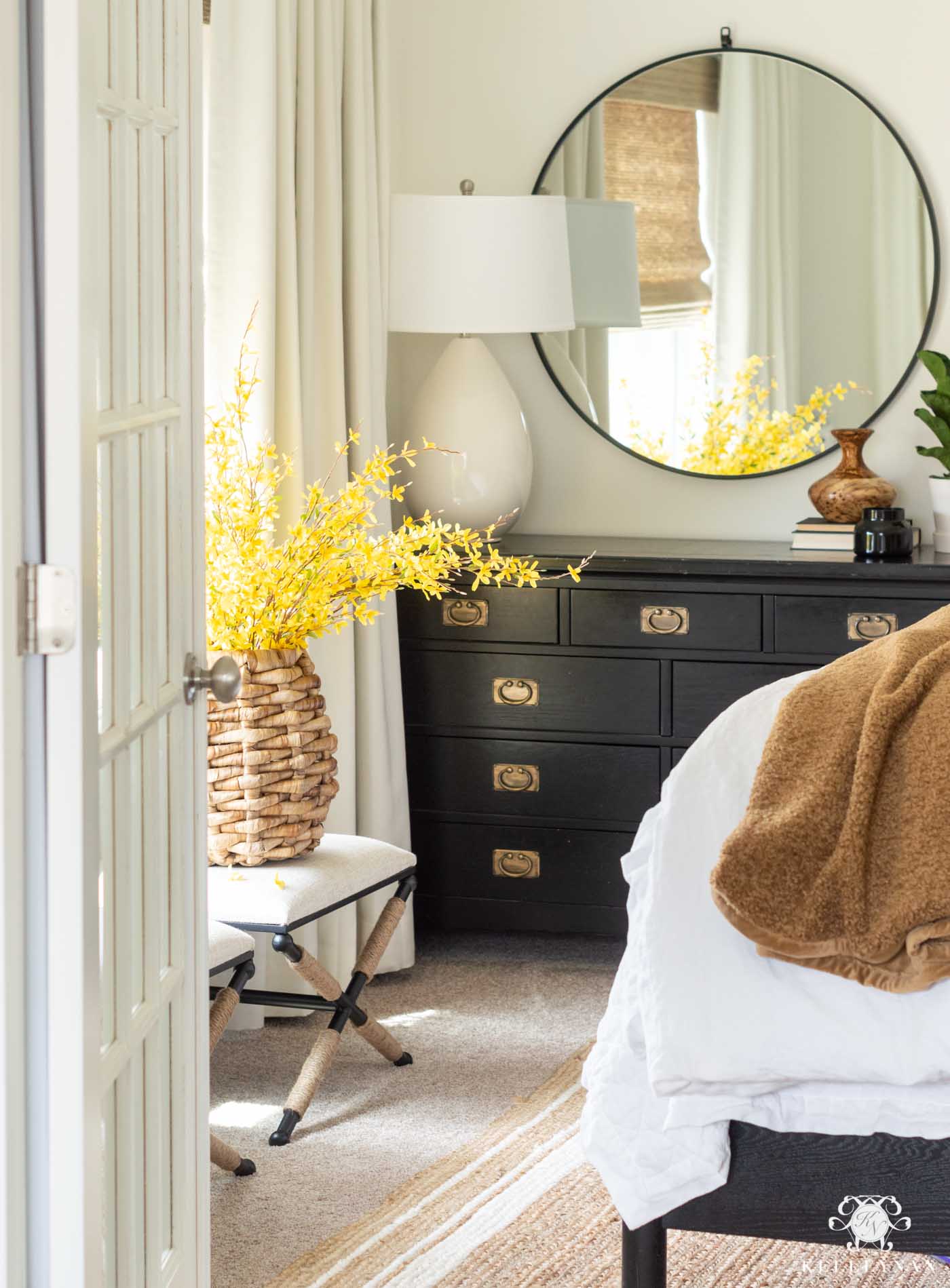 Sources: Mirror | Lamp | Dresser (similar) | Jute Rug | X Bench | Duvet Cover | Teddy Bear Throw | Faux Forsythia Stem
And when I can, I love to add floor-length mirrors to bedrooms — even guest bedrooms for an extra thoughtful touch.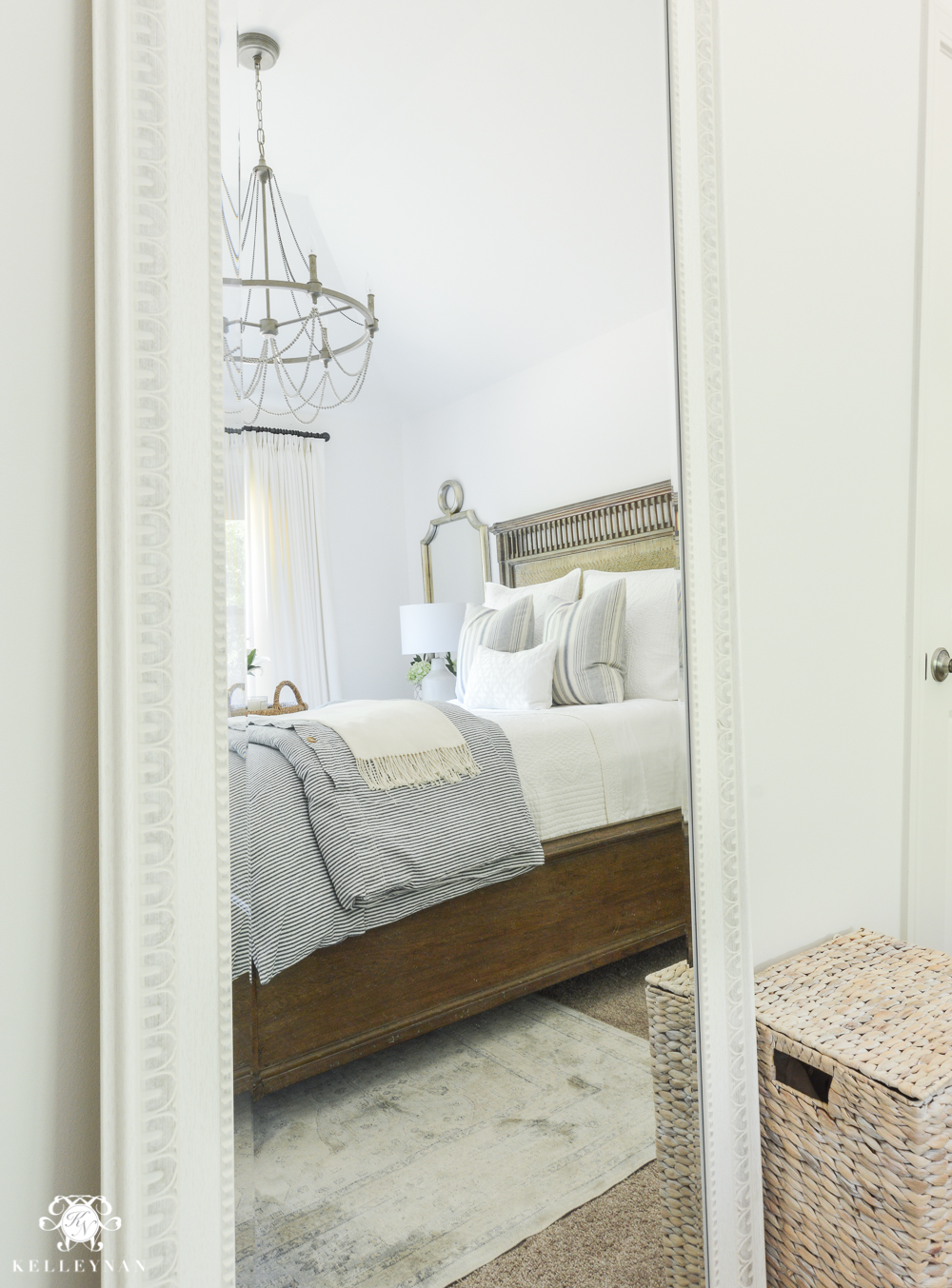 Sources: Chandelier | Mirror | Lamp | Duvet Cover | Rug | Bed (similar)
8. Tall Plants
This method of "decorating a large wall" doesn't actually involve decorating the wall at all — but positioning some of your decor in front of the wall which takes up wall space. In Eliza's room, I used several methods we've talked about from art pairs to wall moulding, but I also relied on a tall faux fiddle leaf fig tree to make a corner statement. The same can be said for tall floor lamps or privacy screens, too.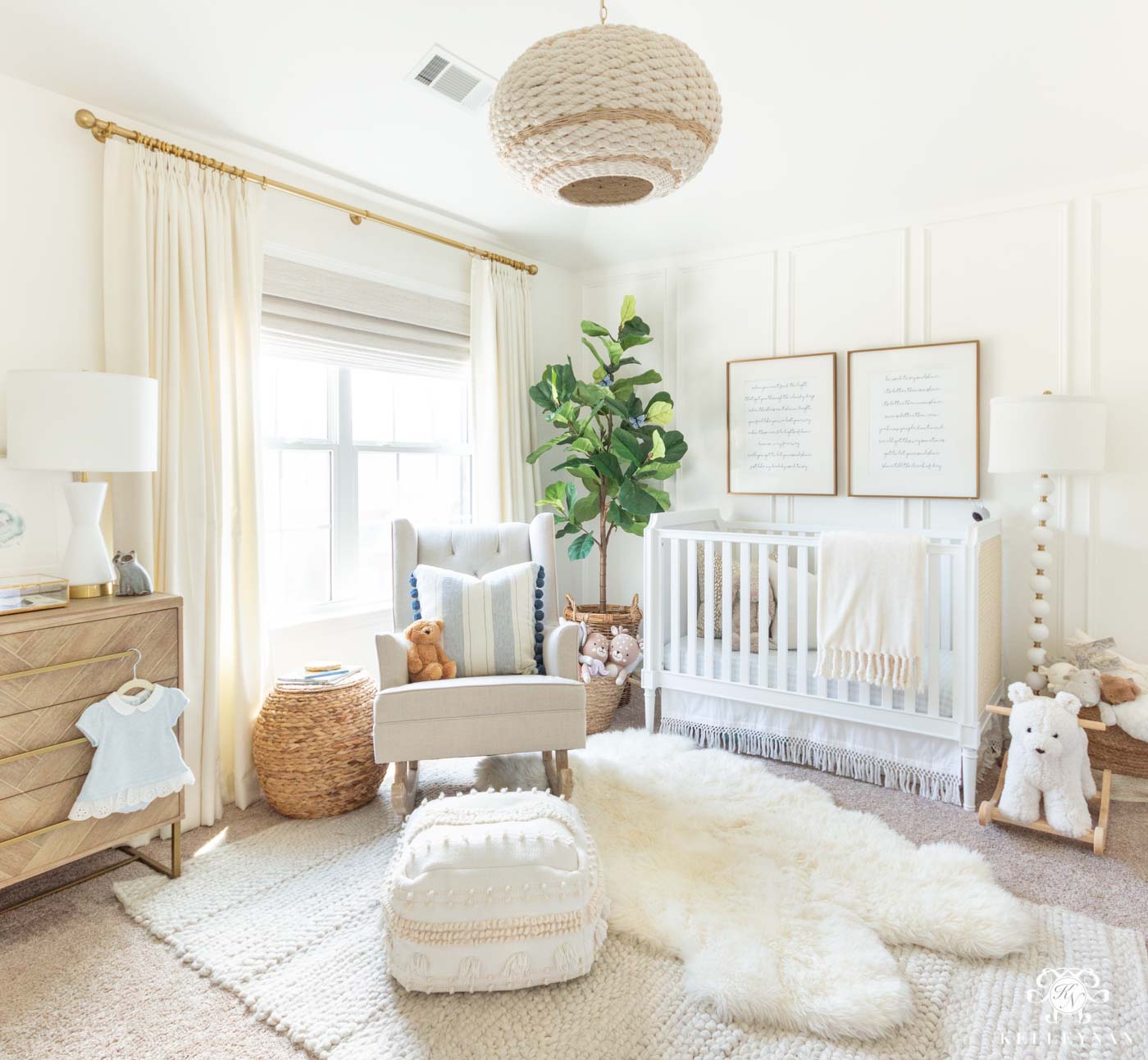 Sources: Nursery Rocker | Pom Pom Pillow | Woven Storage Table | Woven Pouf | Woven Rug  | Sheepskin Rug | Dresser | Lamp | Crib | Macrame Crib Skirt | Gingham Crib Sheet | Fringed Throw | Fiddle Leaf Fig Tree | Bubble Floor Lamp | Sherpa Bear Rocker | Music Lyrics | Frames | Pendant Light | Curtain Rod | Curtain Rings
9. Curtain Panels
In the downstairs guest bedroom, the layout is a little tricky. There's one blank wall, one wall with both a closet and bathroom door, one wall with a huge window, and one wall with French doors. For both functionality (and to address what could be kind of awkward blank walls), I added huge curtain panels on long rods to create walls of curtains. If you order custom, you can specify how wide you want your curtain panels; each of these panels are the full width of the openings they are intended to cover. (You can see all the details of this space HERE).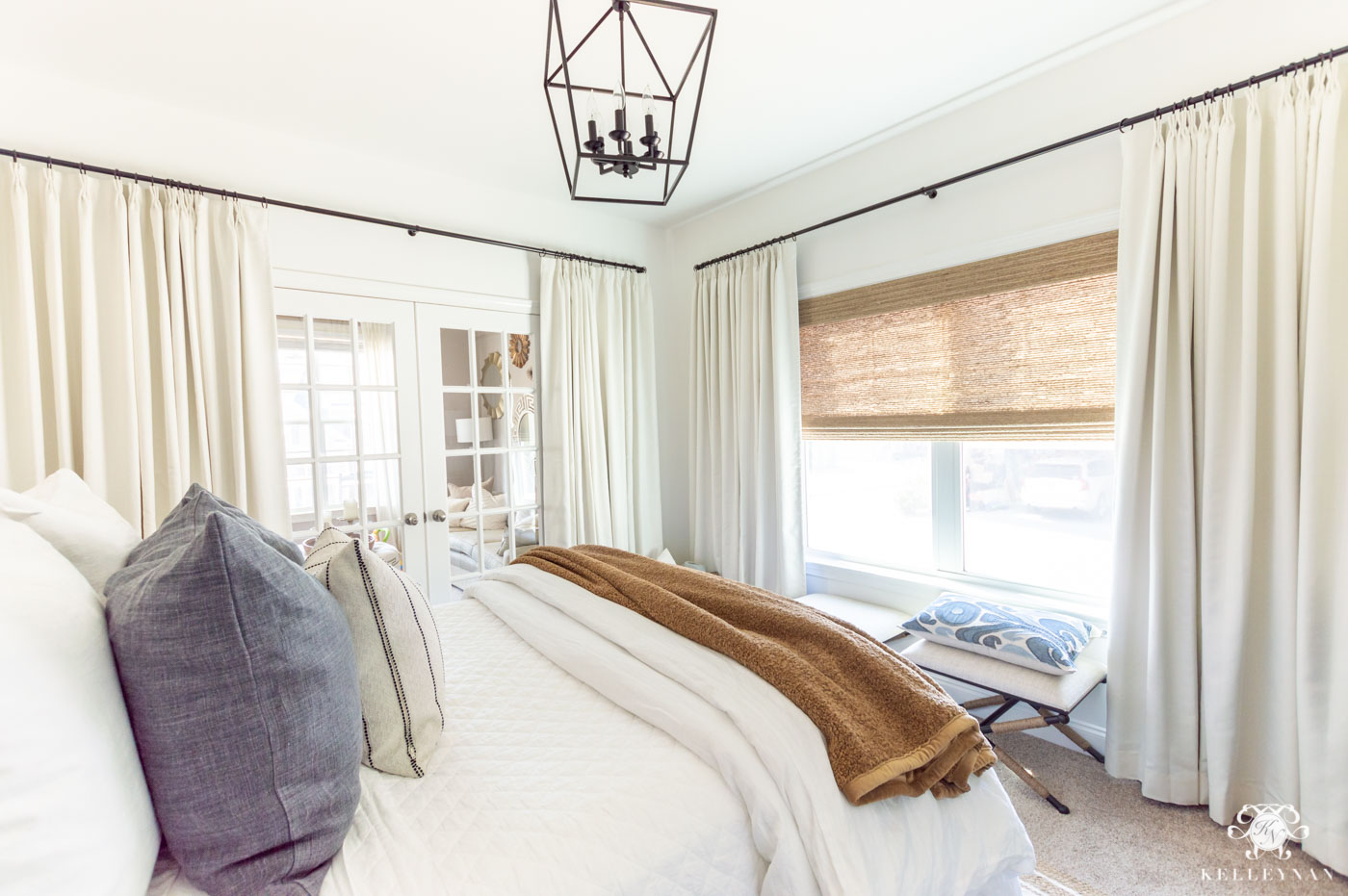 Sources: Lantern Chandelier | X Bench | Linen Quilt | Duvet Cover | Teddy Bear Throw | Blue Belgian Pillow Cover (similar color) | Curtain Rod | Curtain Rings
10. Built-In Shelving
We have built-ins that frame the fireplace and tv in our living room but the space we added them in after we were living in our home was in the office. This is more of an investment project, too, but down to the filing cabinets under the window sill to the roll-out printer drawer, it's one of my favorite additions we've made. If you don't want to go the built-in route, you can get two units to flank your window — or even hang rows of symmetrical floating shelves.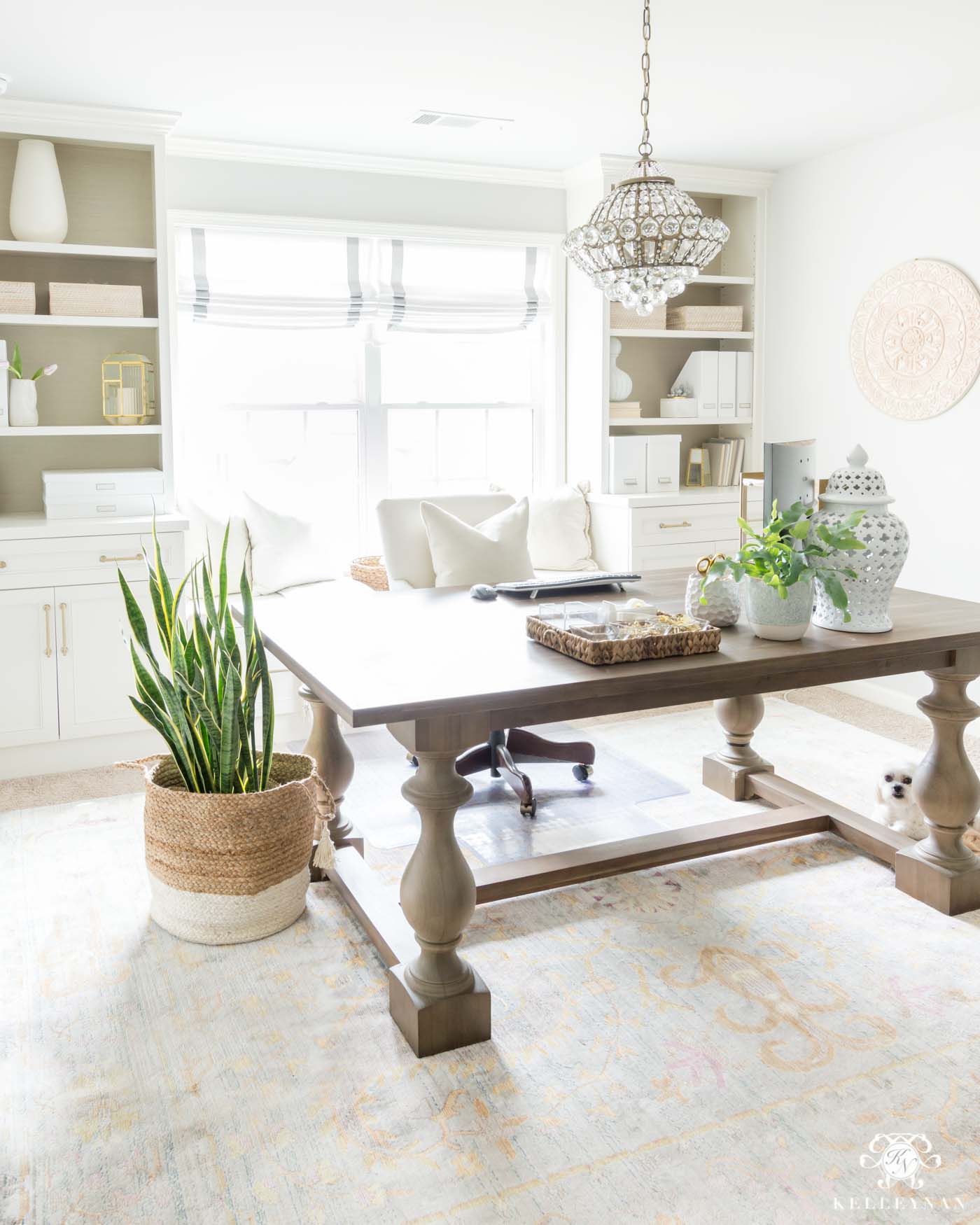 Sources: Chandelier | Fabric Basket | White Ginger Jar |Rattan Bin | Magazine Holder Box | Document Storage Box | File Box | Roman Shade | Rug | Cabinet Pulls
The bottom line — don't overthink it, mix it up, and remember… scale matters! It doesn't have to be expensive to be fabulous but by the same token, if there's a statement you're dying to make, save and do what you really want. A powerful wall statement can make or break a room — I know from trial and error and from plenty of my own hindsight mistakes 😉 For upcoming posts, space reveals and tips, be sure to subscribe to my emails HERE.