When I posted my office reveal (HERE) last fall, one of the most common questions that came in was "how do you hide computer cords?" First, I will say this. When I was coming up with the schematic of this room, desk placement and cords were my number one consideration. It's a major reason why a lot of people keep their desk against the wall. But, knowing built-ins were a "must have" for me and envisioning a desk in the center of the room, I was determined to come up with a solution. I talked with my shelving carpenter at length about the best solution. Add an outlet in the floor? I didn't want to commit to that, especially if this room isn't an office one day. Add an outlet beneath the file drawers and run the cords backwards? I didn't want to roll over them. Ultimately, we talked it out and decided that we wouldn't have to make any sophisticated electrical adjustments. So, how do you hide computer cords when your desk is in the center of the room?
*post contains affiliate links | full source list at the bottom of this post*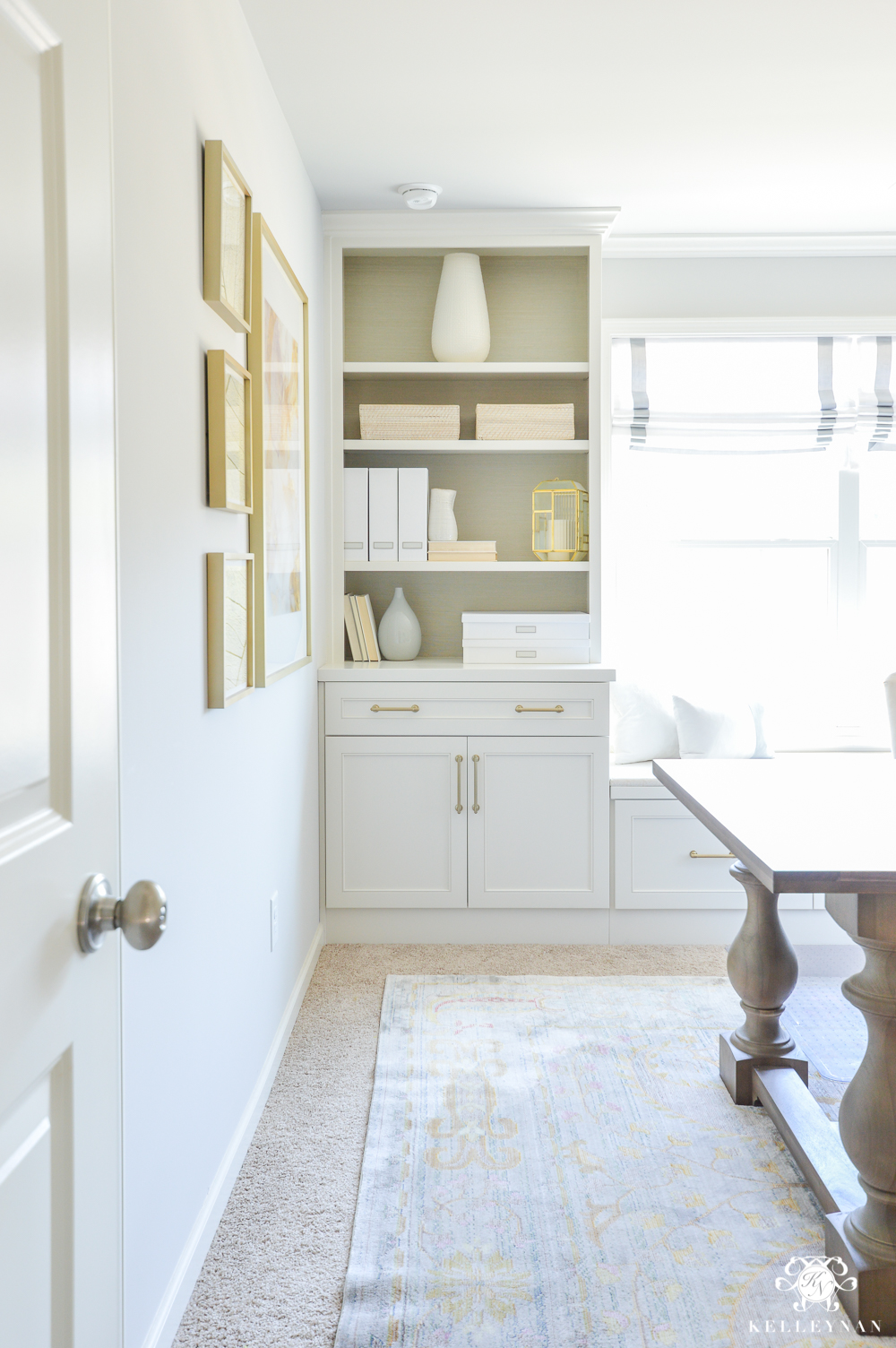 Sources: Rug | Large Wall Art | Small Wall Art | Roman Shade | Rattan Bin | Magazine Holder | Document Holder | Gray Vase | Cabinet Pull
Another important point I should emphasize before I get into the "how" is the "why". My home office is used as a full working office. It isn't just a place to pay bills and set a cute laptop (I wish!). My previous job required a lot of unwieldy equipment and files, which was the primary reason for deciding on the built-in installation. But my desk especially had to accompany a huge computer, along with my laptop. (This is why I decided on an actual table in lieu of a desk – to provide ample surface space.) When I made the switch a few weeks ago, a lot of my office equipment was minimized but I still prefer a large screen over my 13″ Macbook, a keyboard, and a mouse. We already had a spare curved screen for outdoor movie nights so Dave set me up with that, a keyboard and mouse, and an adapter cable. Now, all I have to do is plug my Macbook in and set to work on the large screen. Here's what my desk is looking like these days, with my new efficient setup.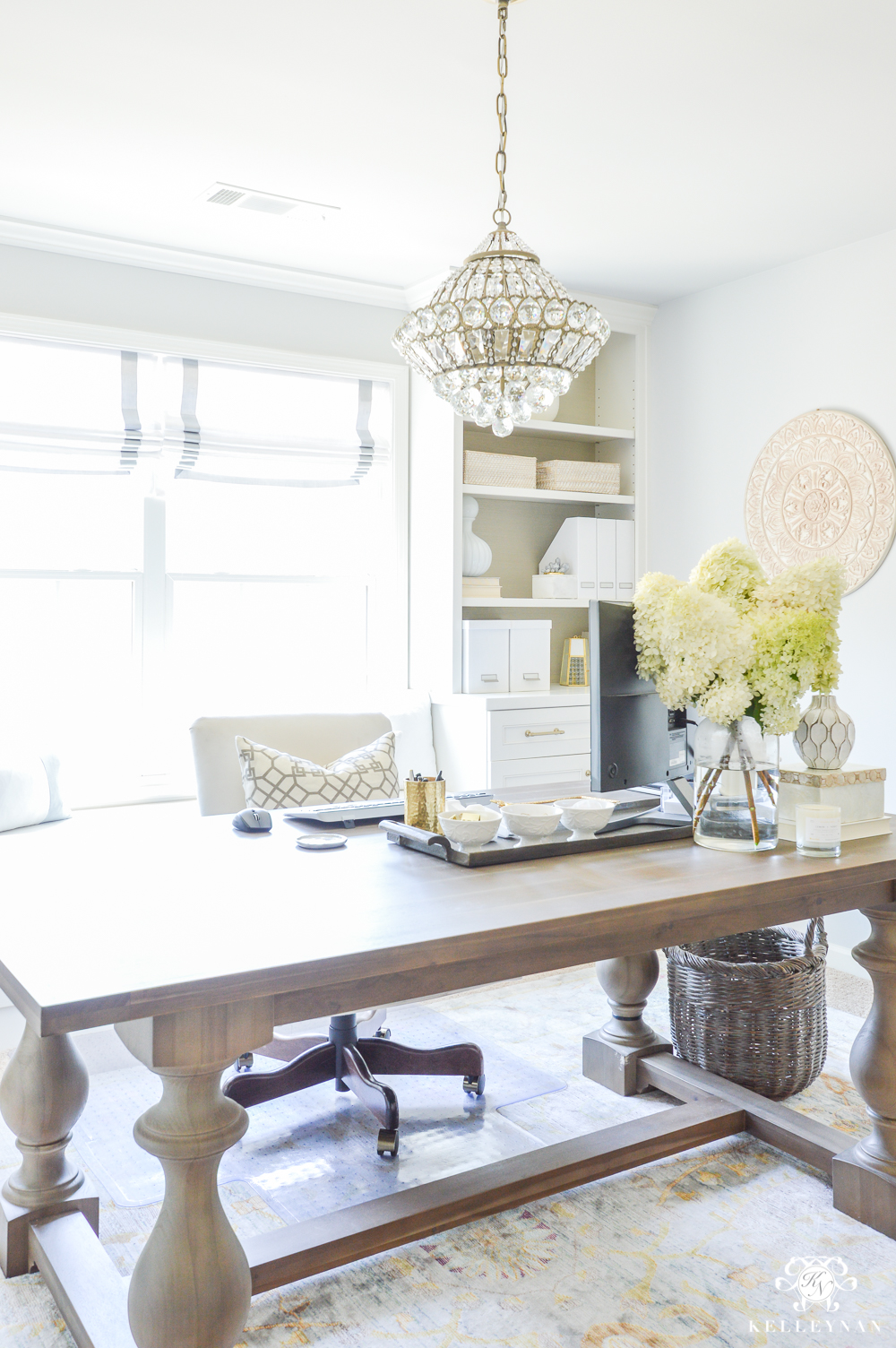 Sources: Chandelier | Pillow | Desk Tray | Footed Bowls | File Holder | Magazine Holder | Rattan Bins
We'll get to more on that in a bit, after we go over the cord management solution. Below is a view of my office and desk from the door. Do you see any visible cords? I will say, I am not above photoshopping outlets or cords on occasion but for authenticity sake, I did not doctor the photos in this post so you can get an honest, realistic visual of the actual setup.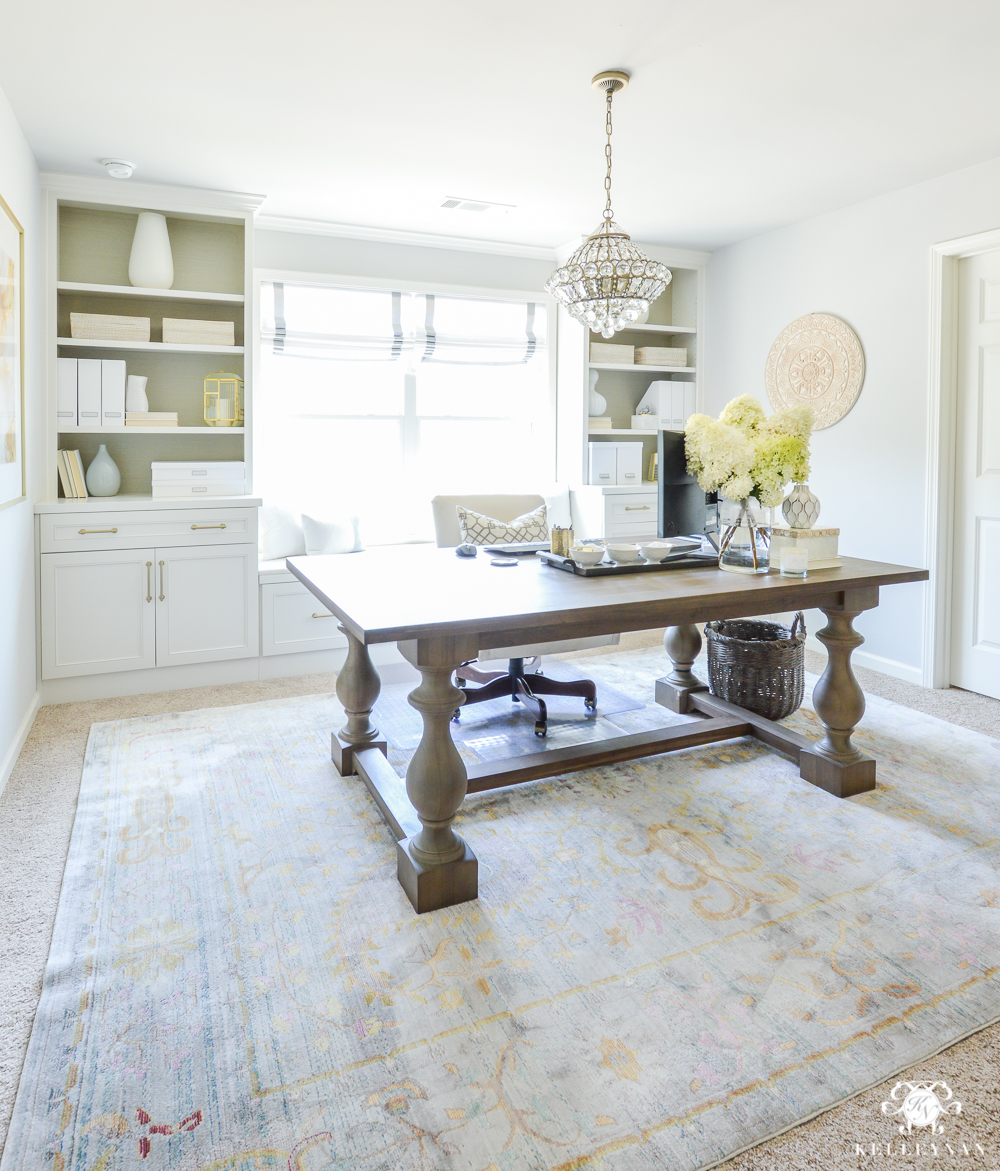 No cords back here either to get hung up on 😉 If your office is carpeted, I would go for a clear mat for your rolling desk chair. It is especially helpful if you are using a rug underneath your desk; you don't get caught on the side of the rug. Just make sure you choose one with teeth, not a slick bottom (HERE).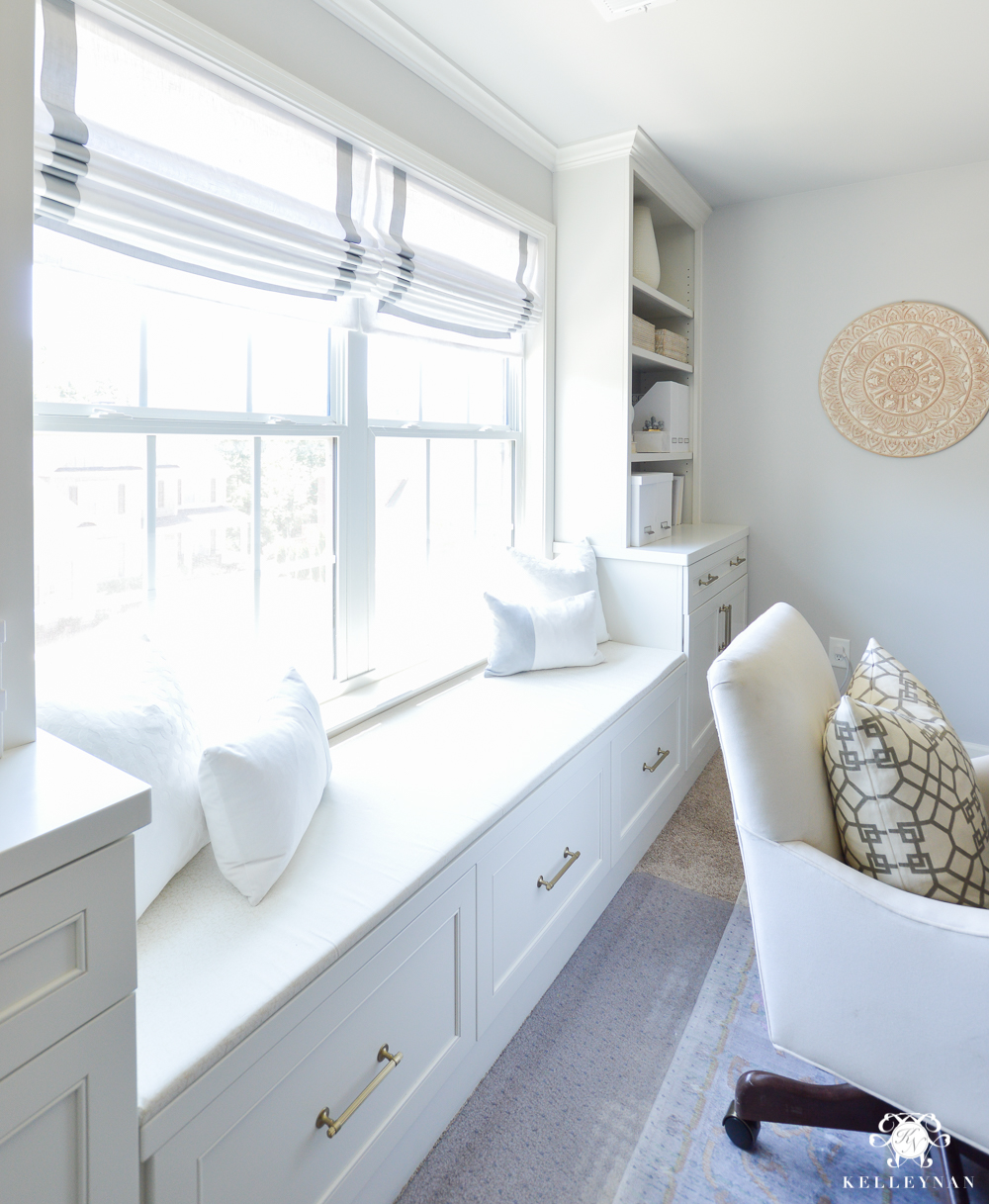 Here are the considerations and steps you can take, in order, to hide computer cords when your desk is in the center of the room.
1. IDENTIFY WHICH OUTLET(S) YOU WILL USE
Ultimately, I decided on a wall outlet to the side of my desk – the side furthest from the door. I had to determine the closest path to get my electronic components (in this case, monitor) to the outlet in the "sneakiest", easiest way. Which leads me to…
2. WHERE YOU POSITION YOUR ELECTRONIC COMPONENT(S) ON YOUR DESK MATTERS 
If you are set on having your computer monitor in the center of the desk, you can still make it work if 1. you are willing to drill a hole in the desk, 2. your desk is narrow enough to set it close to the edge and run the cable underneath (still visible from the door but can be obstructed with decor), or 3. your desk already has a pre-drilled hole. Instead, I opted to have it situated at an angle on the side of the desk closest to the outlet. Test your monitor position before you commit- this position is super comfortable for my personal preference. I wasn't willing to cut through the table so while I knew a little bit of cord would have to run on the side of the desk, it would be minimal and I could disguise it.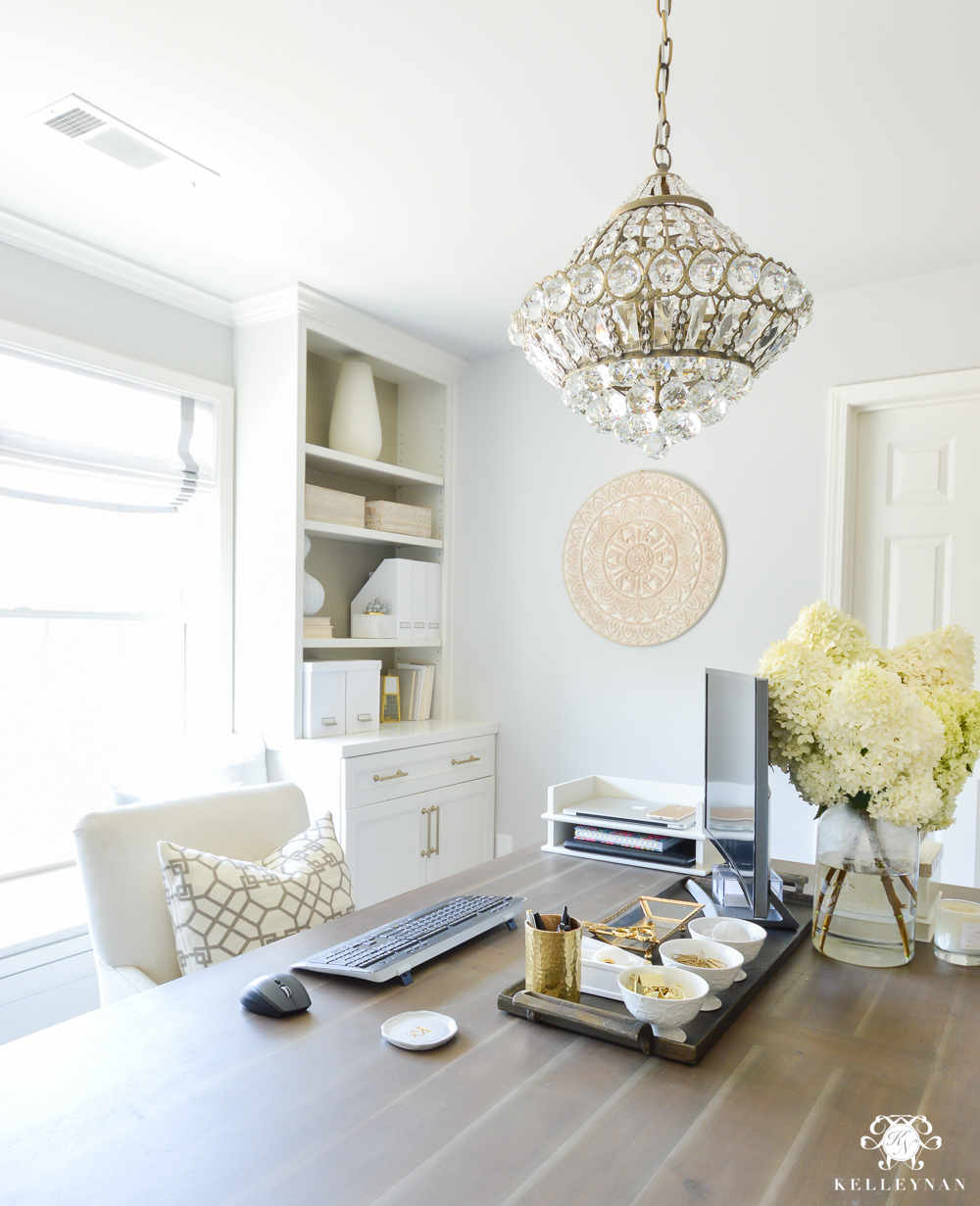 3. DECORATE AROUND THE CORD
While you don't want to go overboard and clutter up your desk, you can add a few essentials in a vignette to hide some of the cabling. Stand at the door/most frequently viewed spot and determine where to set up your little "moment". Having something taller (like fresh hydrangea cuttings from the yard) will also help beautify the back of your monitor.
Even if you have no cords, unless your screen is super sleek, I wouldn't want all this exposed, anyway 😉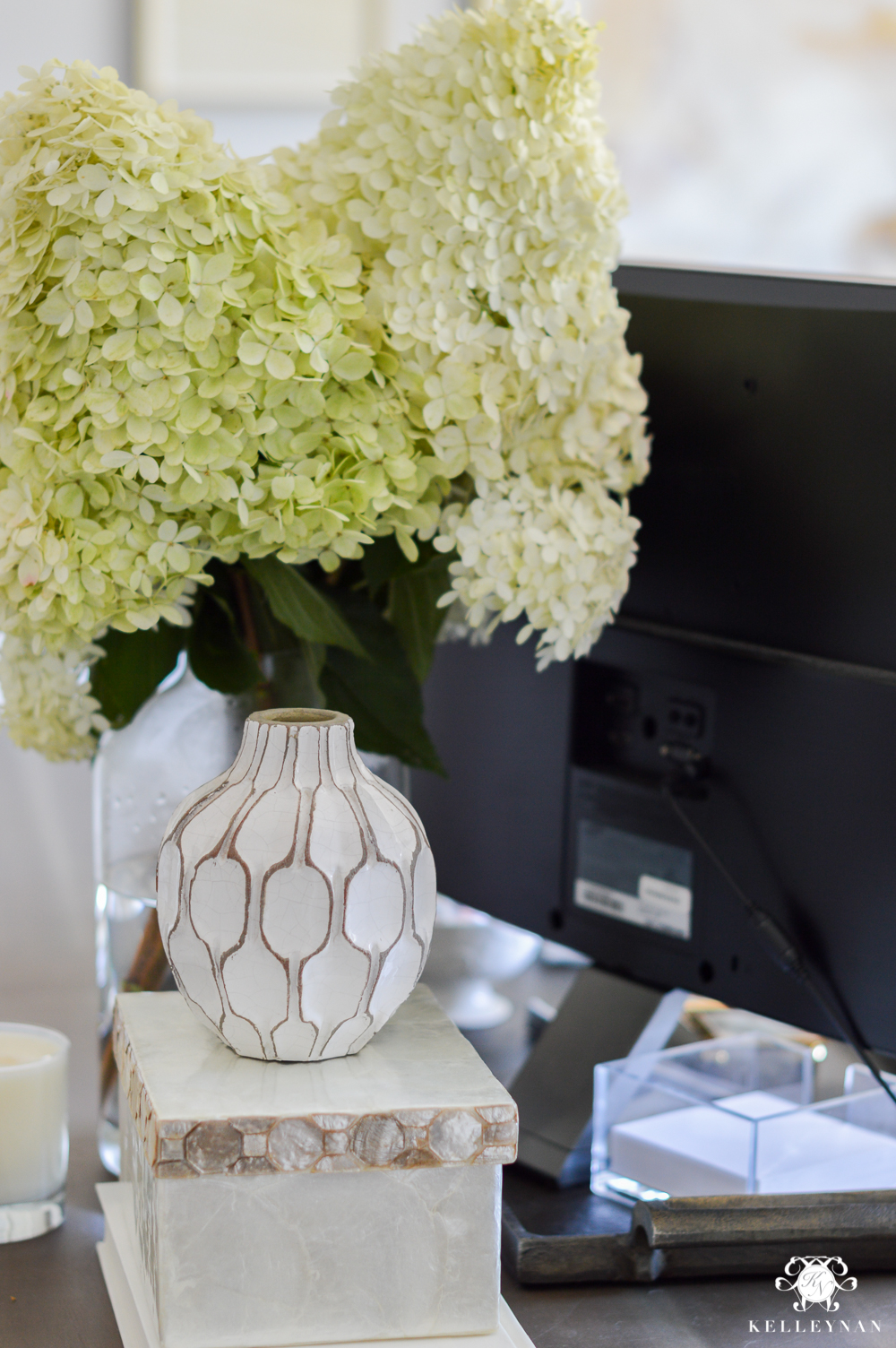 4. DETERMINE THE CABLE PATH
I mentioned that with my new setup, I have to use the large monitor in tandem with my MacBook. I wanted to have a "station" of sorts to keep the laptop accessible without cluttering the desk. I found a wooden document tray a long time ago at HomeGoods. It's a double decker so I can slide my notebook and planner in the bottom shelf when I'm not using them, and keep the laptop on the top shelf. This piece isn't necessary but works well with my setup. If you have a file box, letter sorter, etc. you can tuck the little bit of wire underneath, too. If you prefer that side to be open, a little cording will be exposed but it is minor.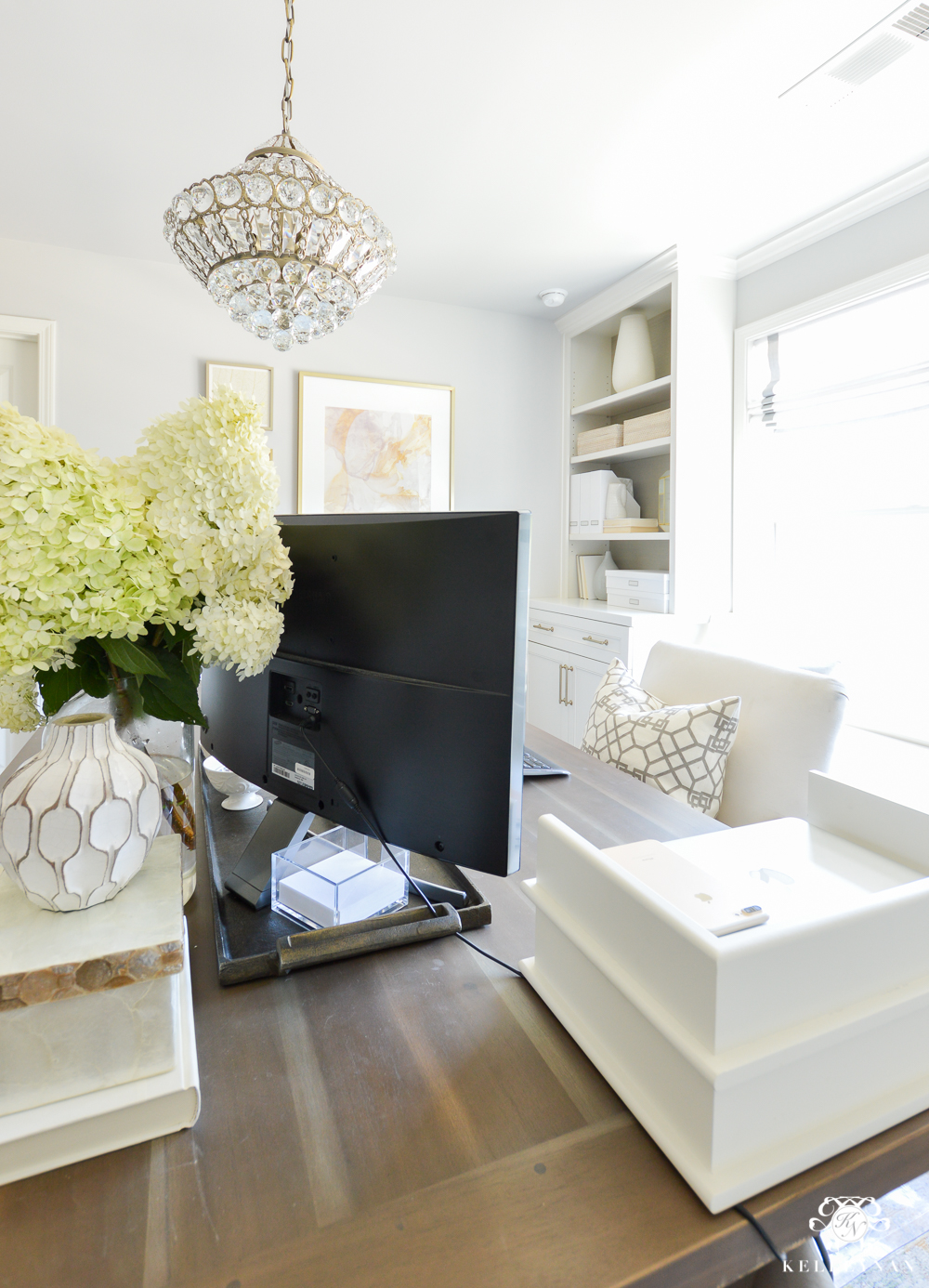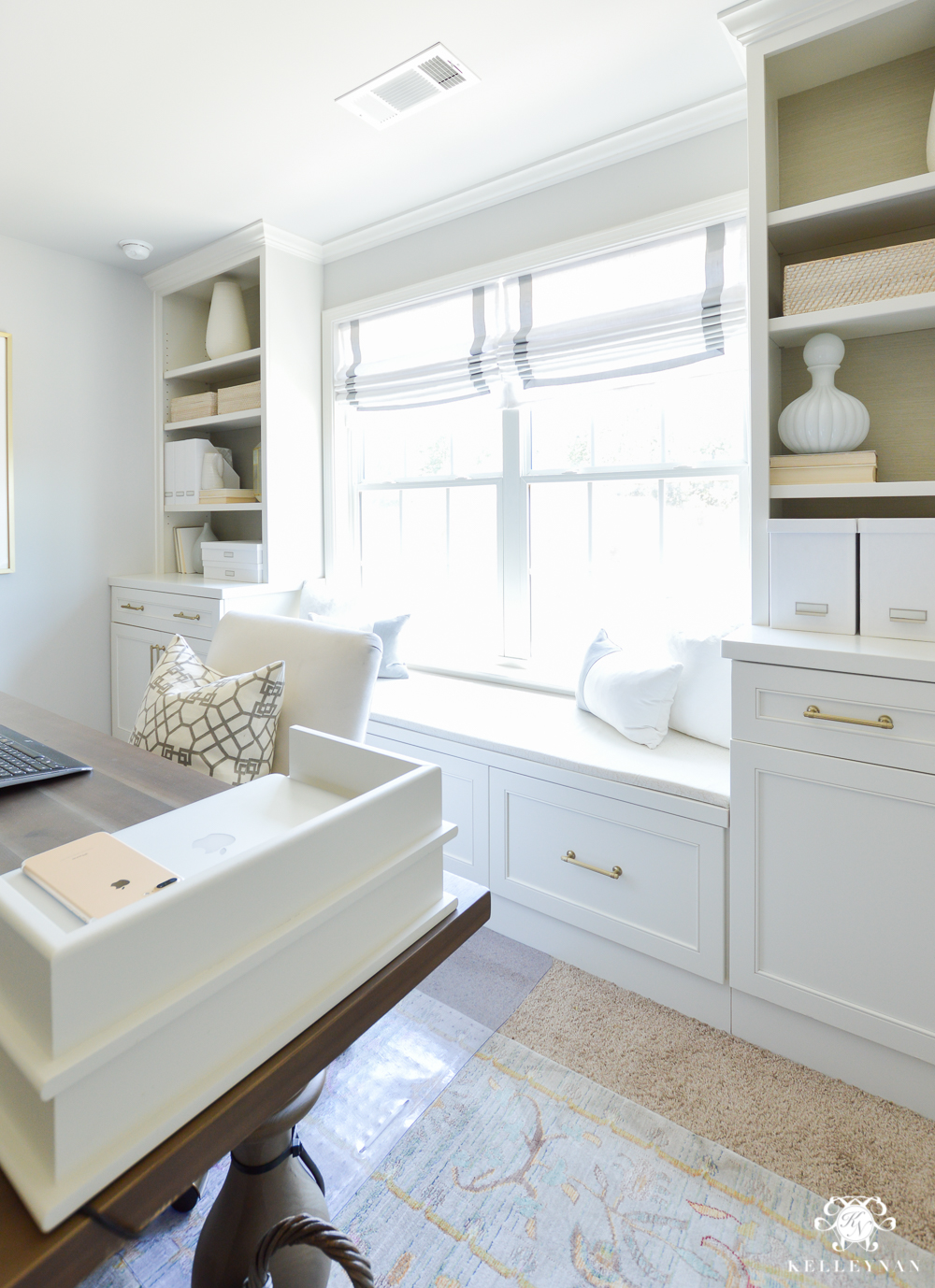 5. GATHER AND MOUNT
I'll admit, I got away with this part pretty easily because I only have one cord coming down from my desk. If you have an all-in-one or a sole monitor, your configuration can match but if you have multiple components on your desk, use zip ties (HERE) to group them into one single, large cable. The materials we used for securing the cording were:
Here is what my cabling situation looks like. The desk/table has a lip/ledge underneath. These cables are attached on the outside of the lip. You cannot see any of what is going on under here unless you squat underneath the desk 😉 As a bonus, this makes it super easy to be able to charge your phone, tablet, etc. at your desk.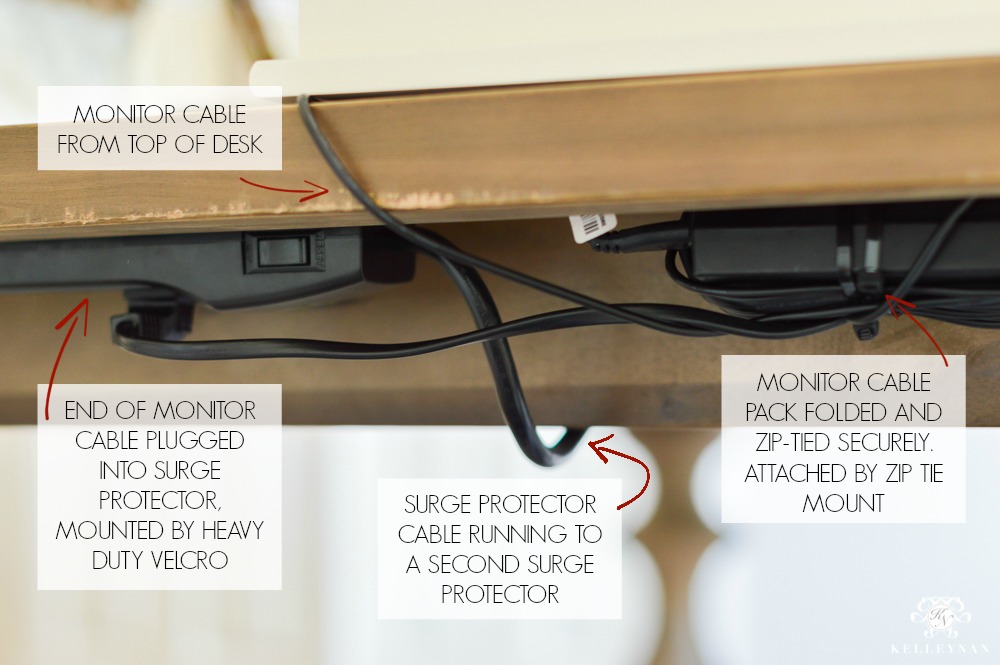 The extra cording is tied up on the other side of the lip, close to the back left desk leg.
This is why. Once all the component cording is wrangled and fastened underneath the desk, only one cord will have to run down the back leg. Again, this is not visible unless you are sitting behind the desk. Dave used larger zip ties to secure the cord tightly. When the light isn't glaring on the back of the leg, the black cording actually looks better than the white. Conversely, I opted for a gray for the cord running across the floor.
With the adhesive velcro, Dave secured a short surge protector to the bottom of the desk leg. If you don't have as large of a base but have a leg without the curves that this one does, you can consider running a surge protector vertically up the leg, instead.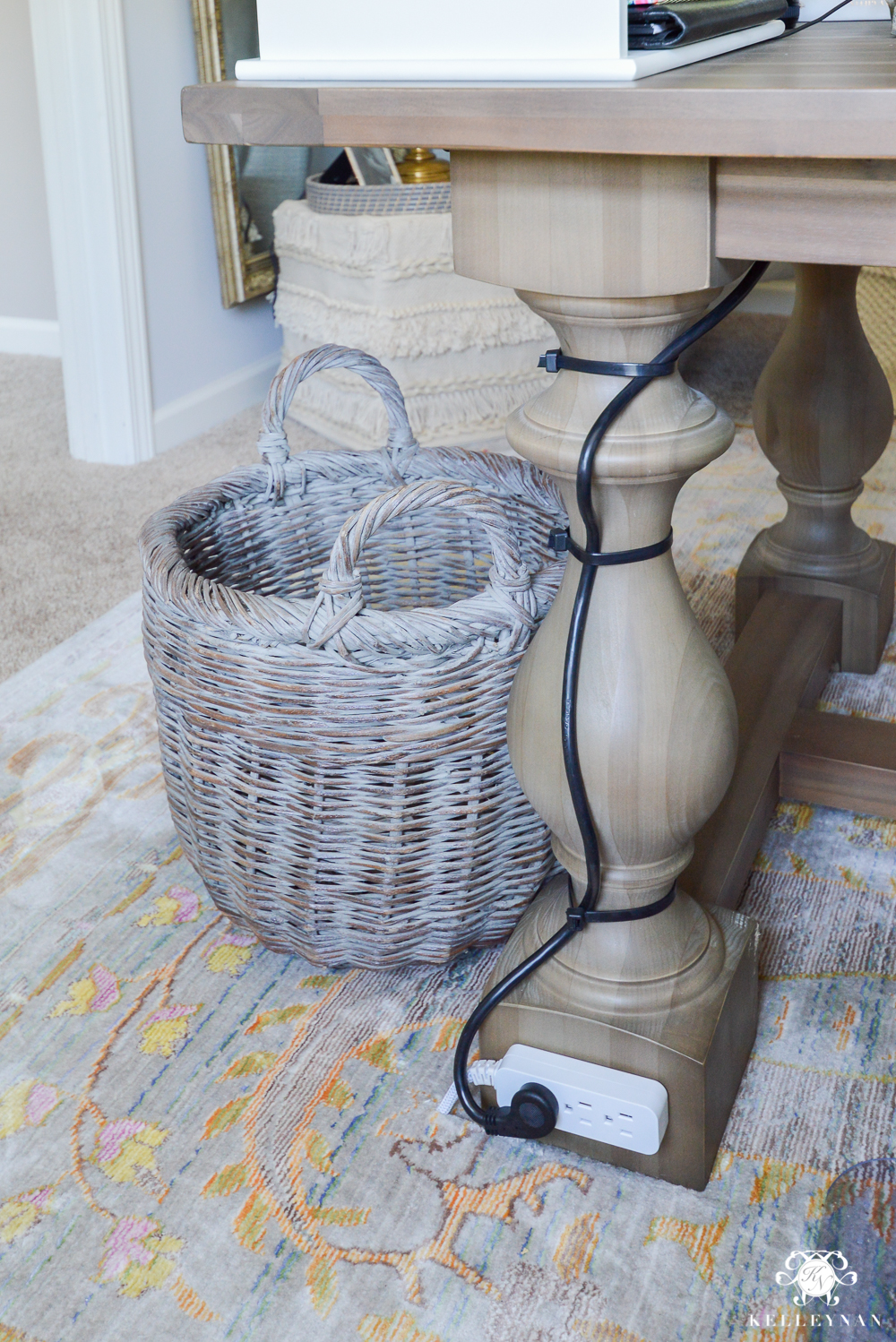 I know this may make some of you uncomfortable and by all means, you could use a cord cover or leave the cord open on the ground but I wanted to conceal as much as possible. I cut a tiny slit in the rug, just at the base of the leg and fed the cord through to the wall. This also helps cover excess cording. (NOTE: When selecting your surge protectors, be aware of the footage you are getting for both. Using the shortest cords possible will make for less excess you have to worry about.) If you go the route of cutting a slit, make sure your desk and rug are situated just as you want them in the room. The slit was cut just wide enough to let the end of the cord through; when you remove it and push the rug back down, you can't even tell it has a slit.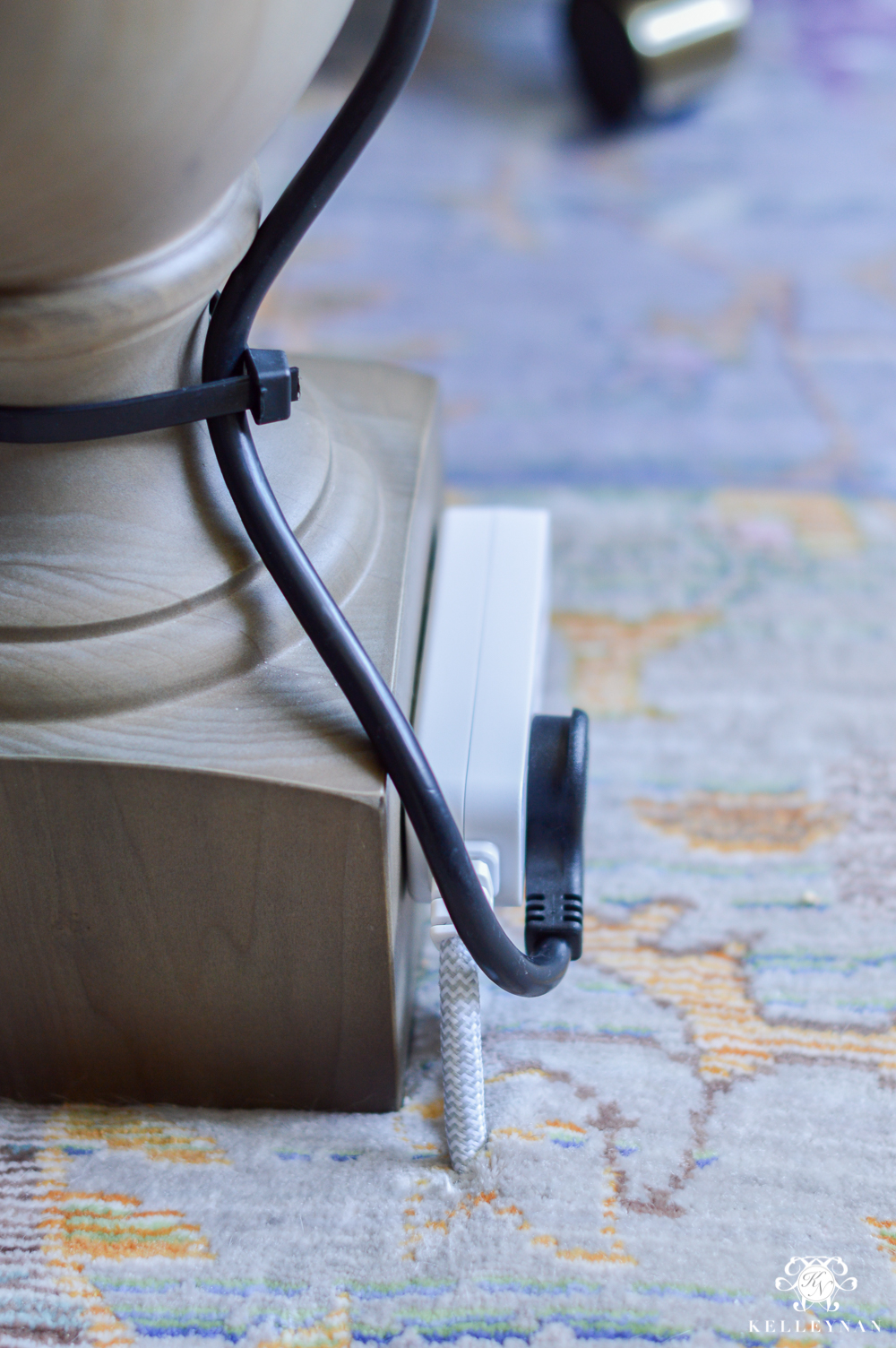 This is it. The only cording visible and on the floor and because it is concealed by the desk, everything still looks totally neat.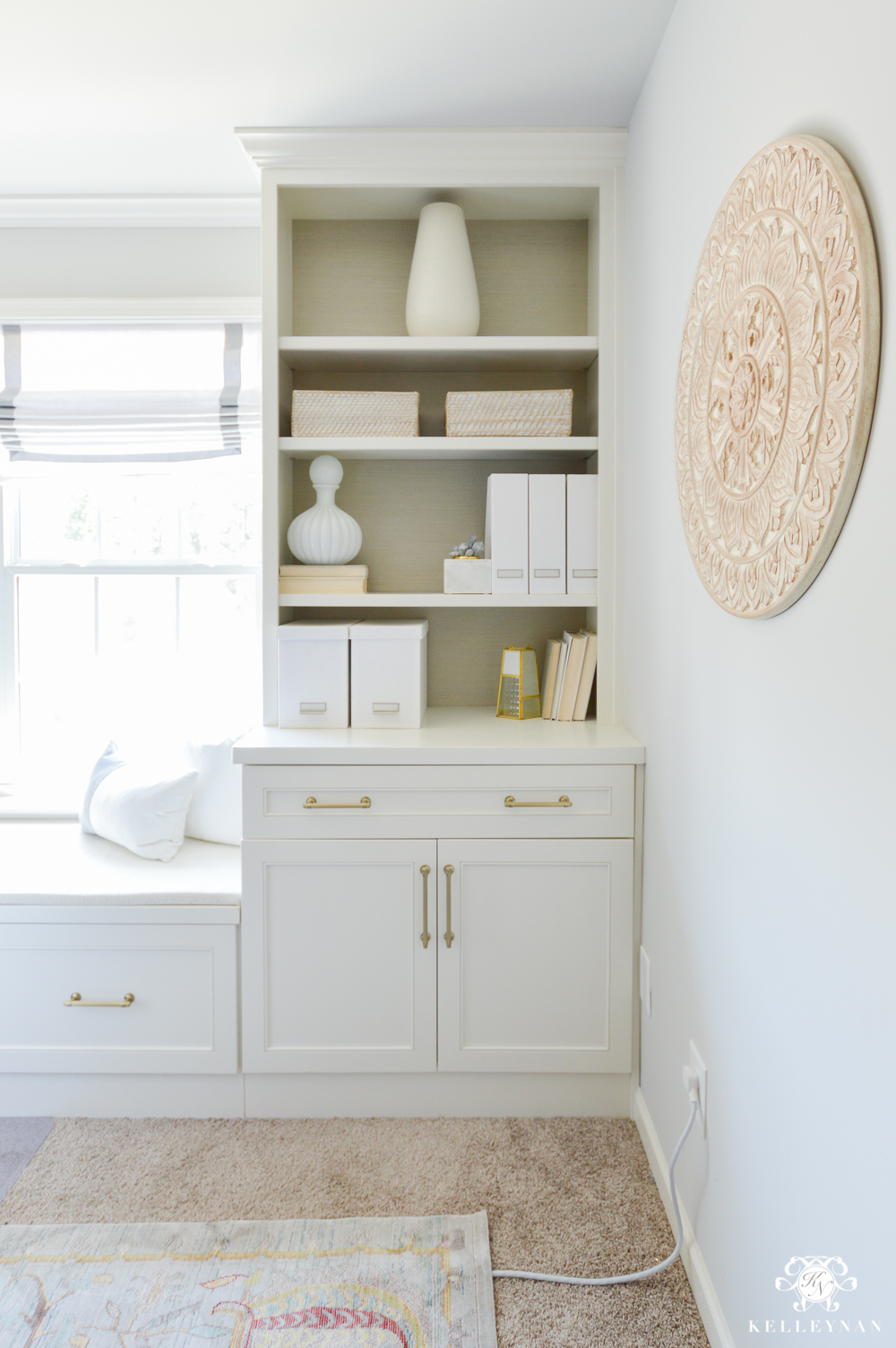 Sources: Rattan Bins | File Holders | Magazine Holders | Cabinet Pull
I've talked about my concealed printer drawer but haven't actually shared the inside. The dimensions of this space were determined for a larger printer at the time, so my carpenter planned the entire depth of the cabinets based off of our former machine. Our new printer is compact and I love how easily the sliding shelf can roll in and out. A surge protector is connected to an outlet behind the shelving unit and sits behind the printer. The small, unpainted top shelf was an addition by Dave, created to make use of vertical space and store our router, modem, etc. Those were recently relocated to the great room so now, it can be used as paper storage. The other outlets just inside the unit to the right were formerly in use, also. Our carpenter had relocated those outlets for components which were housed inside the unit, and affixed a blank plate over the old live outlet, just outside the door.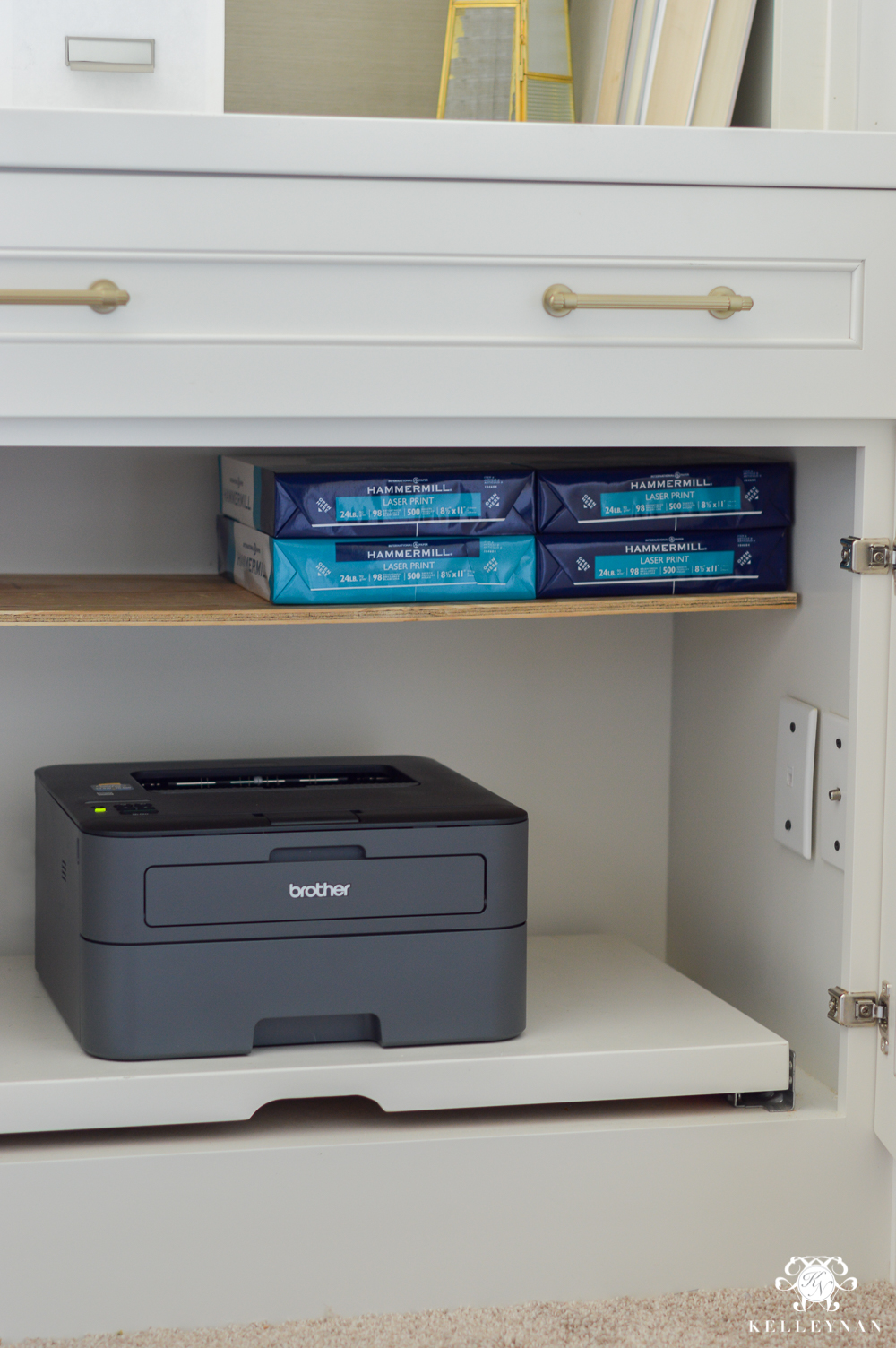 Here is the view from the door, taken down low. Keeping my trash can on that side of the desk helps, too 😉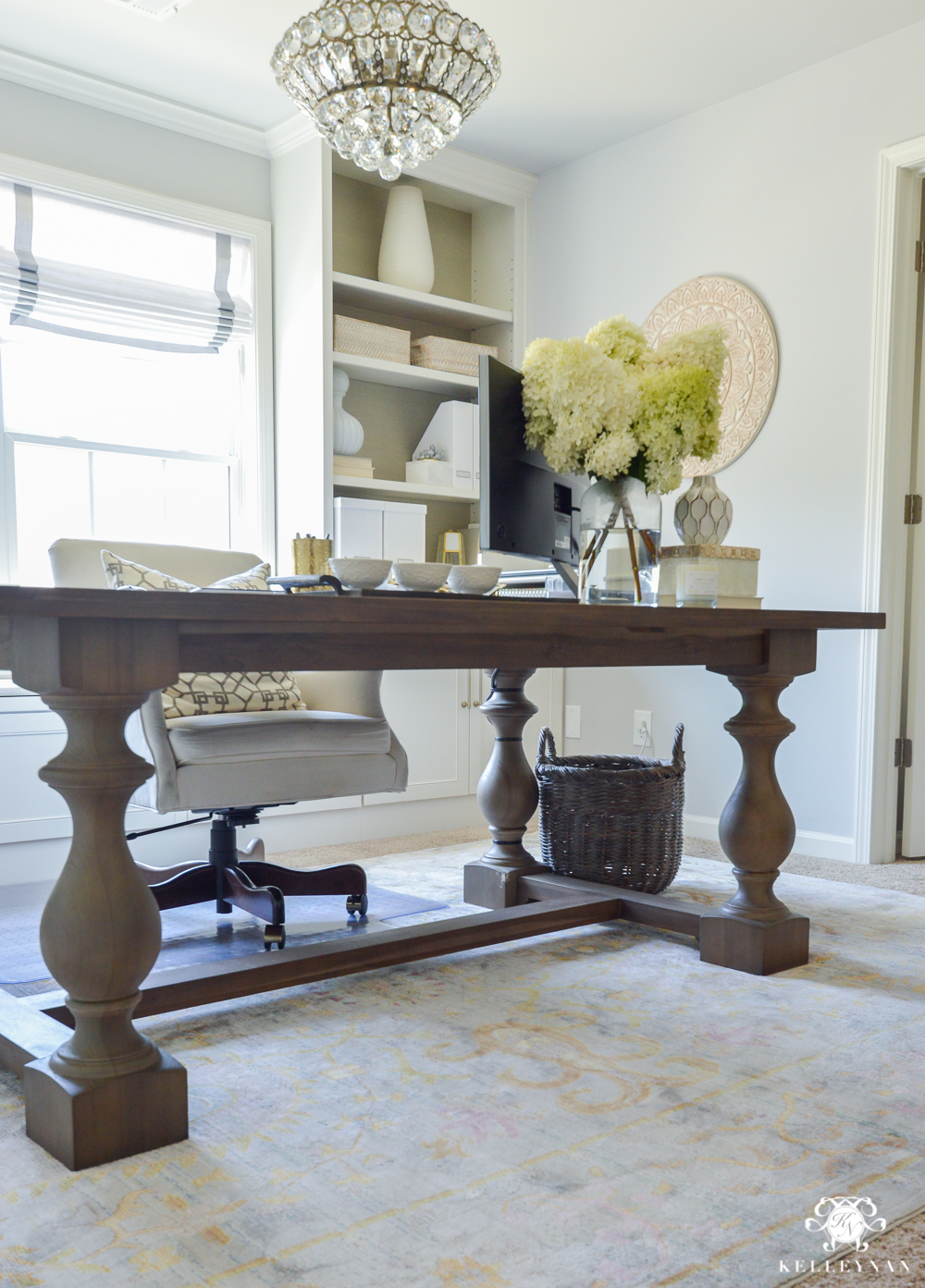 That's it! It all comes down to minimizing the cords you have, consolidating what you have together, and securing them underneath your desk. If you have a handy carpenter in the house, you could come up with some cord shelves or something super sophisticated, but this is an easy method that we use and it looks good.
So, now that you have your cords under control, what about the actual desk styling? Here is my rule. Much like shelf styling, you don't have to use every square inch of your desk. I keep the items that I like to be able to access quickly corralled on a tray. THIS TRAY is so large, I actually even added my monitor to it. Also, if I'm planning to have it out in the open, I may splurge a little more for the "pretty" vs. the basic. I still have plenty of basics, as shown in my office drawer organization post HERE.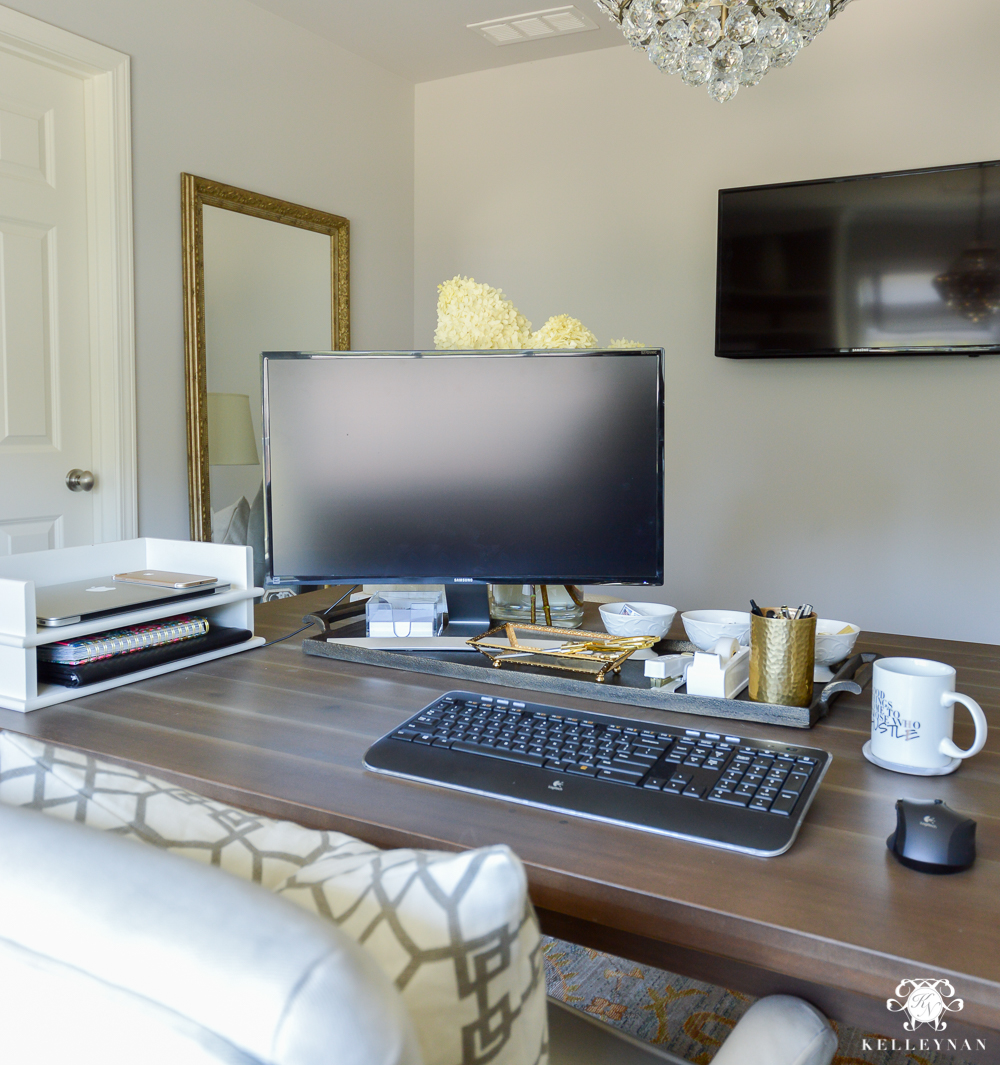 So, I try not to set it out if it isn't practical nor if it's practical but not "pretty" 😉 Don't go throwing away all the basic art/office supplies! Just make a home for them in a drawer instead of on display.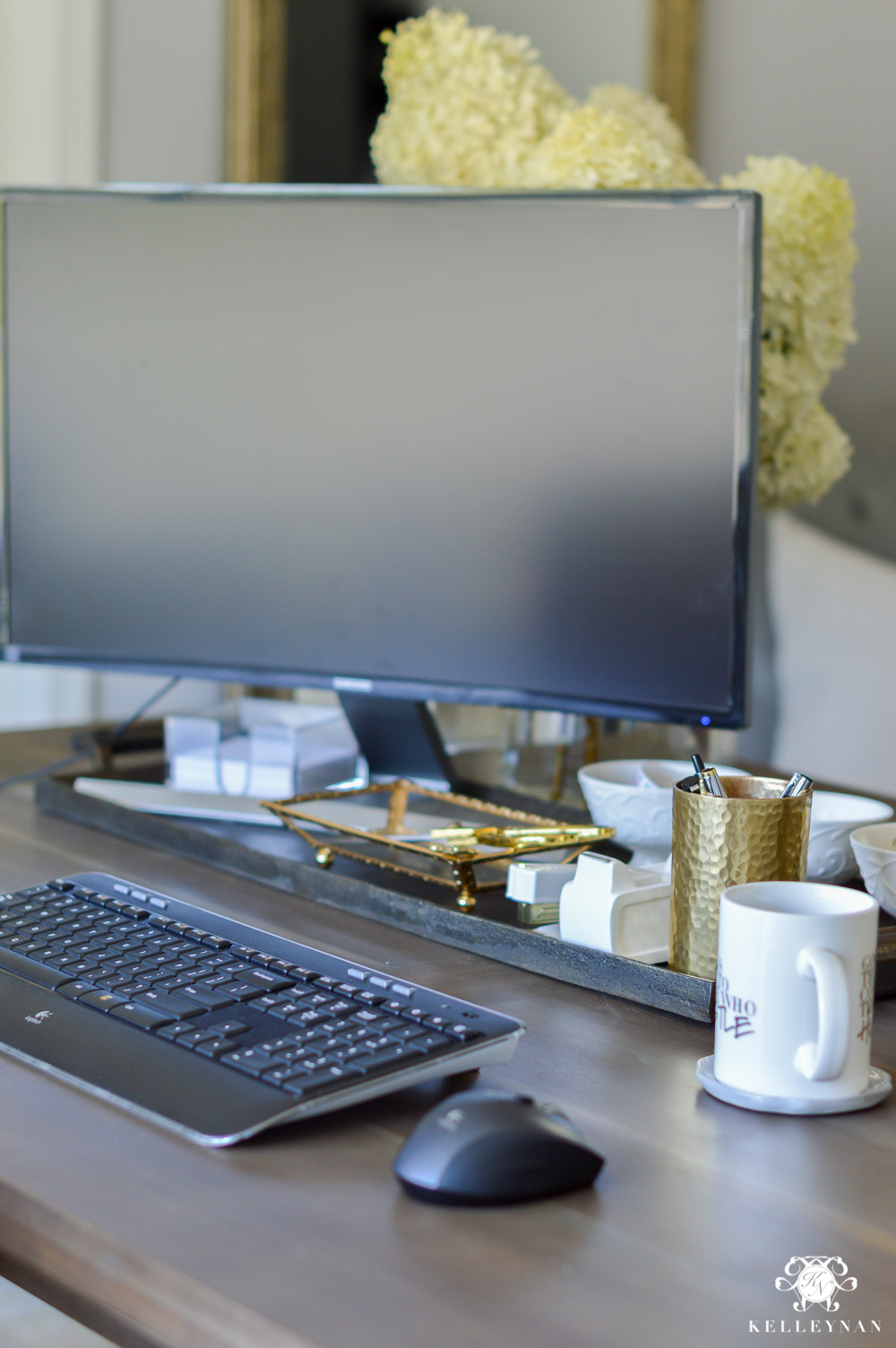 I also ditch the packaging and use trays and bowls. THESE sweet footed china dessert bowls I used are currently on sale. I keep about one third of the desk bare for projects and being able to spread out notebooks, magazines, my planner, etc. This practice, combined with having most everything situated on an oversized tray keeps my desk from looking cluttered. Plus, there's still plenty of room for photos/art if I choose to use some down the road.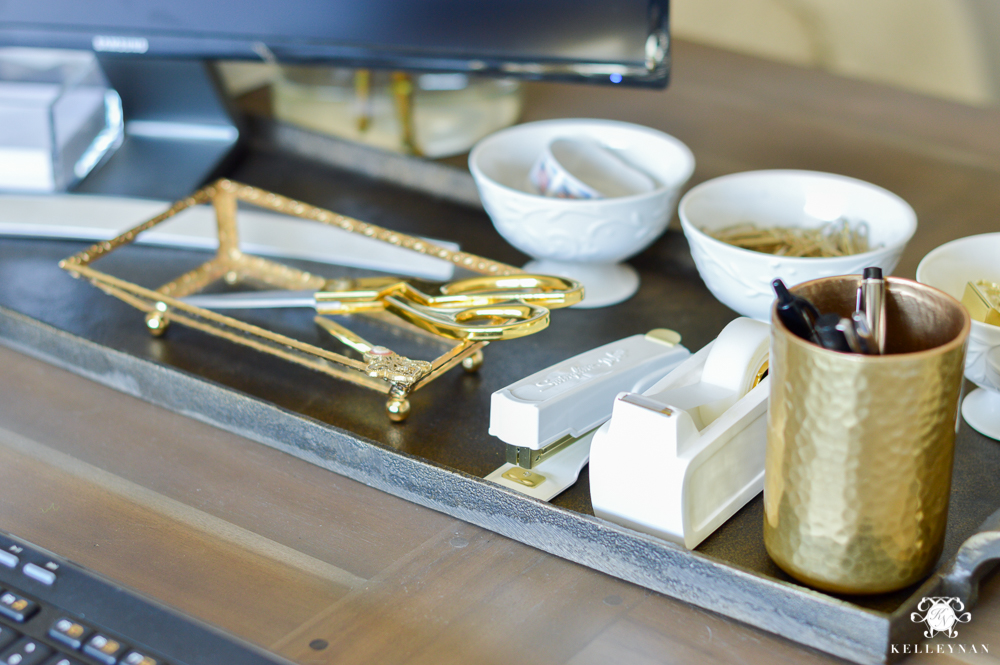 Sources: Tray | Scissors | Footed Bowls | Stapler | Tape Dispenser | Memo Block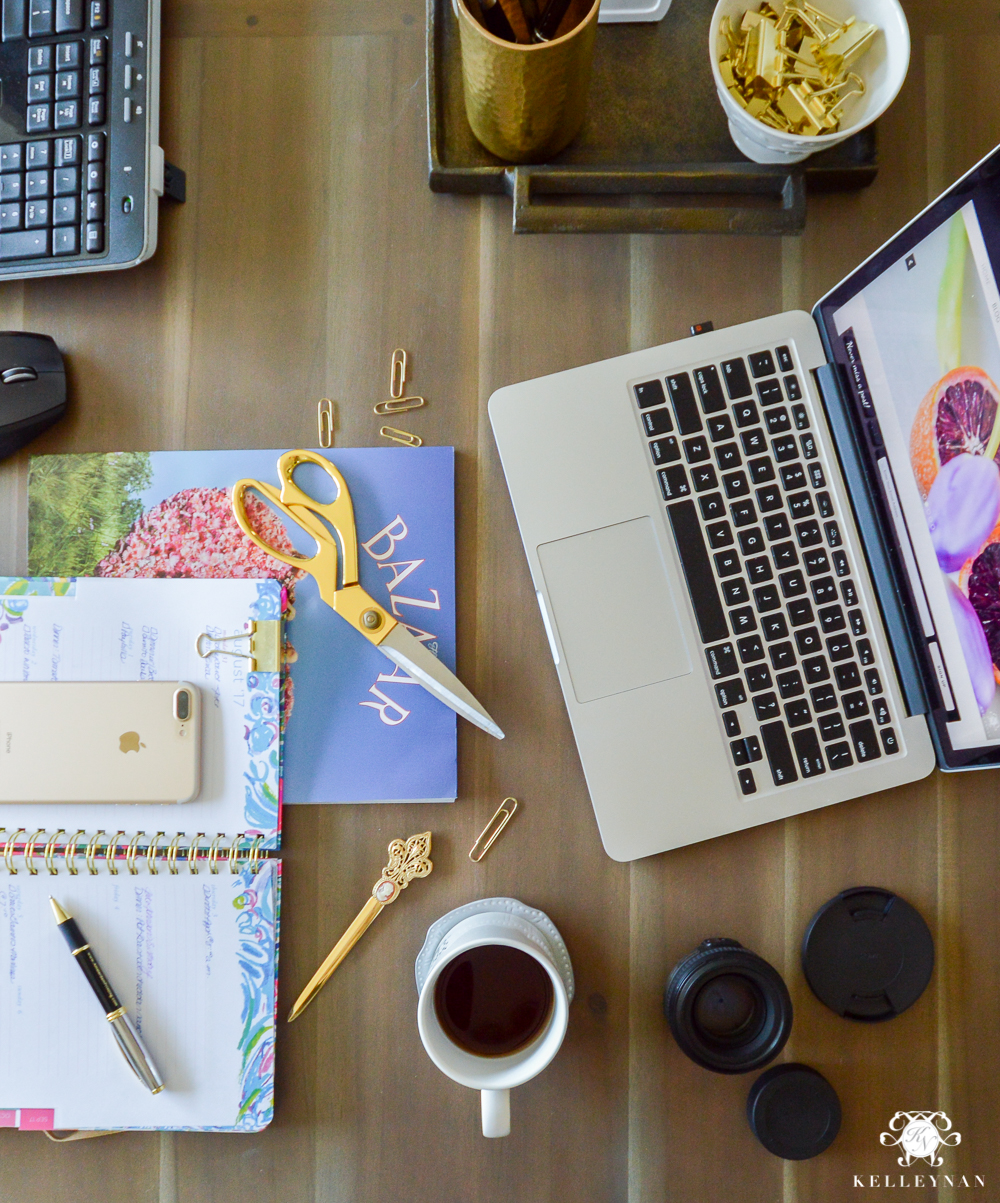 Here is a peek of my desk when I am actually sitting down, working, I currently keep the adapter cable in a drawer when I'm not using it; Dave is going to drill a hole in the side so I can plug it in without having to set the laptop on top. After I finish with my laptop, I set it back in its rightful little spot on the top shelf.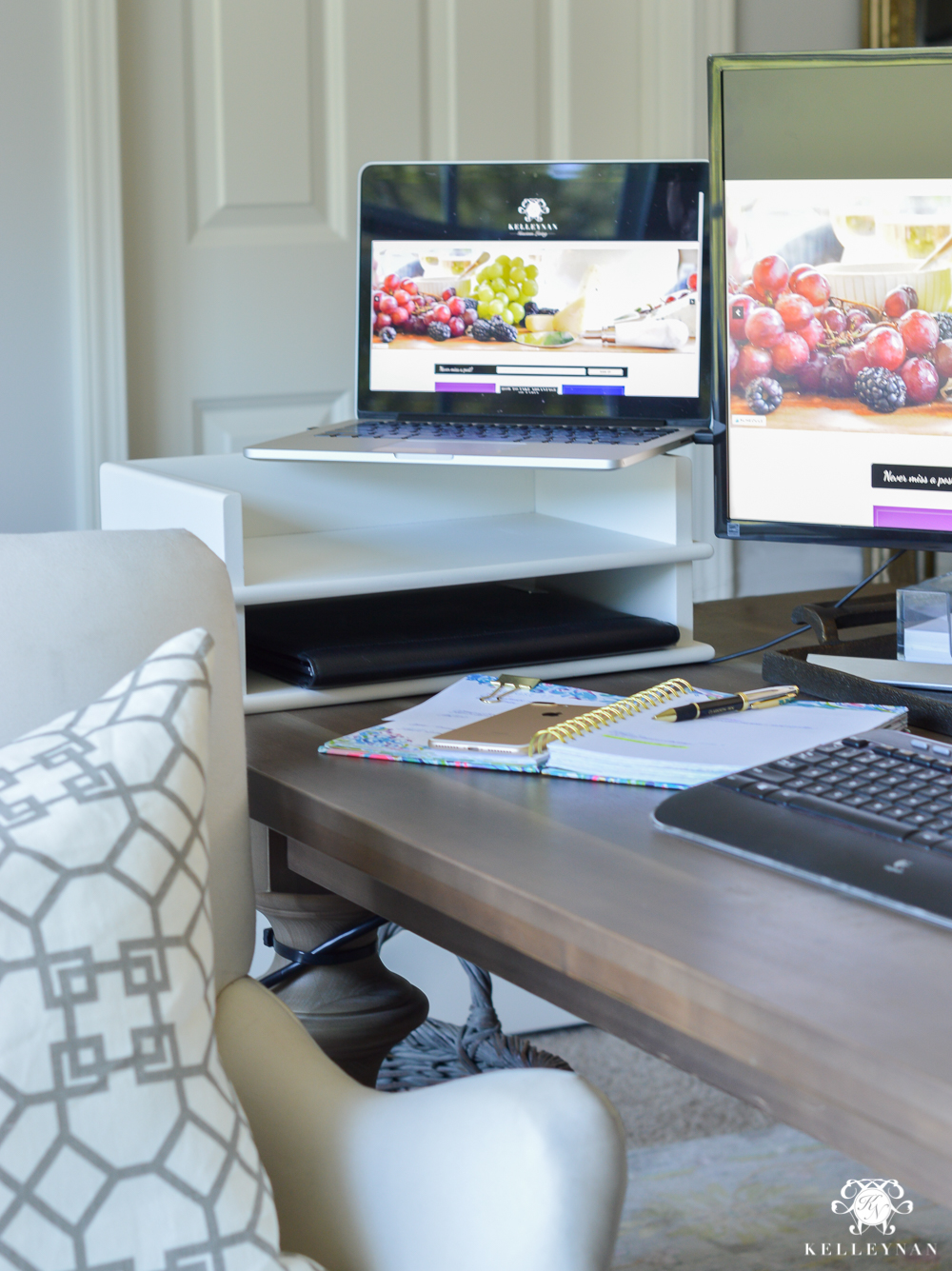 For the full tour,  you can visit the office makeover reveal HERE from this past fall. I am ecstatic to finally reclaim this space after stepping over boxes and mounds of paper for the last month. This coming weekend, I am setting out to take on my closet 😉 Let me know  your thoughts. Would you now consider putting your desk in the center of your office?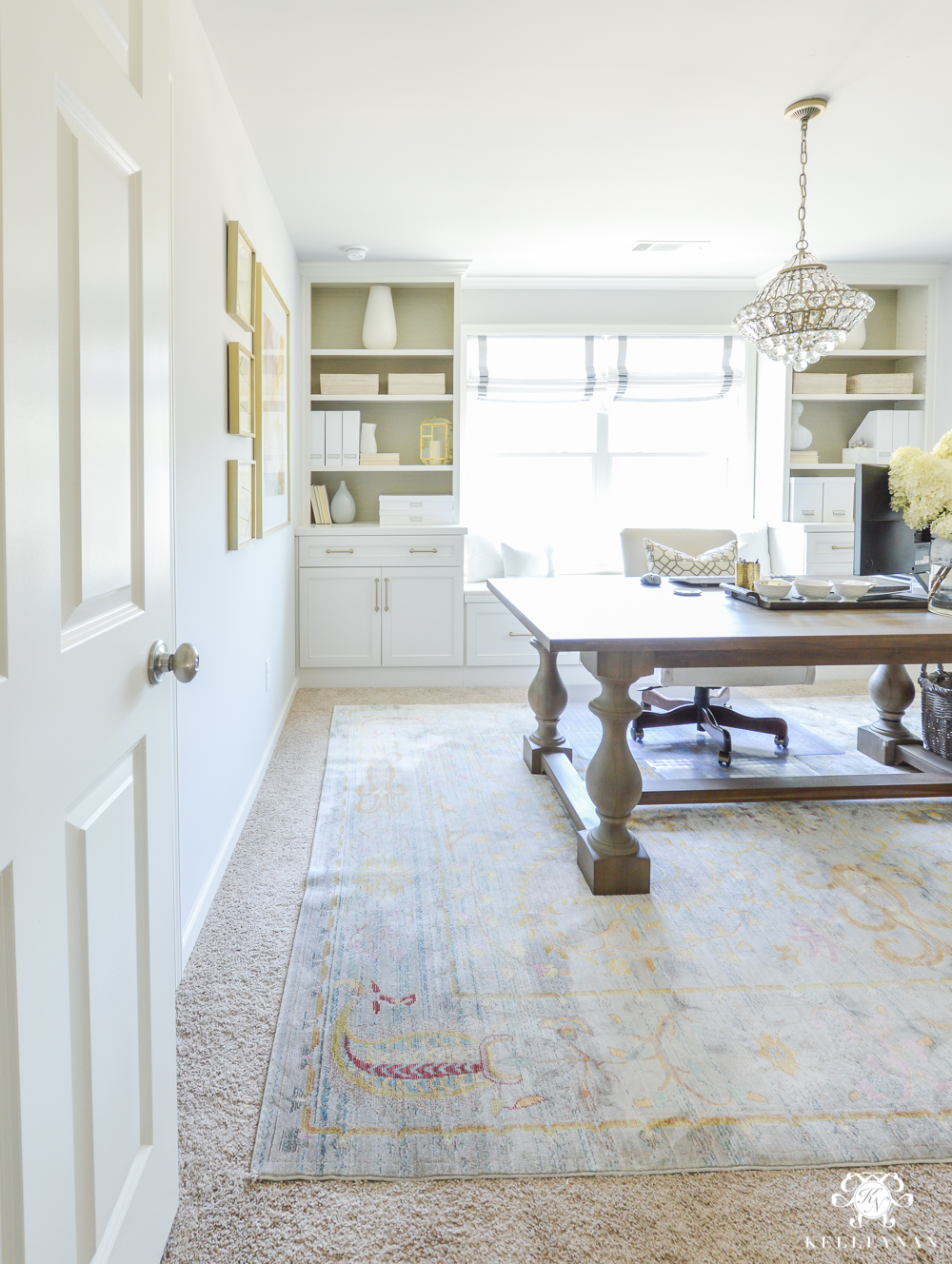 Carpentry – Bobby Barton of Heartwood Renovations, and Darryl Ponquinette of Ponquinette Fine Woodworks | Paint: Sherwin Williams On the Rocks