Oh my goodness; guys! Today, I am so excited to be sharing my favorite room to date. Even though we didn't share our plans to expand our family until January (see our adoption announcement HERE), we've actually been working on a sweet little gender neutral nursery since last year. There hasn't been a single project in this space that's been incredibly time or labor intensive but I took way longer than usual to make each decision. Because the baby's room design seemed like the first tangible thing we could do as parents — and have some semblance of control, something we don't have much of during this process — I probably put a little too much thought into some of the more minute details haha. No regrets here, though; I love the result and it makes me feel like we're just a little bit closer. Update: Eliza Nan was born on June 10, 2019 and her gender neutral nursery has been perfect as it is but has also served as such an easy palette for pops of color from time to time!
Note: All sources, details, colors, etc. are listed and linked at the bottom of this  post
*Posts on KelleyNan.com may contain affiliate links. See full disclosure HERE*
GENDER NEUTRAL NURSERY 
In planning for a gender neutral nursery for a baby boy or baby girl, I had a few goals:
Personality despite using whites, creams, etc.
A calm (but not boring) vibe, be functional and practical, and reflect us
Invest in pieces that would transcend the first two years
Flexible palette and furnishings to be able to further personalize the room (or even go more gender specific if we want) once the baby's here, with minimal effort
The result is a little eclectic with lots of tradition. It's cozy, textured, and layered, but I also kept some things more streamlined, minimal, and clean. It has a natural, slightly bohemian vibe but not in a too-trendy-for-us way. And, I can't help but smile every time I see it. Here's how it all came together…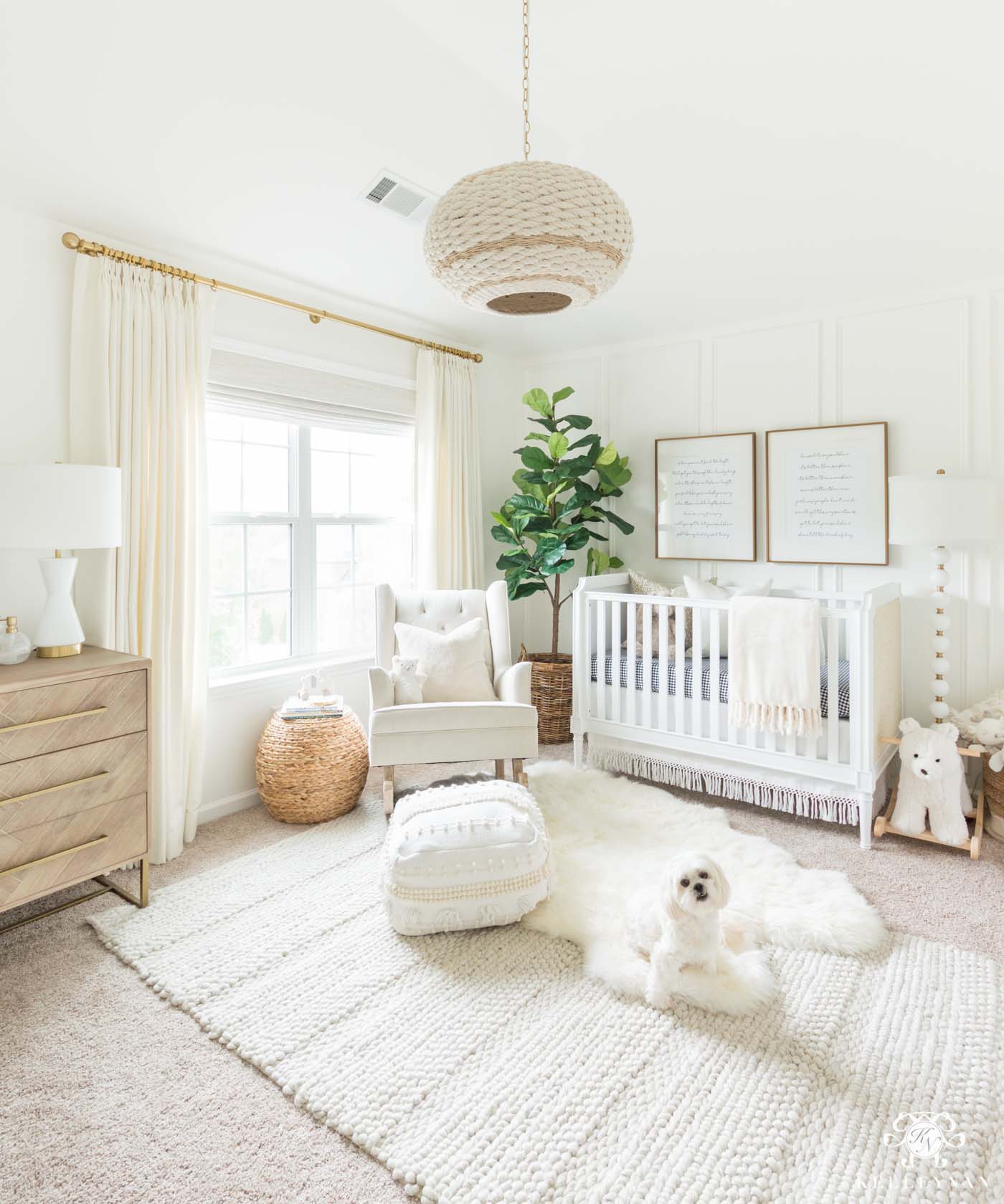 Sources: Rocker | Woven Storage Ottoman Table | Pouf | Crib | Macrame Crib Skirt | Floor Lamp | Fiddle Leaf Fig | Throw | Bunny in Crib | Song Lyrics Above Crib (similar) | Frames | Curtain Rod | Curtain Rings | Woven Rug | Sheepskin Rug | Rope Pendant Light | Sherpa Bear Rocker | Black & White Gingham Crib Sheet | Curtains (Linen Weave Vanilla Bean – Privacy Lining) | Shades (Bali White, Cordless, Blackout Liner)
---
Working on this nursery was the surprising therapy I didn't know I needed and each little addition has made everything just a little more real. Let's take a look at the details.
Gender Neutral Nursery Crib & Bedding
Because I was going neutral, I didn't want everything to fade into a sea of white. I didn't want to do wallpaper or a mural or some crazy wall feature that would end up costing a lot. My solution — install a long, single panel picture frame moulding to the main wall. This single-box version is a basic, quick project for anyone who has even a little bit of skill. I have no experience with a miter saw/box but if you're wanting to try it out, this would be a pretty basic place to start.
100%, the cane sided crib is a splurge. It was love at first sight and I thought about it for a couple months before actually pulling the trigger. Everything else I found paled in comparison (at least in my mind when I was convincing myself that it was a need)  — they all seemed to basic, too feminine, too boring… I justified this thing a million different ways before ordering and have zero regrets. It's unique, heavy and well constructed, comes with a conversion kit, and is 10 times more beautiful in person. It's total love for me.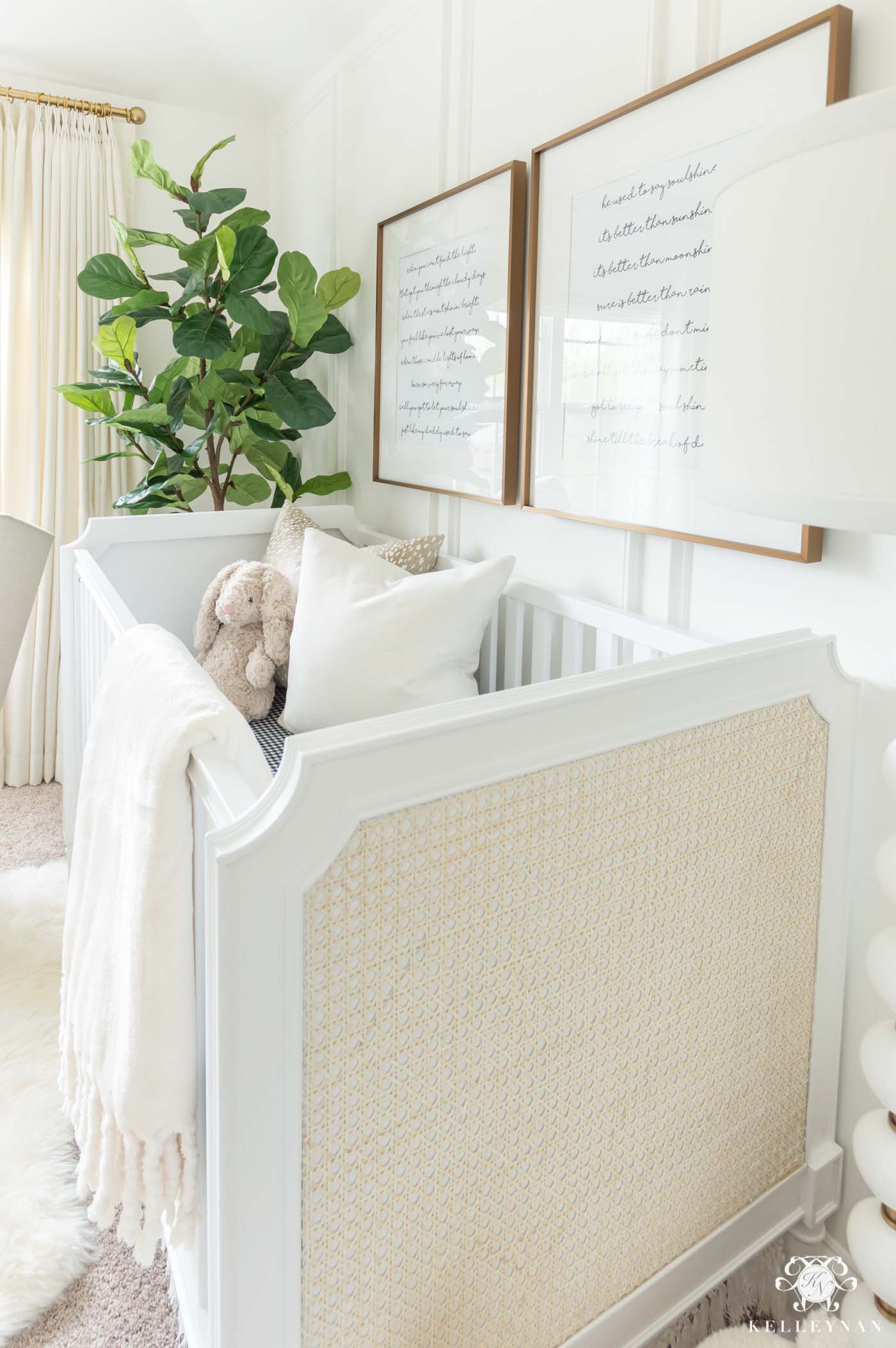 I have several fitted sheets I've accumulated but one of my favorites is this inexpensive black and white gingham. Another favorite I scored during a sale was this sweet oxford stripe (I went with the sand color). I also picked up the macrame crib skirt during the sale — one of the final touches I added to the room. As a note about the crib, crib skirt, and crib sheet — if you sign up for Serena and Lily emails, you can get 15% off your first purchase.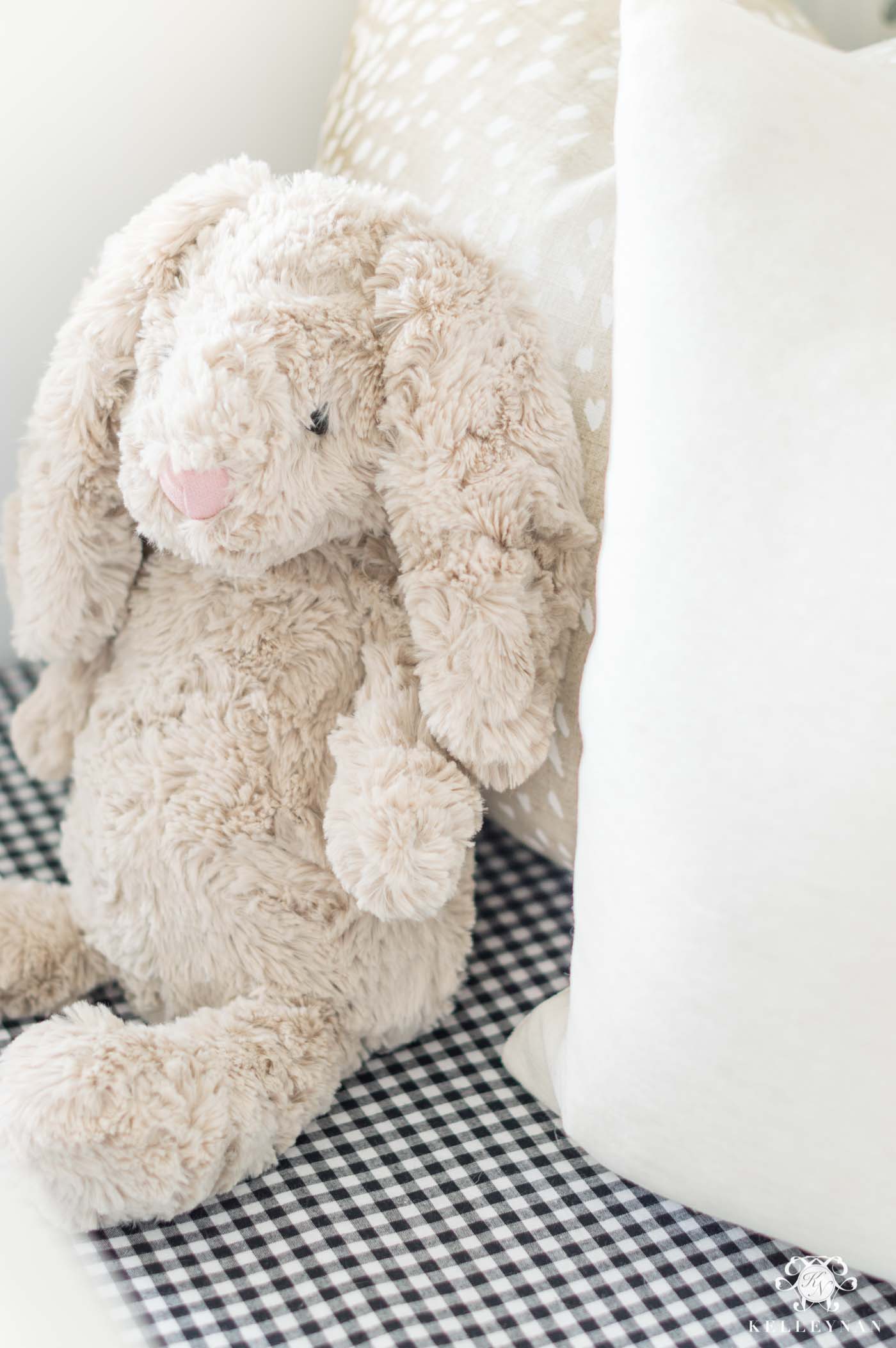 Making the lyrics to "Soulshine" the focal point above the crib wasn't my original plan. I was going to hang THIS wall basket medallion but when a three month back-order of March 31 turned to May 31, I decided it was time for plan B.  The song is incredibly special to us (I even have it tattooed on my wrist and included it in our adoption profile) and it ended up being my favorite personal touch in the room. I had them printed through an Etsy shop that has since closed and used THESE matted brass frames. I found a similar shop with digital printing files HERE.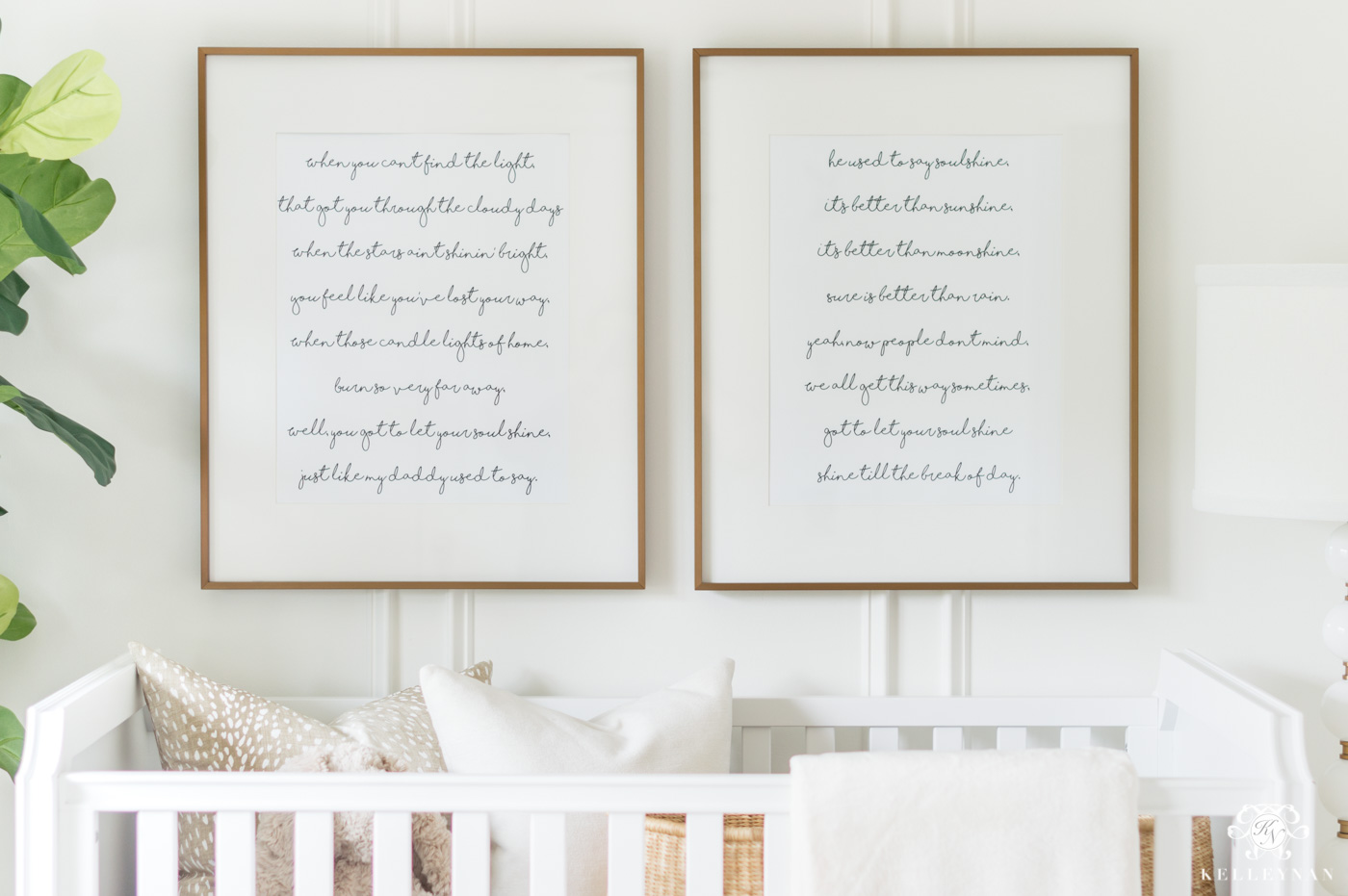 Gender Neutral Nursery Changing Table
I've shared peeks of this dresser (currently out of stock but available in a gray wash with silver hardware HERE) and changing station a few times now. Instead of going with a children's dresser or changing table, I opted for a piece that could be used in any room, for years to come. Truth- Dave likes it better than the dresser we have in our master bedroom. This lamp has a USB port – perfect for plugging in an iPad or phone when outlets aren't easy to access late at night.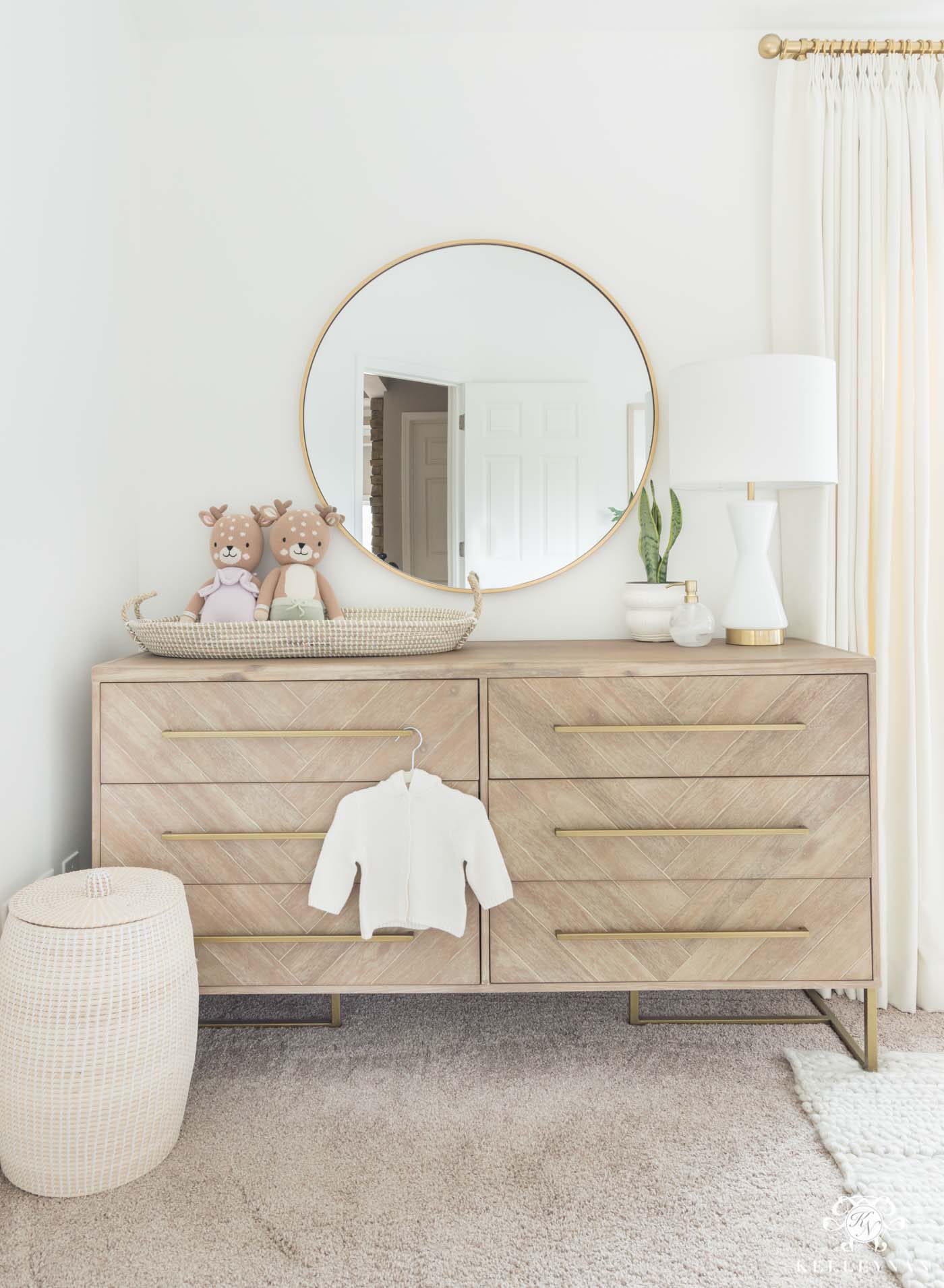 Sources: Dresser | Round Mirror | Lamp | Changing Basket | Glass Shadow Box | Woven Hamper | Violet the Fawn |
---
And this changing basket — are you kidding me?! I have no idea how I will use it after we no longer need it for diapering but I'm determined to come up with future possibilities.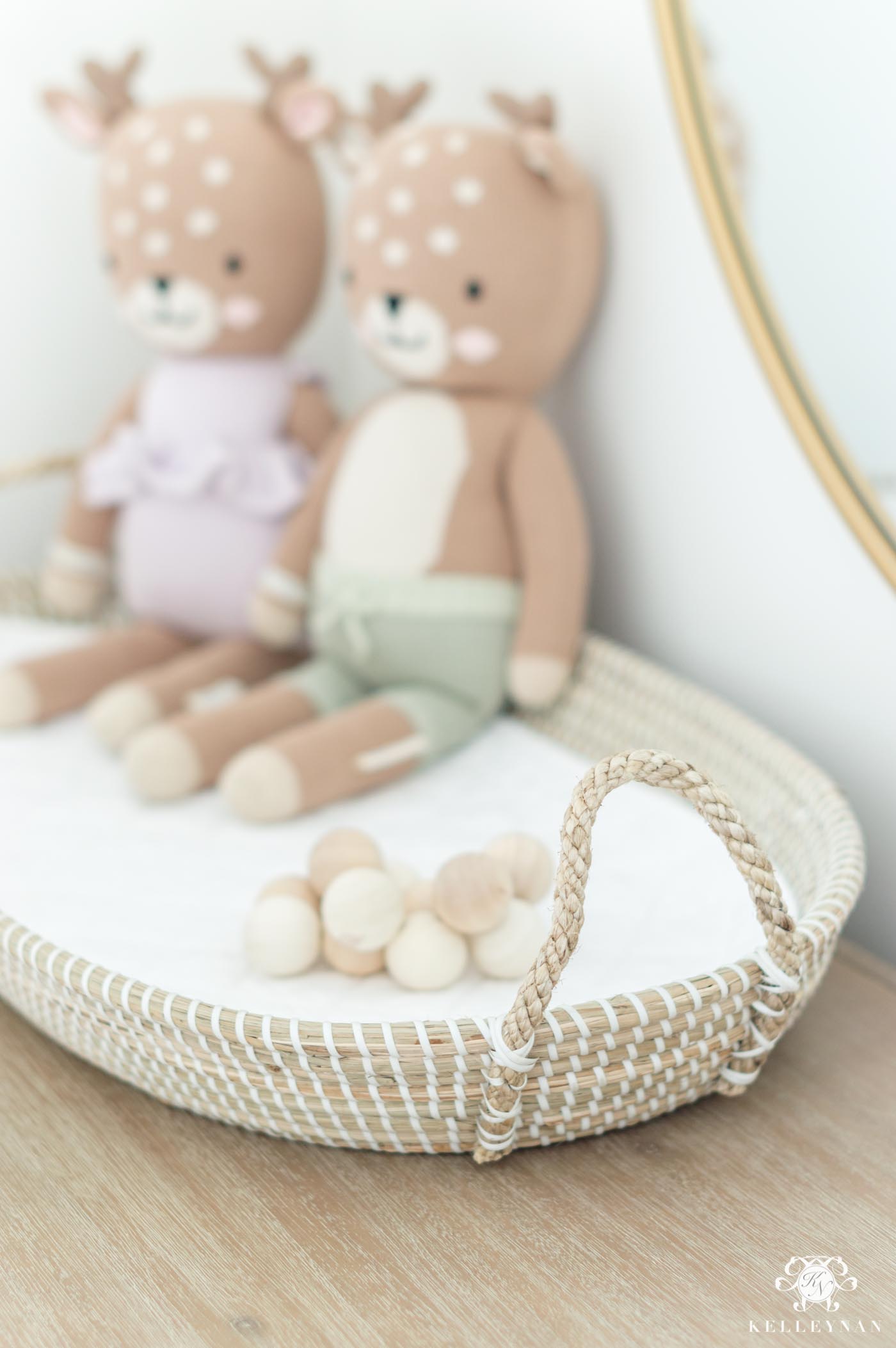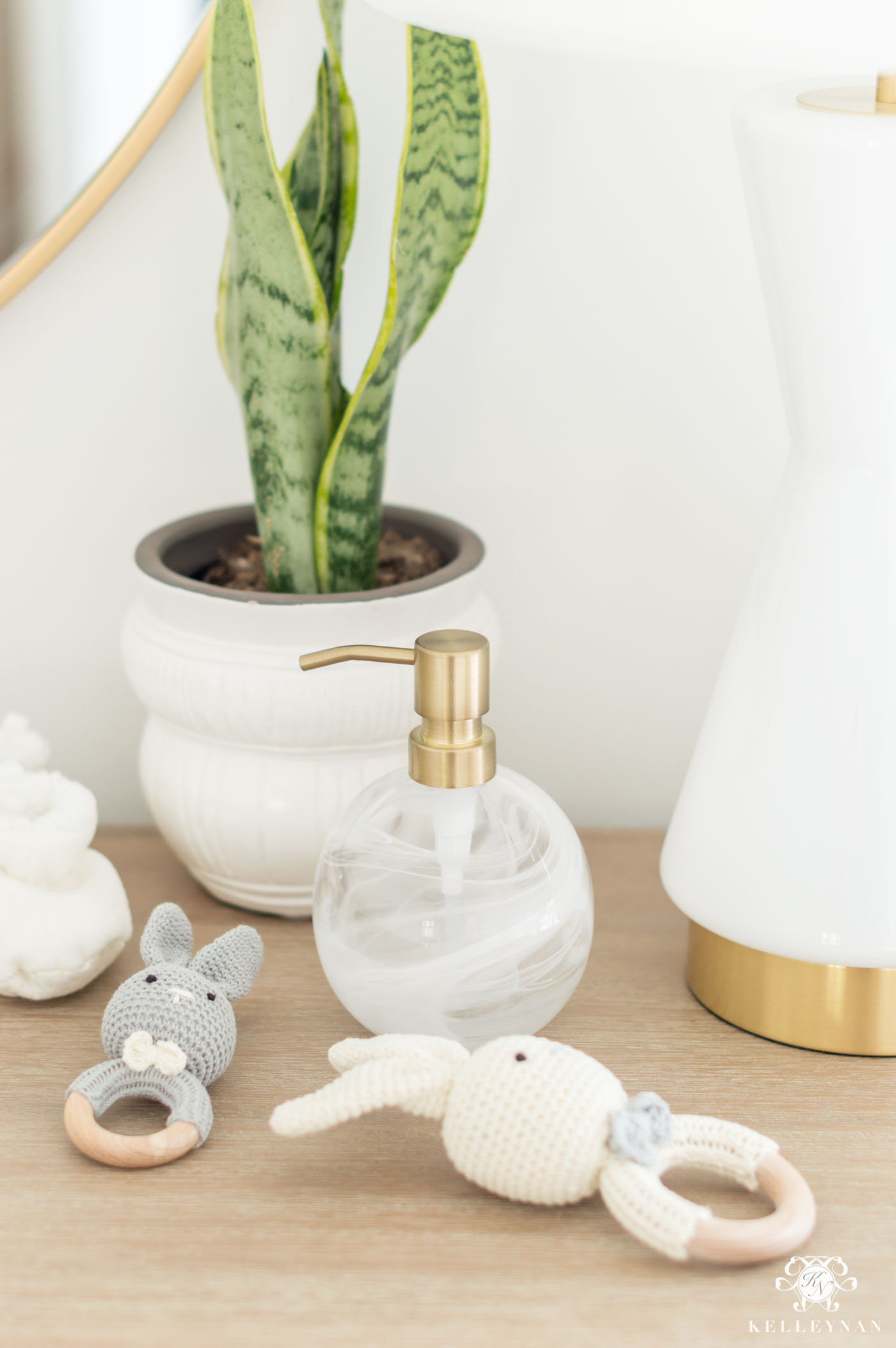 Sources: Bunny Teether | Wood Teether/Clutcher | Changing Basket
---
Gender Neutral Nursery Wall Art & Decor
Before I really got going on the design of the gender neutral nursery, I thought it was going to be more heavily influenced by woodland animals. But, I quickly started noticing just how many nurseries were sporting pictures of animal busts. SO many adorable nurseries out there but I wanted to do something a little different. So, I decided to play down the original woodland theme a little bit, but kept the concept in a smaller dose on the wall opposite the crib. This was a super affordable art project — I found the animal prints HERE in a ton of animals; the prints are available for immediate download in multiple sizes. I downloaded a few and sent them to a local drugstore for printing, picked them up in less than an hour, and placed them in repurposed frames I already had on hand.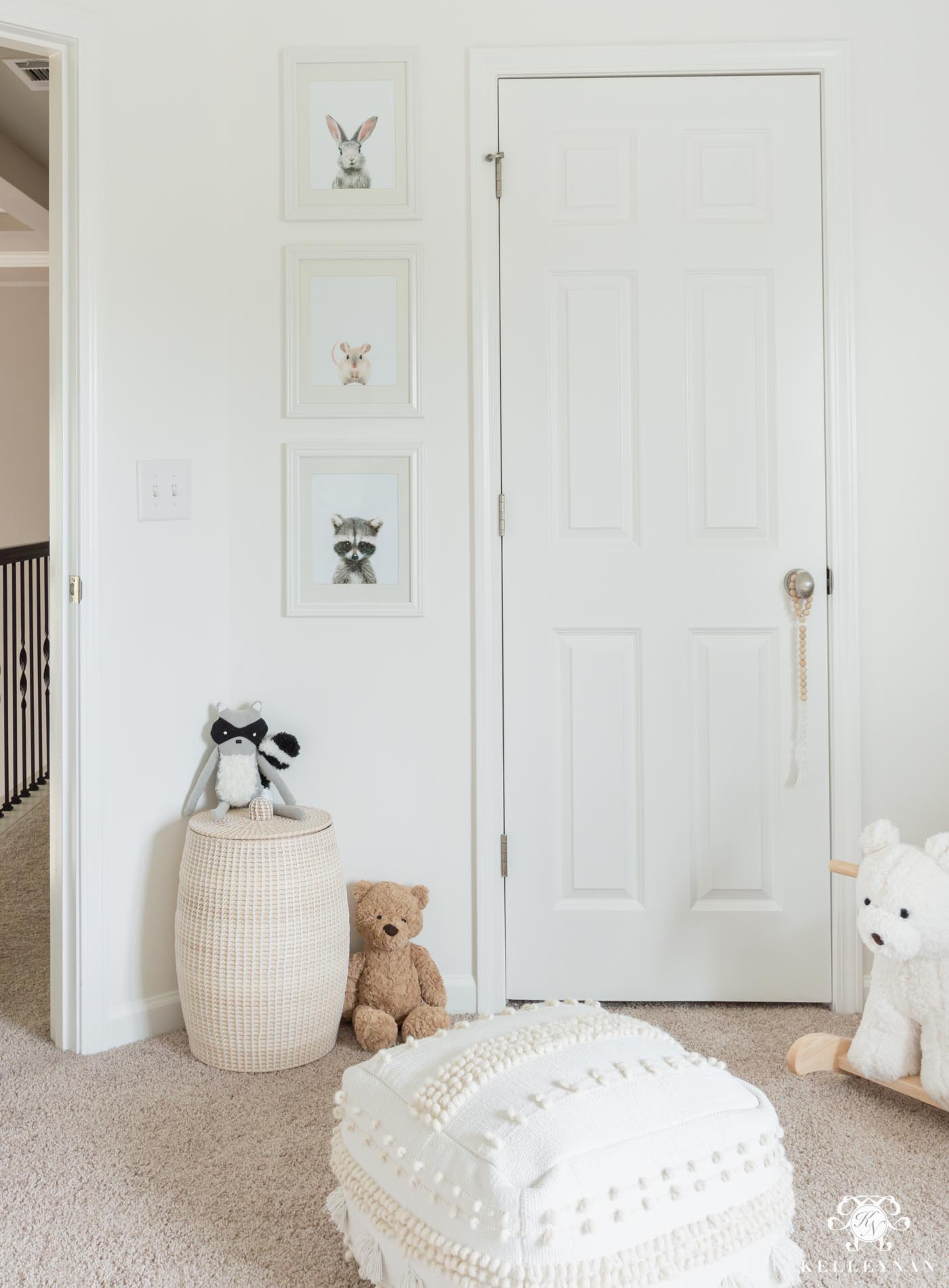 Sources: Bunny Art | Mouse Art | Raccoon Art | Raccoon Plush Animal | Stuffed Bear | Woven Hamper | Pouf | Sherpa Bear Rocker
---
The books we've collected thus far are a culmination of new, classics, and even a box of favorites from my own personal library that my mom saved from when I was little. I loved reading and re-reading everything I could get my hands on and am so excited to see which ones become favorites for Baby Lopez. The large forest framed art, along with the cute bookshelf animal prints, are c/o Minted. Like all of my Minted art, the matting, size, and frames are customizable. If you're looking for cute ceramic animals/statues/items for book ends, look NOW, post Easter! I bet you'll find bunnies, chicks, and others on clearance.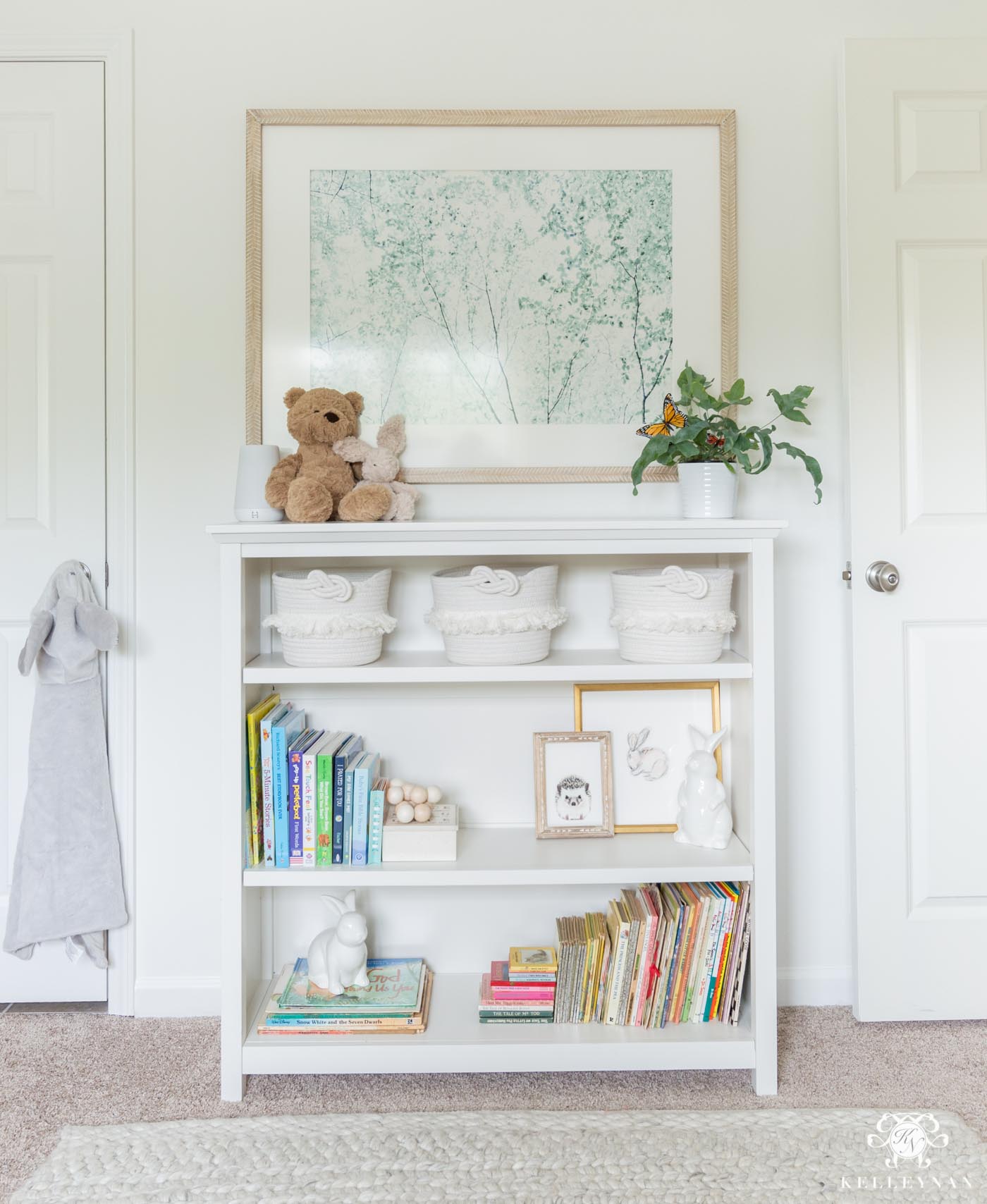 Sources: Book Case | Forest Print | White Storage Baskets (similar) | Stuffed Bear | Natural Wooden Toy | Baby Hedgehog Print | Little Bunny Print | Bunny Hooded Towel
---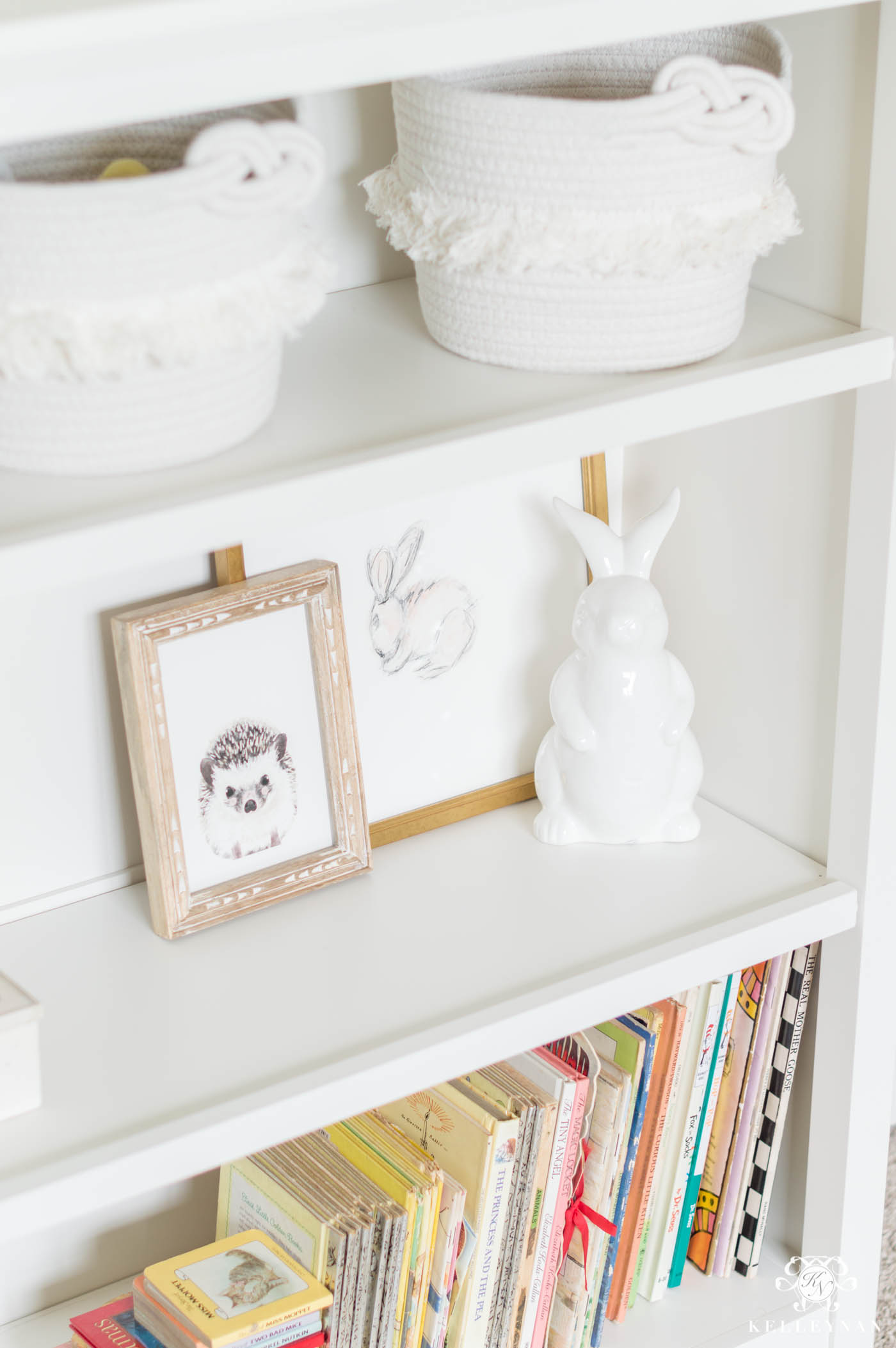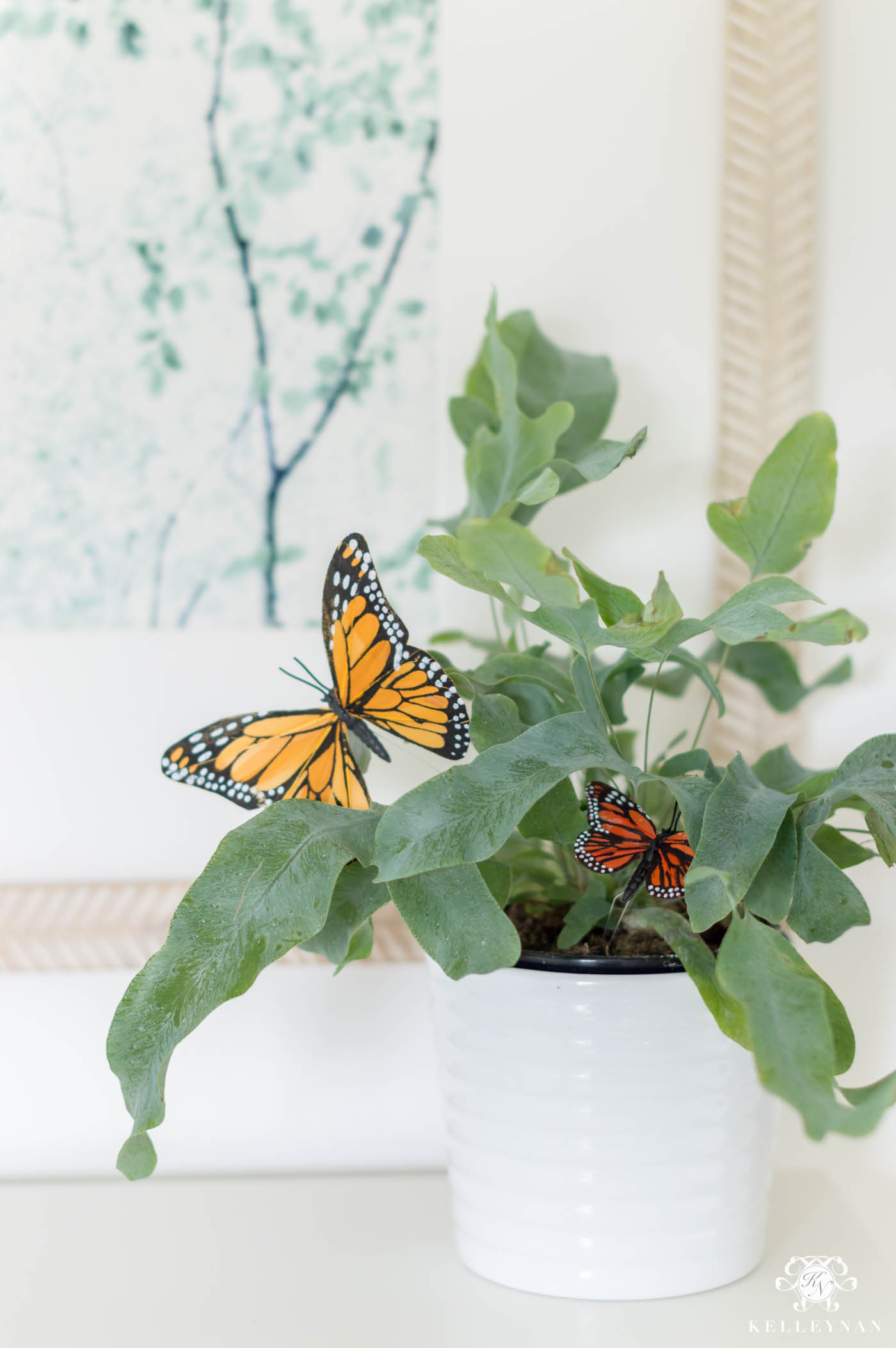 I also already had these cozy layered rugs in my arsenal that were simple to repurpose.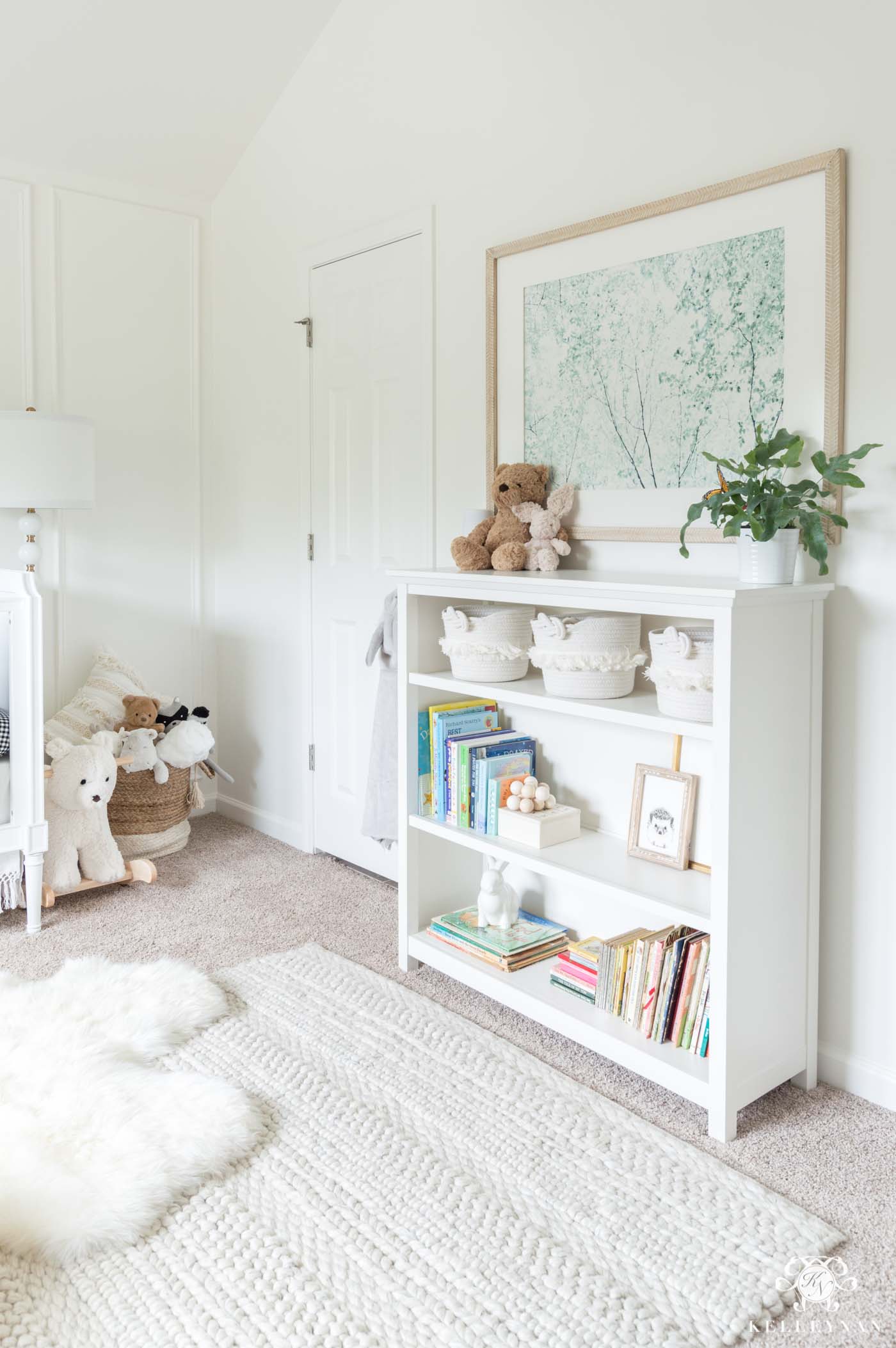 And along with the books, there are a few other nostalgic items mixed in, like my favorite stuffed bear. I'm so grateful my mom saved all she did; I have a ton of boxes to go through that continue to accumulate with each visit she makes!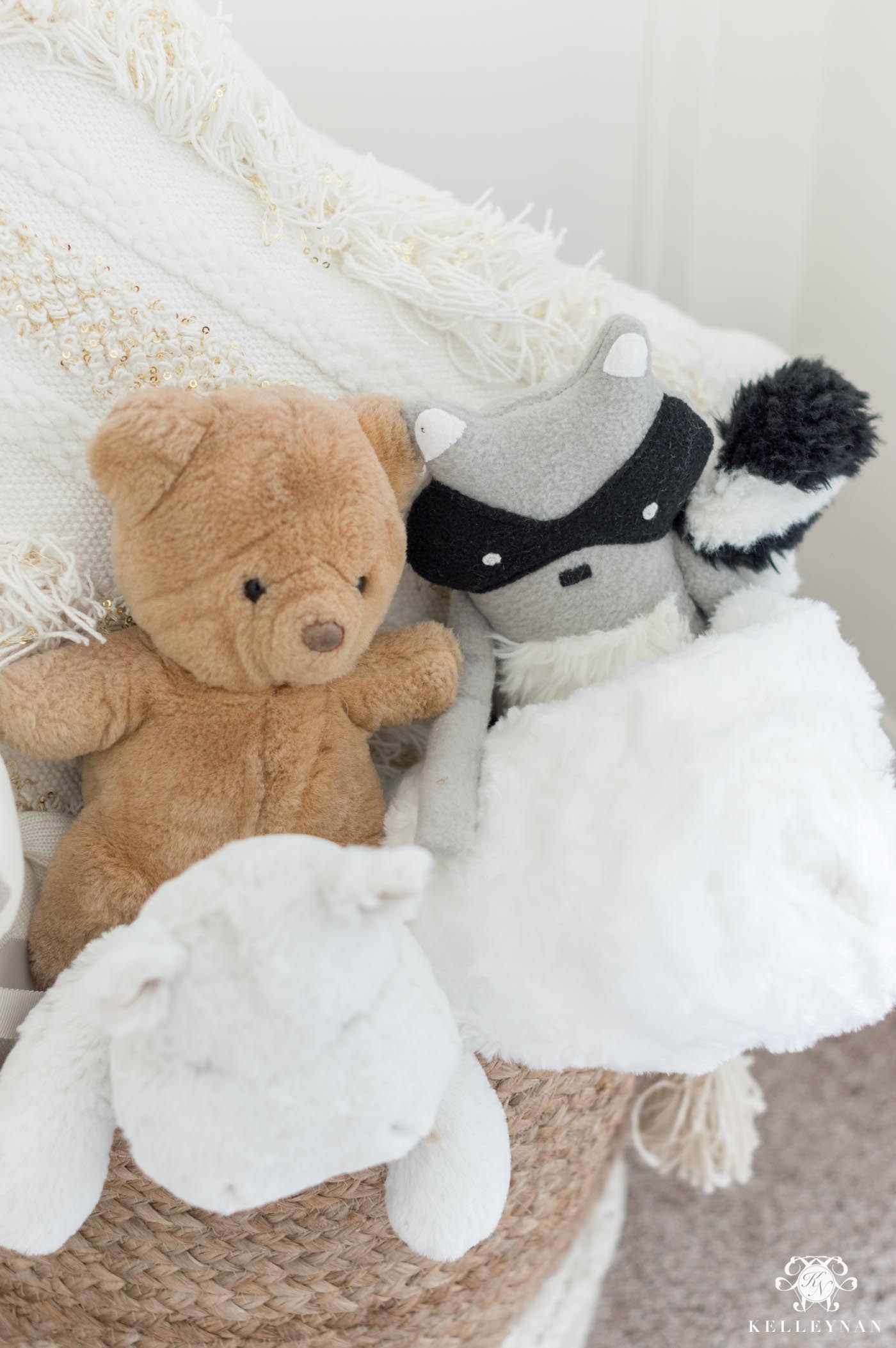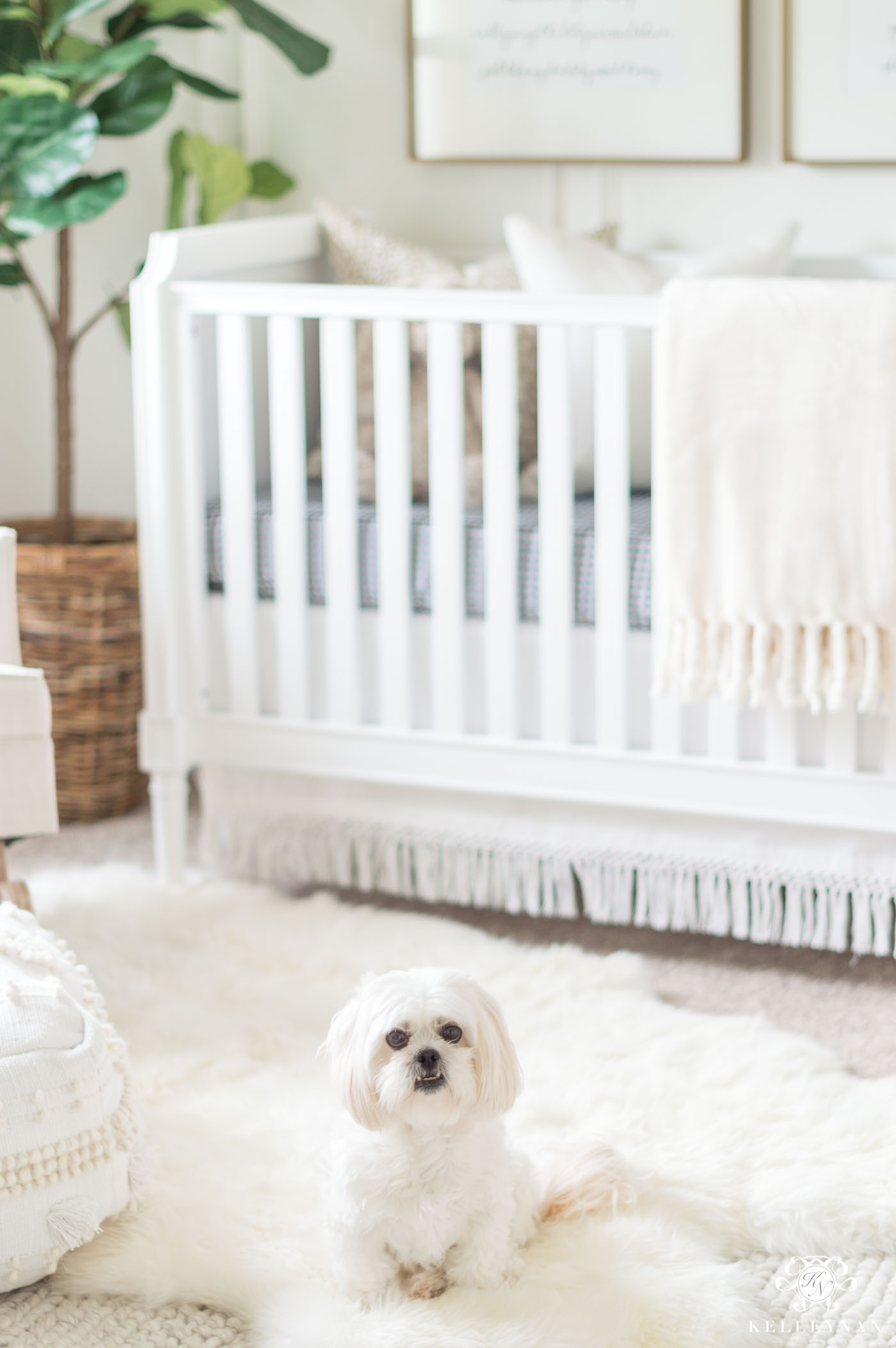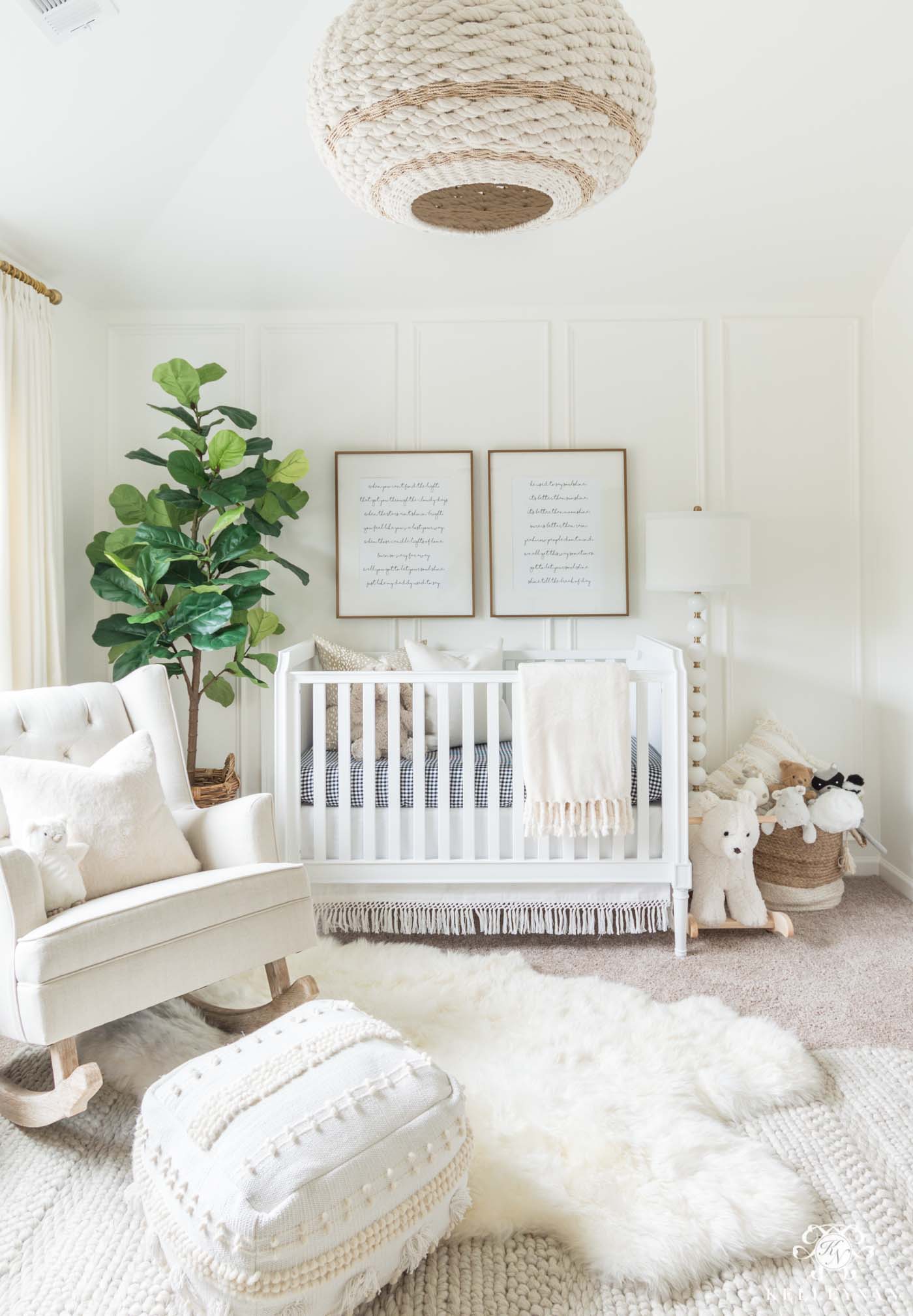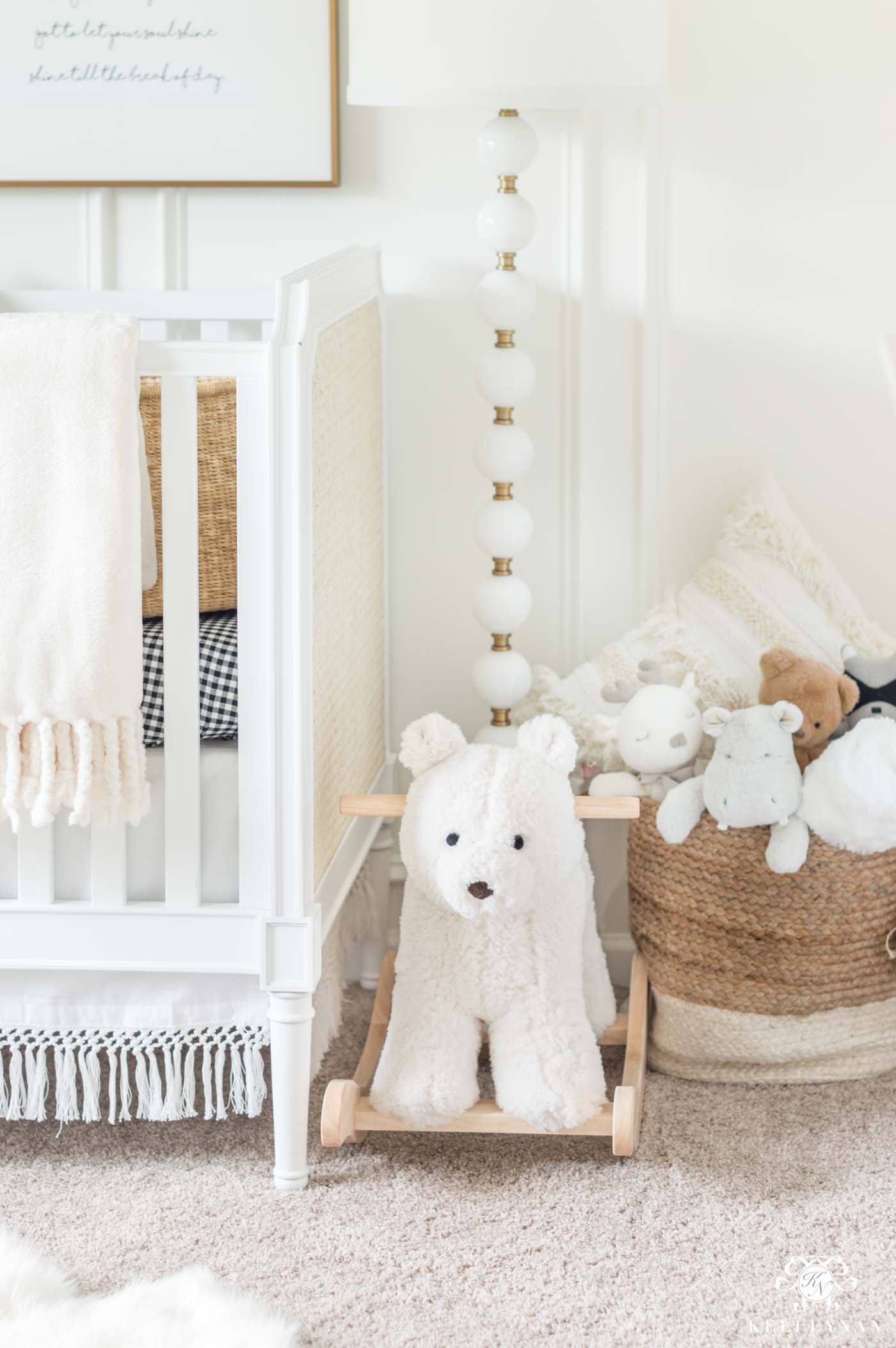 ---
Sources: Crib |  Macrame Crib Skirt | Crib Sheet | Cozy Throw | Lyric Art | Frame | Bubble Floor Lamp | Sherpa Bear Rocker | Basket
---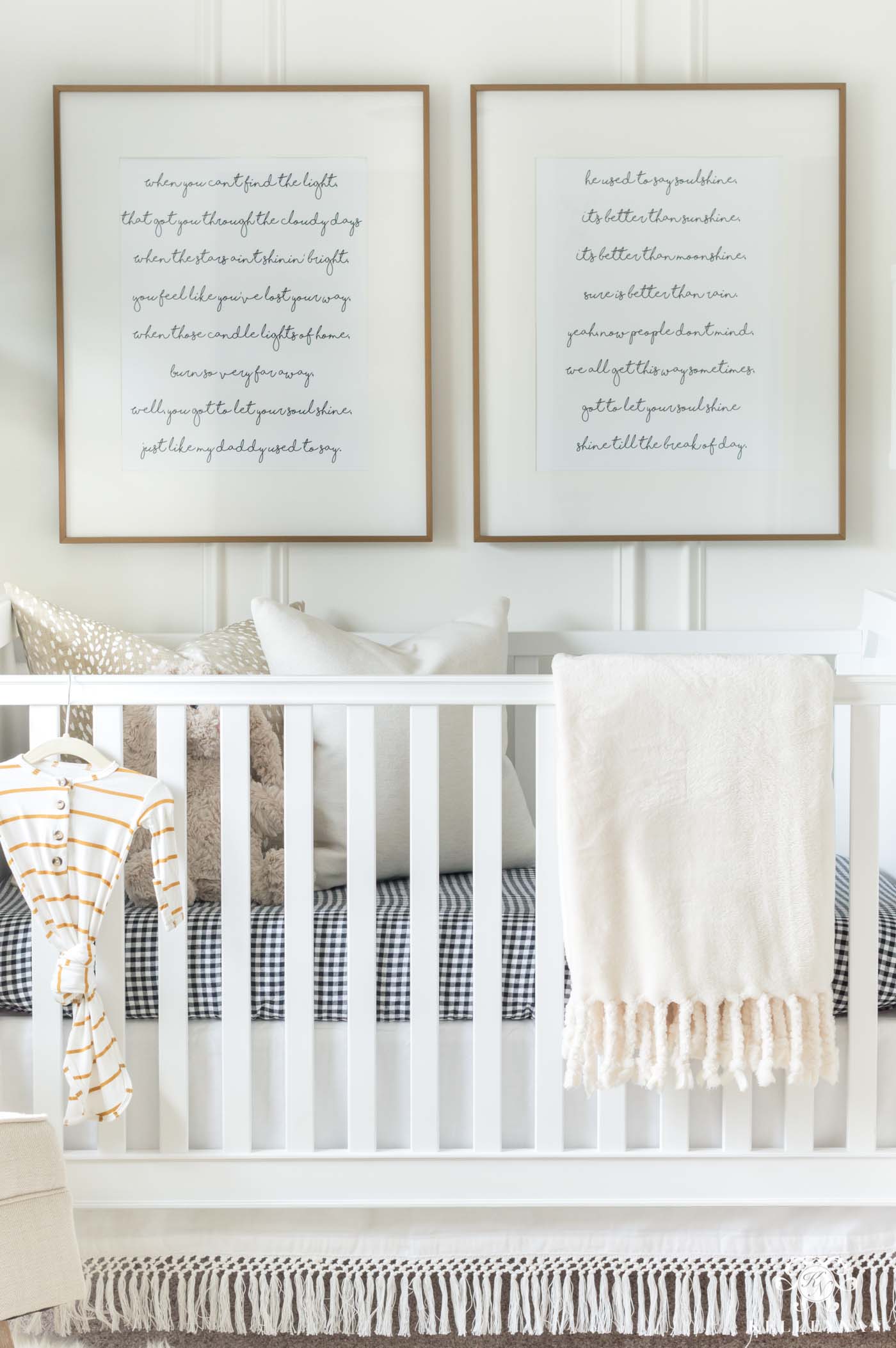 Sources: Crib |  Macrame Crib Skirt | Crib Sheet | Cozy Throw | Lyric Art | Frame 
---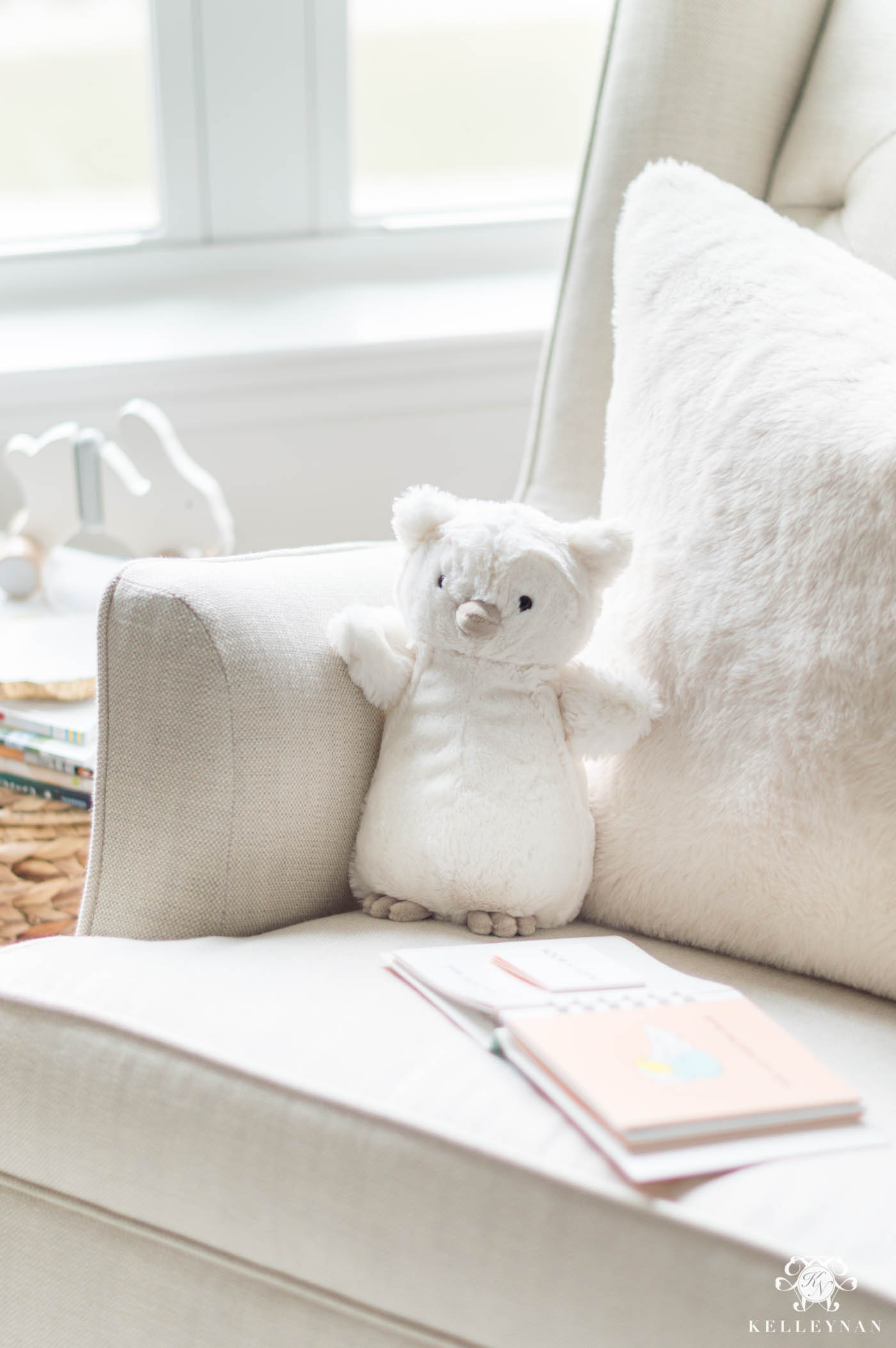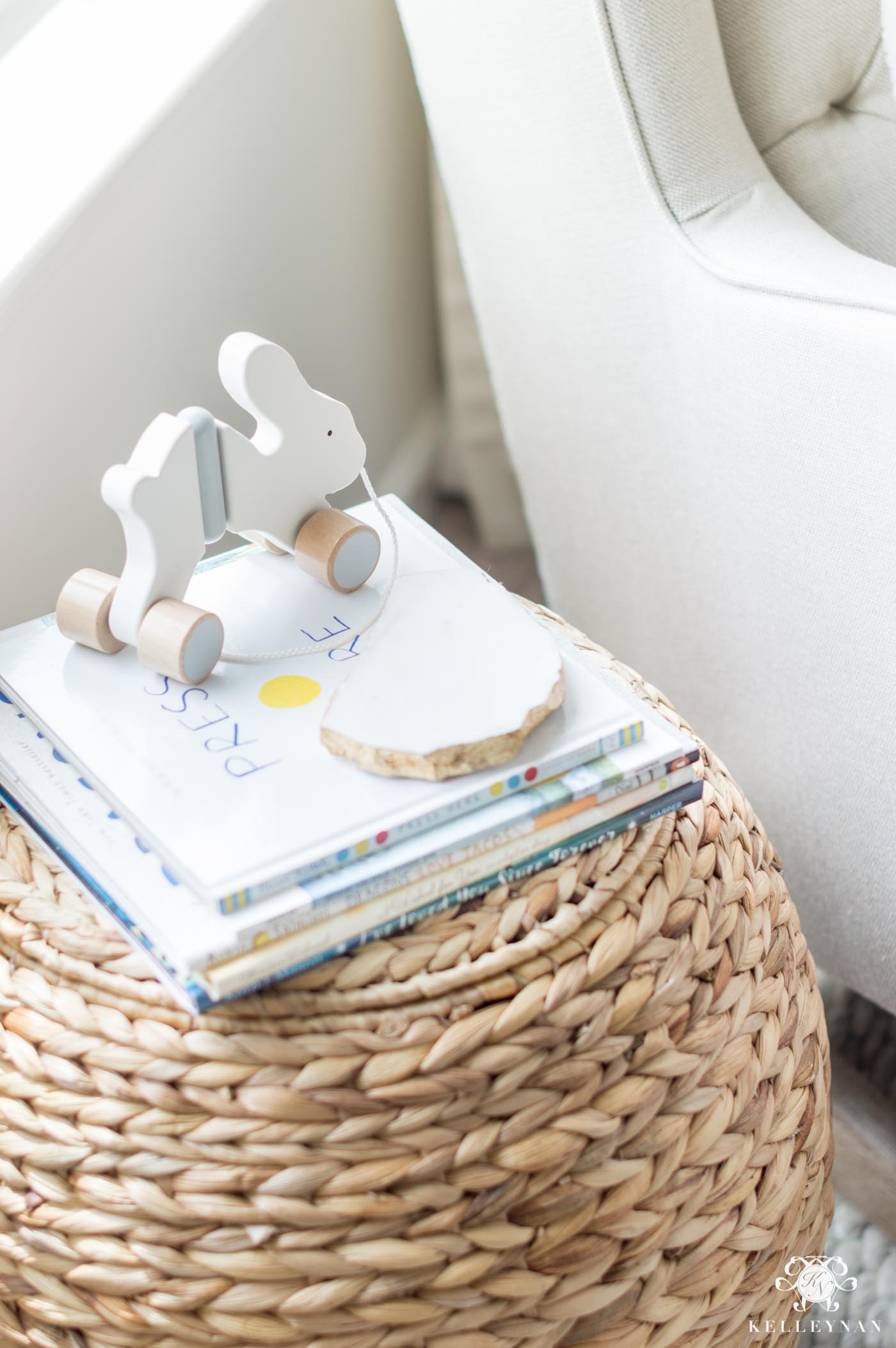 Gender Neutral Nursery Window Treatments
The window treatments were another big deal for us. I wanted the windows to look pretty and polished, but more importantly, this room gets more light than any other room in the house. I mixed my favorite woven shades (cordless with blackout liner) with these privacy lined pleated curtains, c/o Select Blinds; you can find the rod I used HERE and the inexpensive rings HERE. I went with a more tailored look to balance out some of the more casual parts of the room. (Details of the exact material, colors, and lining used can be found at the bottom of the post in the Room Sources section under "Windows".)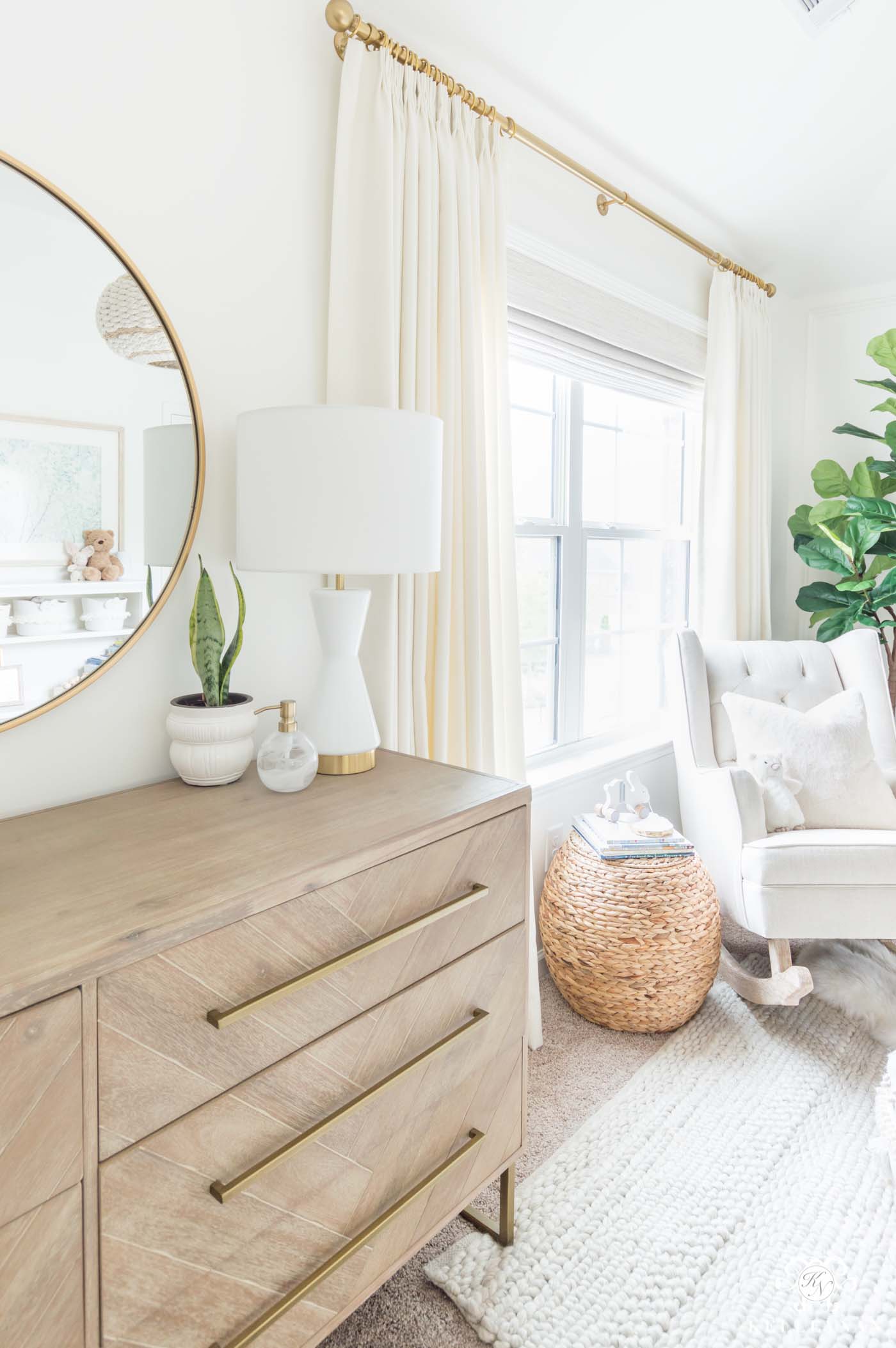 Here's how the shades look when you start pulling them down; they block everything perfectly. They block the sun out quickly so I actually had to up the brightness in editing a good bit, just so you can see the detail.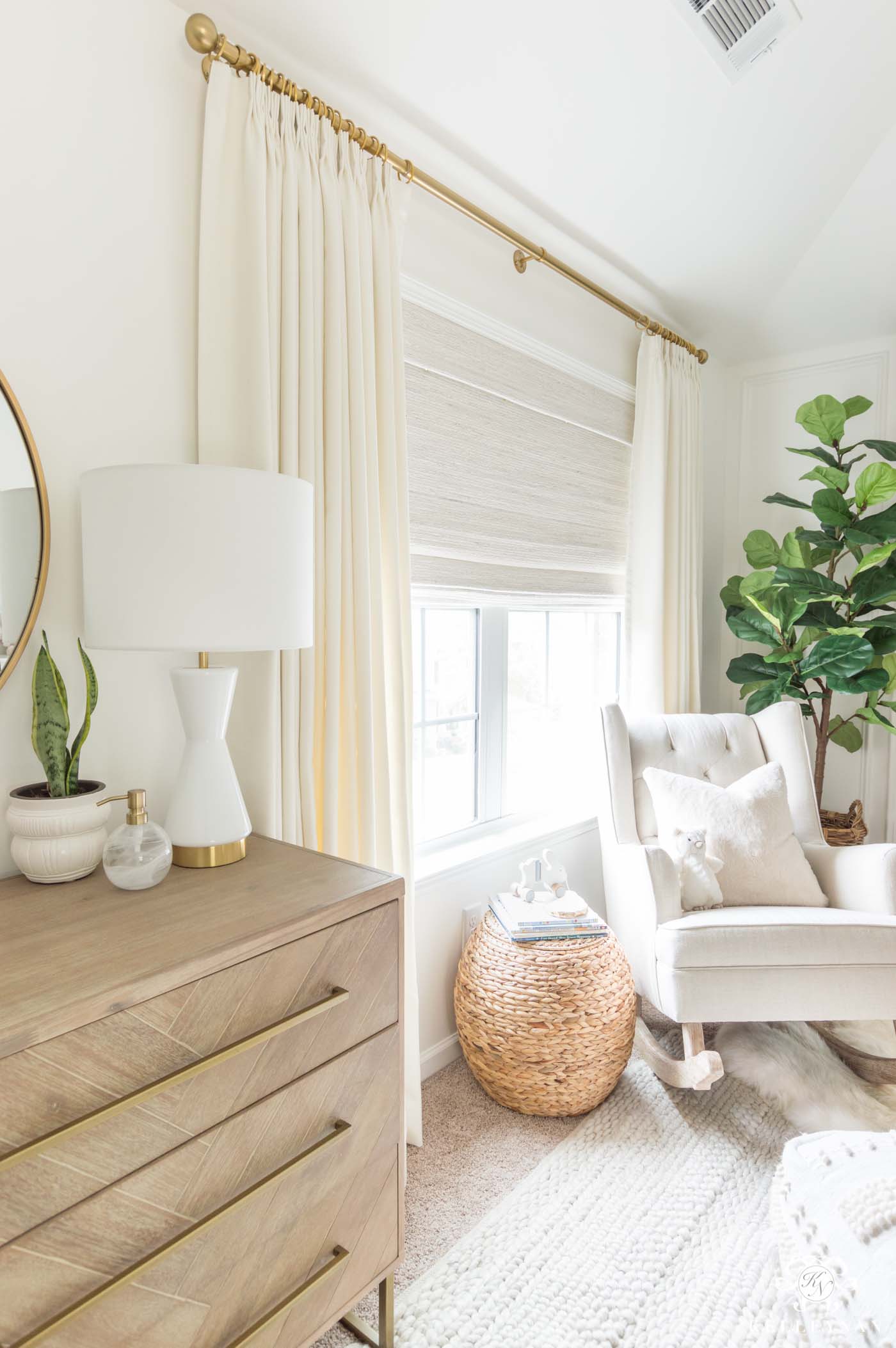 The big rope pendant light was also high on my list, early on in the process, and it most definitely didn't disappoint. One note though is that the rope is thick — almost opaque — so it doesn't emit much light; the majority is cast down softly from the bottom. Secondary lights (like my floor lamp and table lamp) are pretty much necessary.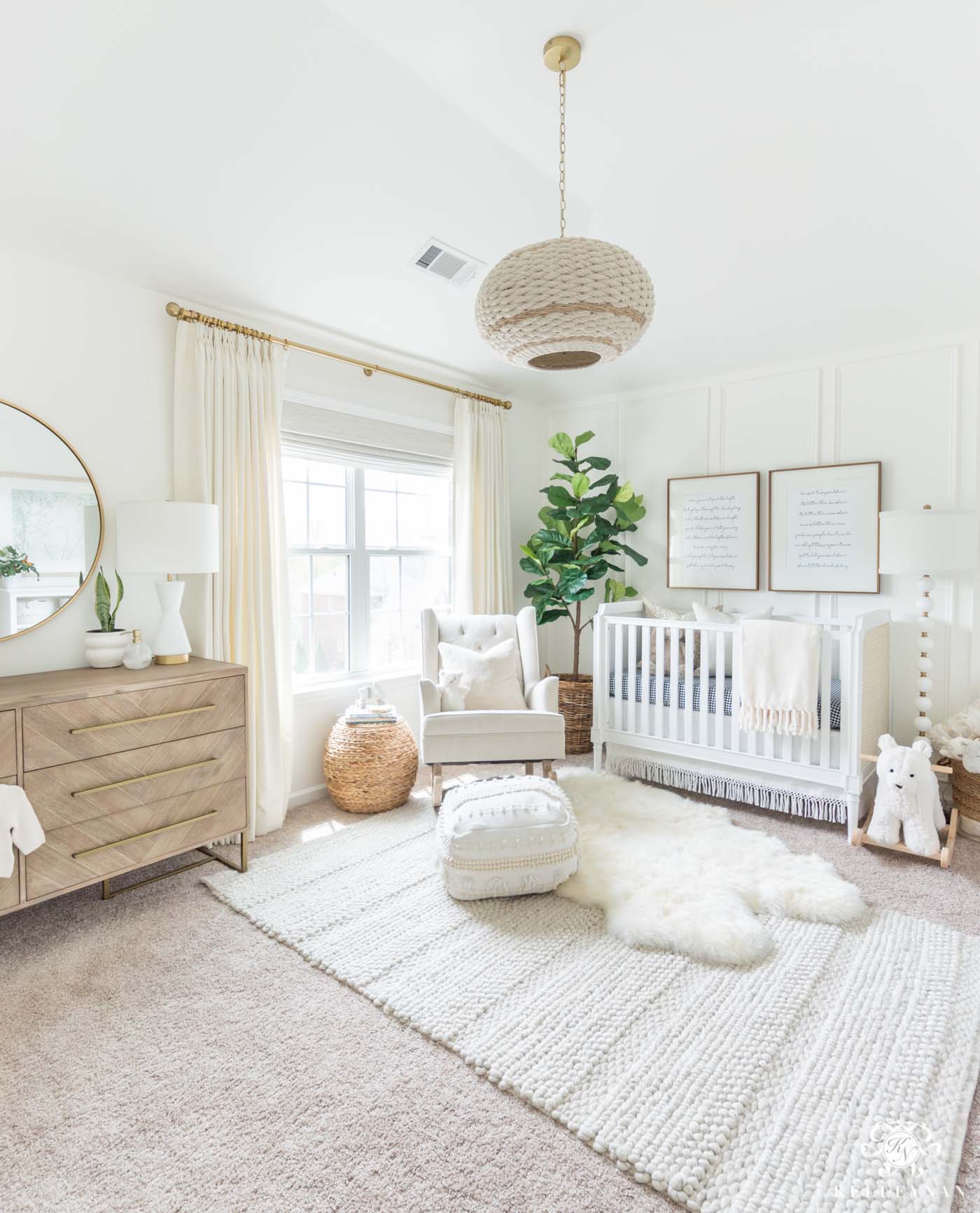 Y'all, I am so dang thrilled. There are plenty of ways to further personalize the nursery one day but even if it stays exactly like this, I'm so incredibly happy with it. TBH, even if it were a closet with a crib, I would be so incredibly happy but I'm thankful to have been able to work on this project over the past several months in preparation. I have more posts coming soon — I'm working on the closet now and holy cow, I can't wait to share that project! And, for those who aren't into the baby things, I've picked back up on the powder room (update: the powder room reveal can be found HERE)! Subscribe to my emails at the bottom of the post and make sure you catch all the upcoming things. Thank you for being on this journey and celebrating alongside us.
Other Posts You May Be Interested In
Room Sources & Details
Wall Paint: Simply White by Benjamin Moore (Regal Select Eggshell Finish; Flat Ceiling Paint on Ceiling)
Furniture: Crib // Dresser (currently out of stock but the gray wash color with silver hardware can be found HERE) // Bookshelf // Rocking Chair (in Sunbrella Performance Slub Tweed, Pebble, Driftwood)
Lighting: Rope Pendant Light // Floor Lamp // USB Table Lamp
Art/Walls: Round Brass Mirror (36×36) // Personalized Song Lyrics — no longer available (SIMILAR) (16″x20″, style 2, above crib) // Brass Frames w/ Mats (for song lyrics) // Forest Art (above bookshelf — 40×30) // Baby Hedgehog Art (5×7) // Little Bunny Art (11×11) // Rabbit Art (Gallery) // Raccoon Art (Gallery) // Mouse Art (Gallery)
Textiles: Macrame Crib Skirt // Fawn Print Pillow // Ivory Velvet Crib Pillow // Boho Pillow // Faux Fur Pillow // Black & White Gingham Sheets // Ivory Tassel Throw // Sheepskin (SIMILAR) // Chunky Knit Rug 
Windows: Curtains (Linen Weave Vanilla Bean – Privacy Lining)// Shades (Bali White, Cordless, Blackout Liner) // Curtain Rod // Curtain Rings
Accents/Decor/Toys: Woven Changing Basket // Ottoman Pouf // Fiddle Leaf Fig Tree // Fiddle Leaf Fig Tree Basket (no longer available) // Water Hyacinth Lidded Storage Ottoman Stool (next to rocking chair) // Laundry Hamper // Rocking Sherpa Bear // White Rope Baskets on bookshelf (similar) // Woven Basket Toy Dump //  Stuffed Owl // Stuffed Raccoon // Stuffed Crib Bunny // Bunny Hooded Wrap SIMILAR  // Bunny Rattles // Wood Baby Beads