We have a lot of windows in our home. A LOT. We also have tall ceilings. To outfit each window in appropriate-length dressings could be an expensive investment but when we first moved in, I was desperate to hang curtains without breaking the bank. With a bit of research and a little luck, I found the perfect budget-friendly solution — Ikea Ritva curtains. I wasn't familiar with Ikea drapes before stumbling across their (almost) seemingly linen panels and ever since, they've become my number one most recommended inexpensive white curtains.
*Posts on KelleyNan.com may contain affiliate links. Click HERE for full disclosure*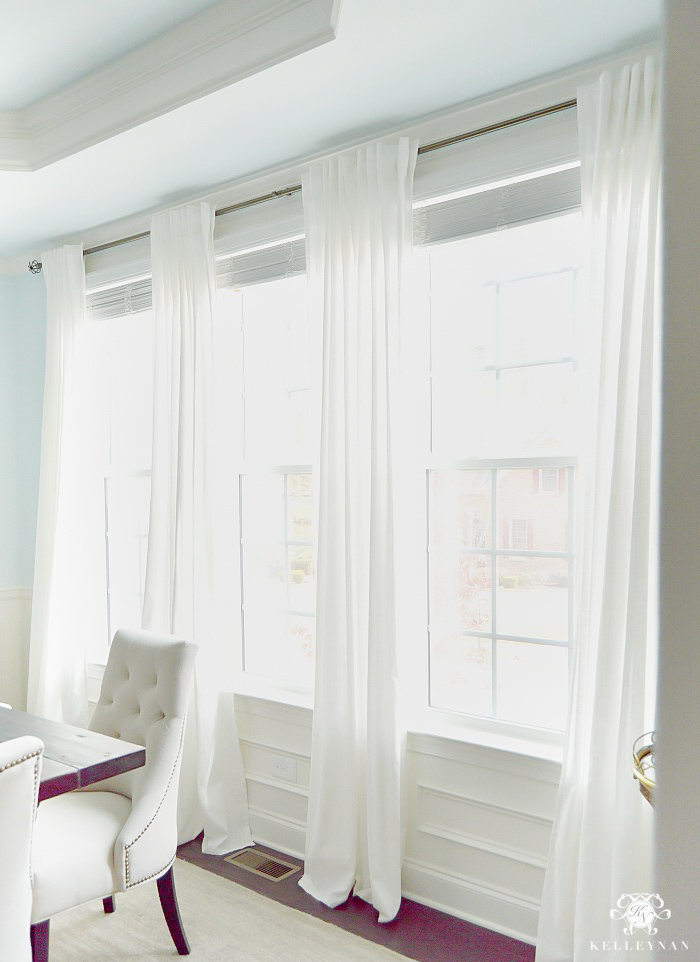 Ikea Ritva Drapes – What You Need to Know About These Inexpensive Curtains
After searching for white linen alternatives online, a common theme appeared all across the web. The Ritva panels from IKEA. I purchased my first few sets in-store in Atlanta but while I live about an hour away, all subsequent sets were purchased online. (Ikea has some fab deals but dedicating a full day to winding through a maze of spaces is for the birds haha.) Granted, I believe they're less than $30 in-store (for a set of 98″ panels — they come in 108″, too), but I found them offered via Amazon Prime for $49 for the set, with free two-day shipping. Worth it not to do the Tour de Ikea. (You can find them HERE.)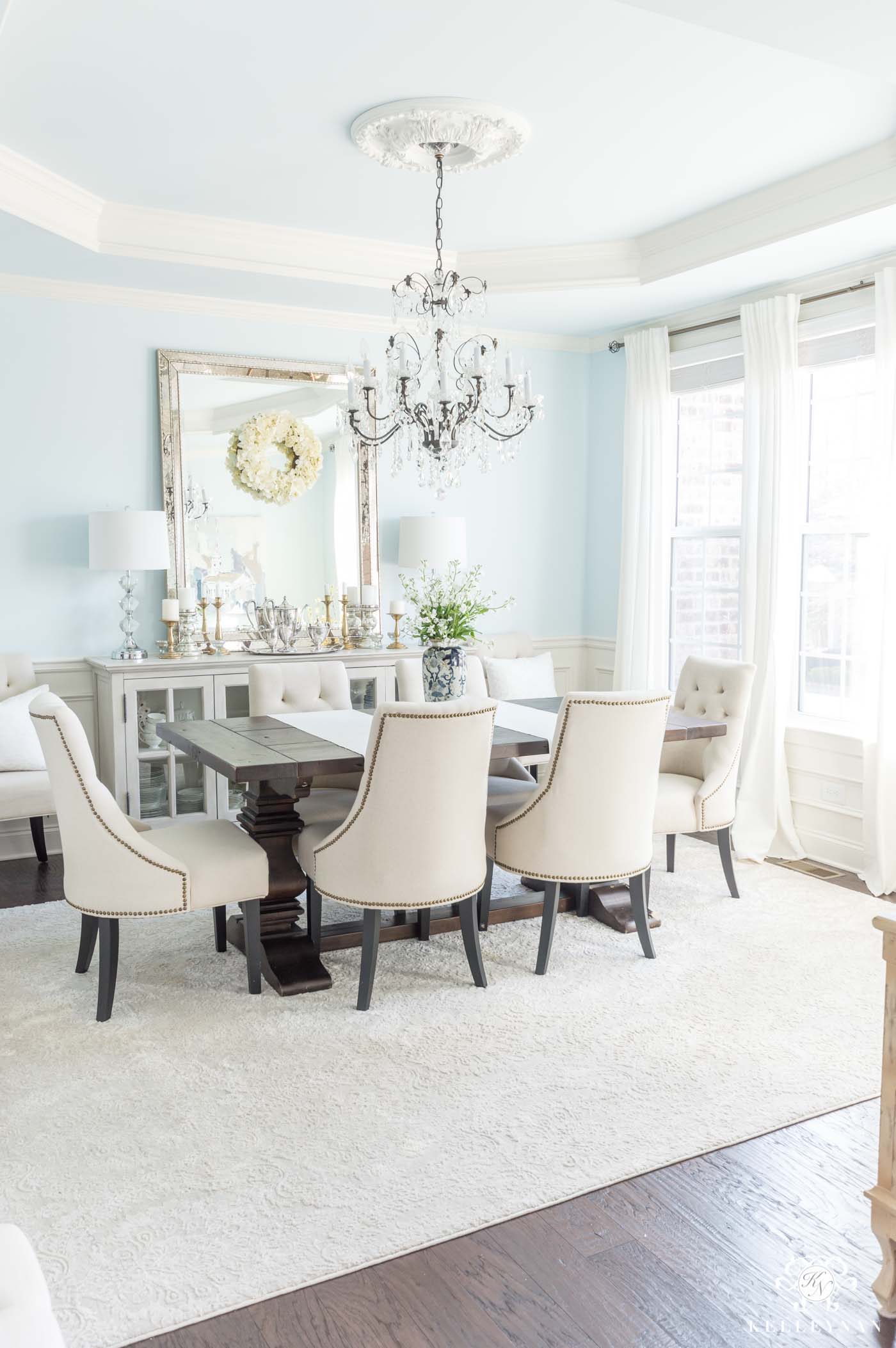 Available Sources: Dining Chairs (similar) | Curtains | Chandelier | | Sideboard (similar) | Table (similar)
You can see in this close-up how they filter in light. The material is thick and has a nice weight; they let just enough light in to provide an airy feel, but are substantial, unlike sheer curtains. They are more of an ivory and actually, in the package, they can almost look yellowed when they're folded in a tight square. Once you take them out, spread them — I also ironed each panel before hanging — they lighten up. In our home, against our off-white trim (Creamy by Sherwin Williams), they look white since they aren't competing against a stark, pure white wall/molding. *Note: even though I ironed them, I did not wash them. If you want to wash them, do so before your first hanging; they will likely shrink that first time.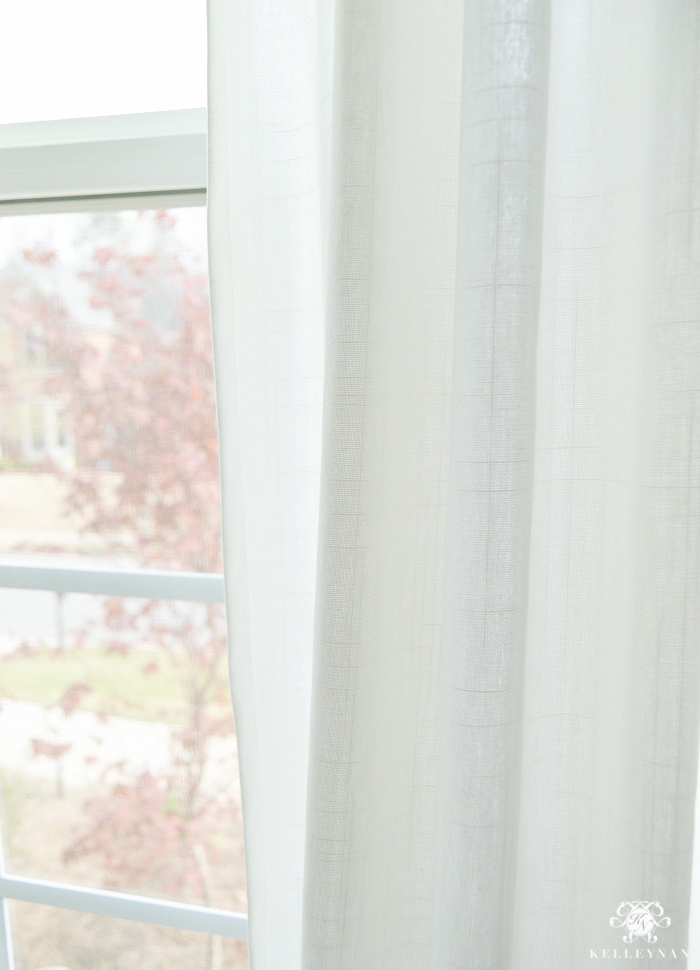 At night, they look a bit more opaque. But, unlike a lot of stiff/blackout panels, they fall nicely.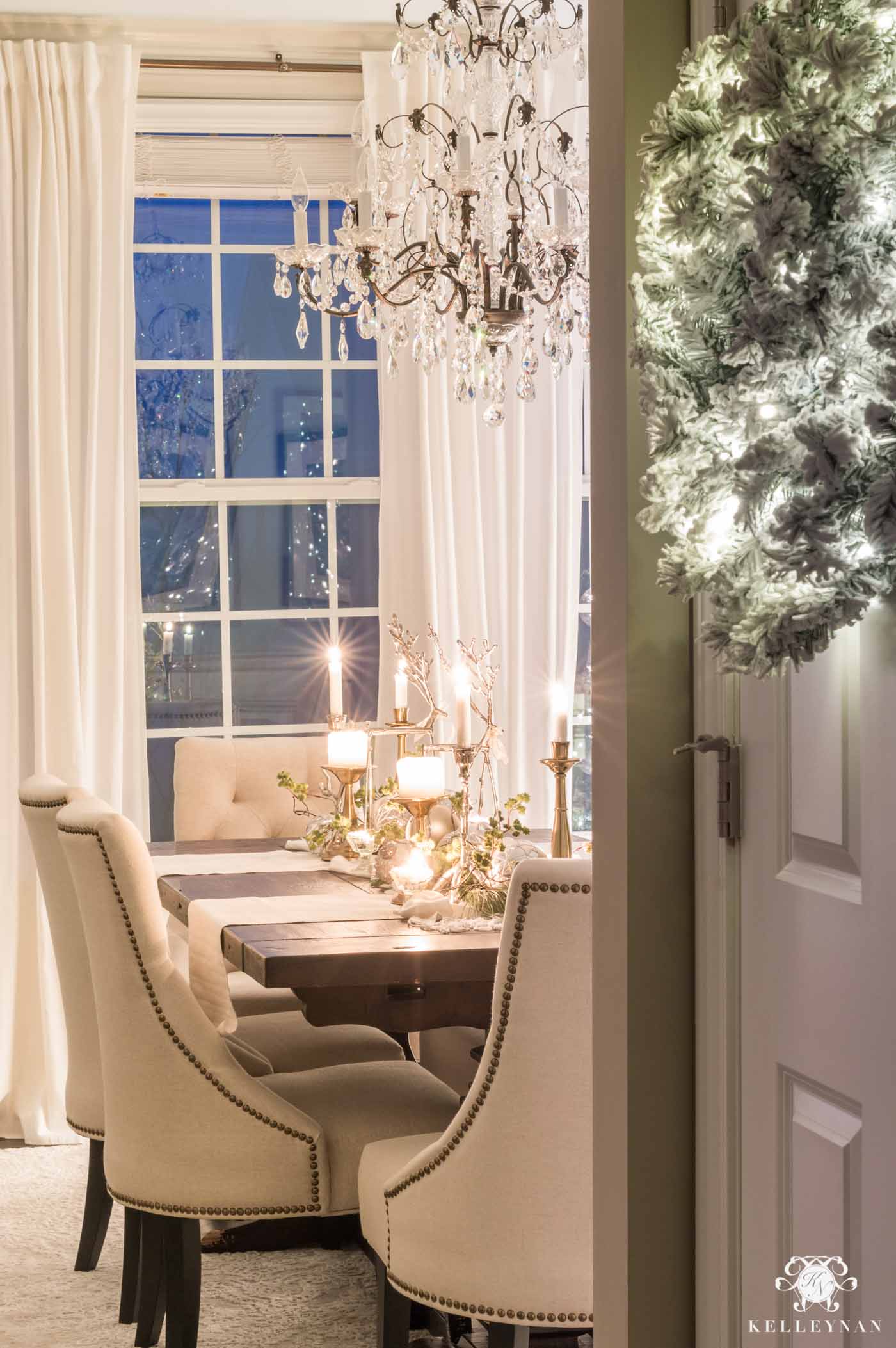 There's a few ways to hang them; they have a traditional pocket poll that would create a more cinched look (which I don't care for all that much). They also have back tabs you can run your curtain rod through which creates a more folded effect (like the dining room drapes here). In the dining room, I used four Ikea Ritva curtain panels across the large three-window wall and allowed them to barely puddle.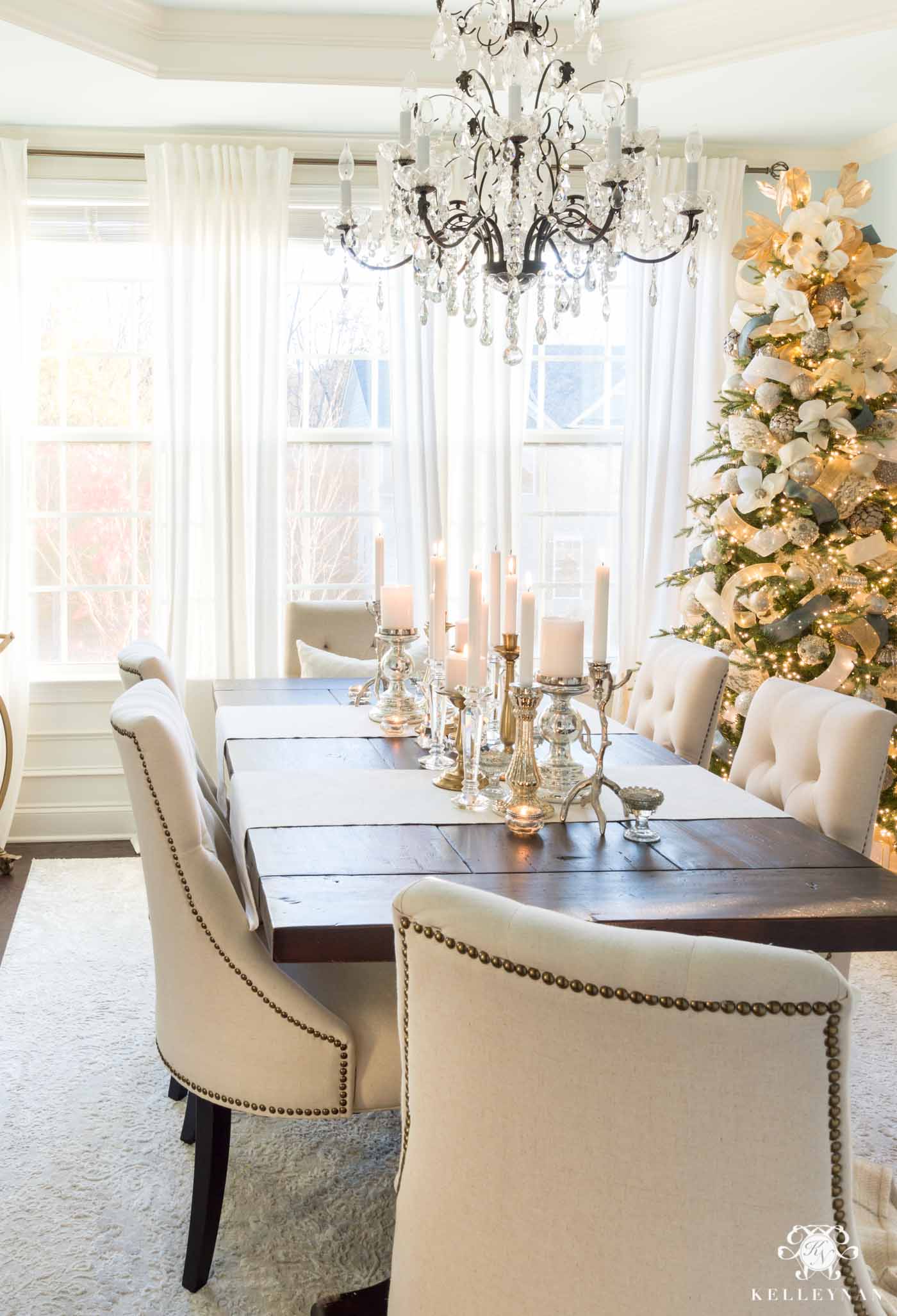 In the guest bedroom, we have one pair of Ikea drapes on one large window — they are fairly wide so this configuration still works. These are puddled even more. To be honest, it's more out of laziness but I still like the way they look 😉 You could easily add some hemming tape (HERE) if you wanted them to hit just above the ground/barely meet the floor.\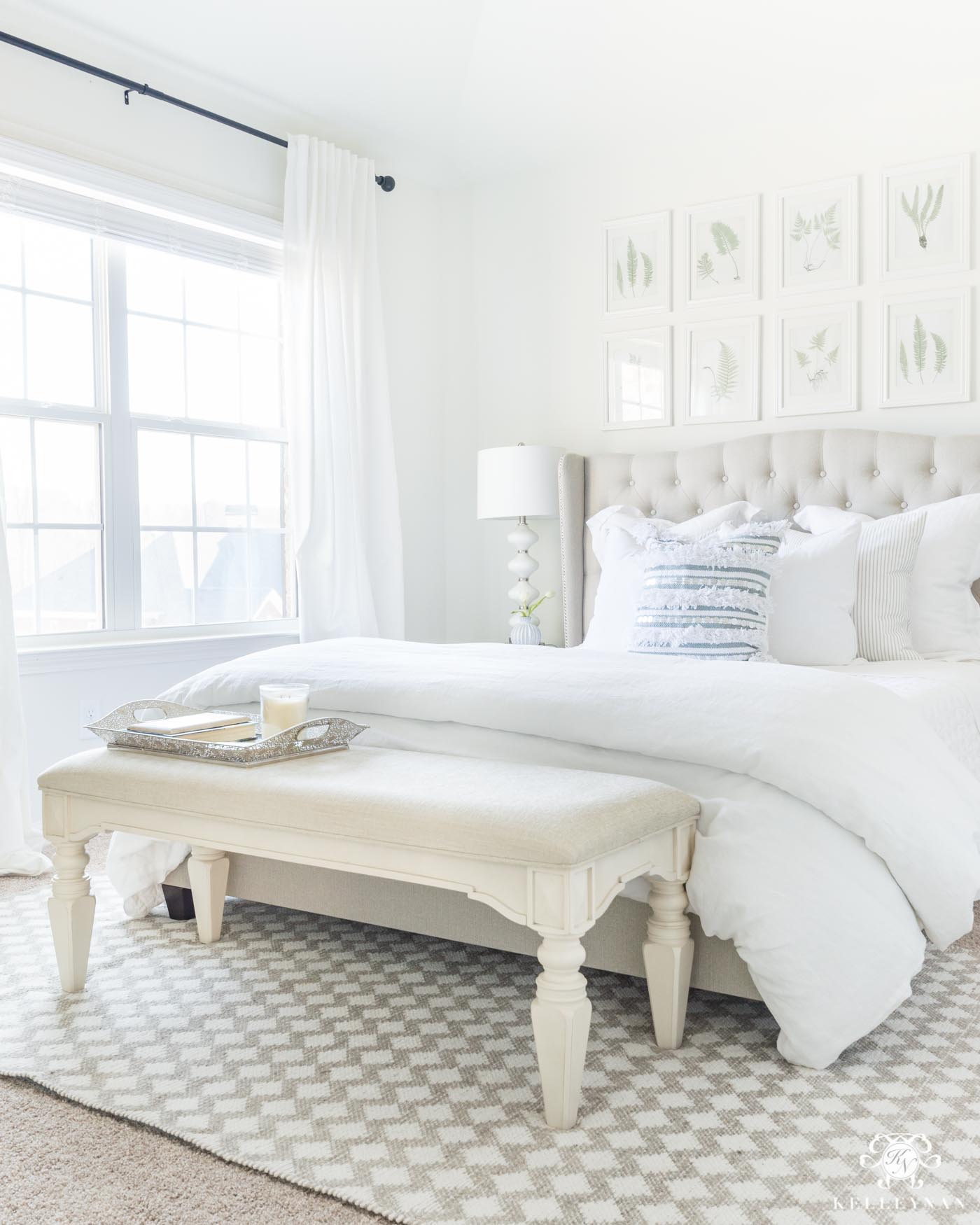 Available Sources: Curtains | Rug (similar) | Bed | Quilt | Duvet Cover & Shams
In the breakfast nook, the curtains are positioned where they just meet the floor. I did the same as the dining room — four panels across three windows — in a 98″ length. But, unlike the other two rooms, I actually ended up putting these on some inexpensive curtain rings during this space's re-vamp a few months ago. You can also see how versatile they are in the more dressy dining space vs. the more casual breakfast nook. And, they still look fitting and intentional.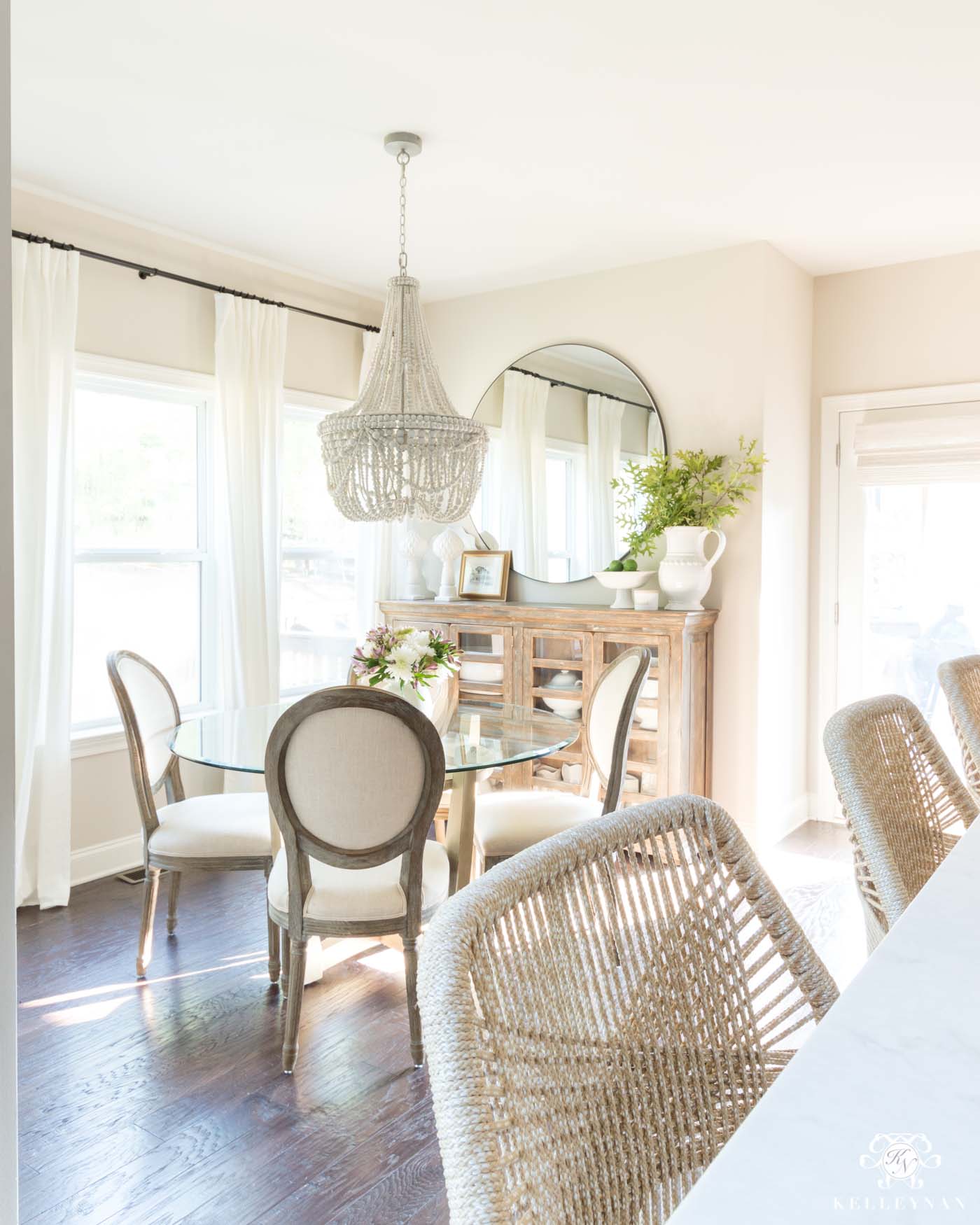 Available Sources: Dining Table | Dining Chairs | Mirror | Beaded Chandelier | Sideboard (similar) | Curtain Rod | Curtains | Bar Stools
Ikea Ritva Curtain Recap
To break it down, here are the high points to consider:
Under $60 for a pair of panels, shipped (less in-store) — Order them HERE via PRIME
Unlike most, they come in 98″ and 118″, respectively
Have multiple hanging possibilities
Are a ridiculously good linen knock-off for the price
Are a softer possibly off-white but unless you have stark white trim, appear white when hung
Have a material conducive to pooling or skimming the floor without looking crumpled
The curtain panels in each of these rooms have been hanging for four years and I still get compliments. I have switched a few rooms to systems with custom shades and while I love them, custom window treatments aren't a cheap investment. At all. And even if you spring for linen curtains from other mid-range retailers, you're likely looking for well over $150/panel. For a nice look that's more than a little more budget friendly, the Ikea Ritva drapes are the magical unicorn of the low-cost linen-like curtains.
Was this helpful? Here are a few other budget-friendly posts!