You guys, I've been working behind the scenes the past few weeks but starting today, there's gonna be a lot more action happening over here! To get back in the swing of things and to welcome the very beginnings of the fall season, I've joined Cindy of Rough Luxe, Mary Ann of Classic Casual Home, Annie of Most Lovely Things, and Sheri of Sheri Silver) for a Project Design installment, to share lots of ideas for food boards and entertaining platters. From a fondue dessert board (that's me!) to charcuterie, veggies, savory, and sweet, we've got you covered with party platter ideas for your next dinner, tailgate, or holiday get-together.
If you're a regular here, you know I basically bleed food boards; I think that's because it's like a grown up version of a "snack around the plate". If this is your first time visiting, you're probably like "what the heck is a 'snack around the plate?!'", so let me back up. 1. Long story short, it was my favorite lunch when I was growing up.  My mom would assemble a snack-laden plate – a little of this and a little of that, from string cheese to pickles – and turn it into a meal. 2. If you are new, you can find out more about me HERE and you can visit my FAQ page HERE. If you like today's post, I'd also love for you to sign up for my emails at the bottom of the page. I have a kitchen makeover reveal coming soon, recipes, a living room revamp, and lots of holiday goodies (Christmas is basically like the Super Bowl over here on KN). So now that we know each other a little better, let's get to the good stuff ;).
*Posts on KelleyNan.com may contain affiliate links. Click HERE for full disclosure.*
Party Platter Ideas from the Past
I literally just shared this crudite' board in last week's baby shower post (HERE)…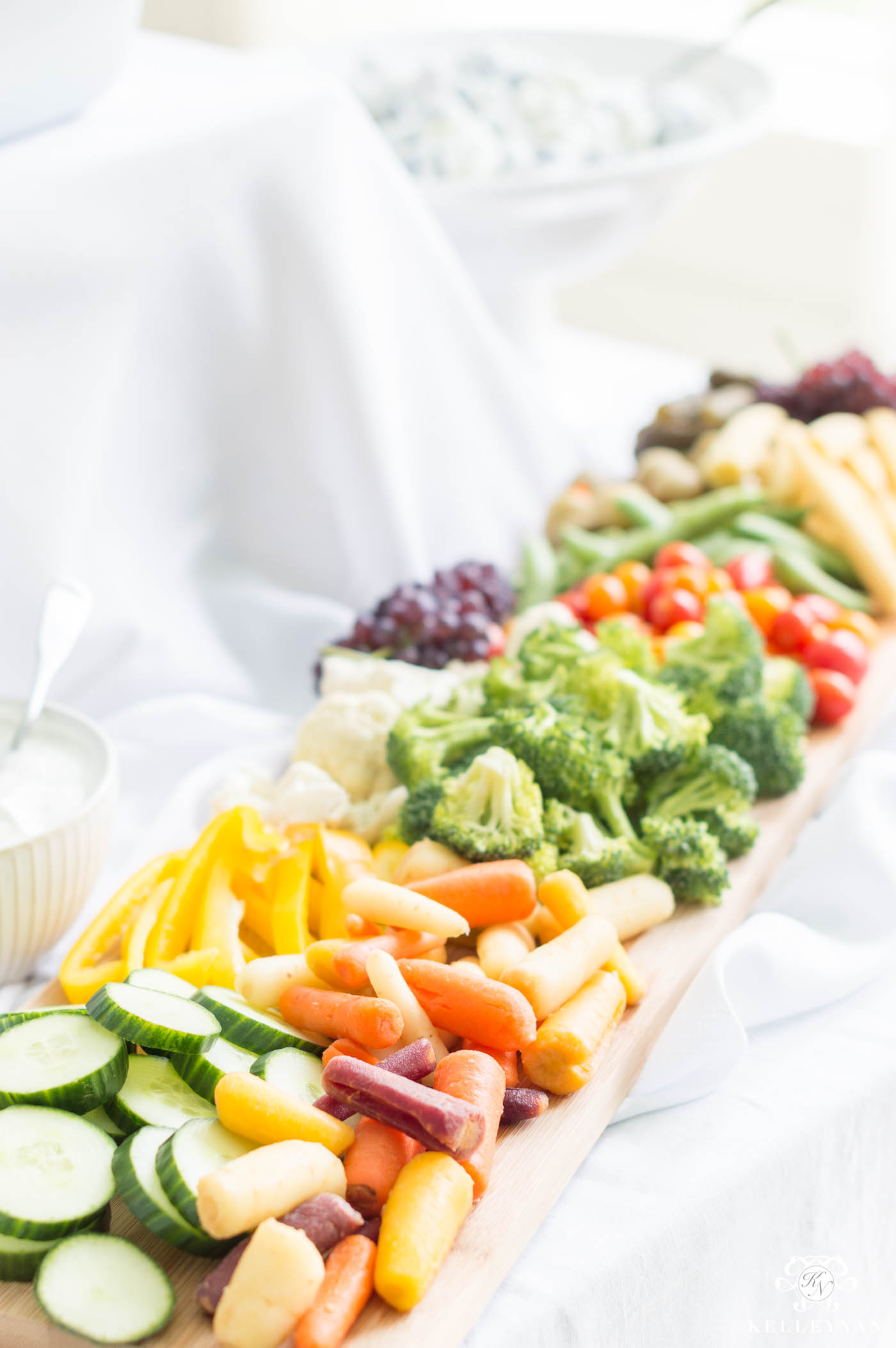 But I've also used "twinning" boards, running down the table as a centerpiece (HERE).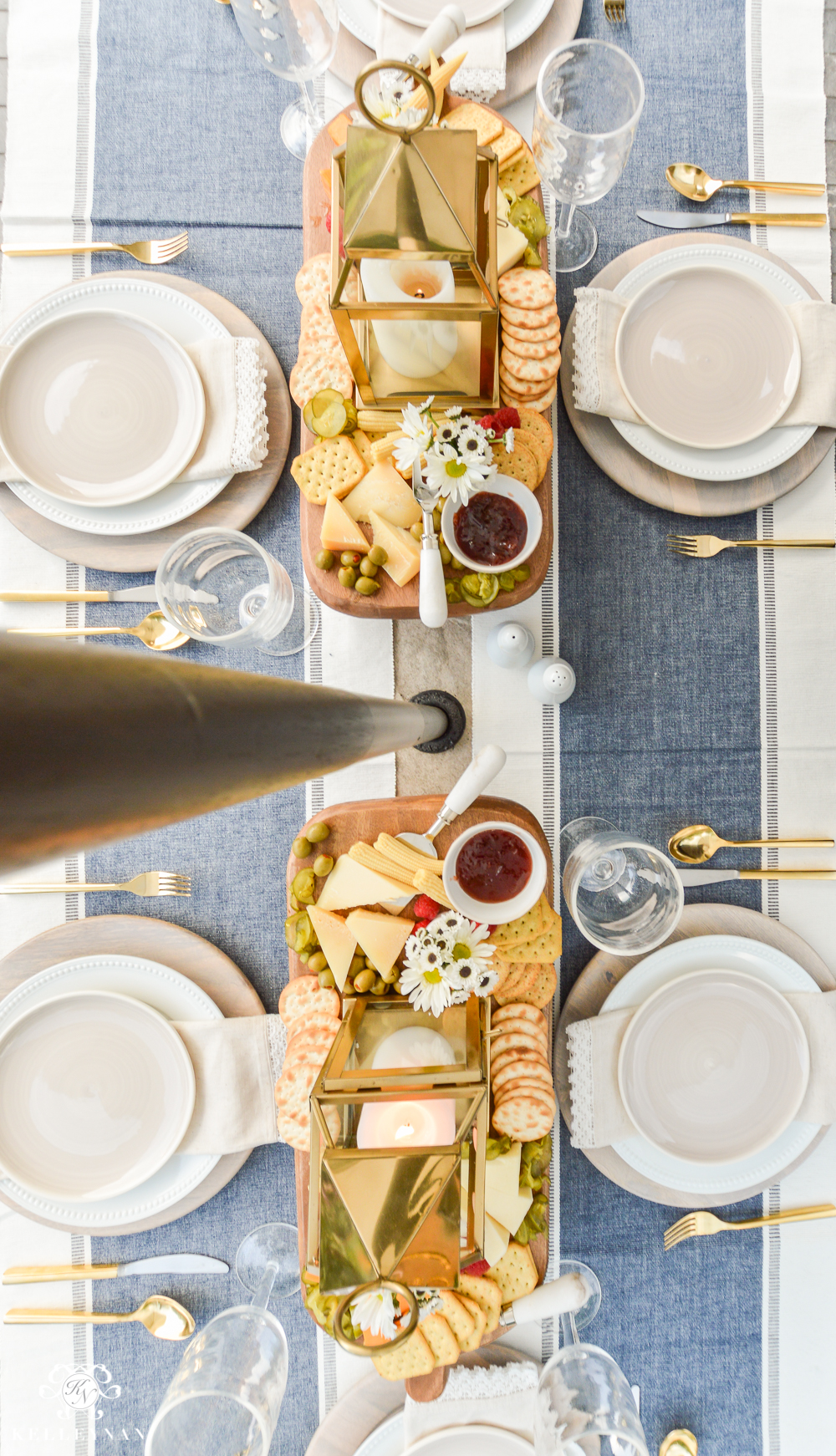 And earlier this year, I shared three appetizer boards that could be made into full blown meals (HERE). There was this traditional fruit and cheese board…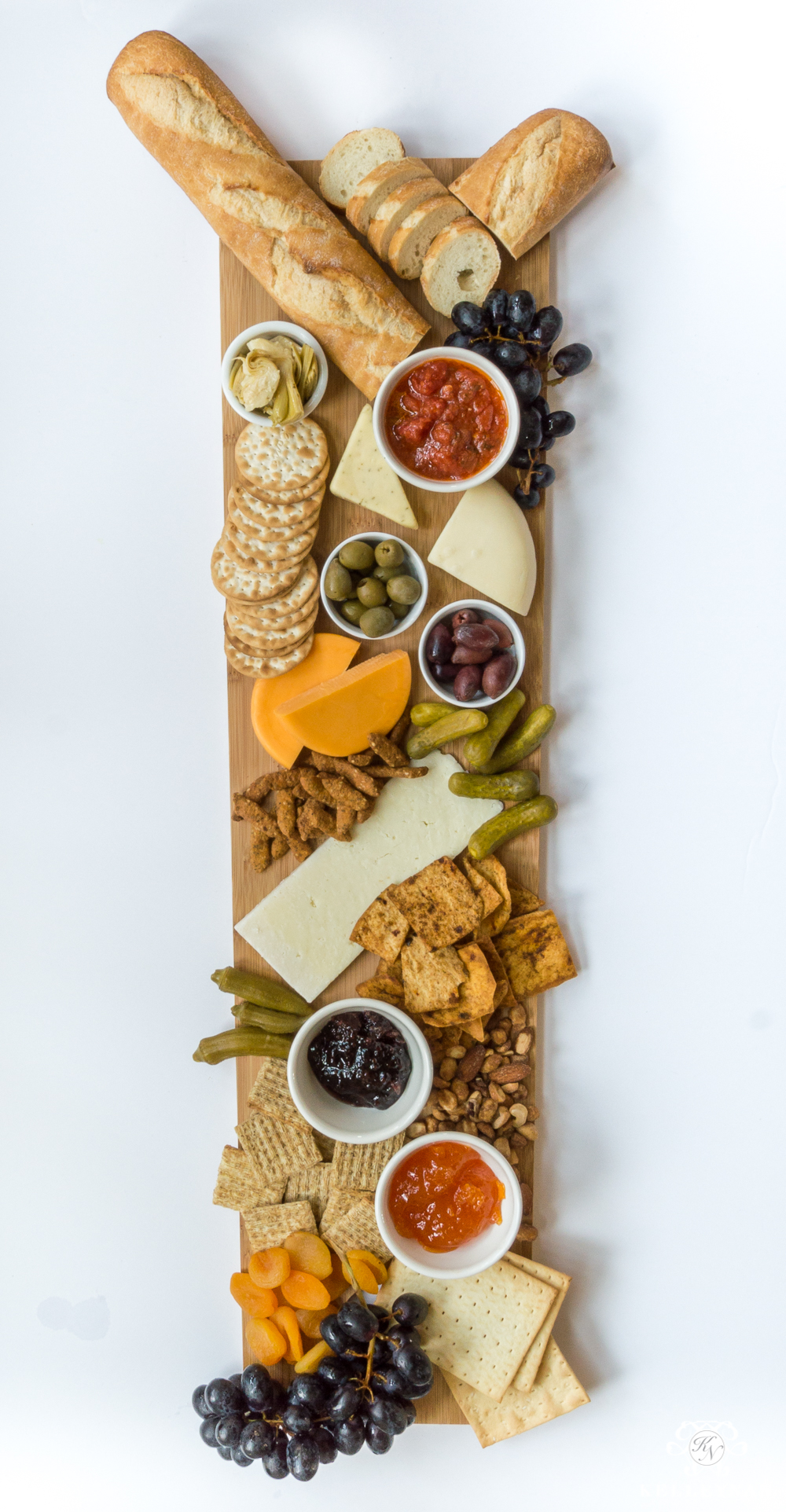 This Tex-Mex board…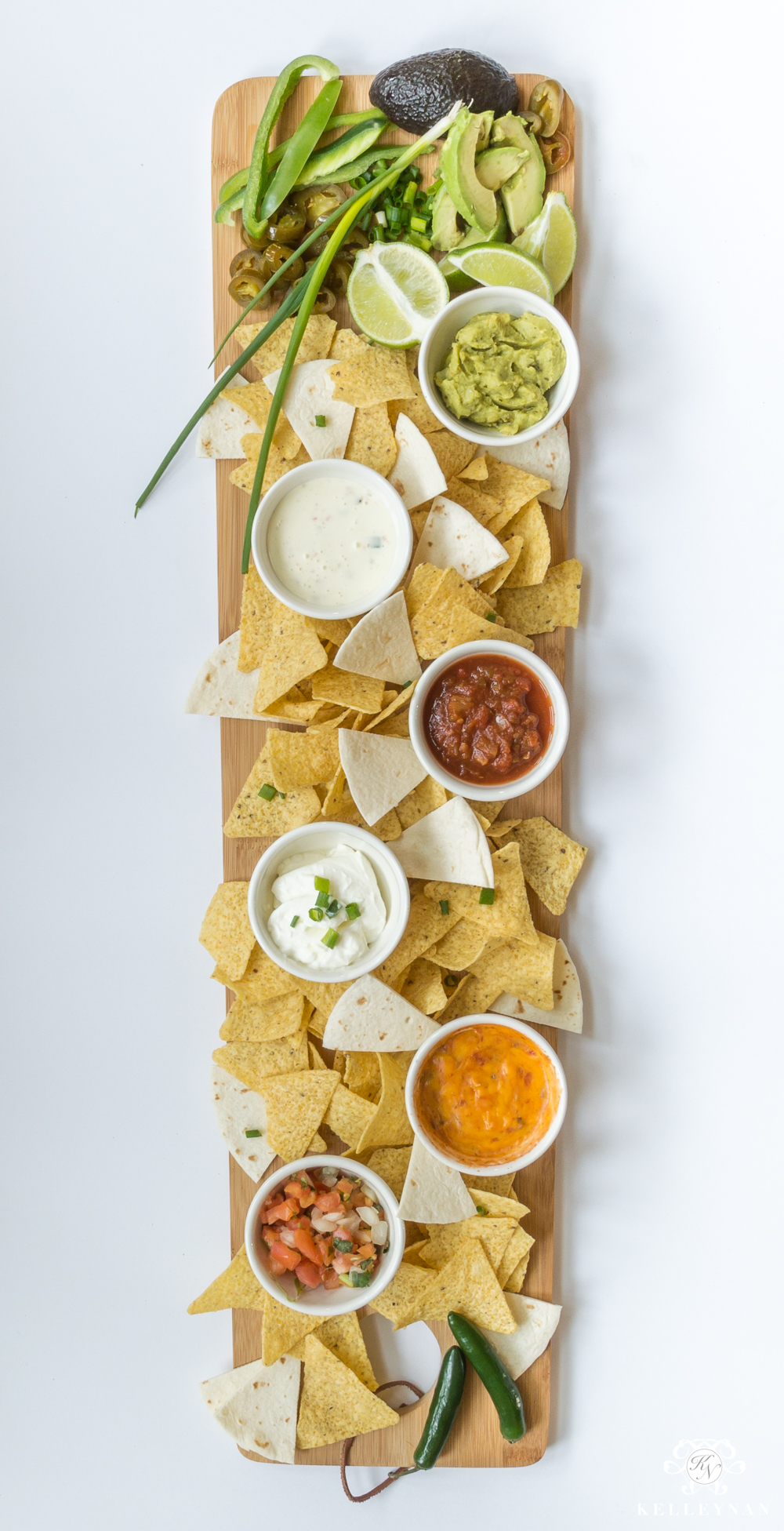 And this fun garden board.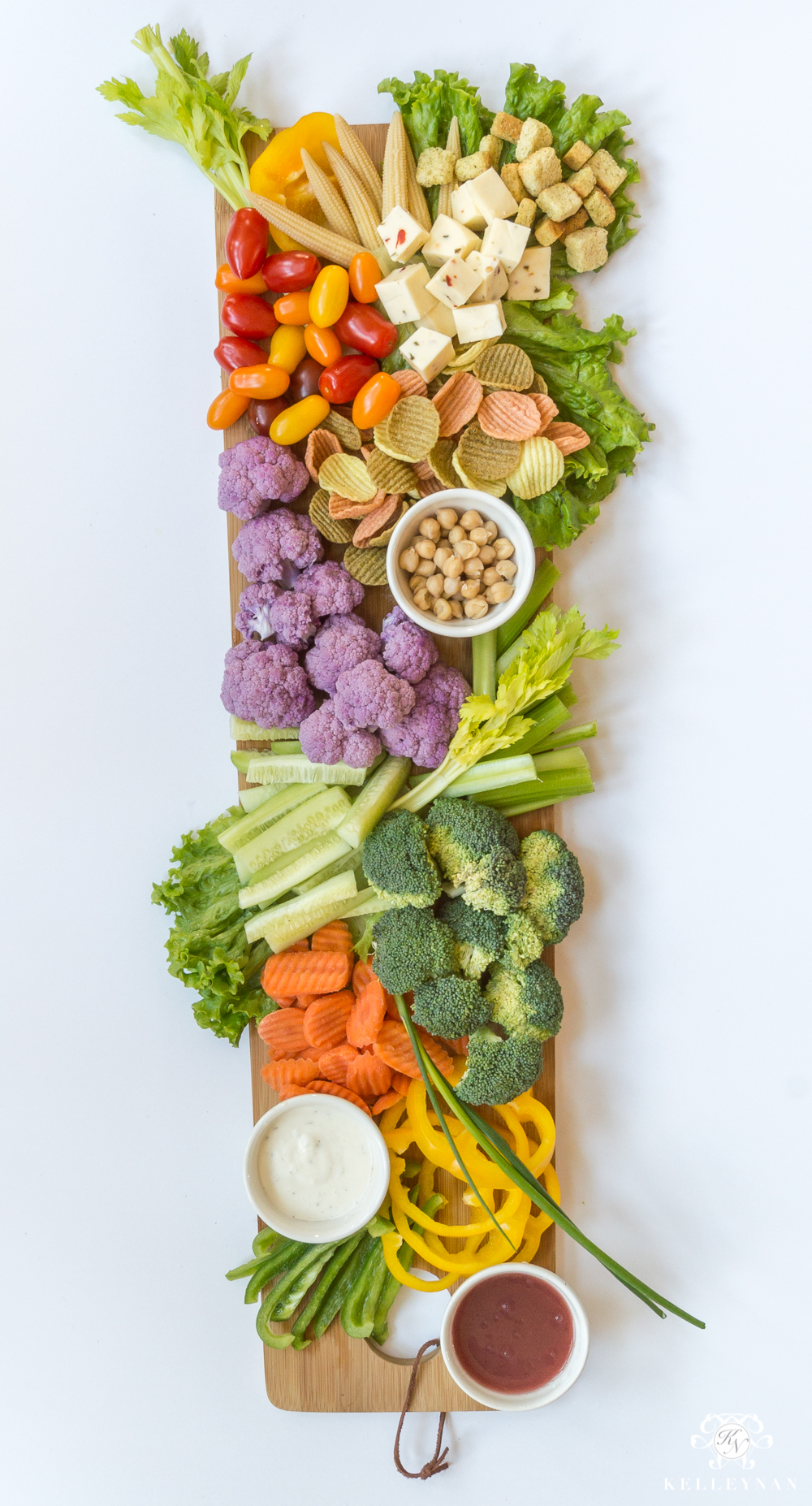 But you know what I've never talked about? A dessert board.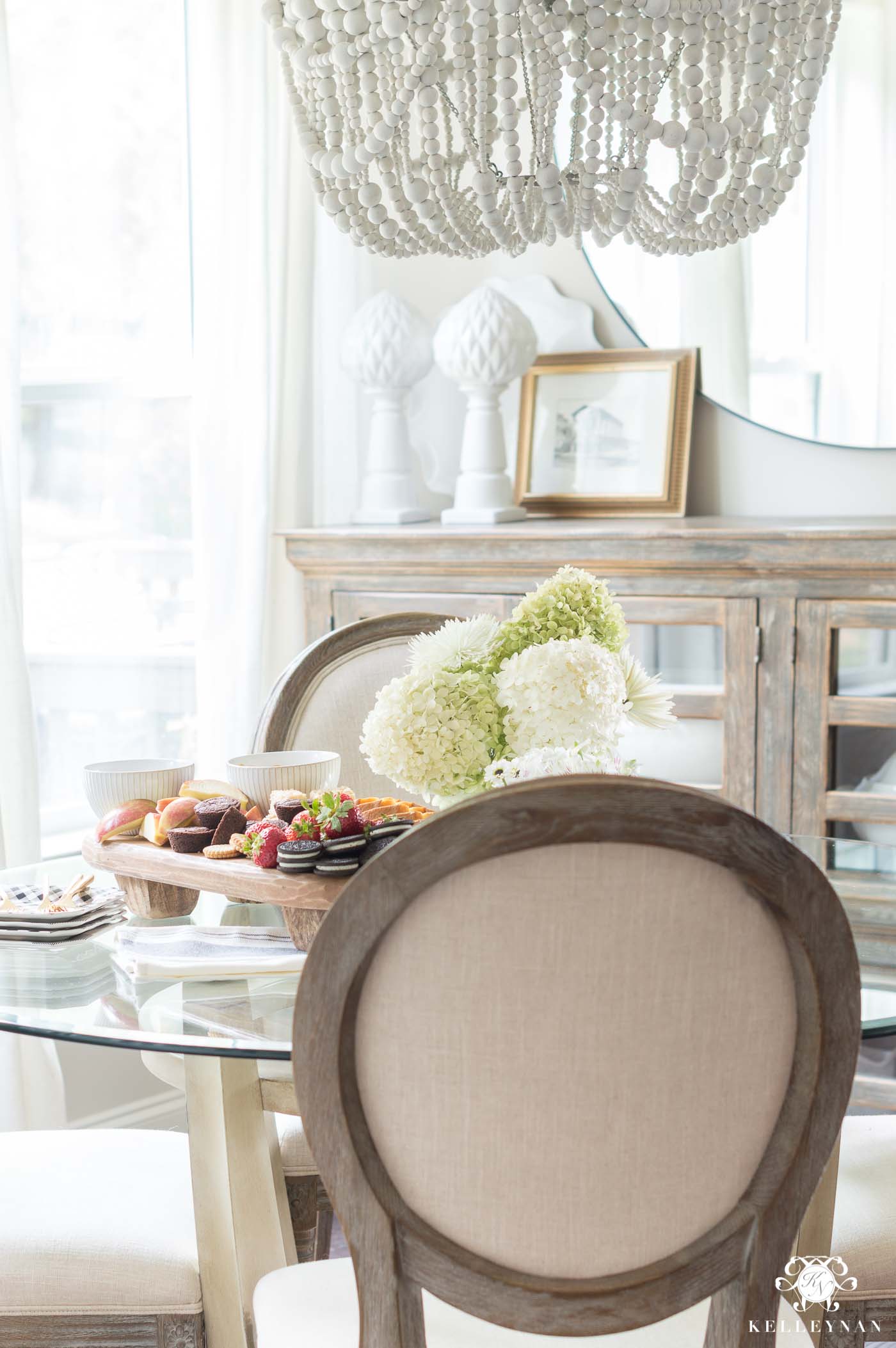 ---
Scroll & Tap to Shop the Sources

---
How to Make an Easy Fondue Dessert Board
How often are you at a dinner/event with a full dessert setup with full-sized cakes and pies? Admittedly, I'm not out attending events 24/7 (haha) but whenever I am, I never want to take a full single piece of one thing. I want little bites and tastes of everything. Or, at least my favorites. Why would someone make me choose between chocolate and key lime? Give me a little of both!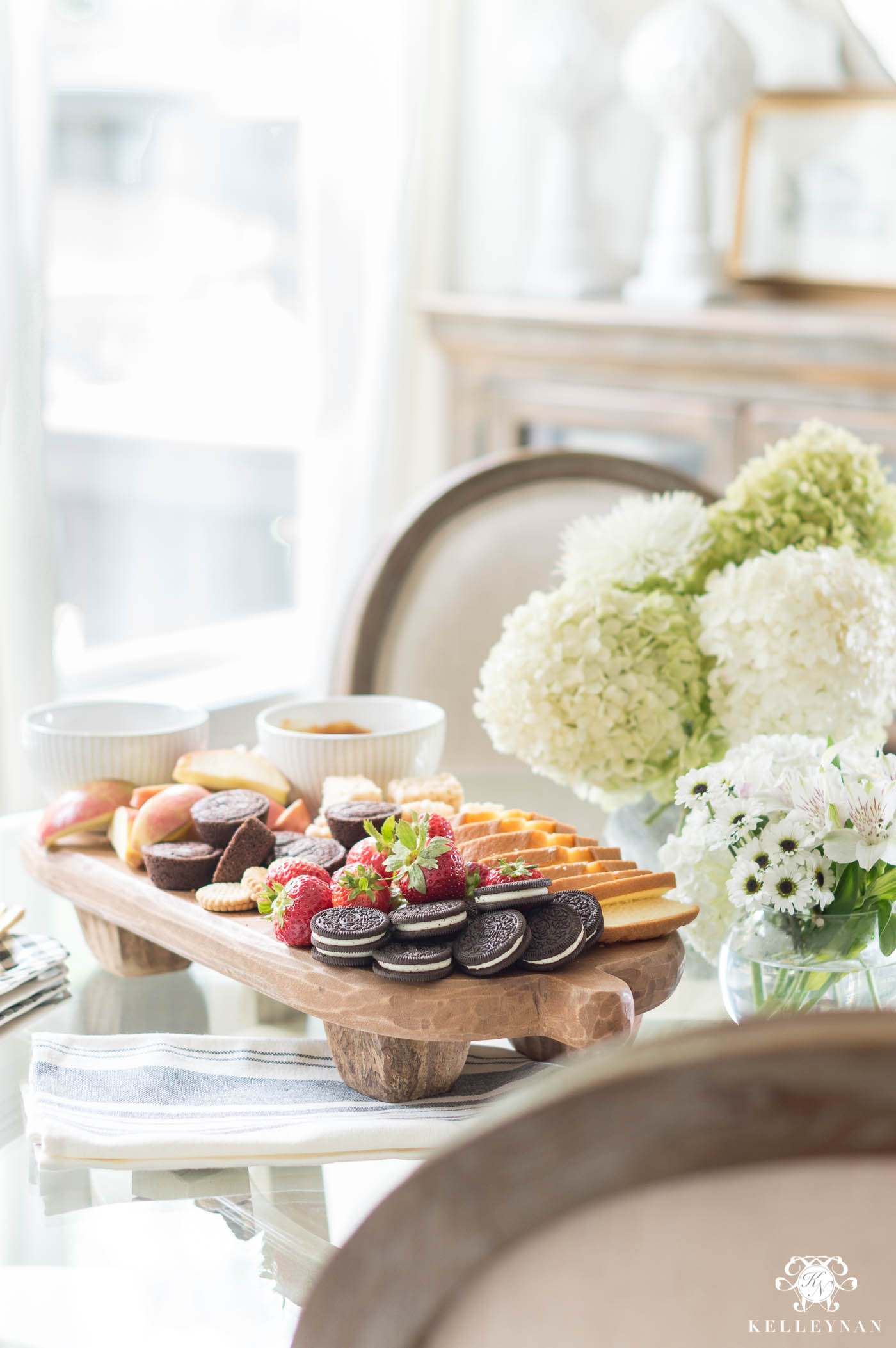 From a guest's perspective, I'll take an assortment of multiple minis over a big slab of something any day. From a host's perspective, if you want to offer "options", it's not exactly a quick task to whip up multiple desserts. Here's my solution – a fondue dessert board.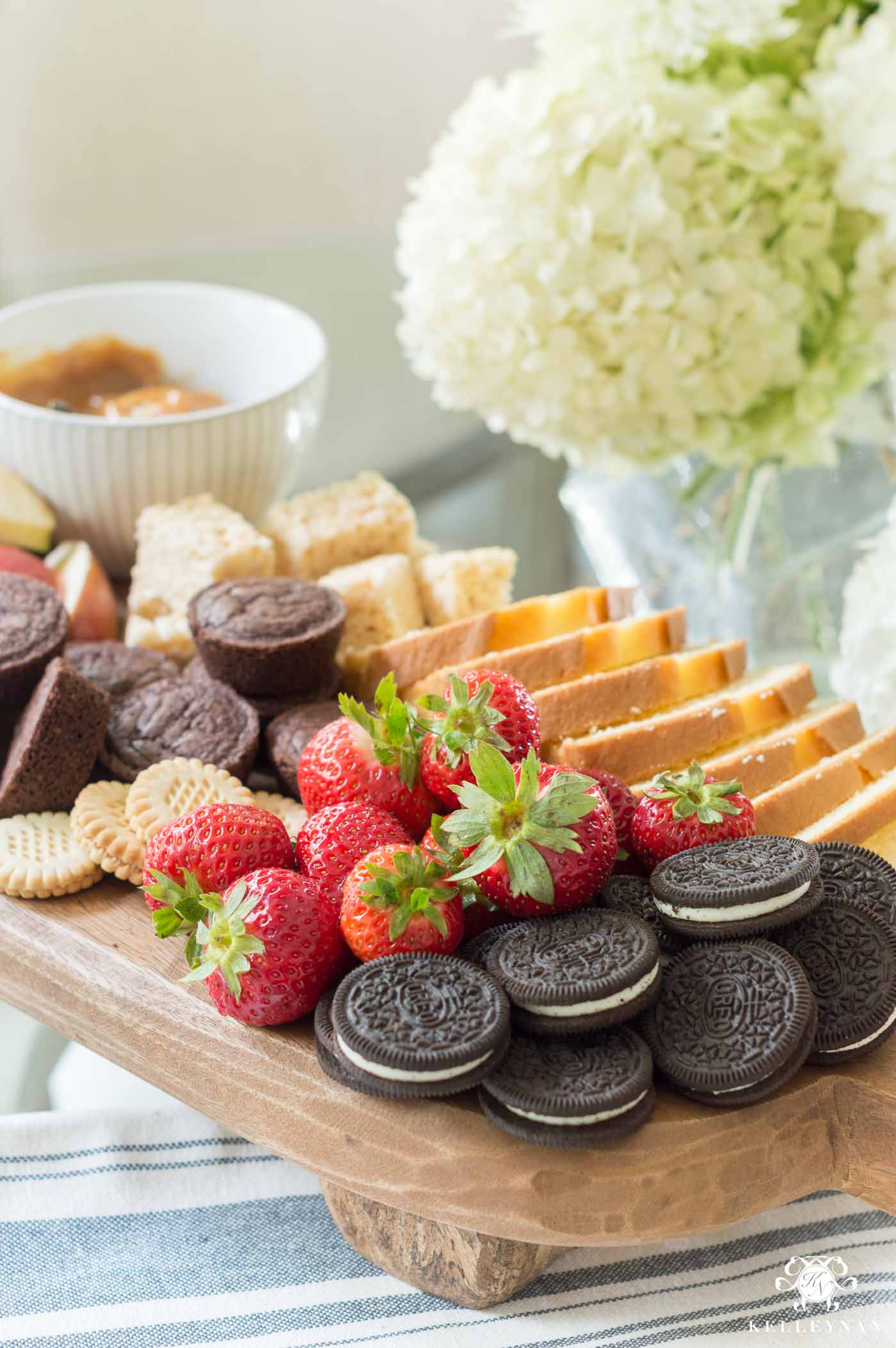 Ok, so it's not actual hot fondue but using melted chocolate, alongside caramel (you could also do a yogurt dip, white chocolate, etc.) and coming up with easy dipper ideas is a different, awesome dessert alternative. By the way, the footed board I've used today is one I keep on display in my kitchen; I have two in the medium size, and they're on sale right now HERE 😉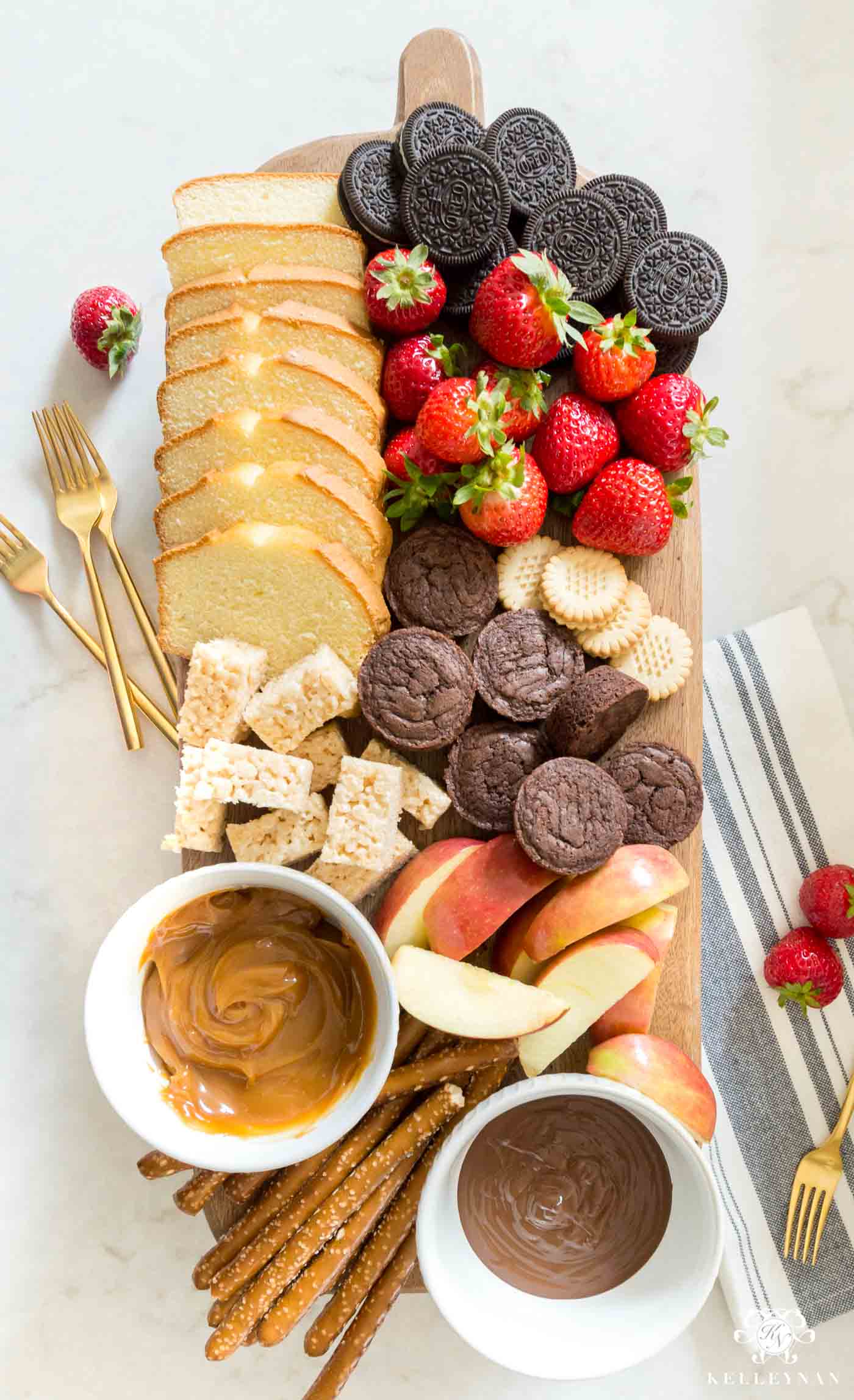 You can set it out, buffet-style, or, bring it out later in the evening where people are congregating. If you're hosting a sit-down dinner, you can even wait until after everyone has finished their main course, and then bring it out to be passed at the table.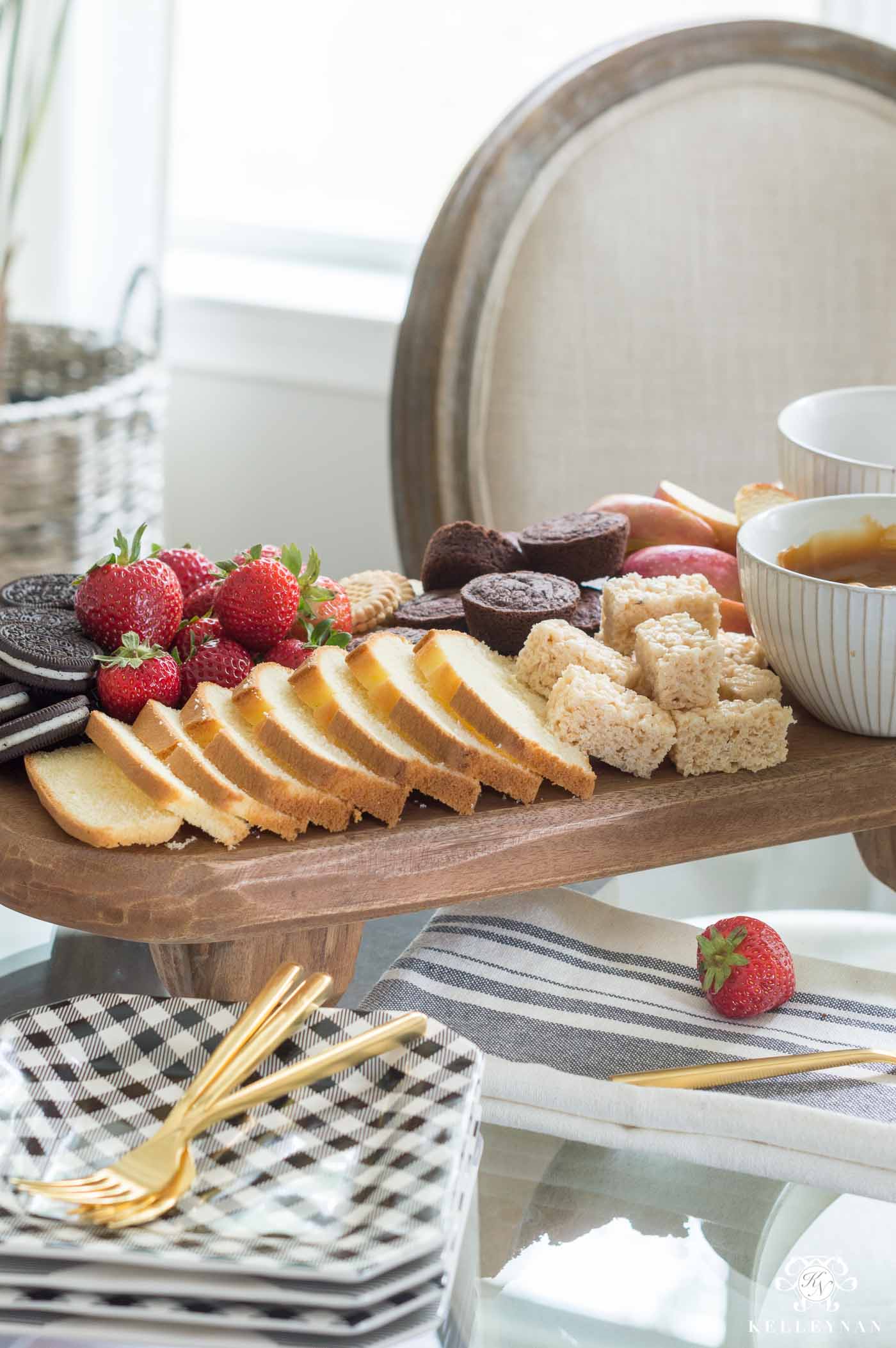 ---
Scroll & Tap to Shop the Look

---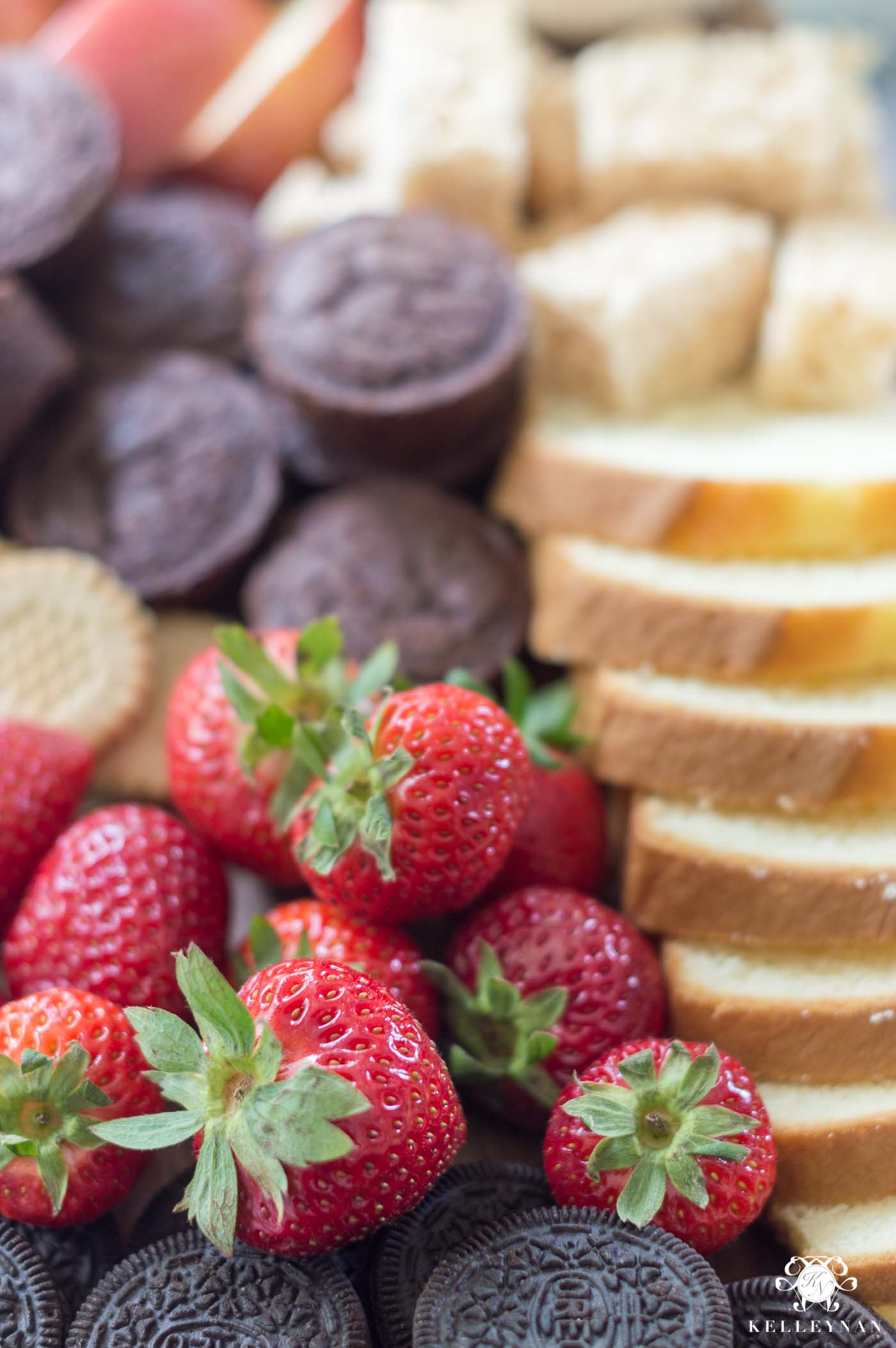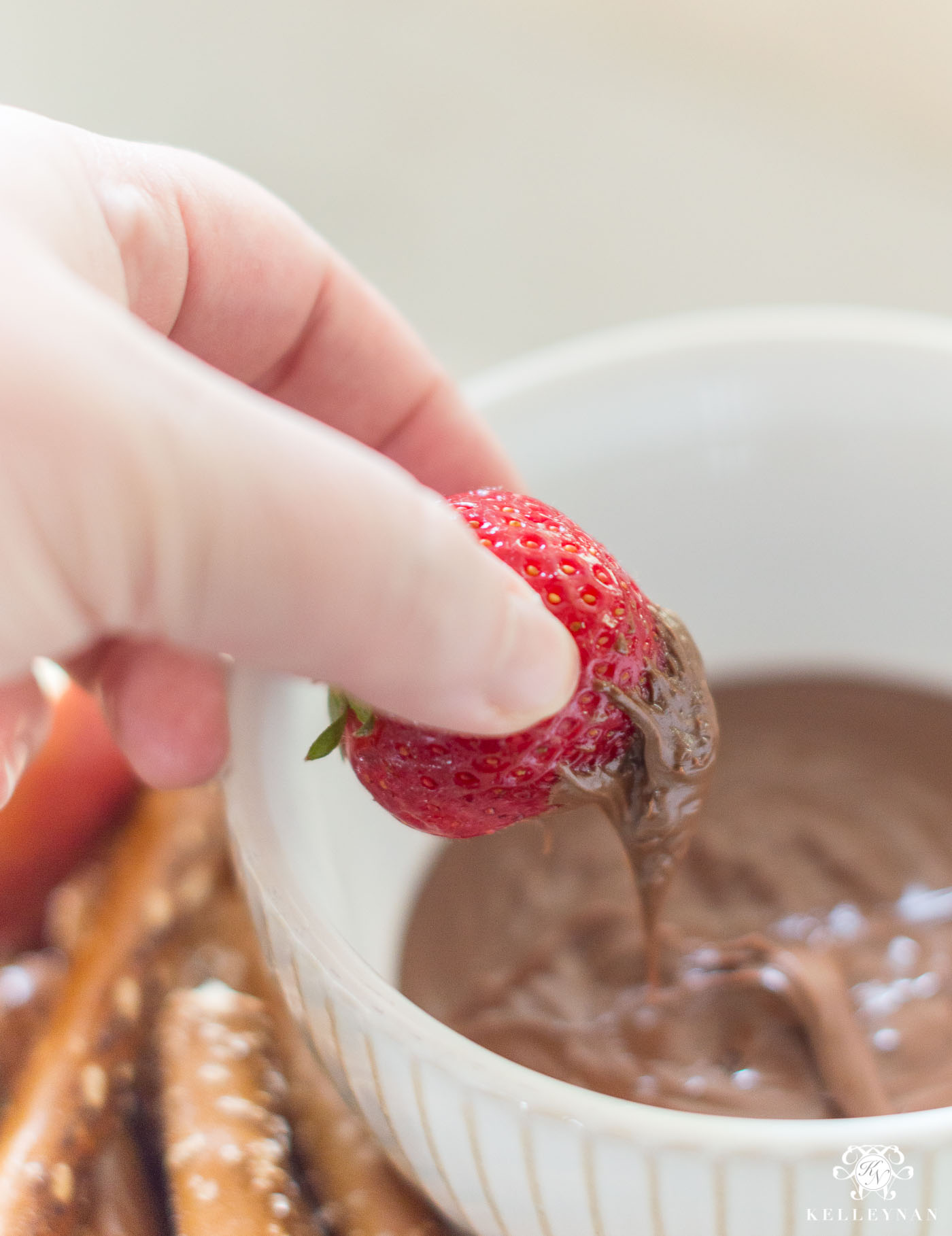 So… What's On the Dessert Platter?
You can go as homemade (or pre-packaged) as you want – depending on time you have available during your prep. The concept is fun and different from what your guests are probably used to, but the presentation is everything. Here's what I used:
Brownie Bites
Apple Slices (drizzled in lemon juice to keep them from browning)
Pretzel Rods
Rice Krispy Treats
Pound Cake
Strawberries
Wafer Sandwich Cookies
Oreos
Chocolate Dip
Caramel Dip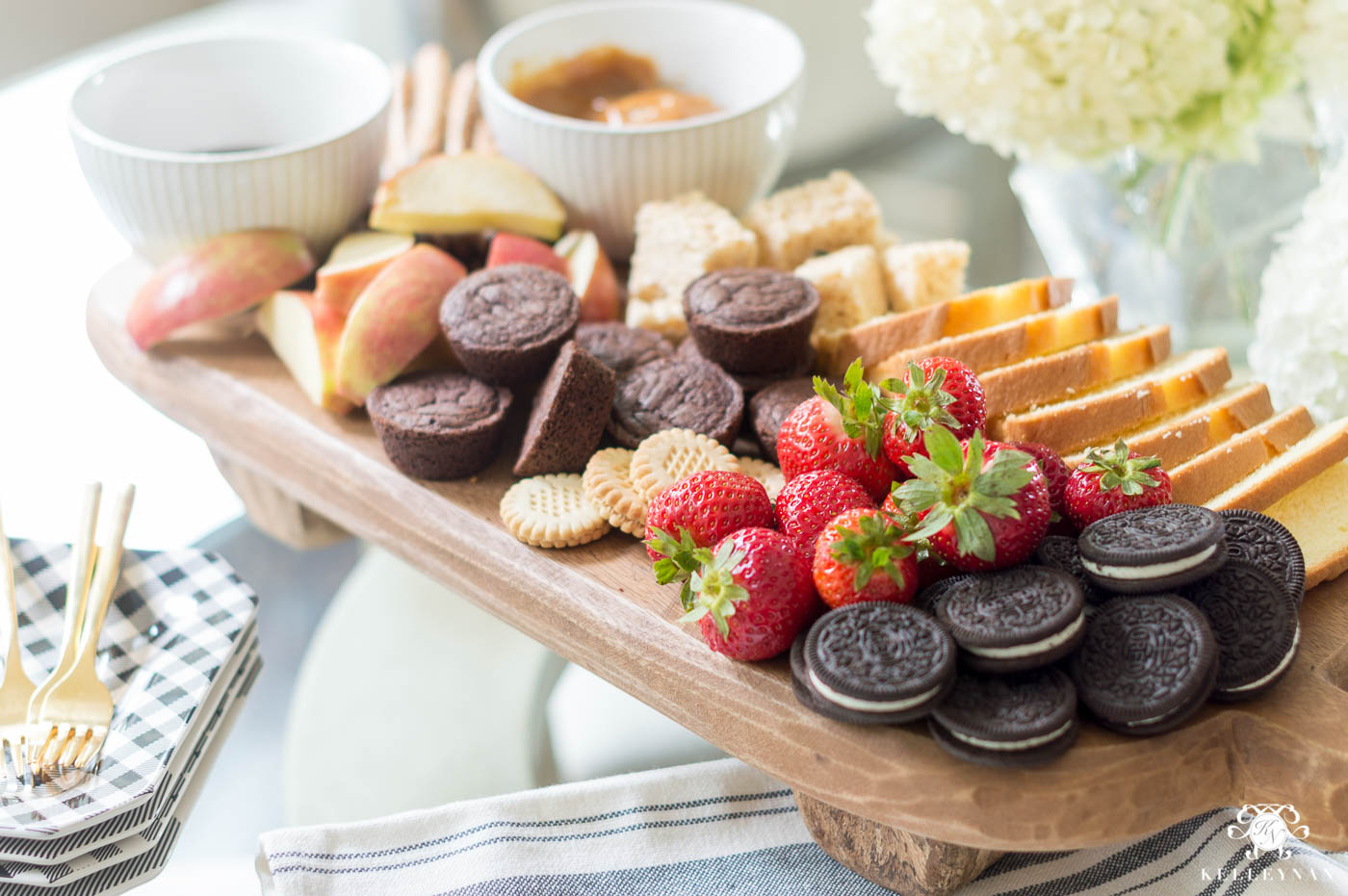 Party Platter and Food Board Presentation Tips
Some of my guidelines (I say that loosely because anything goes!) and tips for setting up a gorgeous, overflowing board:
More is more. Don't be shy about covering your board so much that you can't see the bottom! Pile those bites high.
Use different shapes and make different cuts. On this board, I could have "chunked" the pound cake but thin slices gave that part of the board a little different shape and scale to help define things a little more. If you are working on a veggie/garden board, maybe you cut some items but slice others into rings. Maybe you even leave a few whole as garnish.
Don't be afraid to add mini plates/bowls to compartmentalize a little more.
Go BIG on the board. I mean, it doesn't have to be huge but part of the deal in coming up with an easy display is you've got to actually make it sumptuous and appear a little "grand". If you're going for variety, make sure there is enough variety for everyone.
Use different colors.
It's a-okay to add in a "wild card" 😉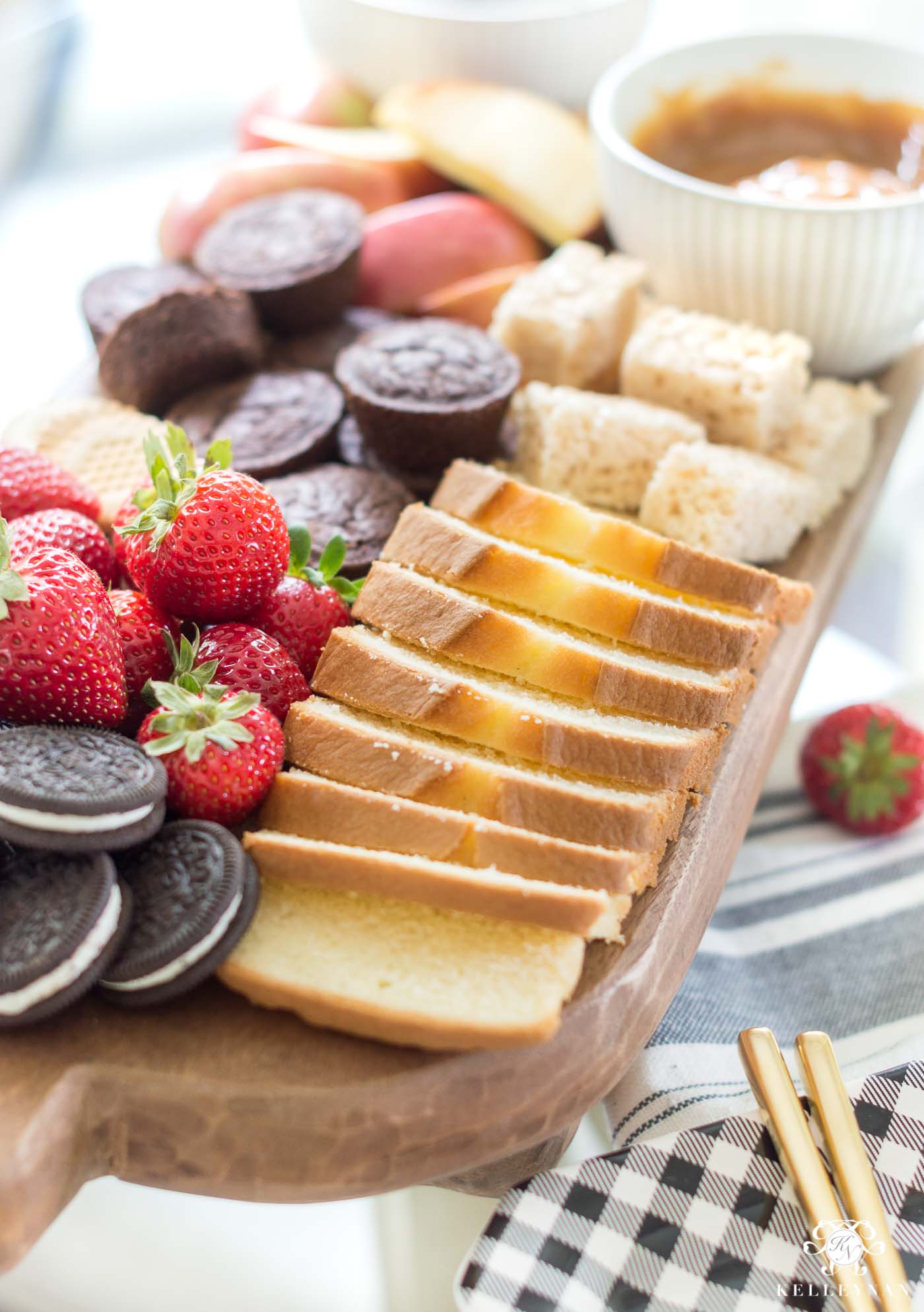 ---
Scroll & Tap to Shop Favorite Serving Boards

---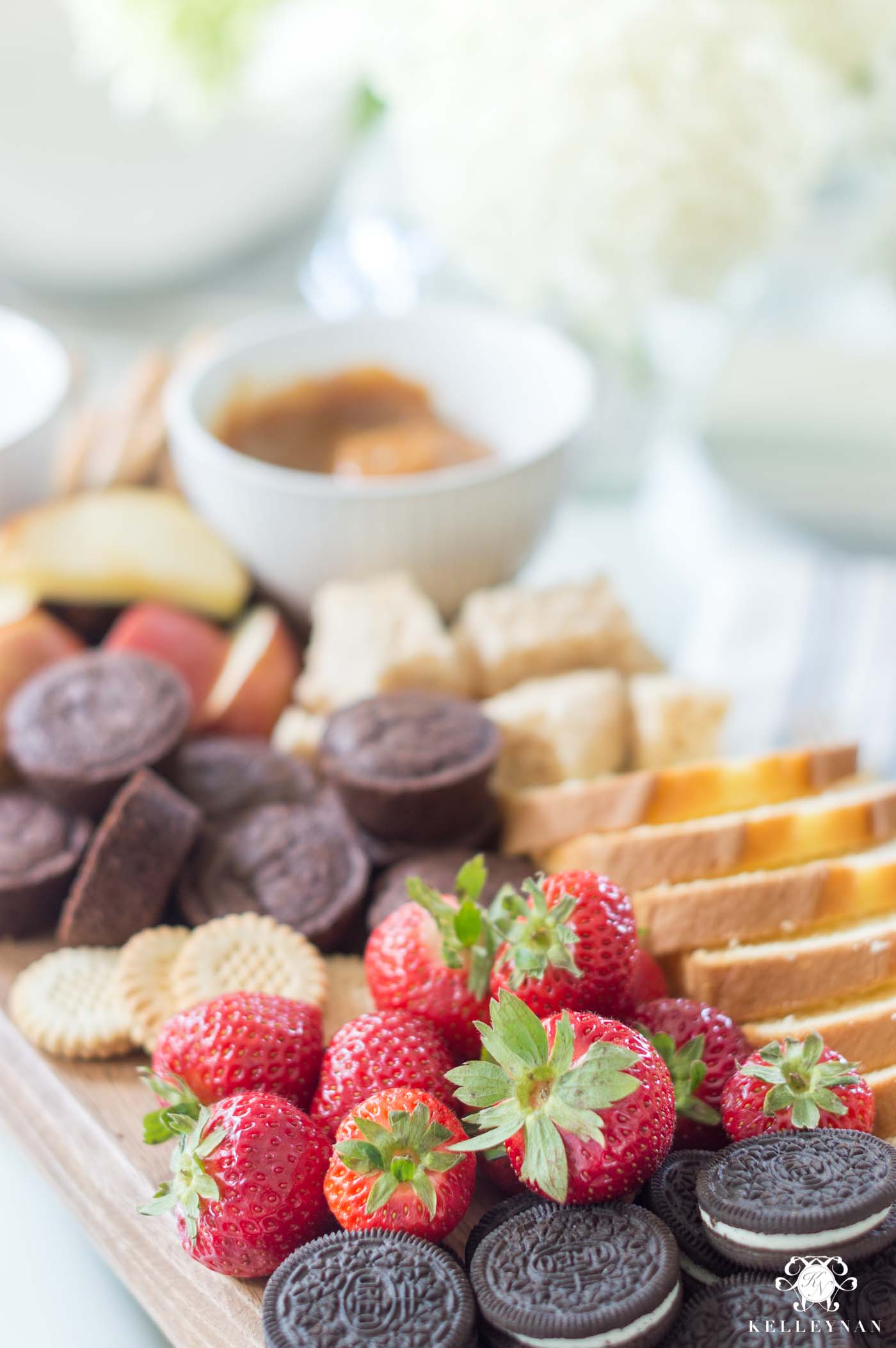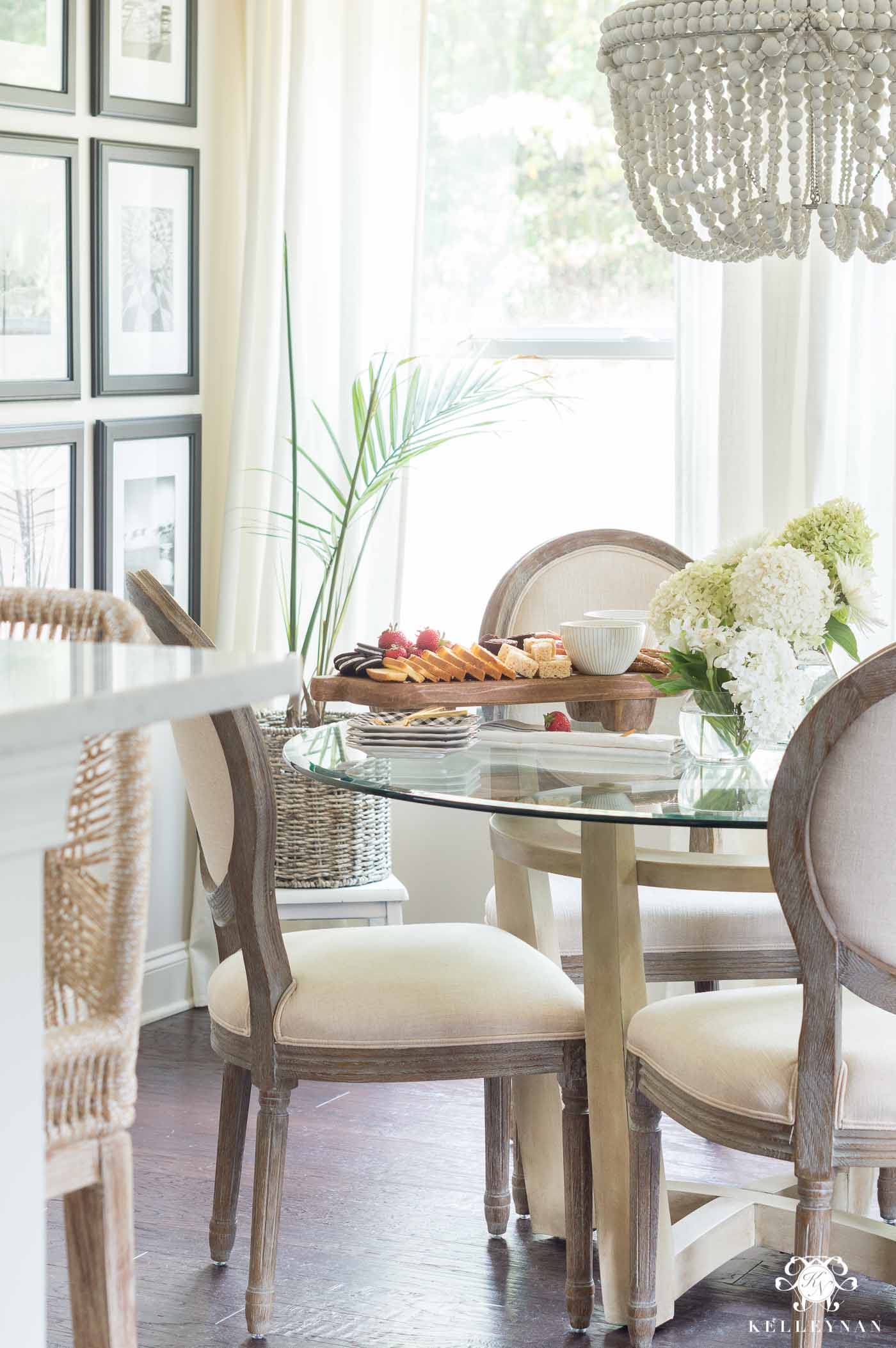 With the holidays just around the corner, coming up with easy-to-create food displays is going to save you a lot of time (and internal debate of "which pie should I slave over this time?" Make sure you check out the ideas from my friends below and start making note of some gorgeous displays and pairings.
Have a go-to food board? Let me know about it in the comment section below! And, before you go, you can follow me on Instagram HERE where I share daily happenings and exclusive content; you can also subscribe to my emails below as a reminder to come back and visit with me soon as I share fun projects, ideas, and upcoming reveals.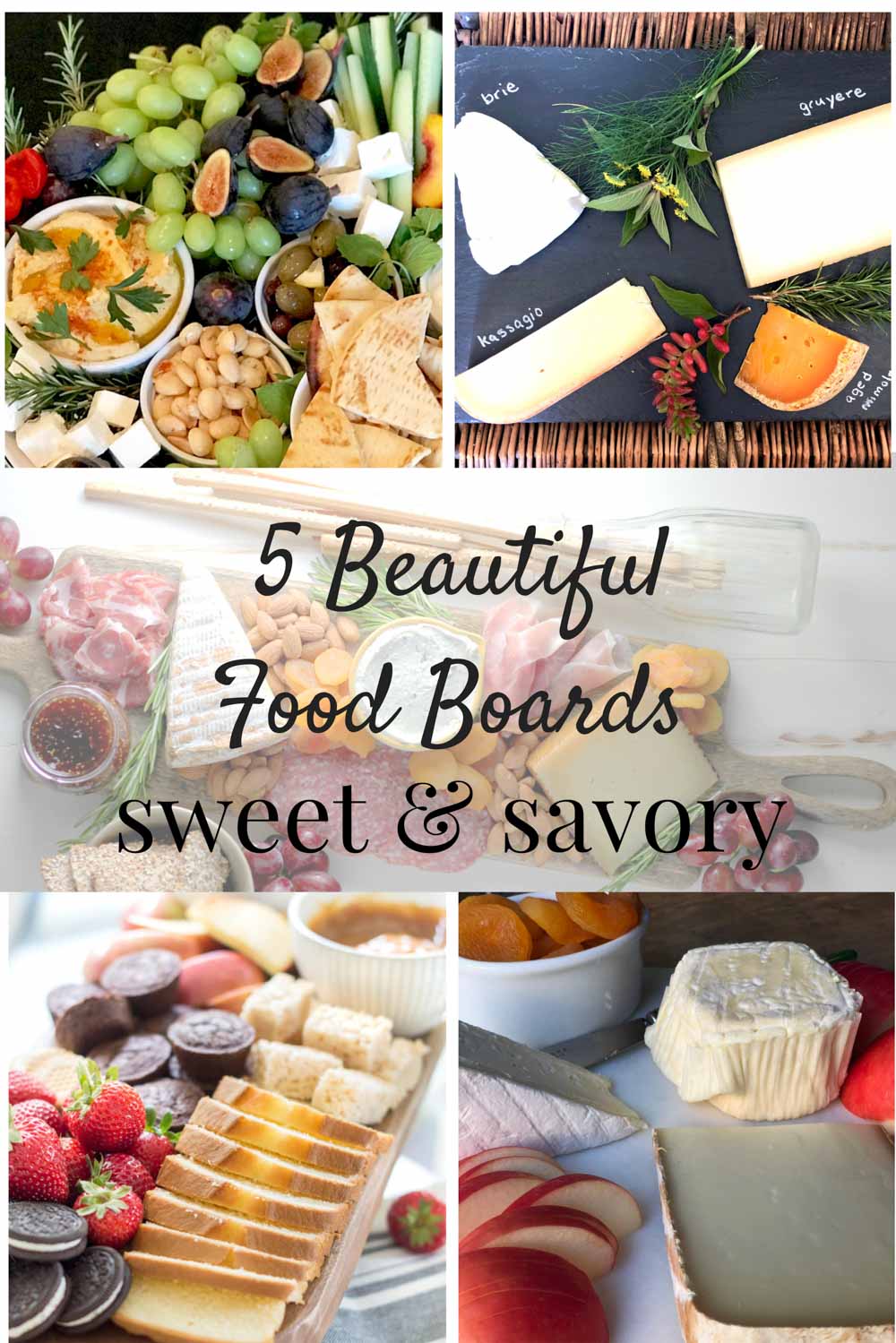 Was this post helpful? If so, be sure to check out some of these favorites…