I don't know if it's because I'm a "her" but scouring and sourcing gift ideas for the ladies is always the easiest to assemble and most difficult to whittle down. I always include things I have or things on my own wish list — and while a few items are taste specific, I generally stick to gifts that would be well received all around. There's luxury items and also budget items; there are personalized items and unique items; and there are clever items and classic items. Whether you're shopping for wives, girlfriends, mothers, sisters or daughters, there's something here for everyone!
*Posts on KelleyNan.com may contain affiliate links. Click HERE for full disclosure.
Christmas Gift Ideas for Her
All links are listed at the bottom of the graphic with descriptions following behind. Many items are currently on sale but with crazy shipping times — especially for small shops and personalized items — keep timelines in mind as you make your way through your list!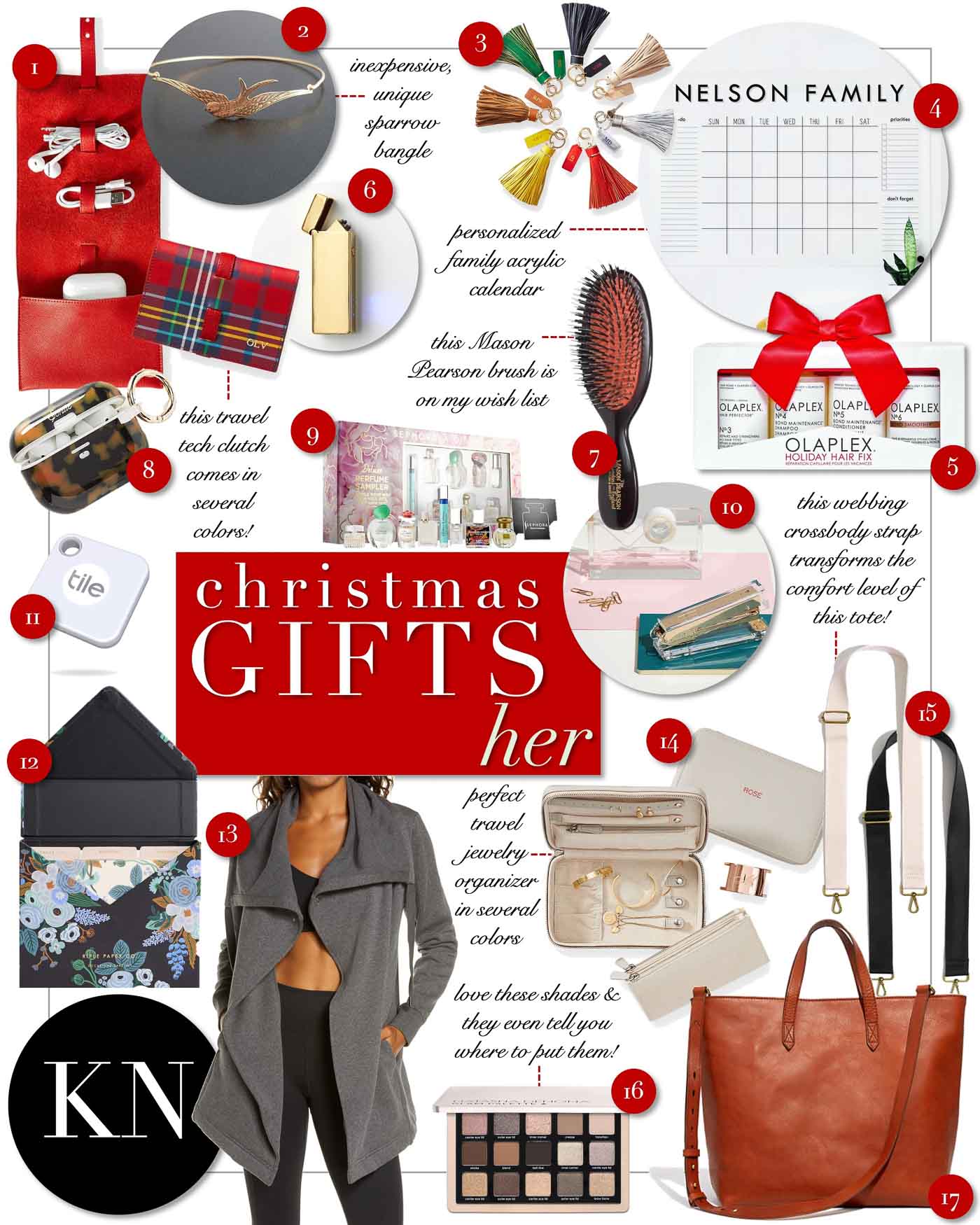 1. Travel Tech Clutch | 2. Sparrow Bangle | 3. Personalized Leather Keychain | 4. Acrylic Family Calendar | 5. Olaplex Hair Gift Set | 6. Brass USB Candle Lighter | 7. Mason Pearson Brush | 8. AirPod Case | 9. Perfume Sampler | 10. Acrylic Desk Accessory Set | 11. Tile Bluetooth Tracker | 12. All Occasion Card Set | 13. Cozy Wrap Jacket| 14. Travel Jewelry Case & Organizer | 15. Webbing Crossbody Bag Straps | 16. Natasha Denona Glam Eyeshadow Palette | 17. Zip-Top Transport Carryall
1. Travel Tech Clutch:  With a growing number of chargers, cables, and tech accessories that seem to go with us everywhere, tossing it all in the purse isn't cutting it any more. These pretty leather tech clutch and roll organizers come in a lot of colors and are monogrammable. Even better, if you're gifting something major like AirPods or a new phone, this would be an awesome complimentary gift!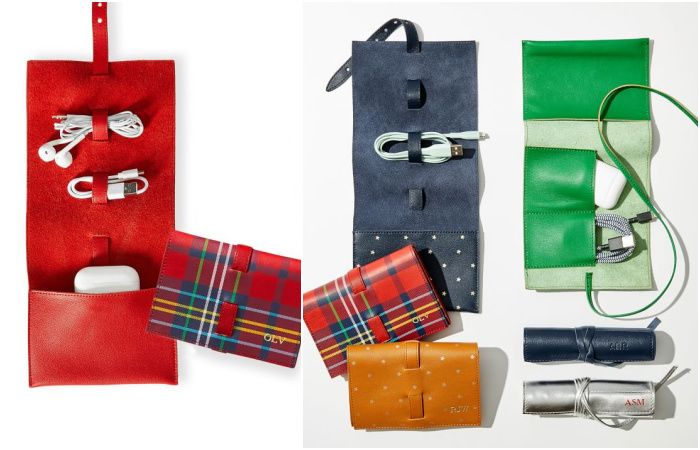 Travel Tech/Cord Clutch Organizer
2. Sparrow Bangle:  This sweet, unique bangle comes in a few metal tones and is just over $20! Perfect to pair with other bangles and bracelets.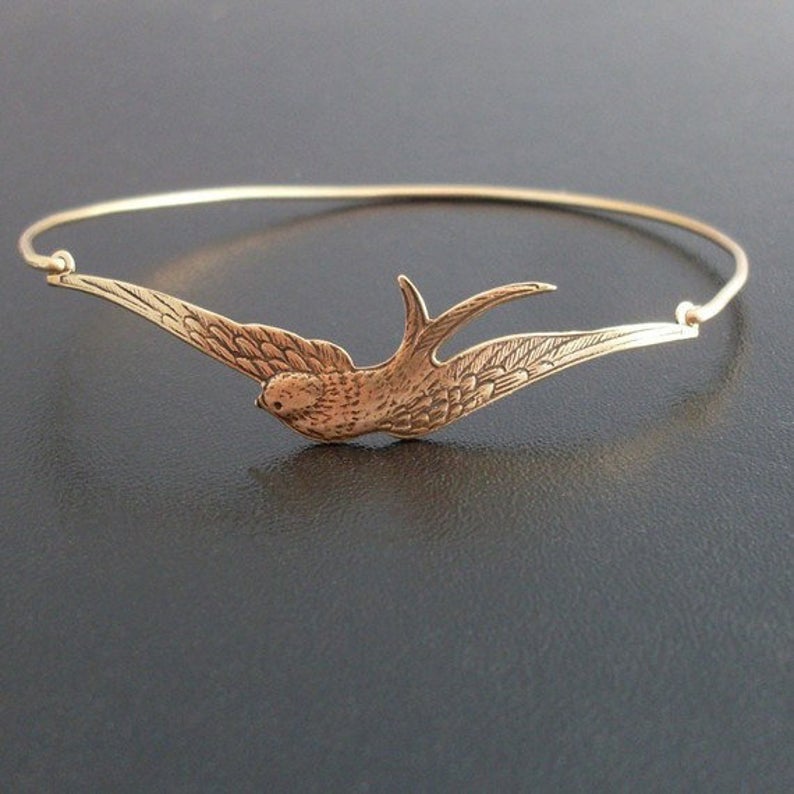 Sparrow Bangle (image via FrostedWillow shop)
3. Personalized Leather Keychain:  Currently on sale as part of an Early Black Friday special, I grabbed these leather tassel keychains for both my mom and myself a couple years ago, and still use them to this day. They come in several colors — even more than you see below!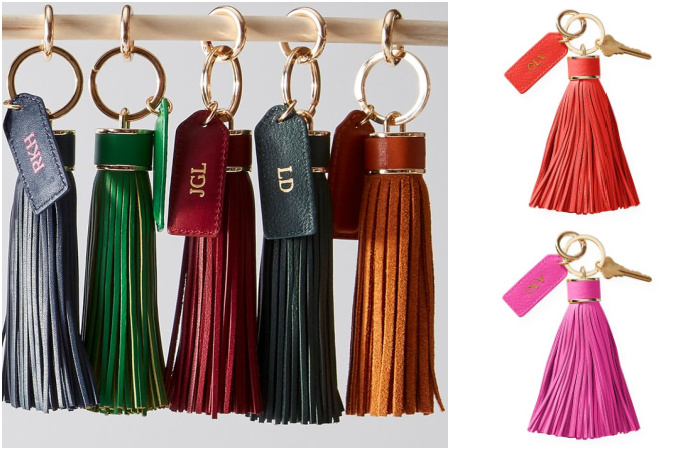 4. Acrylic Family Calendar:  These calendars are so fun and are attractive enough to hang in plain sight. Whether you prefer your "command center" to be in the mudroom, kitchen, or somewhere else, these acrylic calendars are customizable and come in a few size options.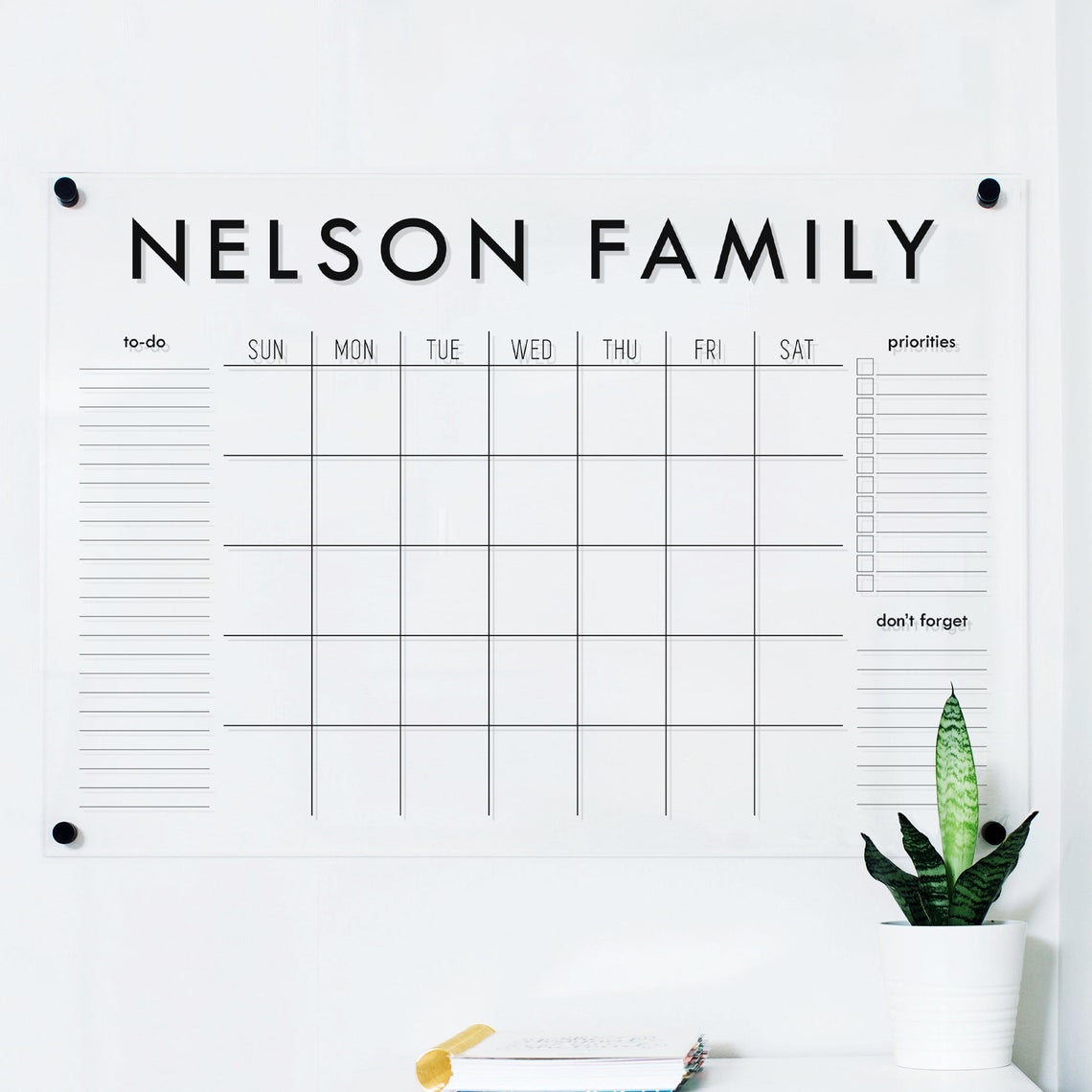 Acrylic Wall Calendar (image via circleandsquaredecor shop)
5. Olaplex Hair Gift Set:  When I started using Olaplex a year or so ago, my hair improved majorly. I started with the shampoo and conditioner, then got the bond smoother and finally, recently got the hair perfector. This gift set has all four! It's a limited edition set that's already selling out at certain retailers so I don't think will be around long. Note that while the hair perfector and bond smoother are full size (they just come in smaller bottles), the shampoo and conditioner is travel size.
6. Brass USB Candle Lighter:  Pretty and functional, this brass USB lighter would be pretty in a tray with a candle, on display, all the time!
7. Mason Pearson Brush:  On my wishlist but also a splurge, Mason Pearson brushes have been around and favorited for a long time. The one I'm eyeing specifically is the boar bristle/nylon mixture. Since I sourced this brush, just a few days ago, the original retailer is already sold out; I found it for the same price HERE. (Dave, if you're reading this, I've been a good girl 😉 ).
8. AirPod Case: This AirPod case is one piece (big plus from personal experience!) and is also less than half of what I paid for mine. While THIS ONE is the pro version, you can find the regular version HERE.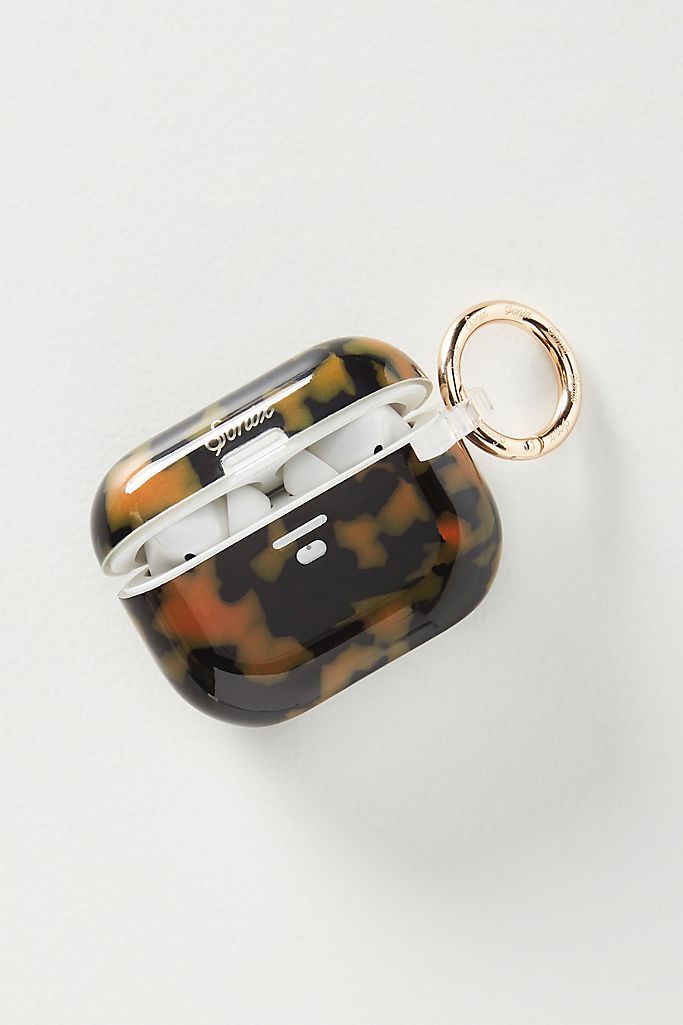 Tortoise Shell Print AirPod Pro Case
9. Perfume Sampler:  An awesome way to find a new scent (or a few new favorites!) this deluxe perfume sampler comes with the following eight popular go-tos. Even better, it comes with a certificate for a full-size version so all you have to do is test, pick your favorite, and return the certificate for your fav in a full sized bottle!
Atelier Cologne Clémentine California Cologne Absolue Pure Parfum
Burberry Her Eau de Parfum
Chloé Eau de Parfum
Clean Reserve Solar Bloom Eau de Parfum
Dolce & Gabbana Dolce Garden Eau de Parfum
Armani Beauty Acqua Di Gioia Eau de Parfum
NEST New York Sunkissed Hibiscus Eau de Parfum
Tocca Florence Eau de Parfum
10. Acrylic Desk Accessory Set:  While more of us are working from home than ever before, pretty desk accessories feel like a treat! I love this acrylic and gold set.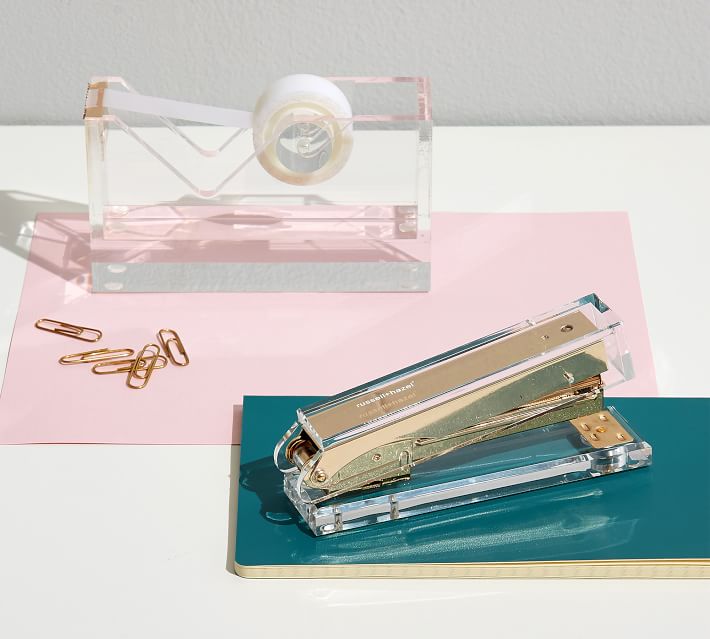 11. Tile Bluetooth Tracker:  This Tile bluetooth tracker can attach directly to your keys (or anything else you need to keep track of) and if you misplace them, the sound can lead you directly to them. If they're out of range, you can track them via your phone! This is on both my personal wish list and "to-give" list. You can also find the pro version with longer distance capabilities HERE. Both come in single or pack options (up to 4), and you can also opt for a bundle that comes with a card to keep in your wallet (or purse) for tracking!
12. All Occasion Card Set: This set of all-occasion cards comes with a organizable storage file box and 15 cards in all different floral prints. You can re-stock your box when you run low!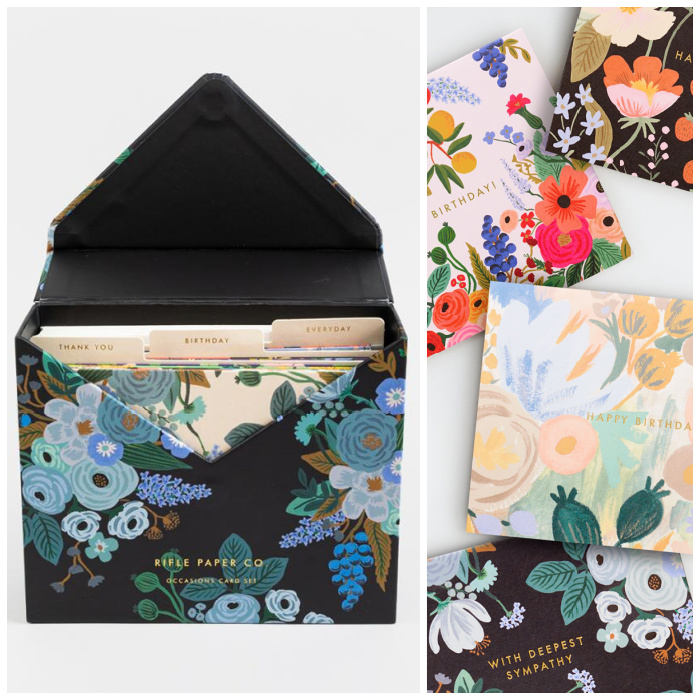 13. Cozy Wrap Jacket: Sized from XXS to XXL, this cozy wrap jacket looks perfect and comfortable enough for taking it up a notch at home, or running around. I love the long length and that it can be worn with leggings with full coverage!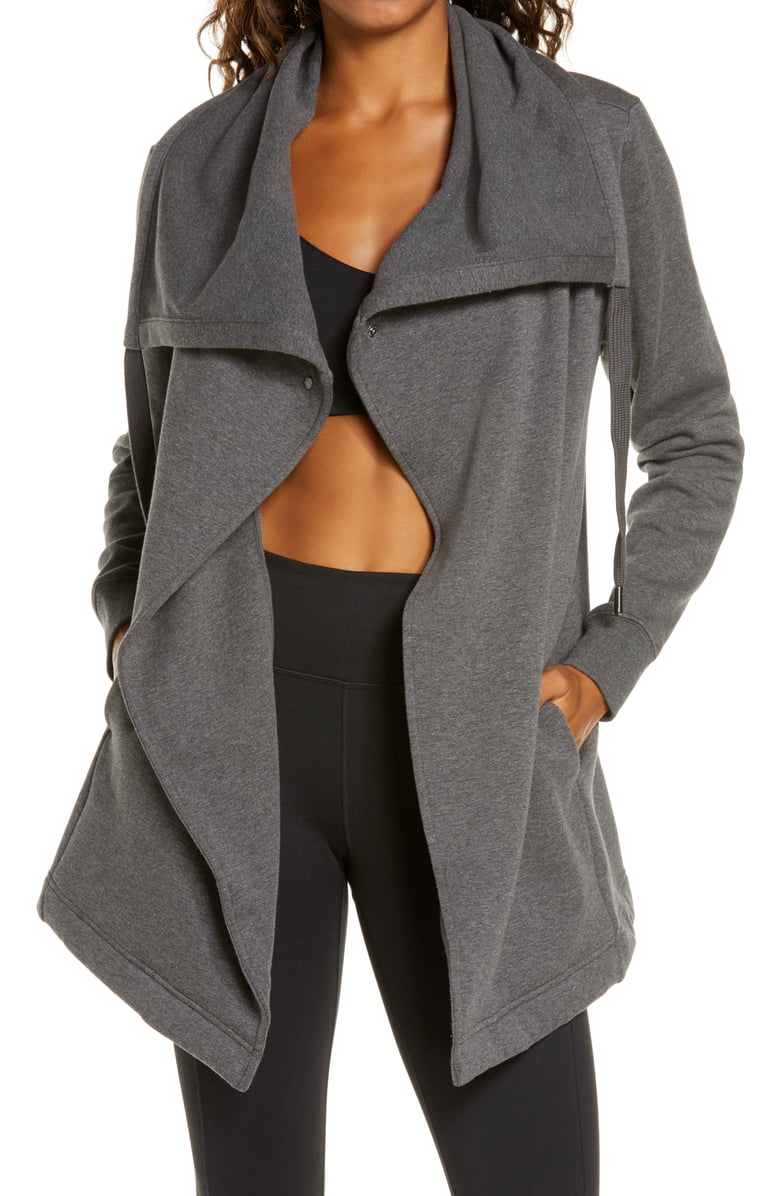 14. Travel Jewelry Case & Organizer:  This is something I have an love. So does my mom 😉 Notice how all the things she/I love, the other has, too? haha This travel jewelry organizer comes in a lot of colors and patterns and along with dainty jewelry holders, is thick enough to hold bangles, too! Most colors are marked as an Early Black Friday special and are 30% off right now (HERE)! While this is the medium size, you can find the petite version HERE, small version HERE, and the large version HERE.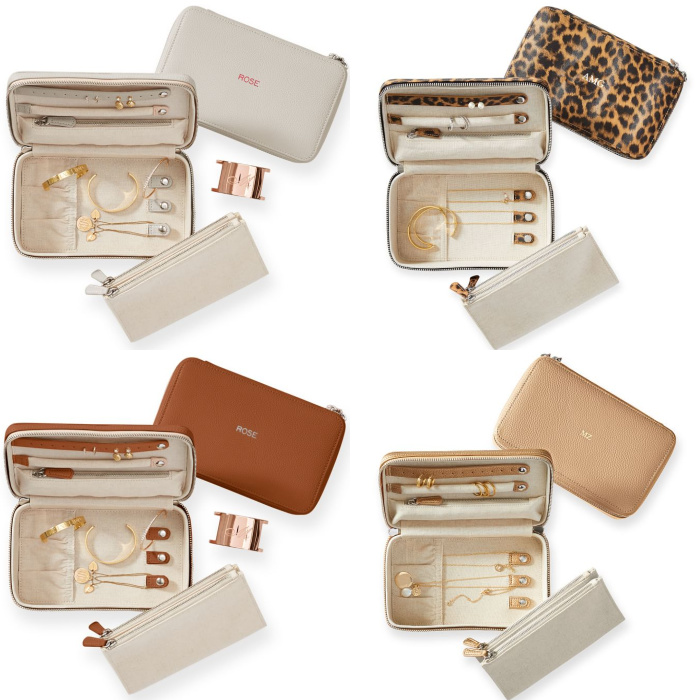 Medium Travel Jewelry Organizer Case
15. Webbing Crossbody Bag Straps:  After getting this leather tote (which I love and have been using like a purse/everything bag, everywhere I go!), I wanted a more comfortable, long crossbody strap since I was using it so often. I ordered this strap in black and will be ordering it in multiple colors — it's adjustable, so comfortable, and if you get the carryall, I think it's a must! They're on sale right now for 30% off with code WARMUP.
16. Natasha Denona Glam Eyeshadow Palette:  I am picky about  my eyeshadow palettes and like everything pretty neutral, but I like some drama, too. I like a mix of browns and blacks and can't do anything too orange/red with my skin tone. I LOVE THIS PALETTE! This is on my wishlist this year and even more cool, each shade is labeled where you can apply the shadow on your eye. If you are gifting someone who is all about beauty or even special occasions, this palette is amazing!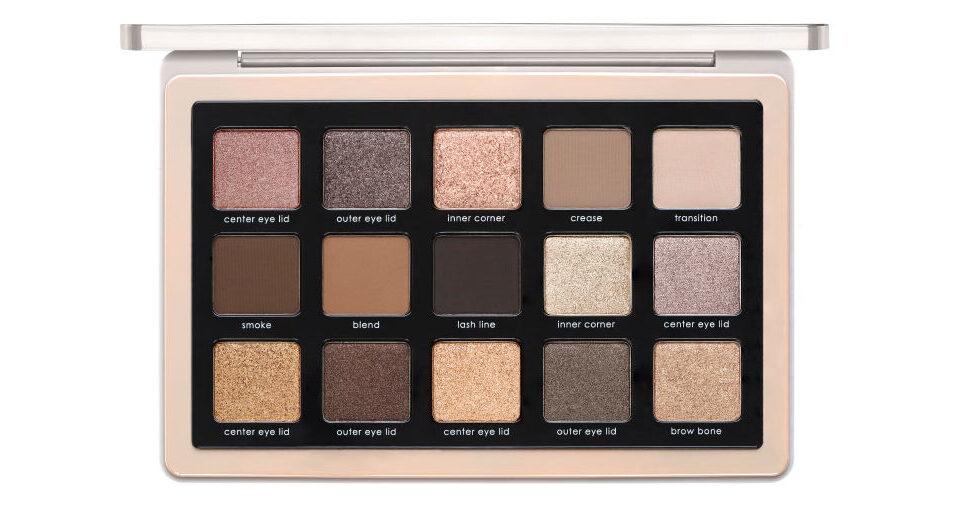 17. Zip-Top Transport Carryall: Like I mentioned above, I've been using this carryall zip tote everywhere! I wanted a purse/bag/diaper bag hybrid and it worked so well, I've kept it as my everyday bag and purse. It comes in black and brown and unlike most of my bags, is so lightweight and comfortable!
18. Personalized Handwriting/Fingerprint/Illustration Jewelry:  If you love sentimental gifts, I found the sweetest, most unique shop ever! They will take handwriting samples, artwork, fingerprints, etc. and turn them into cute, special, wearable jewelry. Here are a few samples of what they offer — by the way, they are all shockingly affordable!
I've never seen anything like this — submit artwork and have it turned into a necklace!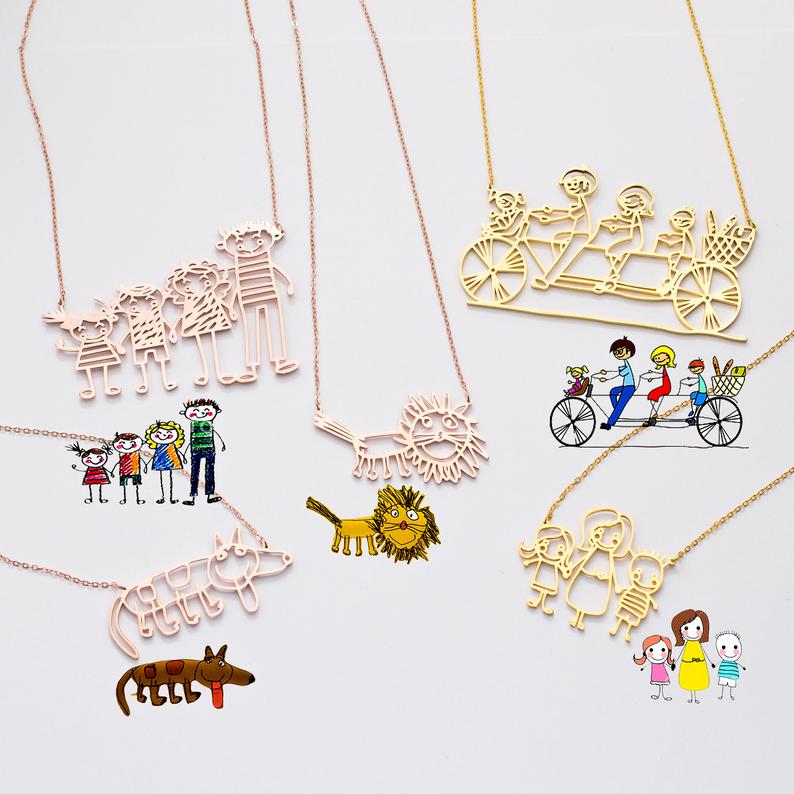 Custom Child Drawing Necklace (image via Caitlyn Minimalist shop)
These simple bar necklaces with handwriting are adorable…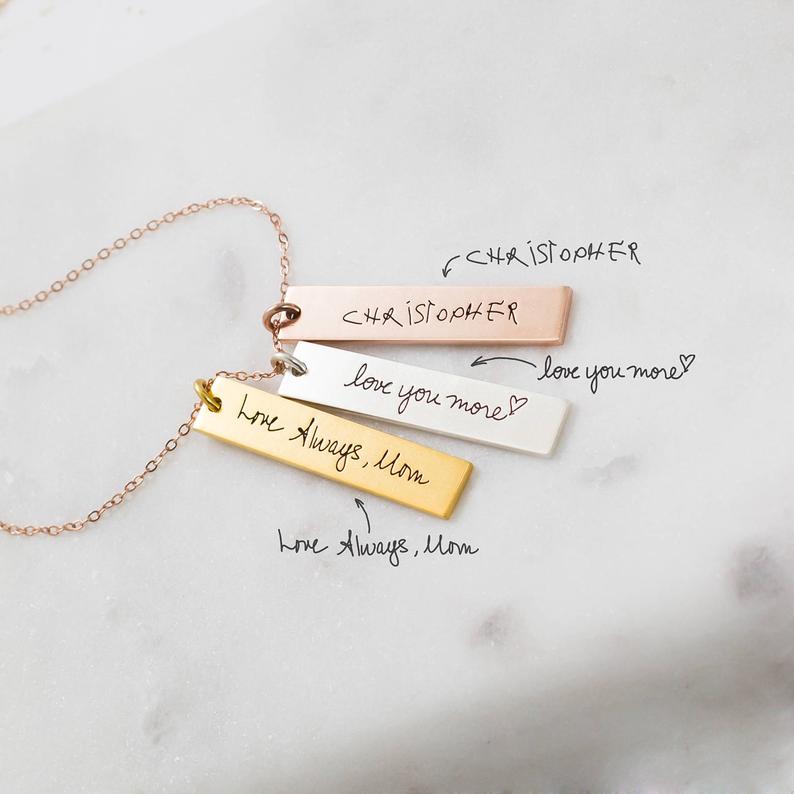 Handwriting Bar Necklace (image via Caitlyn Minimalist shop)
These disc necklaces are created from fingerprints…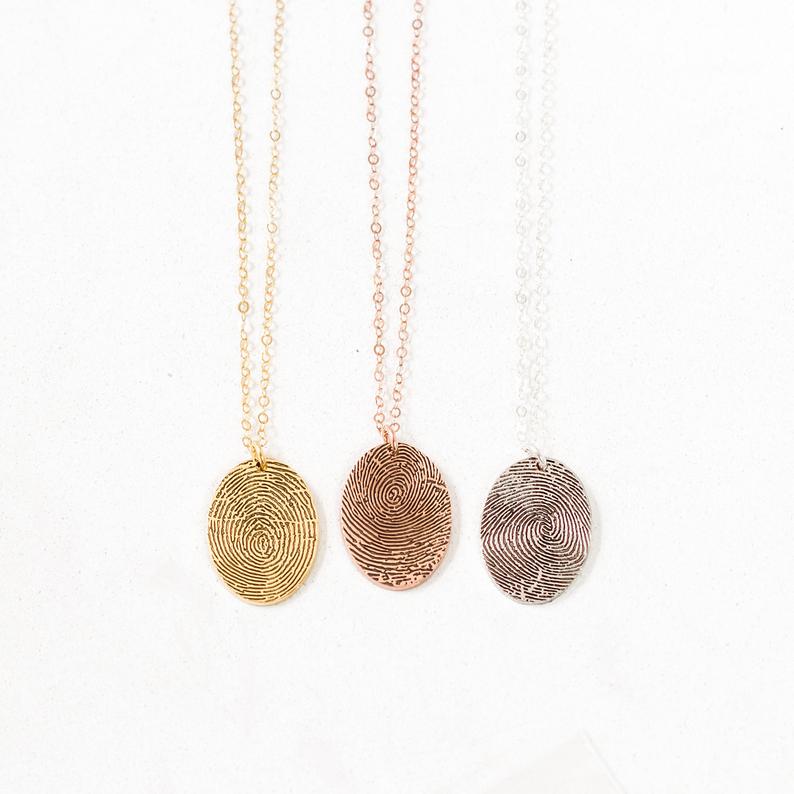 Fingerprint Necklace (image via Caitlyn Minimalist shop)
And these round necklaces feature a combo of possibilities.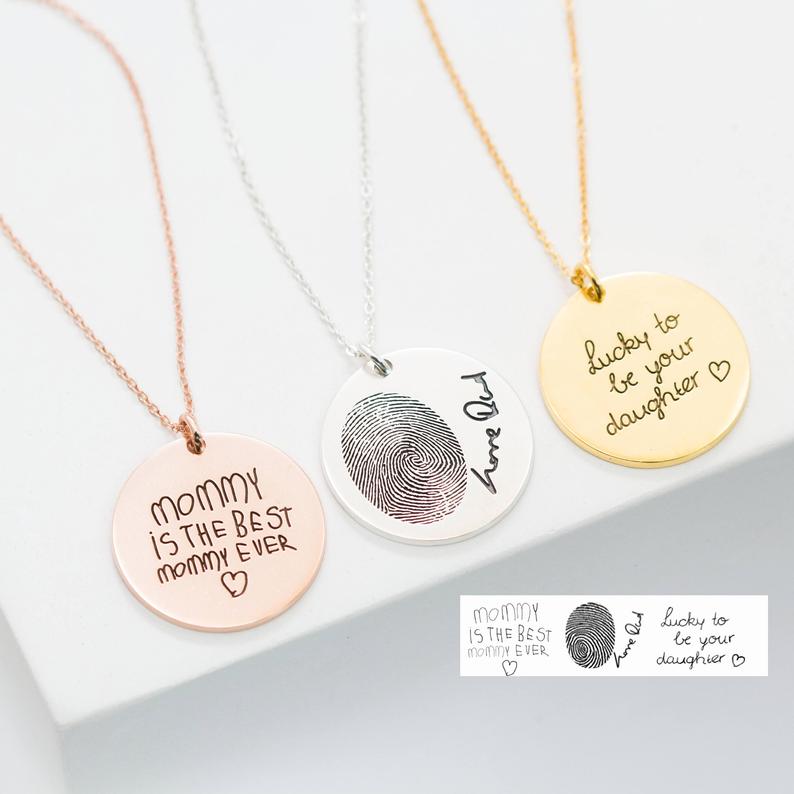 Personalized Handwriting/Fingerprint Necklace (image via Caitlyn Minimalist shop)
Pretty sweet, right?! I hope these were able to give you some ideas as you look to conquer your list this year — and maybe you even got a few ideas for your own wishlist 😉 I'll be sending Dave to the post in hopes that Santa needs some ideas 😉
Be sure to check out the "GIFT IDEAS" tab in the menu at the top of the page for inspiration for everyone on your list!
Tap to Shop Gift Ideas for Her

CURRENT NOTEWORTHY SALES — CYBER MONDAY
Check out my favorite notable promotions below as you start browsing/shopping this weekend!
Anthropologie — 30% off EVERYTHING; extra 50% off sale
American Eagle — 40% off everything!
Serena & Lily: 20% off everything, plus free shipping with code TOGETHER
Pottery Barn — 20% off your order, plus free shipping on orders $79+ with code CYBER — some deals up to 50% off
Mark & Graham — up to 50% off, plus extra 30% off sale styles with code MERRY
Rifle Paper Company — 30% off sitewide
One King's Lane — 25% off site, plus extra 10% off orders $600+ w/ code OKLCYBER10
West Elm — Up to 70% off everything, plus free shipping on orders $79+ with code CYBER
Williams-Sonoma — Up to 50% off, plus free shipping on orders $79+ with code SHIP4FREE; Extra 20% off clearance with code EXTRA
Burke Decor — 25% off sitewide with code BLACKOUT25; 30% off orders of $3,500+ with code BLACKOUT30
Madewell — 40% off with code THXINTERNET
World Market — Extra 20% off curbside pickup orders
Old Navy — 50% off EVERYTHING
PB Kids — Up to 60% off, plus free shipping with code COZY
PB Teen — Up to 60% off, plus free shipping with code COZY
Target — CYBER MONDAY! TONS of item, as noted on site, up to 50% off — save an extra 15% off on several categories
Bloomingdales — Buy more, save more, up to 30% off
Kirkland's — 20% off entire order with code CYBER; free shipping $99+
Macy's — TONS of individual sales, plus free shipping at $25+
Minted — 25% off everything, plus free shipping with code CM2020
Kendra Scott — 30% off! 25% off fine jewelry
Wayfair — Up to 80% off Cyber Monday Deals
CB2 — Buy more, save more Up to 25% off with code SAVEMORE
Nordstrom  — Up to 50% off over a thousand of items, plus free shipping