If you follow along with the monthly themed boards, you may have guessed that November's theme would be Thanksgiving. And, it is… but probably not in the way you were thinking. Unless it's a grazing board of leftovers, I have no interest in turning Thanksgiving dinner into a "board", haha. (I mean, I do have boundaries, guys! 😉 ) And, while we do typically do a small cheese board as an easy, light app as dinner is being prepared — in lieu of lunch — breakfast is something that shouldn't require a ton of effort and cooking, since so much is going into the main meal of the day. Enter… the perfect, easy bagel breakfast charcuterie board for Thanksgiving morning!
*Posts on KelleyNan.com may contain affiliate links. Click HERE for full disclosure.
Bagel Breakfast Charcuterie Board
Like I said — avoiding cooking and keeping it simple is the goal. Of course, you can do store-bought muffins and fruit, but even more fun and festive to help bring a little specialness to the morning, is a make-your-own-bagel-board with all the toppings and spreads!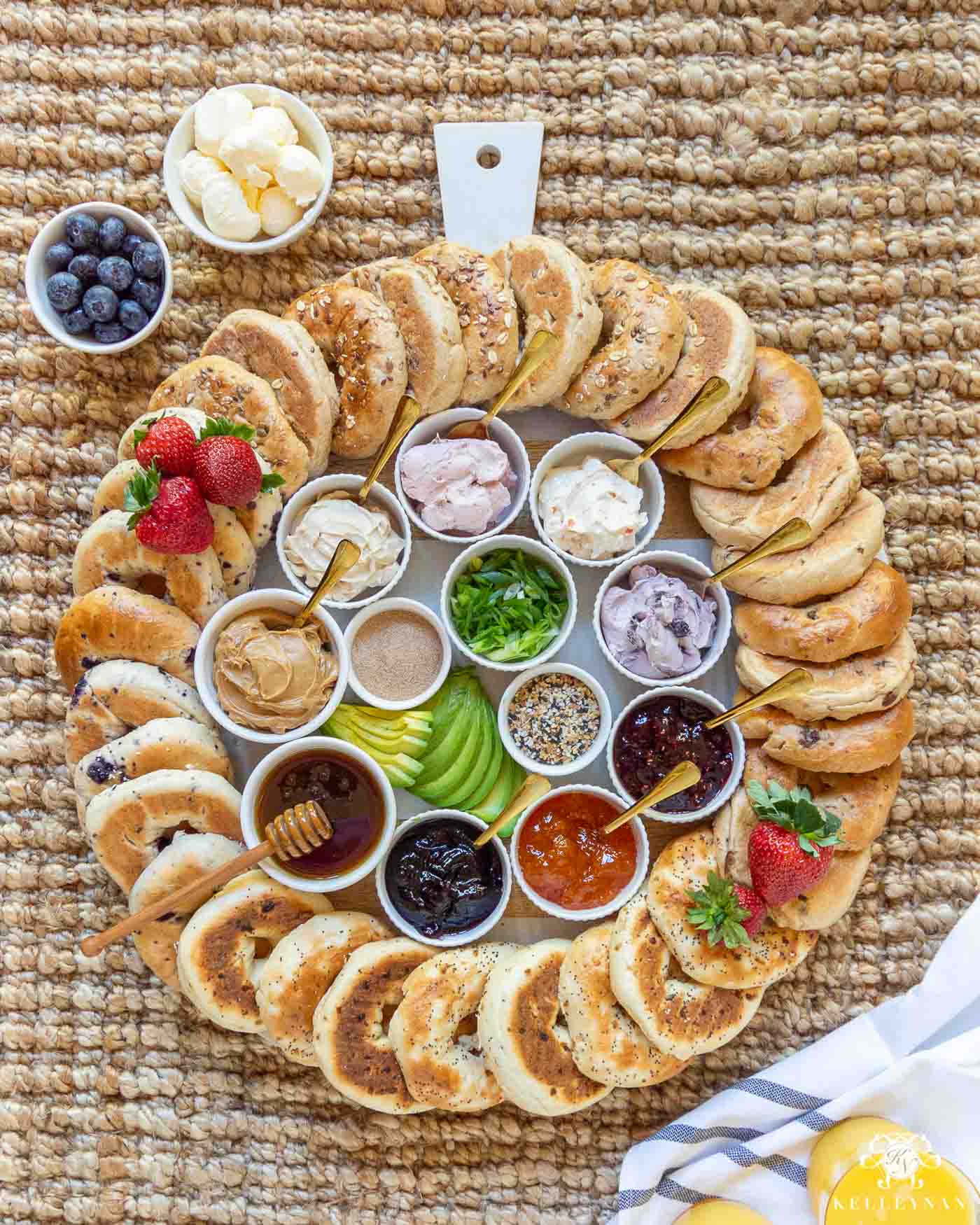 Scroll & Tap to Shop

The bulk of the labor in assembling this board is literally unpackaging spreads and dumping them in small bowls or ramekins. Easy! But remember, part of the fun of this continental-style breakfast is the ability to sample around and create different flavor profiles. Instead of leaving the bagels whole, pull them apart/slice each half; you can even quarter them for smaller portions which will allow each person to experiment with several combos.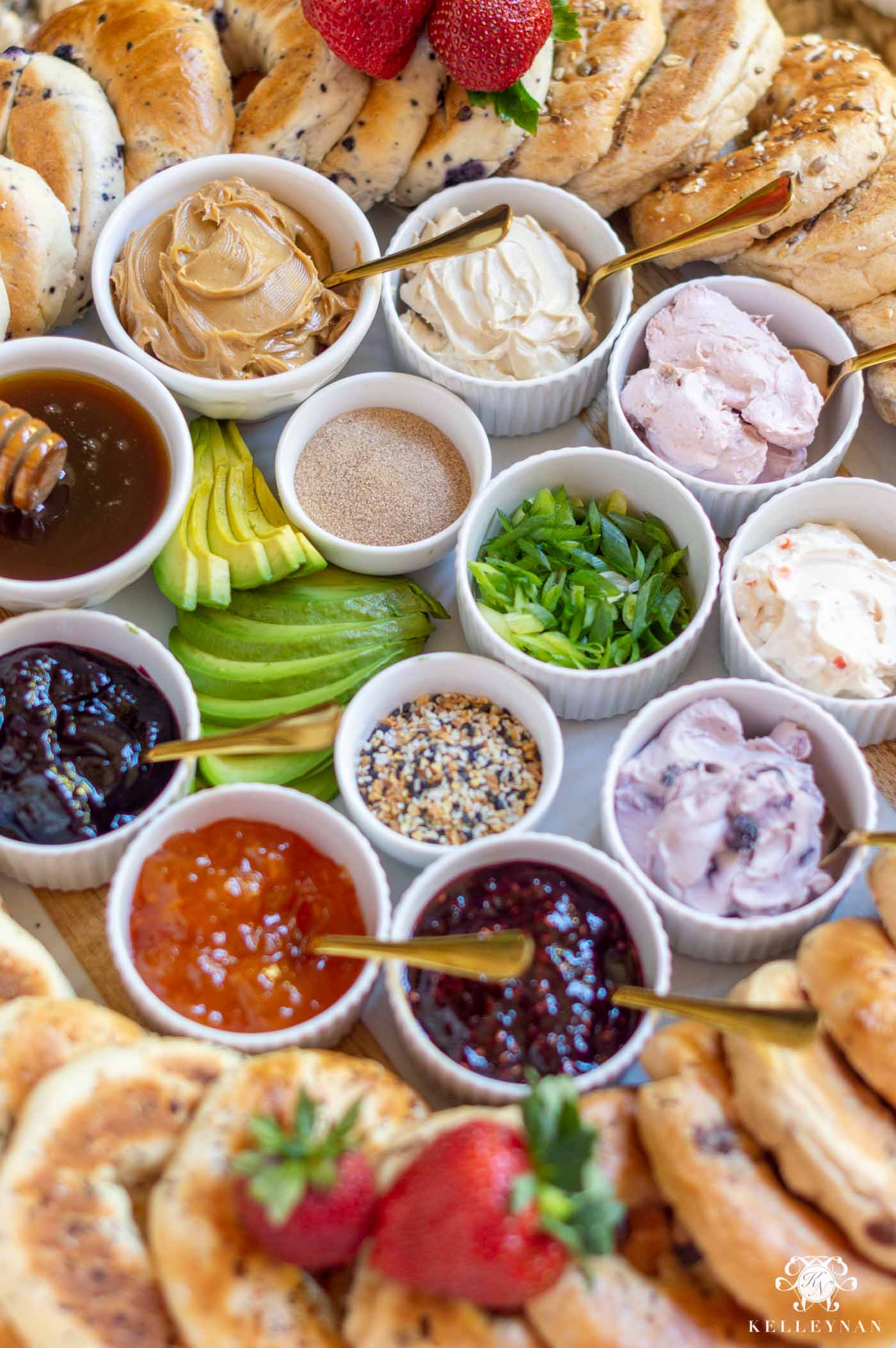 If you're planning for company and hoping to save time in the AM, you can spoon the toppings/seasonings/dips into bowls the night before so all you have to do the morning of is place them on the board with the bagels and fruit. Your guests or family can fend for themselves without taking you away from dinner prep in the kitchen. And better yet, if you are planning a bagel board to ease your labor on Thanksgiving morning, try to set the board, small plates and napkins, and toaster away from the center of the kitchen to keep your prep (and foot) space clear!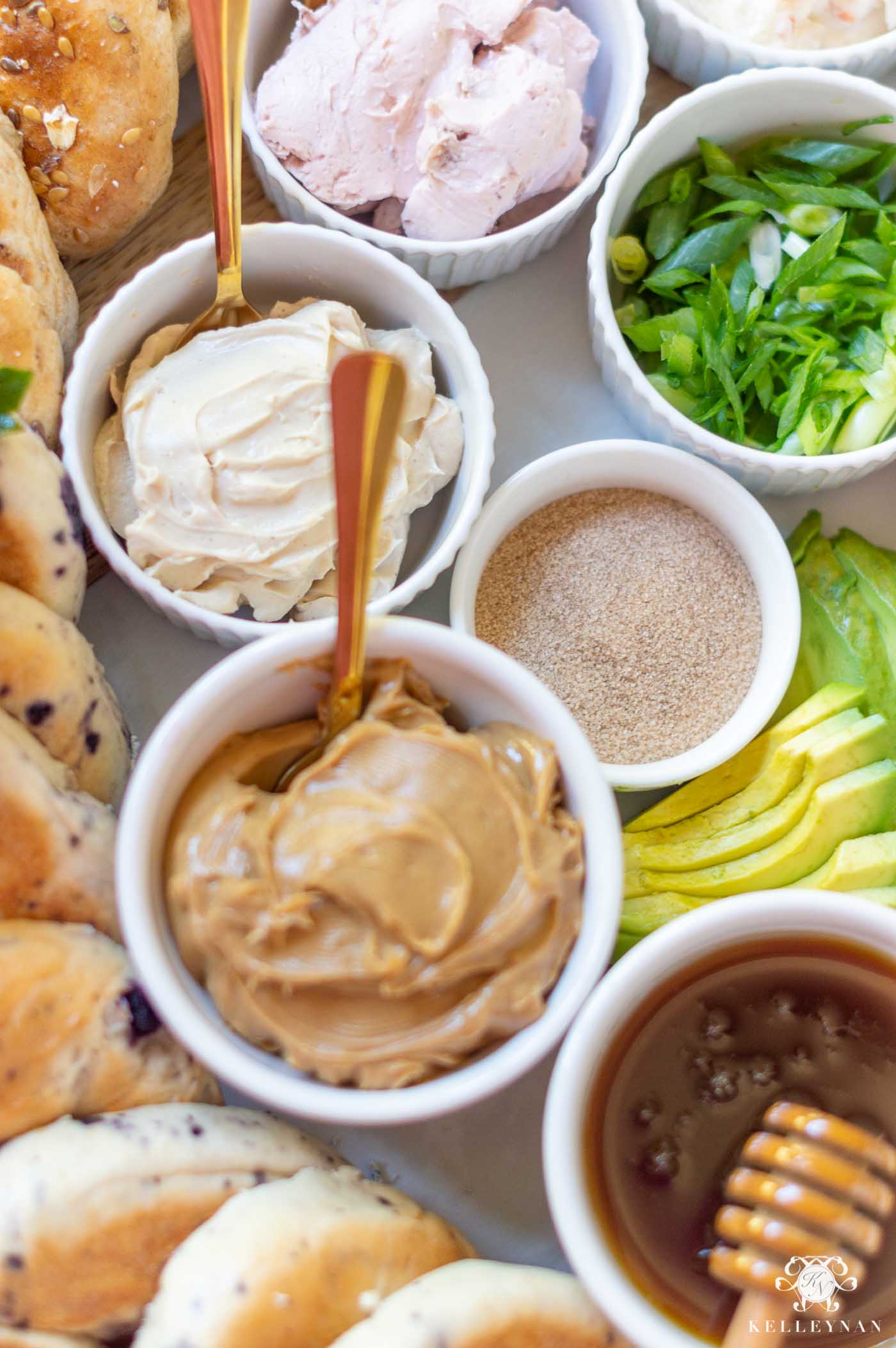 Along with typical bagel spreads — flavored cream cheese, butter, jam — think about other toast toppings. Sliced bananas with honey and peanut butter would be delicious, pimento cheese would be a great savory alternative, and avocado slices/mash are a pleaser, for sure — especially on top of veggie cream cheese and sprinkled with Everything seasoning and chives! (Trust, this was my favorite flavor profile I sampled from the board!)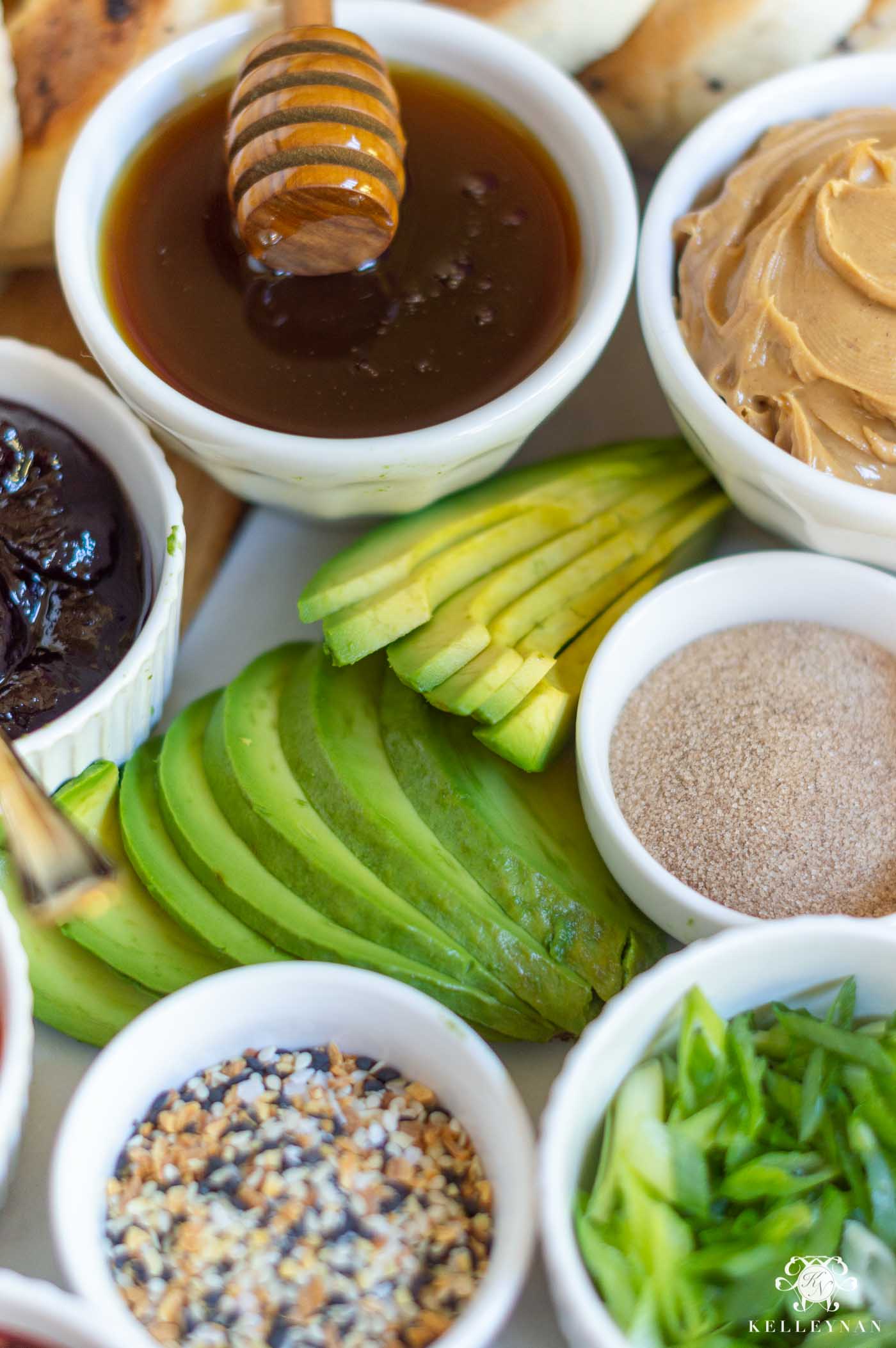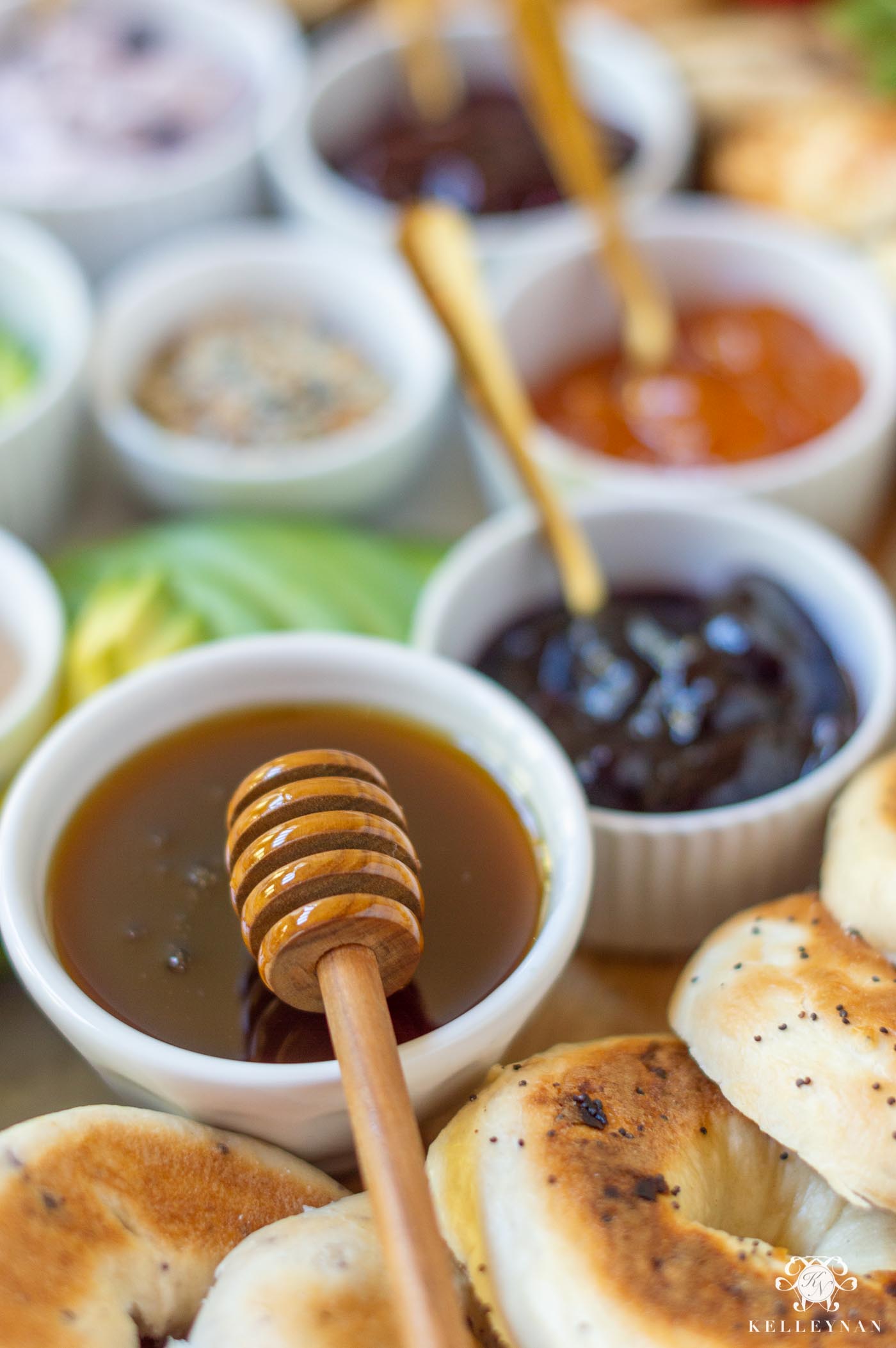 If you have savory bagels, make sure you have savory options to pair with it. Make sure there are multiple options for both the bagels and the spreads — if you only want to aim for sweet jams and spreads, then stick to plain, grain, and fruit bagels — no onion or everything bagels necessary.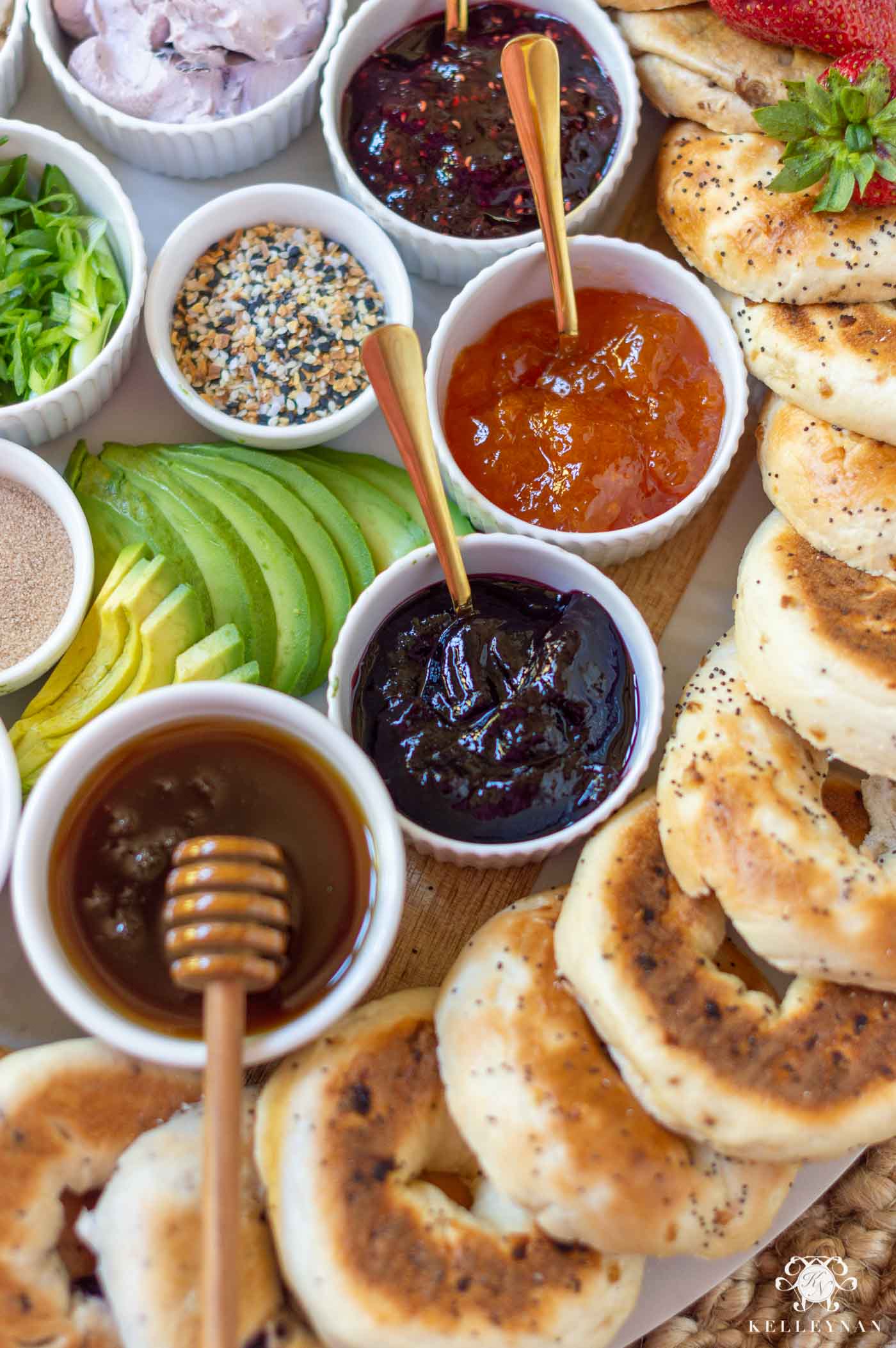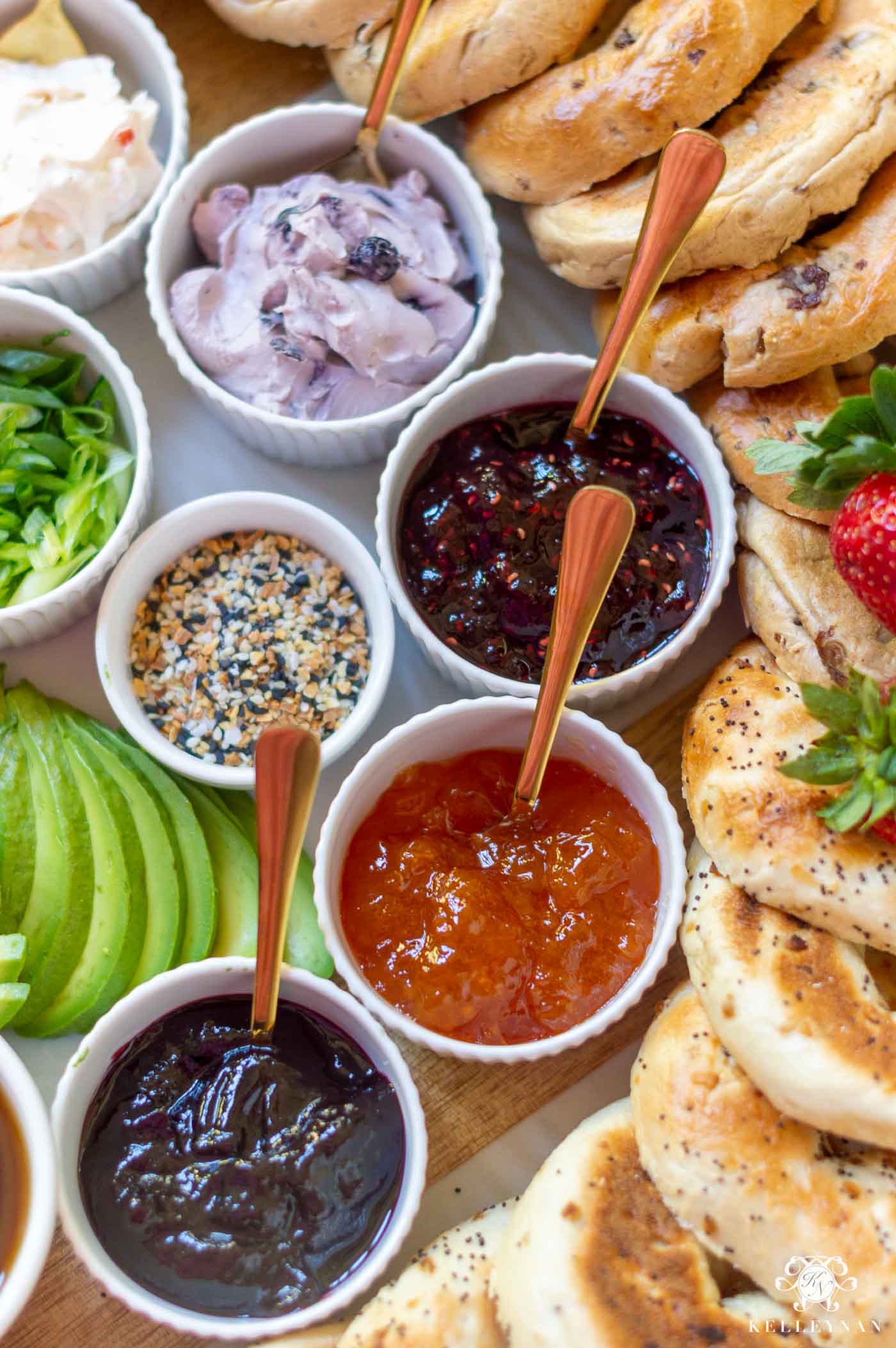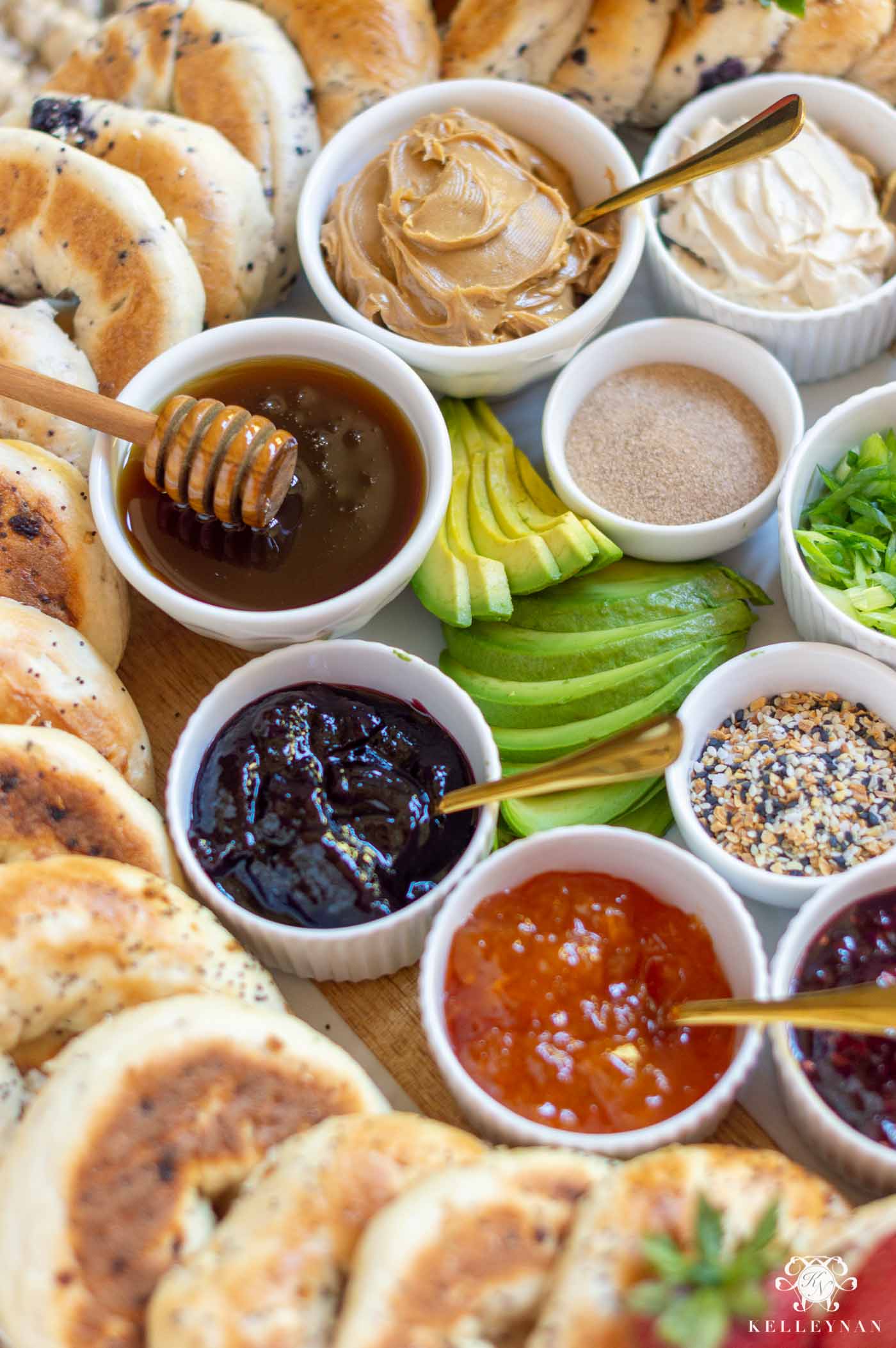 Bagel Breakfast Charcuterie Board Toppings & Ingredients
While their are so many spread and topping options — Nutella, cheese, compote, etc. — below, you'll find the comprehensive variety used in this board.
And, obviously this continental-style bagel breakfast transcends Thanksgiving morning — it's suitable for any morning breakfast when you want something a little more special, while still keeping it easy. It would even be perfect for a brunch-time shower, served with mimosas or bloody marys, fruit, and maybe even some bacon and hashbrown casserole. Whether you're gearing up for your smallest Thanksgiving with the tightest circle of company/immediate family, or you're planning to keep things unchanged from years' past, this board is a "win" for your fam and houseguests.
Scroll & Tap to Shop the Post

Board Favs

Is your Thanksgiving changing at all this year? Do you typically travel but plan to stay home and cook for your immediate fam? Are you still hosting but fewer people? Are you planning a smaller dinner? More formal? More casual? Looking to introduce new traditions since it's been a tough year? Keeping things the same? Share what you're planning in the comment section below!
A FEW OTHER BOARDS YOU MAY LIKE