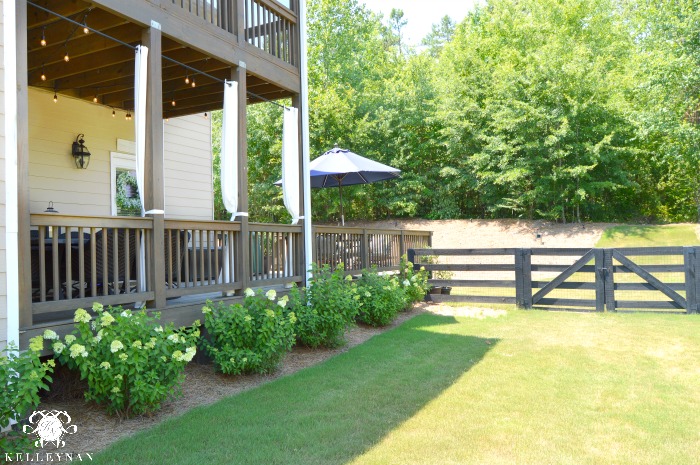 Some people are "cat people", some are "dog people", but my husband and I are 100% "porch people". Ok, so we are total dog people too. And, we like cats… haha What I'm trying to say is that to us, a good porch is more crucial than the biggest, fanciest kitchen you have ever seen. When we were building our home, we wanted a rocking chair front porch (welcome to Georgia, y'all!), a screened porch, a covered deck, and an uncovered sun deck. So, we did a little bit of all of that. For today's patio party though, hosted by Kathleen of Lindsay Hill Interiors, I will be sharing some details of the open, uncovered portion of our deck which extends into our backyard. If you are joining from my friend Annie's home (Zevy Joy), welcome! I will be sending you on to the next patio on the blog hop at the end of this post; you won't want to miss any of the eight bloggers I am joining today 😉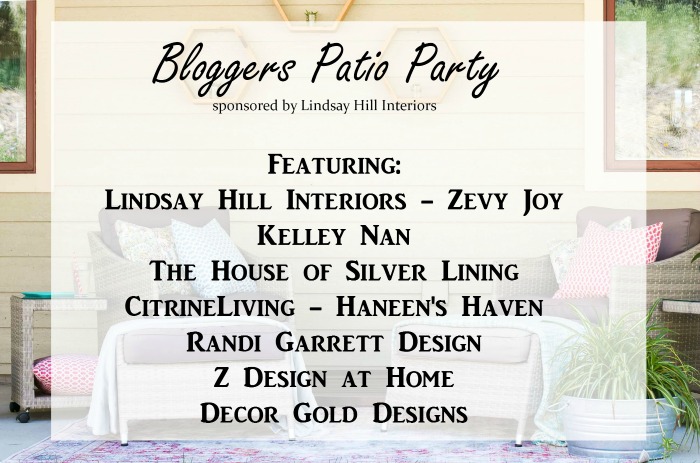 Here is a peek of our double decks from the side of our home. We planted this row of limelight hydrangeas just this past fall. I am crossing my fingers that they will ultimately grow into each other to form one big hedge. The blooms have only recently started but I am thrilled with their growth thus far. I am counting on these to be a primary source of indoor flowers 😉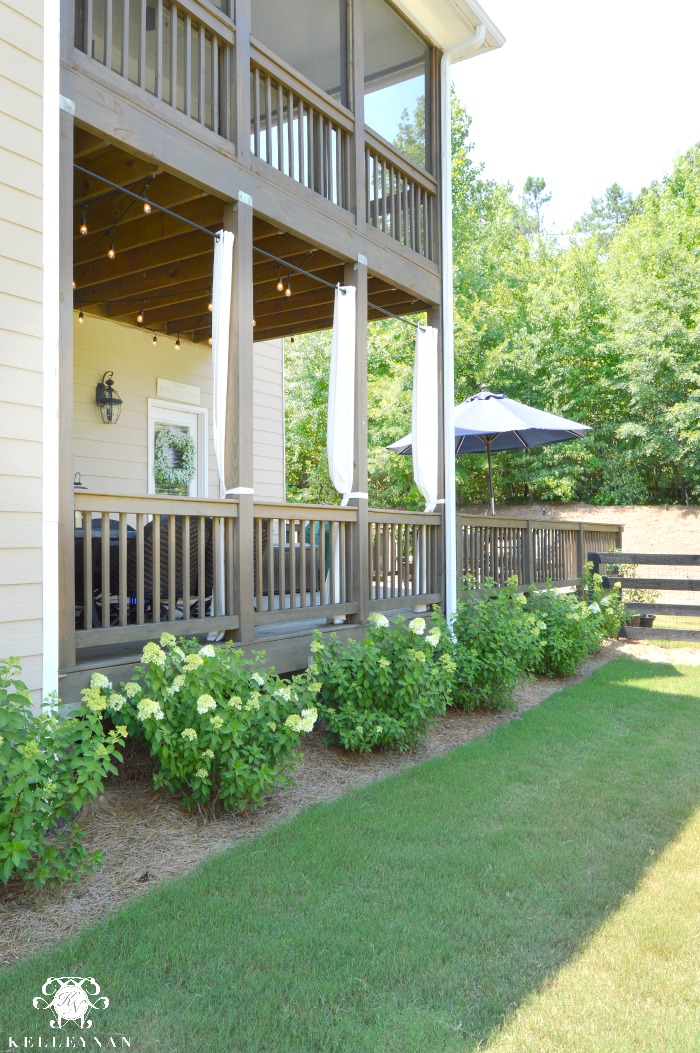 If you missed it, you can catch some of the covered porch details HERE from when I decked out this little space for the Fourth of July…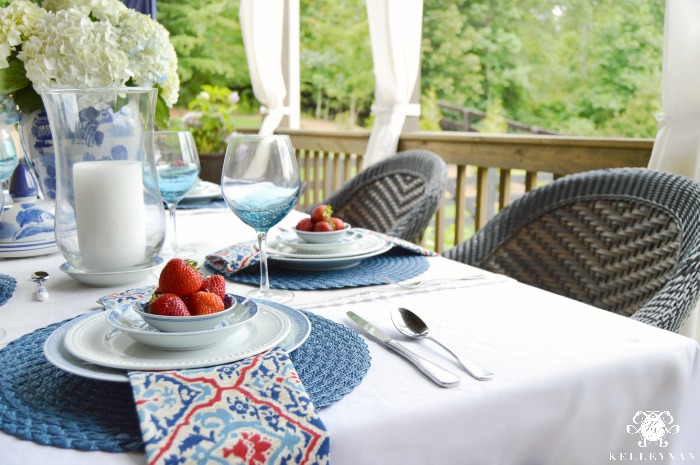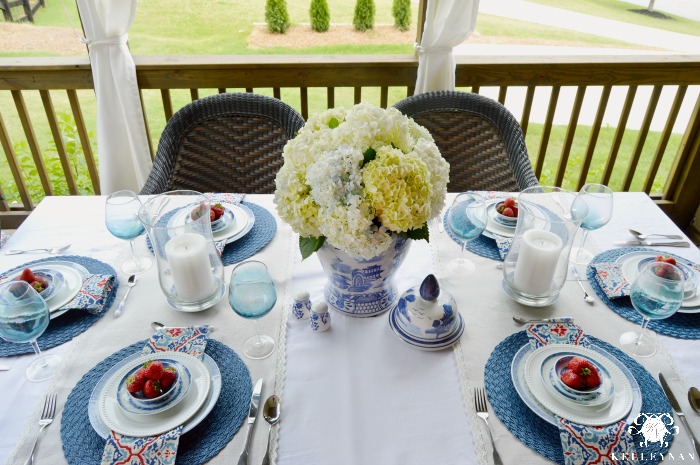 …and our front porch (HERE) got a little patriotic face lift for the holiday, too.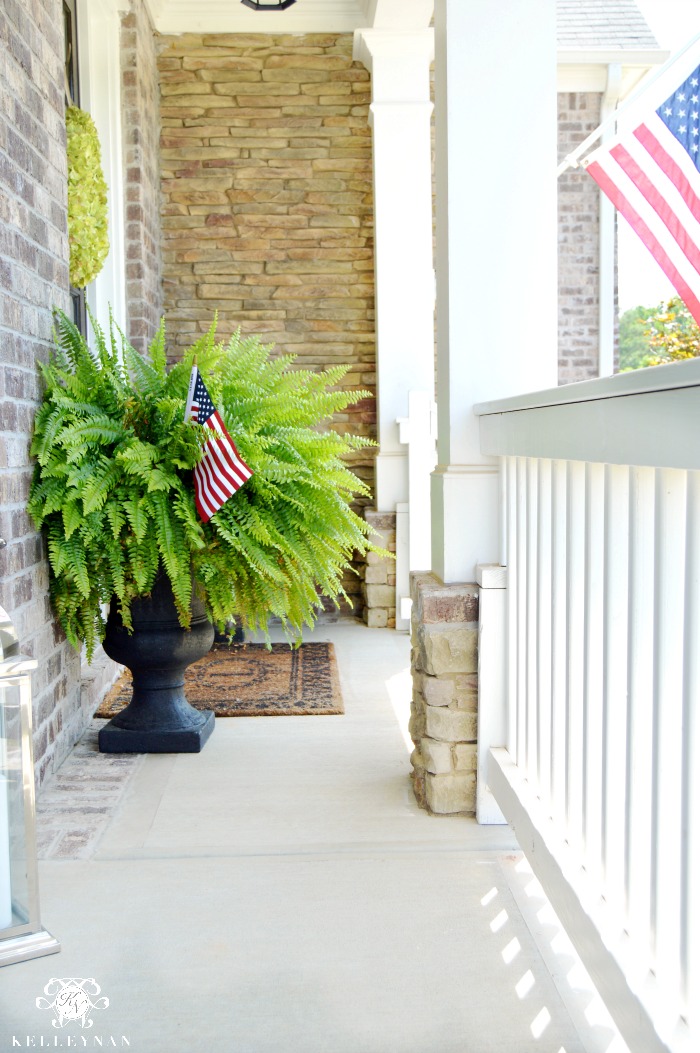 But today, I would like to welcome you to head out back to our party deck.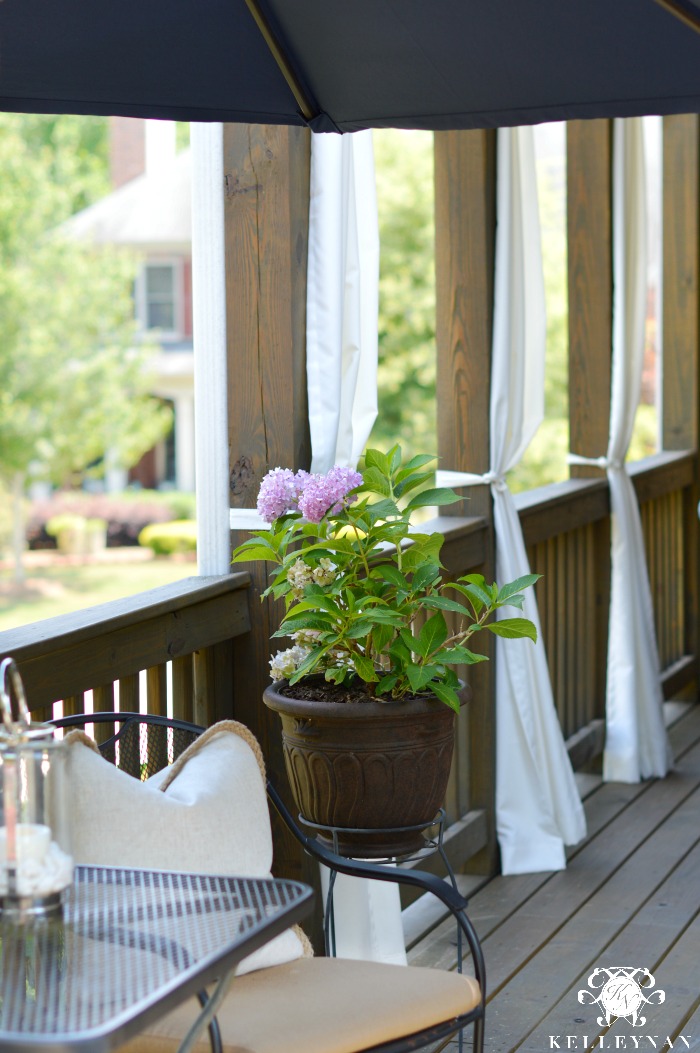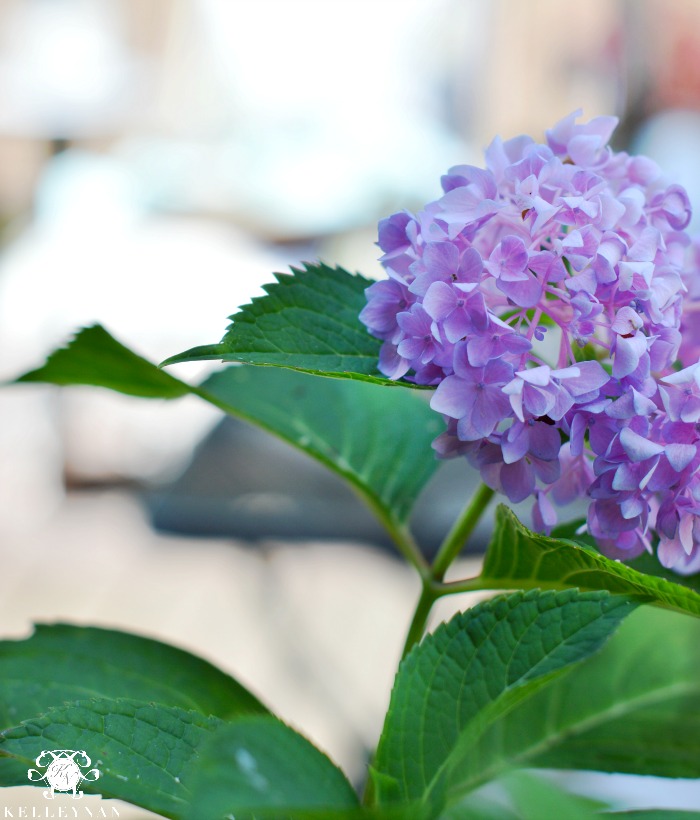 We have several seating areas positioned around the deck- the table and chairs under the covered portion, a bistro table shaded under an umbrella, and then a pair of loungers at the furthest point. I'll be honest- in the evenings, this is the perfect place to relax but on days like this, which I seriously think may deserve a new descriptive phrase as even "hotter than Hades" doesn't seem to quite do it justice, well, my poor little plants can give you an idea of how it feels. In the above 100 degree temps, it's a little tough but once the sun starts setting, all that coleus perks right back up.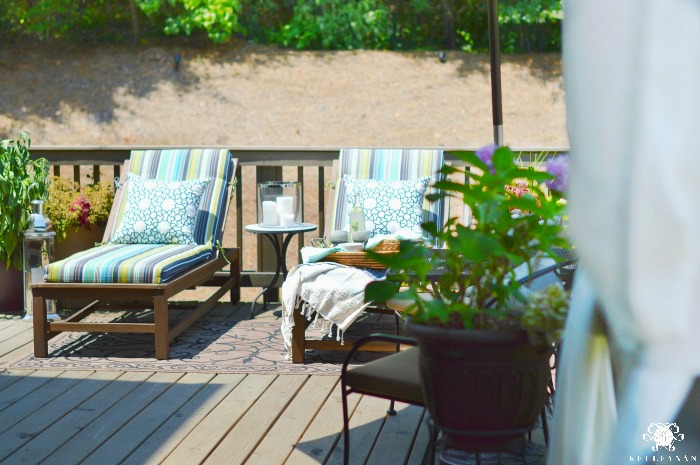 In the Georgia heat, cool refreshing snacks and hydrating beverages are a MUST. If you aren't from the south, yes, all the rumors you hear are true – sweet tea, lemon/limeade are summertime essentials.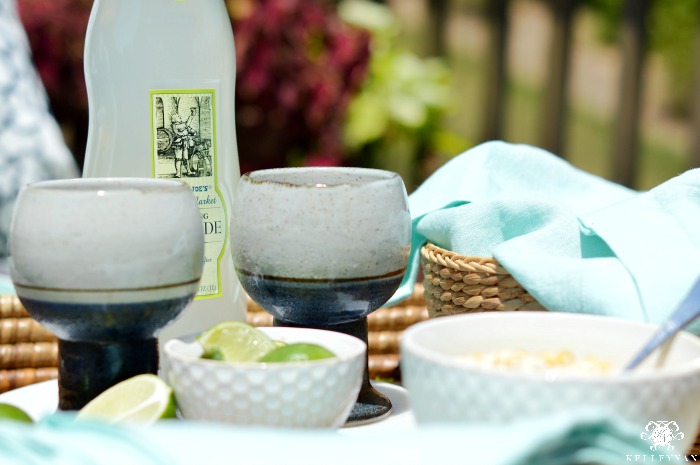 For this "heat-stroke-esqe" weather, I whipped up my favorite summertime appetizer. Thanks to my mom, this corn dip is my go-to cook-out contribution and is a fav among several of my friends. Read on for the recipe.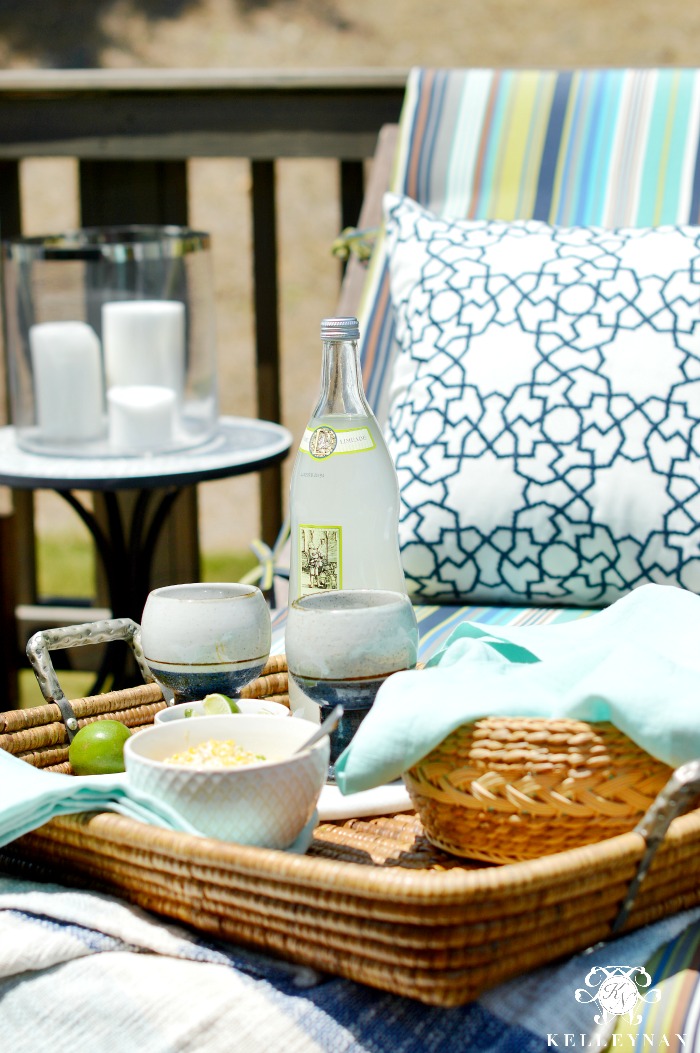 This little corner summarizes the overall feel of our outdoor spaces- casual and relaxed with several light sources for evening ambiance. While the inside of our home is more on the neutral side, our outdoor space is filled with fun, summery color and prints.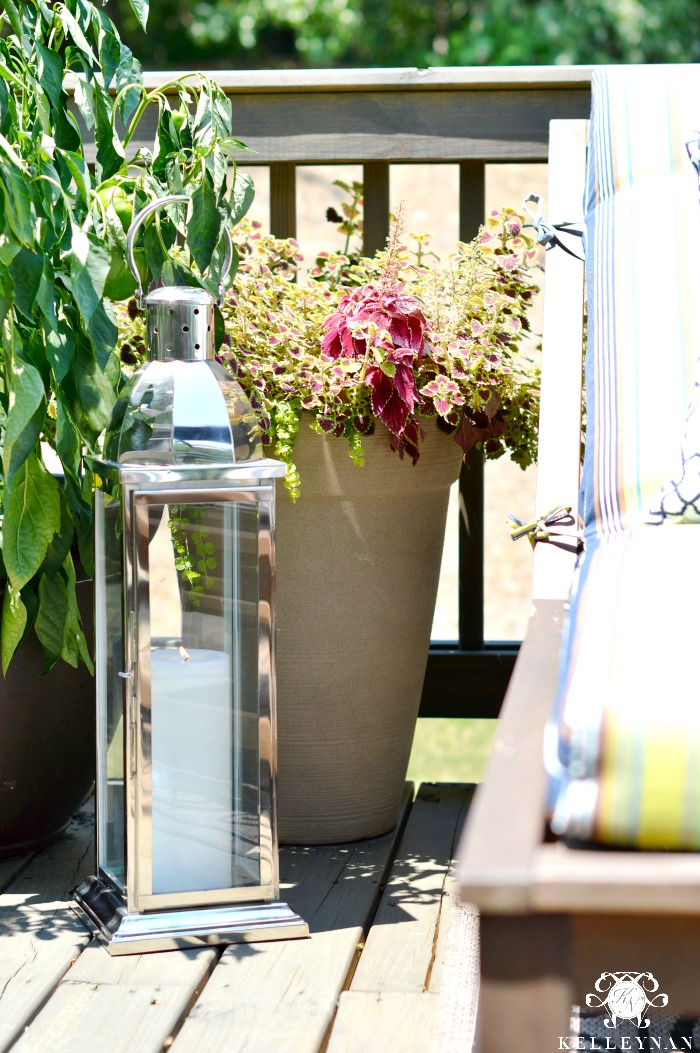 …And just to prove that my plants aren't dead, I had to include a later in the evening shot haha. We have tried to grow several types of fruits and vegetables, but year after year, the ones that thrive are our pepper plants. Same goes for florals- I now put my efforts into coleus since they are hearty, thrive in the heat, and are pretty difficult to kill.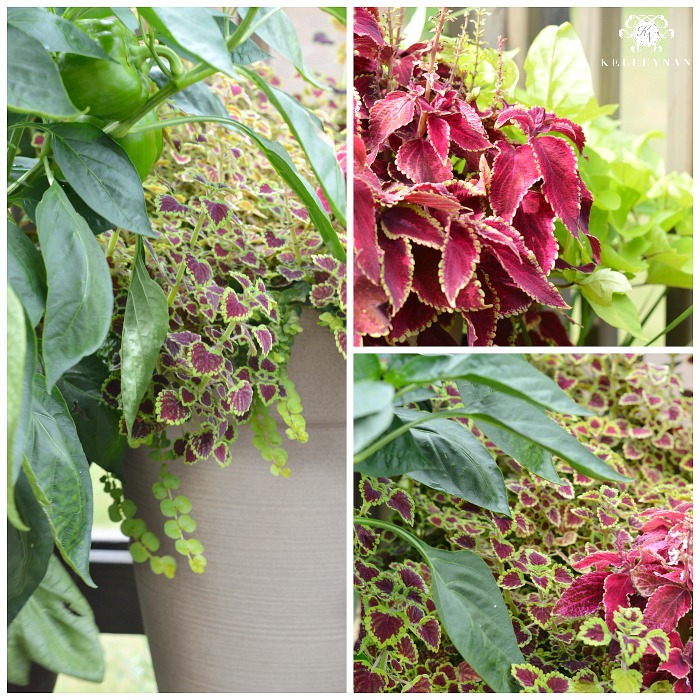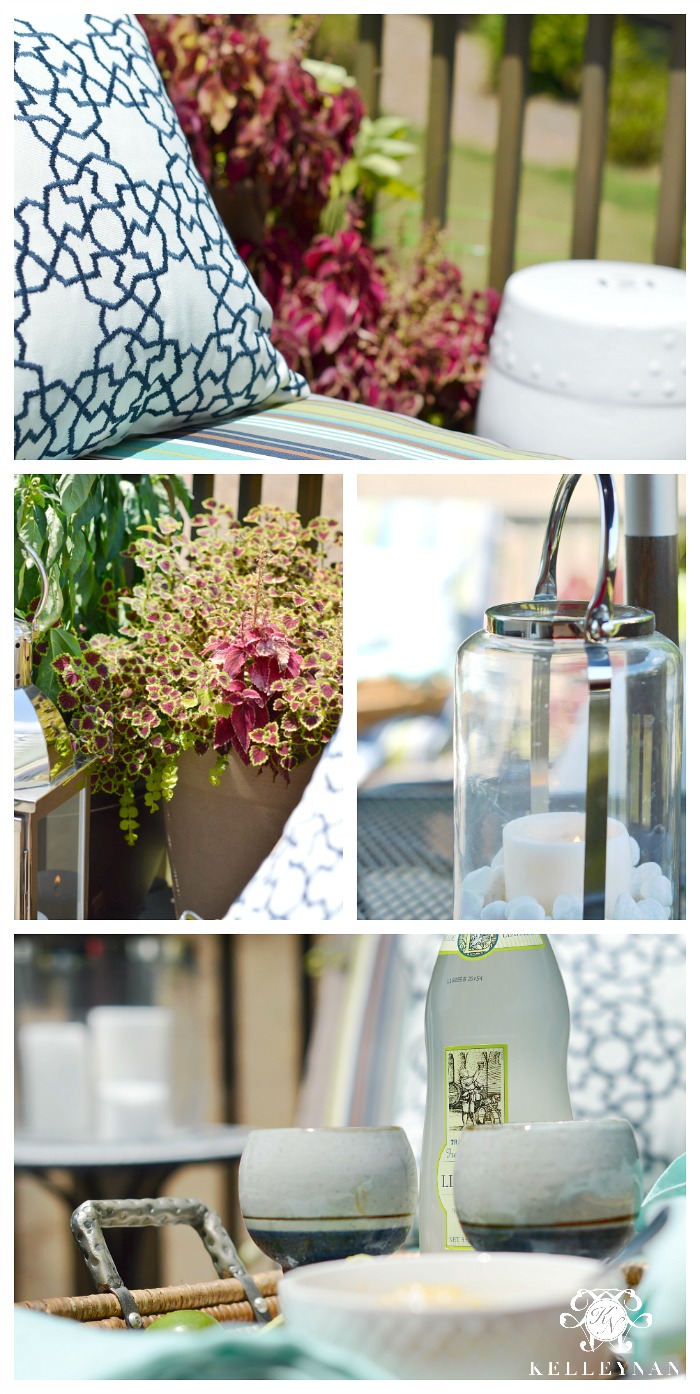 I considered switching these lounge chair cushions for a more subtle solid earlier in the season but am glad I held off; I love how these outdoor patterned pillows from Pottery Barn compliment the stripes.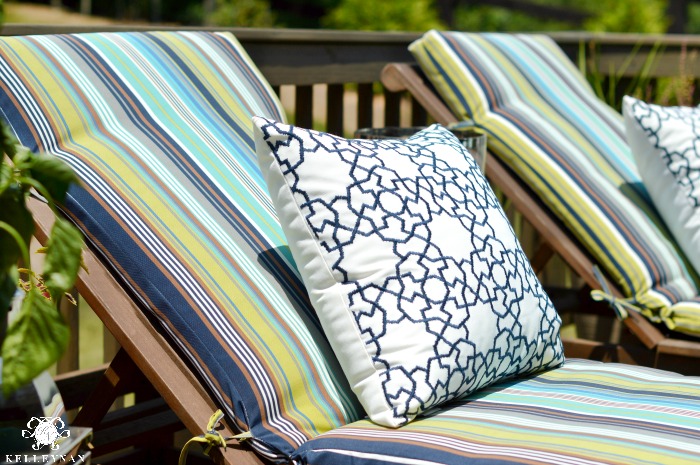 The corn dip recipe isn't the only thing I got from my mom – she had these goblets since college and I always remember her using them while I was growing up. One had an "accident" a few years ago, but she gifted me the lone goblet still in tact. A few years later, she was able to locate another on replacements.com; I can't believe she was able to track down such a unique thing but I am thrilled to have a complete pair now.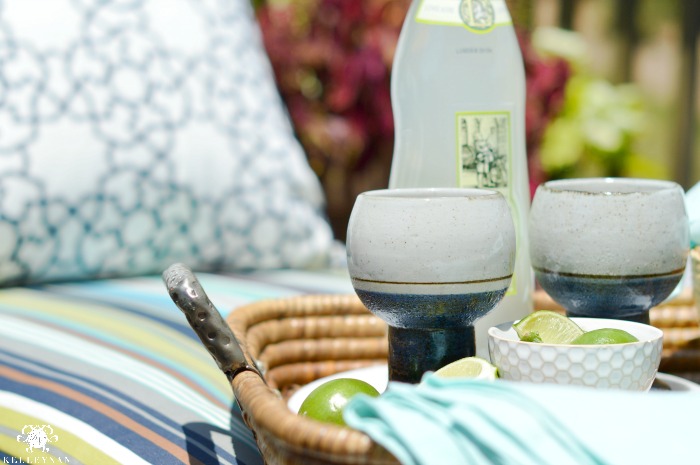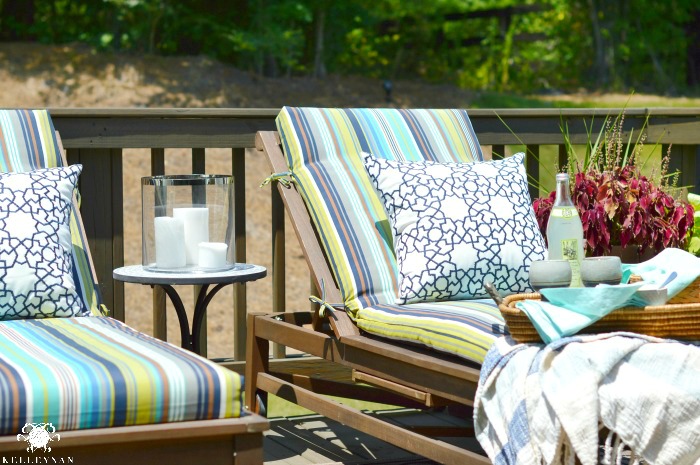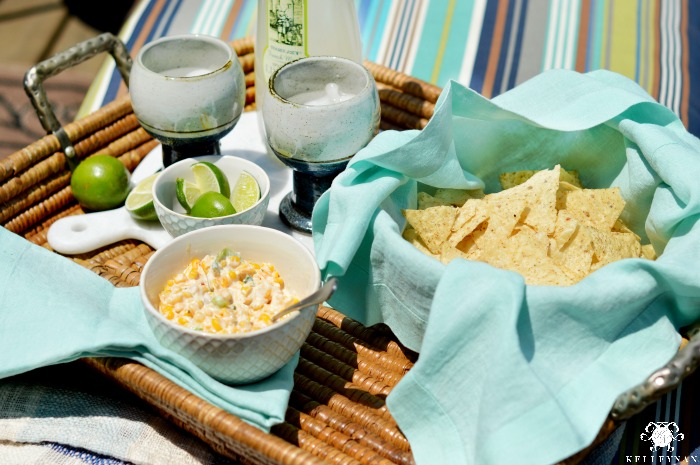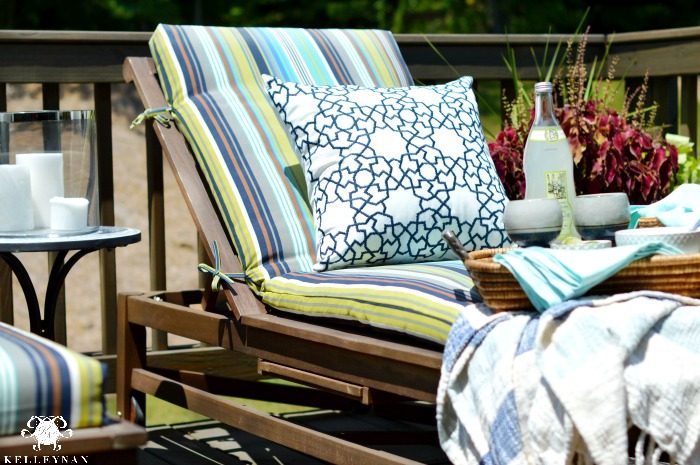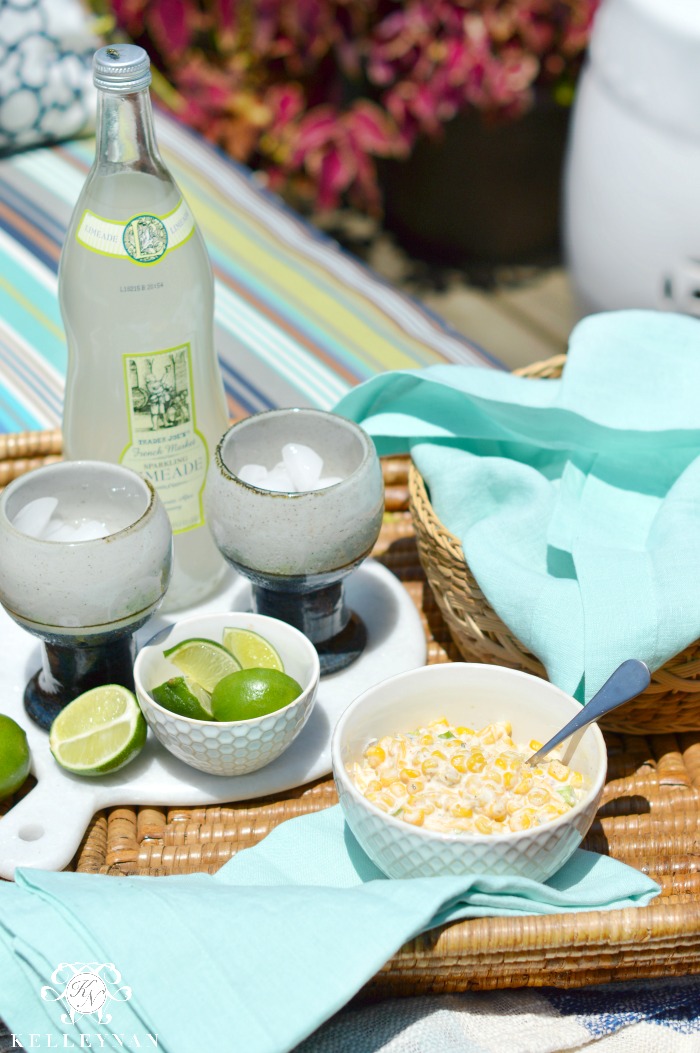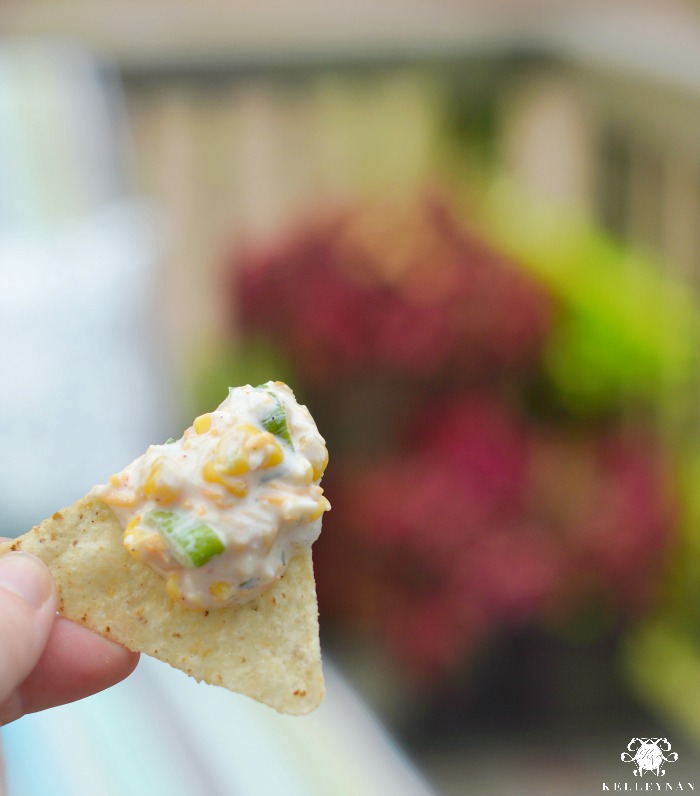 3 cans Mexicorn- drained

2 C shredded cheddar cheese

1 small can green chiles- drained
2/3 C green onion- chopped

3/4 C mayonnaise

1 8 oz. container sour cream

1 package dry ranch dressing mix

Tony Cachere's Cajun Seasoning- to taste
Combine sour cream, mayo, and ranch dressing mix. Add Cajun seasoning (the more you add, the spicier the dip)

Add corn, chiles, onion, and cheese to the sour cream mixture

Stir to combine

Cover and chill for at least two hours- overnight is preferred (the longer you chill, the better the flavor)

Serve with tortilla chips
Print, pin, or write this down for your next gathering. Believe me, you will thank me!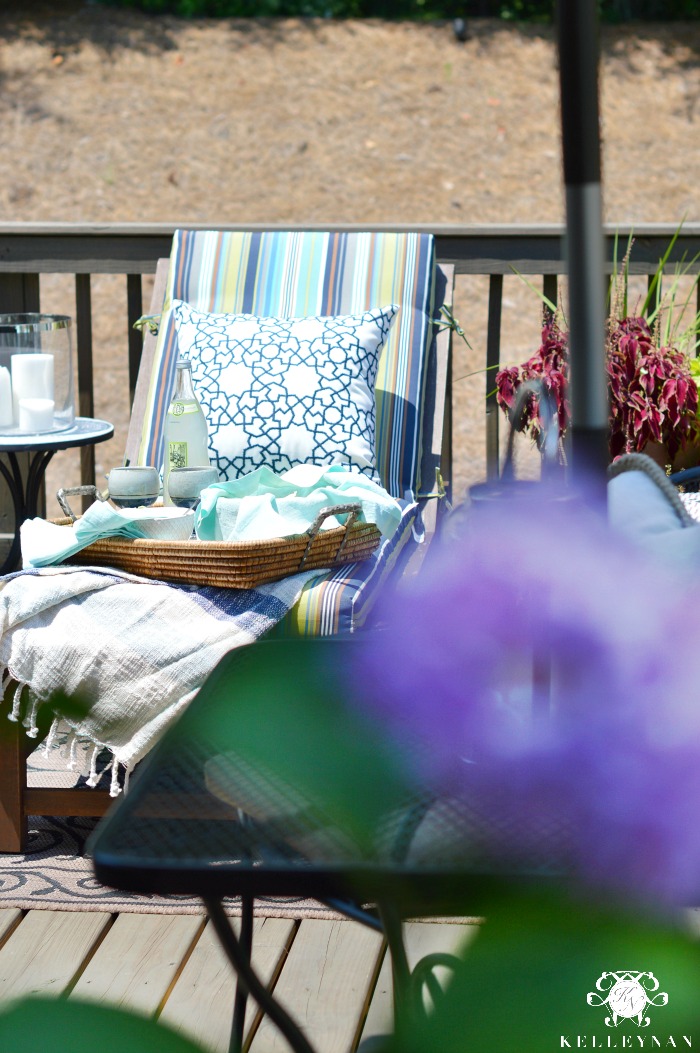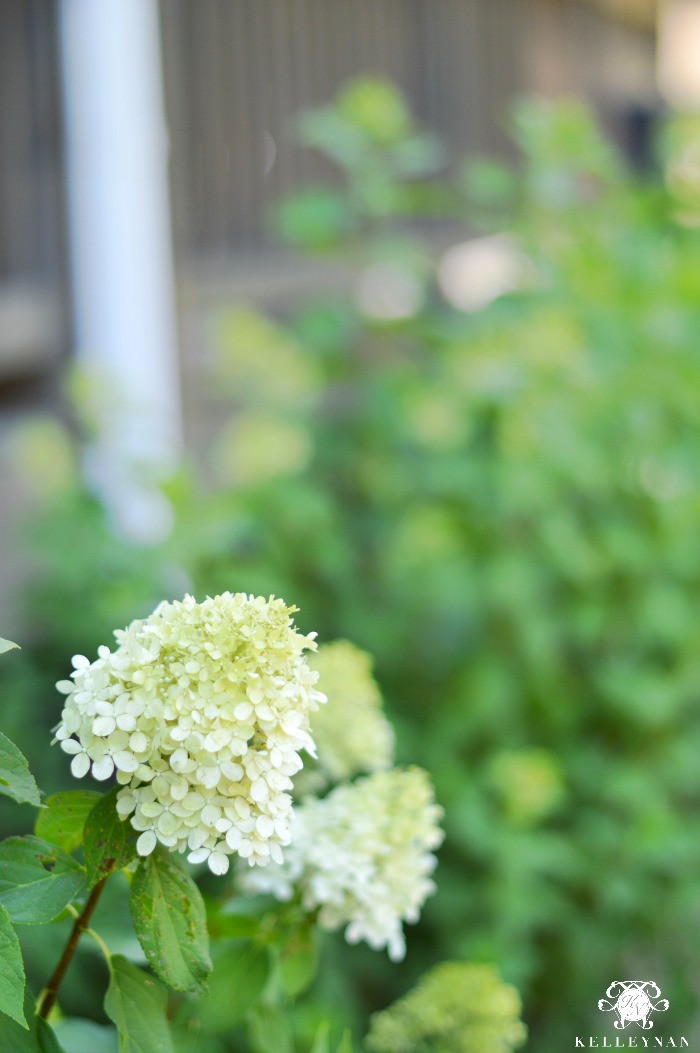 If this was your first time visiting, thank you for stopping by and I hope to "see" you again! You can subscribe to receive my updates at the bottom of the post to have the latest delivered straight to your inbox 😉
Next, head on over to my friend Shauna's at The House of Silver Lining to continue the Backyard Bloggers Patio Party. While you are there, you may want to go ahead and favorite her page/subscribe to her blog; I look forward to her updates each week!
GET THE LOOK

(use the left and right arrows to scroll)
OTHER SOURCES
White Outdoor Curtains | Pillows| Marble Cheese Board | Garden Stool | Striped Outdoor Blanket | Umbrella & Pole | Goblets: Vintage | Tray (similar)– Pottery Barn no longer available | Hurricane (similar)– Pottery Barn no longer available | Lounge Chairs: World Market | Lounge Chair Cushions: World Market | Side Table: World Market | Rug: Rugs USA 
Be sure to check out each of the homes on today's Patio Party:
Lindsay Hill Interiors | Zevy Joy | Kelley Nan (you are here) | The House of Silver Lining (next stop) | Citrine Living | Haneen's Haven | Randi Garrett Design | Z Design at Home | Decor Gold Designs
*Note: contains affiliate links and sources throughout the post. Where product is no longer available, a similar substitute has been listed.