I am all for layering in budget-friendly decor with some of my higher priced furnishings and some of the most frequent requests I receive are for lower priced alternatives to some of the pieces featured in my rooms. And, maybe it's because so many of the pieces aren't specific to a baby's bedroom but I get more requests for budget friendly alternatives in Eliza's nursery than any other room. Baby nurseries are a little different than the rest of the house — in most rooms, you can work on saving and getting everything just right over years' time. A baby nursery though? Well, you typically have to think about having an entire room put together a little more quickly 😉 Maybe you don't have a budget or maybe you want to be as frugal as possible. Maybe you want to splurge on a few things but want to save where you can. Today, I'm sharing lower priced alternatives, more affordable nursery furniture, and budget friendly options to get the same look as Eliza's neutral nursery!
*Posts on KelleyNan.com may contain affiliate links. Click HERE for full disclosure.
Nursery Look for Less
Even though some of the pieces in our nursery were a splurge, this same neutral, natural vibe can be achieved at a much lower price point. You can see my original full nursery reveal HERE but oh my word, putting this room together is still the most fun I've ever had in creating a space. We were in the middle of such an emotional but hopeful time and this nursery was my ultimate passion project. A year later, I still love every piece and every decision we made to design and decorate Eliza's room, but, if you're looking for a look for less, I've done my best to search high and low to bring in similar alternatives for a fraction of the price (and, I think there are some amazing dupes throughout the post!) From the 36″ mirror to the self-printed art and recycled photo frames, I still incorporated some easy-on-the-wallet moments. Also, this is a huge sale weekend. If you are looking for any of the exact decor/furnishings throughout the room, most of them are on sale and worth a peek 😉 Let's get into it.
Affordable Nursery Furniture & Look-Alikes
First, let's talk furniture. I had set reasons for everything I picked but the most asked about piece in the entire room is the mosaic double dresser. I decided from the start that I wanted a full sized, durable dresser that could stay with her for years to come (let's be honest, I kind of wish it was staying in my room for years to come haha). If you have the space (this thing is big), I 100% recommend getting a large dresser; not only does it provide a lot of changing space but it holds *all the things*. Because we open and close the drawers 167 times/day, it definitely gets a workout and I totally believe it has been worth paying more than Ikea dollars up front to get some longevity. While it isn't crazy expensive for what it is, it also isn't cheap. It did however sell out a few months ago and has yet to be re-stocked. Good news though — I found a similar mosaic double dresser for literally half the price! The legs and hardware are different but 1. I love the iron color and 2. it would be an easy paint/rub n' buff job.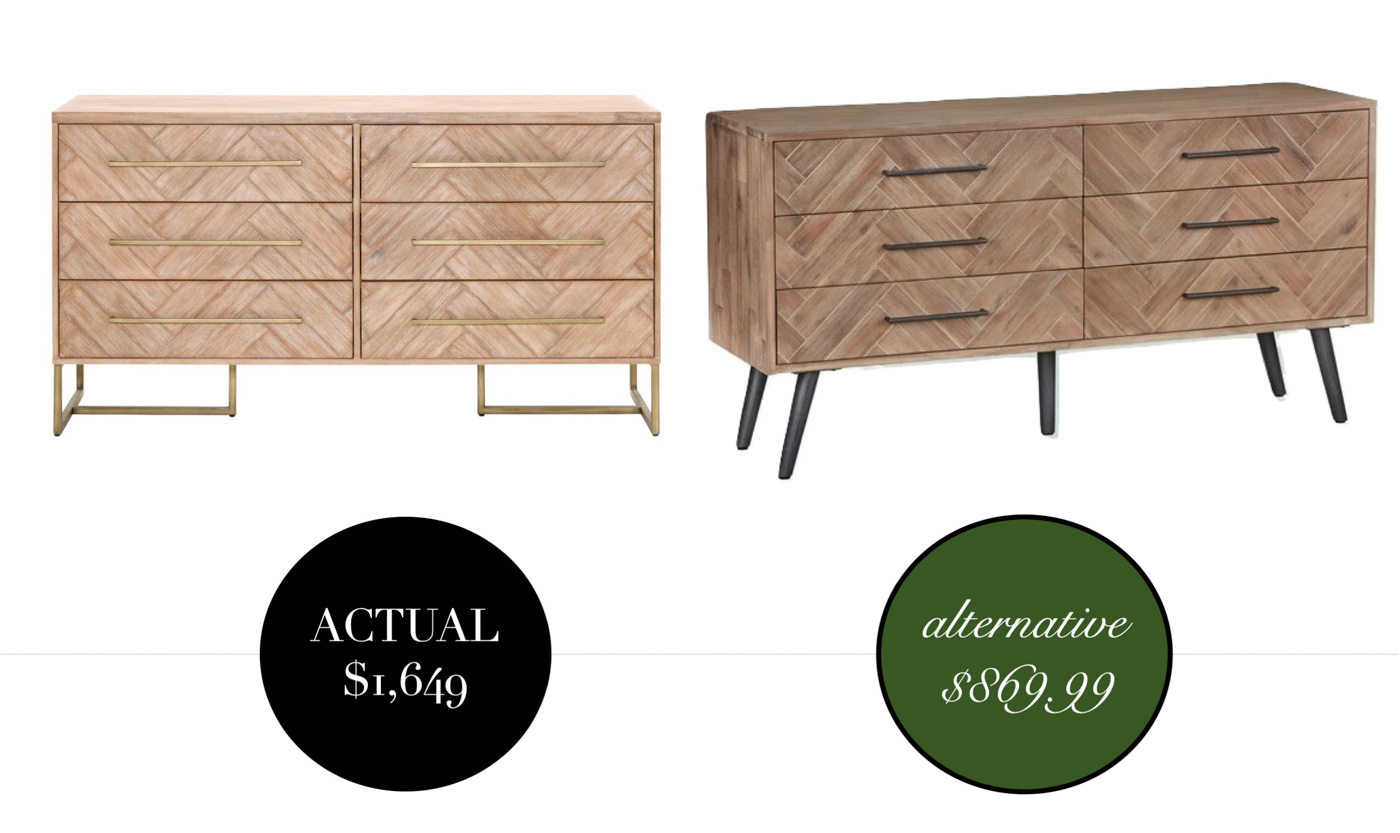 Actual Dresser // Alternative Dresser
If you're still set on the original, I actually did find our dresser, just in a lighter gray wash in limited quantities today. And, it's on sale for about $400 off. The metal is a brushed silver instead of gold but it looks beautiful (there are more product photos under the listing HERE.)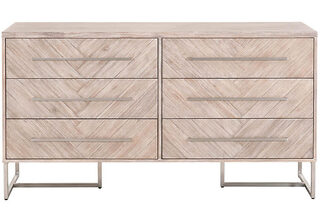 Actual Dresser in Gray Wash (on sale!)
I'll be honest, the extent of my rocking chair "research" was that I liked the look of the chair, I like that you can switch the base to chair legs later, and I wanted the Sunbrella fabric. That said, and while I do like this firm chair and it served as our dinnertime spot for months, I found an alternative for a way lower price (that also ships free!) As a note, the chair I have (HERE) is on sale this weekend.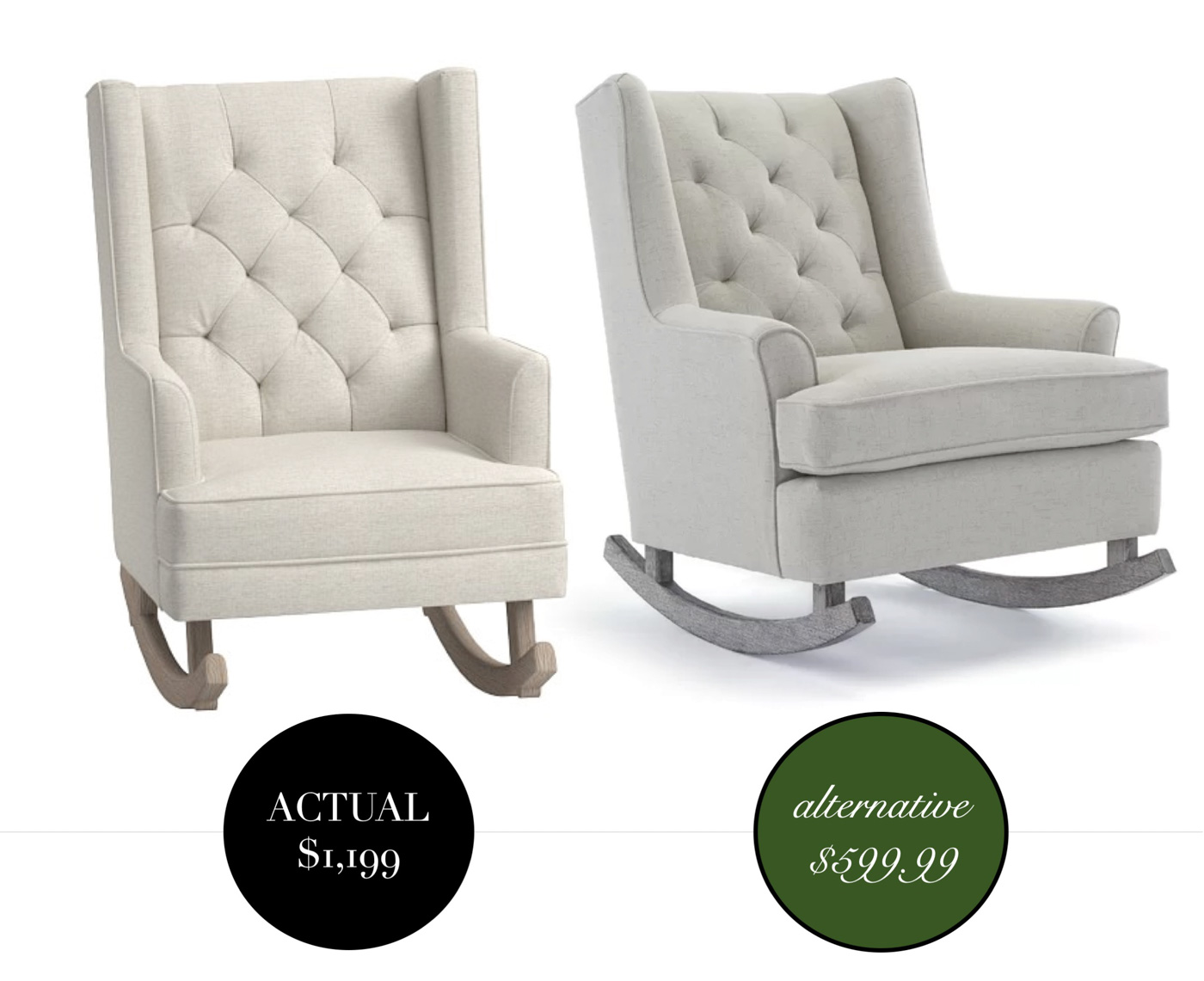 Actual Rocking Chair (Sunbrella Fabric — Pebble) // Alternative Rocking Chair
In my opinion, the crib was the biggest splurge in the room. But, I was dead set on that cane siding. In my mind, if we were designing a nursery for a gender we didn't yet know, that was a special detail that was non-negotiable haha. It does come with the convertible parts to transition to a toddler bed (if we go that route), it is so incredibly sturdy and solid, but it definitely has a high price tag. I found a similar one from PB Kids that has really similar lines, just no cane detail, for half the price. It still isn't cheap but it is on sale this weekend HERE.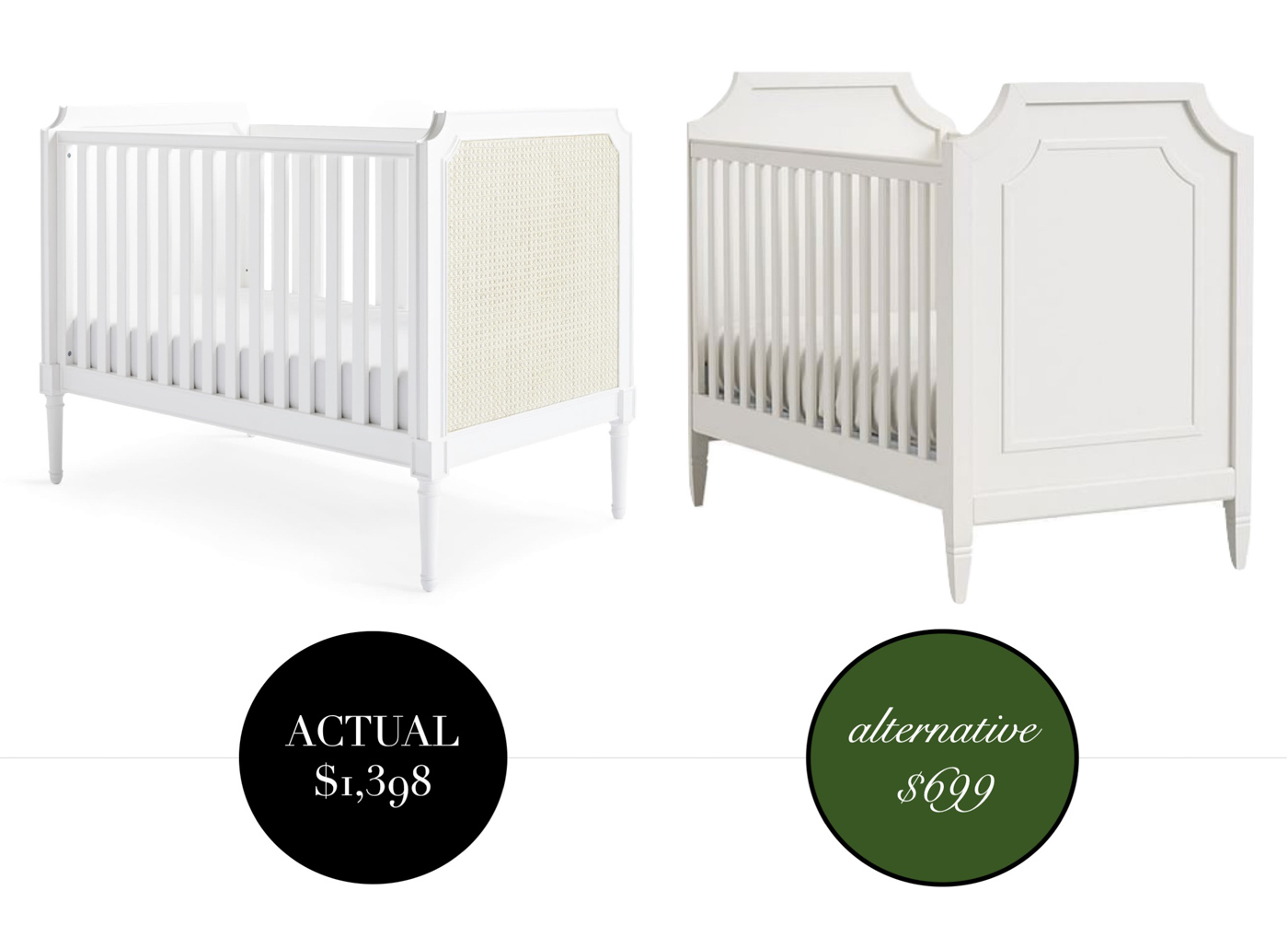 Actual Crib // Alternative Crib
If you are looking for a crib with character and don't have to have the cane detail though, I love this more affordable 3 in 1 with darling spindles for under $300. Plus, it ships for free and has almost 150 5* reviews.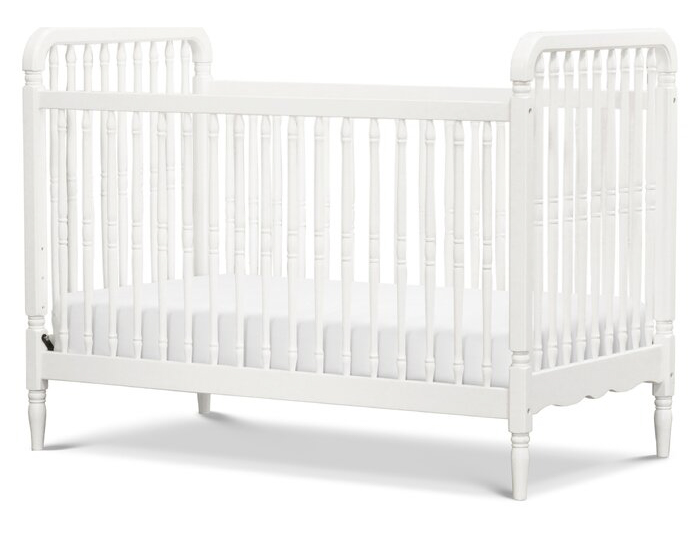 Our bookshelf (on sale this weekend HERE) is sturdy but basic. This would be an easy place to save some bucks; you could even experiment with some peel and stick wallpaper on the back of the book case! At $22, you can't beat the price for this budget friendly alternative HERE.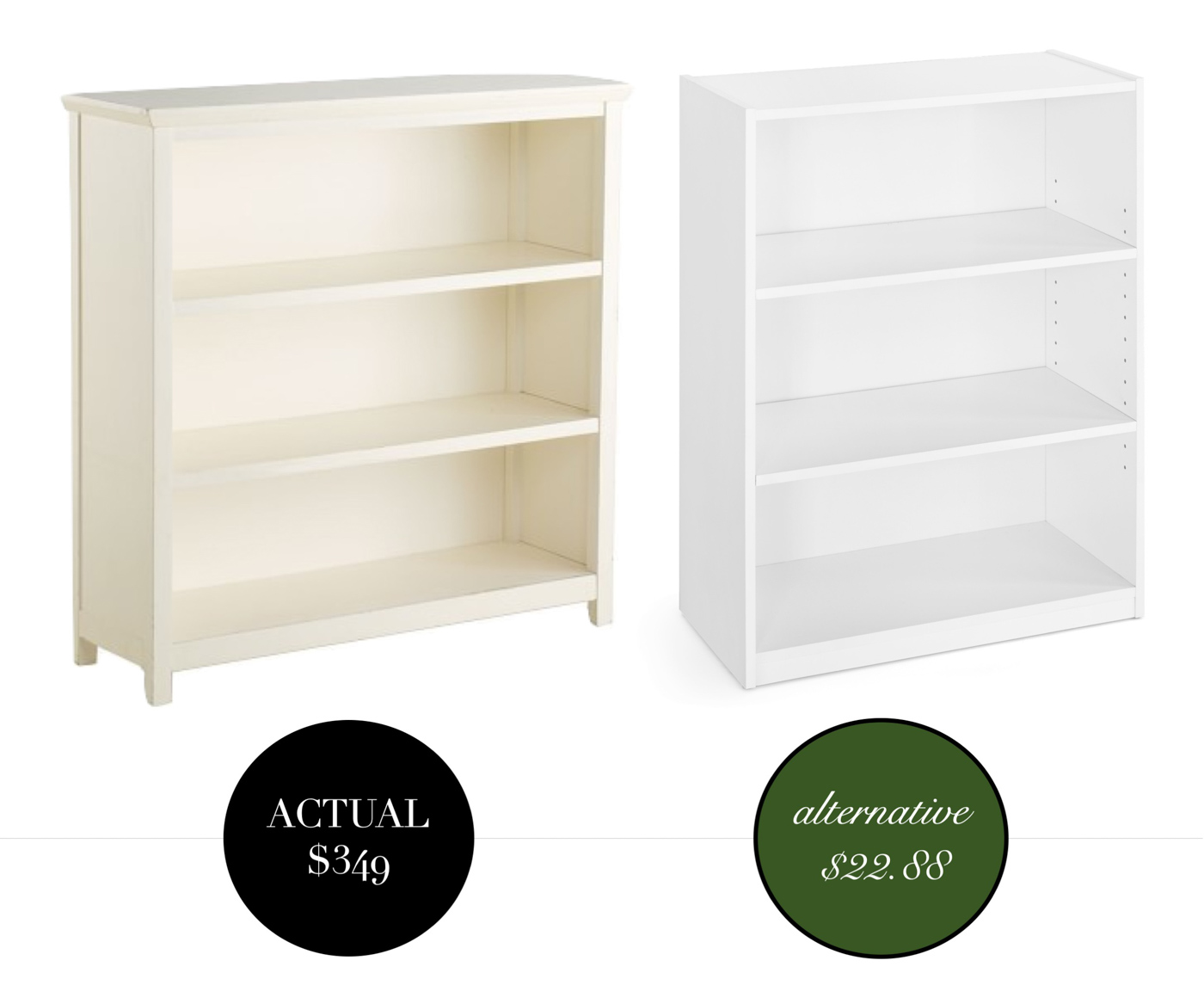 Affordable Nursery Lighting & Look-Alikes
I have several light sources throughout the nursery and I'm so glad I have something in just about every point of the room. I scored our rope pendant during a 30% off sale (watch for those!) but found a macrame globe pendant that totally gives the same vibes for 10% of the price! With either, you definitely need some good secondary light sources in lamp form 😉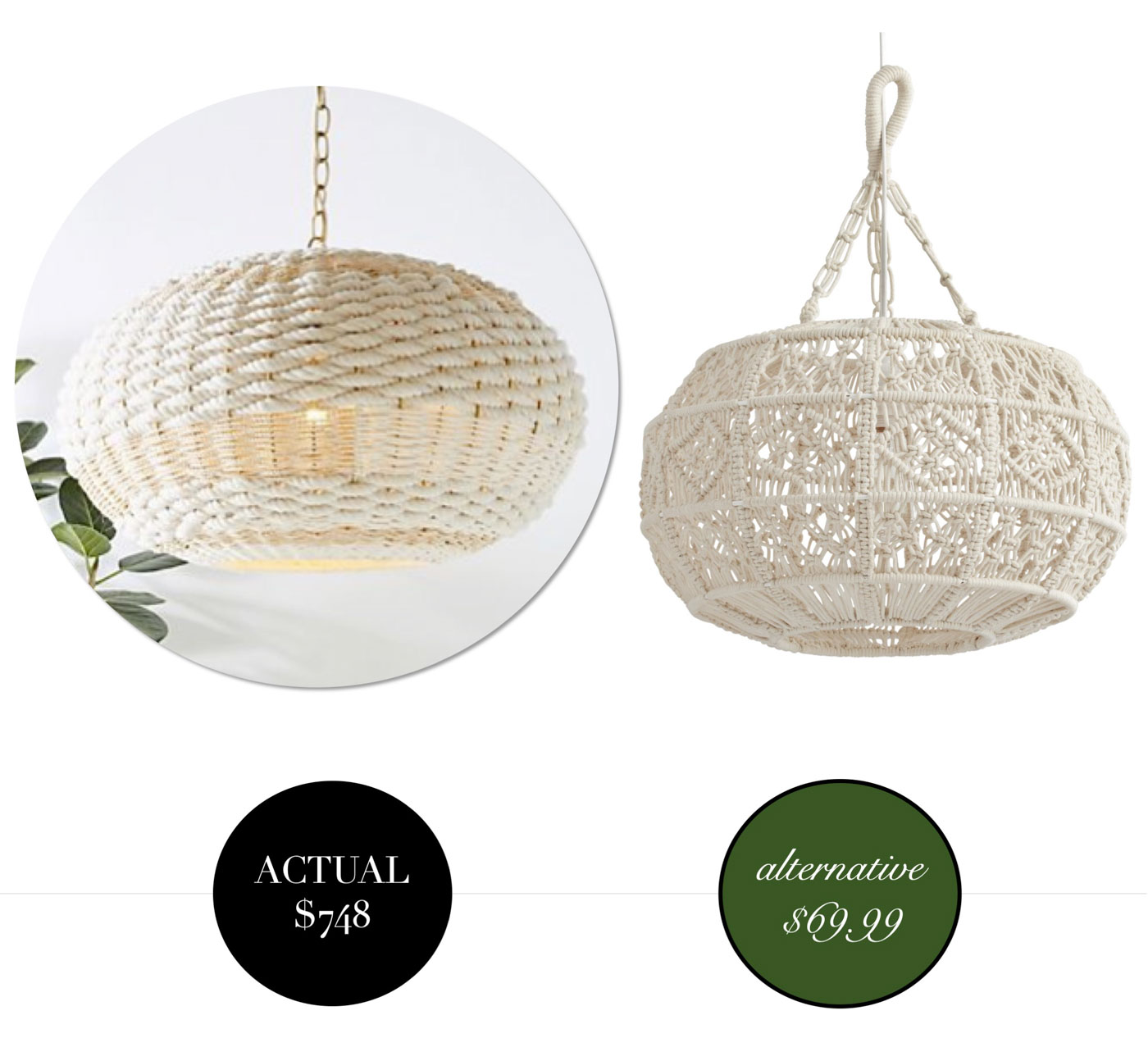 Actual Pendant Light // Alternative Pendant Light
This bubble lamp is so pretty in person but I found a Target alternative for 1/3 of the price — it's normally a little over $100 but is on sale for $85 right now.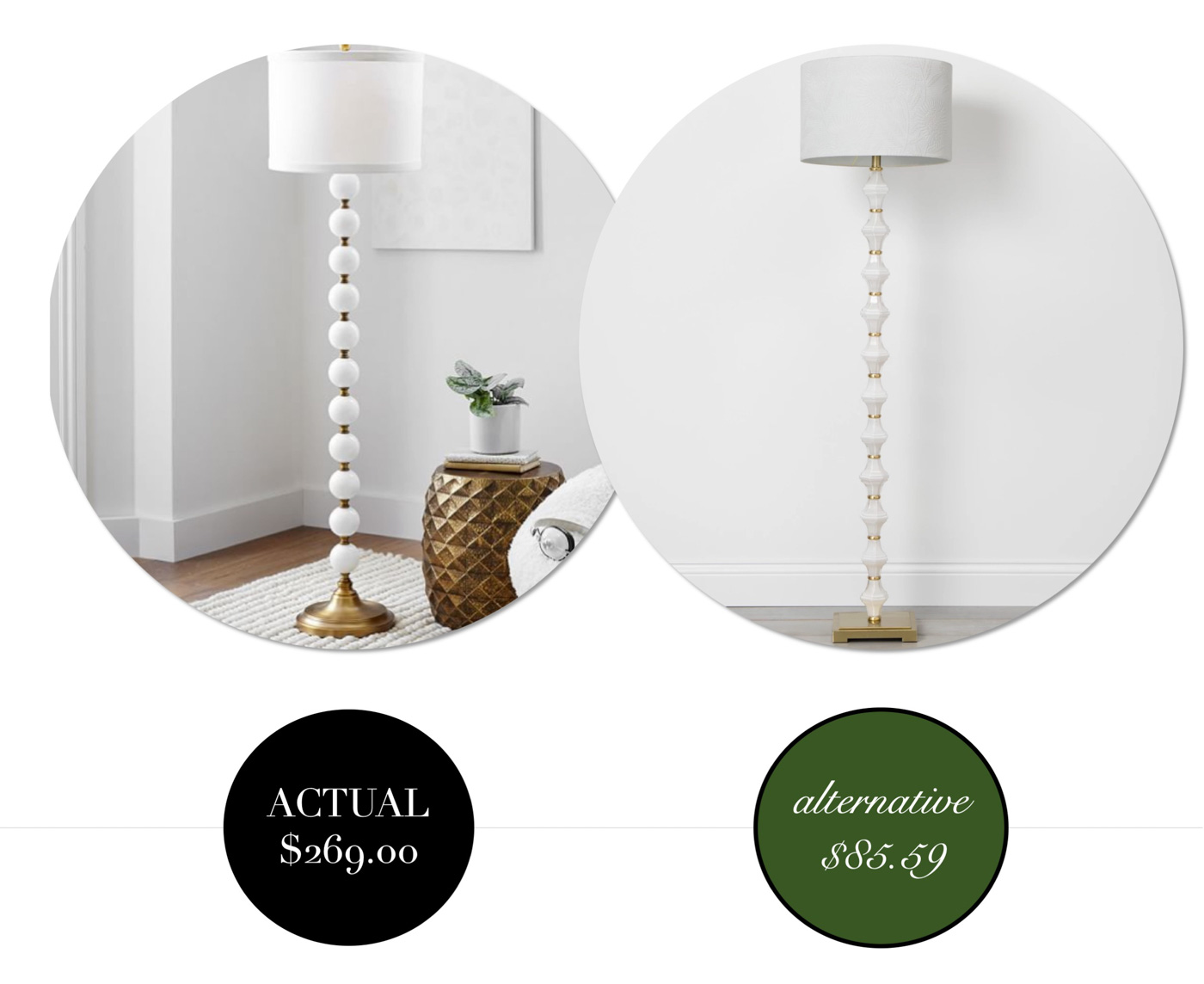 Actual Floor Lamp // Alternative Floor Lamp
I like the USB function of our the table lamp on the dresser (it's 34% off this weekend) but 100% honesty — I haven't used it a single time haha. I know I would if outlets in the nursery were more difficult to access or if it was on a nightstand but while I still love the look, I haven't gotten any use of the feature that was one of my main selling points. This lamp actually comes as a pair for less than half the price of one of the USB lamps I have!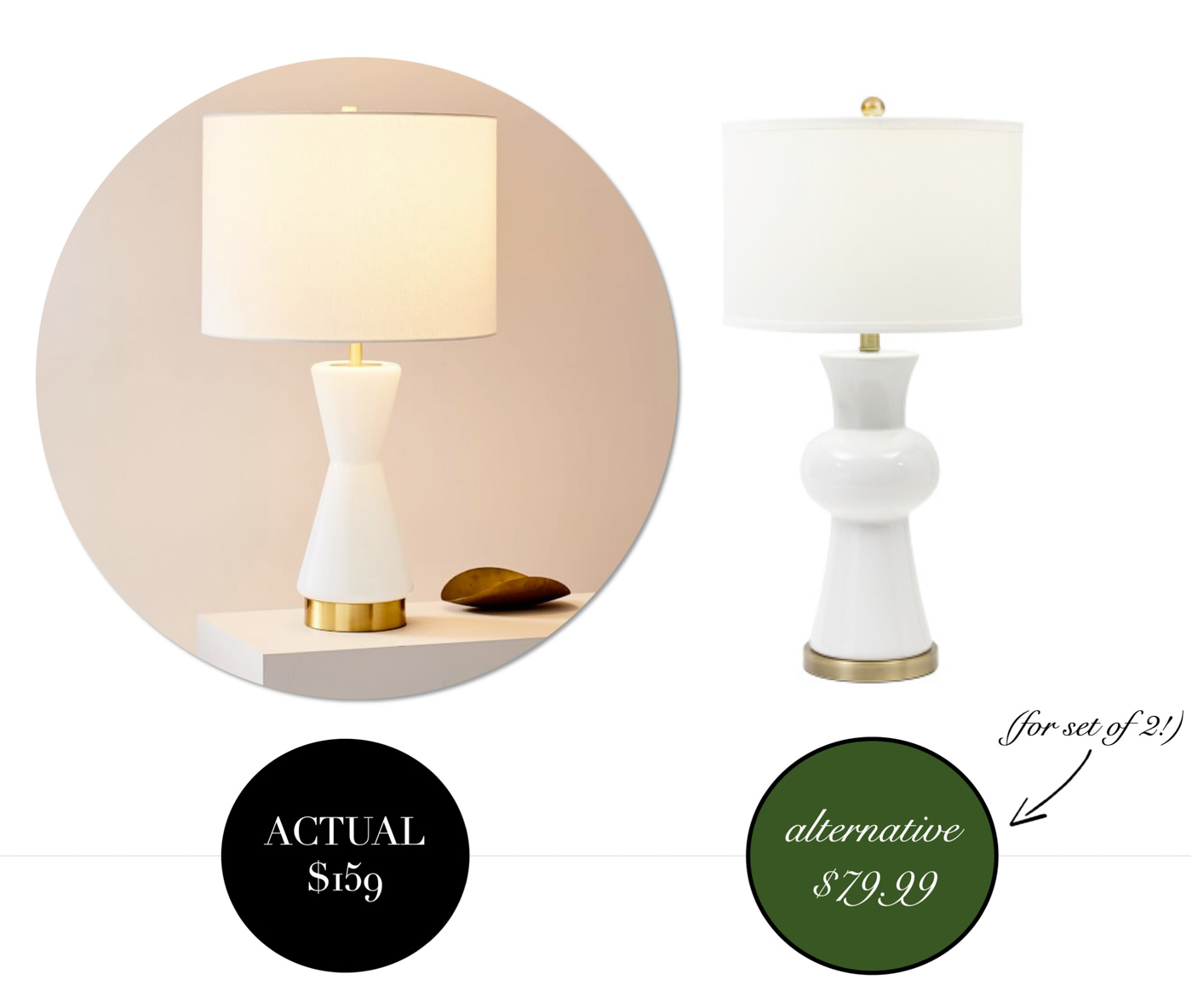 Actual Table Lamp // Alternative Table Lamp *now out of stock- check back for re-stock. Also available HERE for more*
Affordable Nursery Decor & Furnishing Look-Alikes
A lot of you have commented on the rug (mine is 5'x8′) and it's actually a rug I had in a different room, long before we had a nursery. It is pretty but I also have the alternative rug (in my master bedroom) and for the price, it's a dang good deal.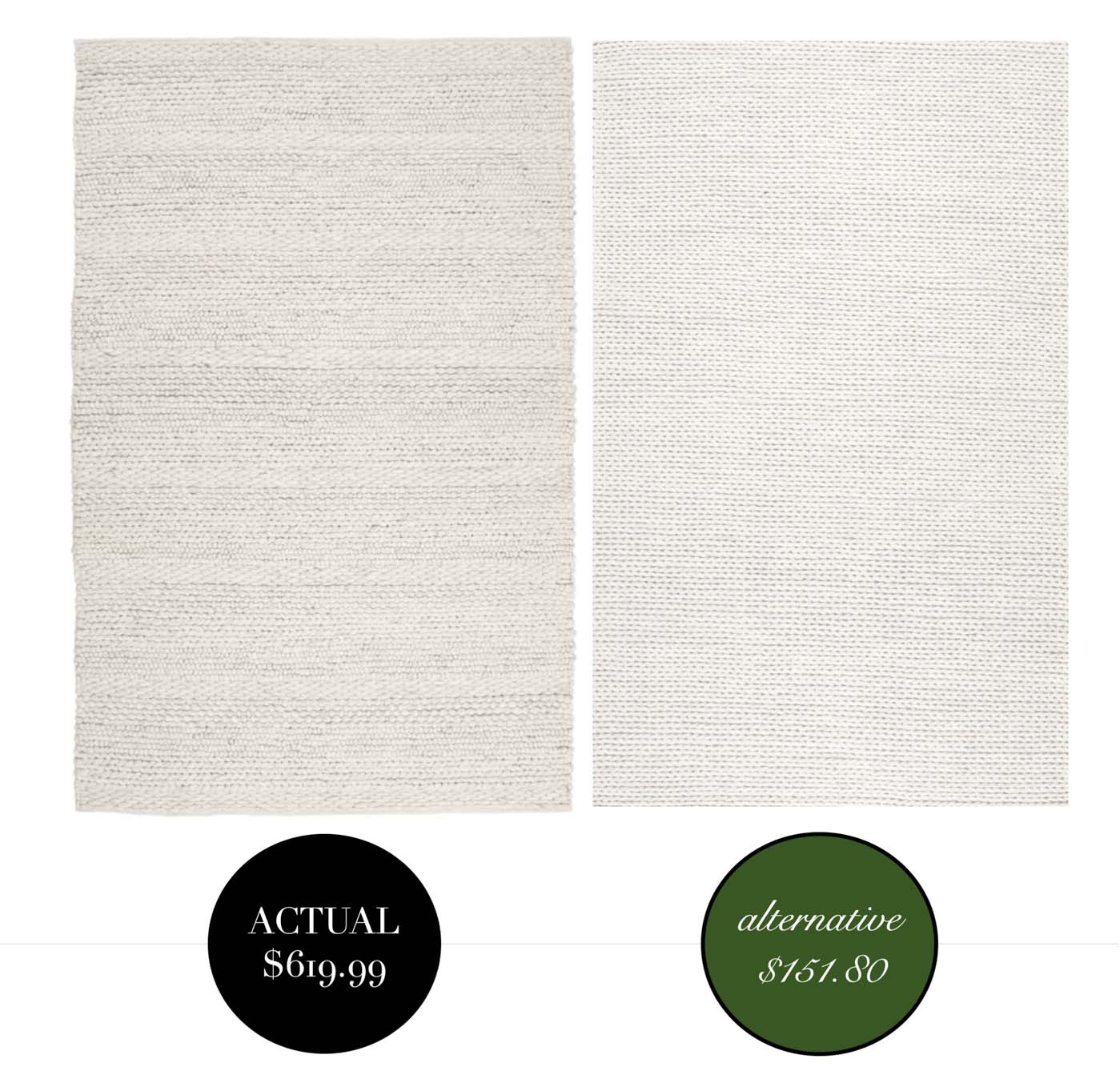 Actual Rug (5'x8′) // Alternative Rug
Incorporating plants — both real and faux — have given life to our creamy, neutral nursery. I love our fiddle leaf fig ($60 off this weekend) in the corner to take up some visual space (and also to pique Eliza's interest a little since we are mobile-free). While I can't speak to the quality personally, I found another 6′ fiddle leaf fig option for a lot less HERE (actually on sale right now for $68!).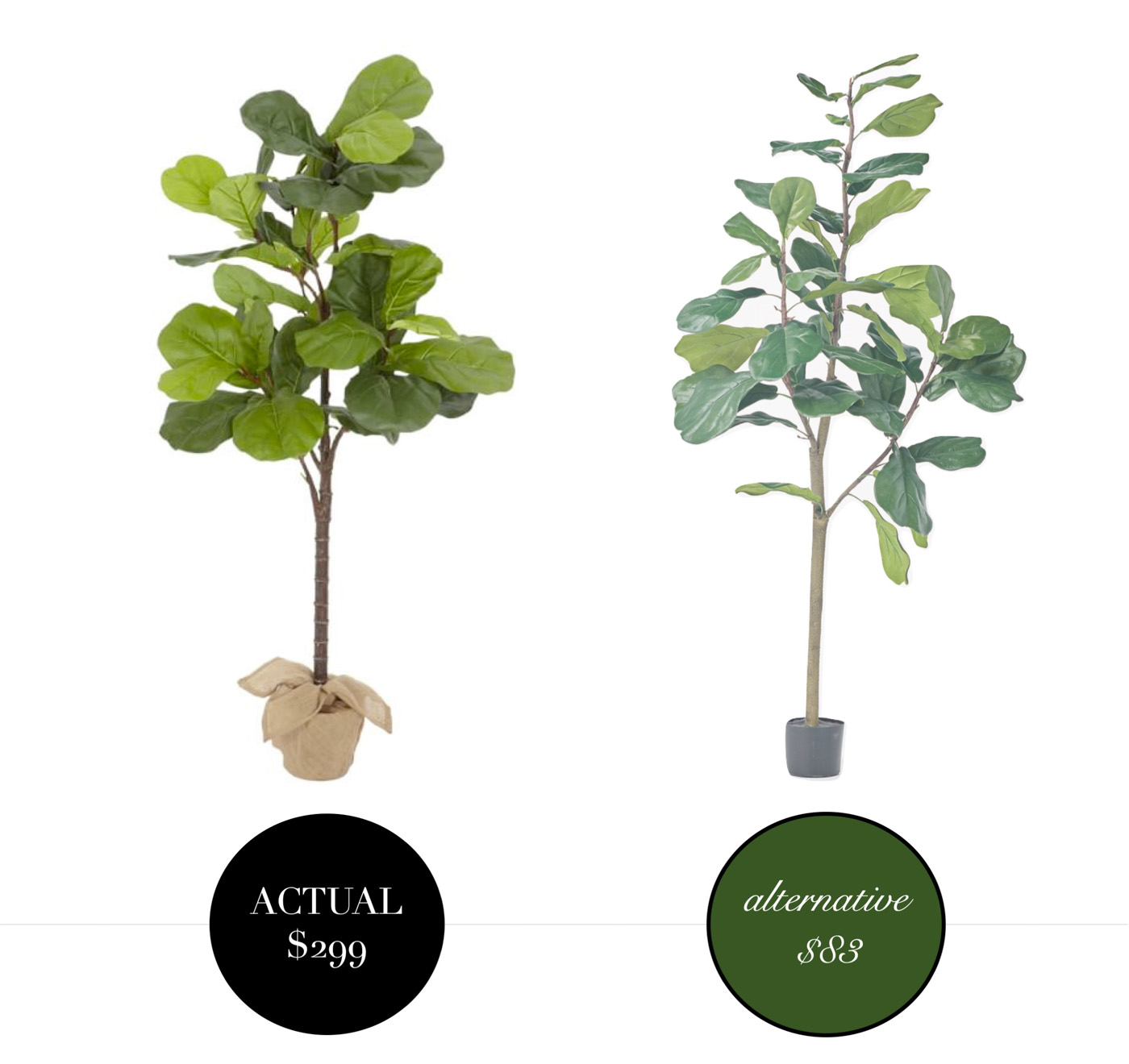 Actual Faux Fiddle Leaf Fig (6'9″) // Alternative Fiddle Leaf Fig
The Etsy shop in which I had Eliza's framed lyrics made has closed (dang it!) but I'm sure there are good alternatives (here's a search HERE). The warm brass of the super thin frame is beautiful but I also have the alternative in our downstairs bedroom for a fraction of the price HERE. The price has already dropped from $34 to $39!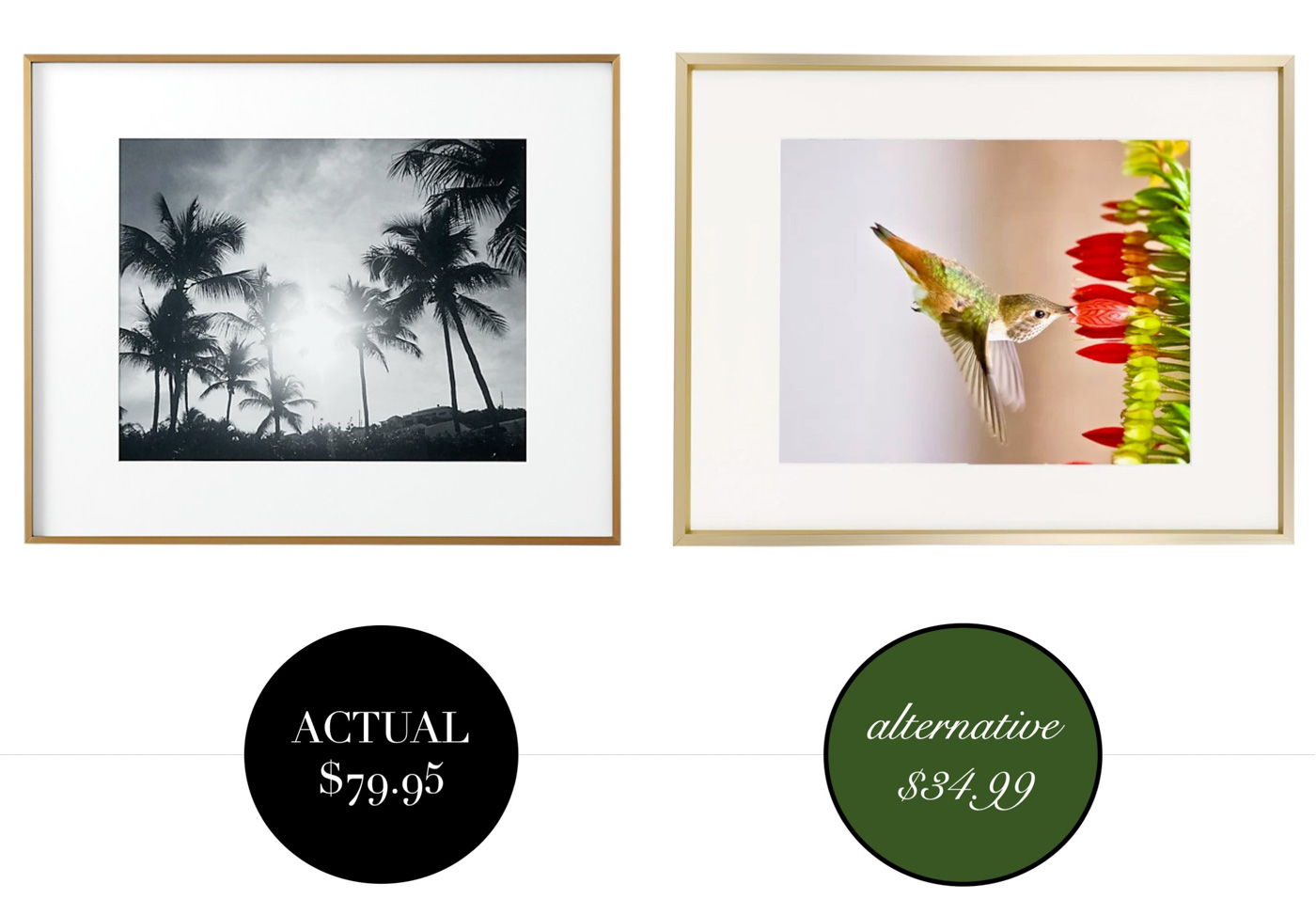 Actual Gold Frames  // Alternative Gold Frames (most recently $29!)
I adore the detail of our macrame crib skirt but I sourced an Etsy maker that has a similar detailed skirt for more than $30 less HERE!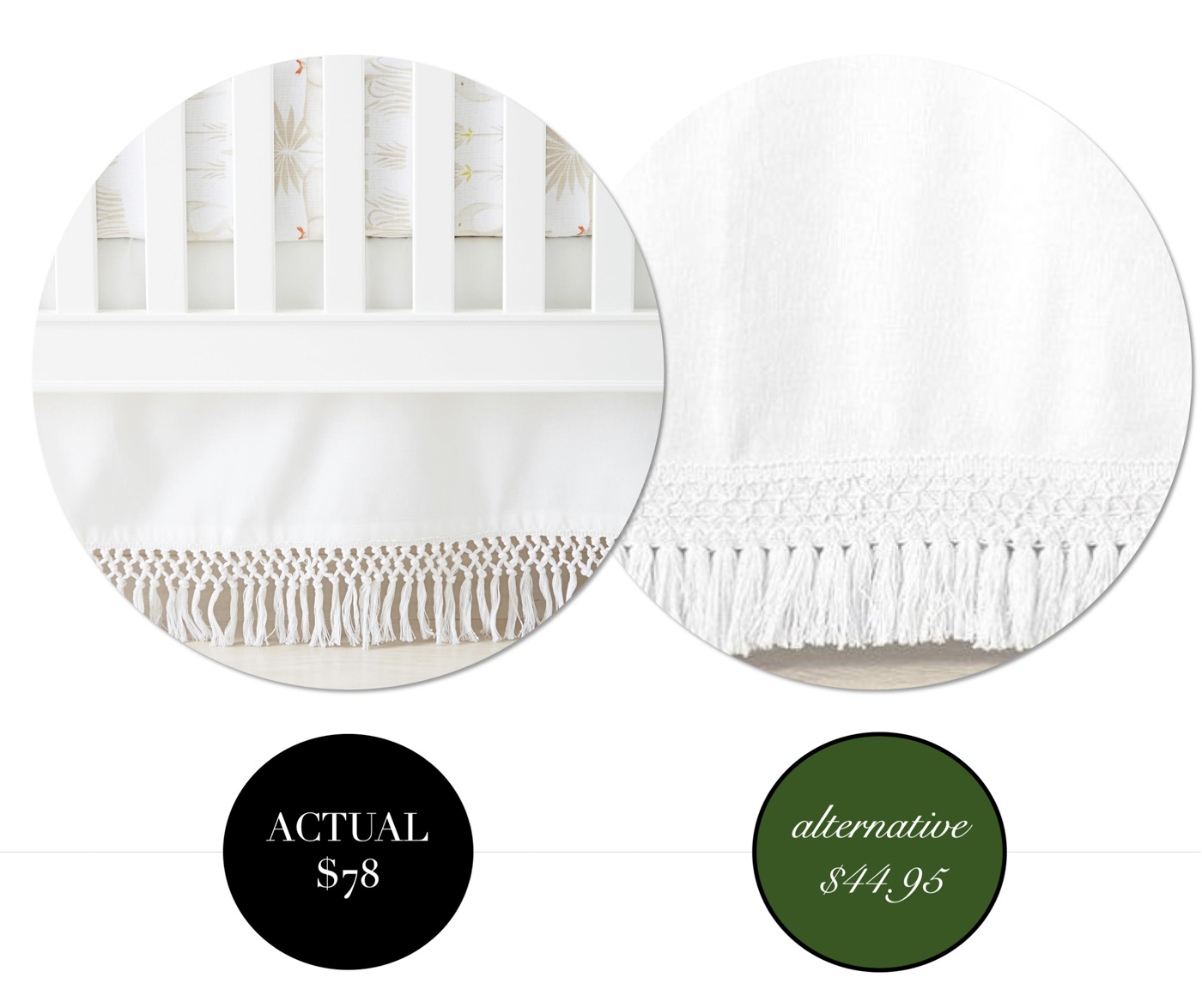 Actual Macrame Crib Skirt // Alternative Macrame Crib Skirt
From deals on have-t0-have-it splurges to the more affordable nursery furniture and decor, you can mix and match and layer all the high and low to your heart's content and deliver a beautiful space that looks like a million bucks. Whatever you do, make it personal to you. Put your creativity to work! I hope posts like this help show that looks are attainable beyond exact item replicas and I'll be searching, sourcing, and sharing more of these posts in 2020. Be sure to subscribe to emails HERE to catch what's next!
Posts You May Also Like…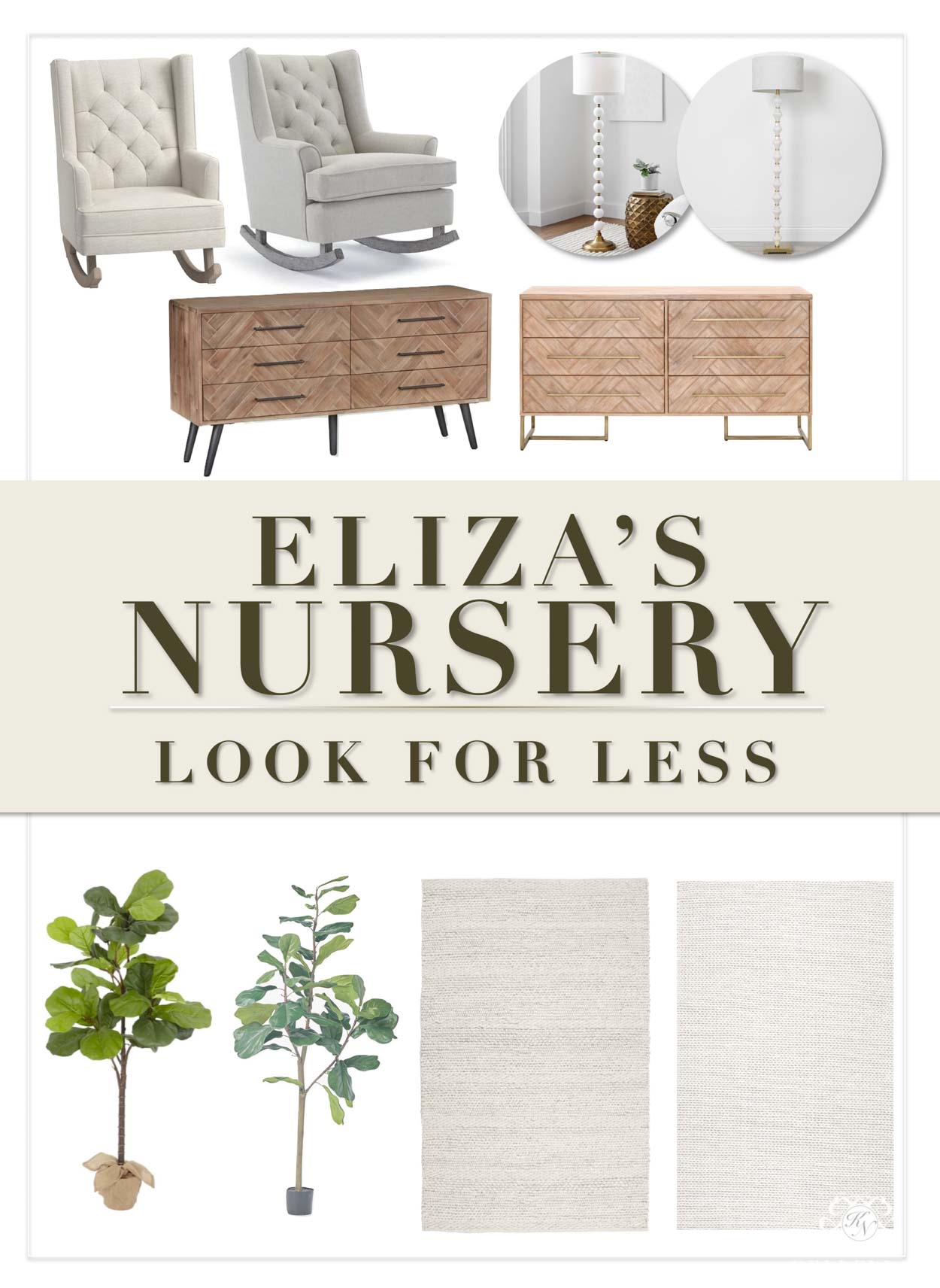 Room Sources & Alternatives