As of yesterday morning, I still didn't know if I would meet my own deadline, but here I am, coffee in hand, determined to get things wrapped up to welcome you in for my 2017 Christmas Home Tour. I actually missed my "start decorating for Christmas (complete with a holly doodle)" reminder date in my planner since I was on back to back to back trips and in the middle of multiple room makeovers (friends, don't EVER let me do that again right before the holidays!). But, December hasn't even started yet and we are finally and officially in perfect-for-Hallmark-movie-marathons twinkle light Heaven. In the weeks leading up to today, some days I imagined our home full-on resembling Santa's workshop; on less ambitious days, I conceded to likely having a tree, some plaid cocktail napkins and calling it "good" haha. Well, it may not be the North Pole, but after literally saying "Done, except for just a few things" prior to our Thanksgiving trip and then walking in the door after our trek home to more than two more full days of decorating, on a scale of "winter wonderland to Charlie Brown", I feel good about saying we are closer to the former 😉 We've got champagne, wine and other Christmas color schemes and some first-year themes for our home.
One last thing before we even head through the front door. Remember last year's tour? Keep in mind that I did not run out and buy all new decor this year. I am always asked if I buy all new each year. Even with my own site, no, I don't. Some things you may quickly recognize, others you may notice re-purposed in different areas, some things may be absent and others reconfigured in a fresh way. I did a little tree filler shopping but we'll talk about that in just a few. Let's get you in from the cold balmy temps that I thought we had escaped.
Note: a full room source list and details is provided at the bottom of the post. 
*Posts on KelleyNan.com may contain affiliate links. Click HERE for full disclosure.*
LET'S GET STARTED! COME ON IN
Y'all, we now have two years' worth of post-Christmas purchased lights and small wreaths for outside, but we have yet to actually use them haha. I actually forgot until I saw them in a dark corner under a pile of pillows in the basement (I'm pretty sure Dave tried to bury them there to make me forget about all our previous, well intended Clark Griswold plans). I'm going to share some porch and outdoor holiday pretties on December 11, so maybe I'll pull something out of my hat and surprise us both by then 😉 But, by far (I've shared this before and I'll share it again!), the easiest and cheapest way to add some Christmas cheer on your porch is to swing by your local hardware/home improvement store (local Christmas tree lots may do the same or they may re-purpose and charge). I go to Lowe's and they keep a big bin of all the tree clippings, free for the taking. I mix mine with some faux pine and berries but there is so much you can do with those fresh clippings (think mantel, table decor, light fixtures…) I also get this question a good bit – I fill my urn bottoms with bricks. It gives good height to clippings and good drainage for my flower pots.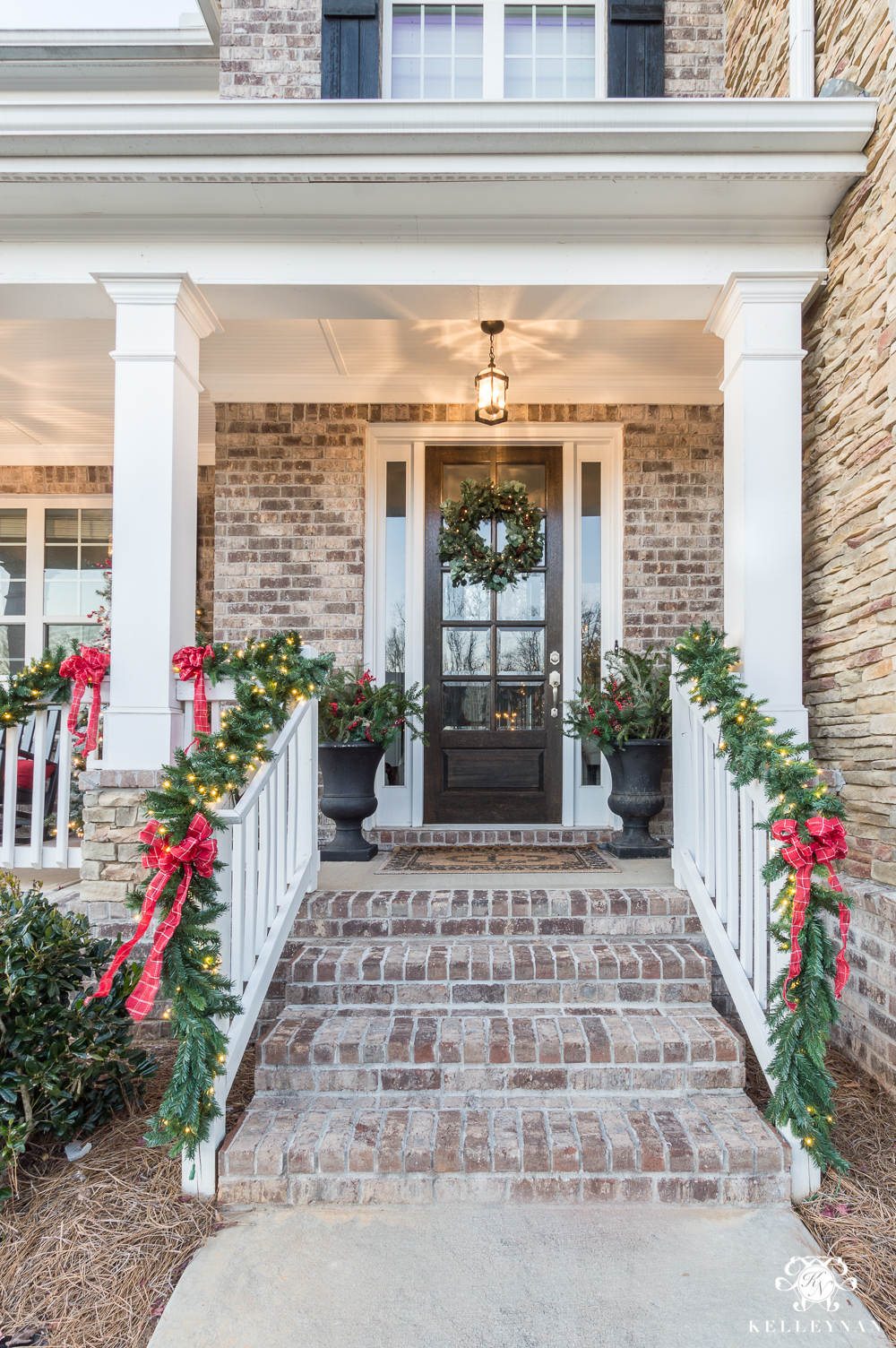 ---
GET THE LOOK | SCROLL & TAP

---

One year, I added live greenery draping from the tops of my cabinets. It was pretty but with thin cabinet molding, it got in the way every time we opened a cabinet door (read: we knocked dried branches all day, every day, and made a big 'ol mess). I learned my lesson and tend to keep it simple now. 😉 I have a few "moments" happening in here but pretty much prefer to let my treats and more Christmasy entertaining pieces bring in the holiday vibes.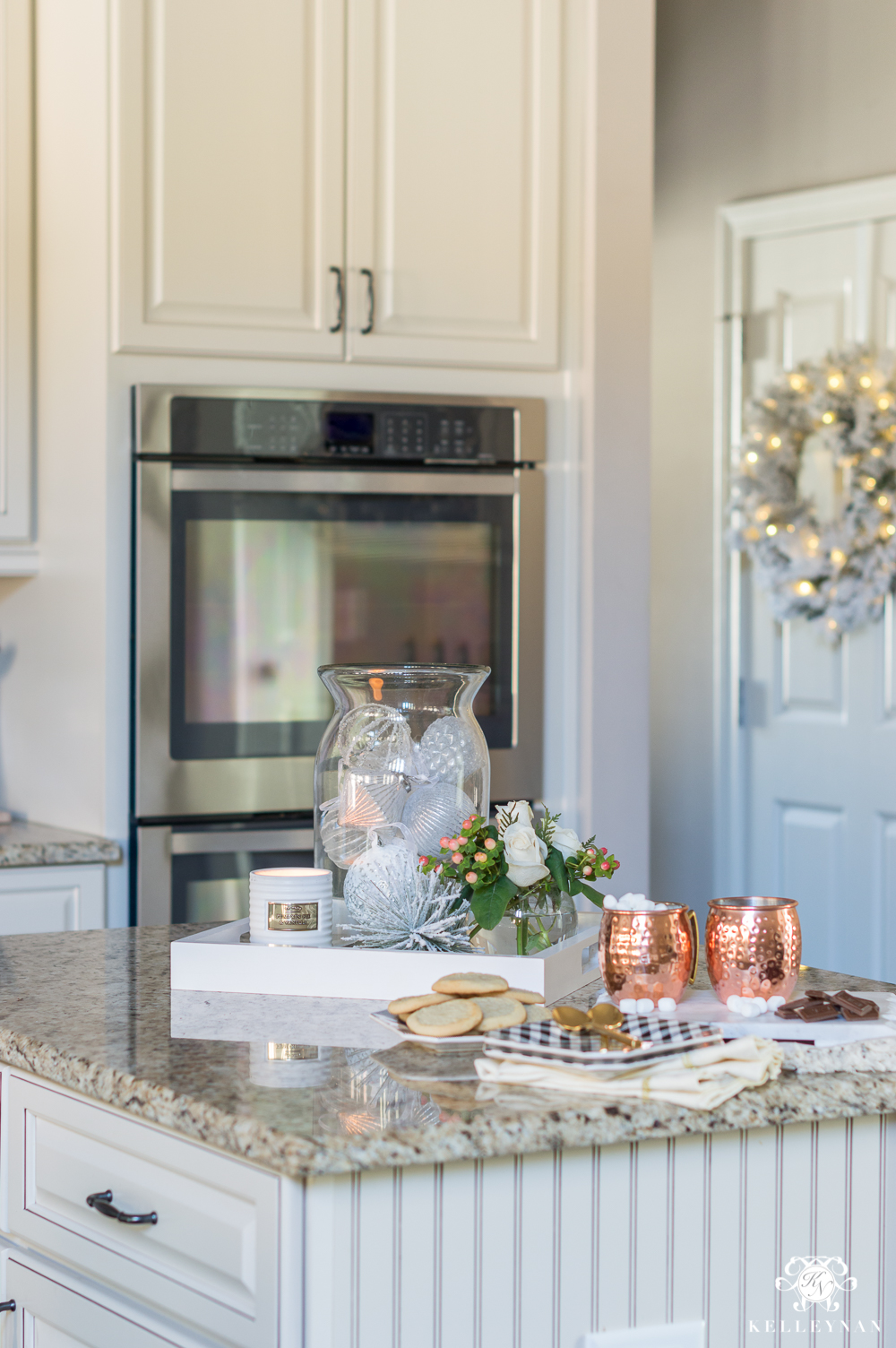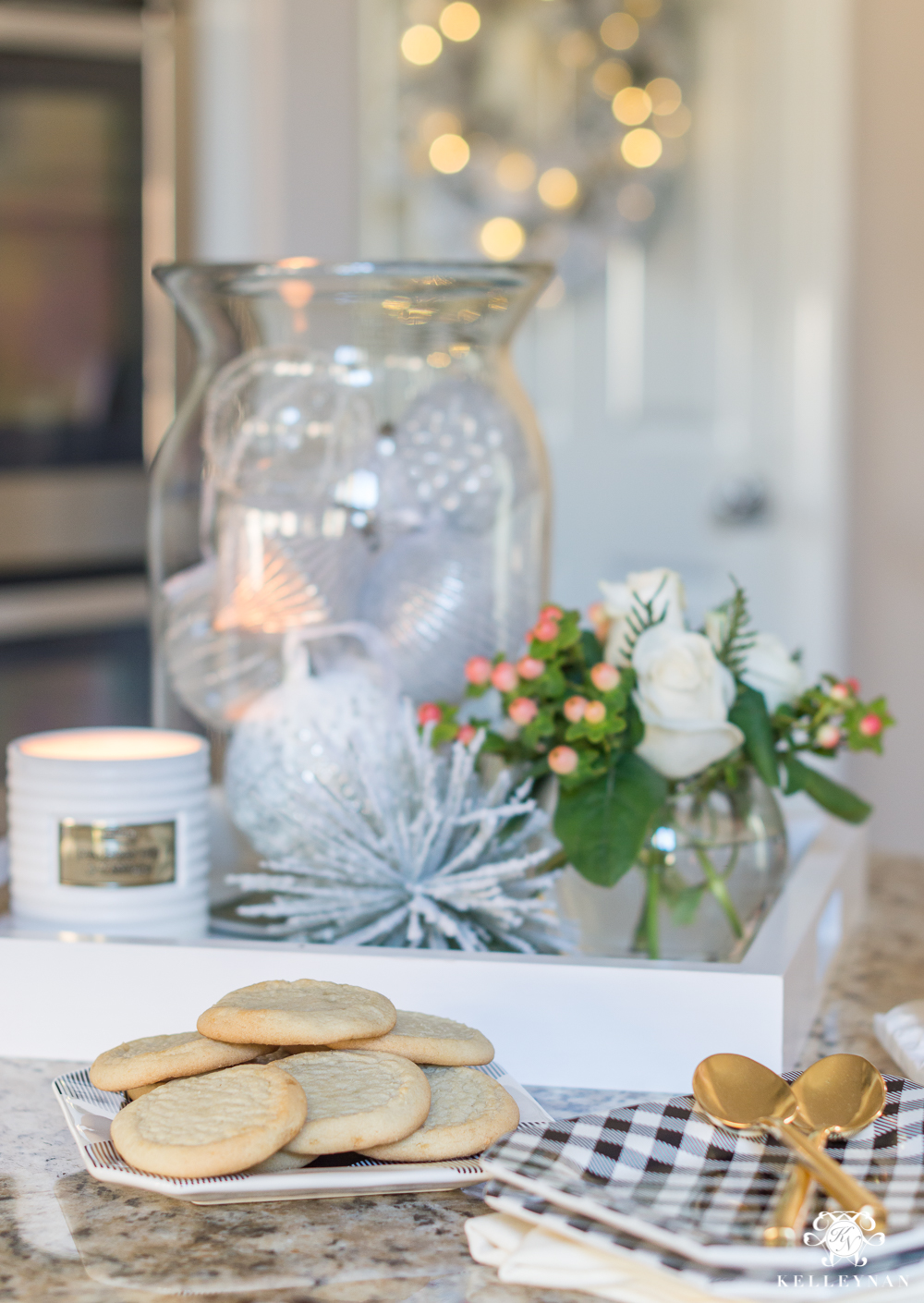 These buffalo check and gingham plates are perfect year-round (I received them as a gift). In the summer, they scream "picnic!" and during the holidays, "cozy plaid!".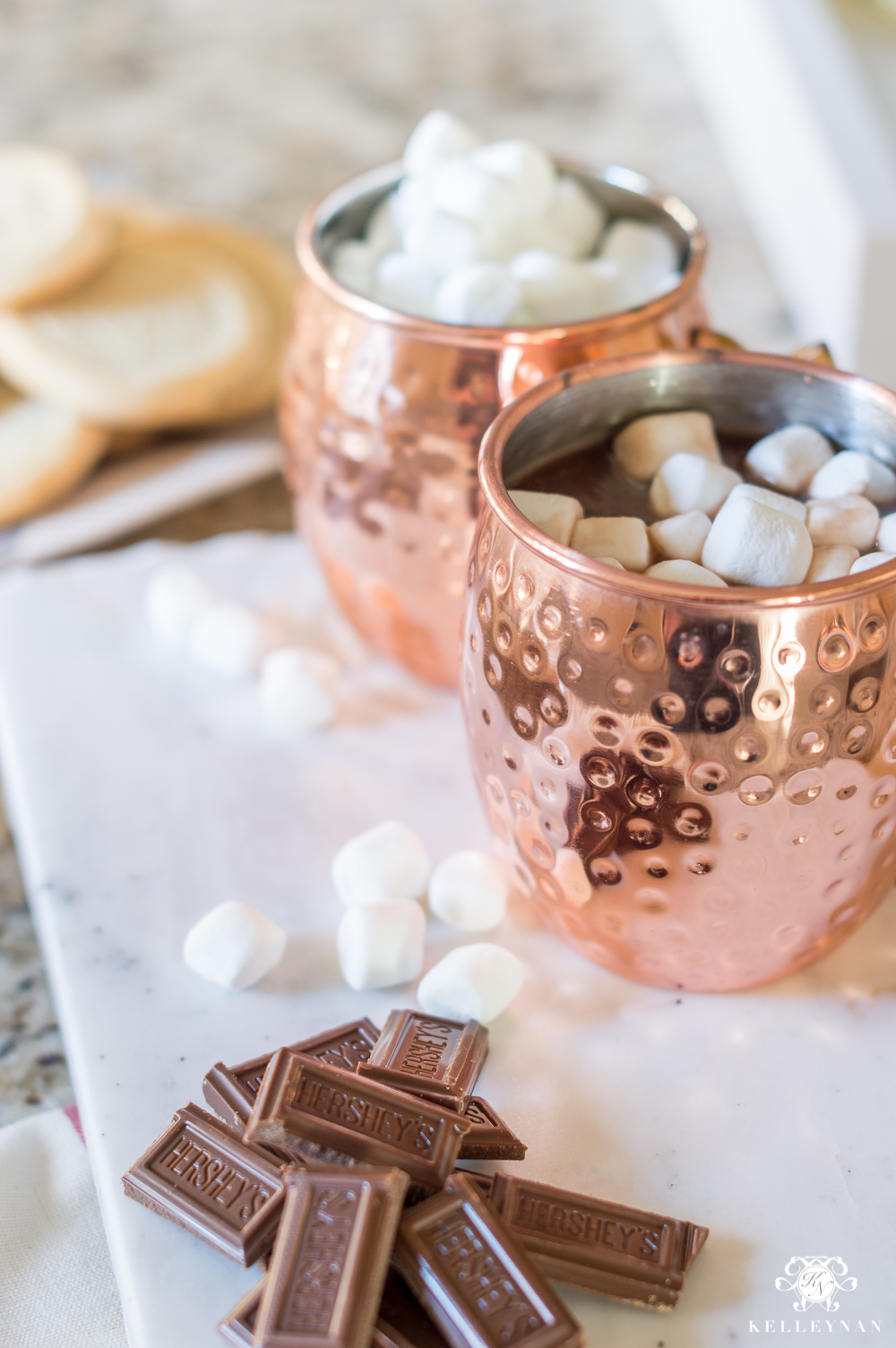 You don't even have to set up an entire hot cocoa bar; you can bring out some copper mugs and keep them displayed and ready to go on a tray. You could even set an apothecary jar, filled with marshmallows, next to your holiday mugs without going "all out". We also frame our Christmas cards to display during Christmas 😉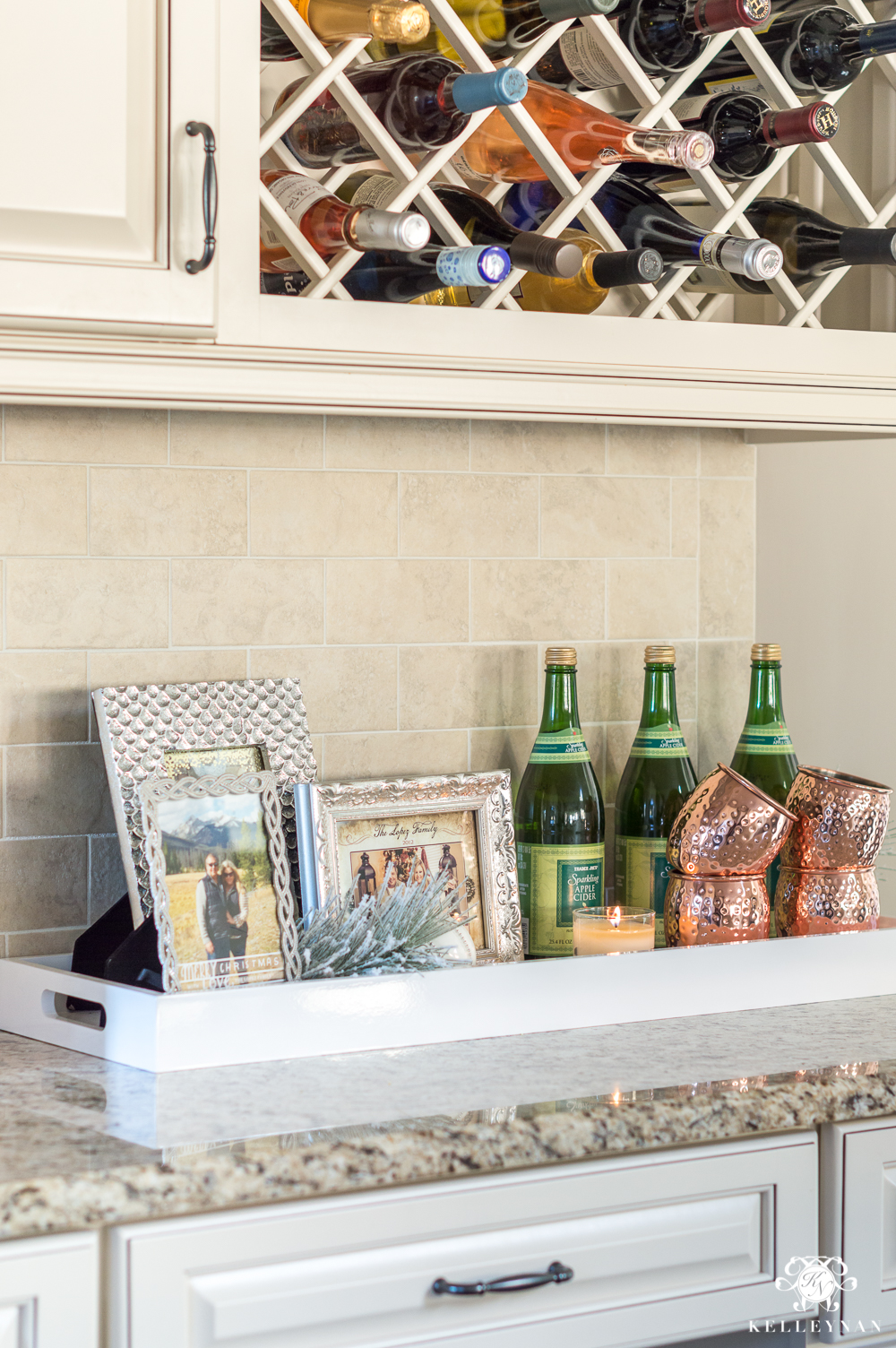 ---
GET THE LOOK | SCROLL & TAP

---

The adjoining breakfast nook ended up being a happy little accident. I always get live garland (from Costco) to mix in with the faux for the banisters and mantel and then trim the more drapey cedar limbs to adorn the little chandelier in here. I went to the grocery store at 6 a.m. the other day in search of some flowers to pull together a winter mix centerpiece for my little wooden planter (I have the medium). I struck out but they had a ton of poinsettias in every size. They didn't have any white though and while I did bring some red into our home this year, "poinsettia red" was a little too vibrant. I settled on this peachy shade and just love her!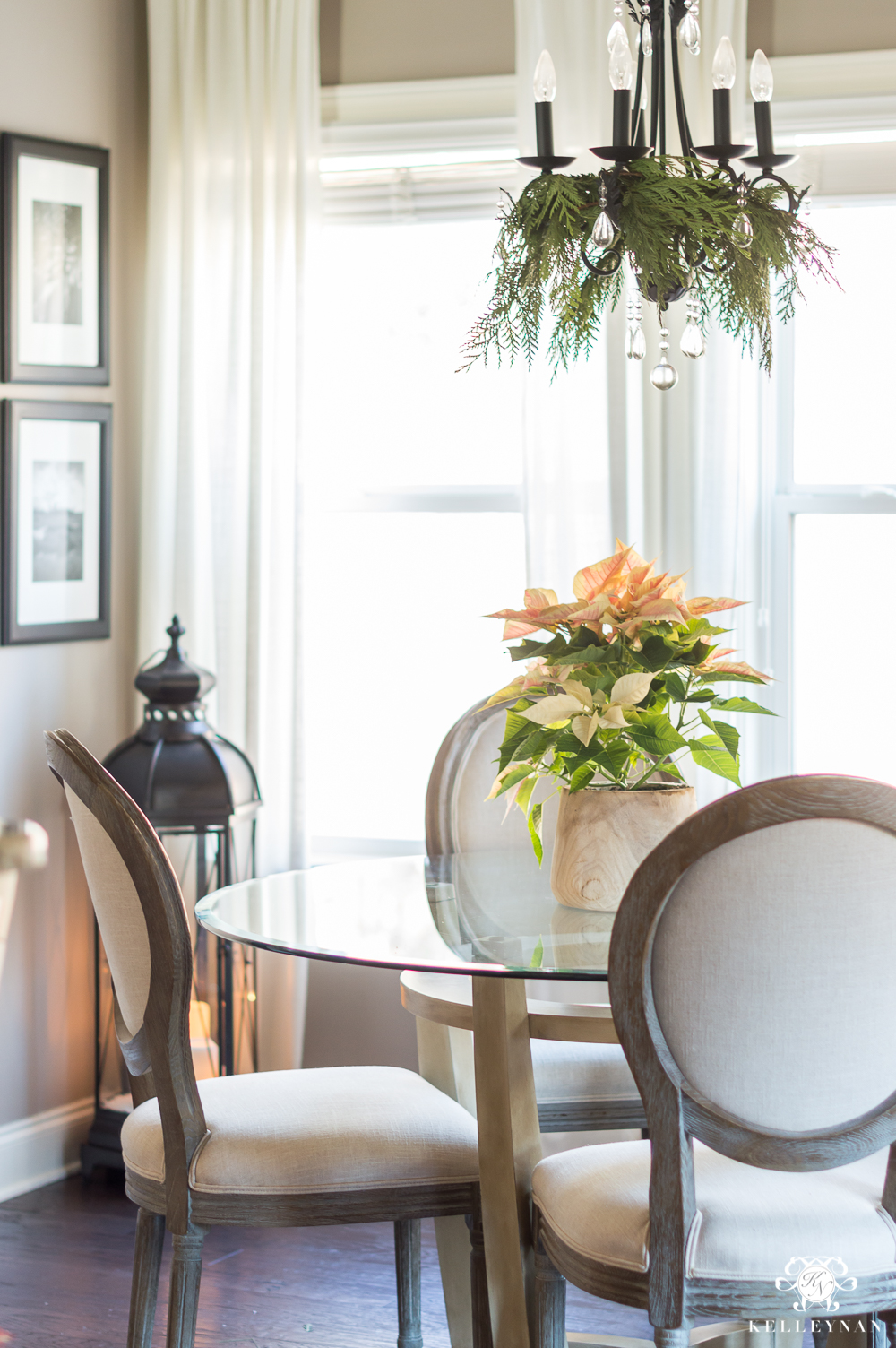 Sometimes I fill these oversized lanterns (from ZGallerie several years ago and no longer available :/) with ornaments and garland, but kept them simple this year with some faux snow and pillar candles.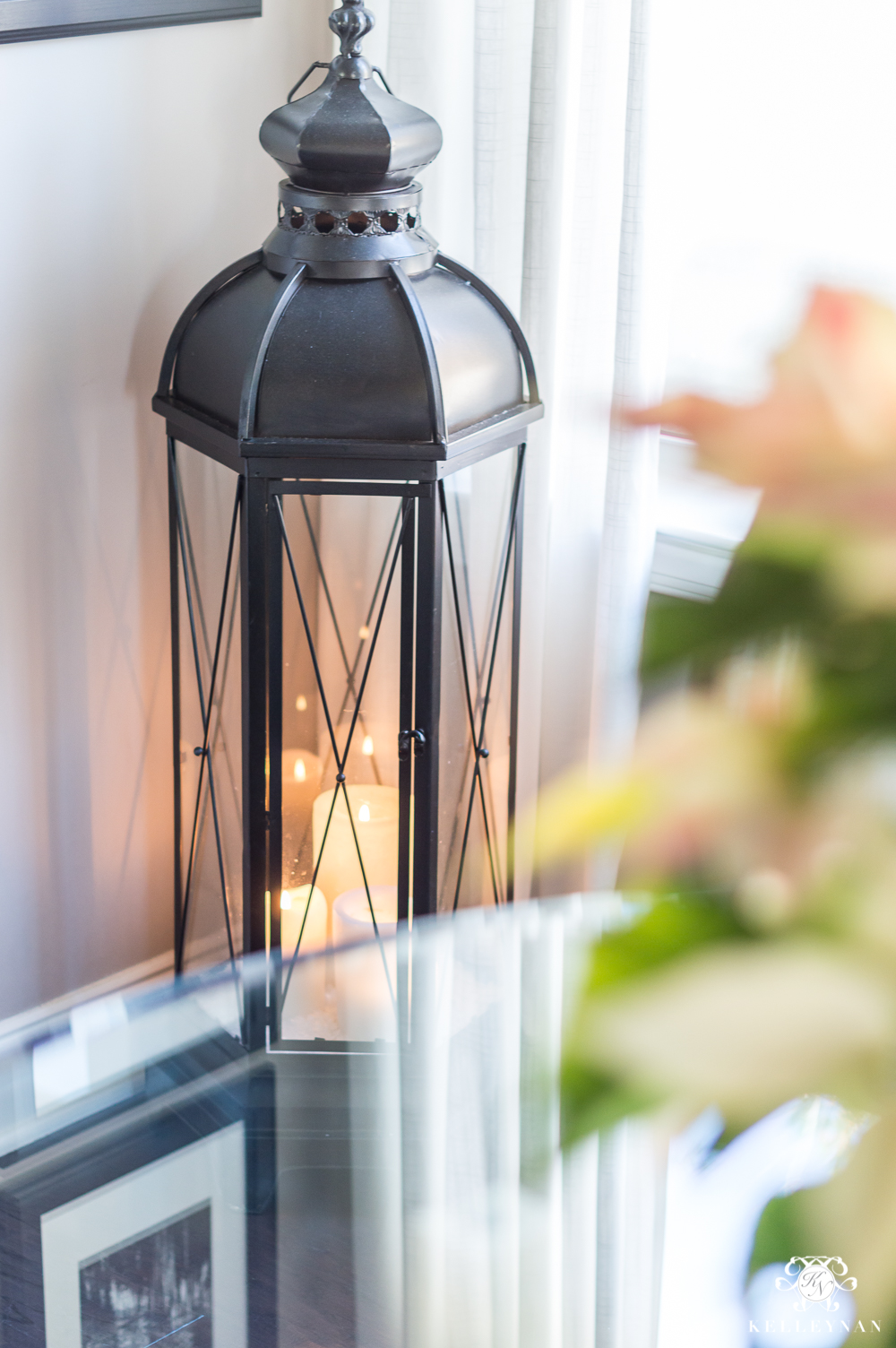 Here's what initiated the "happy accident". When I was pulling all of our Christmas decor out of boxes, I was trying to go lighter in areas and change things up from previous years. I realized I had all these cone and bottlebrush trees without homes and gathered them to to take inventory on my breakfast nook buffet. It wasn't planned but I kind of liked how they looked, all clustered together in a mini forest. I went back and forth between "how cute!" and "oh my word, this is obnoxious" before pulling a couple, reconfiguring, and adding a thin strand of twinkle lights for whimsy.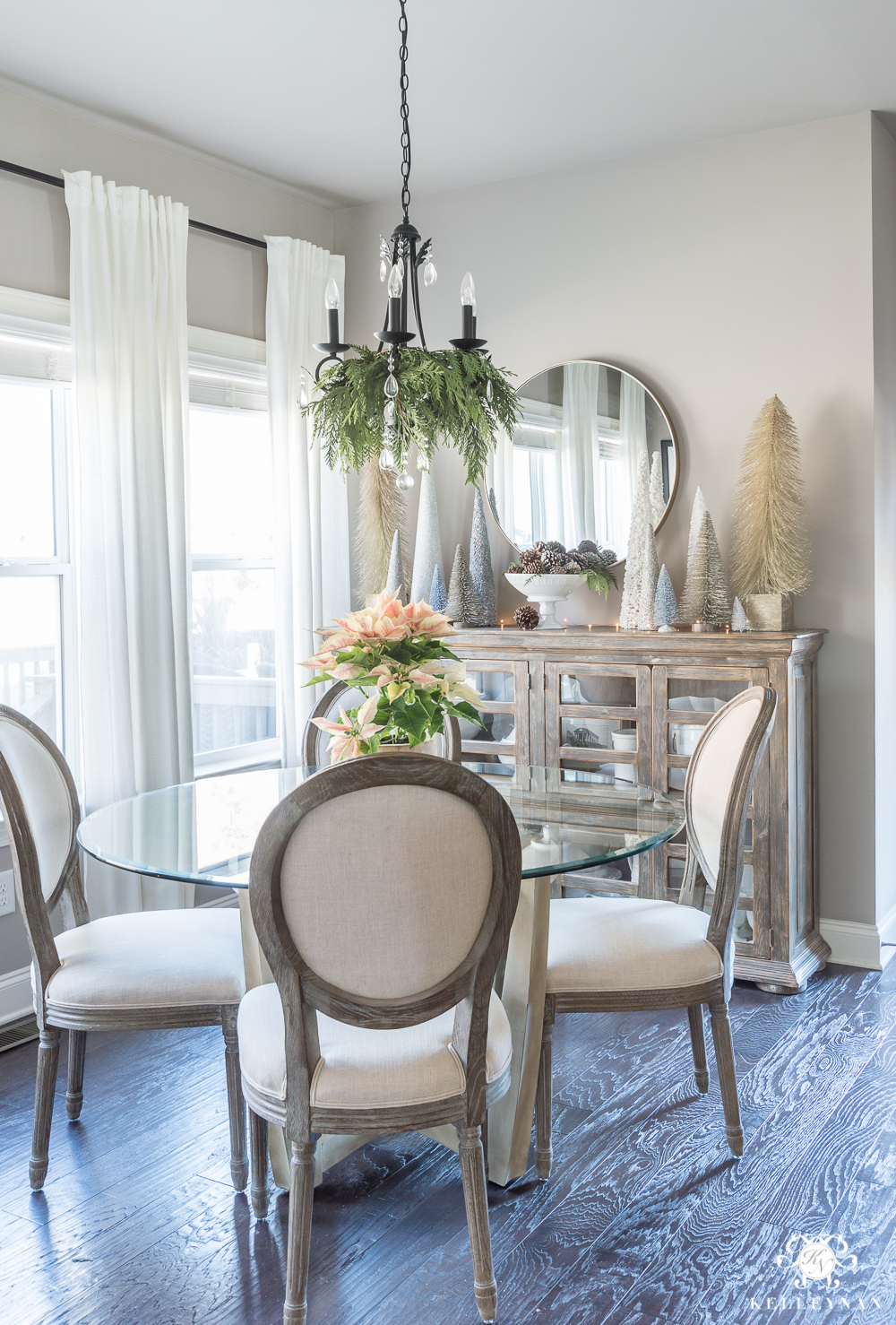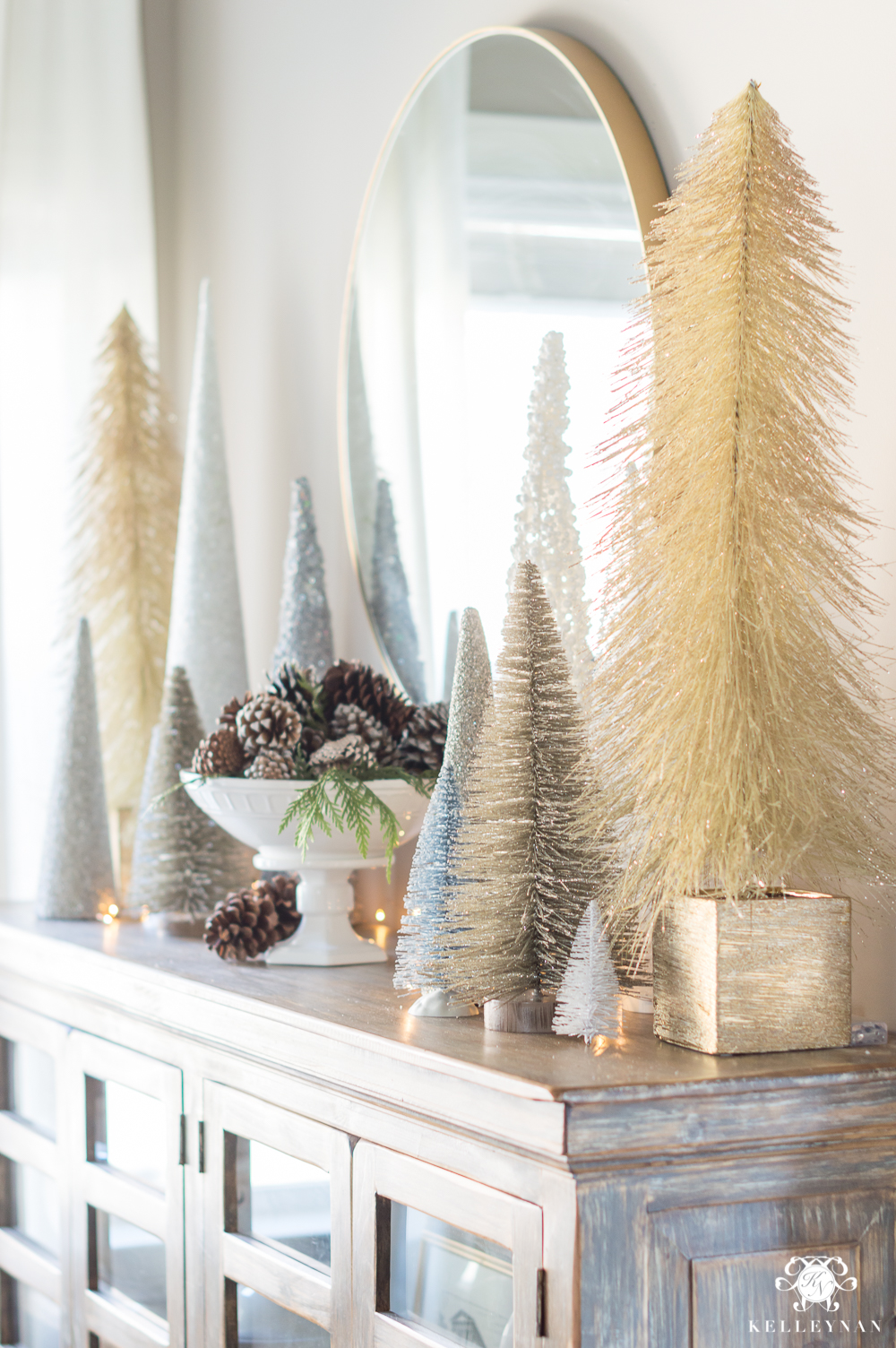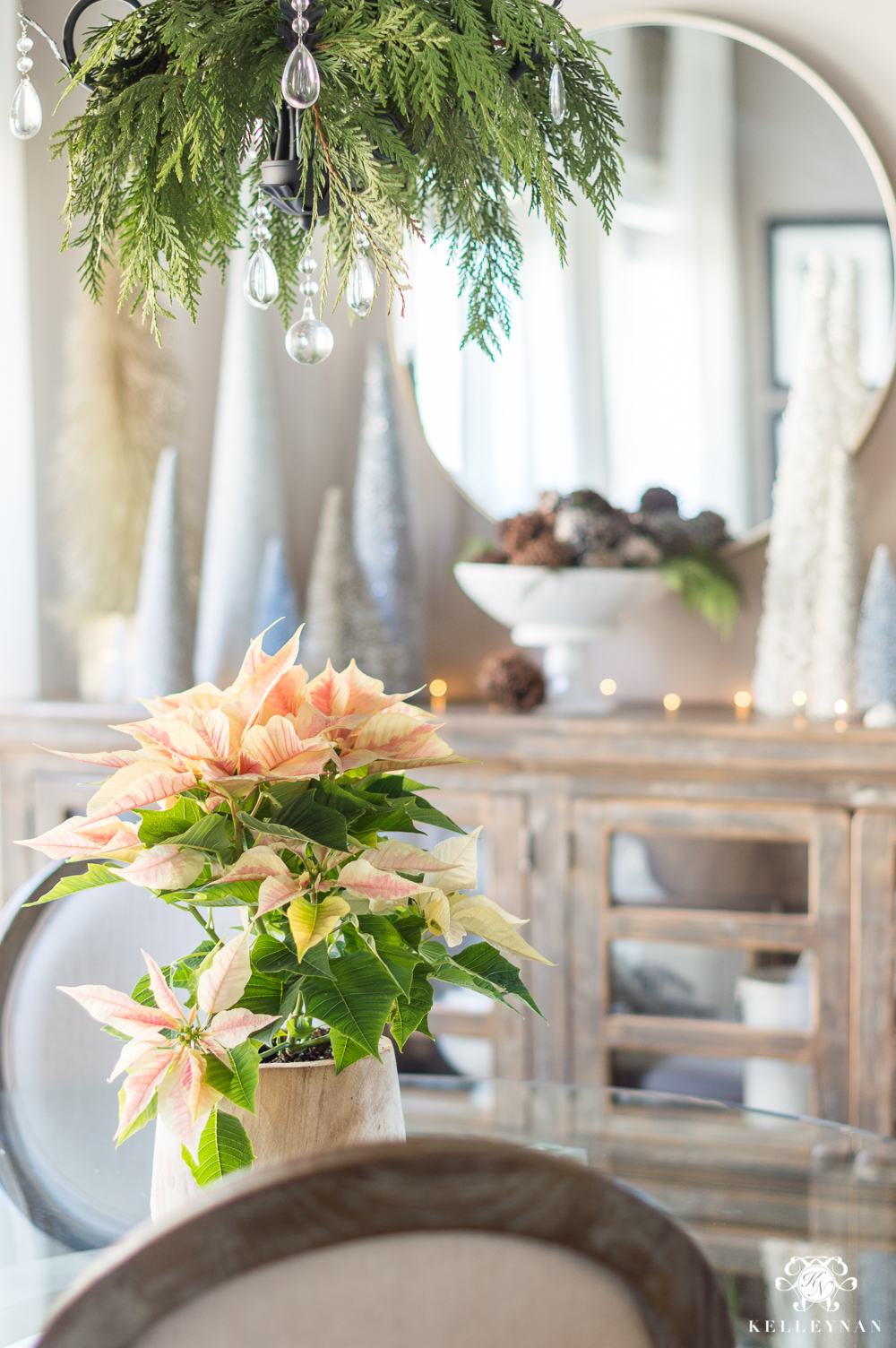 And you may not think it just by seeing it in store, but look how well the peach/blush-toned poinsettias compliment deep wine reds and champagne? The copper in the kitchen warms things right up, too 😉
---
GET THE LOOK | SCROLL & TAP

---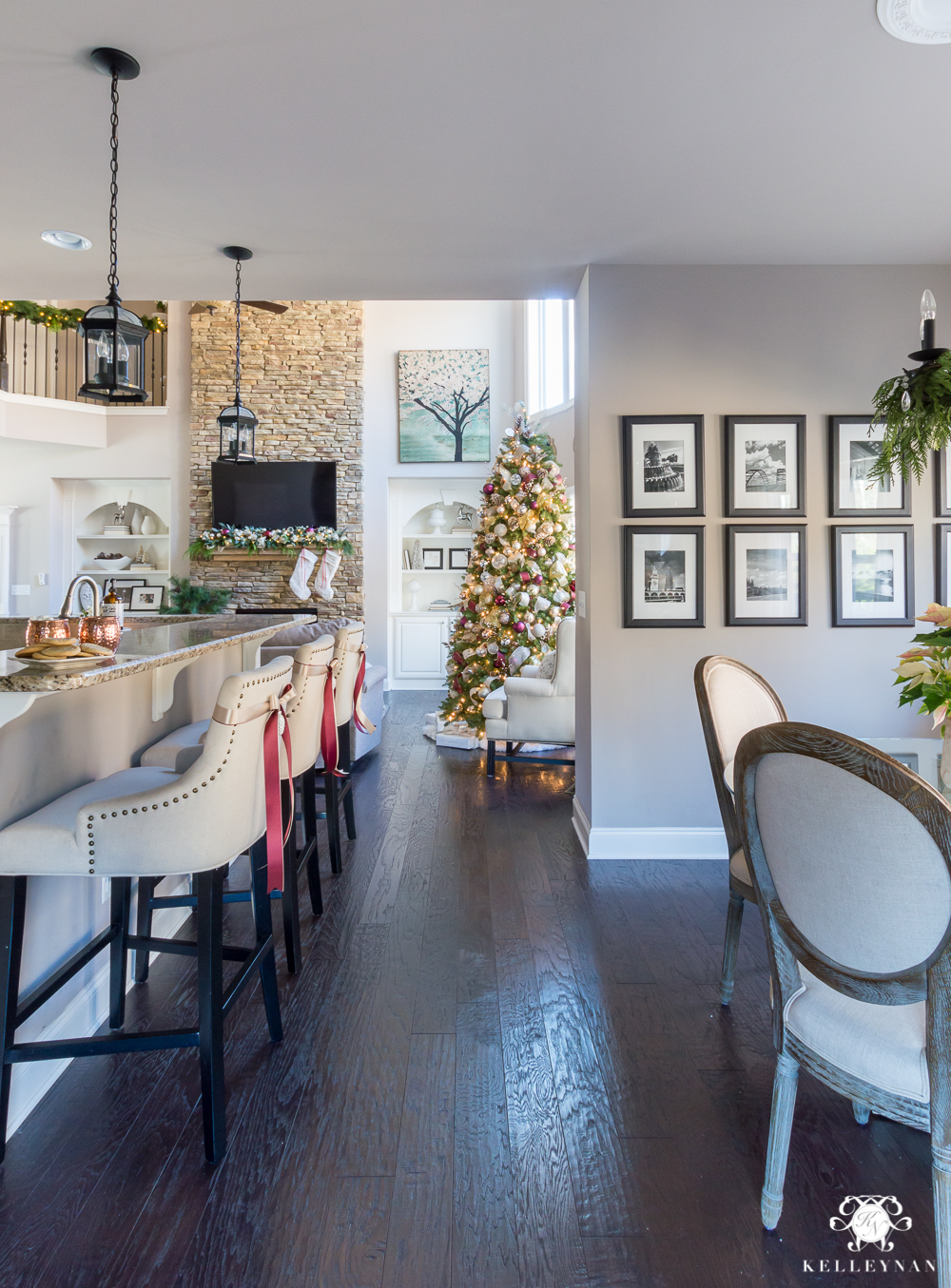 FYI- these more satiny ribbons are from Hobby Lobby BUT, I had the hardest time finding a deep red wine color and champagne! I was able to locate them in the regular ribbon section but for the most part, their displayed holiday ribbons were all bright red and shiny gold. If you go searching for ribbon, don't forget to check all around the store. There will usually be additional sections near fabric and floral 😉 I actually relied heavily on using ribbon to change entire looks. Like I said before, I didn't rush out and buy all new Christmas decor. But, getting a few new staples like ribbon is a super easy way to change your entire look from year to year. I also came across a small box of unopened pinecone ornaments from two years ago and tied them onto the backs of our bar stools.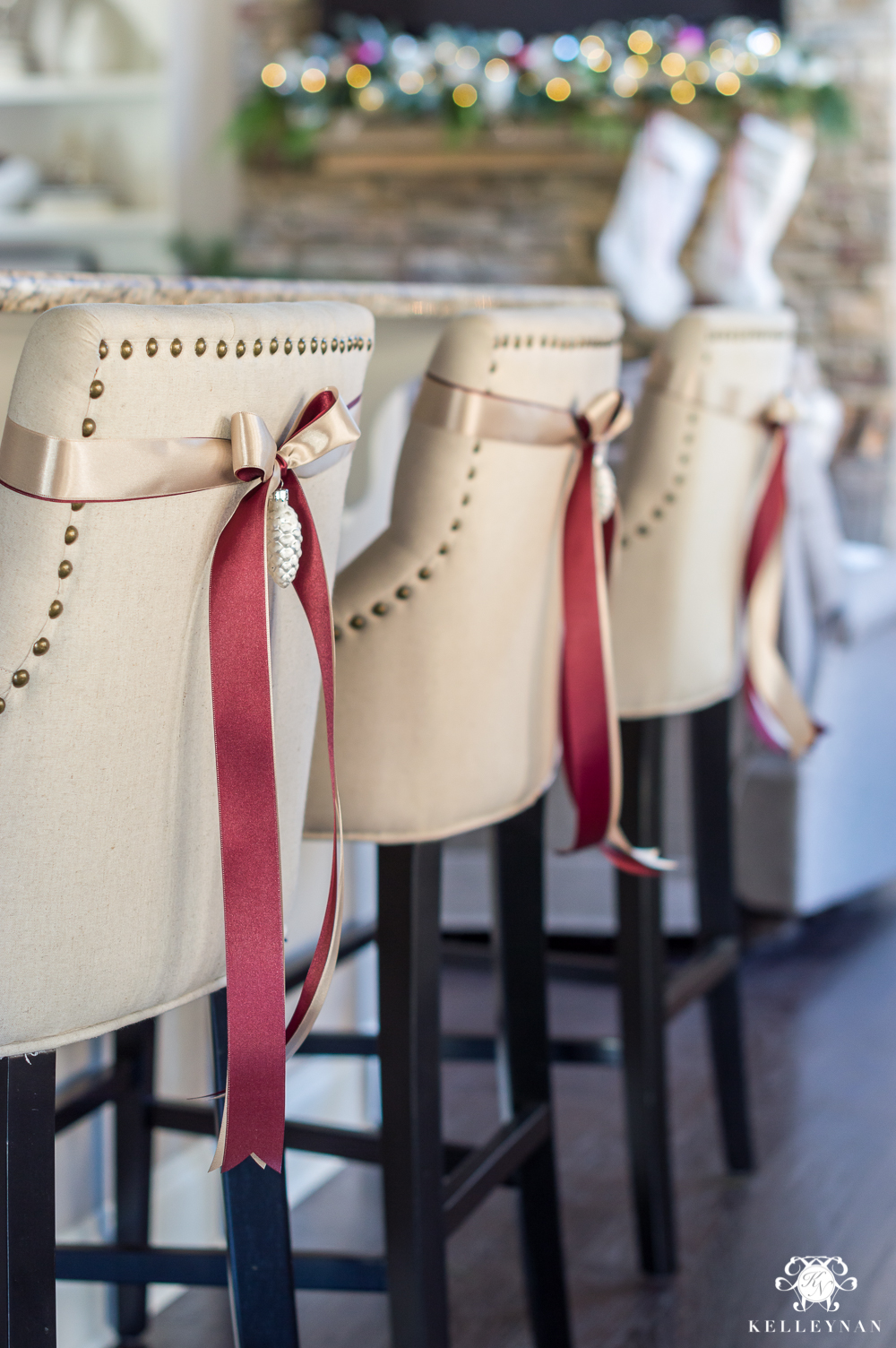 So, this is what I've been looking forward to sharing. Y'all, I have red in my house! Well, wine and champagne with a little gold thrown in. Hey, my house can be filled with those things any time 😉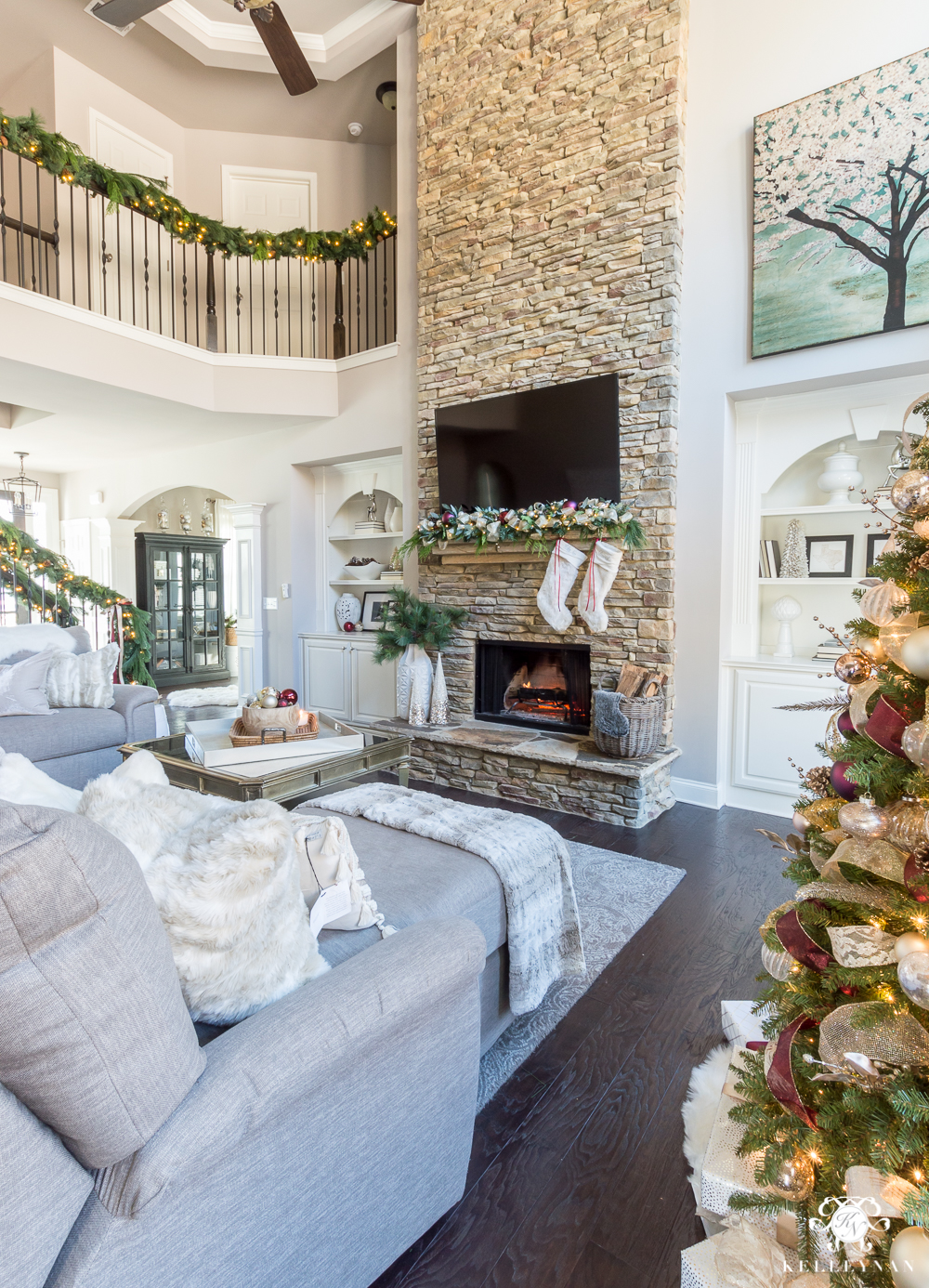 I can't tell you how much I'm enjoying our classic Christmas tree. Believe it or not, I already had everything for this tree with the exception of a few deep red ornaments and red ribbon. That's what I love about investing in a base of neutral ornaments! You can change the entire look of your tree, on a whim, without shelling out hundreds. And, just because I added red didn't mean I had to go all red, all over. With such a powerful color and all the lights and shiny, glittery adornments in the tree, a little goes a long way. You can see my tree decorating and ribbon tutorial HERE.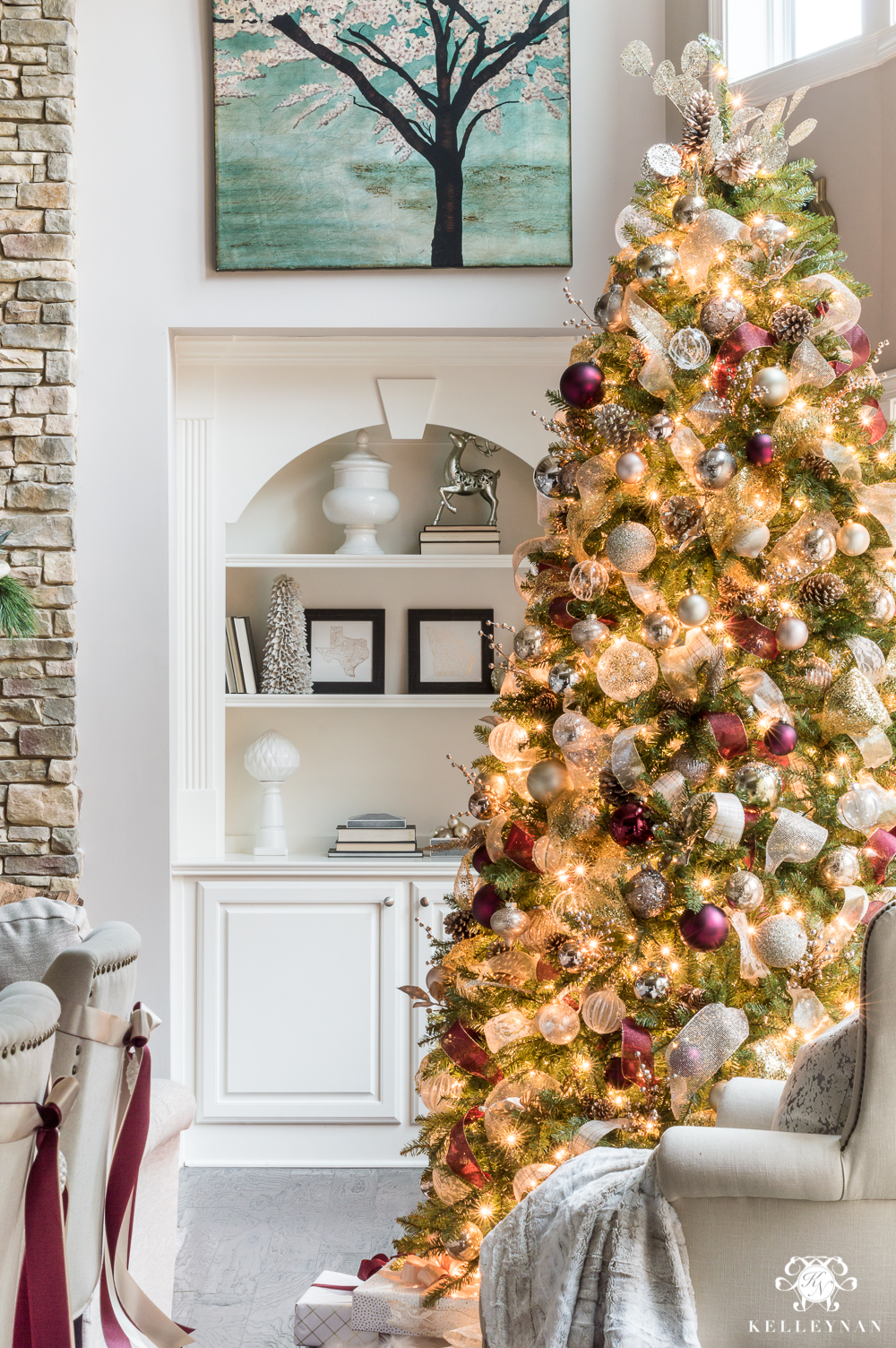 I decided to forego the office tree this year but used a few copper/rose gold-ish ornaments from last year's blush toned tree.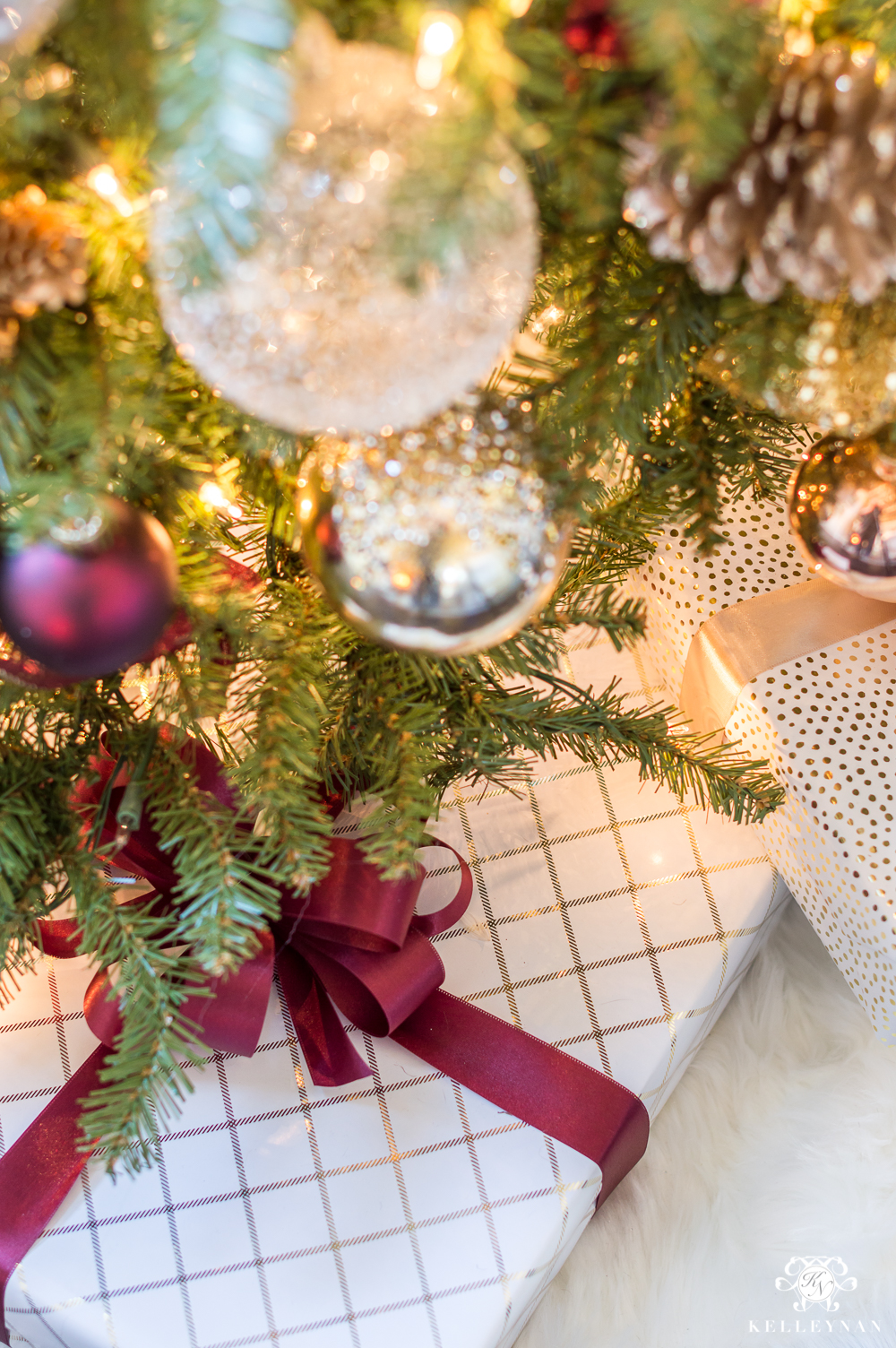 As we make our way through, you'll probably notice a lot of jars and boxes of ornaments just laying around. Such an easy way to decorate and mix up new colors. If you already have plenty of ornaments on  hand, perfect! If not, only displaying super fine ornaments can get expensive. Try mixing a few special baubles with some inexpensive "filler" ornaments (like the boxes from Michaels and Hobby Lobby- I use those everywhere!)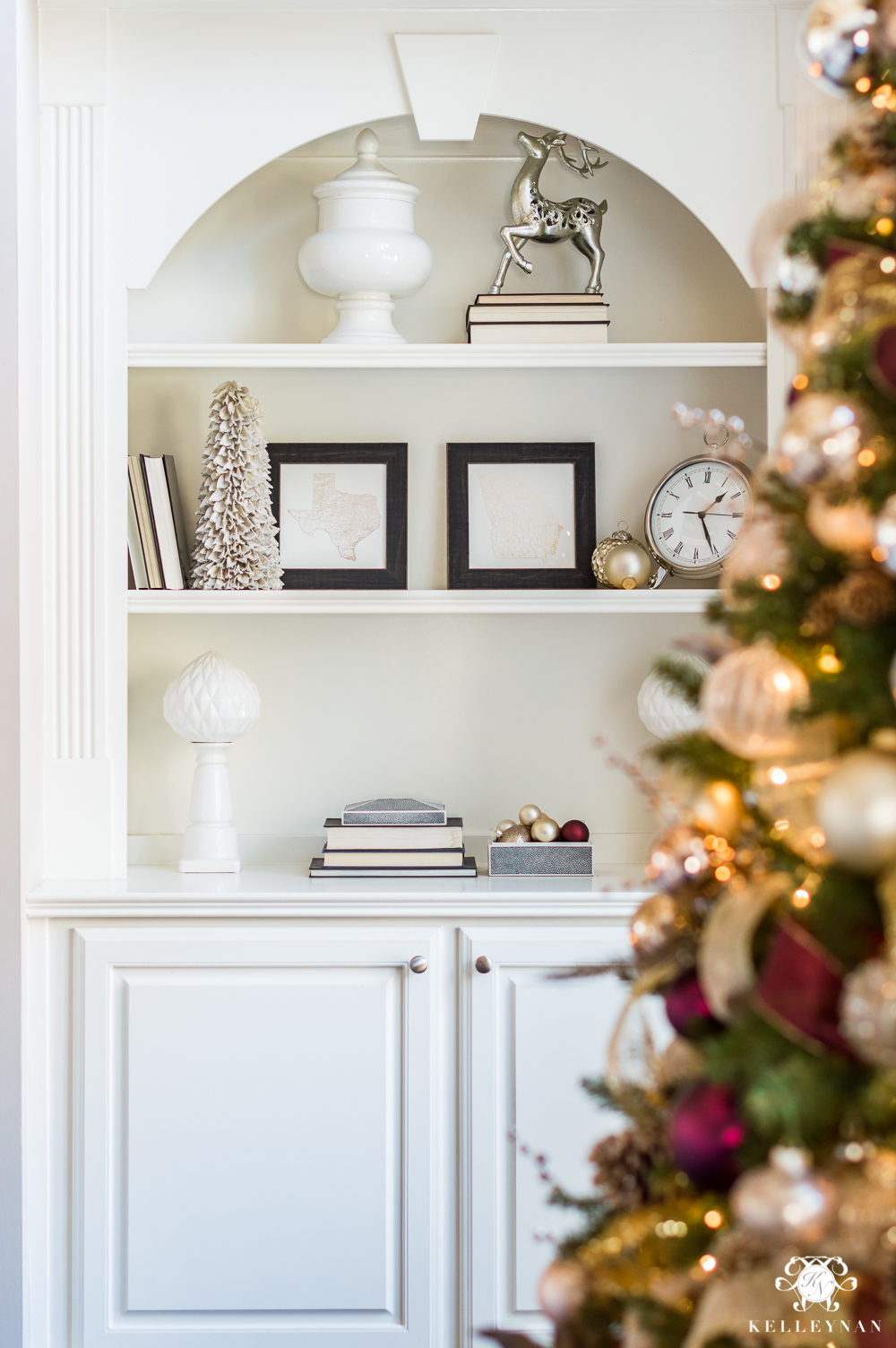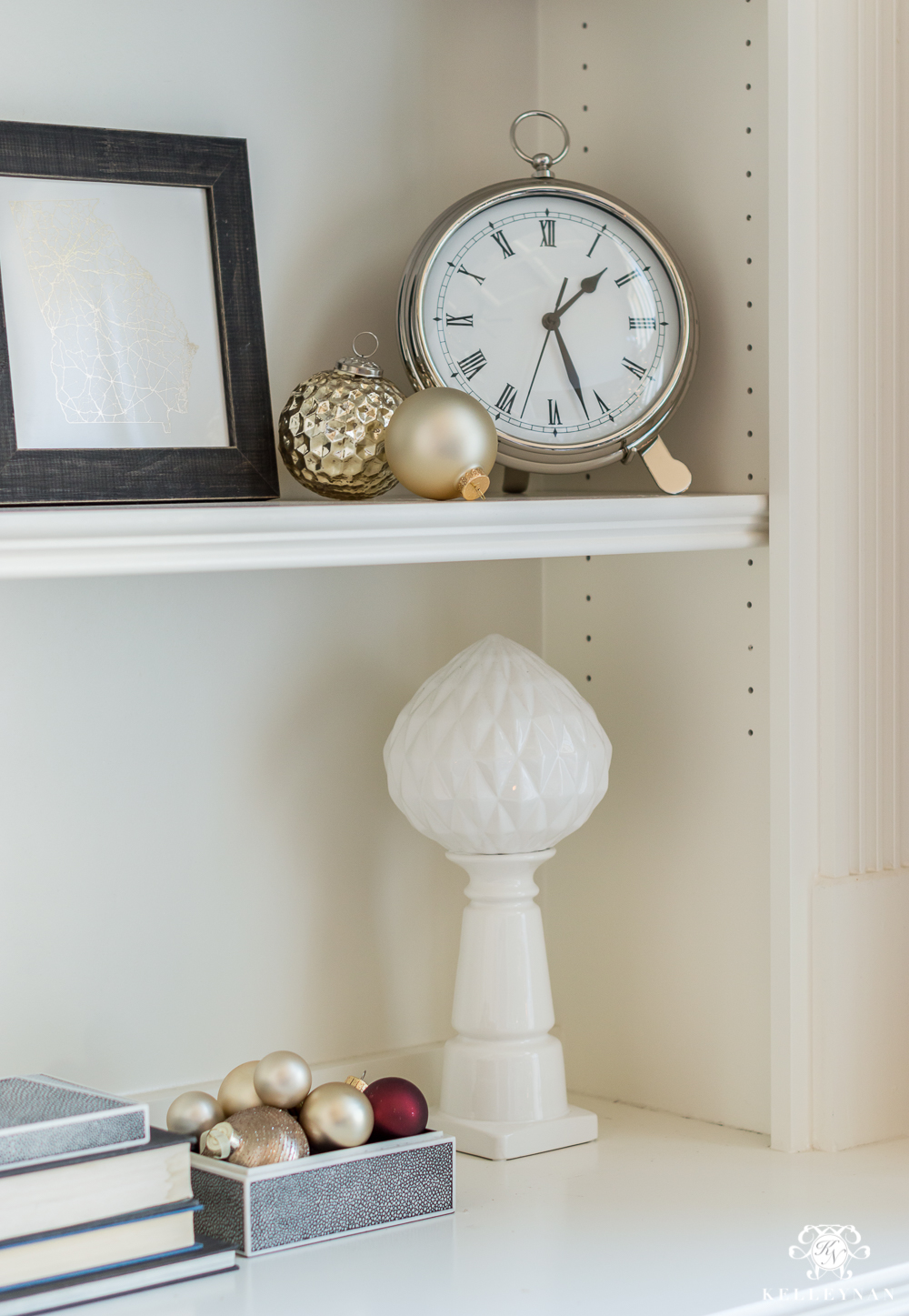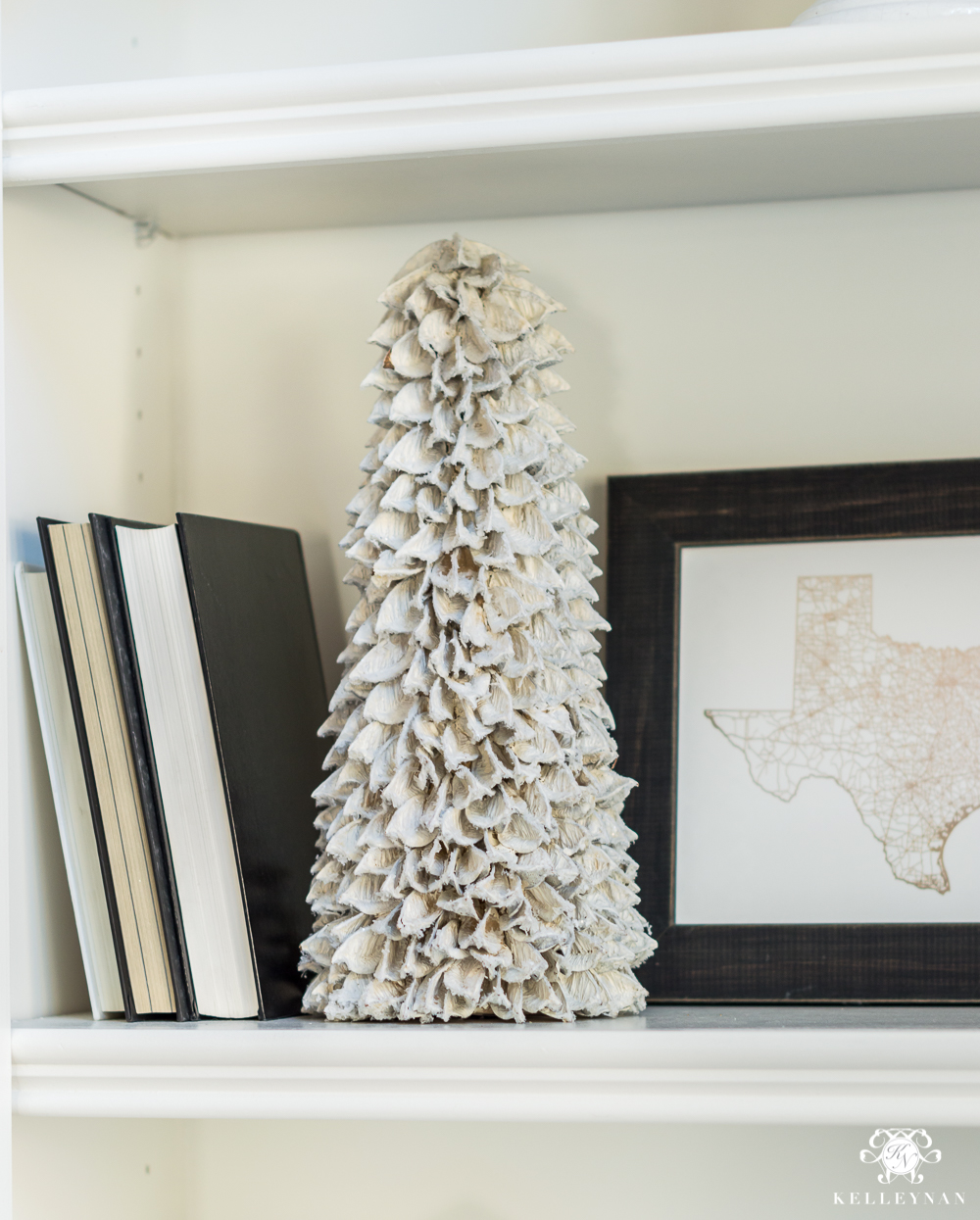 With the addition of the sound bar (a "surprise" when I came home from a business trip earlier this year haha), the mantel garland was a little trickier and stocking hangers were out of the question. I added these command hooks to the top of the stone mantel and they worked like a dream. I used two basic garlands with some champagne balls but used my leftover tree trimmings to make it my own. I hot glued balls, wove in some ribbon, nestled in some pinecones, mixed in some live garland, and then strung in some battery powered twinkle lights.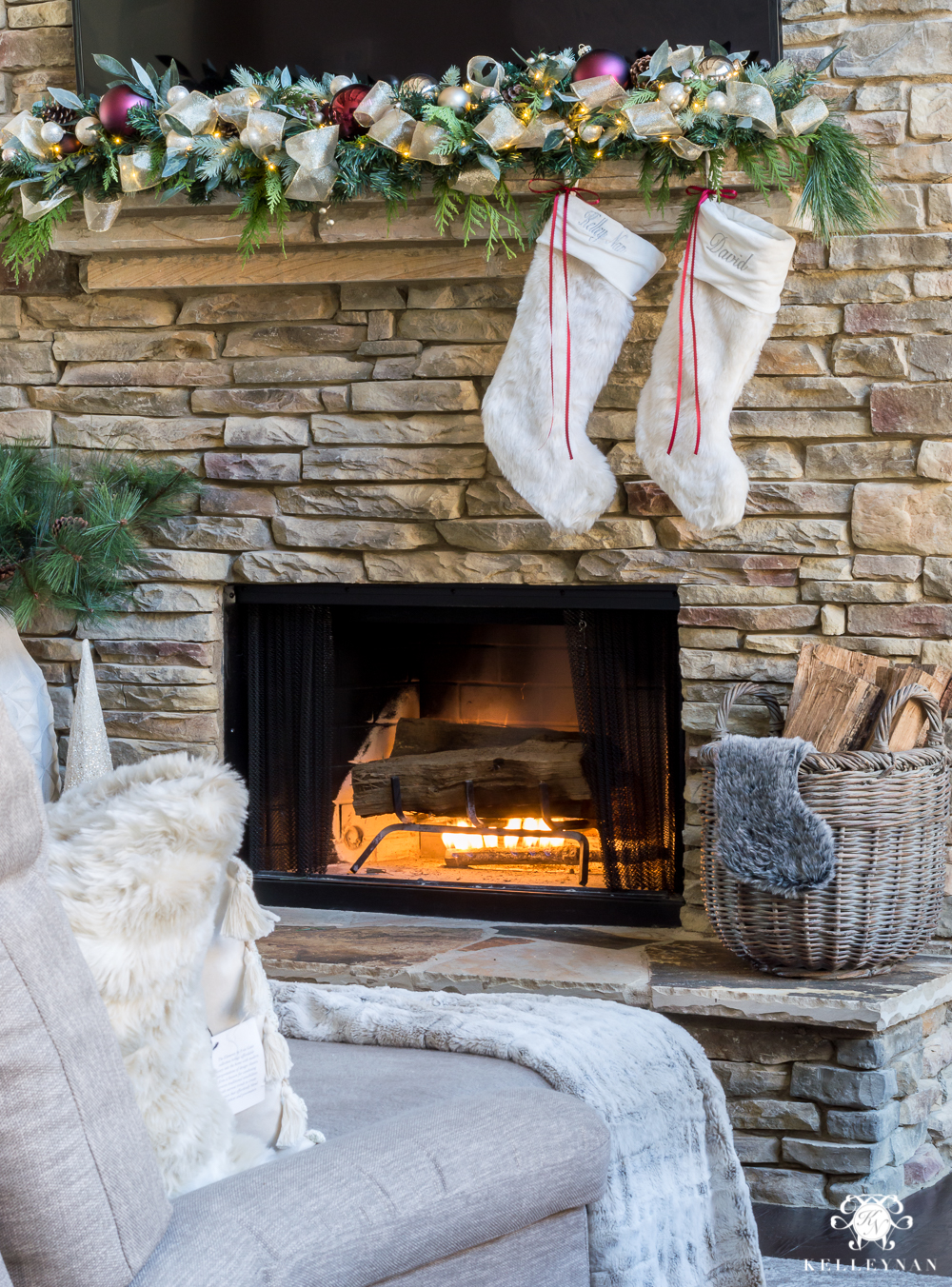 Some people get new stockings every year. We don't. And we never did growing up, either. I always loved having one special stocking to look forward to that my mom had needle-pointed. We've had these from Restoration Hardware for years but I added a little embellishment to them this year by tying on a little duo sprig of greenery. You could add bells, ornaments, etc. HERE are some gray snow leopard stockings with pom poms I love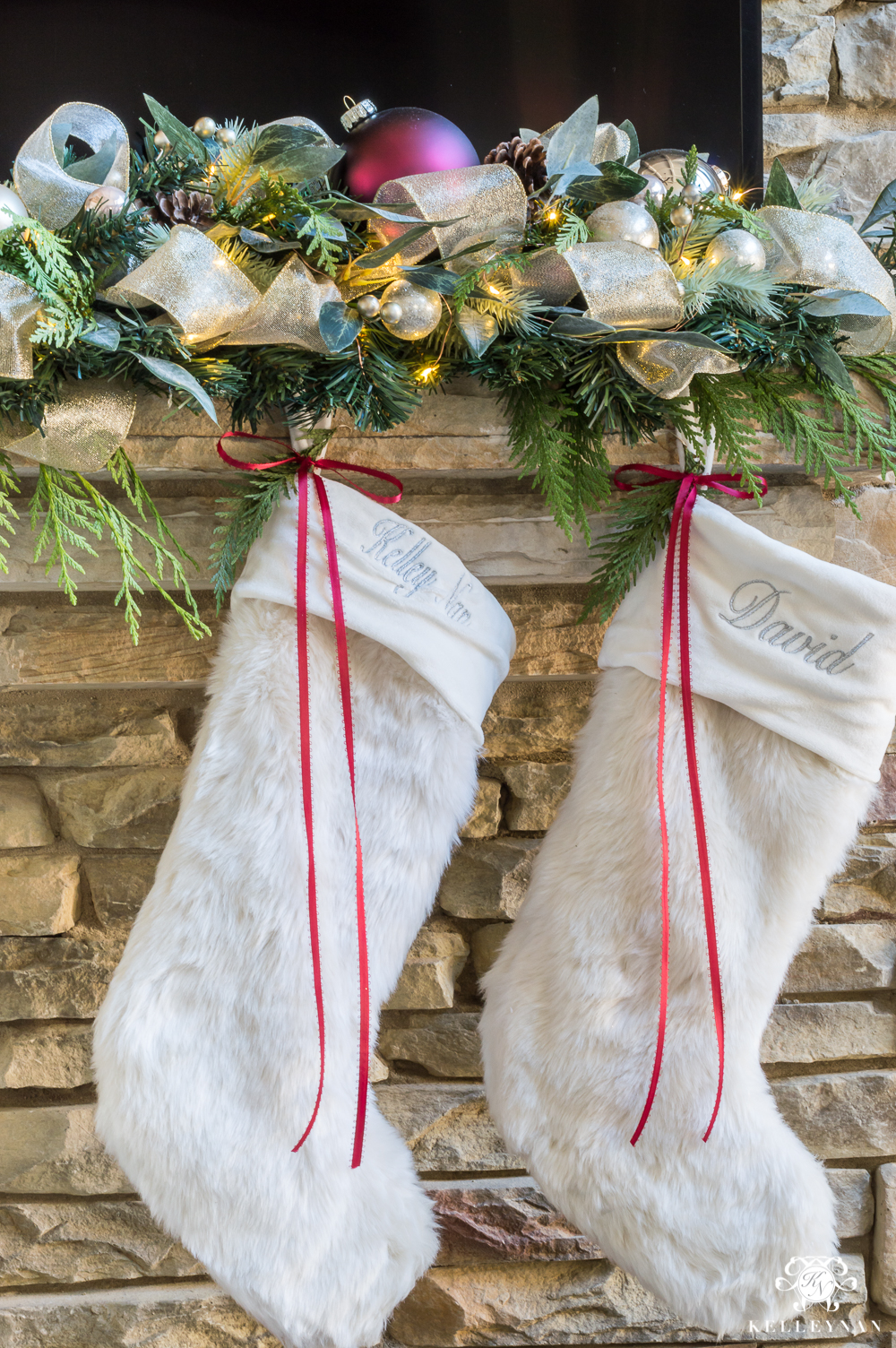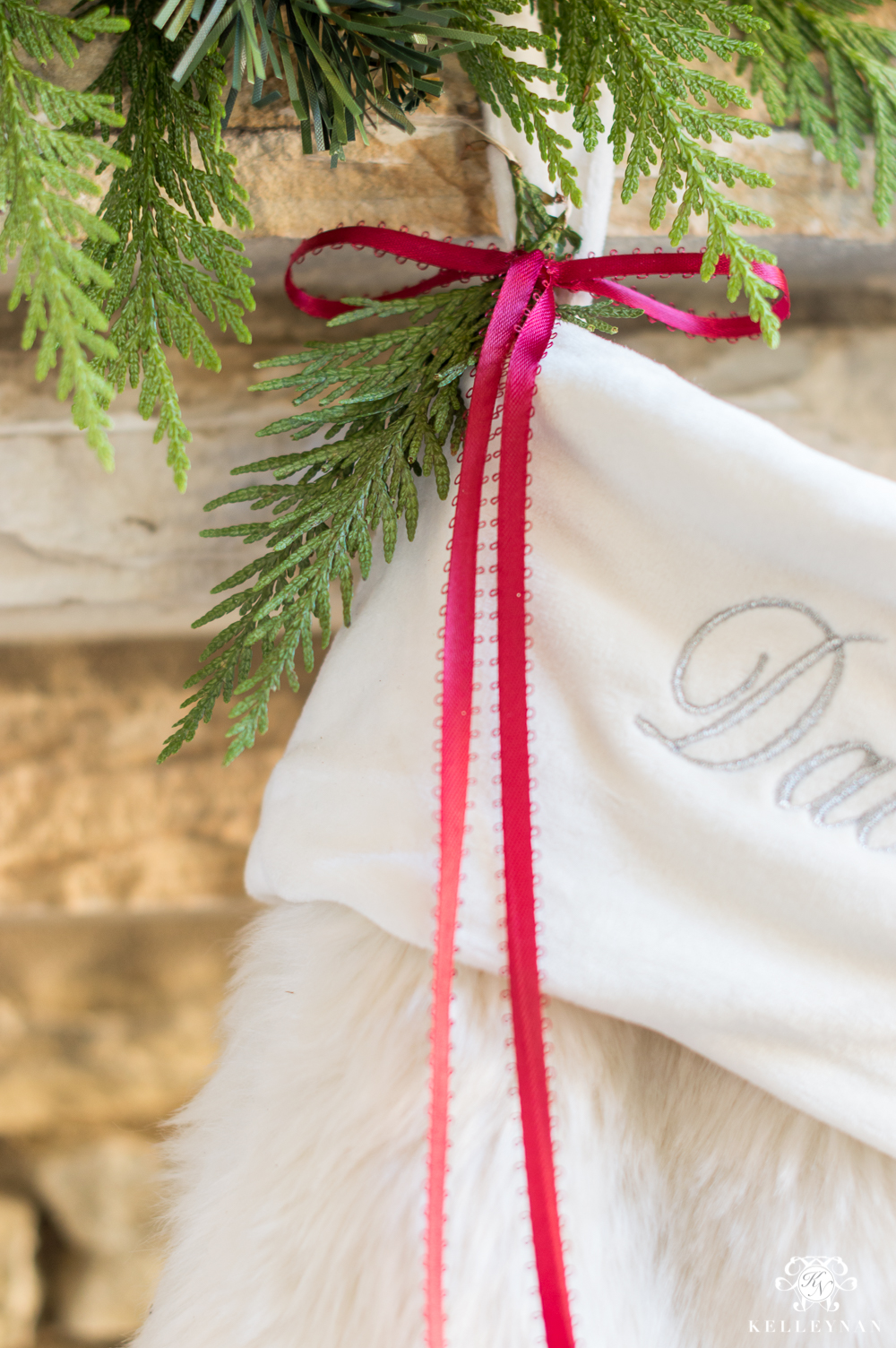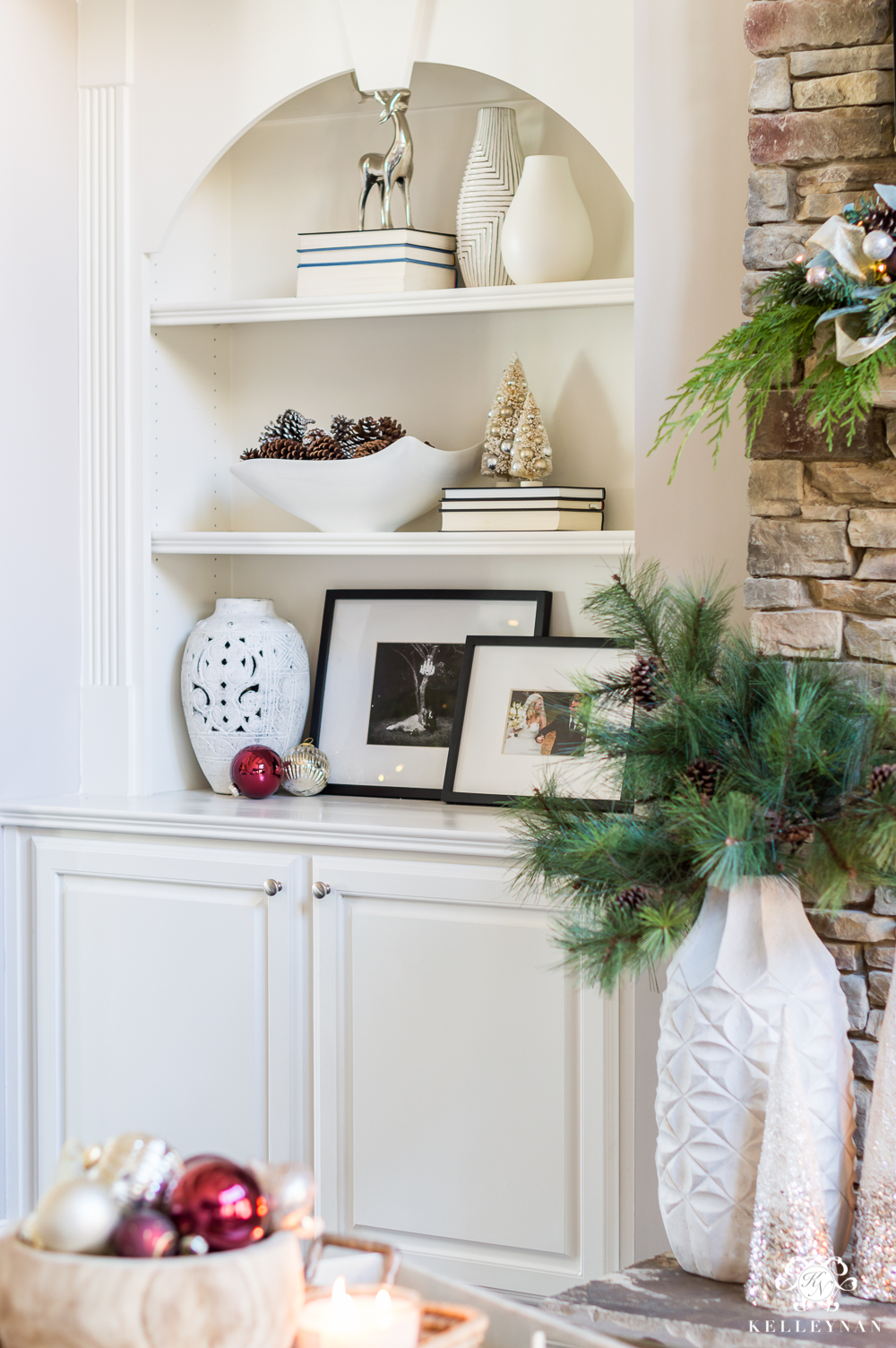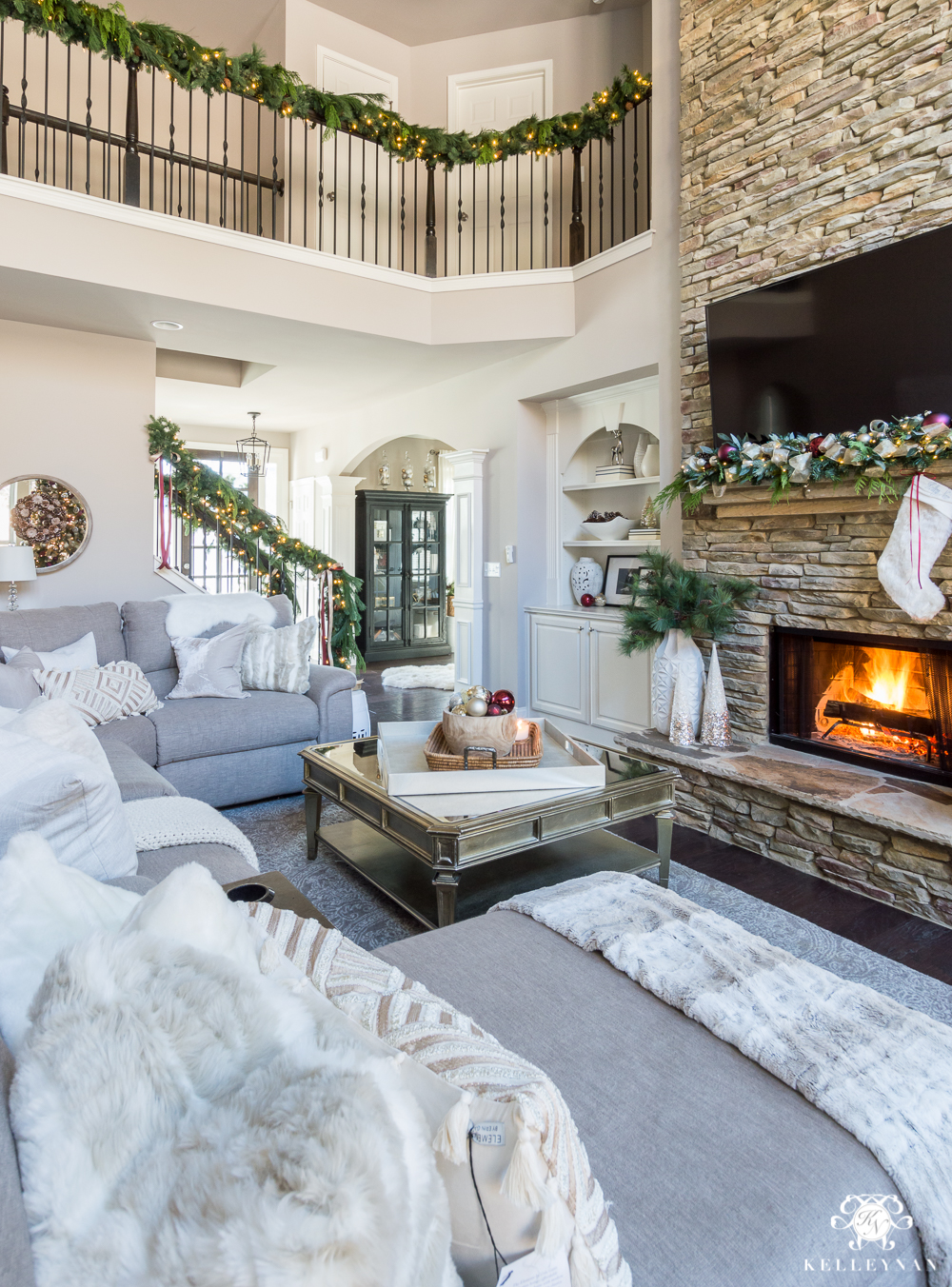 I don't think I've ever been more happy to have snagged this wooden bowl from the PB Outlet as I was when decorating this season. With all the glittery and shiny objects everywhere, I wanted to tone it down a little and the gold bowl I originally had these ornaments in was a little too "whoa!" Having something more earthy brings in some of that coziness and compliments the live greenery. Don't discount some of your more neutral/natural pieces just because they don't scream "Merry Christmas!" all on their own.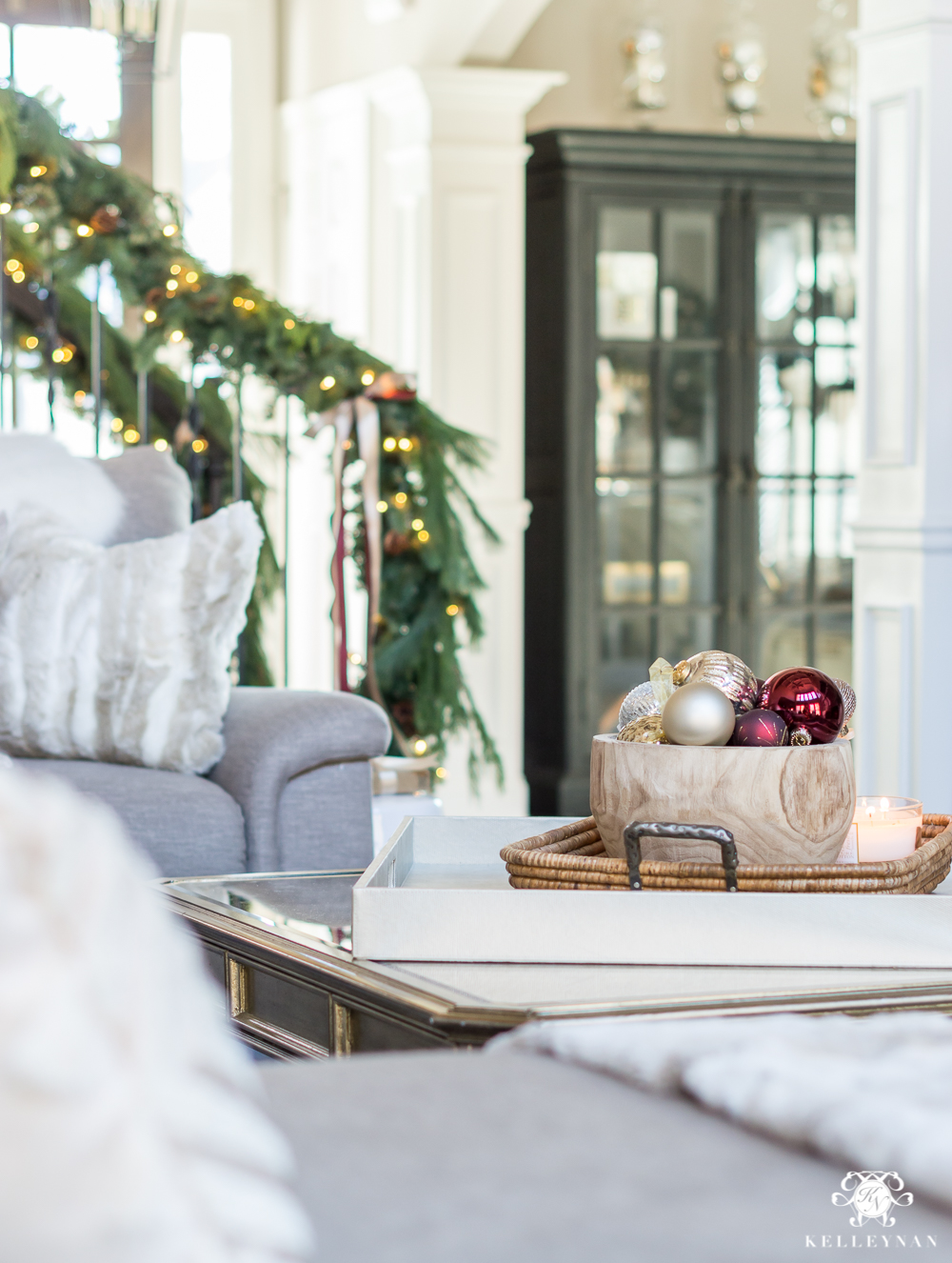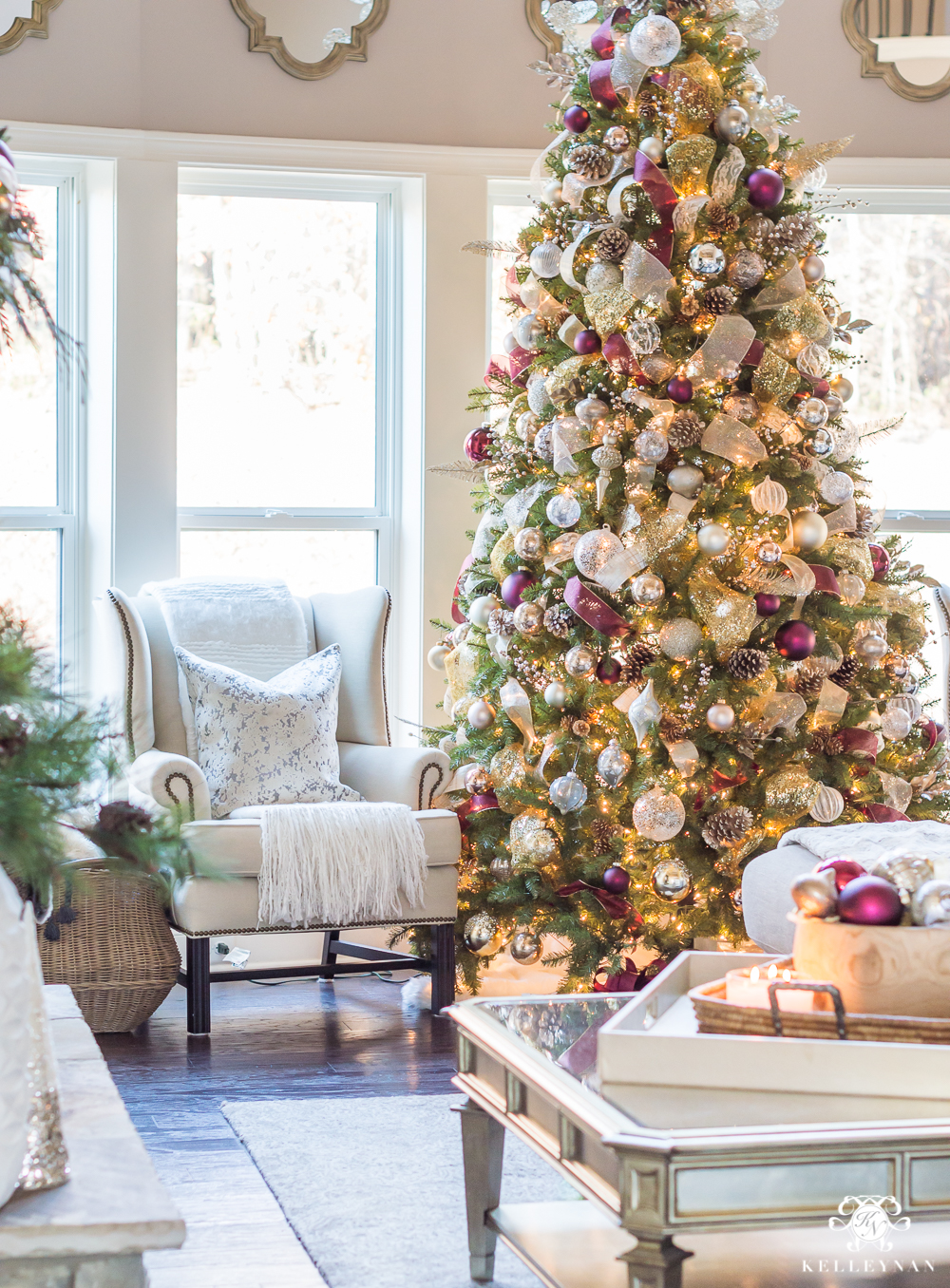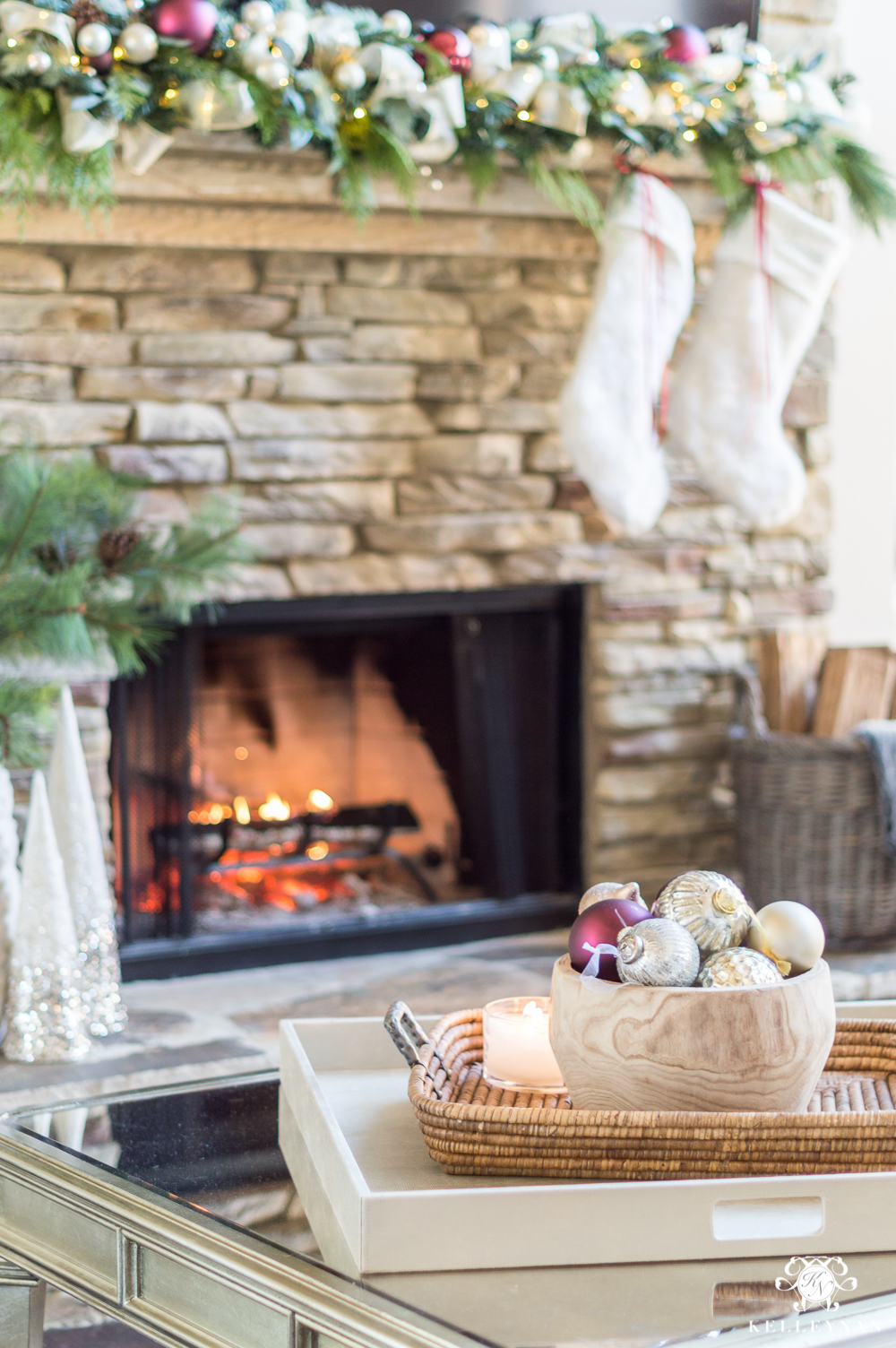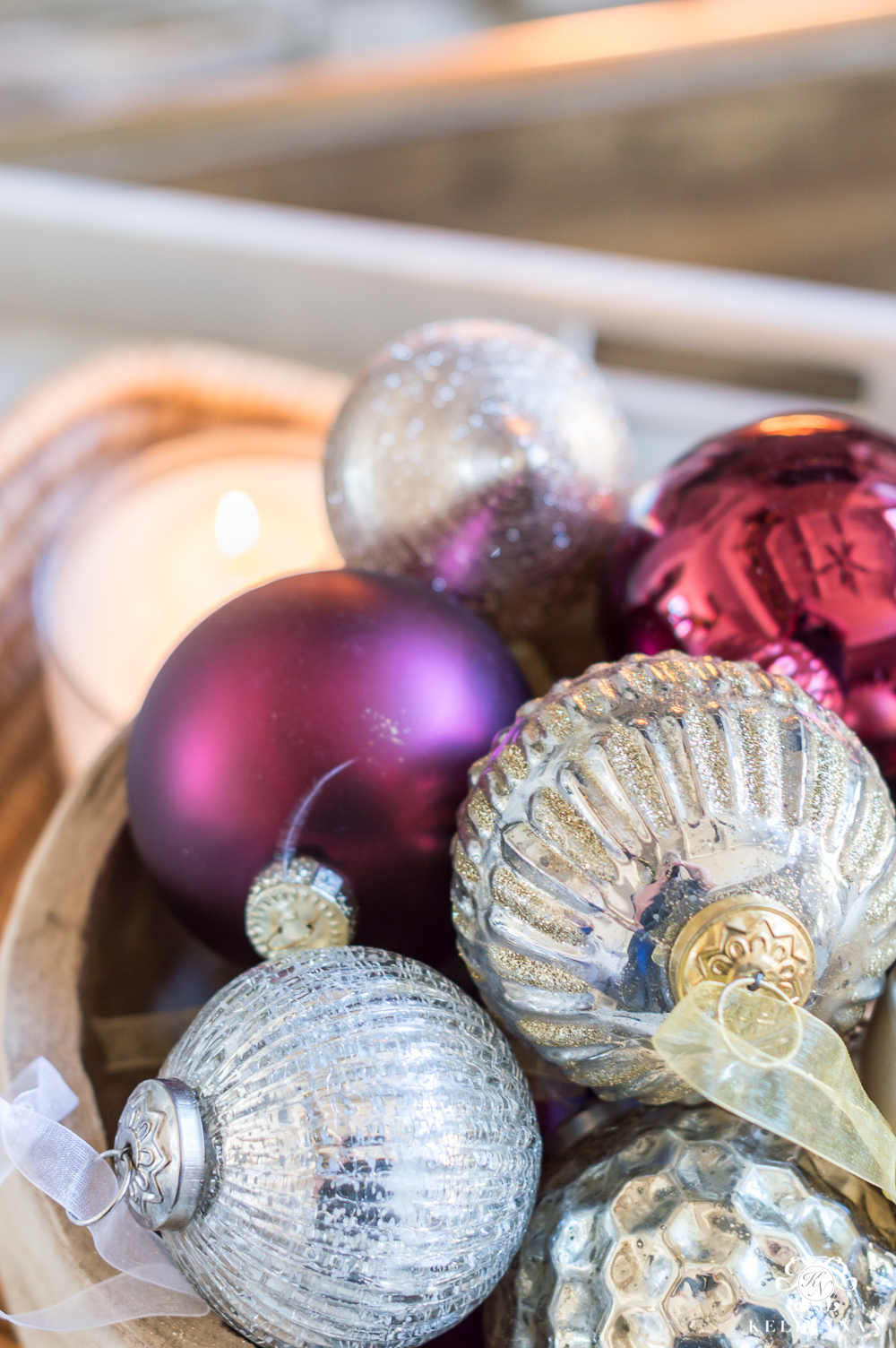 If you're like me, you end up with a lot of ribbon scraps. Admittedly, several are too long and should have never been "scraps" in the first place haha But, they are still too short for a gift bow. If you have any books on display/your coffee table, wrap them and dress them up a little. You can also tie a bow around a throw or two in your living room blanket basket.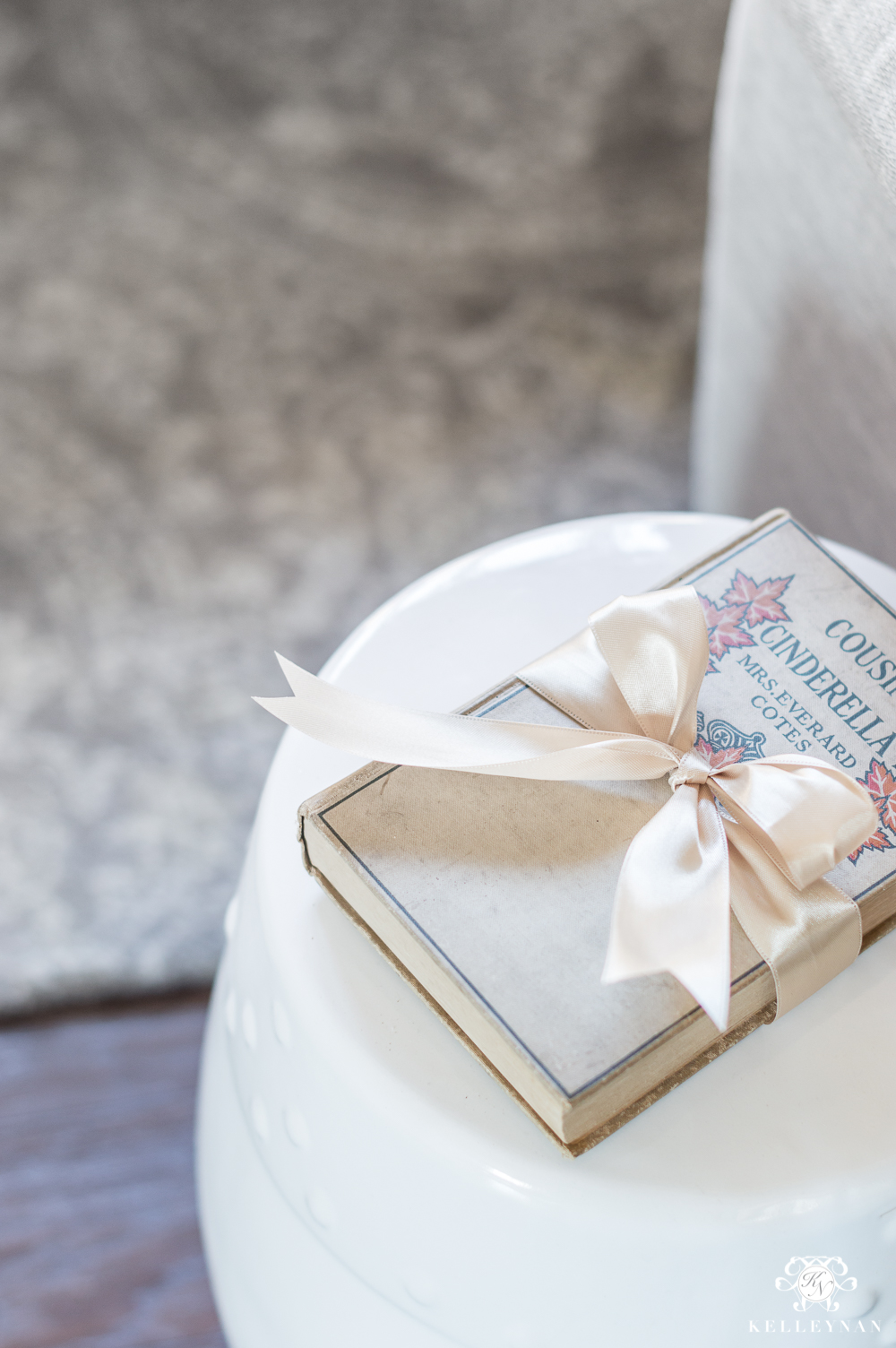 This crystal was my grandmothers; if there was ever a time to bring out the family heirlooms and sentimental things, that time is now.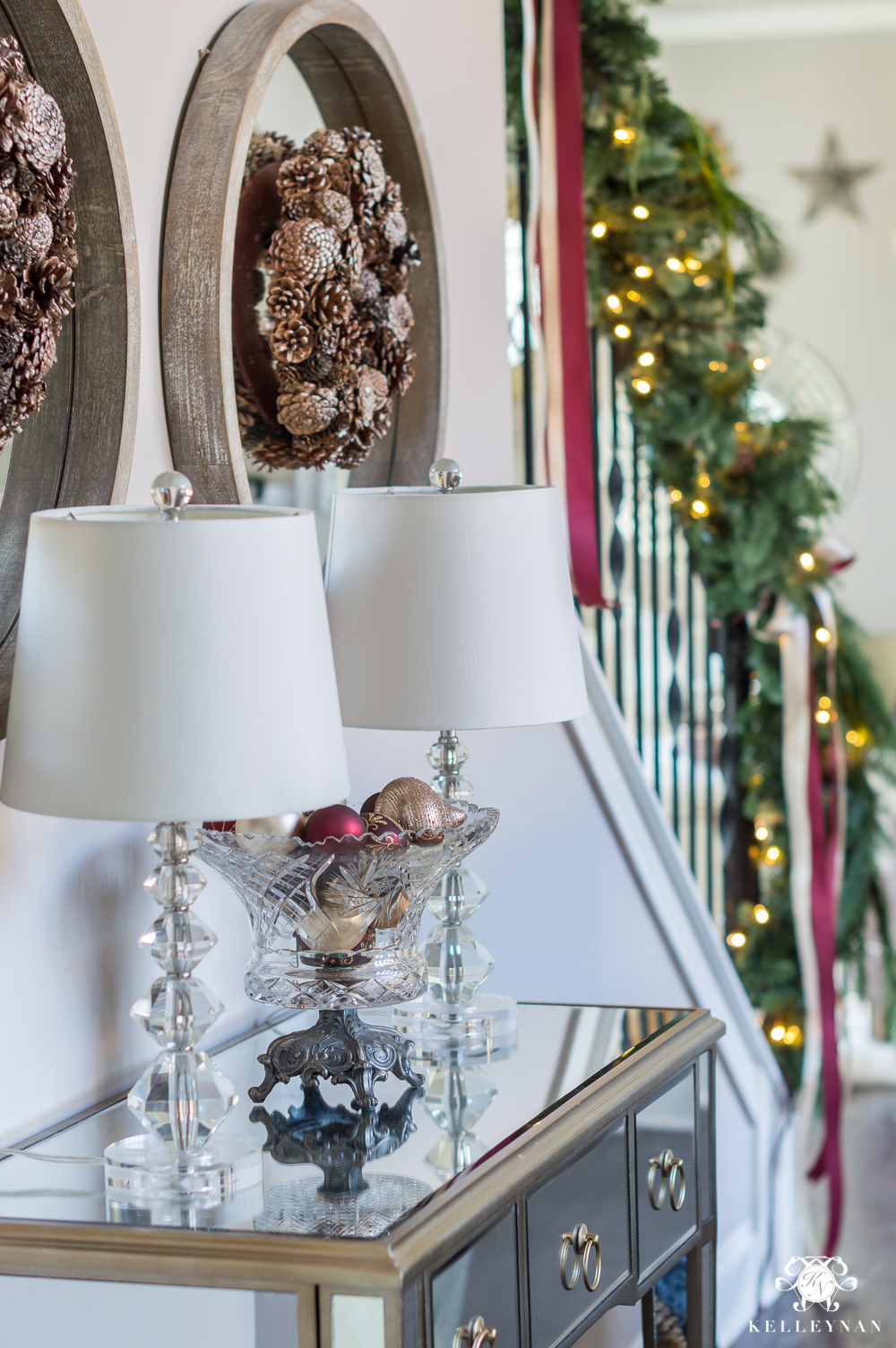 Here's a closer look of my garland. We secure the faux and then literally lay the live on top. I pull down on some sprigs as I secure the garland but nothing fancy. It took me all of 20  minutes to incorporate the live greenery everywhere once the faux was in place.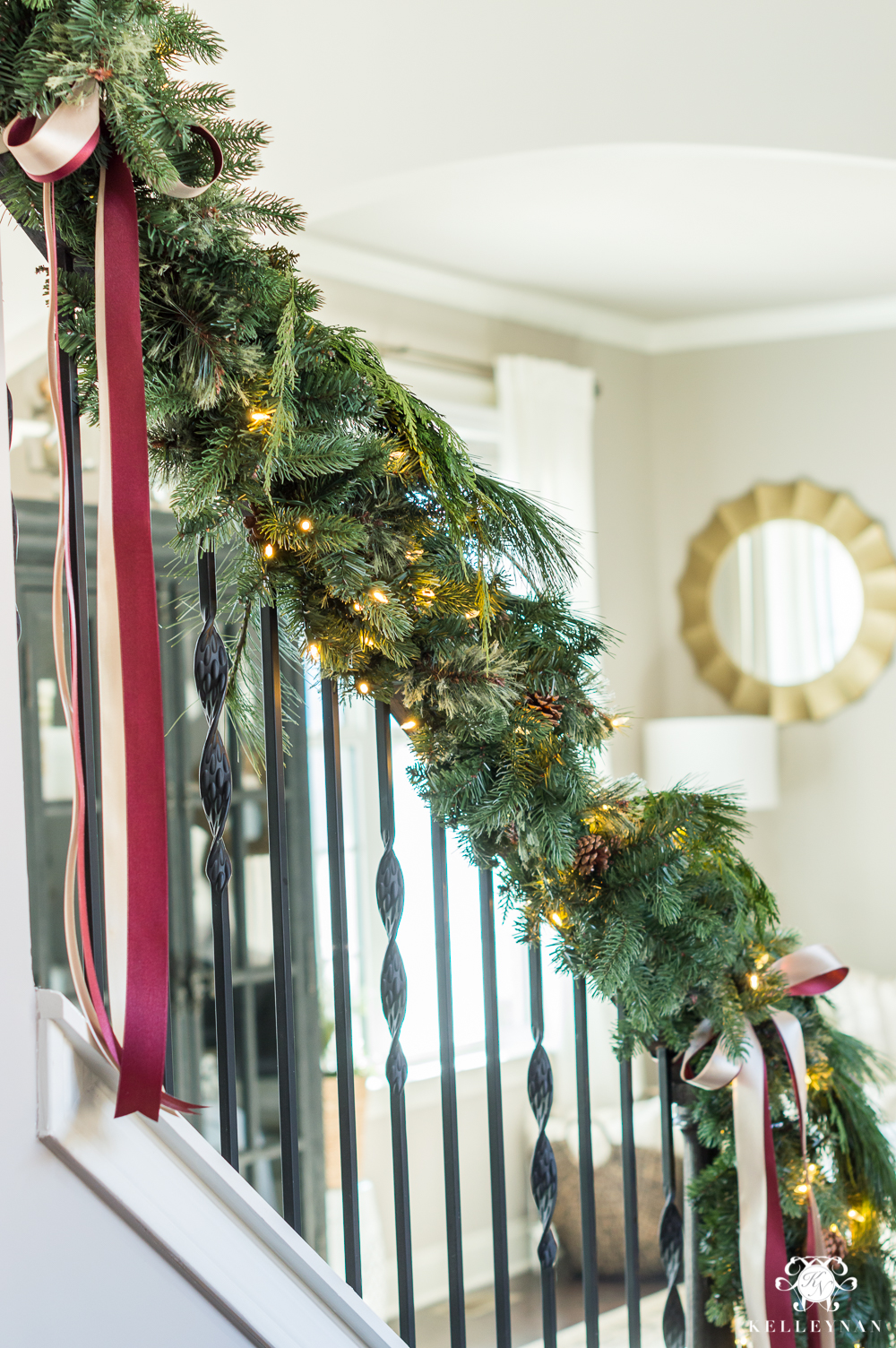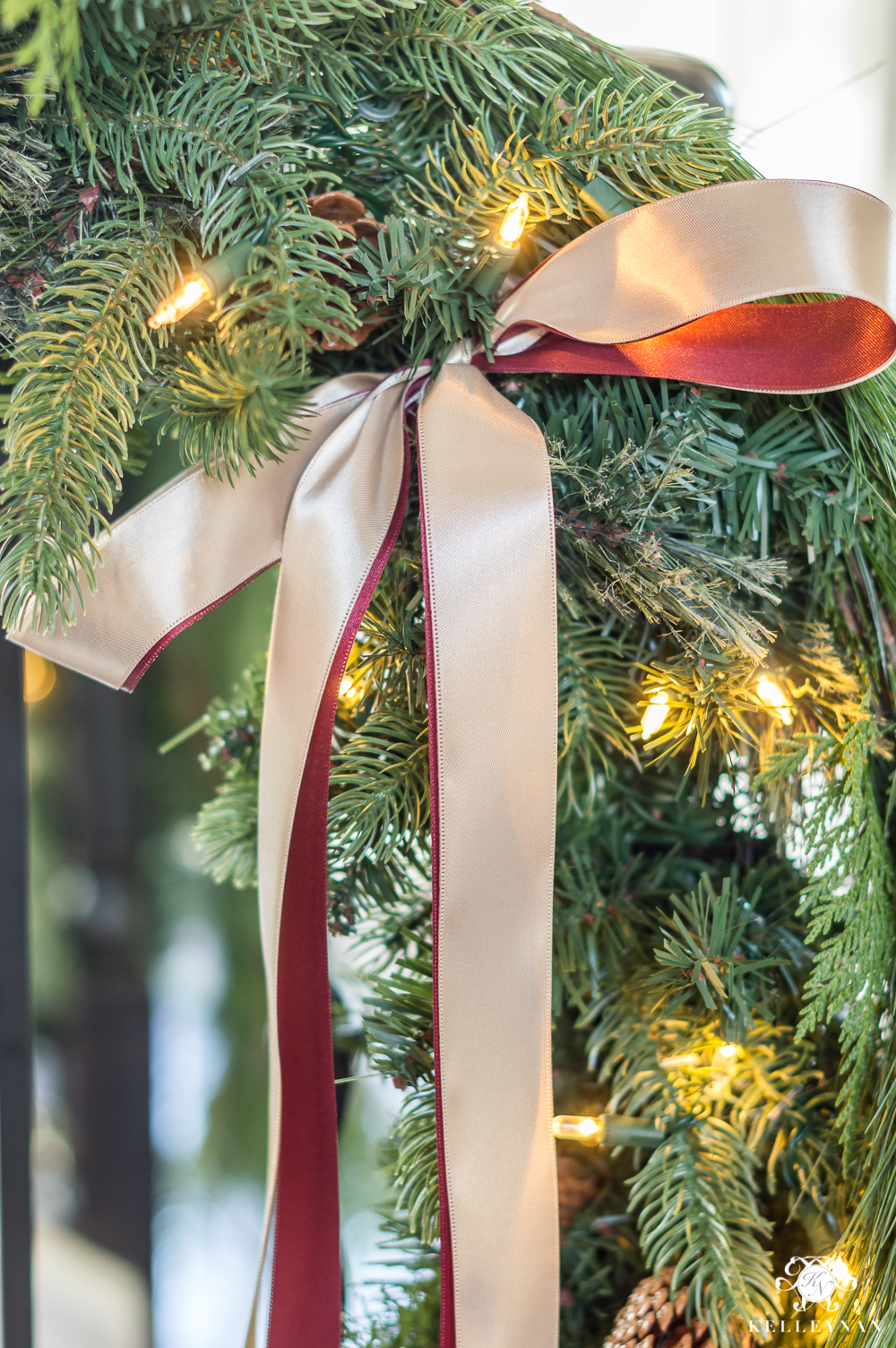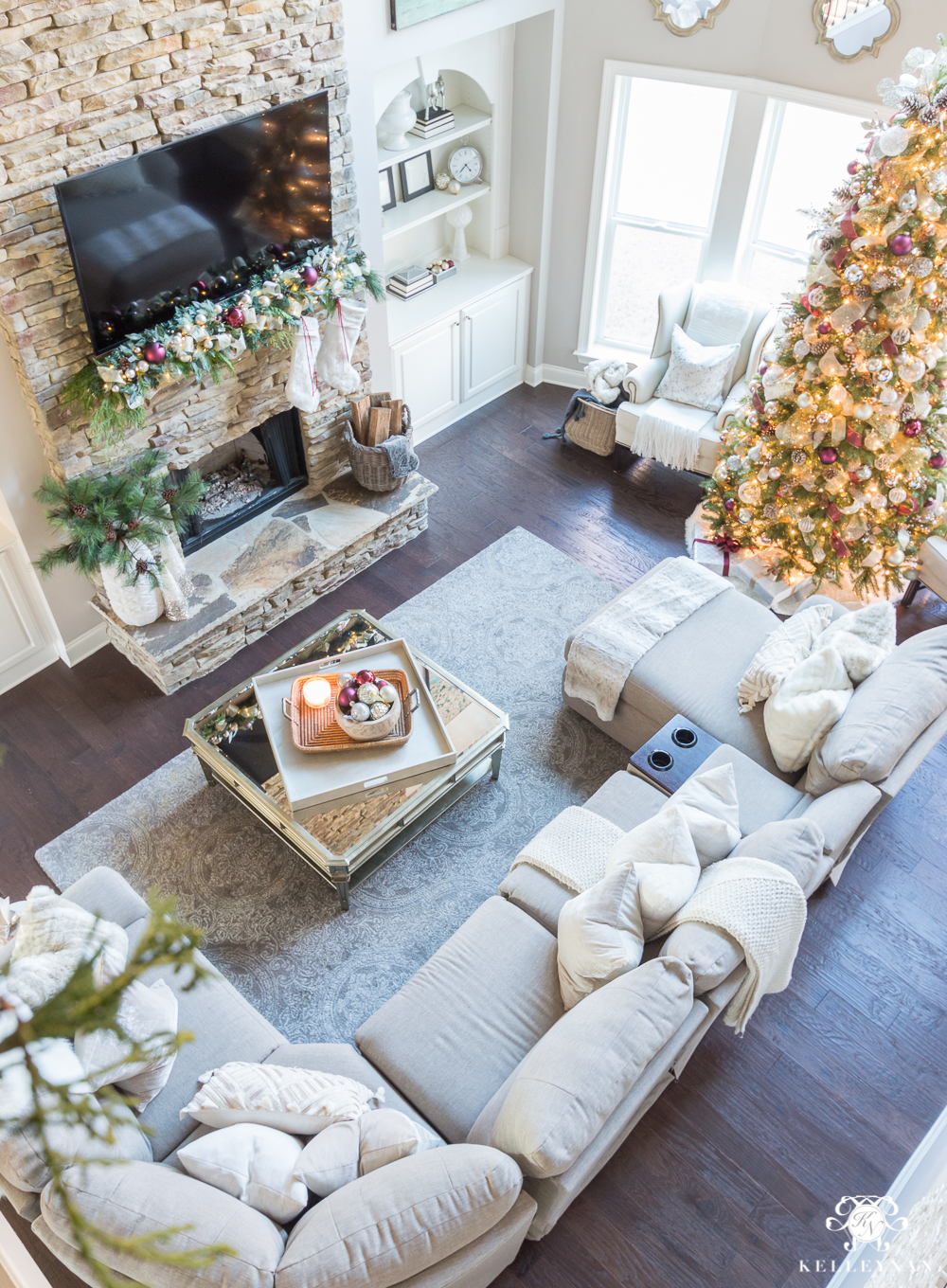 ---
GET THE LOOK | SCROLL & TAP

---

Even more than when I first completed my master bedroom and shared the reveal earlier this month, I fell in love with it all over again when I brought in some wintery touches and switched the red pillows to these velvety green beauties. I know- kind of weird that I took out the red pillows for Christmas when I was adding red to other places haha.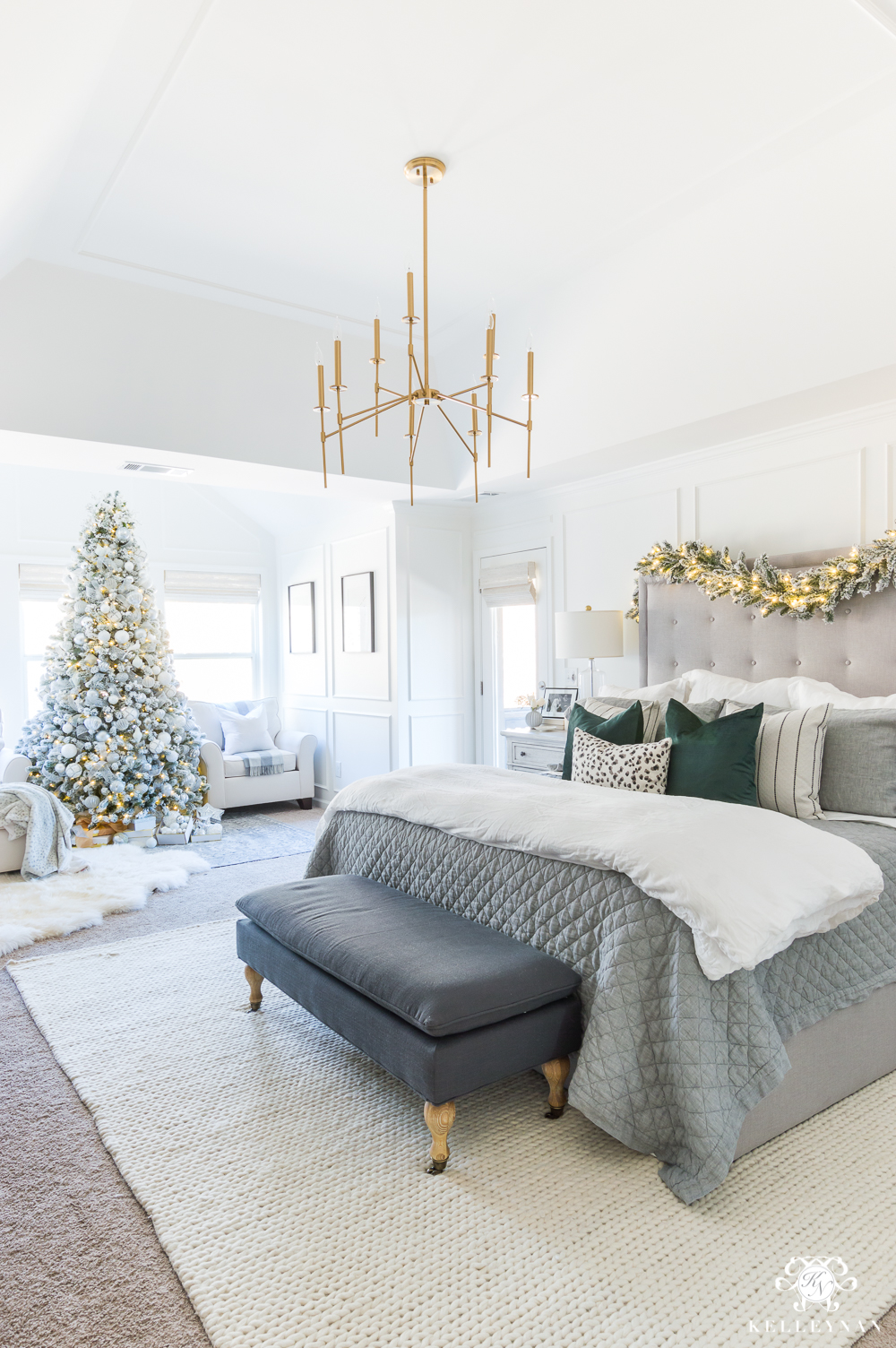 I actually had this strand of flocked garland when I got my flocked tree but this is my first time breaking it out. If you are contemplating decorating any room in your home besides the main living area, do yourself a favor and add some sparkle to your bedroom. I've basically been hibernating in it ever since.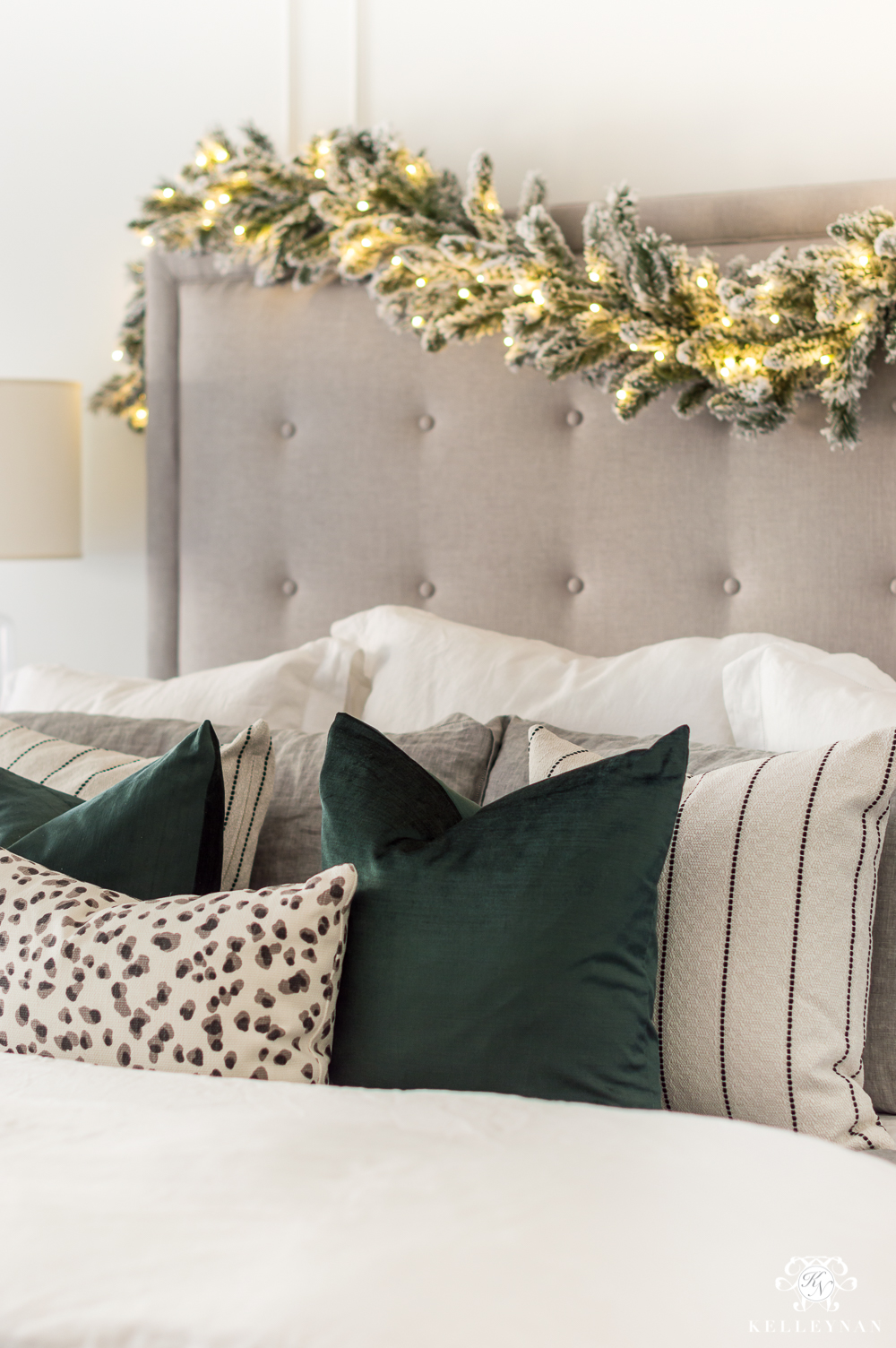 And, no surprise here- my assistant has also more than enjoyed it 😉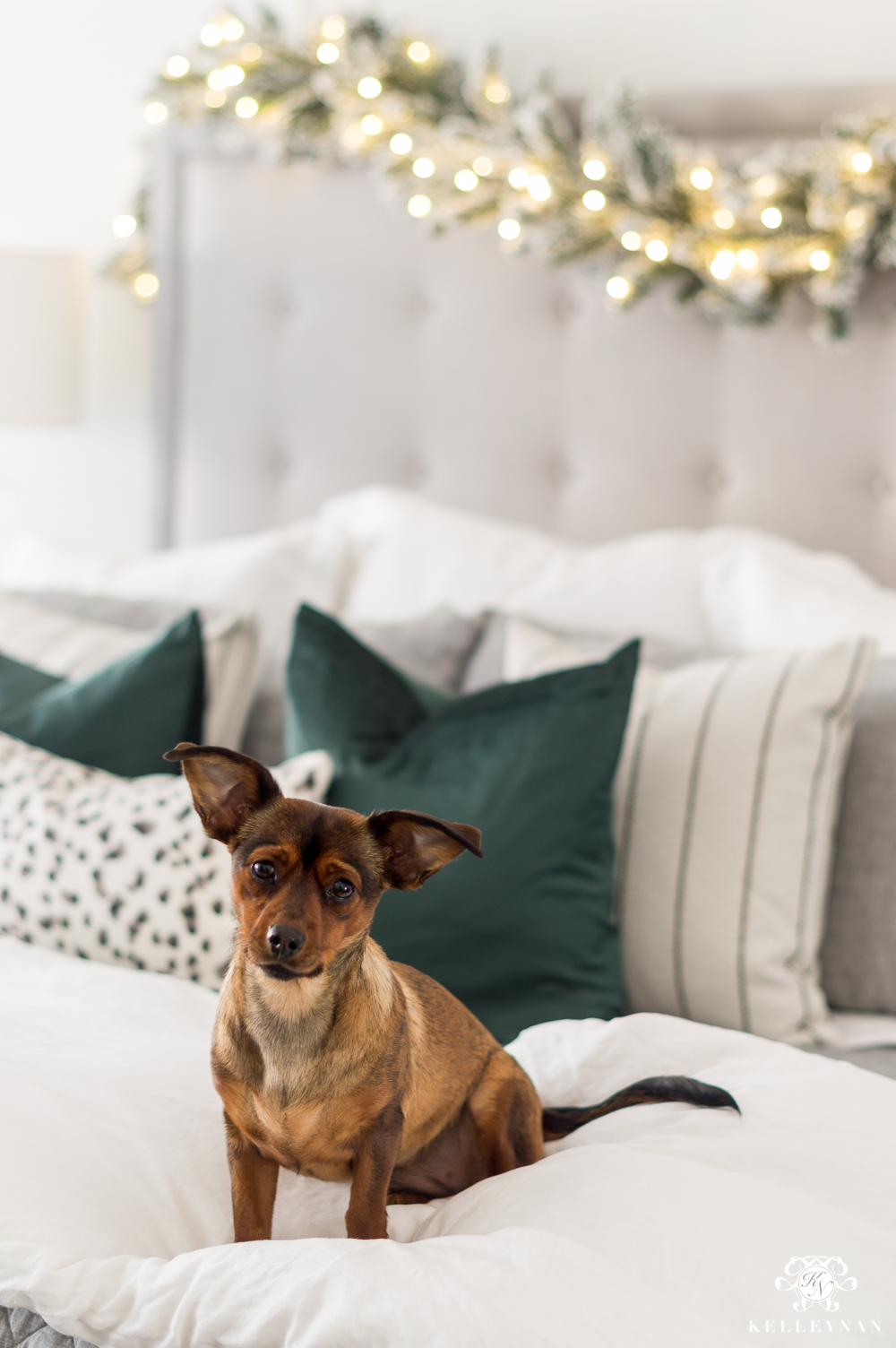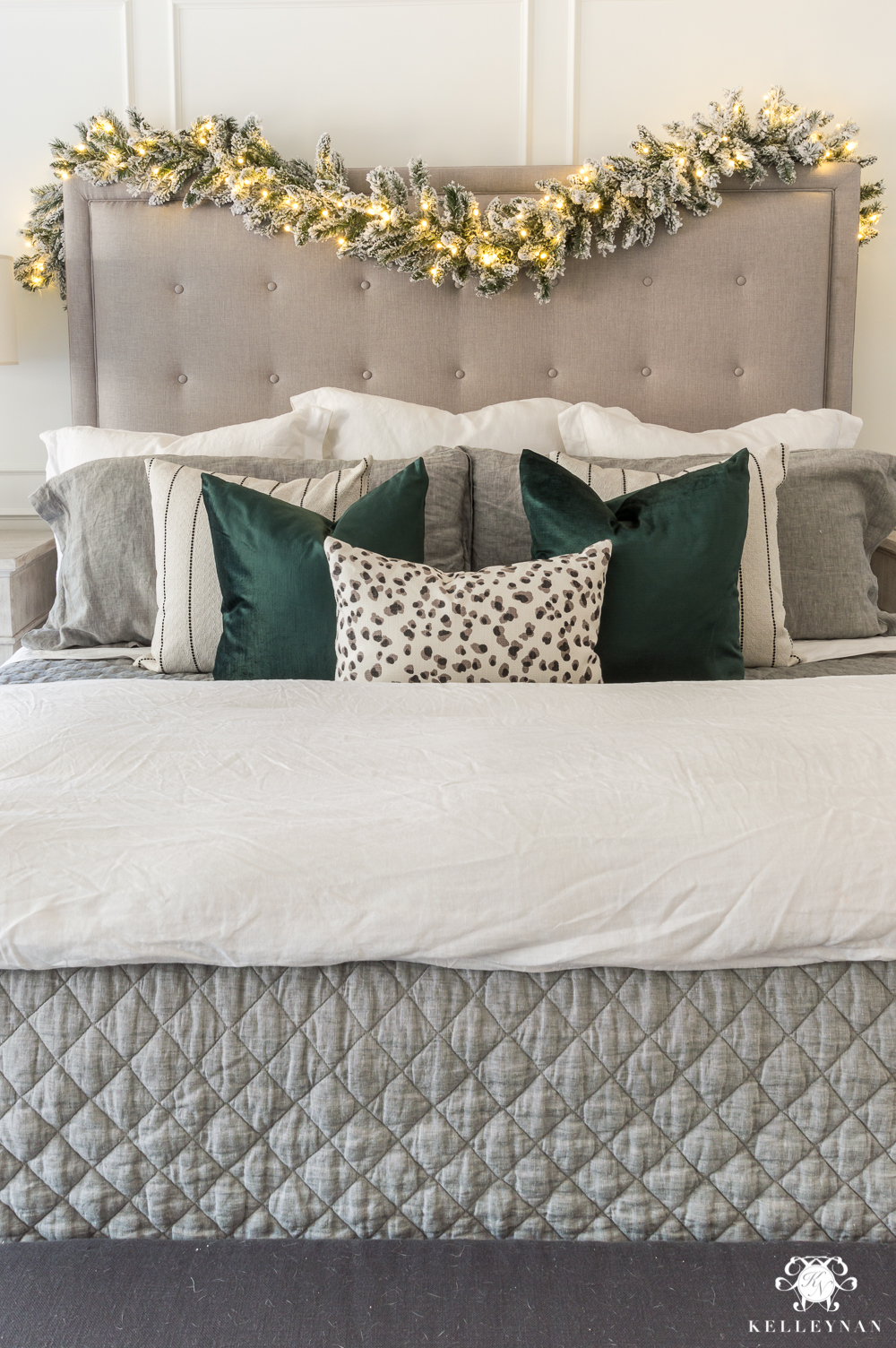 By "hibernating" I mean, binge watching Hallmark Channel Christmas movies while working, wrapping gifts. My bed has basically become my office over the past week.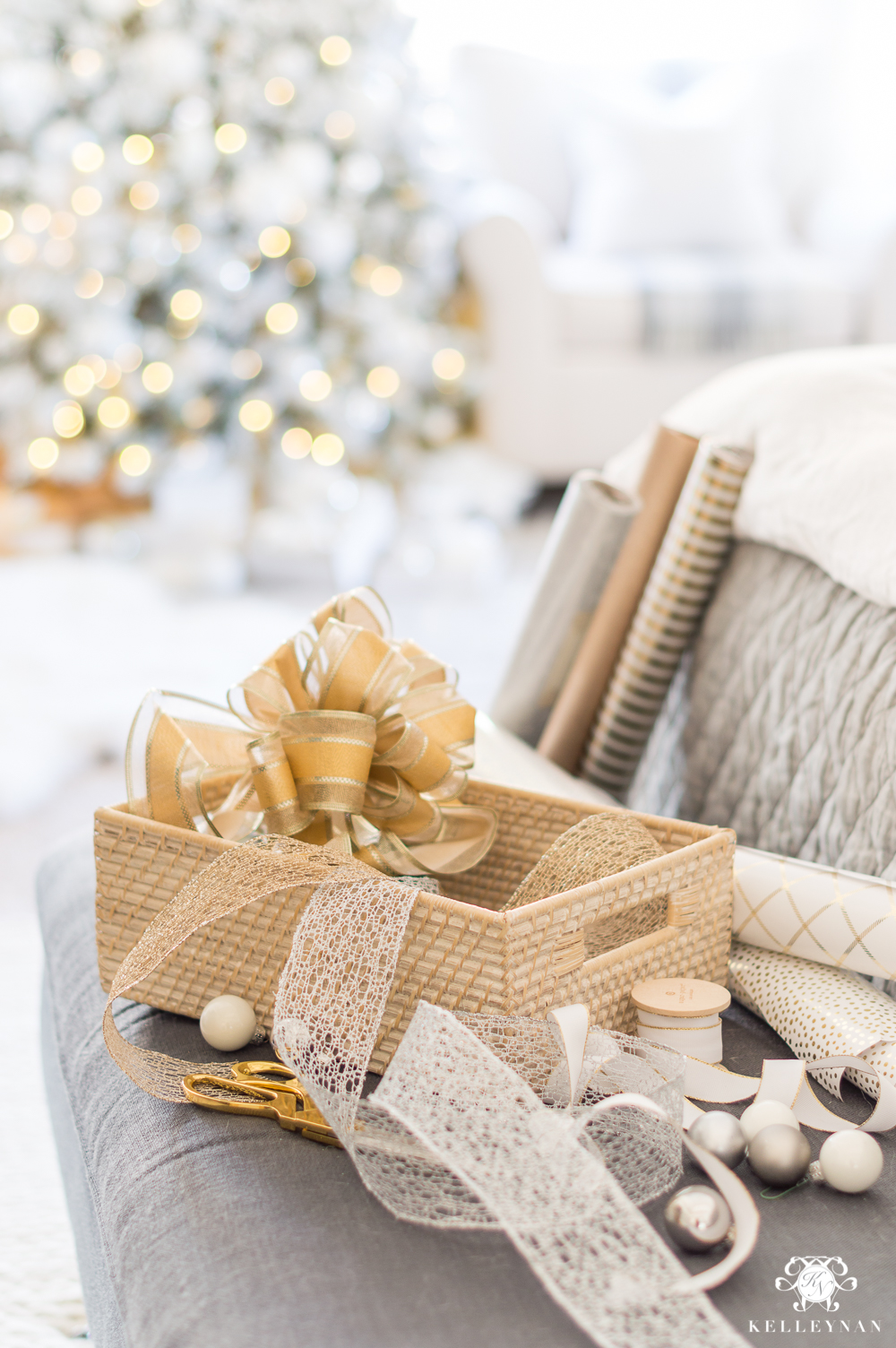 ---
GET THE LOOK | SCROLL & TAP

---
The only new Christmas decor I purchased this year (besides a few rolls of ribbon and a couple boxes of balls) were these little flocked trees. I couldn't find them online but found a similar one HERE.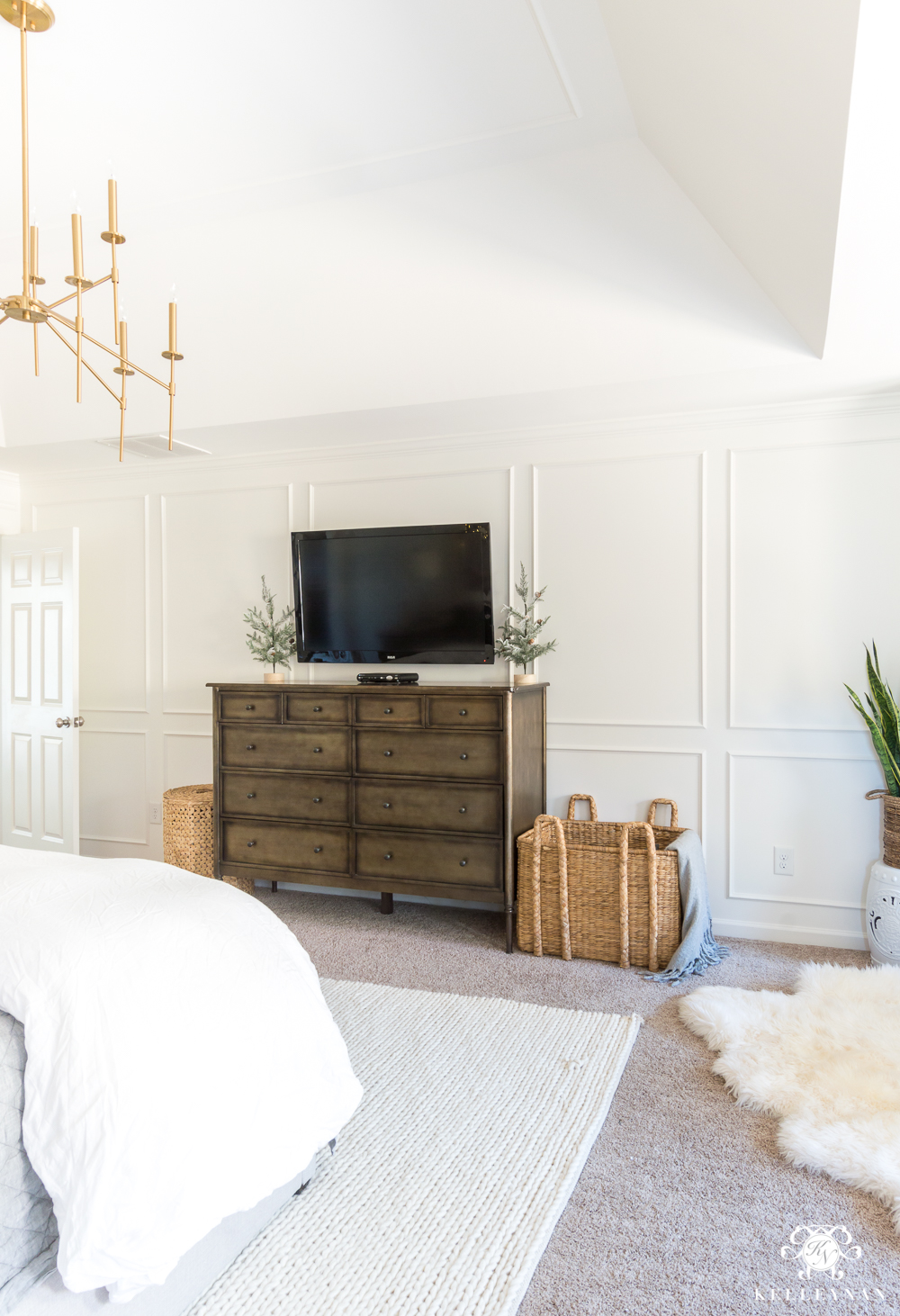 Similar to the happy accident of the breakfast room, this is the Christmas tree that almost wasn't. You know how I got my second wind the day we got home from Thanksgiving? Before our trip, I totally thought this tree was going to be a snowy, naked forest goddess but changed my mind after we walked in the door a few days ago. (The vote on insta-stories didn't hurt either 😉 ). I stuck to silver and white and used all ribbon, ornaments, and picks I already had on hand that I'd boxed and sent back down to the basement. That's another thing. If you decide not to use ALL of your decor, don't feel guilty about making selections and returning the rest to storage. Even if it's good stuff. You can always incorporate it in later years.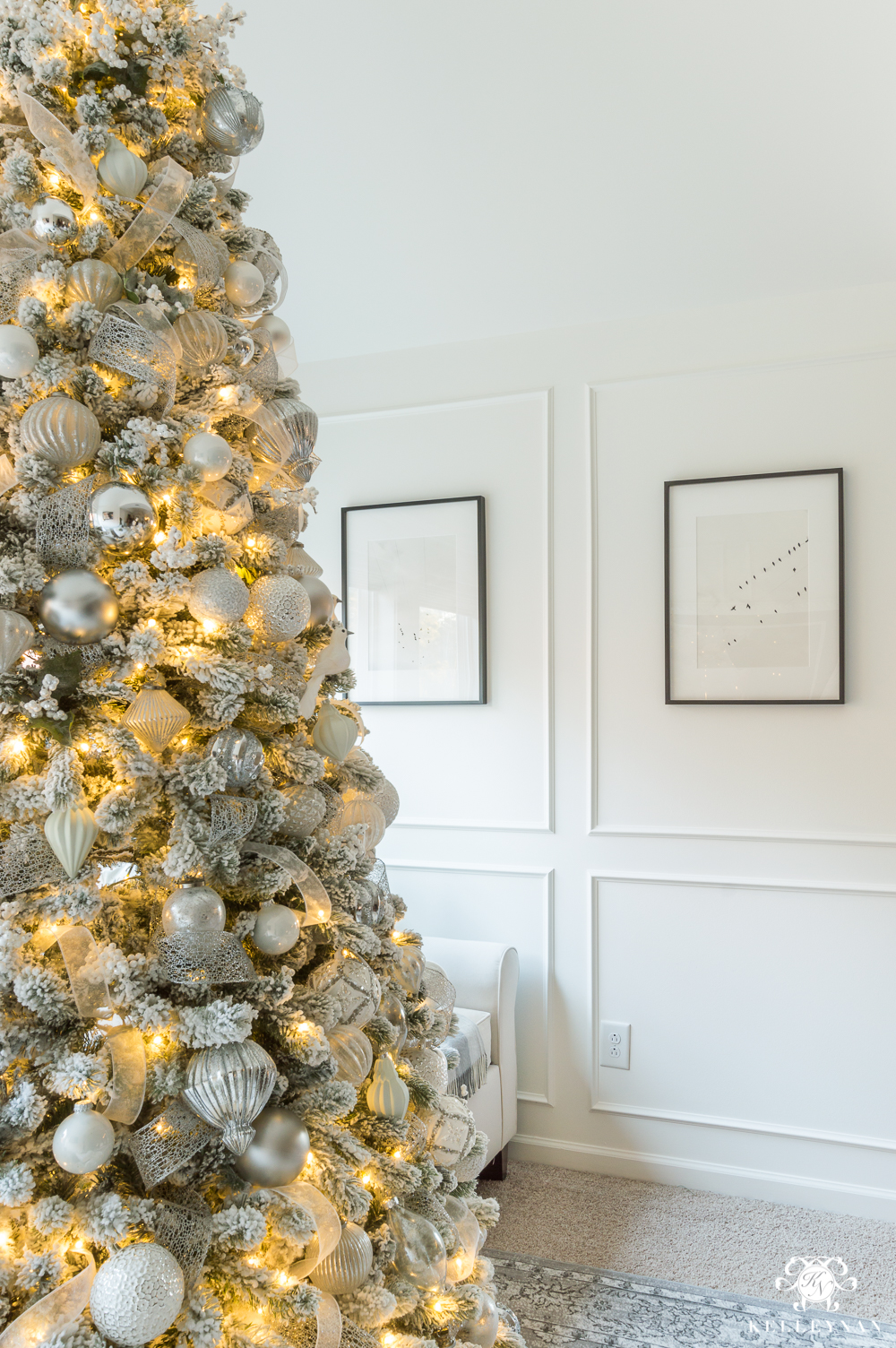 For my topper, I used some glistening white berry branches (similar) and broke off each stem. I continued to stick 'em in in and bring them down a little more sparsely until the top was full. Sometimes, you don't have to have a grand statement on top – just a little cohesive cluster 😉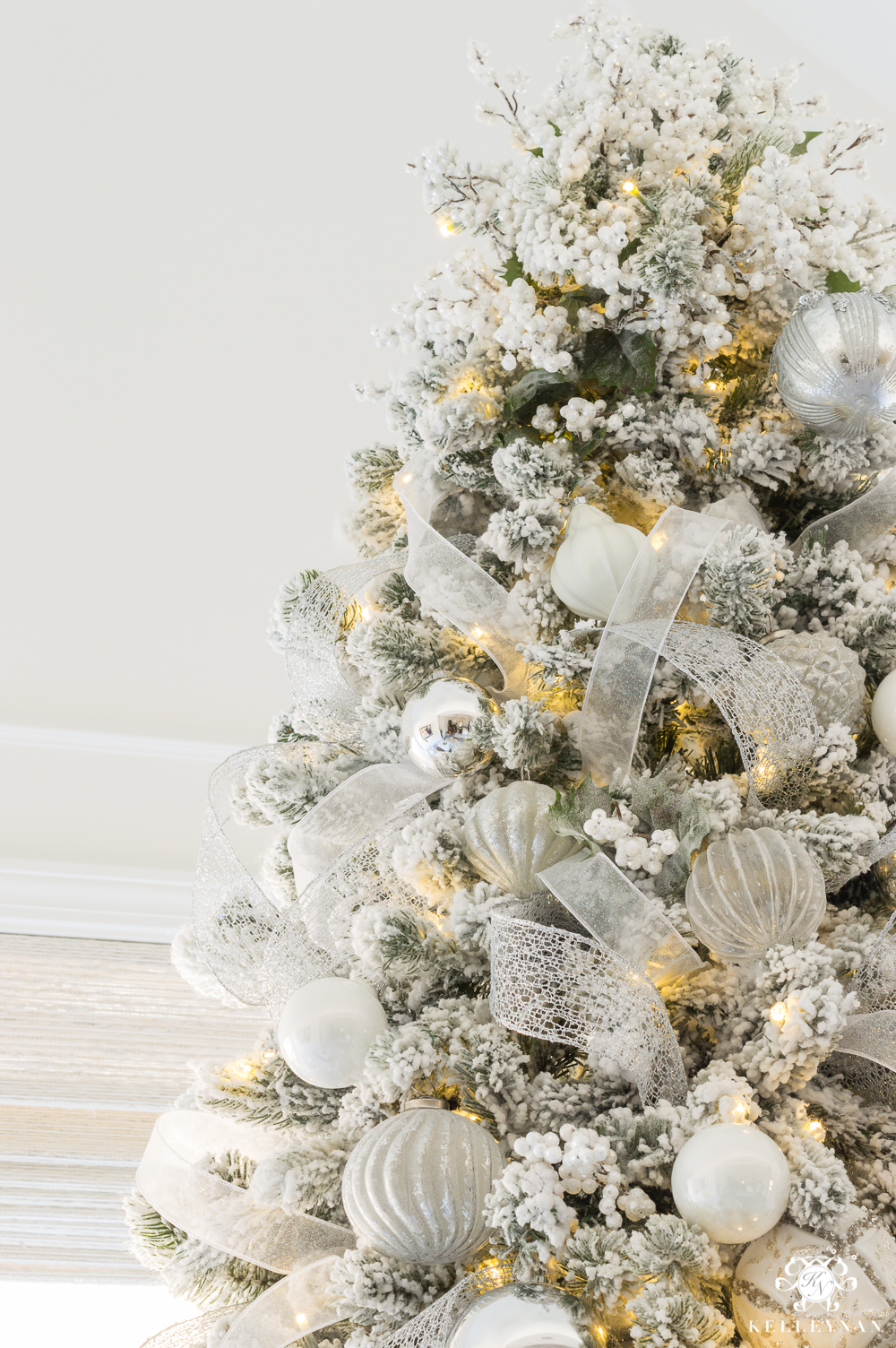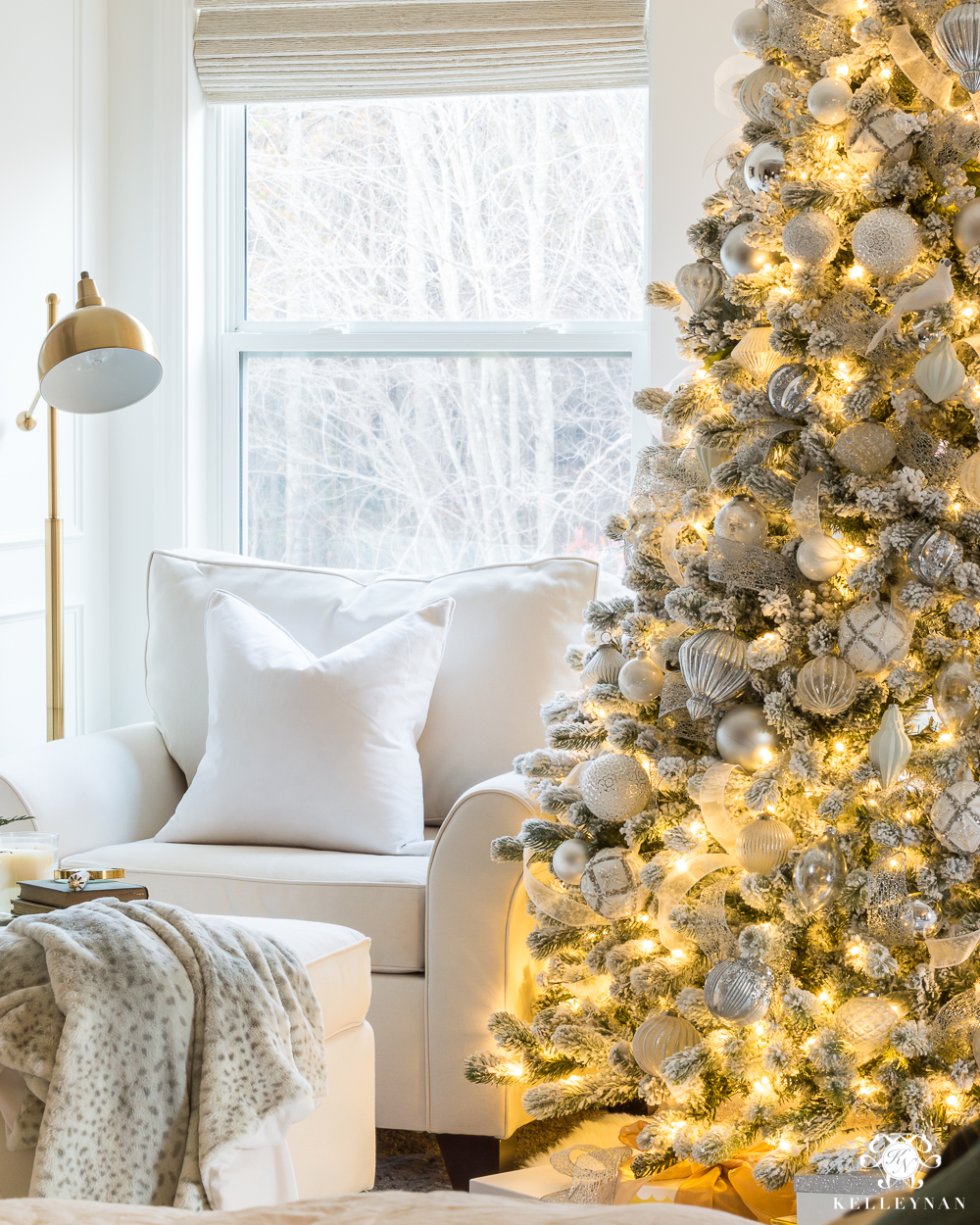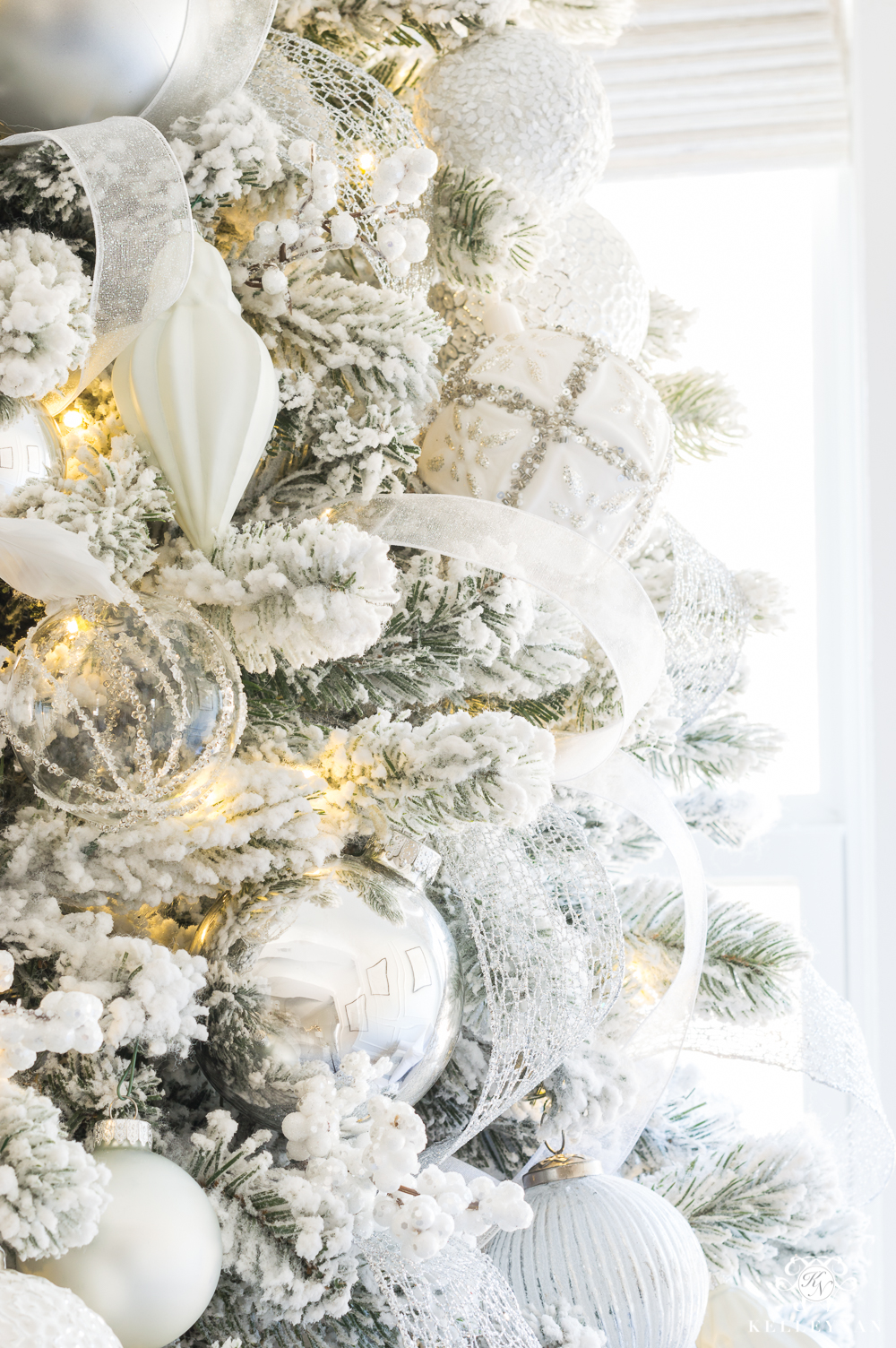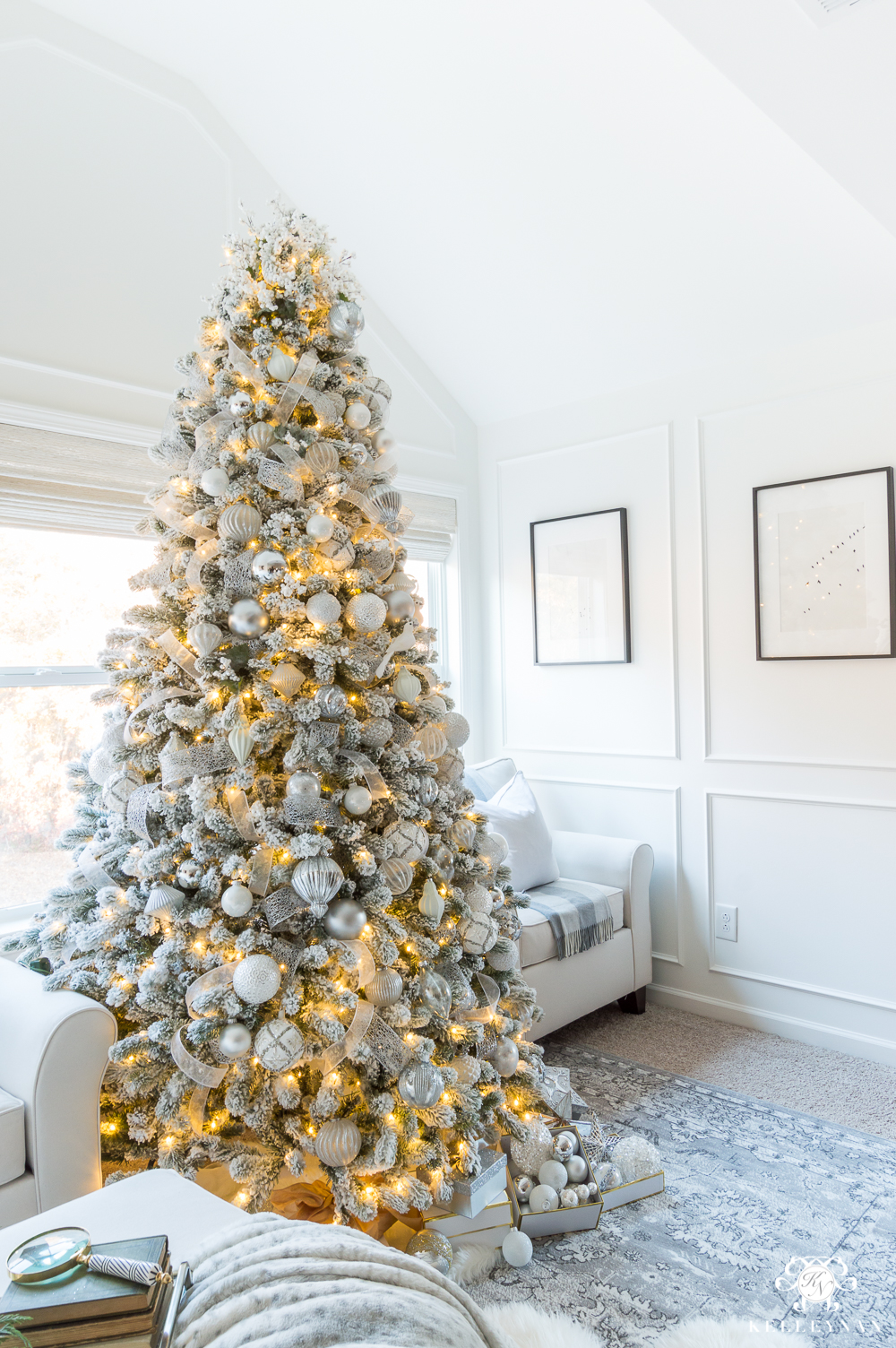 Another way to use leftover ornaments , even after you've filled vases and sprinkled them on shelves and tables, is underneath your tree. Most of these came from the great room tree from previous years.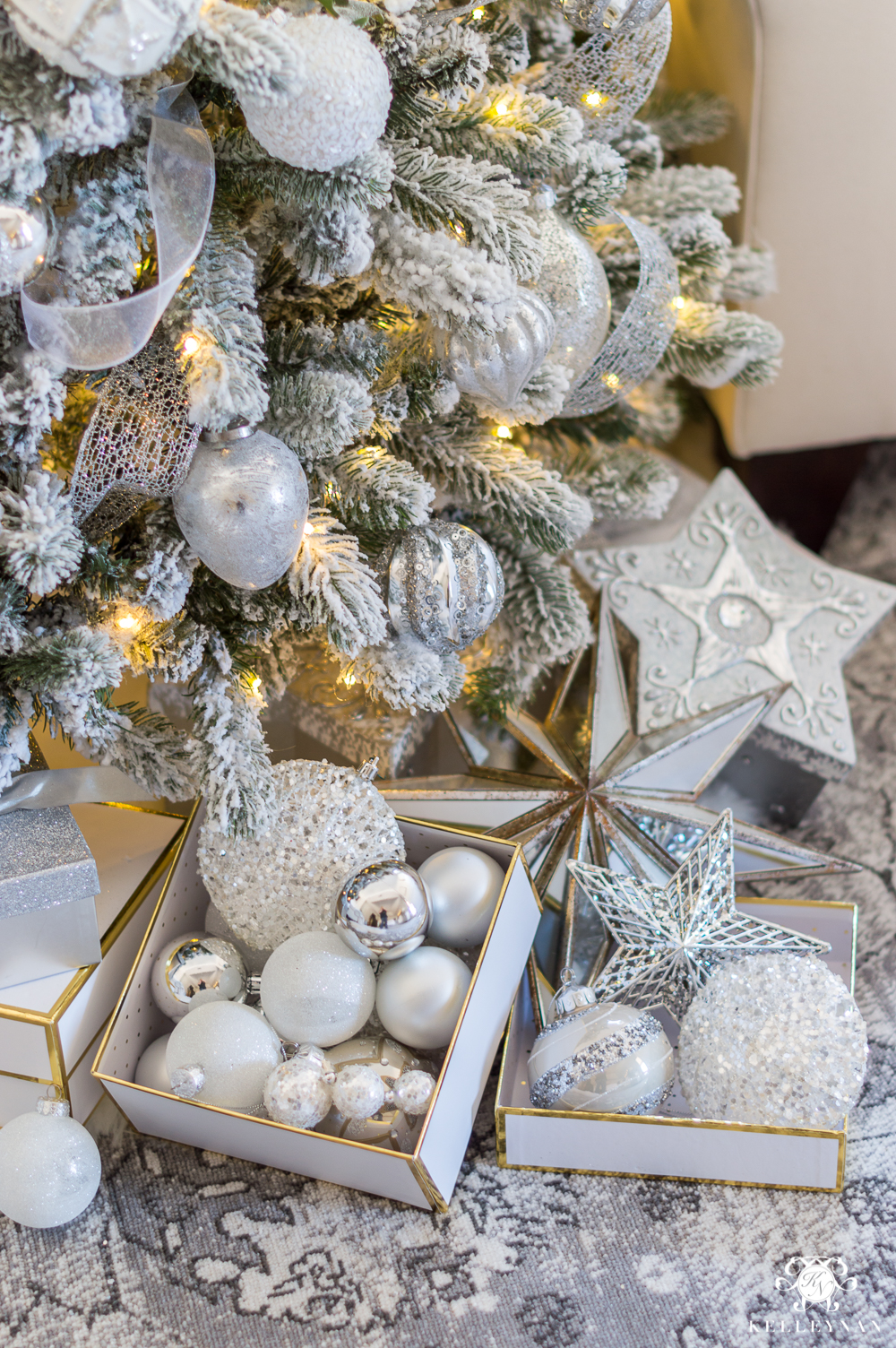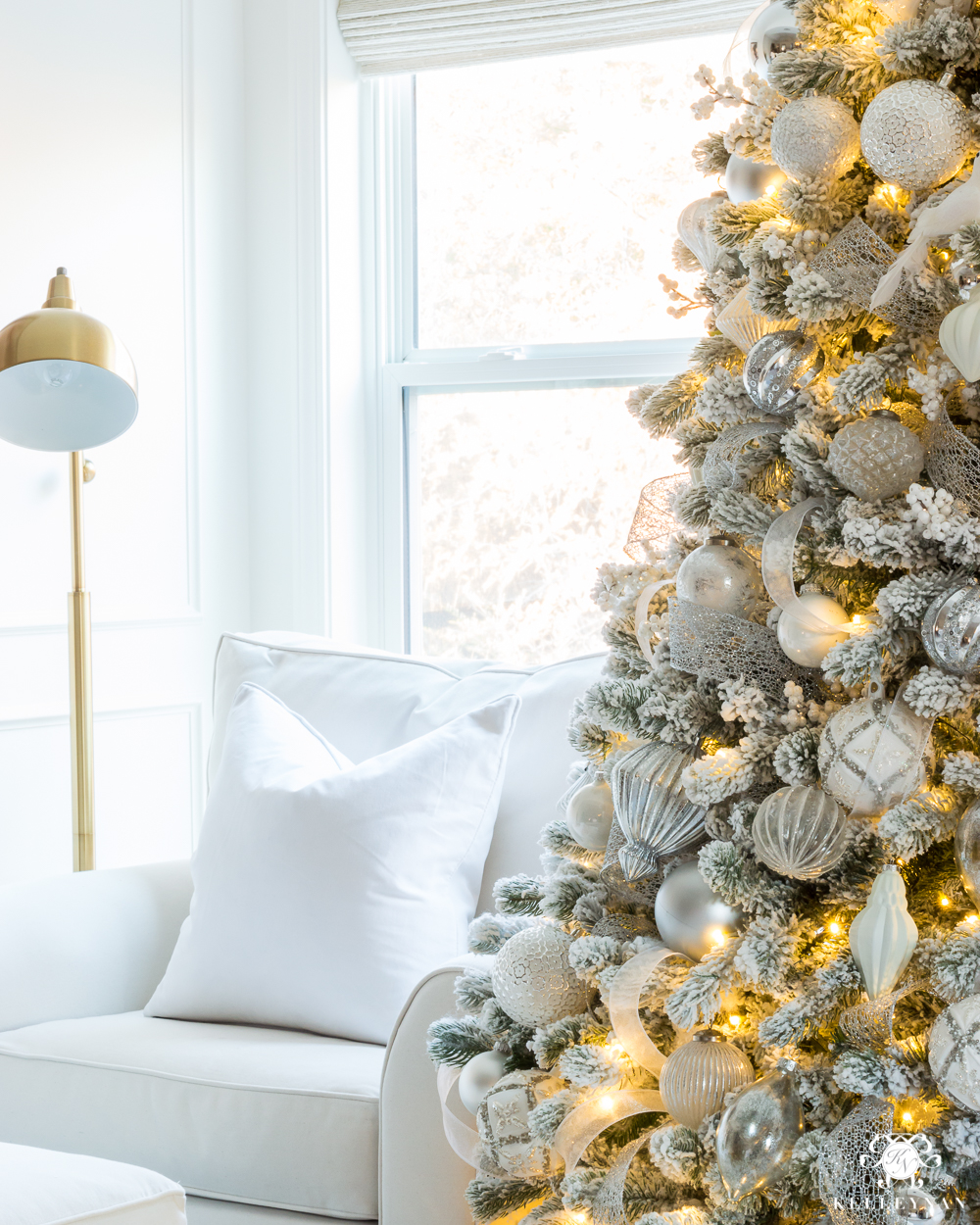 ---
GET THE LOOK | SCROLL & TAP

---

The last stop on today's tour is in the dining room where I went in a completely opposite direction. You've already seen glimpses in my "Fake It, Don't Bake It" holiday entertaining post and my Christmas tree decorating tutorial. If you haven't seen those, well, I decided to go with a meadow theme after being inspired by a single roll of floral ribbon.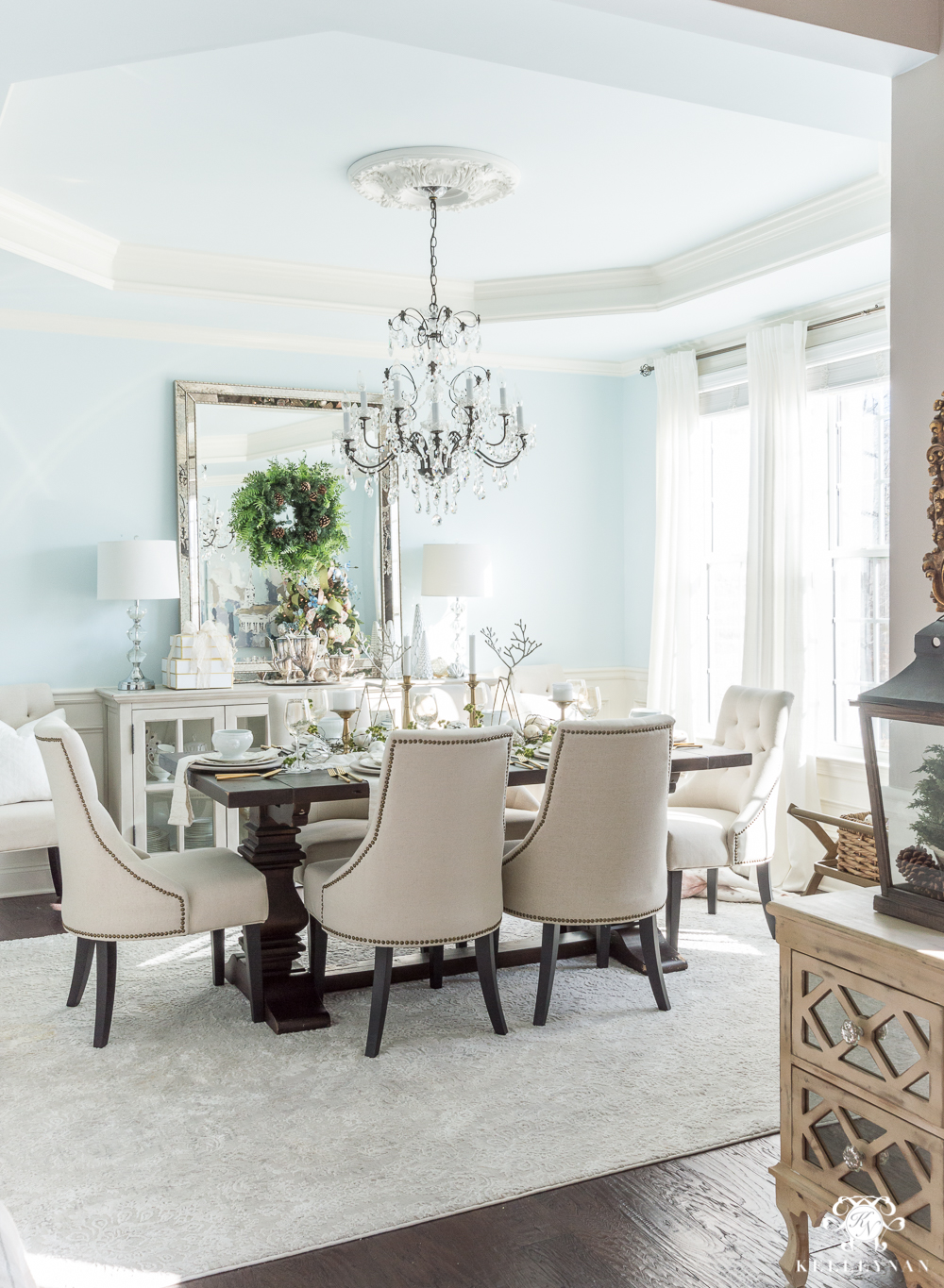 I nestled moss in the tree, added a few birds, and resorted to the discounted floral stems to create an unexpected themed tree. Again, all my ornaments were neutral and already on hand. When I got home, I headed to the basement to see how I could "Christmas-fy "some spring-y decor. I grabbed some mossy branches and a spring fern wreath and that was all I needed.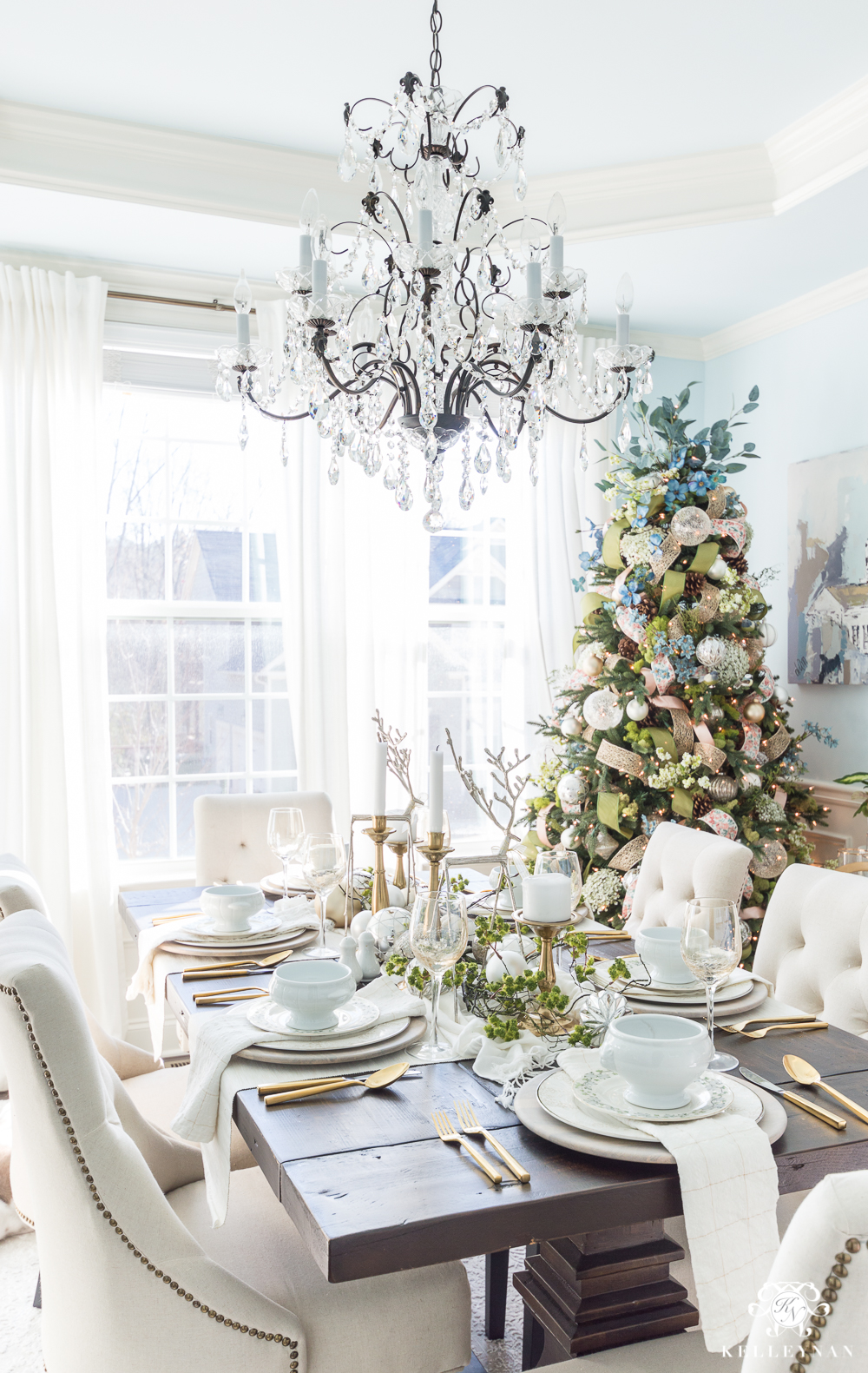 Because I used moss, I stayed away from snow; I used a scarf as my runner base, sprinkled in some candles and leftover ornaments, and declared these "meadow" reindeer 😉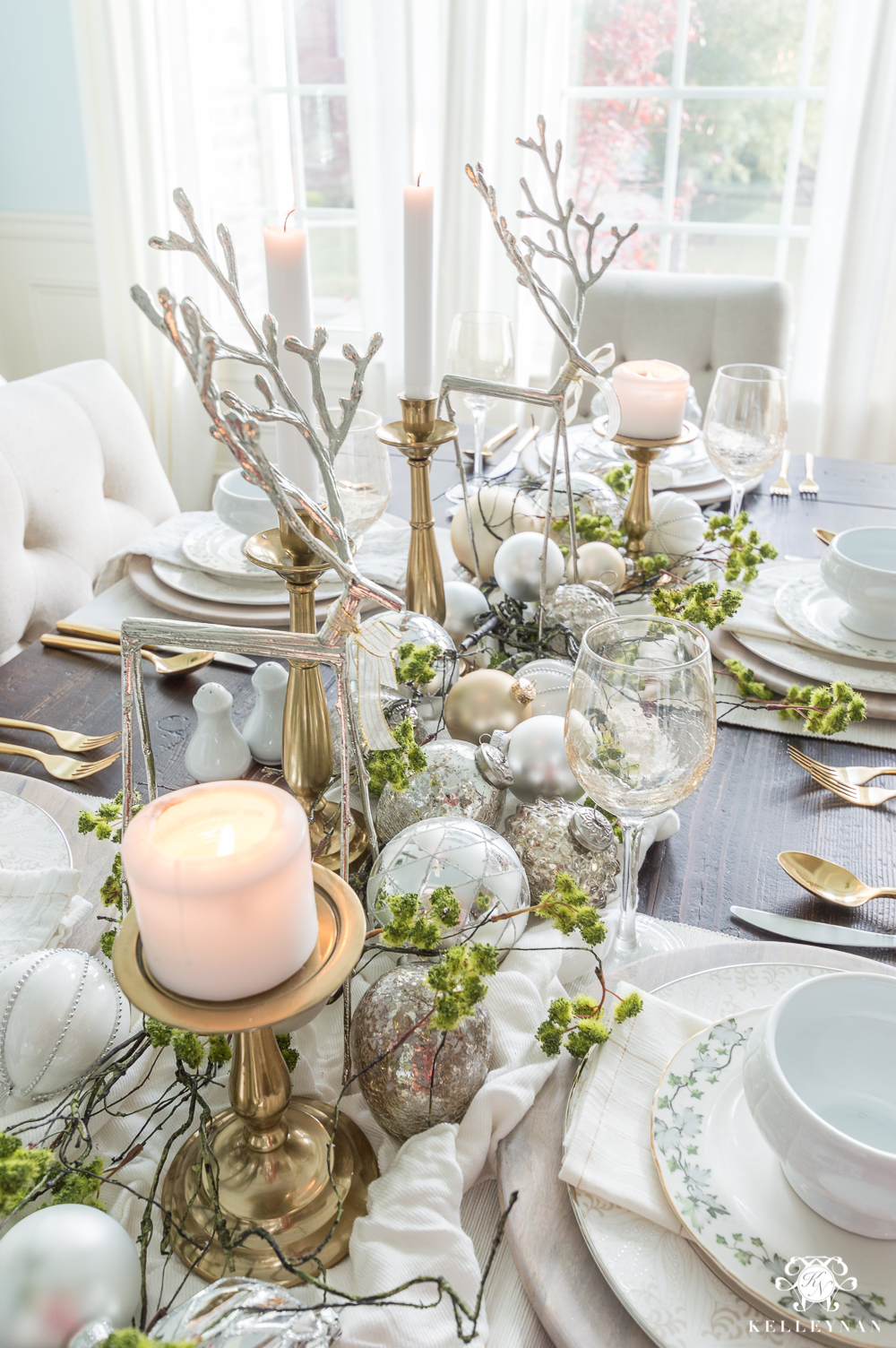 My favorite easy craft (I was really proud of this idea, y'all) was taking my spring fern wreath, stuffing a small Christmas wreath inside (I literally just wedged it in), and then hot-gluing a few pinecones on the outside. I fluffed the branches of both wreaths into each other and ta-da! A meadow Christmas wreath was born.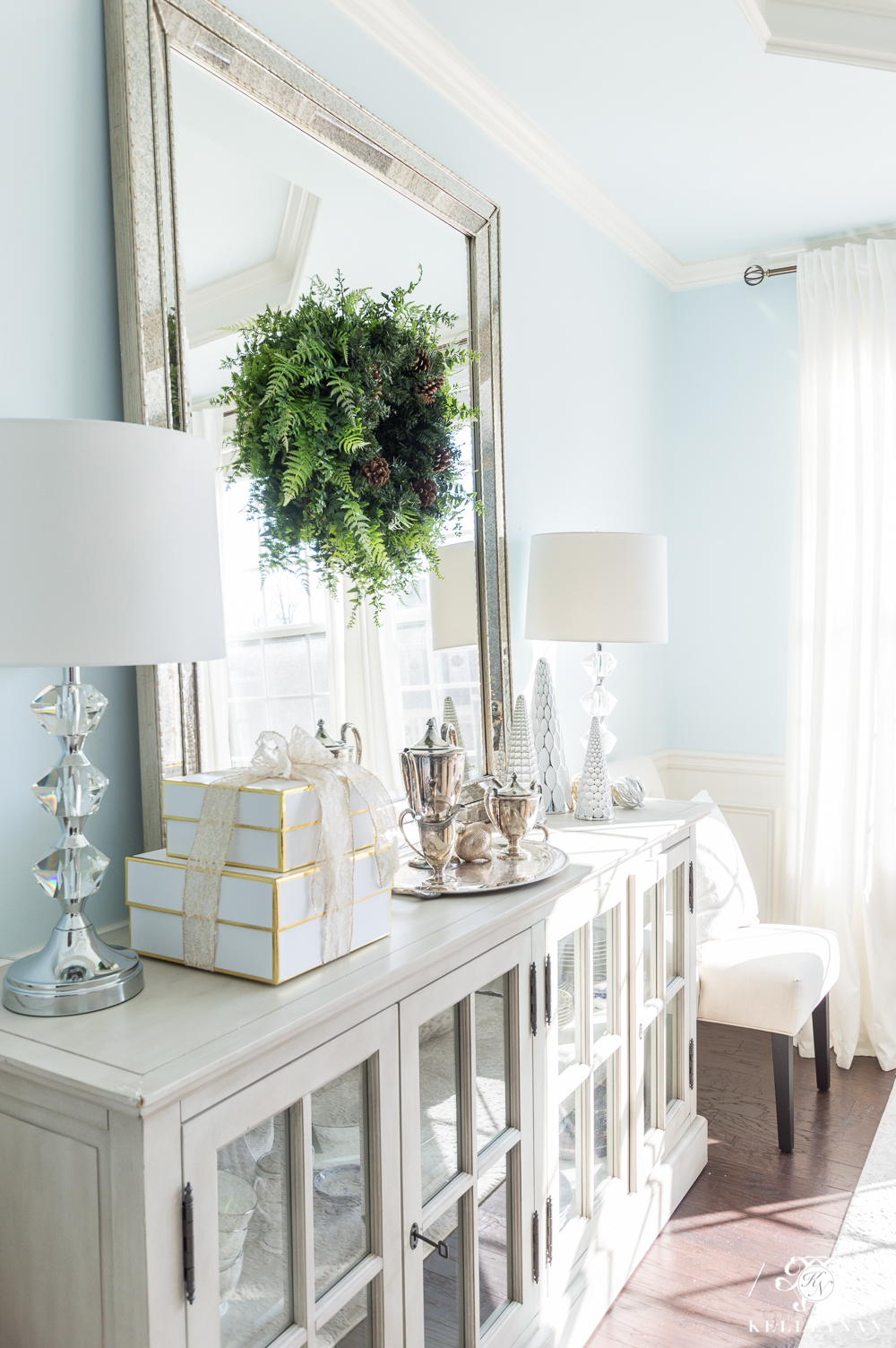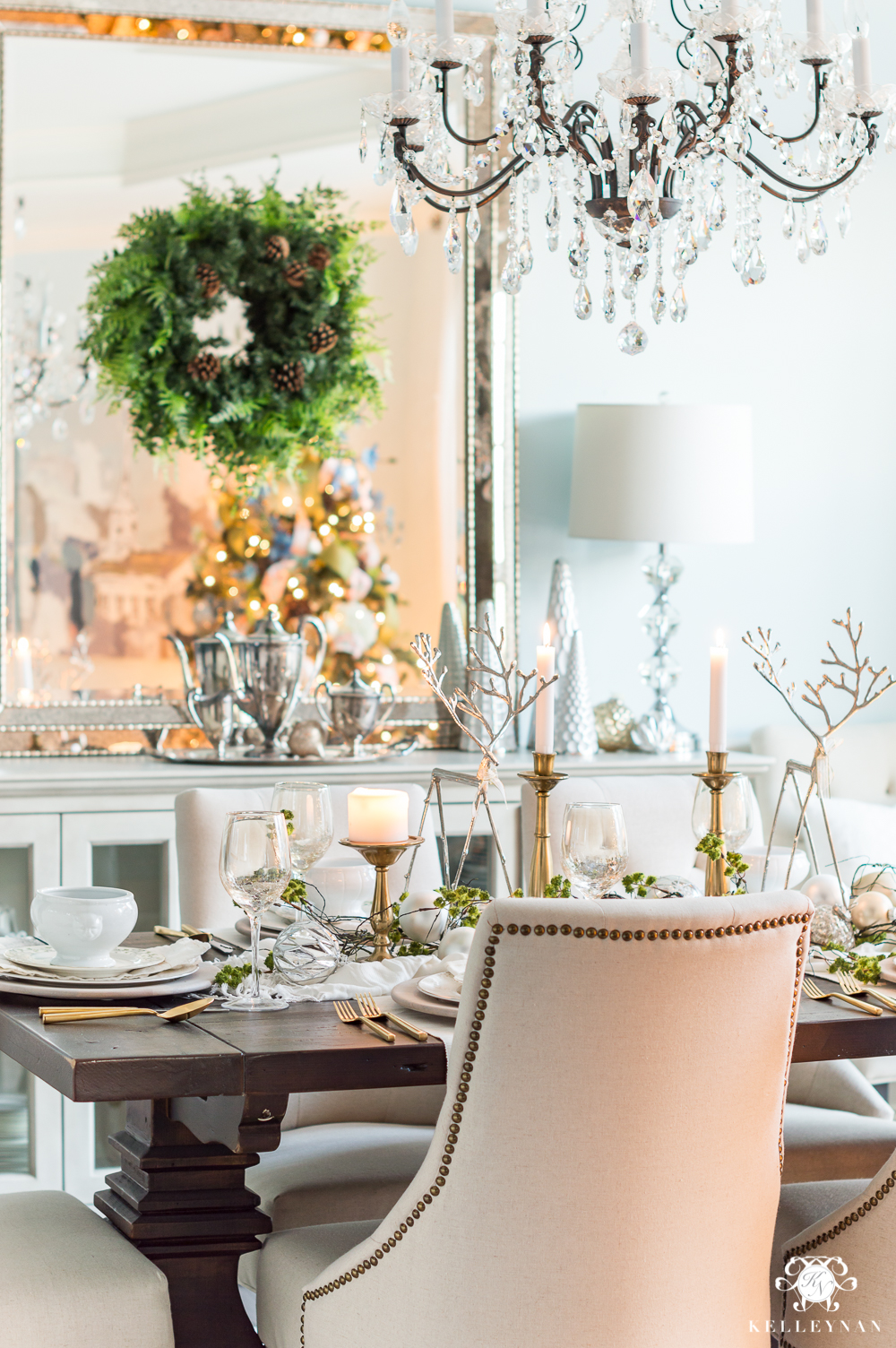 I wish every Christmas photo could be taken after the sun started setting… that's when the trees really like to show off 😉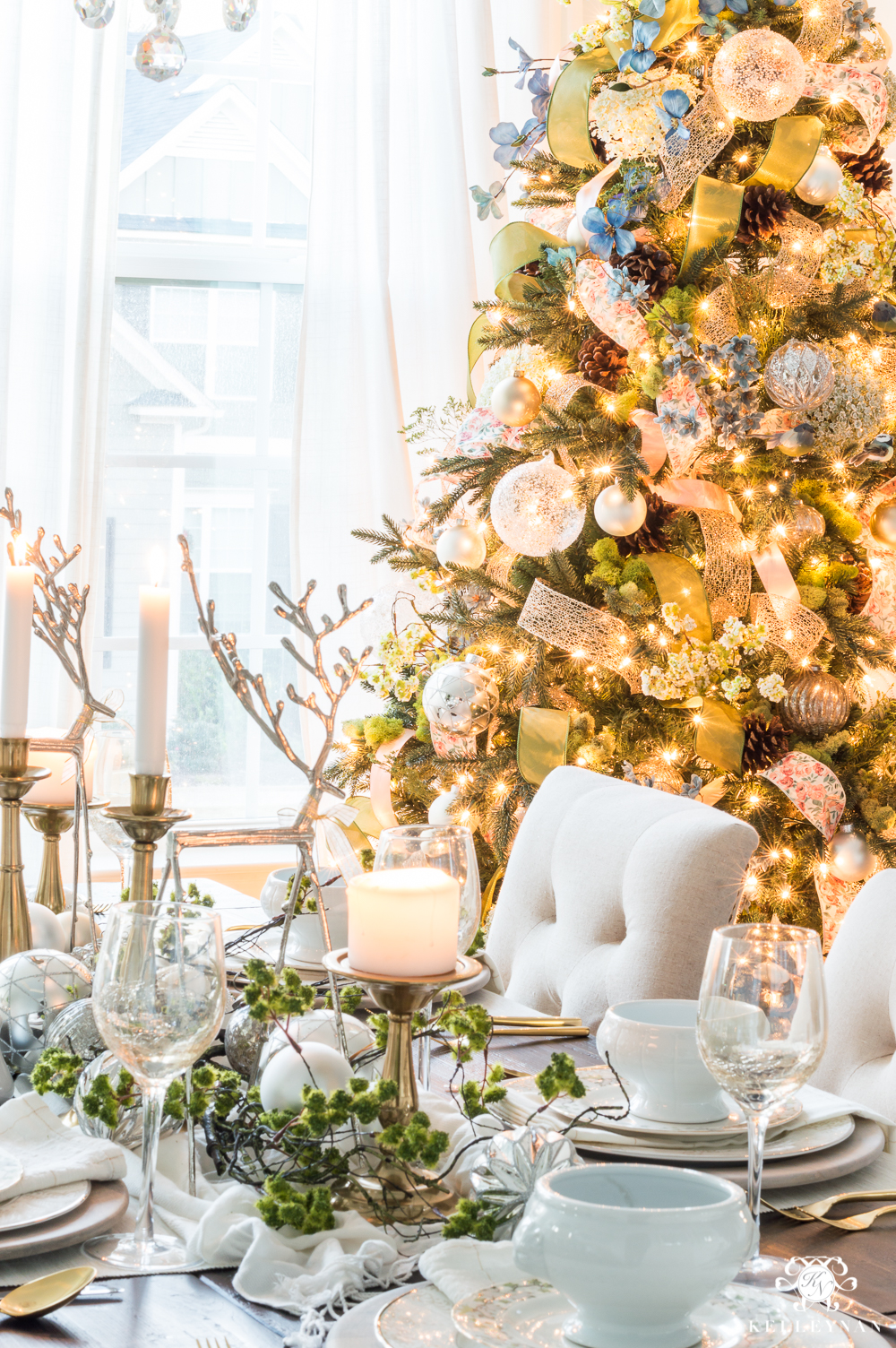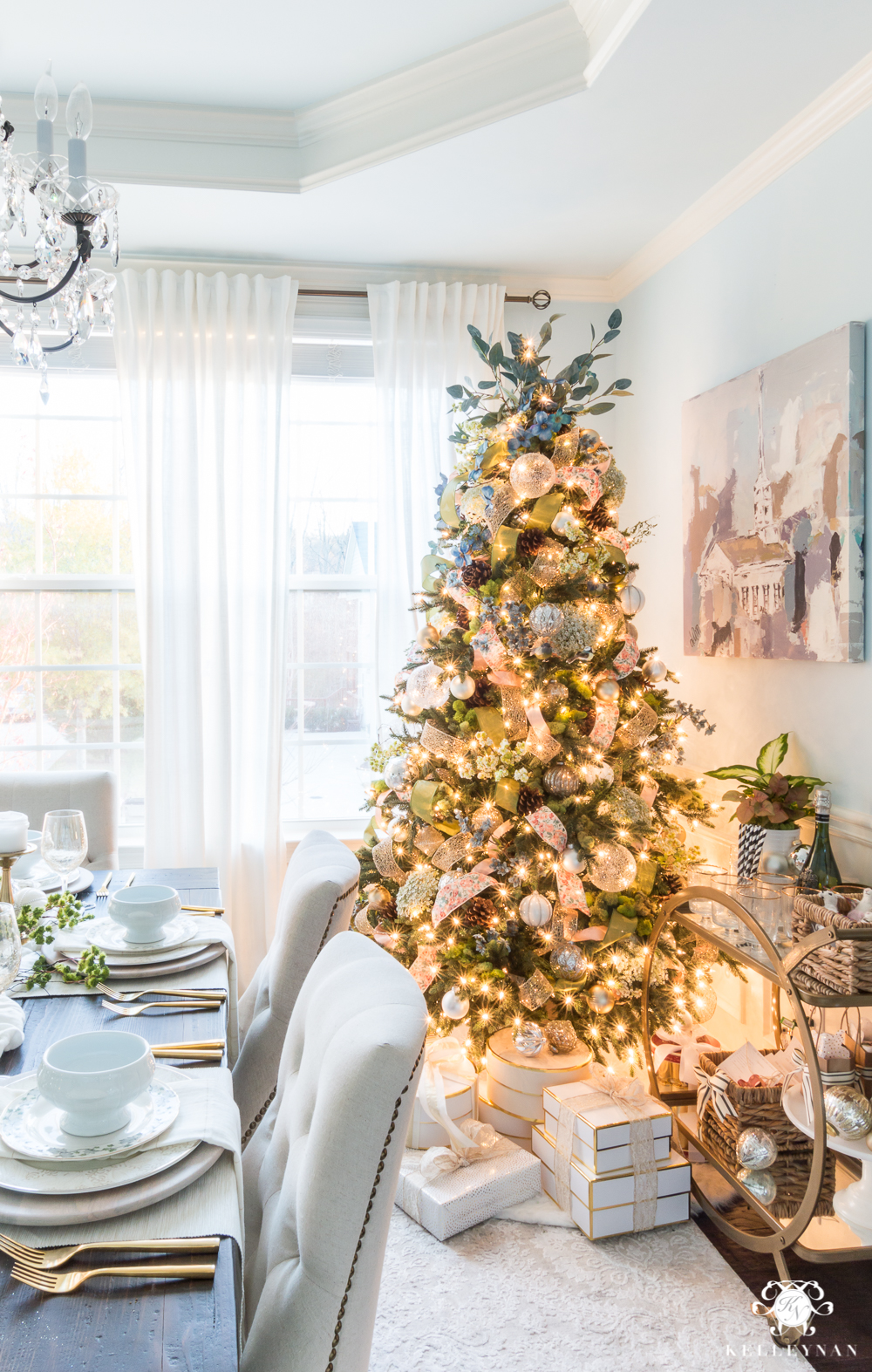 For this topper, I stuck in two branches (pull them apart and spread them out so they aren't just a straight bundle), and trickled a few blue floral stems in that I broke apart. I love the little cascade. I also love that I got them for .90/stem on clearance.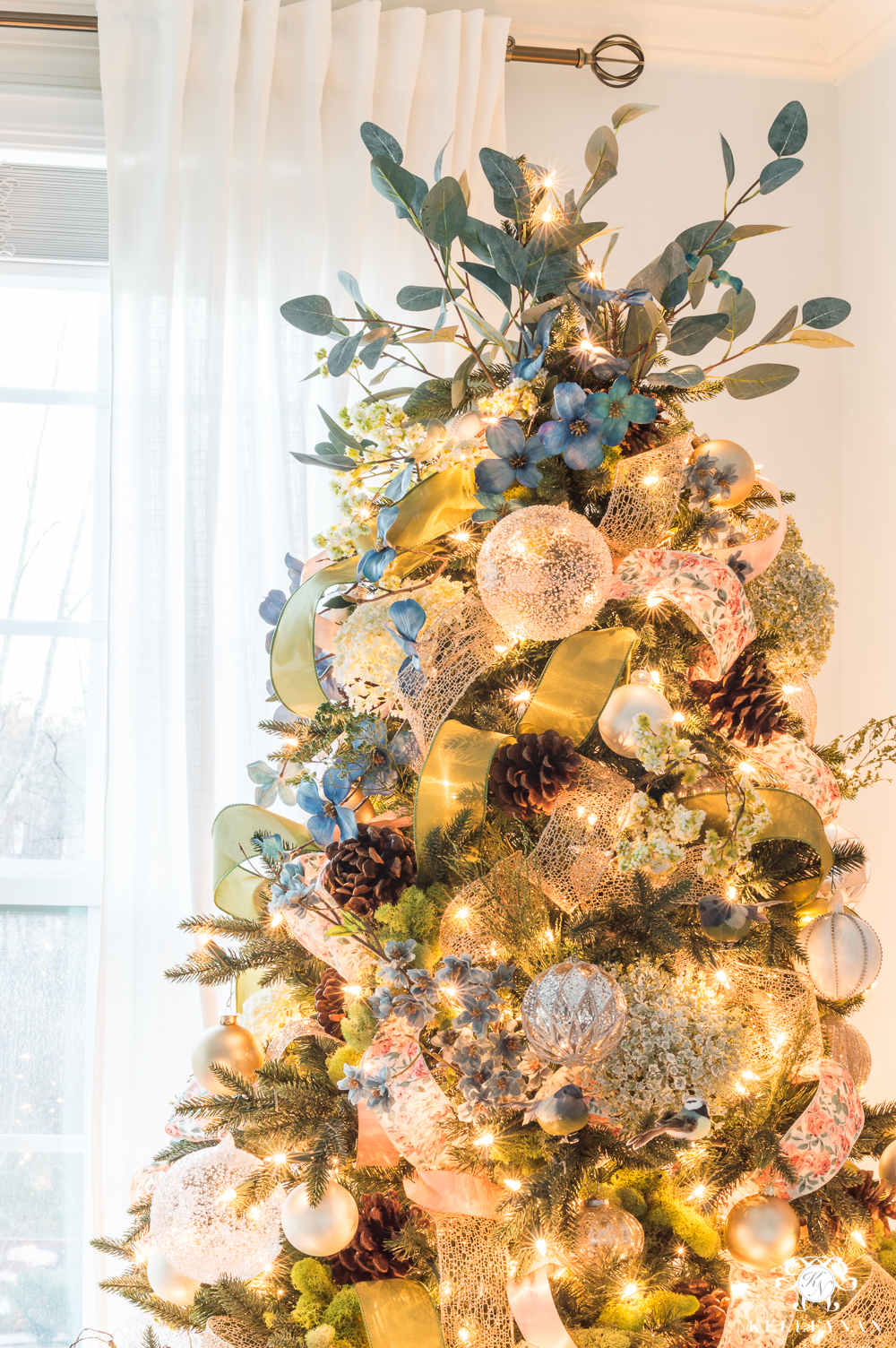 ---
GET THE LOOK | SCROLL & TAP

---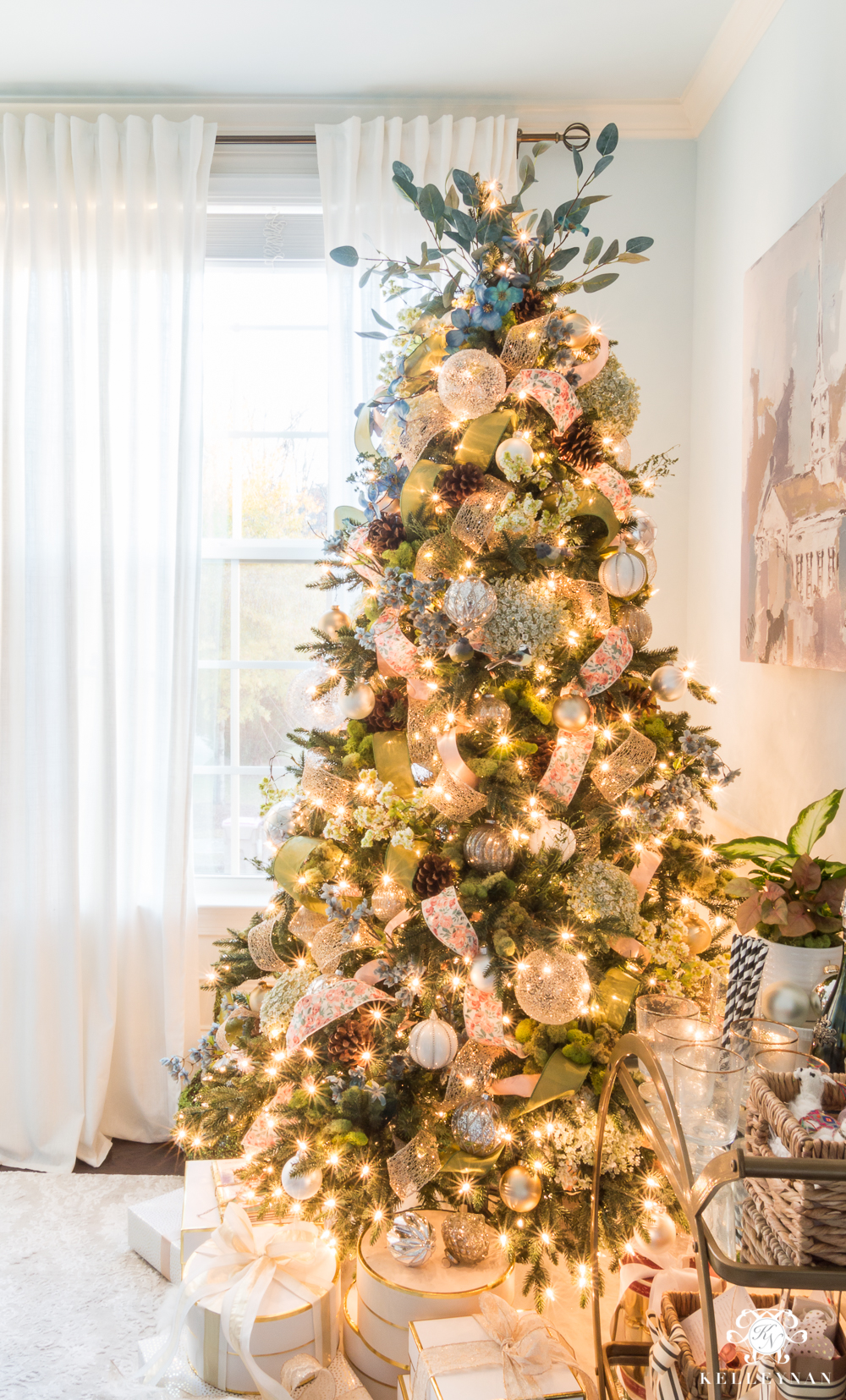 It isn't even December yet and I've already gone through every emotion, declaring that Christmas will be elaborate to simple, saying we're ahead then behind, and having no motivation and then getting a wild hair. Whatever Christmas looks like for you, do that and enjoy it. It's so easy to get caught up in what you're "supposed to do" that if you don't slow down and look around, Christmas will be over and all you'll have to show for it is a bunch of glitter on your floor that you resent. Now that I've conquered our surroundings, I'm more focused on traditions and the fun times ahead. Create a holiday home that your family will love celebrating and relaxing in all season long. If you want to go more simple this year, focus on one or two areas and put all your effort in those areas. A few things in one space can be more powerful than several things spread throughout the house. Wishing you all the best holiday season, with lots of special moments and memories made with your family and loved ones. For more Christmas inspo to come, be sure to sign up for my emails at the bottom of the post; it's the best way for us to keep in touch 😉

CHRISTMAS TREES
Flocked Bedroom Tree  – 9′ | Great Room Tree – 9′ | Dining Room Tree – 7′ | Mini Flocked Bedroom Trees (similar)
GREAT ROOM

Gray Plaid Throw | Gray & White Ticking Striped Pillows | Chunky Gray Throw with Tassels in Basket| Cream Chunky Throw in Basket | Gray Faux Mohair Throw on Chaise | Volcano Ash Floor Vase | White Vase | White Vase 2 | Accordion Vase | Terracotta Vase | Box with Pumpkins on Bookshelf | Ticking Striped Pillows | Tiger Striped Pillows |  Thatcher Wing Back Chairs | Table Lamp | Garden Stool | Blanket Basket | Quatrefoil Mirrors Between Windows | Gold Foil Texas & Georgia State Art Prints | White Lidded Urn | Tree Art | Log Basket | Round Mirrors: World Market – no longer available (SIMILAR) | Wooden Tray: Pottery Barn – no longer available (SIMILAR) | Volcano Candle | Mirrored Console Table: HomeGoods (SIMILAR) | Console Table Lamps: HomeGoods (SIMILAR) | Oversized Tray | ZGallerie Palais Side Table (IDENTICAL) | ZGallerie Palais  Coffee Table (IDENTICAL) | Rug: HomeGoods (SIMILAR) | Alarm Clock | Sofa: La-Z-Boy Aspen Collection | Fan: Progressive Lighting | Paint: Versatile Gray by Sherwin Williams | Flooring: Nottaway Hickory in Weathered Saddle
KITCHEN
Bar Stools | Marble Cheese Board | Wooden Paddle Board | Soap Pedestal | Acrylic Tray | Marble & Wood Cutting Board | Wooden Bowl: Pottery Barn Outlet | Round Wood Wall Decor (SIMILAR)| Coasters | Pedestal | Ceramic Artichoke (SIMILAR) | Pedestal Bowl: HomeGoods (SIMILAR) | Candle Holders | Refrigerator | Cabinet Pulls: Pewter (SIMILAR) | Gravy Boat | Faucet | Stainless Cooktop
 | Stainless Steel Canopy Pro Style Wall Mount Range Hood
 | Paint: Perfect Greige by Sherwin Williams | Cabinet Paint: Unknown | Granite: Giallo Ornamental  | Backsplash: Puebla Travertina Beige in 3×6 tiles with Snow White Grout | Flooring: Nottaway Hickory in Weathered Saddle
BREAKFAST NOOK
Chairs | Table: Refinished (PROJECT HERE) | Chandelier | Round Mirror (SIMILAR) | Curtain Panels
: (98″ in White) | Curtain Rod |  White Soup Tureen | Platter | Sideboard: HomeGoods (SIMILAR) | Candelabras (SIMILAR) | Ice Bucket | Wine Cooler | Wine Trough | Cake Stands: HERE, HERE, HERE| Espresso Cups & Saucers | Ceramic Vase (SIMILAR) | Paint: Perfect Greige by Sherwin Williams | Flooring: Nottaway Hickory in Weathered Saddle
DINING ROOM
Chairs – Linen | Bar Cart | 12-Light Chandelier
 | Tapered Candle Sticks | Pillar Candle Holders | Gold Flatware | Mirror: Homegoods – (SIMILAR) | Dining Table:  (84″ in Salvaged Brown) | Buffet: (72″ in Distressed White) | Curtain Panels
: (98″ in White) | Rug: HomeGoods- Safavieh | Lamps: HomeGoods – (SIMILAR) | Silver Tea Service: Family Heirloom – (SIMILAR) | Cream Table Runners | Plaid Table Runner & Plaid Napkins: HomeGoods | Church Painting | Water Lillies Art | Paint: Lauren's Surprise by Sherwin Williams | Flooring: Nottaway Hickory in Weathered Saddle
MASTER BEDROOM
LINENS: White Linen Duvet Cover & Euro Shams| Belgian Flax Linen Linen Quilt (in Flagstone) | King Linen Shams (in Flagstone) | 700 Thread Count Sheets | Leopard Pillow | Green Velvet Pillows | Black & Cream Striped Pillows
FURNITURE: Bed | Nightstands | Dresser- Restoration Hardware (no longer available) | Oversized Chair (in natural) | Oversized Chair with Ottoman (in natural) | Side Table in Sitting Nook | Garden Stool | Bench 
WALLS & WINDOWS: Bird Art Print 1 | Bird Art Print 2 | Moulding | Woven Shades (Bali White; Cordless) | Leaning Floor Mirror- HomeGoods | Paint: Simply White by Benjamin Moore
LIGHTING: Chandelier | Bedside Lamps | Floor Lamp
FLOORS: Gray Rug in Sitting Nook (5×7) | Chunky Cream Wool Rug (8×10)| Sheepskin- Costco
ACCESSORIES: Small Flocked Trees Flanking TV (similar) | Brass & Mirror Tray on Ottoman | Foo Dog- HomeGoods (Similar) | Catch-all China Dish | Leopard Throw- HomeGoods (Similar) | Oversized Double Handle Basket- HomeGoods (Similar) | Hamper- HomeGoods (Similar) | Gray Striped Throw- HomeGoods
*Note: Post contains affiliate links and sources throughout the post. Where product is no longer available, a similar substitute has been listed.